Inspire your kids to get creative in the kitchen with these 25 easy and fun food crafts and activities. From edible artistic creations like fruit flowers to healthy lunchbox treats, your family will love making mealtime more enjoyable with these ideas. Bake up some delicious cupcakes that look like a surprise inside or create an ice cream sundae bar for after-dinner parties. No matter what you decide, there's sure to be something here that'll make everyone smile! Get ready for hours of laughter, learning and yummy eats when you try out one (or two) of these terrific food crafts for kids!
From edible crafts to food activities, there are plenty of fun and exciting ways to engage kids using food. If you're looking for activities to keep your preschoolers, toddlers or even kindergarten and elementary students occupied, food crafts are a great way to spark creativity while having fun.
You can explore fun eatable crafts, food-based art projects or even create a science experiment out of food. Try some inspiring ideas such as ice cube painting and use it as an opportunity to introduce STEM concepts like mixing colors and melting points. With all the possibilities of food crafting, discovering something new is only limited by your imagination!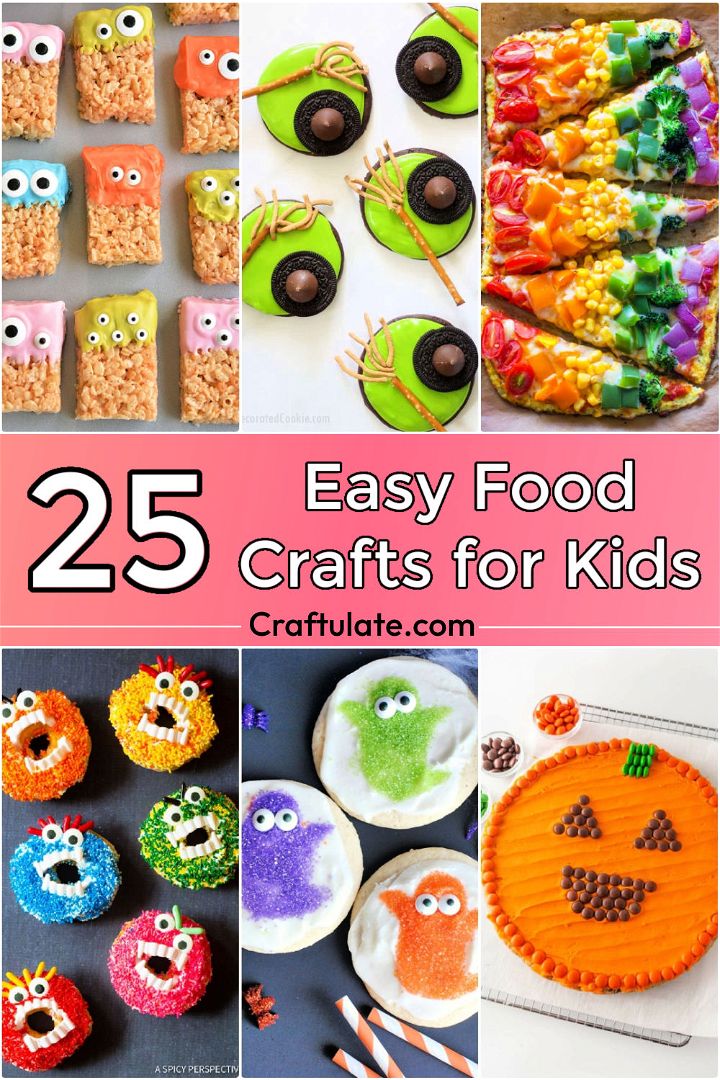 Fun Food Crafts for Kids (Edible Crafts and Activities)
Food crafts are a fun and interactive way to get kids of all ages engaged and excited about cooking. With food, anything is possible! From edible food crafts for preschoolers, to fun food activities for toddlers, and kindergarteners, there's something that every kid will love. From cookie house designs to egg carton caterpillars; pasta necklaces to pizza box cars; edible wood ornaments to fishy fruit skewers; the possibilities are endless when it comes to planning food-centric crafts and activities.
Furthermore, parents can rest easy knowing that these crafts are nutritious and providing real skills they will use in the future. With over 25 amazing food crafts ready to explore with your kiddos – get creative in the kitchen today!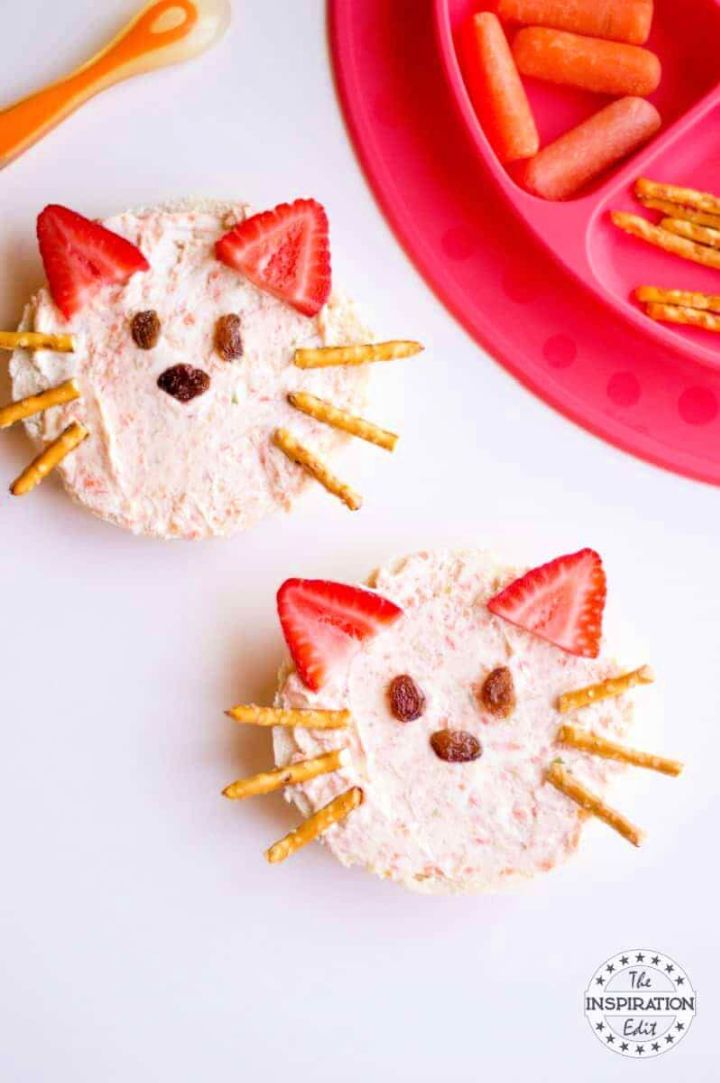 A DIY hidden vegetable cream cheese bagels are a fantastic and easy way to ensure kids eat their vegetables. This fun and healthy bagel recipe are simple to make, with easy-to-collect ingredients like baby carrots, celery, cream cheese, raisins and strawberries.
Once you spread the cream cheese over the bagel halves and sprinkle on the chopped veggies and raisins, it's time to turn this delicious treat into a true DIY meal! Top with slices of strawberry and pretend pretzel sticks for a tasty snack that looks just as appealing as it is good for you.
Whether serving up DIY hidden vegetable cream cheese bagels as an after-school treat or for busy weeknight dinners, it's a great way to please hungry taste buds without sacrificing nutrition. inspiration
2. DIY Rainbow Cauliflower Crust Pizza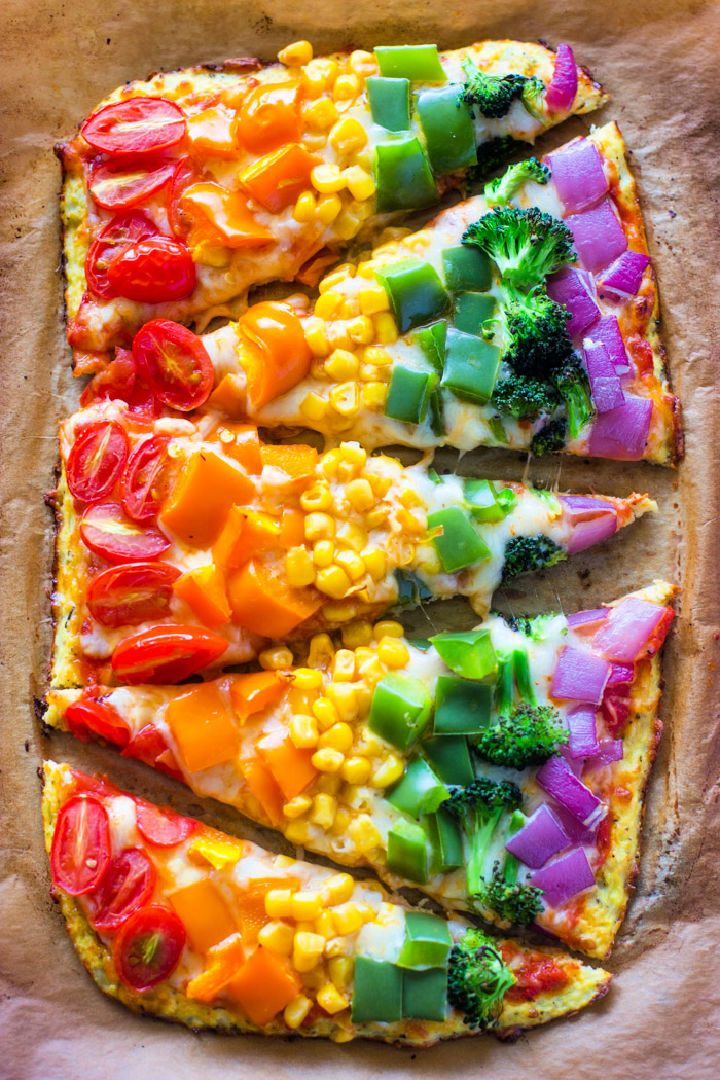 This DIY rainbow cauliflower crust pizza is the perfect way to satisfy your pizza cravings while packing some veggies! In just 40 minutes and with a few simple steps, you can have a delicious, awe-inspiring pizza that's pleasing to the eye and perfect for kids and adults.
It's packed with crunchy vegetables inside and out, including cauliflower, Parmesan and mozzarella cheeses, diced bell peppers of any color combination desired, broccoli florets, red onions and tomatoes. And if you like an extra burst of sweetness from corn kernels – include them too!
DIY rainbow cauliflower crust pizza will make it easy to make, no matter your dietary preferences or skill level. gimmedelicious
3. Easy Turkey Cookies for Thanksgiving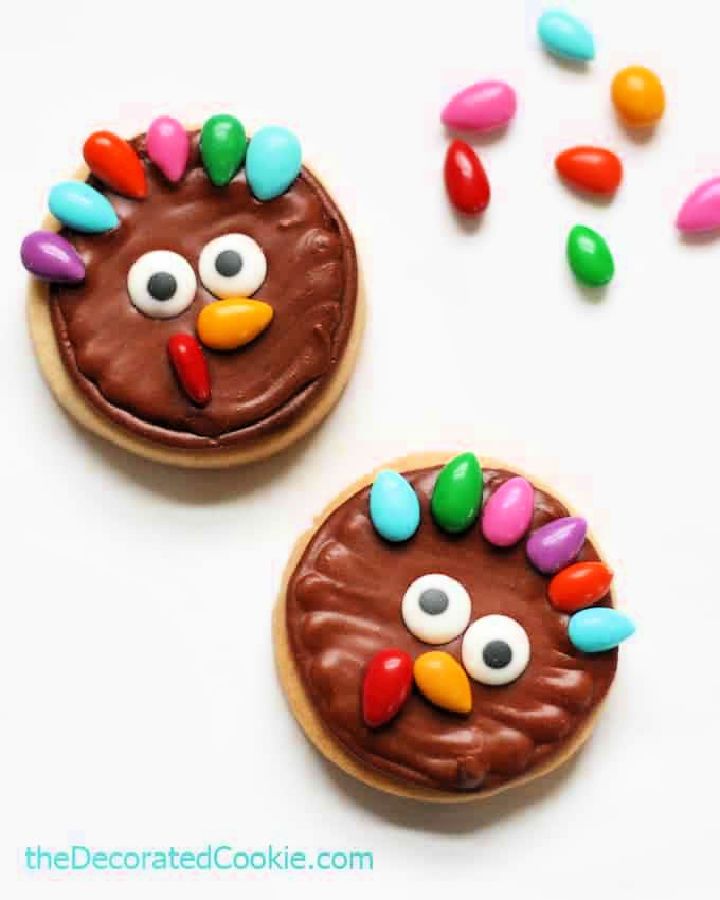 Making easy turkey cookies is the perfect way to add enthusiasm and vibrance to your next family dinner. Not only are these cookies incredibly delicious, but they also look pretty impressive on the table.
For those aiming for something a bit cuter, try using turkey-shaped cookies for thanksgiving–these can be made with just cookie dough, royal icing, brown food coloring and a 2-inch circle cutter as well as one disposable decorating bag, a coupler, size '4' tip, rubber band and chocolate-covered sunflower seeds.
This DIY project is both simple and rewarding at the same time! decoratedcookie
4. Marshmallow Love Bugs Crafts for Preschoolers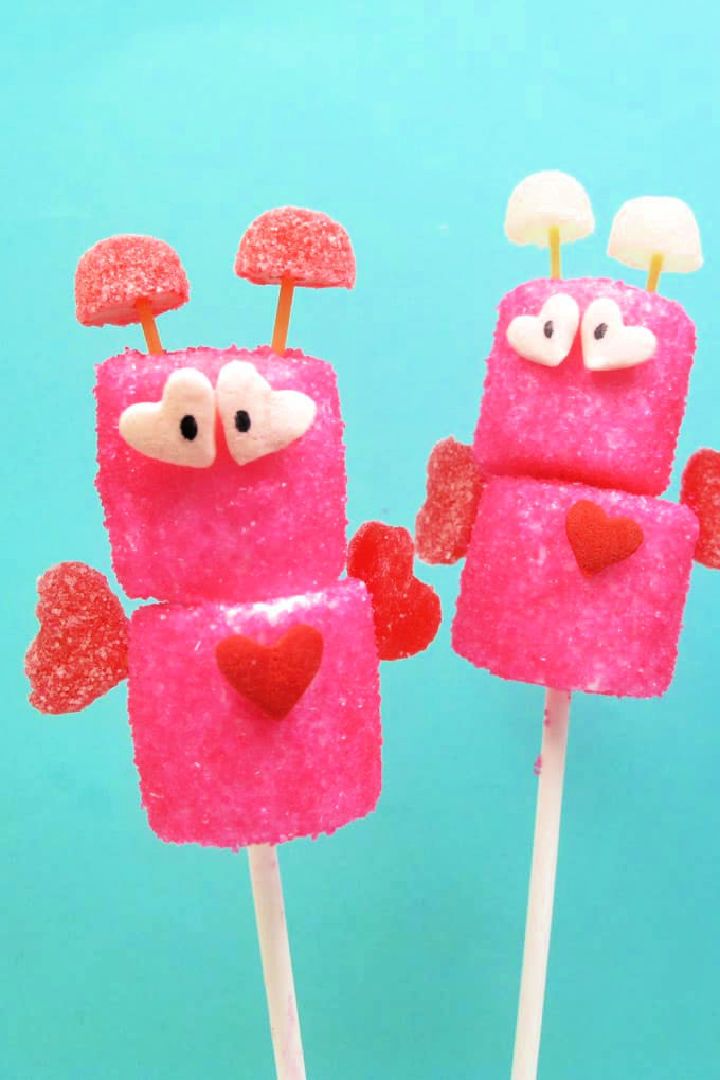 These marshmallow love bugs are an easy and fun way to create candy treats for valentine's day. With just a few simple ingredients, like marshmallows, lollipop sticks, pink sprinkles, mini heart cookie cutters, mini gumdrops and large gumdrops, it's possible to make the most adorable little marshmallow love bugs.
You can also use heart confetti sprinkles, black edible marker pens, and spaghetti to add more personality to your DIY creation. To finish off your DIY marshmallow love bugs, grab some wax paper, a rolling pin, sugar, shortening, a knife and a toothpick, light corn syrup, and a styrofoam block to assemble your finished product. decoratedcookie
5. Mice Krispy Treats for Valentine's Day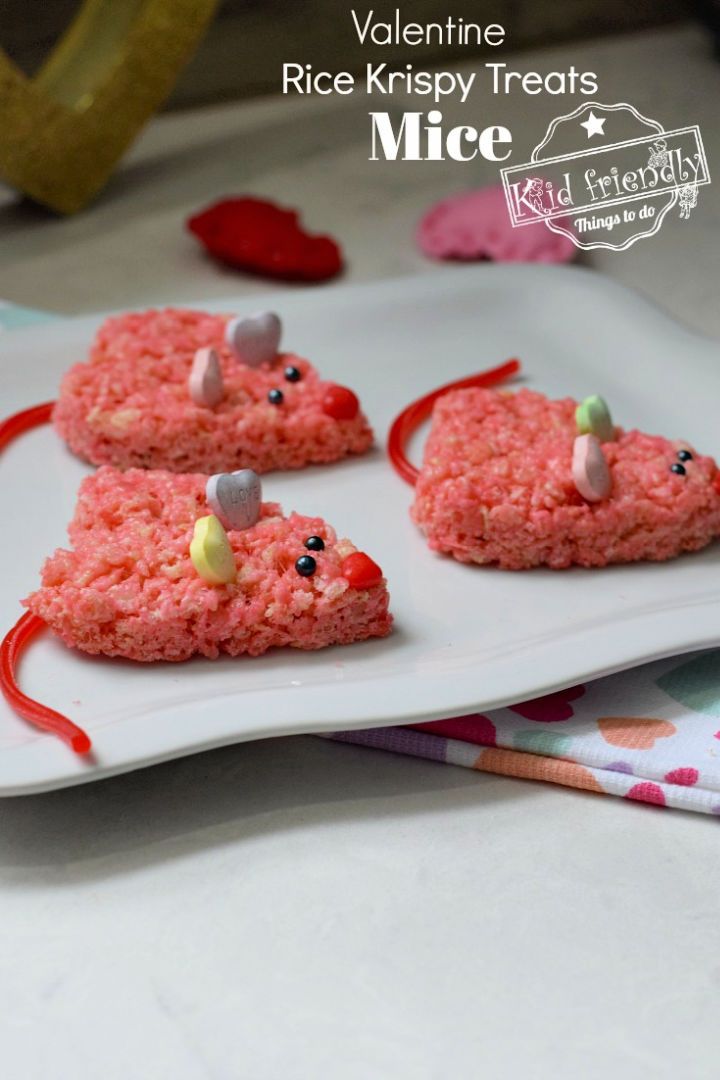 Looking for a creative, festive and delicious Valentine's Day treat? Make Rice Krispies Treats Mice in just 25 minutes! With 6 cups of rice cereal, 4 cups of mini marshmallows, 3 tablespoons unsalted butter and red/purple dye, make these cute snacks for your sweetheart. Using a medium saucepan and 9×13 inch pan with heart cookie cutter wrap the treats in wax paper & decorate with nonpareils & conversation hearts. Delight your loved one this V-Day with this fun DIY treat! kidfriendly
6. Lion Pancakes Crafts for Toddlers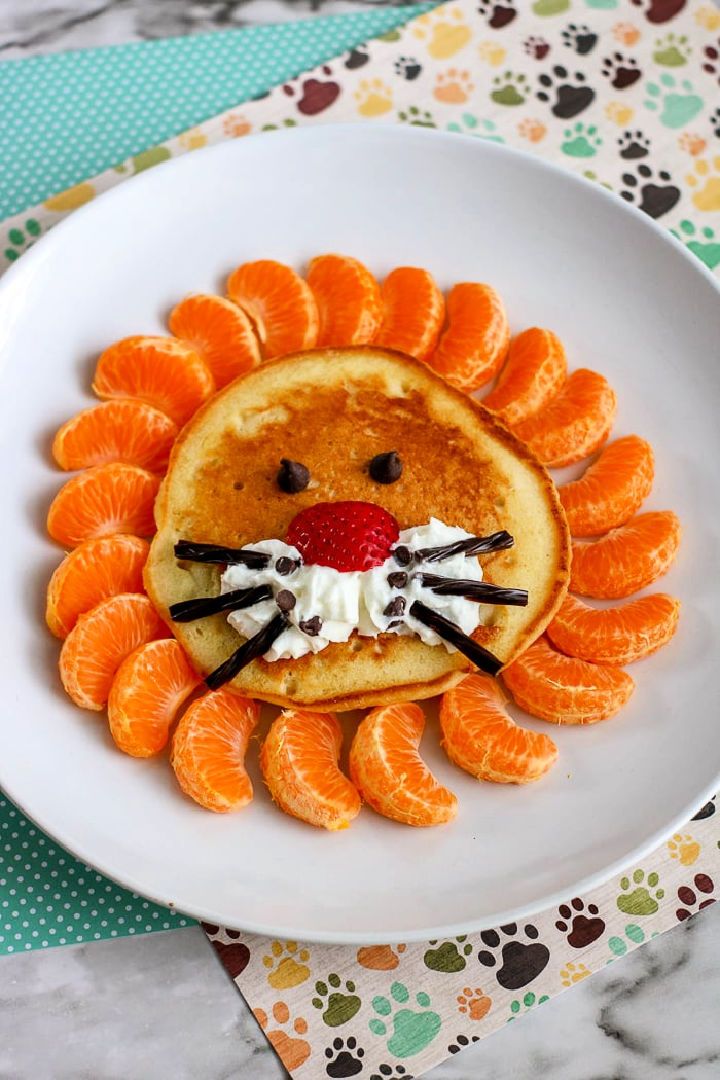 Celebrate the upcoming live-action Lion King movie with this easy and fun DIY breakfast treat – Lion Pancakes! All you need is some basic pantry items like flour, salt, sugar, eggs, milk, butter and baking powder. Then top off your pancakes with whipped topping, clementines, strawberries, licorice strips, chocolate chips/raisins & mini chocolate chips to make a roaring lion face! Perfect for jungle lovers of all ages. countrycottage
7. Unicorn Popcorn Recipe for Elementary Students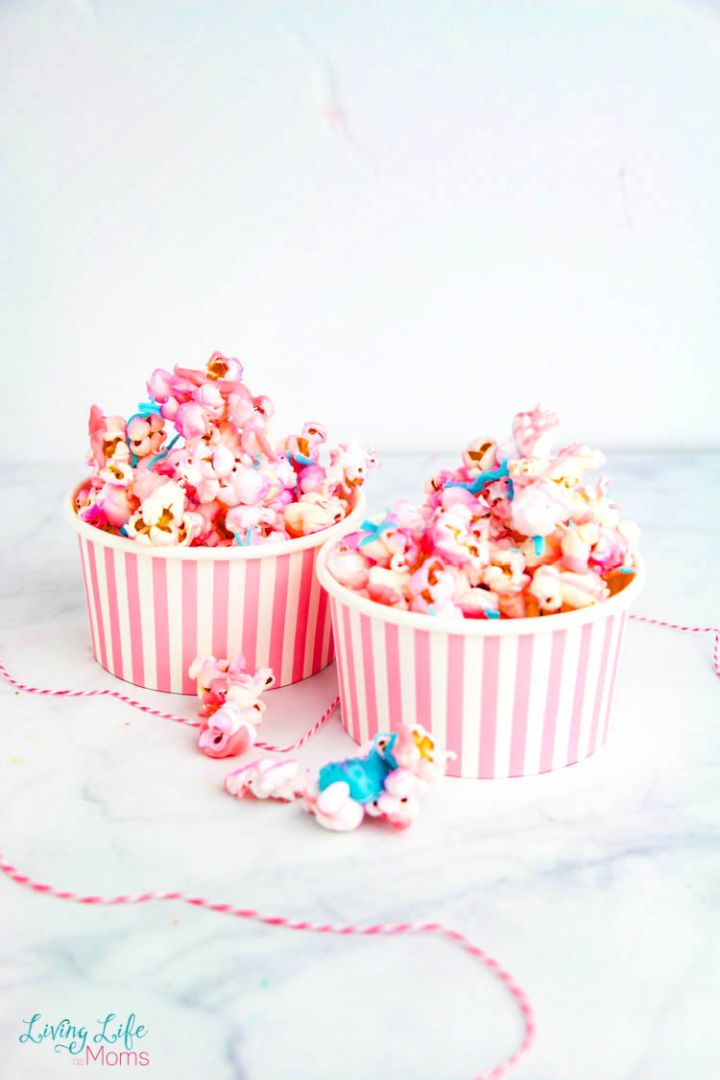 A DIY unicorn popcorn is a perfect way to get creative in the kitchen with the kids! This sweet and fun recipe is super simple, taking just minutes to create a delicious treat.
With just a few ingredients like air-popped popcorn, candy melts, coconut oil and sprinkles, you can easily transform a regular snack into something magical.
It's perfect for any celebration – big or small – as a fun substitute for cake and cupcakes, plus bright and beautiful colors that will help make your party stand out. With DIY unicorn popcorn, it's easy to get your little ones involved, making it a great activity option for any occasion! livinglife
8. Creative Bakers Tray Food Activities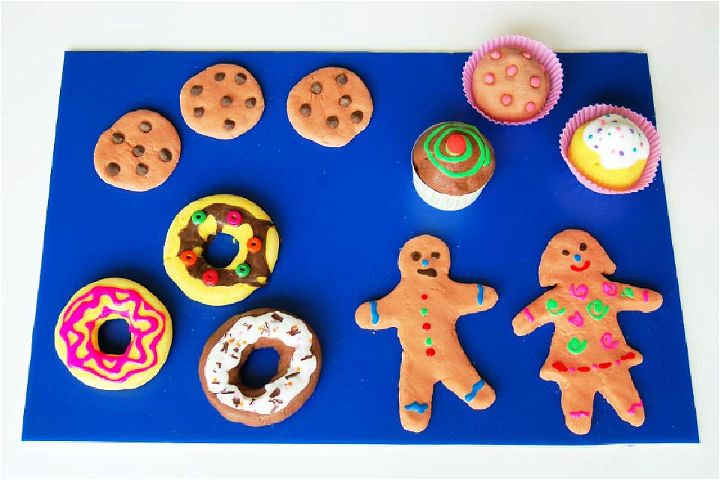 Encourage your kids to create colorful, engaging trays of food-inspired craft with this fun DIY baker tray activity! You'll find all the materials you need like play dough, clay or salt dough, muffin papers and paper cups, crayons and small beads easily available in the market. It's perfect for food-themed parties or community helper theme activities. With adult supervision it can help develop their artistic creativity and organizational skills. While strengthening fine motor skills through hands-on practice. Get creative with plastic trays or a sturdy board plus crayon sharpener, shaving foam, colored glue and flour paste – great SEO optimized content to make memorable occasions! firstpalette
9. Fun and Easy DIY Circles Lollipop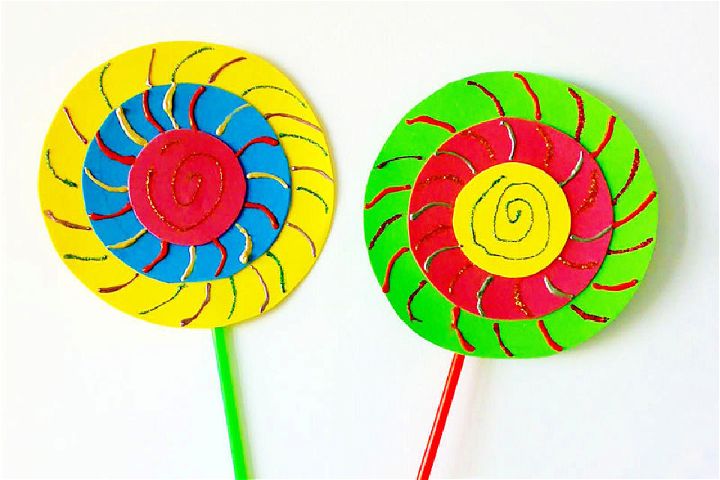 Making DIY circles lollipops is a fun and easy craft anyone can make at home. All you need are some plastic trays or any sturdy board, play dough, clay, or salt dough, muffin paper or paper cup, crayons, a crayon sharpener, small beads, shaving foam, colored glue (or color your own) and colored flour paste. To start making your DIY lollipop project:
Shape your play dough into discs and press them into the tray to form circles.
Decorate each circle with strips of colorful paper and beads using the colored glue and the colors from the crayon sharpener.
Add in the shaving foam for extra color and texture.
In no time, you'll have a circle lollipop that's perfect for decorating any special occasion! firstpalette
10. Valentine Candy House Arts and Crafts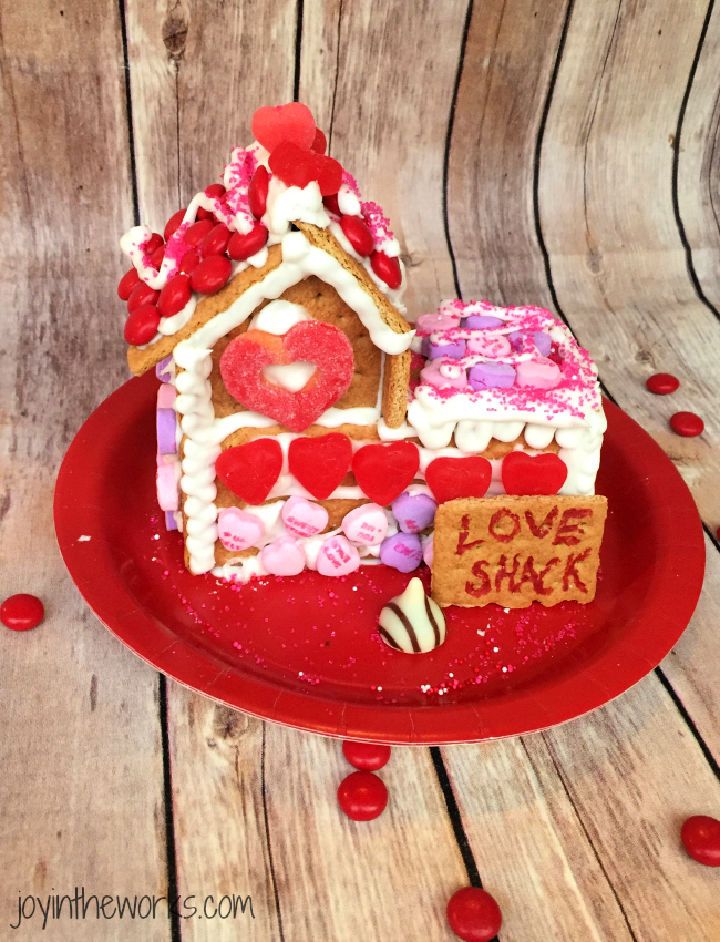 Valentine's Day is the perfect time to get your family together and have some fun with a DIY Valentine's Candy House. All you need are graham crackers, powdered sugar, eggs, water (sometimes lemon juice or cream of tartar) for royal icing glue & plenty of candy & sweets. Assemble it all and you'll have a unique & adorable house that your family can admire as they take it apart piece by piece! joyinwork
11. Strawberry Heart Man Kid Snack Crafts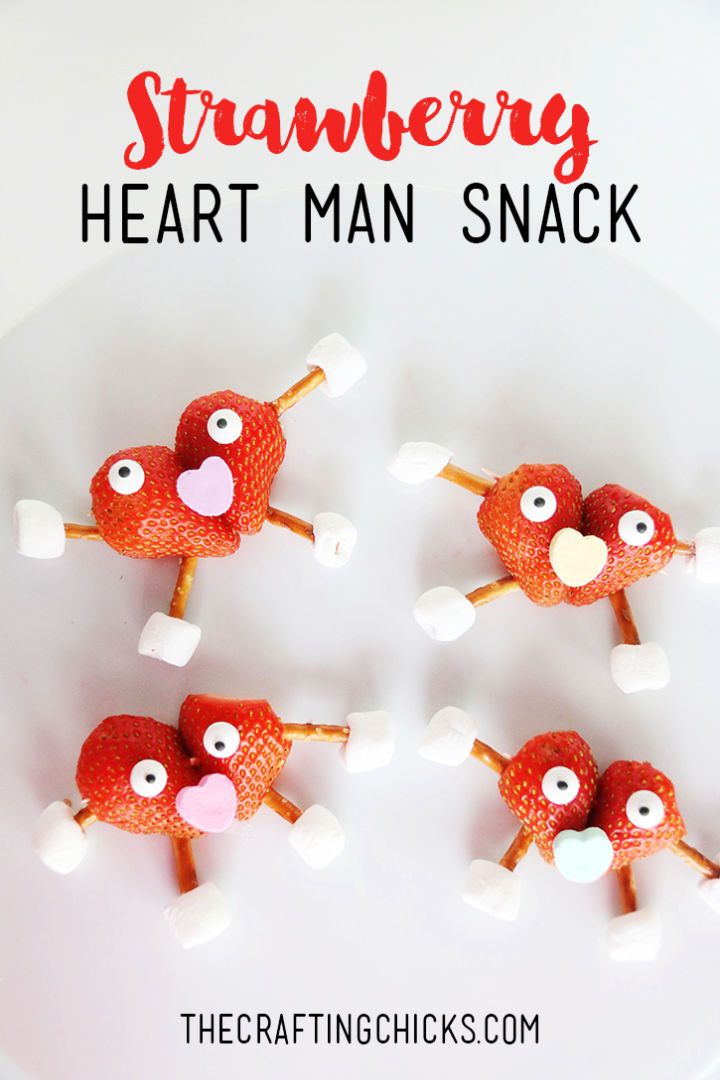 The DIY strawberry heart man kid snack is a fun and creative way to liven up any class party or valentine's day gathering for kids. This delicious and slightly healthy snack will surely provide an element of surprise with every bite and a sense of satisfaction when the little ones put it together all by themselves!
Using ingredients such as strawberries, toothpicks, wilton candy eyes, pretzel sticks, mini marshmallows, and conversation hearts, this DIY strawberry heart man kid snack is almost too cute not to make. Let the kids bask in their love-filled snack creation and have a blast! craftingchicks
12. Rice Krispie Treat Monsters for Kindergarten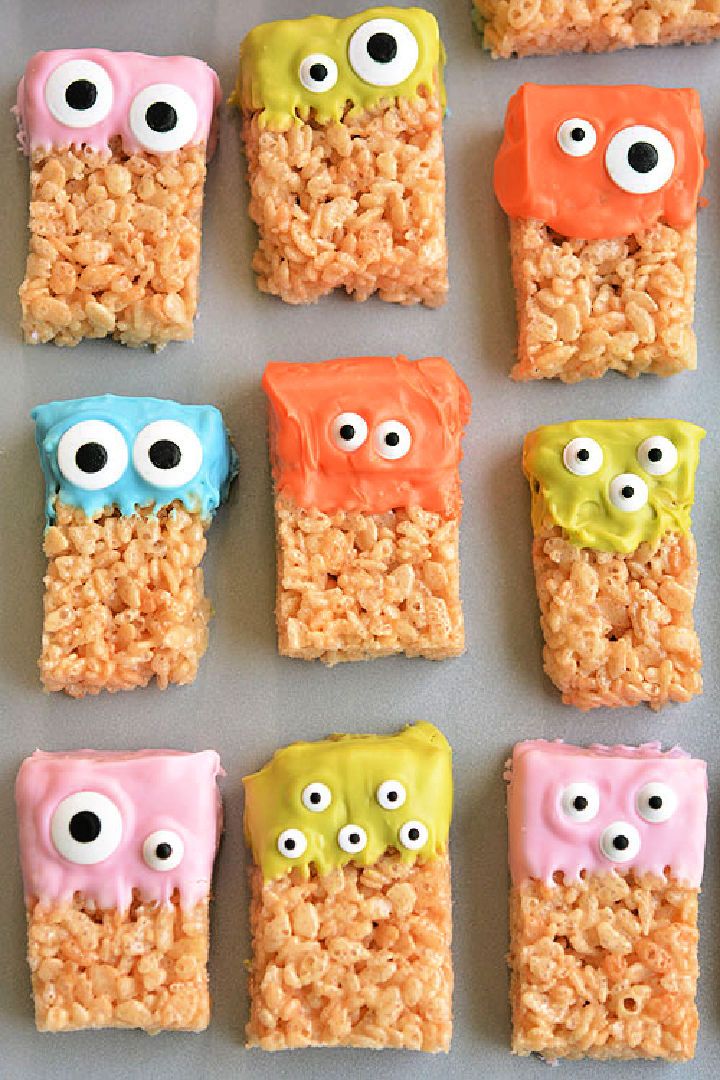 Make your kid's first birthday special with these fun, easy-to-make DIY Rice Krispie Treat Monsters! With just a few simple ingredients like candy melts, candy eyes, and cooking oil to go along with pre-made rice Krispie treats, you can create eye-catching monsters that will liven up any event. Customize them however you want: add more candy eyes and colorful candy melts to bring the monsters alive! littleproject
13. Adorable Polar Bear Cookies Crafts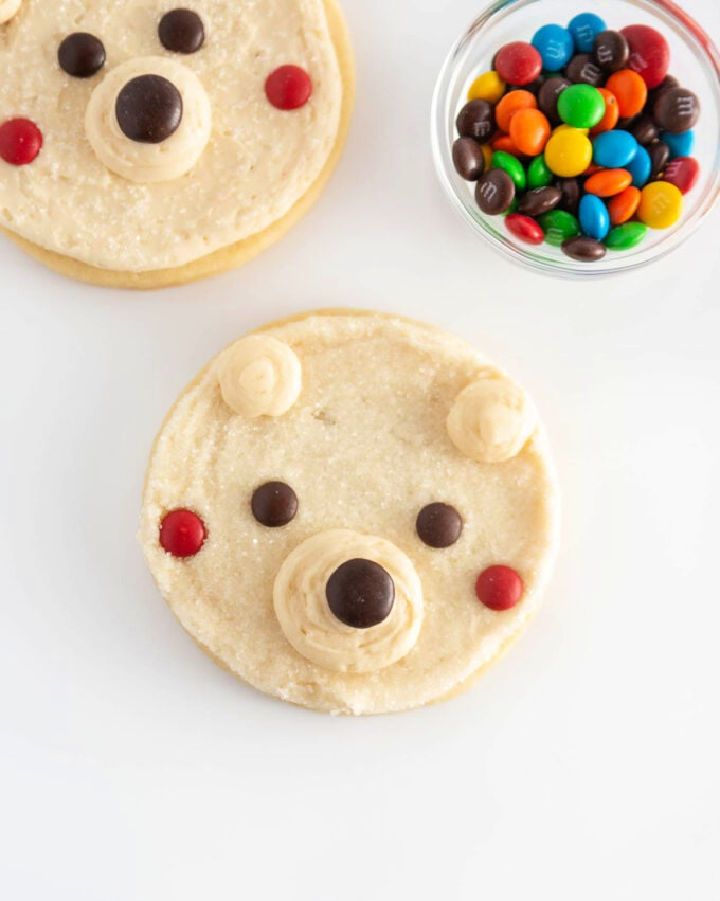 Making DIY polar bear cookies are the perfect christmas baking activity for kids! Not only will they love eating them, but they will also be proud of creating their own adorable polar bear face. With a free printable instruction guide, it is easy to DIY this festive cookie at home.
There are only a few simple ingredients to prepare – cut-out sugar cookie dough, white frosting and m&m candy for decorations. You can use a circle cookie cutter or a glass cup to make your circular cookies, then use the decoration guide to personalize it with the candies and create an adorable polar bear face. Enjoy these sweet edible creations—you won't be able to resist DIY easy polar bear cookies! designrepeat
14. Edible DIY Halloween Pumpkin Cookie Cake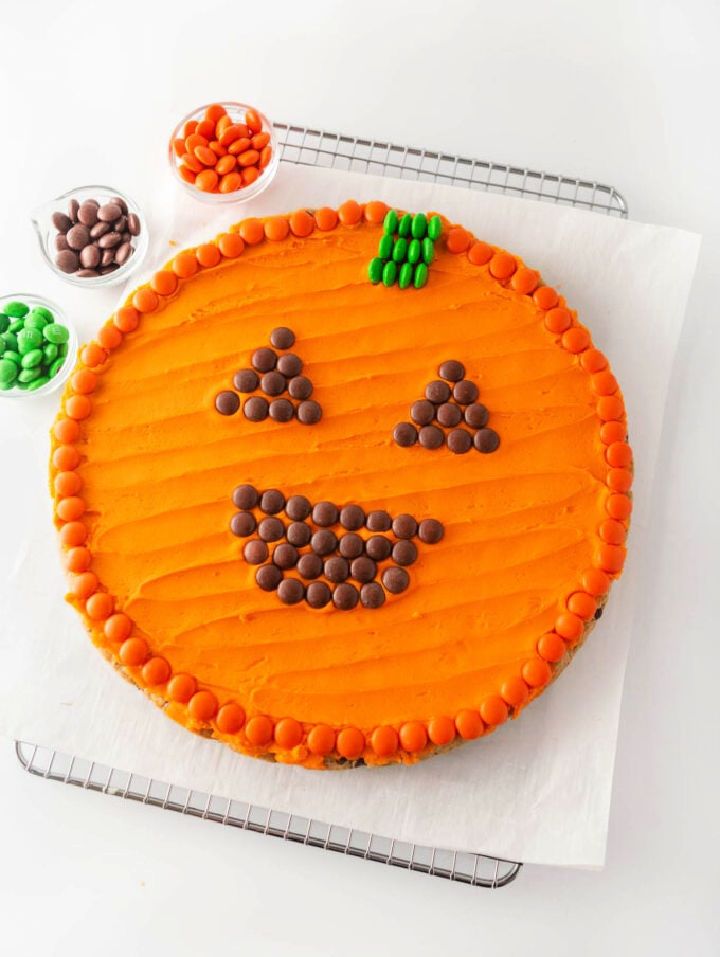 DIY-ers rejoice! This DIY Halloween pumpkin cookie cake is the perfect festive treat for a spooky holiday season. This special project is super affordable and budget-friendly – with the ingredients costing only around $10 – and it's also easy to make. The instructions for making this edible DIY masterpiece are simple and require minimal baking skills.
All you need is cookie dough, frosting, food coloring, and some m&m's, reeses pieces, or chocolate chips as decorations to create the perfect cutest Halloween jack-o-lantern cookie cake. With just a few simple and easy steps, you can have homemade halloween pumpkin cookie cake in no time! designrepeat
15. Eatable Silly Monster Halloween Cupcakes Crafts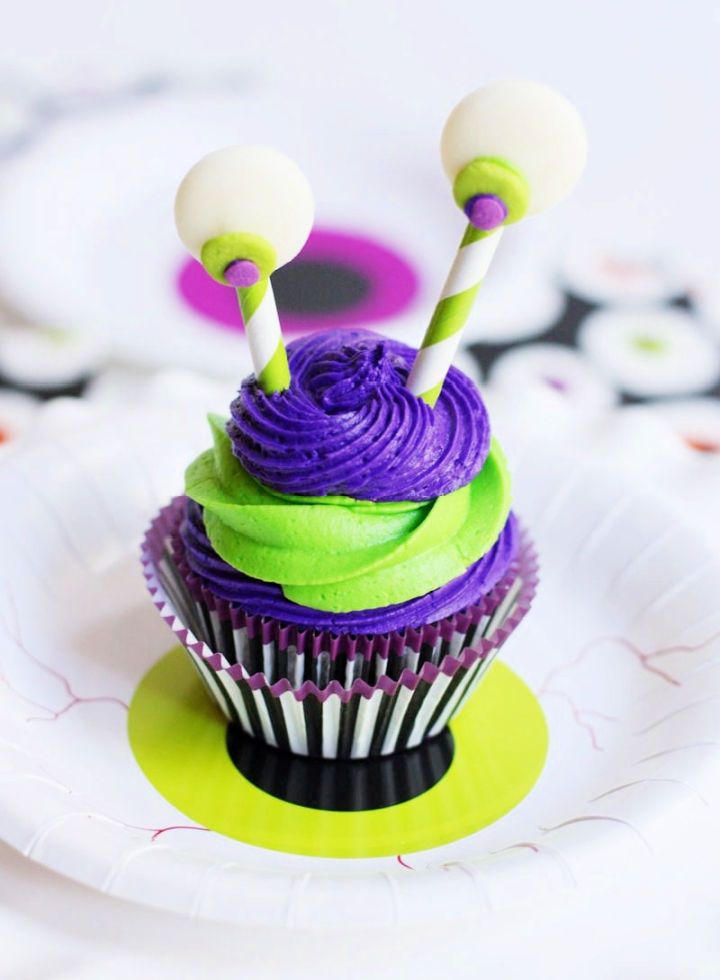 These silly monster halloween cupcakes are the perfect treat for kids of all ages. Not too spooky, these cupcakes will surely be a hit at your halloween party.
Making DIY monster cupcakes is fun and customizable – you need cupcake liners, food coloring, a dozen cupcakes, some frosting and piping bags, striped straws, white wilton candy melts and mini chocolate chips and large sprinkles in different colors to add the monster features.
When finished, you'll have an adorable batch of silly monster cupcakes that are as delicious as they are cute! This is the perfect DIY project for spending quality time with your loved ones over the holiday season. pizzazzerie
16. DIY Monster Marshmallows for Babies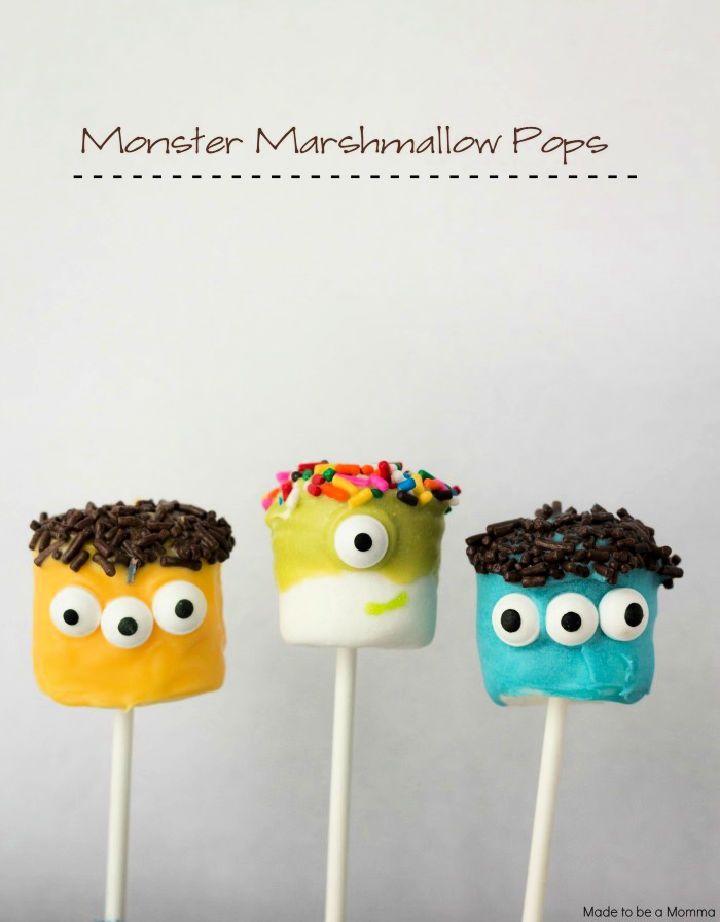 DIY monster marshmallows are a fun and creative way to have your kids enjoy the kitchen. All you need is candy-melting chocolate, eyeballs, lolly pop sticks, and sprinkles.
Your kids will love putting together the parts to create their adorable monsters – from decorating them with delicious candy to dipping the marshmallow in the sprinkles. DIY monster marshmallows not only provide a fantastic activity for all ages, but it's sure to create some wonderful family memories too. madeamomma
17. Cute and Simple Halloween Cookies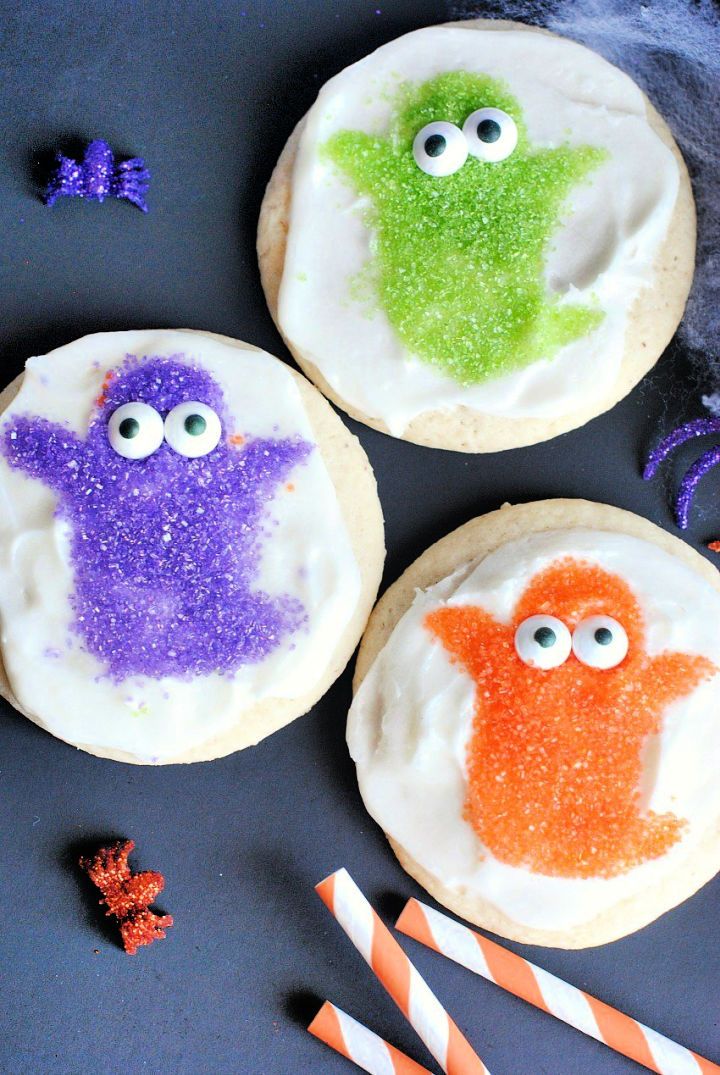 Making this cute & simple Halloween cookie is the perfect Halloween treat at home with the kids. They taste amazing and are so easy to make. Decorate your sugar cookies with sprinkles, googly eyes and fun stencils! It will creating a delicious treat that both kids and adults will love.
Making halloween cookies is fun to create memories and traditions while bonding with your family. Plus, they make a great addition to any halloween party!
With just a few ingredients, including sugar cookies (homemade or store-bought), sprinkles, frosting, halloween stencils and edible googly eyes, you'll have delicious DIY cookies to enjoy in no time! littleprojects
18. Witchy Caramel Apple Food Themed Crafts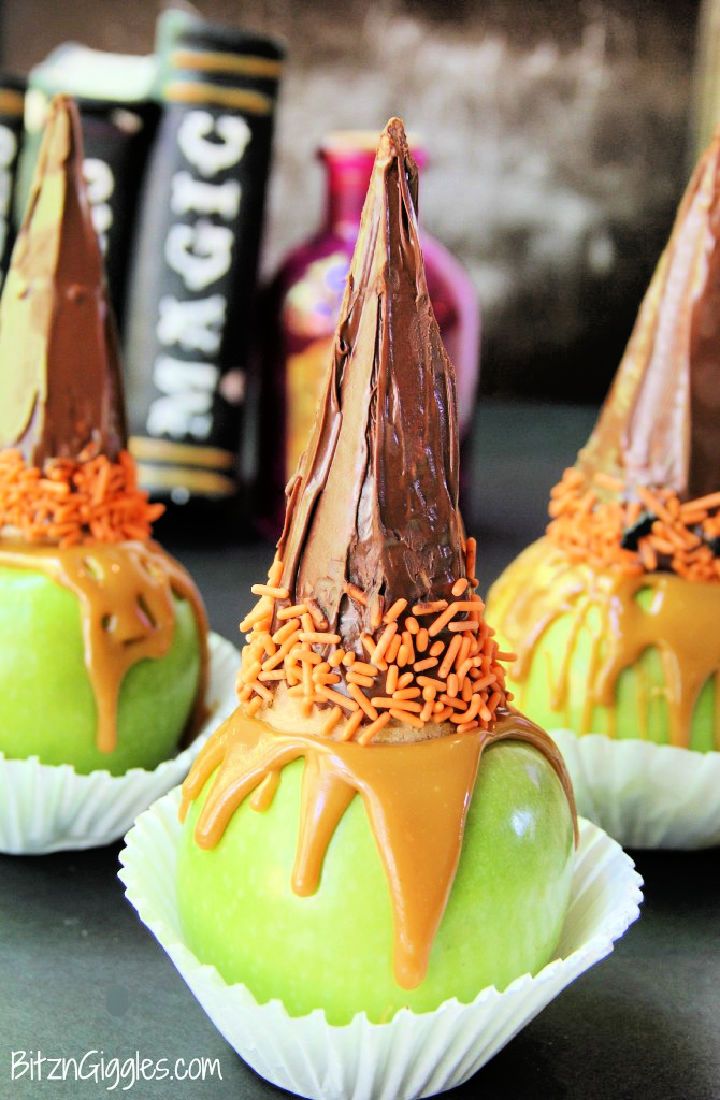 These witchy caramel apples are a perfect fall treat that everyone can enjoy! They are made with granny smith apples, sugar cones, chocolate chips, caramels, lollipop sticks and halloween-themed sprinkles to garnish.
With few ingredients and simple instructions, it's easy and fun making these treats for Halloween! Just melt the caramels with shortening in a double boiler or the microwave. Then dip each apple into the melted caramel, insert a lollipop stick into its core and top each one with a sugar cone dipped in melted chocolate.
Decorate them with sprinkles if desired, place them in muffin liners and voila! Witchy caramel apples are ready to devour! bitzngiggles
19. Kid-friendly Halloween Monster Donuts Crafts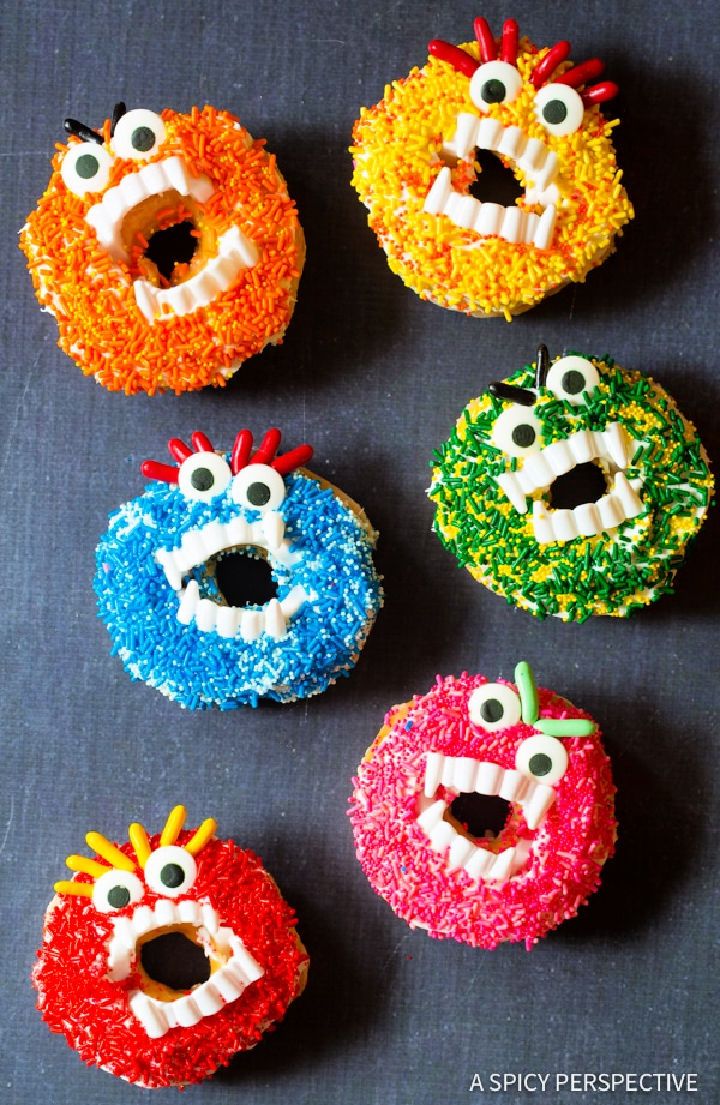 DIY halloween monster donuts make fun and kid-friendly craft treats while celebrating the holiday season. Create this spooky and delicious treat by glazing your donut and topping it off with white frosting, plastic vampire fangs, candy eyeballs, jimmies sprinkles, sugar sprinkles and licorice pastels.
These DIY monster donuts make for a sweet and sassy treat for any party or gathering this halloween. Get creative with monster donuts for festive memories to enjoy every year. aperspective
20. DIY Halloween Pizza Ideas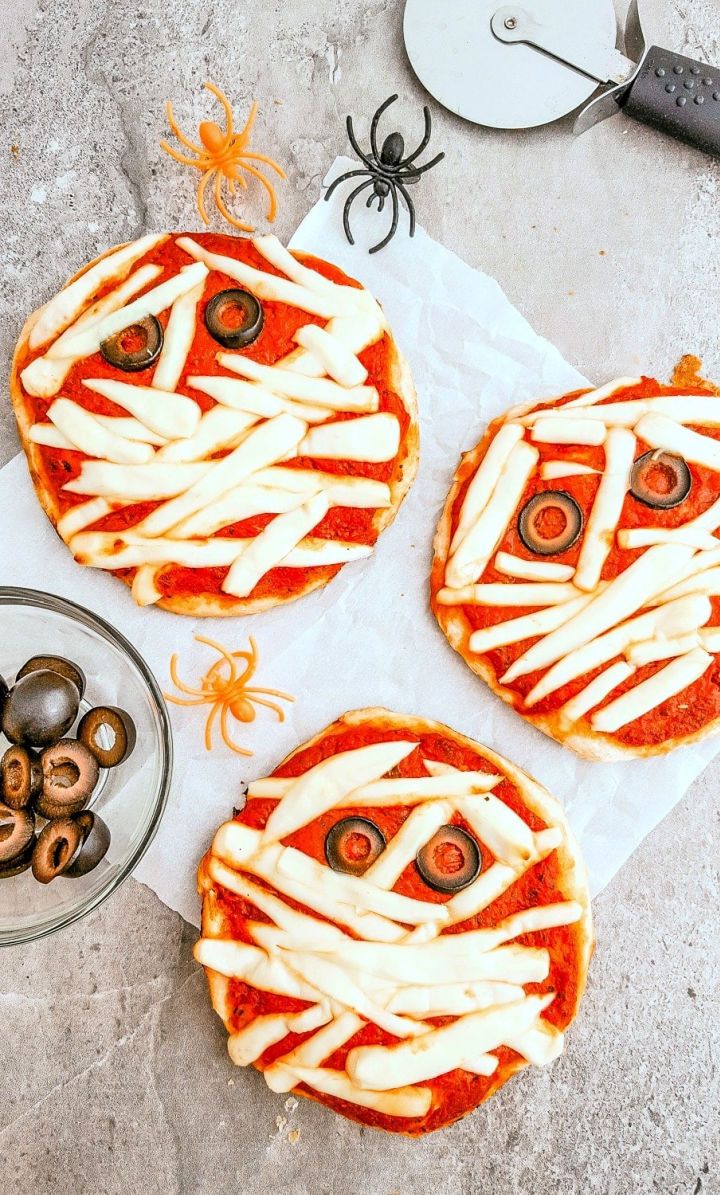 This DIY halloween pizza is perfect for getting into the halloween spirit without breaking the bank. With only four ingredients, you can make a delicious and ghoulish meal or snack for your family in no time.
Making mummy pizzas with your kids is a great way to spend quality time together while creating an easy yet spooky halloween-themed dinner for the whole family.
All you need are one can of biscuits, one jar of pizza sauce, sixteen sliced black olives and eight mozzarella sticks – it's that simple! DIY halloween pizza is ideal for those looking for a fun and budget-friendly Halloween dinner idea. mommyusings
21. Melted Witch Cookies With Food Coloring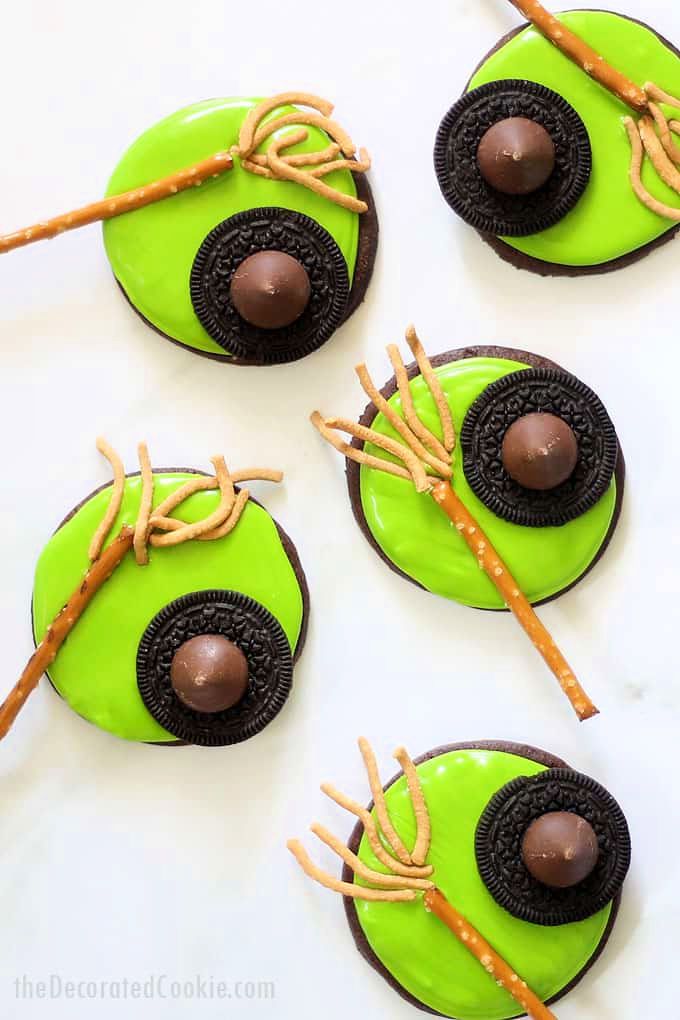 Making melted witch cookies is a fun and easy food idea this halloween season! In just one hour, you can make a batch of these simple cookies with chocolate cut-out cookie dough, royal icing, electric green food coloring, a disposable decorating bag, a coupler and a size four decorating tip.
To finish off your DIY melted witch cookies, add oreos, hershey's kisses, pretzel sticks and chow mein noodles. This DIY makes the perfect treat for enjoying at home with family or passing out to classmates as Halloween gifts. Try creating DIY witch cookies today for an easy halloween treat everyone will love! decoratedcookie
22. Witch Hat Surprise Cookies Crafts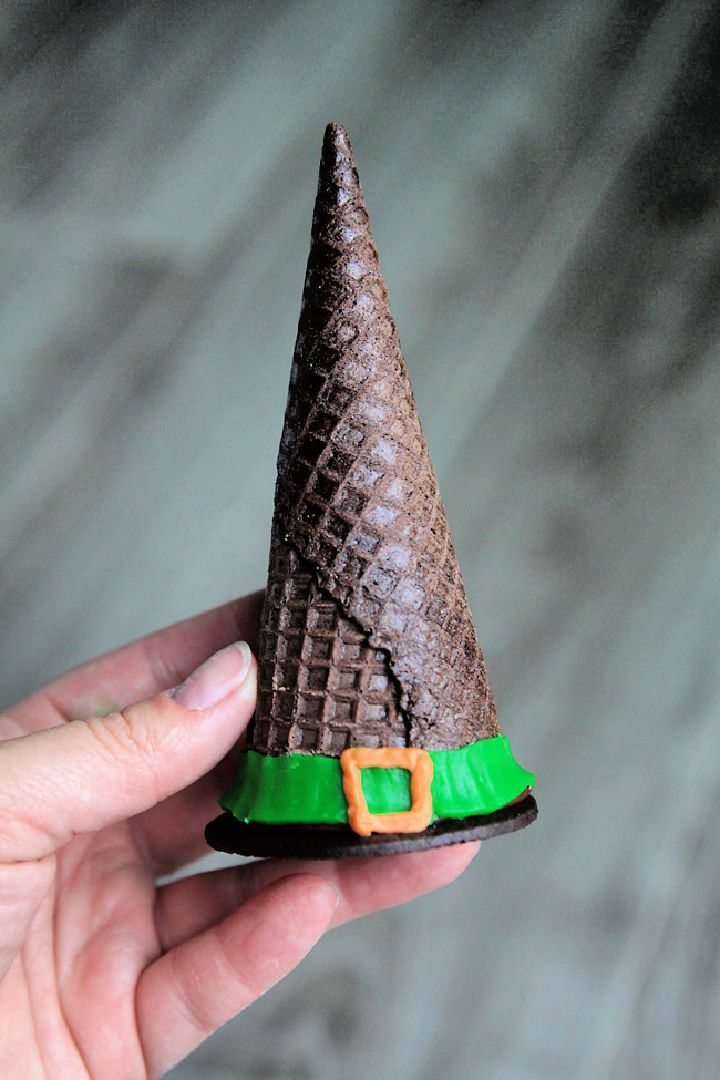 Make Halloween even more fun with these DIY Witch-Hat Surprise Cookies! Easy to make and delicious, they look like mini witch hats when baked. All you need is Oreo ice cream cones, Nabisco Famous Chocolate Wafers, green frosting, chocolate chips & butterscotch chips plus small candies to fill the cones up with. Bake for a yummy treat your guests will love – take a bite and pour out more surprises! alwaysautumn
23. Easy DIY Valentines Day Cookies for kids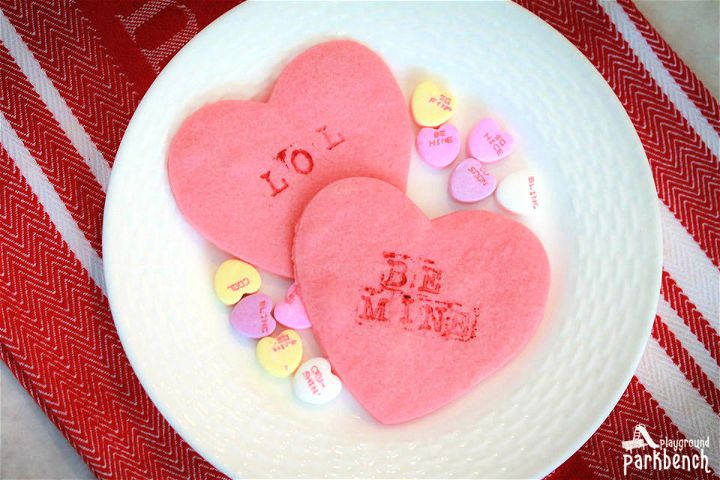 These DIY easy valentine's Day cookies are a great way to surprise your kids as they come home from school! They are simple, perfectly suited for any family's traditional holiday celebration, and require less prep time than other treats.
All you need is unsalted butter, sugar, eggs, baking powder, salt, vanilla and pink gel food coloring; all ingredients are easy to find and inexpensive to purchase. The rewards of making DIY cookies for kids with your family can't be beaten! They will enjoy every sweet bite and every part of the special bonding it creates. playground
24. Cute Felt Food Crafts for Beginners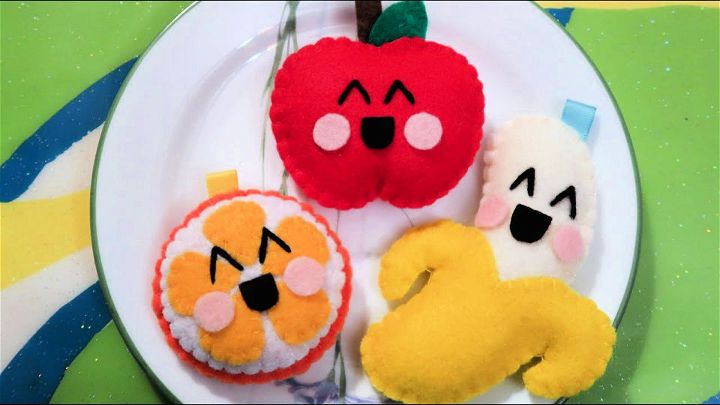 DIY projects can be a creative and fun way to spend a summer day. Making DIY fruit plush tutorials is an excellent DIY project for those feeling crafty. These super easy tutorials make use of felt to create delightful plushies. With simple tips and tricks, even beginner DIYers can have their own set of delicious-looking felt food in no time.
It's great for beginners because it's easy and fun. There are many online tutorials with additional ideas on making this DIY project unique with colors and shapes! All in all, DIY fruit plush tutorials are sure to add something special to any home atmosphere.
25. Fake Bake Pumpkin Pie Cookies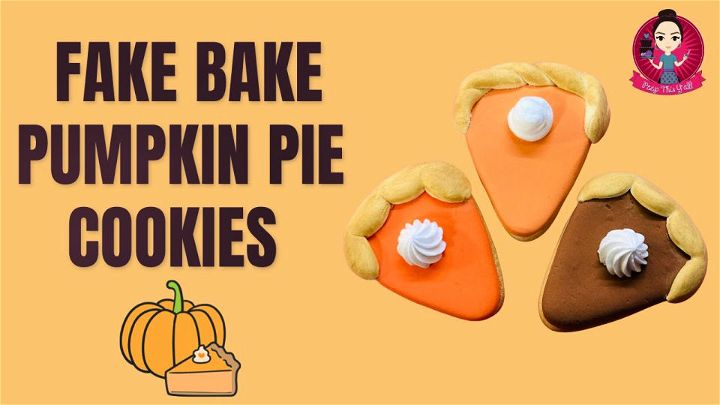 Want something special & festive for your loved ones this season? Give DIY Pumpkin Pie Cookies a try! This easy tutorial gives you step-by-step instructions to recreate these delicious & creative snacks. No need to be intimidated – Pumpkin Pie Cookies are simple, cute treats that will charm any gathering.
Related Crafts for Kids:
Bring out your child's creativity with fun and easy crafts for kids. Get inspiration, ideas and supplies for all types of kid-friendly projects to make at home.
Conclusion:
Food crafts and activities for kids are a great way to encourage creativity, have fun in the kitchen, foster healthy eating habits, and promote safety. With 25 edible food craft options on the table – from making sushi rolls to creating vegetable art – it is possible to engage even the most finicky eaters in the kitchen. Kids will love making their own snacks, and experimenting with different tastes and textures all while having fun!
The fun food crafts and ideas range from sweet treats and savory snacks to full meals that children can help create. Best of all, since these recipes involve foods that are safe to eat raw or cooked without adult supervision (with just a few exceptions), parents can feel assured that their children's culinary adventures can take place safely at home.
Food activities also lay an excellent foundation for teaching kids about nutrition while enjoying themselves; what better way than food crafts? So, get creative food crafts with your little ones today!