If you're looking to celebrate the 4th of July with fun Arts and Crafts activities, then check out these 25 easy fourth of July crafts for kids. No matter their age or skill level, we have easy 4th of July crafts that are perfect for toddlers, preschoolers, kindergarten and elementary students alike! With detailed step-by-step instructions and all materials included, these affordable 4th of July craft ideas will get the whole family in a creative spirit! Now you can show your patriotism loud and proud this 4th of July with homemade decorations that both you and your kids can enjoy.
You can celebrate the Fourth of July with your kids by creating some festive DIY crafts! Whether you're looking for easy or more unique 4th of July craft ideas, these 25 creative and easy 4th of July crafts for kids will provide hours of fun. From patriotic decorations to USA-themed wearables, there are plenty of 4th of July arts and crafts to choose from. Surprise your family by transforming a t-shirt into a vibrant red, white, and blue masterpiece.
Make a wreath adorned with small flags for an impressive front door decoration. Or get everyone in on the action as you build paper fireworks displays together. With so many creative fourth of July craft ideas at your fingertips, it's time to gather supplies and spend quality time crafting fun memories with your loved ones this holiday season!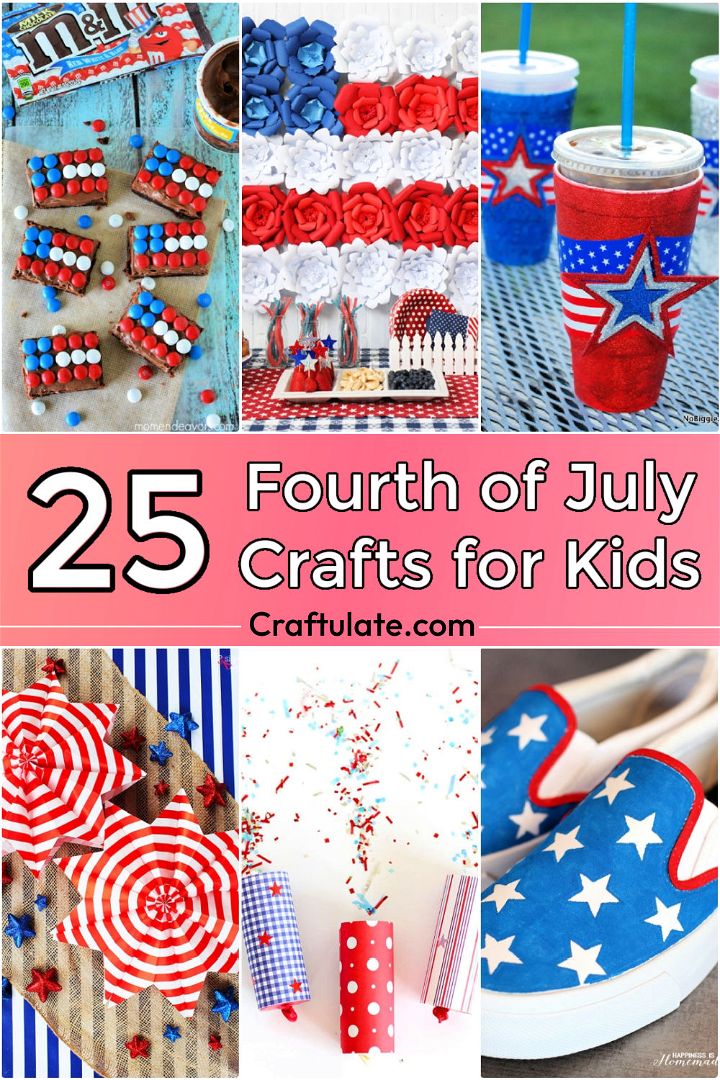 Easy Fourth of July Crafts for Kids of All Ages
Looking for some fun and easy 4th of July crafts for kids? We've gathered 25 easy 4th of July crafts that toddlers, preschoolers, and kindergarteners will all love. Everyone will have the unique fourth of July crafts, from patriotic paintings to sparkly stars. So get crafting and celebrate the Fourth in style!
All 4th of July crafts come with step-by-step instructions, so it's easy to follow, and all the supplies can be found around the house or purchased at your local store. From patriotic crafts like flags and fireworks paintings to fun crafts that incorporate costumes, kids will love getting festive with these easy 4th of July crafts!
1. Candy Flag Brownies Craft for Babies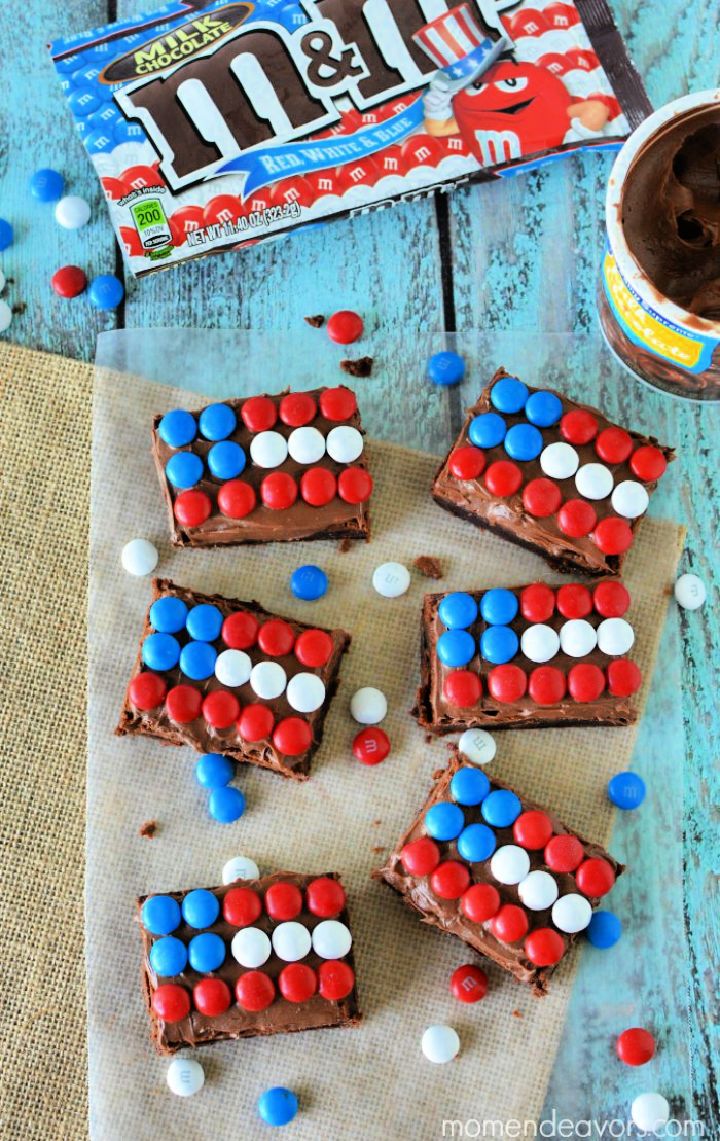 DIY candy flag brownies are the perfect craft to whip up in honor of the fourth of July! A fun, festive treat that fits into any independence day celebration. If you're ready to get baking, you'll need a batch of brownies, a tub or homemade batch of chocolate frosting, and red, white & blue m&m candies to create your candy flag.
To assemble your flag-inspired treats, spread a layer of frosting on top of the cooled brownie batter, cover evenly with the candies, and voila!
Not only is it the perfect sweet touch to enhance any fourth of July activities, but these candy flag brownies also make for an impressive food presentation that won't require much effort! momendeavors
2. Easy DIY Fourth of July Balloons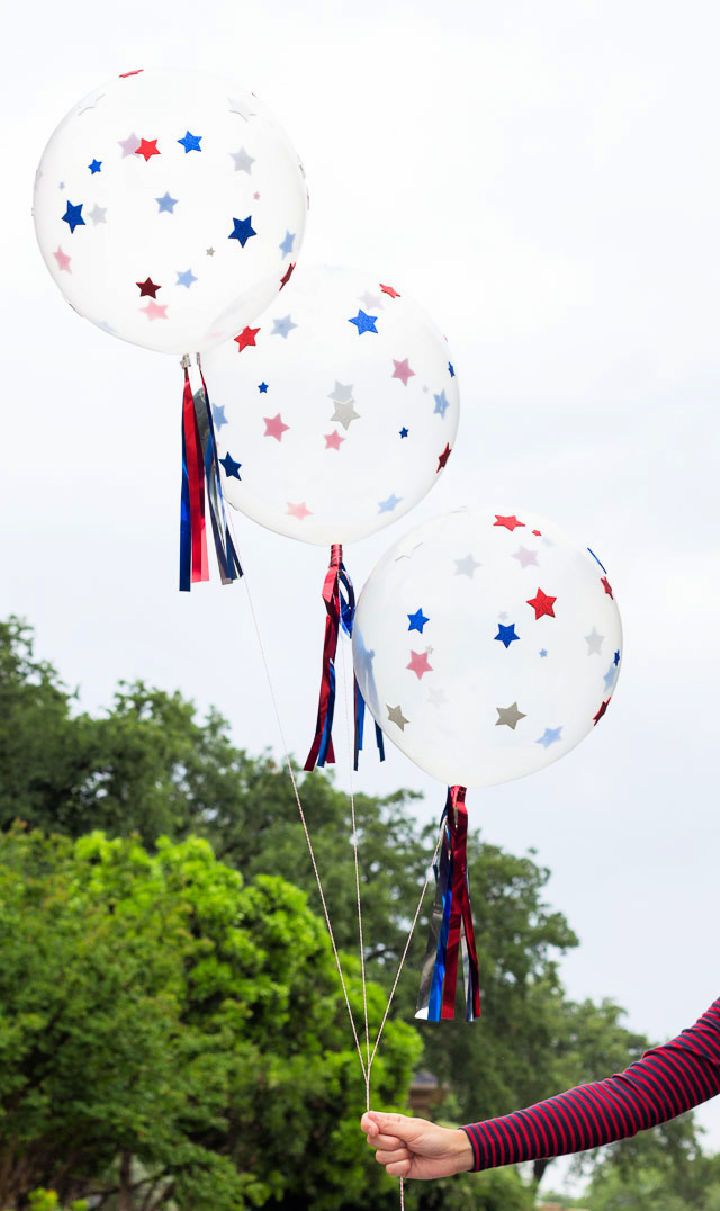 This handmade 4th of July balloons are a great way to add festive patriotic flair to your 4th July celebration. Augment the atmosphere with cheerful, colorful decorations that you DIY yourself!
Gather some clear helium-quality latex balloons and inflate them with a helium tank.
Adorn them with foam glitter star stickers, red, white and blue fringe cut from a long garland, and baker's twine or strong string.
Hang your 4th of July balloons in your home or outdoors. Voila!
You can now revel in playful patriotism while admiring your DIY decorating handiwork. designimprovised
3. Toddler 4th of July Rockets Paper Crafts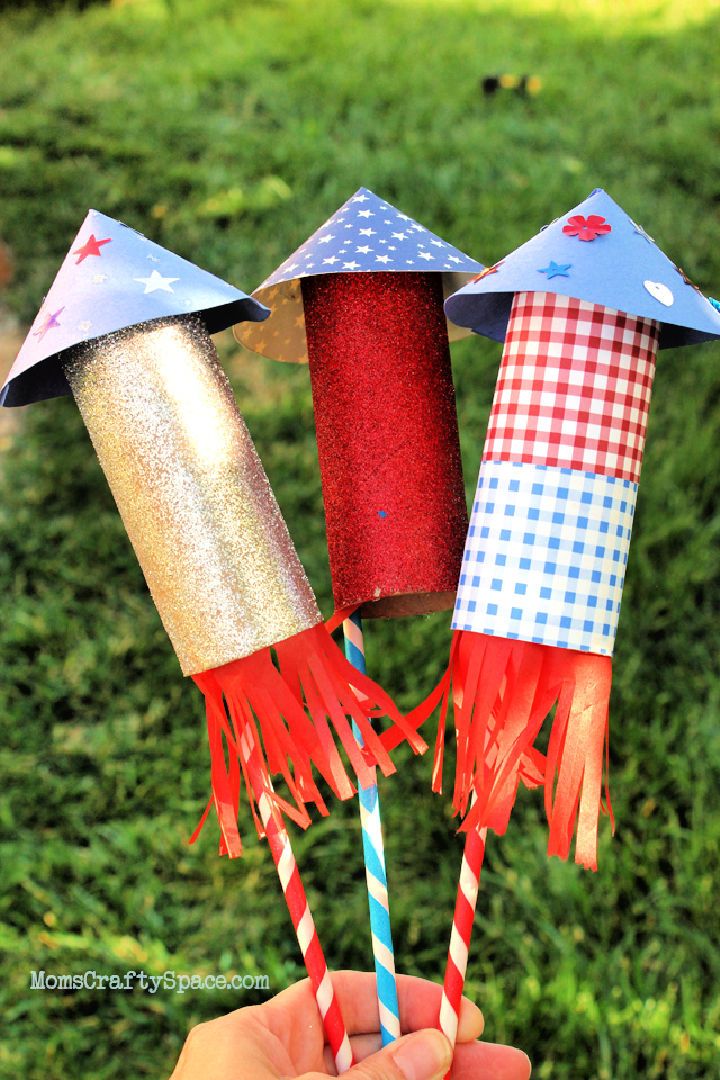 These DIY 4th of July rockets are the perfect kid's craft for a holiday. It is a fun and easy project that can be put together with just some basic supplies. To make these rockets, you need a cardboard tube – toilet paper, paper towels, and wrapping paper tubes all work nicely.
Additionally, you will need white glue, construction or scrapbook paper, straws and decorations such as glitter, sequins, ribbons or pipe cleaners. If desired, add paint, brushes, and tissue papers ("flame") to customize your rocket further.
With simple instructions, this 4th of July rocket has become a fun holiday activity for the whole family to enjoy. homemade
4. 4th of July Confetti Poppers for Adults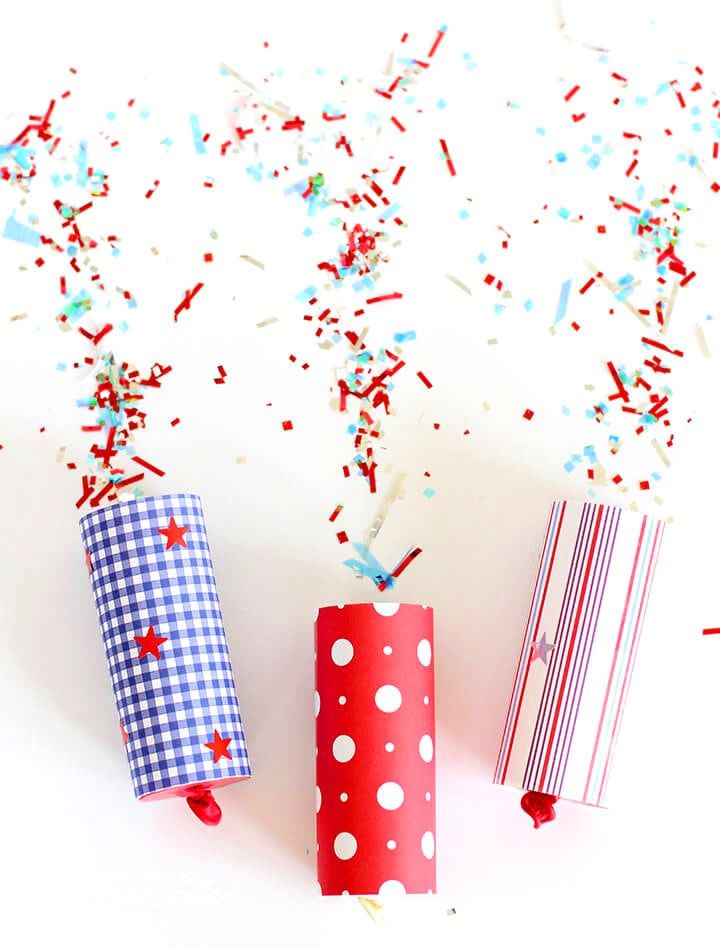 These homemade confetti poppers will be a hit for fourth of July celebrations and can easily be made at home. They are a great way to entertain kids and adults alike, as they bring a fun and safe alternative to sparklers!
All you need to make these confetti poppers is some patterned paper, stickers, glitter, empty toilet paper tubes, balloons, packing tape, metallic tissue paper or gift bag filler for DIY confetti and fringe scissors OR pre-made patriotic confetti.
Once you have the supplies, the fun begins by decorating the tubes with your materials. When you're done with the design, tape up one end of the balloon around the base of the toilet paper tube before stuffing it with your DIY or pre-made patriotic confetti.
After that's complete, tie up the end of the balloon so that air cannot escape and revel in your creative work! These confetti poppers make wonderful party props for the 4th of July but are also an excellent addition to New Year's Eve celebrations! homemade
5. DIY Patriotic Red, White and Blue Mason Jars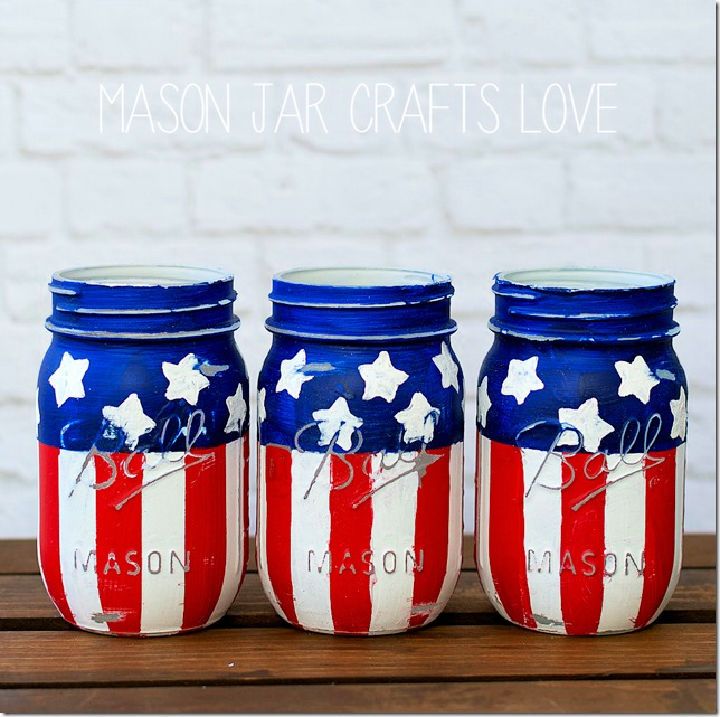 These DIY patriotic red, white blue mason jars provide a perfect Fourth of July craft and decoration. With zinsser primer, washi tape, red, blue, and white craft paint, paintbrush, foam star stickers, sandpaper, wine cork and clear coat sealant, anyone can turn ordinary mason jars into beautiful stars & stripes decorations!
Give your jars a personalized touch with paint or washi tape patterns, and decorate your dinner table with this wonderful centerpiece. With the right supplies and step-by-step instructions, these patriotic mason jars are easy to make. masonjarcrafts
6. Star Spangled 4th of July Shoe for Elders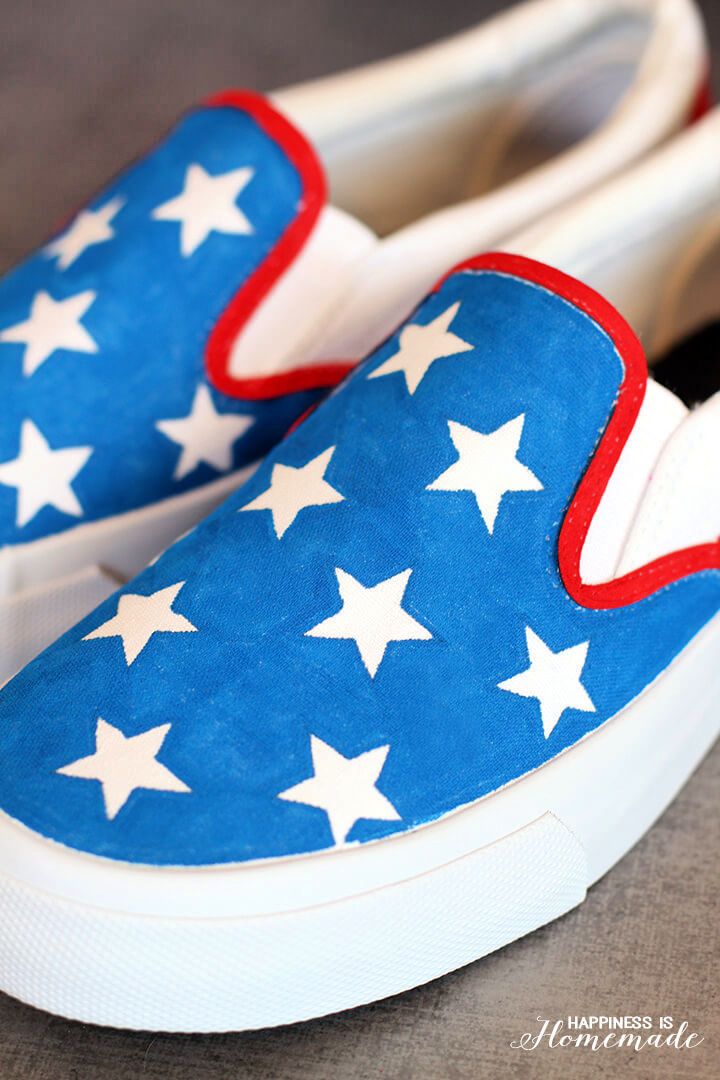 Have fun this 4th of July with a DIY star-spangled craft! All you need is a pair of white canvas shoes and elmer's painter's paint markers in red and blue. With a pencil and a star stencil, you can easily cheerfully spruce up plain shoes with a festive star look. Follow the step-by-step instructions for a quick, creative kick-start to an amazing Fourth of July celebration! homemade
7. 4th of July Crafts to Make and Sell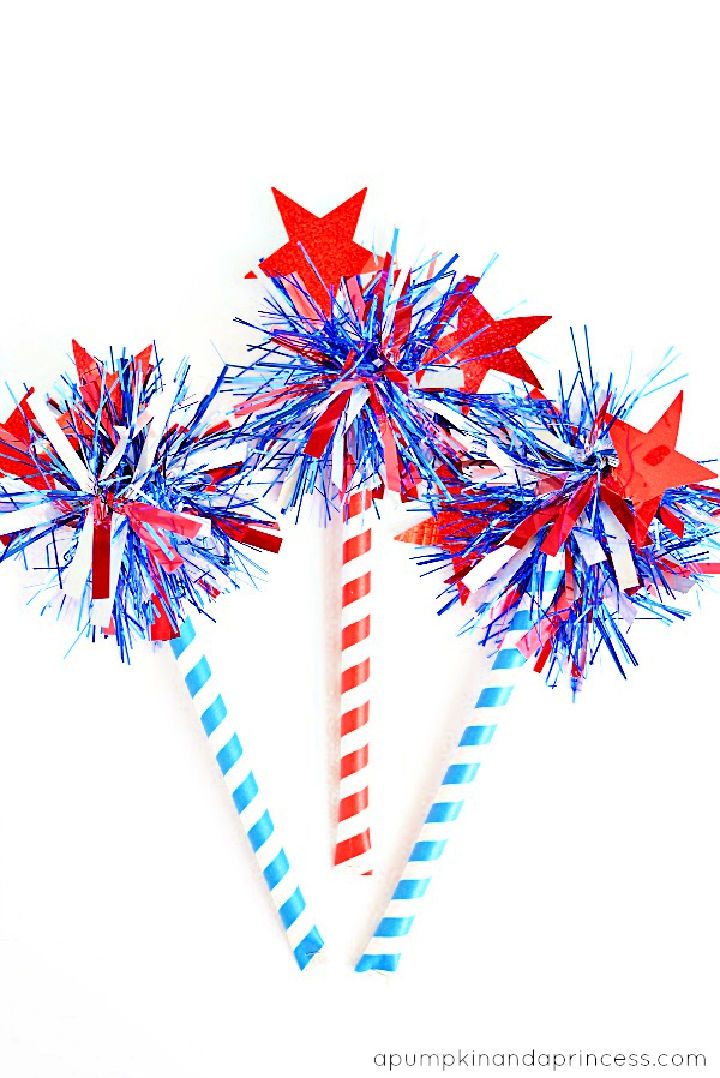 These DIY firework confetti sticks are a great way to add patriotic flair to your fourth of July celebrations. It's an easy craft that your whole family can get involved in. All you need are thick paper straws, confetti, sequins (if desired), glue, a stapler and some patriotic garland!
Follow the step-by-step instructions in the tutorial for a foolproof project and create stunning fireworks inspired by the holiday. With these handmade firework confetti sticks, you're sure to have an unforgettable holiday and truly bring the festivities alive. apumpkin
8. DIY Preschool Festive Cups for the 4th of July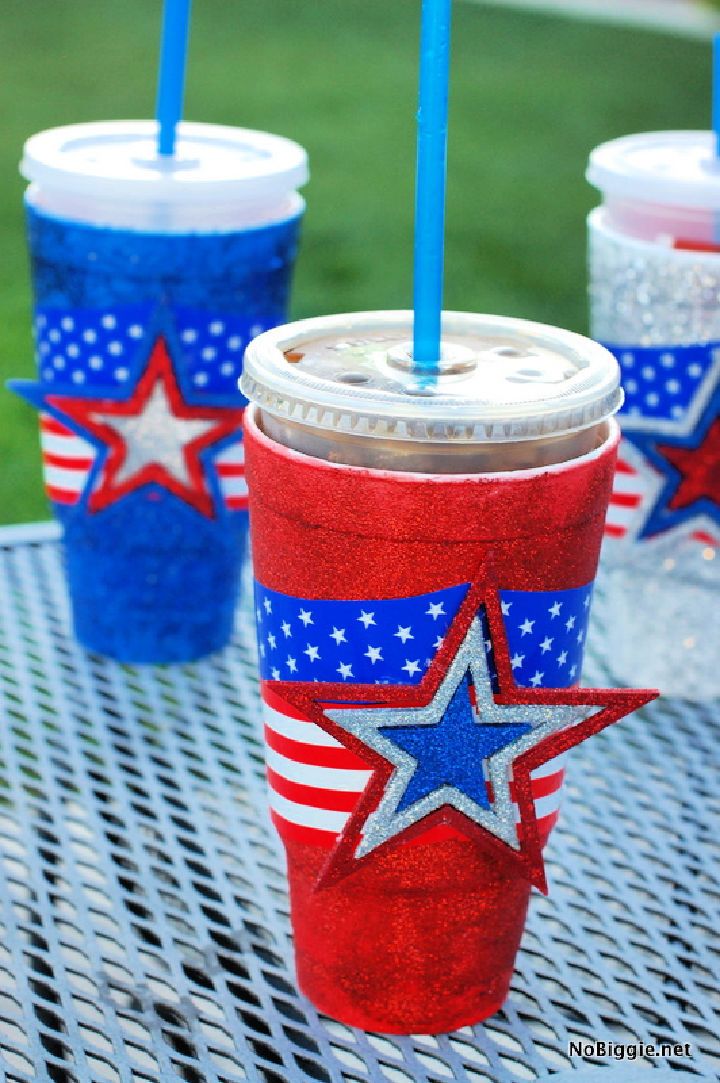 These festive cups for the 4th of July are an inexpensive DIY craft that can be decorative and functional. With a few short supplies list, you'll have completed your 4th of July craft and can enjoy a refreshing drink during your festivities.
Use sonic cups and paints in blue, red, and white to begin with—you'll secure those colors by coating them in mod podge glue or heavy-duty glue—then use coordinating colors of coarse glitter sprinkled on top.
Wrapping plastic flag ribbon around the cup is also a great way to add texture and color. You can even top it off with glittery stars glued on with a hot glue gun, and you're done.
Not only will you have made some funky & festive cups perfect for any party, but they will also help keep your ice lasting throughout the festivities! nobiggie
9. Patriotic Paper Windsock for Elementary Students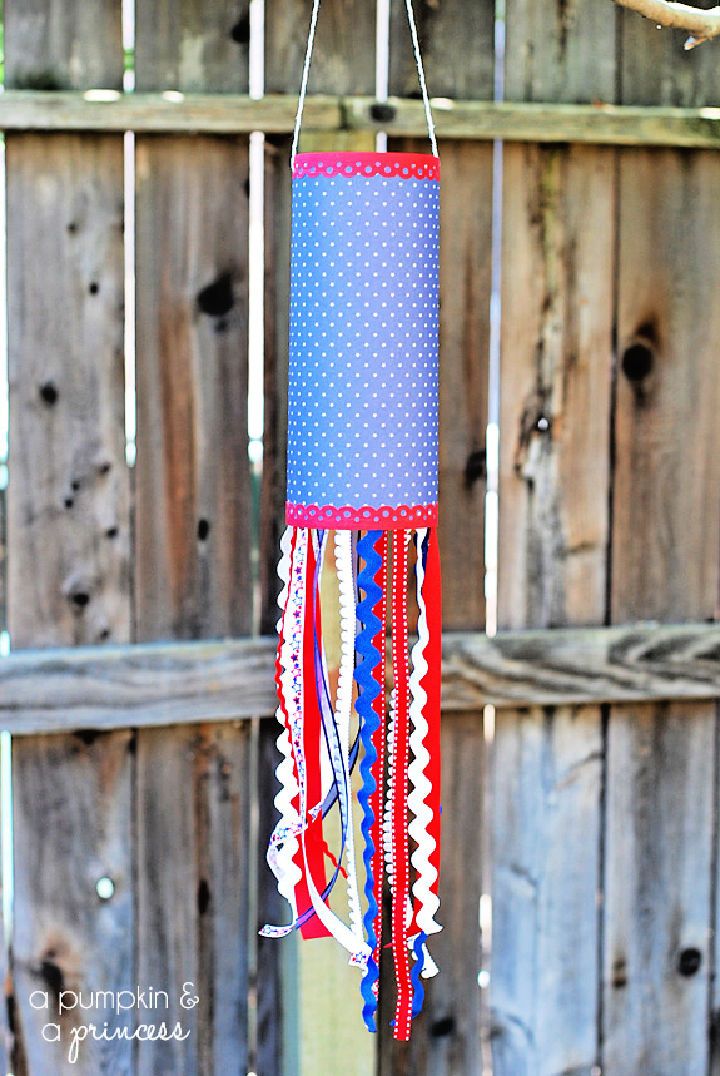 A DIY patriotic paper windsock is perfect for the 4th of July. Keeping the kids engaged with a fun summer activity has never been easier! Gather supplies like chipboard, scrapbook paper, a border punch or deco scissors, glue, ribbon and twine. Now it's time to follow step-by-step instructions to make this patriotic paper windsock. Use your imagination and have fun crafting memories this 4th of July! pumpkin
10. How to Make Paper Bag Stars for Decoration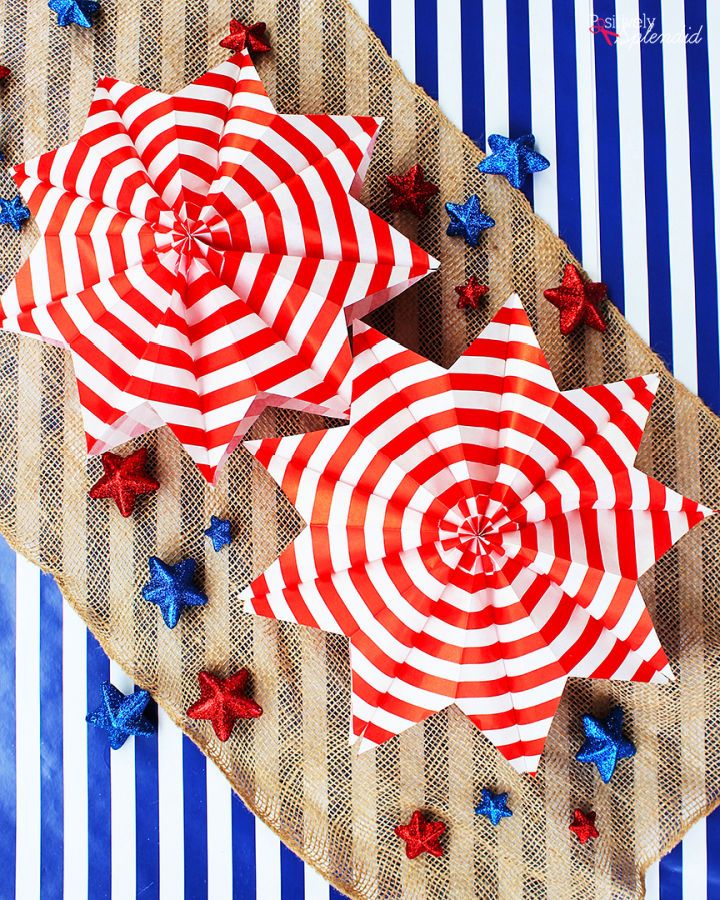 These easy DIY paper bag stars are a simple and cost-effective 4th July craft. An adhesive roller and scissors are the only supplies you need to get started — plus a few flat paper bags that you may have lying around in your house.
The tutorial is simple to follow, involving steps like cutting the paper bags into individual star shapes, connecting each point with coordinated angles, and rolling with the adhesive roller to keep everything in place.
The finished project can then be strung into breathtaking garlands or hung from ceilings or doorways as a creative way to celebrate any occasion. positivelysplendid
11. DIY 4th of July Candle Jars for Kindergarten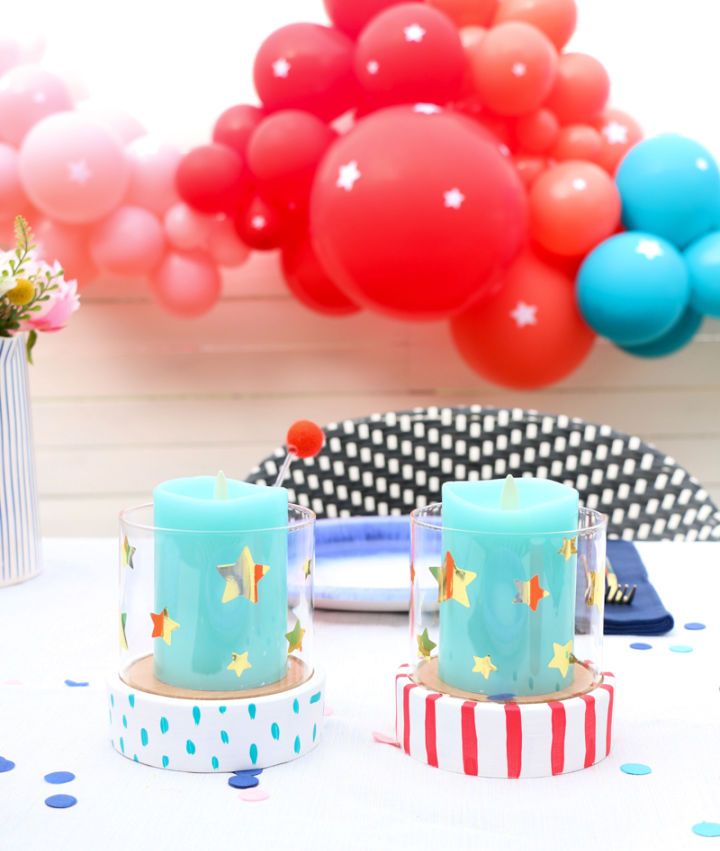 These DIY 4th of July candle jars are a great way to spruce up your decor for this celebratory summer holiday. With the right supplies and a few easy steps, you can make beautiful centerpieces for your fourth of July party in no time! To make this 4th of July candle jars, you will need glass hurricane jars, acrylic paints in white, red and blue, gold adhesive foil vinyl, and access to a Cricut maker.
To begin crafting, you'll need to add negative designs with blue mandala stencils or star stickers onto the jar. You can then paint over the rest with complimentary white, red and blues colors. After completing the painting, remove the stencil or star sticker decals carefully.
You can then finish by adding additional glamour by adhering to gold adhesive foil vinyl strips around the rim. It's that easy! Show off your craftsmanship this 4th of July with this 4th of July candle jars! akailochiclife
12. Patriotic Flower Pot Independence Day Crafts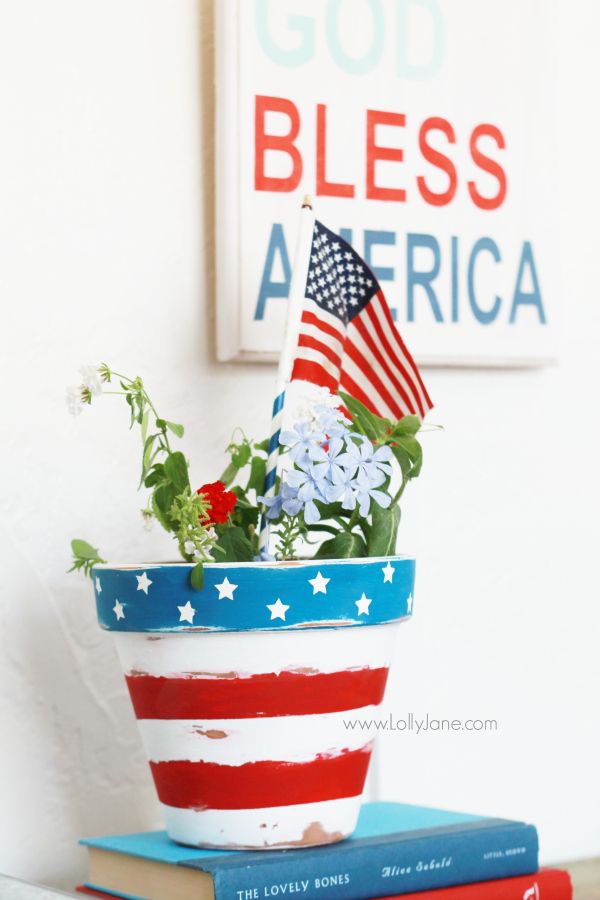 Making a DIY patriotic flower pot makes a perfect 4th of July craft to spruce up your home. It only takes an hour and minimal supplies, making this DIY a quick and easy project! You'll need a flower pot, white, red, and blue paint, painter's tape, a sanding sponge, foam brushes, vinyl lettering, or star stickers.
Following the step-by-step instructions will result in a beautiful and eye-catching piece you can proudly display to show your patriotism. If you want an even more personalized touch, you could use stickers from the store. Start your project today and make something special for independence day this year! lollyjane
13. Homemade American Flag Wooden Crafts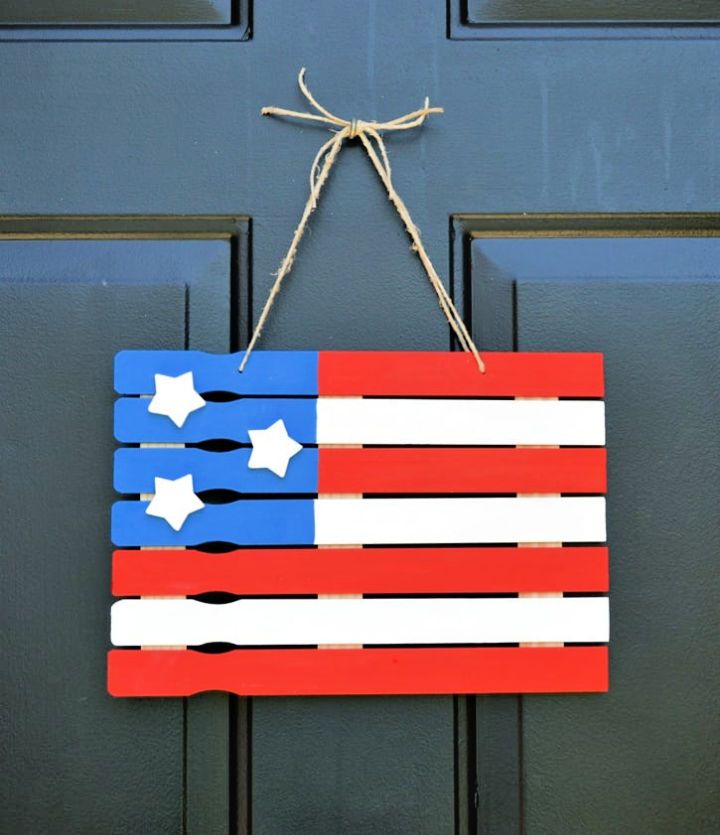 Getting into the fourth of July spirit doesn't have to be difficult, and DIY crafts are always a great way to celebrate. This homemade American flag paint stick craft is perfect for summer and should take no more than an hour to complete, not including drying time.
Supplies needed include glue dots, paint sticks or board stock cut to size, wood stars, acrylic paint in red, white and blue, twine, a saw, drill, sponge brushes for each color of paint applied, acrylic fixative, a ruler for measuring your materials and a pencil for drawing or marking.
Step-by-step instructions can be found in this tutorial, with detailed guidance on how to complete the project. With these supplies and instructions at the ready, you will have an amazing American flag paint stick craft that you can hang outside or add that finishing patriotic touch to your home this Summer! gluedots
14. Simple DIY Popsicle Stick American Flags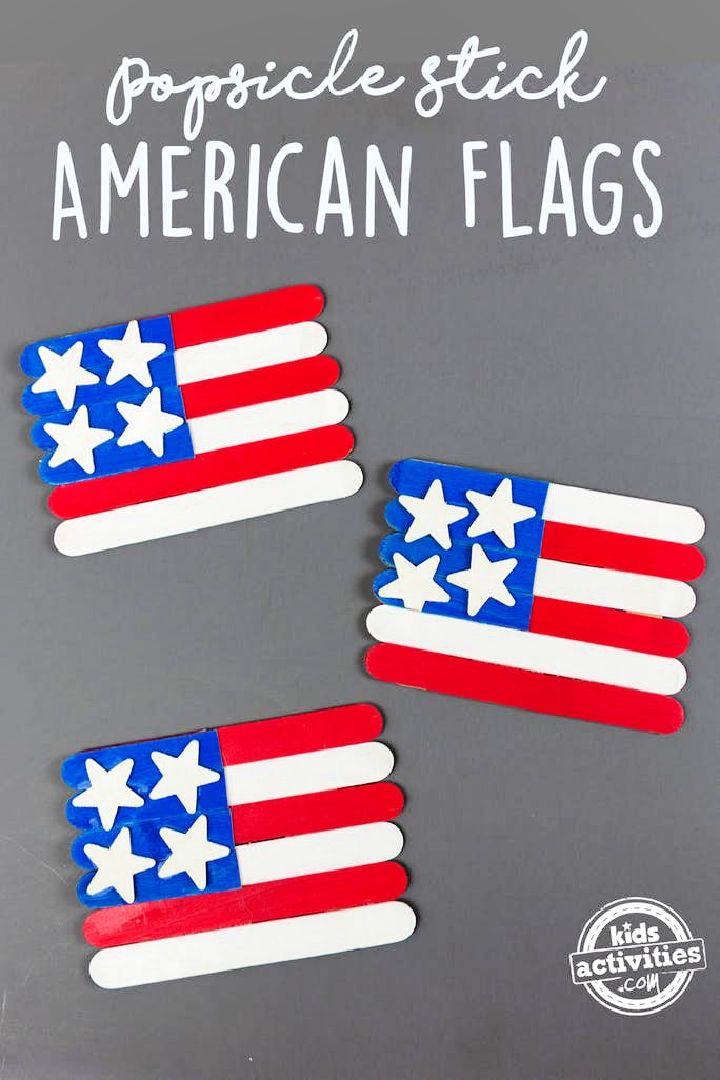 DIY popsicle stick American flags are a simple craft perfect for the 4th of July holiday. You can create an adorable American flag with only 12 jumbo craft sticks, wooden stars, red, white and blue craft paint, scissors, sponge brushes, and Mod Podge.
Begin by painting the red stripes onto your craft sticks and arranging them into the shape of a flag. Then paint your stars white, followed by painting your blue field. Finish off with cutting out shapes to give it a more realistic look, and add a layer of Mod Podge to make it last longer.
These popsicle sticks with American flags are a quick and easy way to show patriotism in this 4th of July observance! kidsactivities
15. Patriotic Cupcake Liner Flower Projects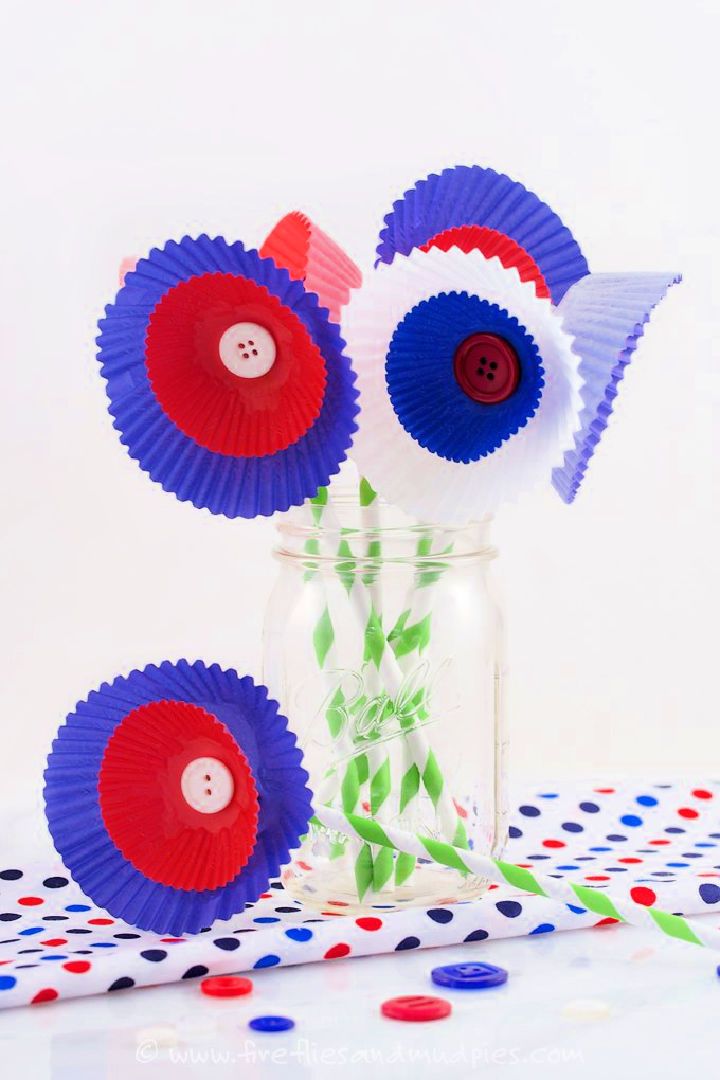 DIY patriotic cupcake liner flowers are the perfect craft for your 4th of July festivities! All you need to make them is red, white, and blue cupcake liners (standard size and mini size, too), as well as a selection of colorful buttons.
Some lime green paper straws, some tape, and some glue dots will complete your supplies list for this cheerful centerpiece that children all ages love to make. Simple instructions are available in this guide so you can create these cute patriotic cupcake liner flowers in no time! fireflies
16. DIY Giant Paper Flower American Flag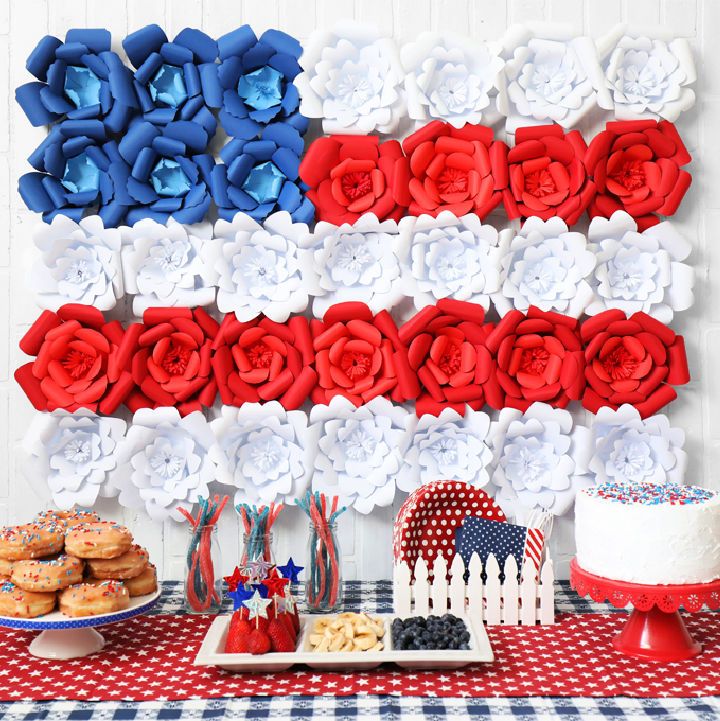 If you're looking for something to spruce up your 4th of July decor, a DIY giant paper flower American flag would be a great choice. This craft is no-frills to make and only requires a few dollars worth of supplies, such as red, white and blue cardstock, a Silhouette Cameo (to speed up the process) and a glue gun with lots of glue sticks.
Each step comes together quickly, and the finished product would make a beautiful statement showing your patriotism in a lovely way. This project can also be fun for the whole family and builds excitement for upcoming celebrations! thecraftpatch
17. 3D Popsicle 4th of July Craft Ideas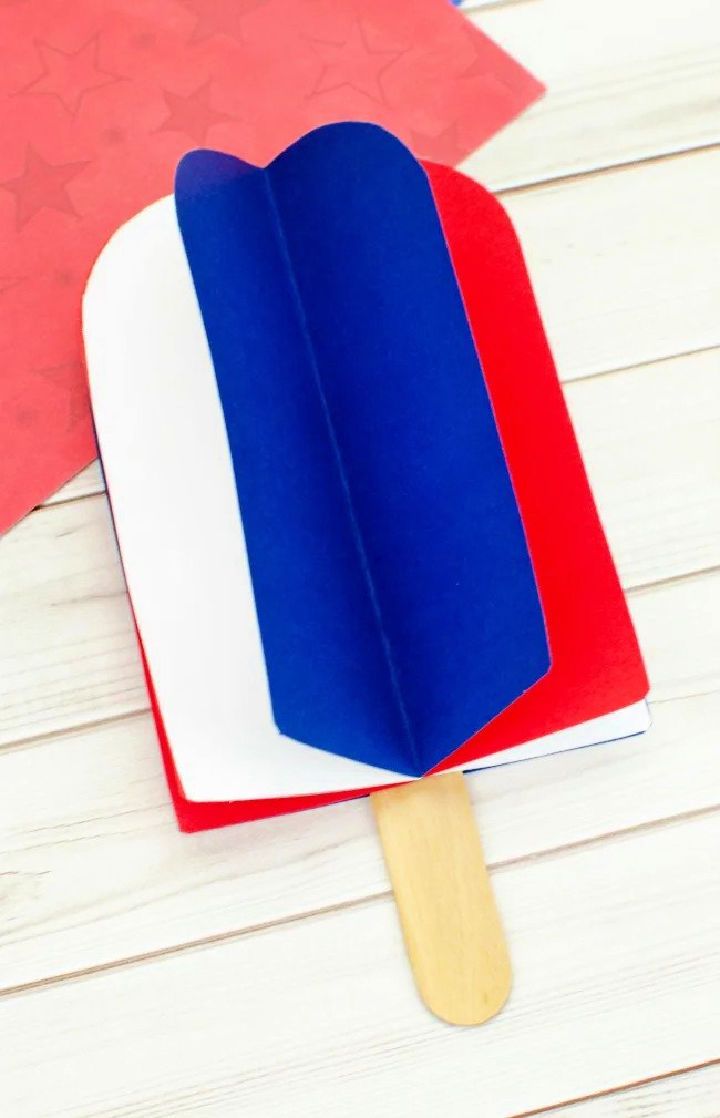 DIY 3D popsicle craft is a perfect 4th of July craft to make with kids on a hot summer day or during a rainy afternoon. Gather your supplies, which include a template printed on white cardstock, red, blue and white cardstock, glue stick, jumbo popsicle stick and scissors, and follow the step-by-step instructions to assemble your project.
With easy steps for beginner and experienced crafters, this 3D popsicle craft can be assembled in no time! Not only will it look like you have invested hours of effort into your creation, but it can even become an independence day conversation starter if placed around your homes as festive decor! creativeideas
18. Arts and Crafts USA Star Pencil Topper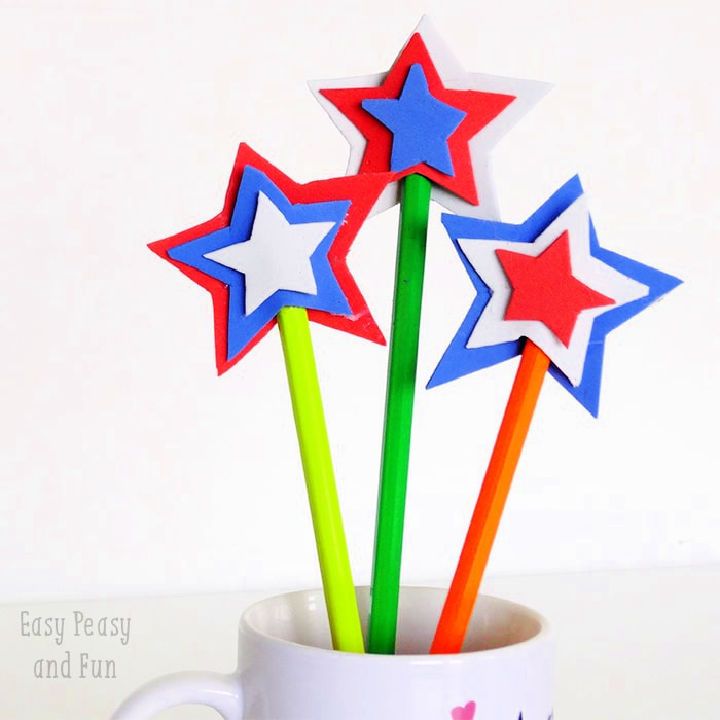 This handcrafted USA star pencil topper is a great 4th of July craft that kids and adults will surely enjoy. It's simple, easy and fun – perfect for arts and crafts activities. All you need is crafting foam in red, white and blue; a pen and paper; scissors (or a crafting knife); a glue gun; and pencils.
The step-by-step instructions are straightforward – draw a star shape on paper, trace it onto the foam, cut out the shapes from each color of foam, layer them together and glue around the edges with your glue gun. The result is an eye-catching festive pencil topper that kids will love – ready for July 4th festivities! easypeasy
19. DIY Perler Bead Coasters for Kids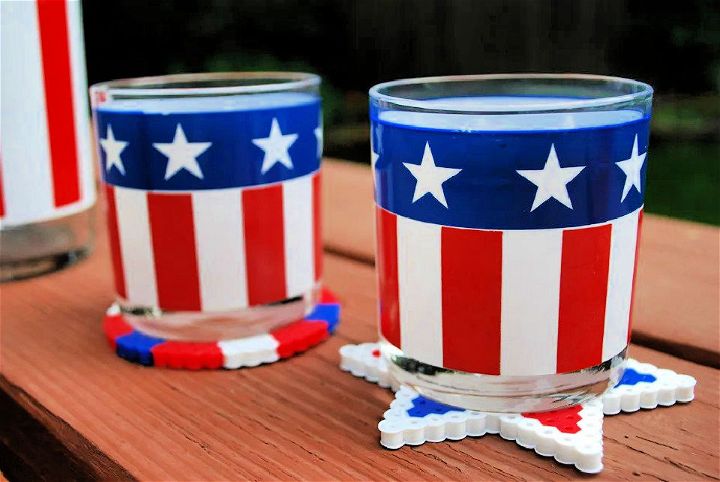 These DIY perler bead coasters are the perfect project for DIYers looking to spruce up their home decor! They are pretty, functional, and easy to make and can easily add a patriotic spirit to any table. This project also doubles as a fun summer activity for kids, so why not turn it into a family affair?
To get started, you'll need some Perler beads, circle and star boards for perler beads, ironing paper (or parchment paper in a pinch), an iron, and an ironing board. Once you have your supplies ready to go, follow the steps in the tutorial to make these Perler bead coasters, and you'll be set with the perfect 4th of July craft. merrimentdesign
20. Fourth of July Flag Planter Crafts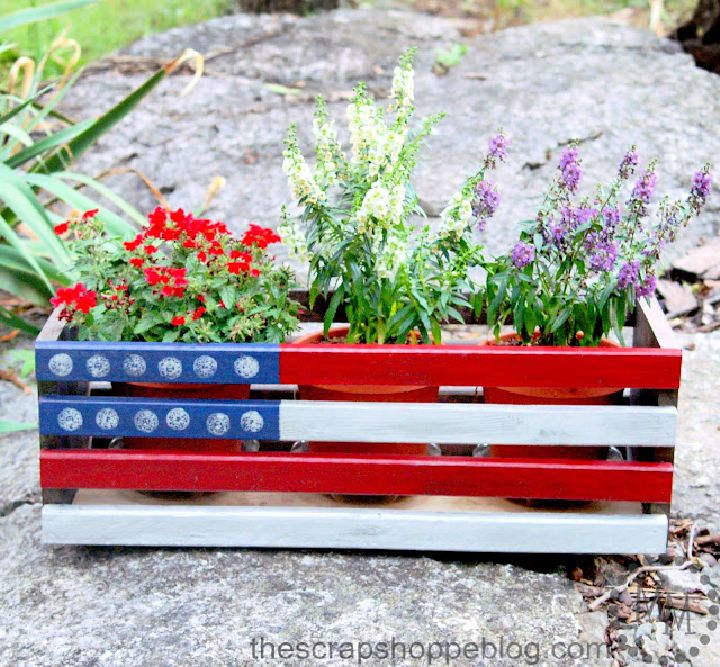 This DIY flag planter is a great way to add a touch of patriotic flair to your outdoor decor. It is relatively easy and quick to make, making it a great 4th of July craft. You can buy a pre-made planter box or make your own for the project.
Next, paint the box red, blue and white in stripes representing the American flag. Lastly, you can use doily button stamps to complete the design for an eye-catching flag planter perfect for any Fourth of July celebration. scrapshoppe
21. DIY Burlap Flag Pillow Tutorial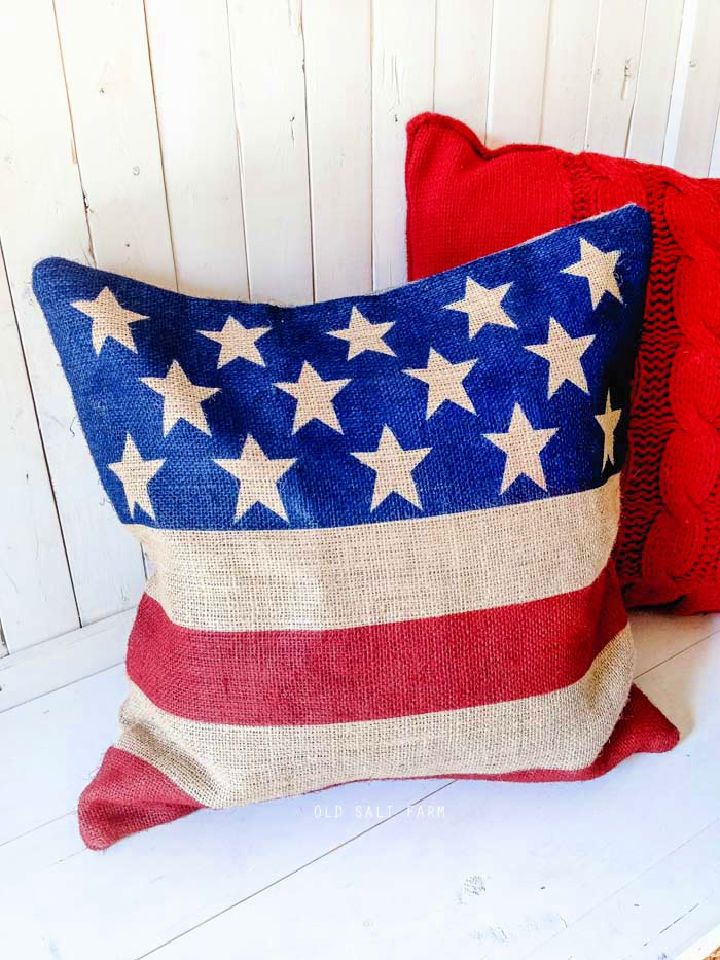 This DIY burlap flag pillow is the perfect way to add a cute, patriotic cover to your home in preparation for the 4th of July. What's more, it is super easy to make! All you need is a burlap pillow cover, painter's tape, vinyl stars or stickers, spray paint, or craft paint in red and navy blue.
To create this craft, start by taping the desired stars onto the pillow cover with painter's tape. Then use either spray paint or craft paint for coloring in your stars. After waiting for everything to dry, your handmade burlap flag pillow is ready! oldsaltfarm
22. Recyclable Plastic Bottle Lanterns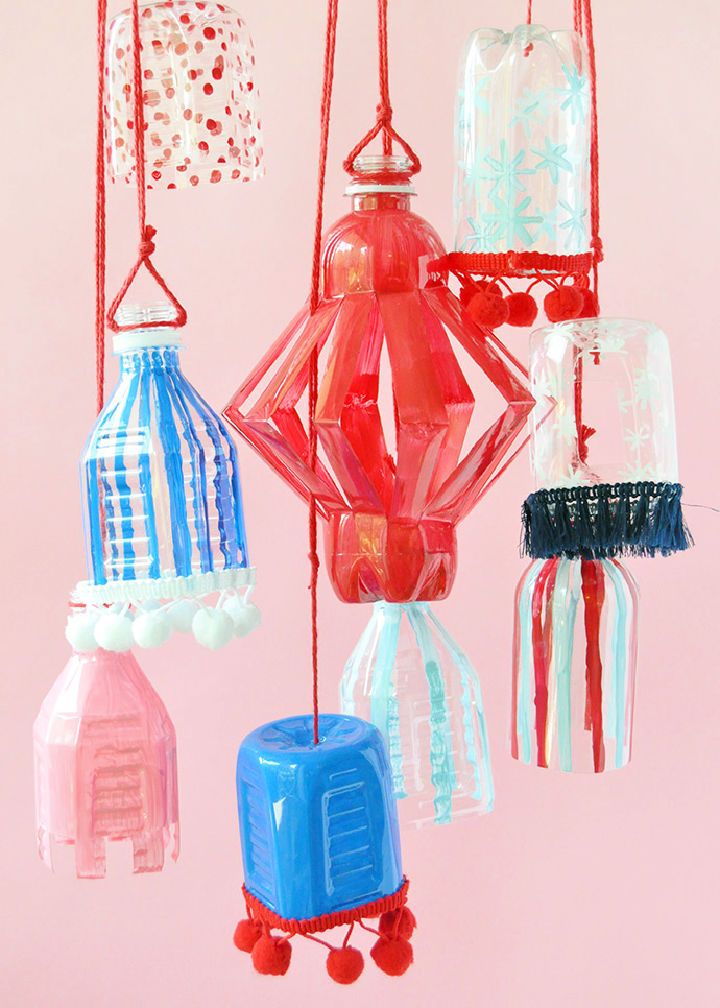 These DIY recyclable plastic bottle lanterns are the perfect 4th of July craft! Not only do they brighten up the surrounding area, but they also bring a more lively and cheerful atmosphere. The best part about this project is that it uses old plastic bottles that would otherwise be recycled. It's a simple yet fun craft to make – even for those who are new to DIYs.
All you need are acrylic paints in blue, red and white; paintbrushes; empty plastic bottles; scissors; yarn or string; a craft knife (optional); trim (optional) and even a hot glue gun (optional).
With step-by-step instructions, anyone can turn an ordinary plastic bottle into a unique lantern and add life to the celebration of independence day! handmade
23. Patriotic Mason Jar Lanterns for 3 Year Old's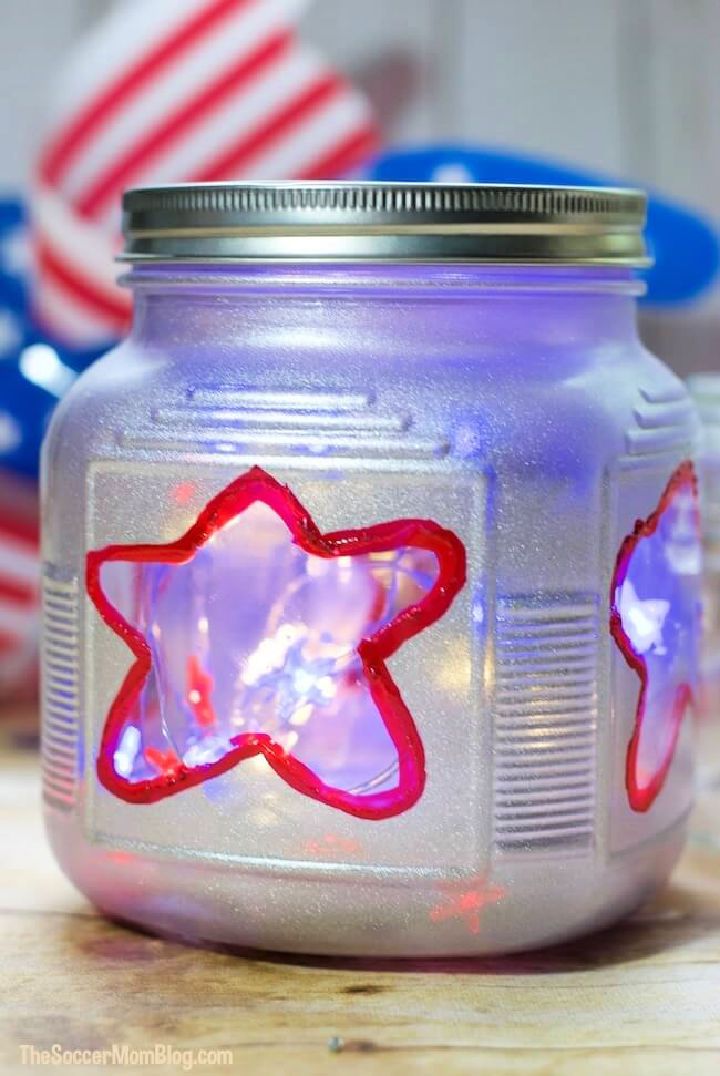 DIY patriotic mason jar lanterns are perfect for any 4th of July celebration. Not only do these simple and fun crafts add a lovely glimmer, but they're surprisingly easy to make, even with kids! All you need are mason jars (any size) with lids, small red, white, & blue string lights, rubber cement, and silver spray paint.
Simply use the rubber cement to pastedown each strand inside the mason jar, then paint the lid silver. Draw a star design using a ballpoint and let it dry. Once it's dried, remove the rubber cement. Trace the outline of your star using red, blue or white nail polish.
Finally, place your string lights inside and turn on your patriotic mason jar lanterns – it's that easy! soccermom
24. How to Make a Patriotic Wreath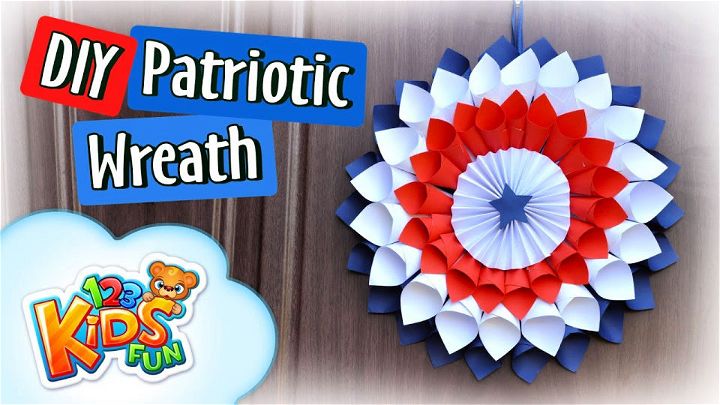 DIY projects have become increasingly popular, and with the 4th of July coming around, you may wish to get creative and make your own DIY patriotic wreath. You will need tracing paper in white, navy blue, and red; a template star; scissors; a ruler; a pencil; double-sided tape; cardboard; A4 size white paper; hot glue. Plate and satiny navy blue ribbon large enough to form a bow at the end.
Follow the easy steps in the tutorial to create a beautiful patriotic wreath. It is simple to make but will surely provide your home with a festive, creative and welcoming atmosphere as you celebrate independence day!
25. Fun Patriotic Painted Mason Jars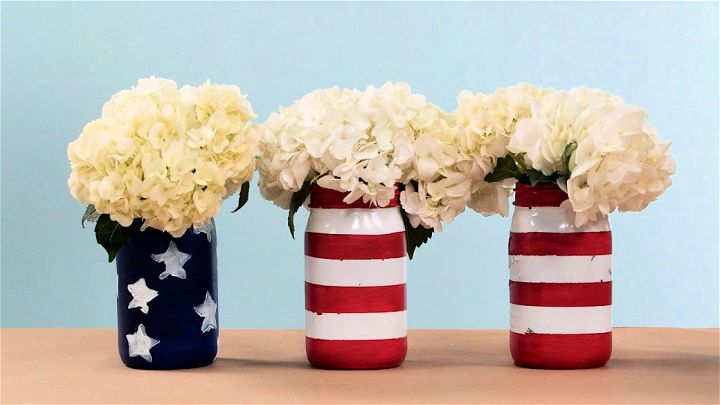 This patriotically painted mason jars DIY project is a fun and creative way to add some extra celebratory flair to the 4th of July! These painted mason jars are not only easy to make but also a beautiful, brightening and cheery decorative.
All you need for this project is mason jars, white paint, painter's tape, red and blue paint for stripes and stars, floral foam, and your choice of floral.
Start by painting the two mason jars white paint – allow them to dry. Once completed, you can use painter's tape to create stripes around it and paint them red. Next, paint one mason jar blue and let it dry. Once dried, use a star stamp dipped in white paint to complete the stars.
Lastly, place floral foam at the bottom of the jars and then fill them with water before mixing fresh or artificial flowers in each jar. Enjoy your patriotic-painted mason jars!
Related Crafts for Kids:
Discover easy and fun crafts for kids. These craft ideas range from simple to complex, allowing children of all ages to get creative. 
Conclusion:
Fourth of July crafts are a great way to get kids involved in the celebration. With so many fun, easy crafts, children can learn about their country's history while making creative decorations and keepsakes. From making Fourth of July banners to handprint American flags, patriotic paper chains and more, these 25 easy 4th of July crafts for kids are sure to be a hit! Whether it's at home or in the classroom, your child will have an amazing celebration of Independence Day with these unique arts and crafts projects. Help them create beautiful memories this Fourth of July that will last a lifetime!