Mason jar crafts have been around for decades and are trending again! If you're looking for fun, creative, and interesting ways to decorate your home, mason jars are the way to go. Find these 30 creative mason jar crafts and decor ideas that will provide step-by-step instructions on how to create wonderful mason jar decoration pieces that can spruce up any room or outdoor garden area. Not only are mason jar crafts unique, but they're also simple and affordable – meaning anyone can make a beautiful mason jar craft without spending too much money or having advanced crafting skills. Get creative with some mason jar decor ideas today, and embellish your home creatively!
Unleash your creativity and explore the endless possibilities of mason jar crafts and ideas! From rustic-style lanterns to delicate floral arrangements, you can find many creative ways to give life to those old glass jars. With just a few materials and some craft supplies, you can make beautiful decorations for your home or special gifts for friends and family. Check out these 30 creative mason jar crafts and decor ideas that will help you breathe new life into any room in your home. Whether it's transforming an ordinary jar into a stunning flower vase or turning them into decor items like candle holders, these easy DIY projects will have everyone admiring your handiwork. Get ready to have fun crafting with jars!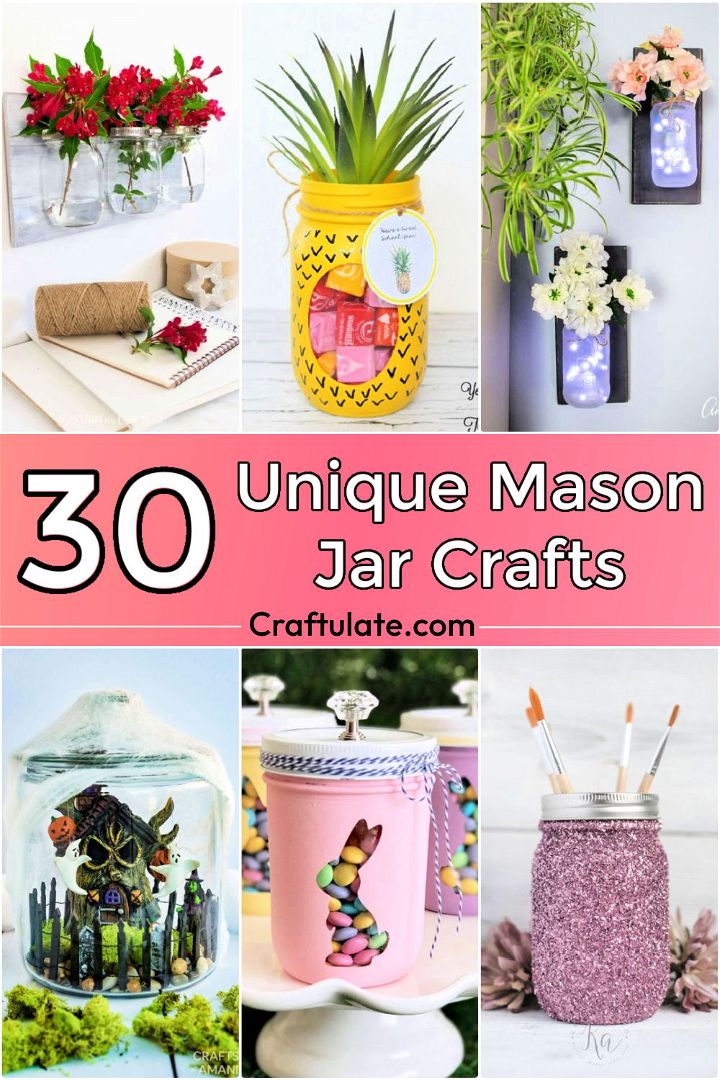 Creative Mason Jar Crafts and Decor Ideas
Mason jar crafts are becoming increasingly popular as a stylish and affordable way to bring decor into any living space. From centerpieces to wall hangings, mason jars have endless crafts to brighten any home. With simple materials and step-by-step instructions, it's easy to create your own mason jar craft and make it fully unique. You can also upcycle old jars or glass pieces for a truly custom look. Mason jar crafts offer creativity while providing a low-cost alternative that's sure to impress your guests. With these 30 clever mason jar crafts and decor ideas, explore how you can transform ordinary jars into something extra special!
1. DIY Mason Jar Wall Sconces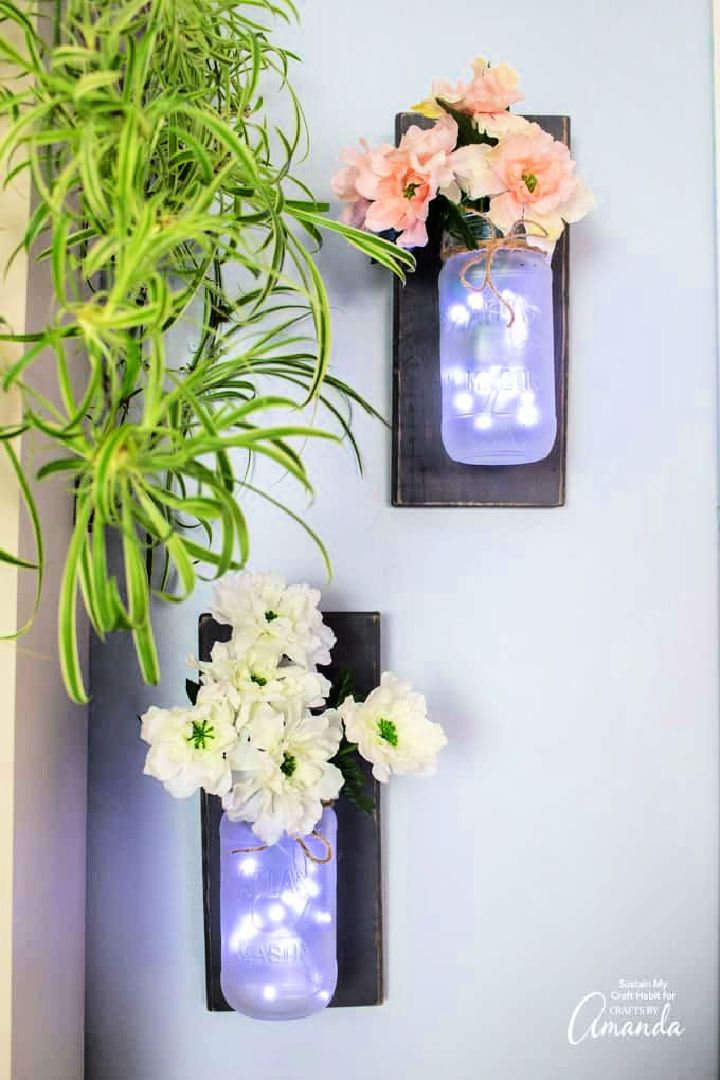 A DIY mason jar wall sconces are an excellent home decor idea to add a modern farmhouse charm to any room. It is a surprisingly simple way to create an elegant, pretty, cozy atmosphere.
You can use simple supplies such as wood sections, mason jars, chalky finish paint, paintbrushes, sandpaper, pencil and ruler, black decorative hooks, hanging hardware, masking tape and jute twine to build beautiful rustic sconces with ease. Decorate the wall sconces with faux florals and twinkle lights for added glamor and style that will bring your walls to life in no time. craftsbyamanda
2. Modge Podge Mason Jar for Party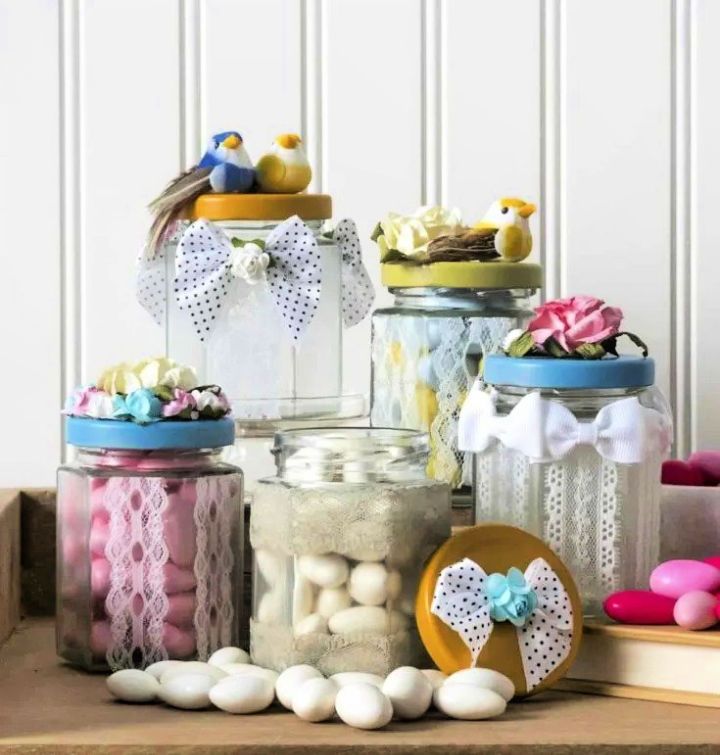 The DIY lace mason jars make great decor for any event or occasion! With simple and easily available supplies such as hexagonal and octagonal glass jars, mod podge matte, spray paint in assorted colors, lace ribbons, small flowers, bird decor, pre-tied bows and a hot glue gun, you can quickly create some stunning mason jars that look gorgeous.
Apart from being perfect for weddings or other formal parties or events, they also do fun spring projects that can breathe life and energy into your home decor. The possibilities are endless – all you need is creativity and these awesome supplies! modpodgerock
3. Create a Stunning Farmhouse Mason Jars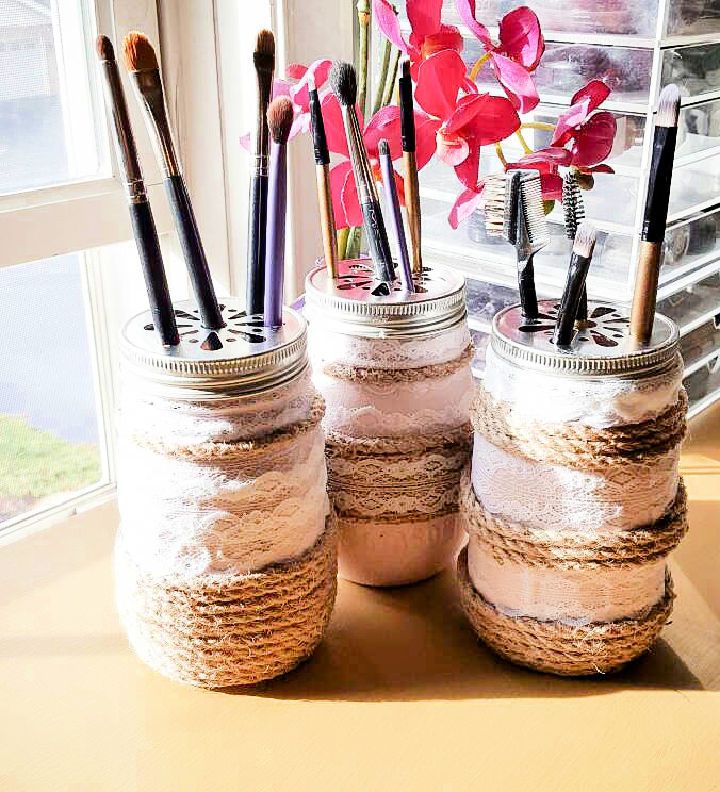 This DIY is the perfect customization for any mother's day gift – an effortless way to show your love for the special woman in your life. Make some today and enjoy the timeless beauty of farmhouse decor.
DIY stunning farmhouse mason jars are a great way to add a vintage feel to your home or office. With just a few easy-to-find supplies and some creativity, you can create stunning pieces that will give any room an instant upgrade. To start, you'll need a mason jar, chalked paint in your favorite color, a paintbrush, white lace ribbon and mod podge matte. Other items you may want to add for extra decoration include jute cording and burlap ribbon.
These beautiful mason jars are fun, easy to make, and the perfect gift for any occasion. So grab your supplies and get ready for the ultimate DIY project! houseliving
4. Easy Mason Jar Luminaries Crafts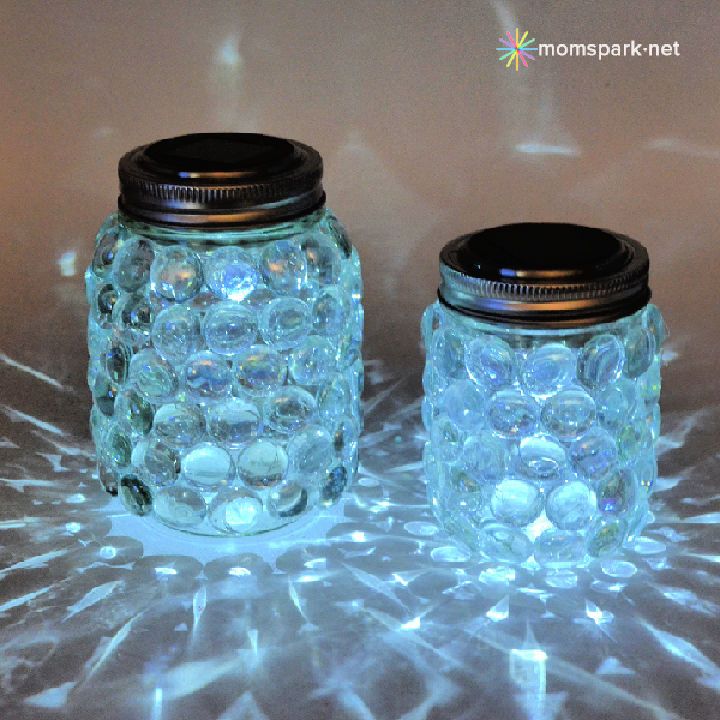 A wonderful DIY project that is easy and perfect for creative DIYers of all skill levels. With just a few simple supplies, such as glass gems, a hot glue gun, mason jars, tea light candles or battery-operated tea light candles, and solar jar lids, you can create beautiful luminaries that crystallize beautifully in the dark.
The stones used for the DIY easy mason jar luminaries craft make them heavy enough for outdoor lanterns. This DIY project is one of the easiest to do, and the results are stunningly beautiful! momspark
5. Glitter Mason Jar Gifts for Teacher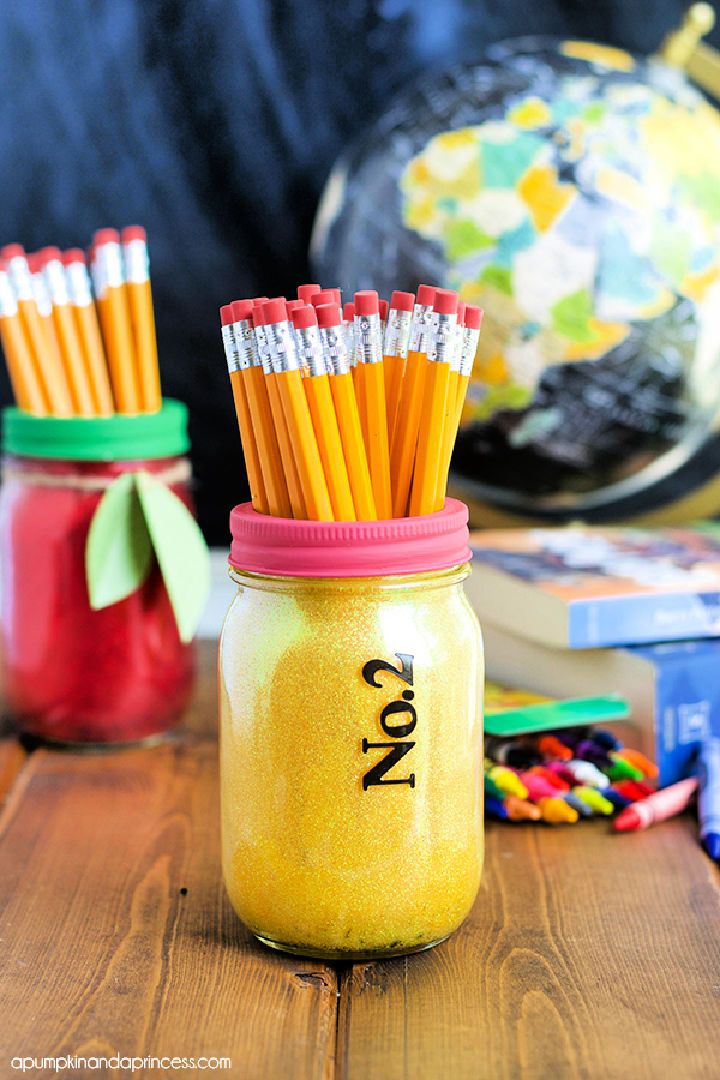 Making a DIY glitter mason Jar is the perfect way to add a touch of sparkle and DIY flair to your Back-To-School gifts for teachers. This great DIY project requires just a few simple supplies like mason jars, sparkling glitter from martha stewart, multi-surface paint and even optional stickers and cardstock.
You can easily fill these glitter mason jars with their favorite school supplies, such as pens and pencils, making them an ideal gift for any teacher. Plus, these DIY mason jars look great and require minimal effort. pumpkinaprincess
6. Simple DIY Glitter-Dipped Mason Jars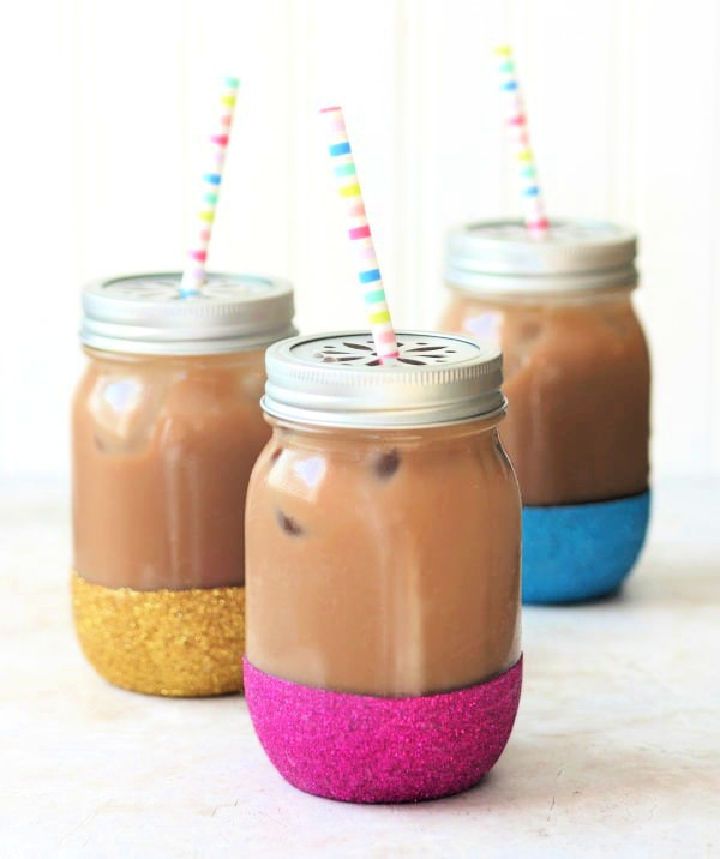 Making DIY glitter-dipped mason jars are an easy and glam way to brighten up your space this summer! All you need is a couple of essential supplies – mason jars, Mod Podge, glitter, a paintbrush and painter's tape – and you'll be on your way to creating stunning bespoke home decor.
These DIY glitter-dipped mason jars can be washed in the dishwasher, making them a convenient household item. Quench your thirst with delicious International Delight iced coffee while showing off your fabulous DIY creation! karacreates
7. Cool Frosted Mason Jar Votives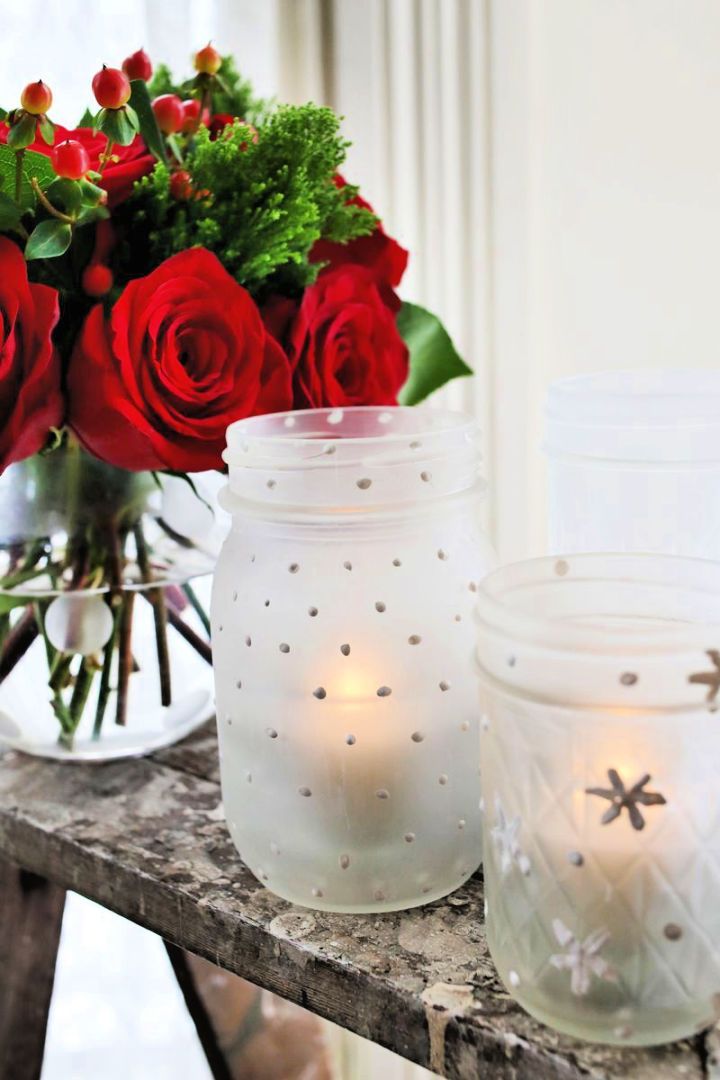 The DIY frosted mason jar votives are a beautiful DIY project, perfect for adding subtle ambiance to any night in. With just a few supplies, you can create frosted mason jars that reflect candlelight and produce the romantic, soft glow of vintage votives. This DIY requires no special skills or tools.
The result is a contemporary interpretation of traditional candlelight that is versatile and durable- as long as you keep it dry! Creating a DIY frosted mason jar is an easy way to immediately update any space with an eye-catching shine. beautifulmess
8. How to Paint Mason Jars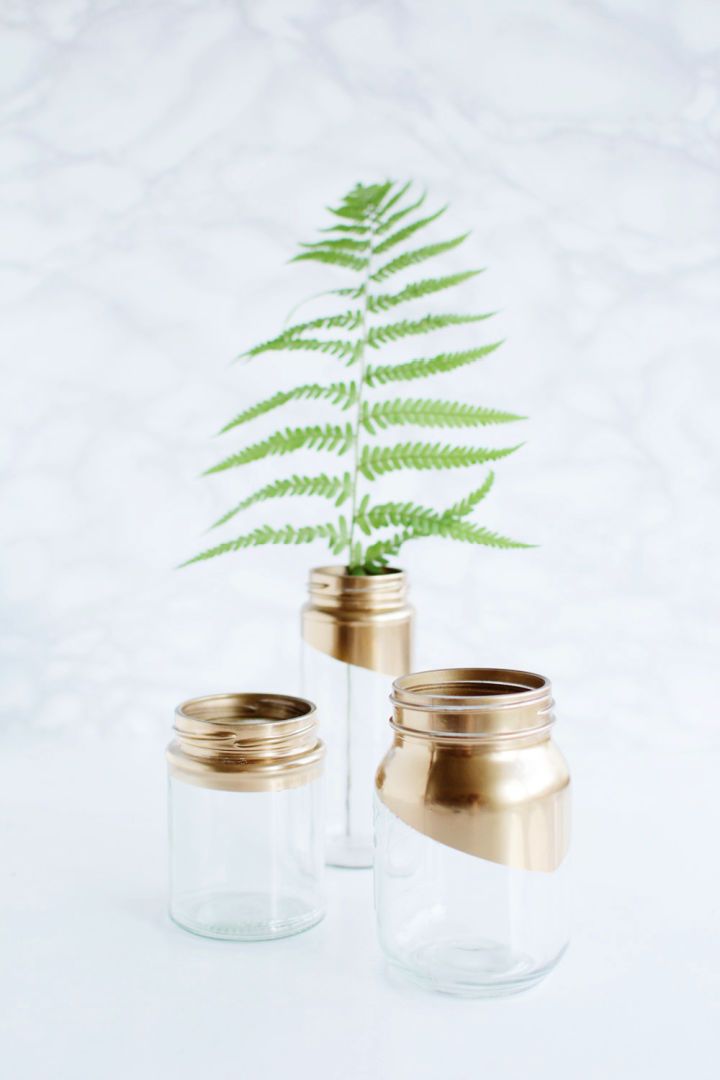 This DIY allows you to create attractive statement pieces that will last forever without breaking the bank! DIY-painted mason jars are simple and easy to make with just a few supplies, like mason jars, spray paint, and masking tape.
You can let your creativity shine while creating designs that enhance any room in the house. DIY-painted mason jars are fashionable and fun and can help you decorate on a budget – proving you don't have to sacrifice style for financial gain! homedit
9. DIY Decorative Bunny Mason Jars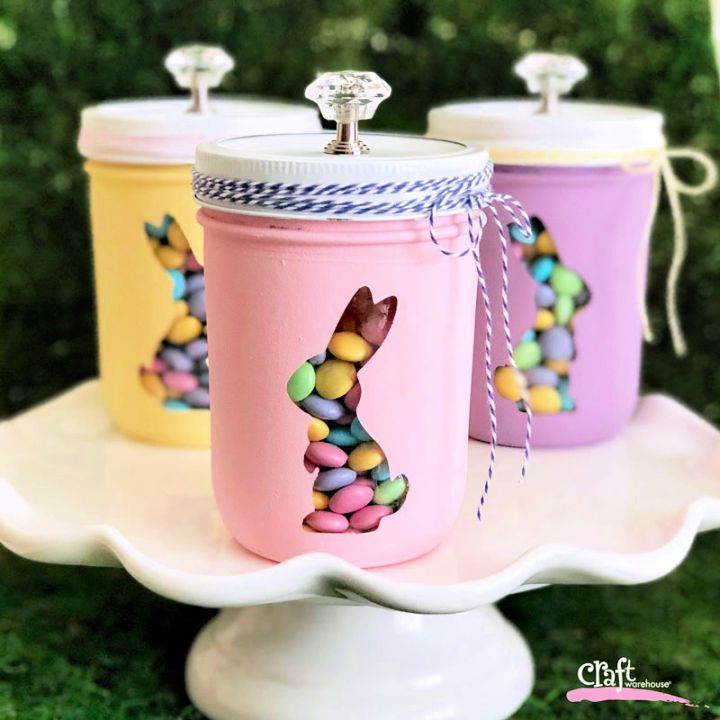 As ester is around, DIY easter bunny mason jars are the perfect addition to any home or occasion. Create easter bunny mason jars as centerpieces for an easter brunch or dinner. Make them for a kid's class, or use to decorate your own space!
The supplies needed are fairly simple and only require 3 wide-mouth pint mason jars, Americana chalky paint finish colors, loew cornell sponge wedges, 12 "x12" black vinyl sticky back paper, echo park bunny die cut, sizzix die cut machine, white spray paint, bakers twine in pink, purple & yellow, 3 decorative knobs and e6000 glue.
These DIY mason jars are an adorable feature of any event or home! craftwarehouse
10. Mini Fairy House Uses for Mason Jar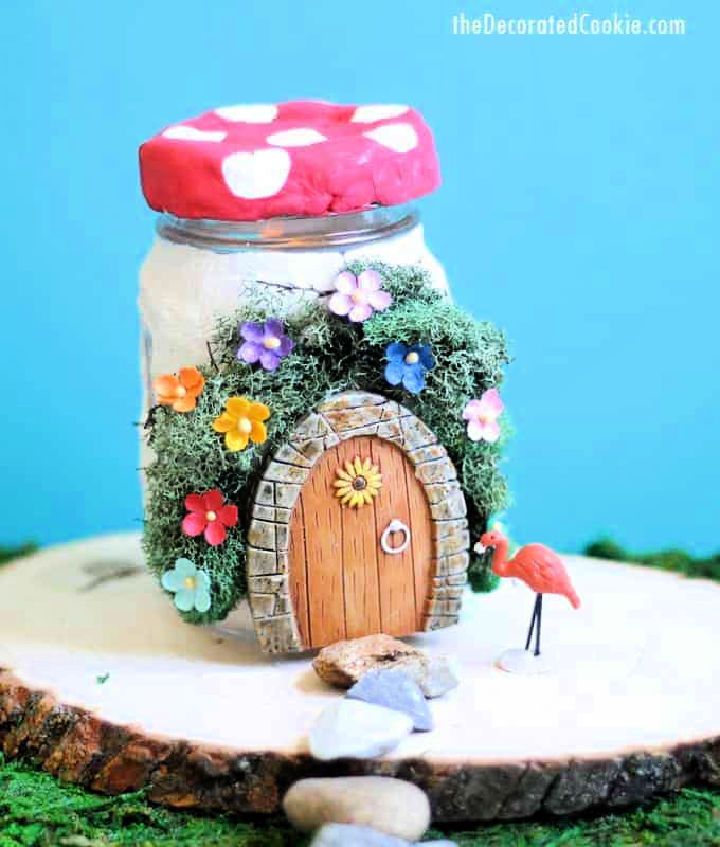 The DIY mason jar fairy house is great if you're big on DIY projects. One can easily craft these miniature fairy houses with simple supplies such as mason jars, air-dry clay, mini squares, and circle cutters. Add your details using faux moss, flower decorations and battery tea lights for an added spark of magic.
Make sure to help younger ones safely use the hot glue gun and gorilla glue to create the perfect little garden for their fairies. It's a wonderful way to light up your porch at night or decorate indoors for a fairy party! decoratedcookie
11. Fall DIY Scarecrow Mason Jar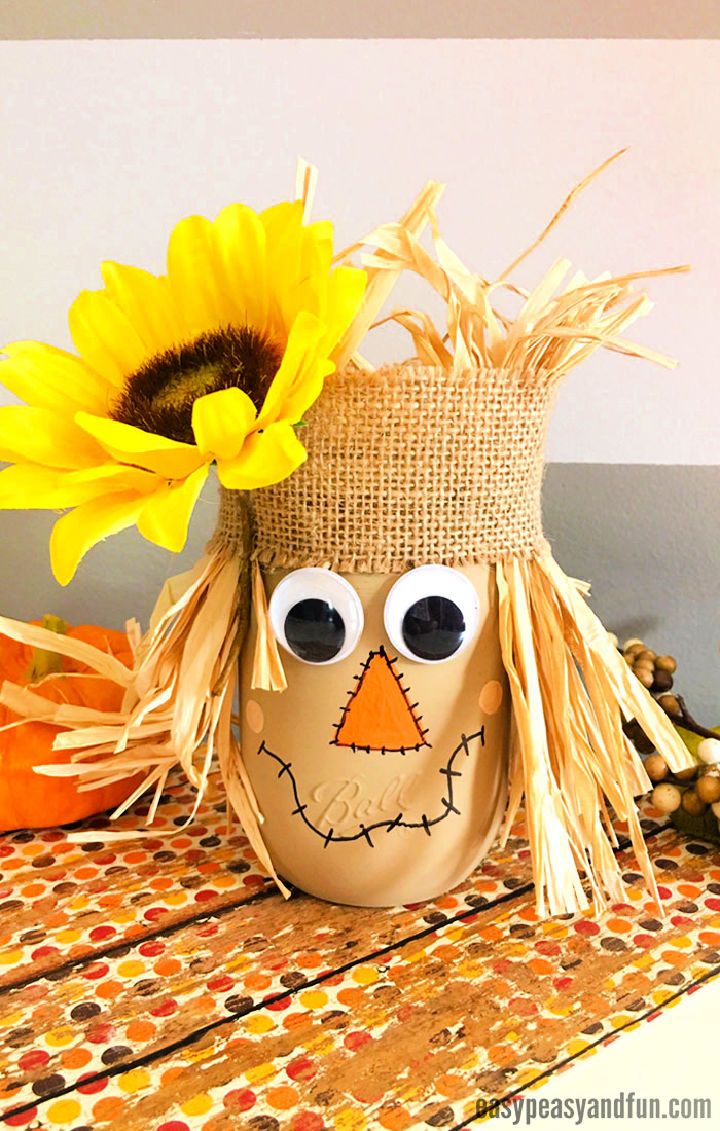 These DIY projects are fun, laced with creativity, and make for an adorable scarecrow that you can put on display! DIY scarecrows mason jars are a wonderful way to bring the fall season into your home.
You can create this wonderful project with simple supplies like mason jars, acrylic paint, dummy hay, burlap ribbon, googly eyes, sunflower and a glue gun. DIY scarecrow mason jars make a great fall mason jar craft idea that will spark conversation with guests and make fancy homemade fall decor. easypeasyfun
12. Creative Halloween Terrarium to Sell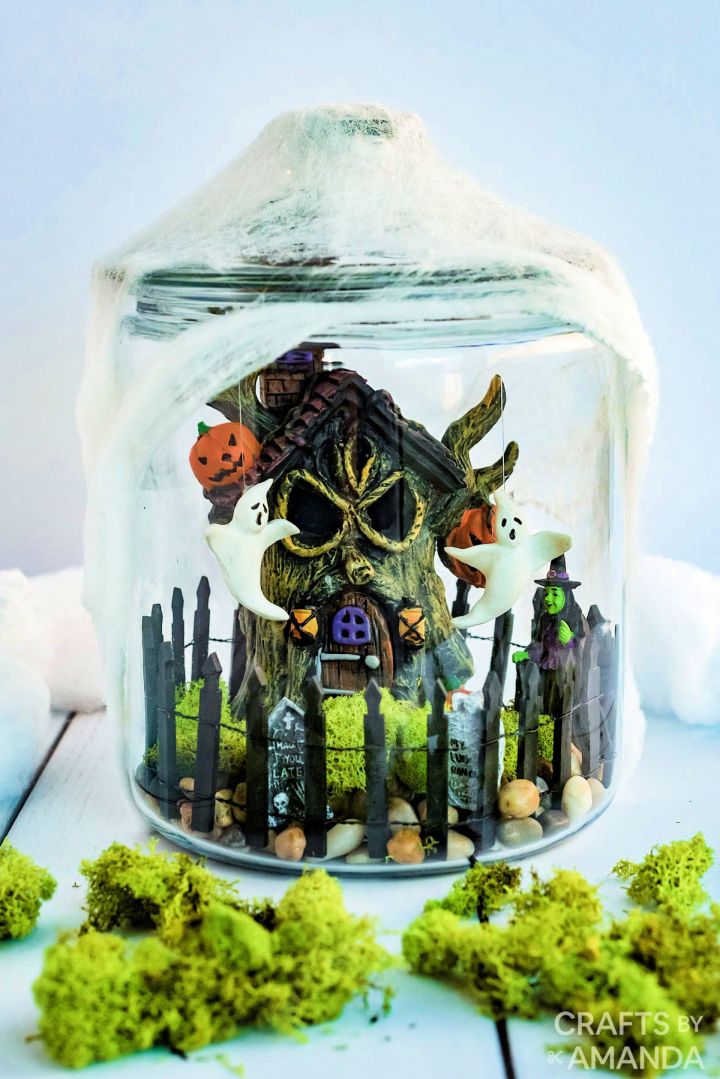 Creating your own DIY halloween terrarium takes less than 30 minutes and can be placed on your fireplace mantel as part of a spooky centerpiece or featured prominently in another space. These Halloween terrariums are a fun way to add a spooky and unique touch to any home or office. Not only are they great decorations, but they also make for a memorable gift!
You'll need simple supplies such as small glass containers, moss, and decorations like plastic pumpkins and spiders – the sky's the limit! Get creative and put together your Halloween terrarium today! craftsbyamanda
13. Dinosaur Nightlight Crafts for Kids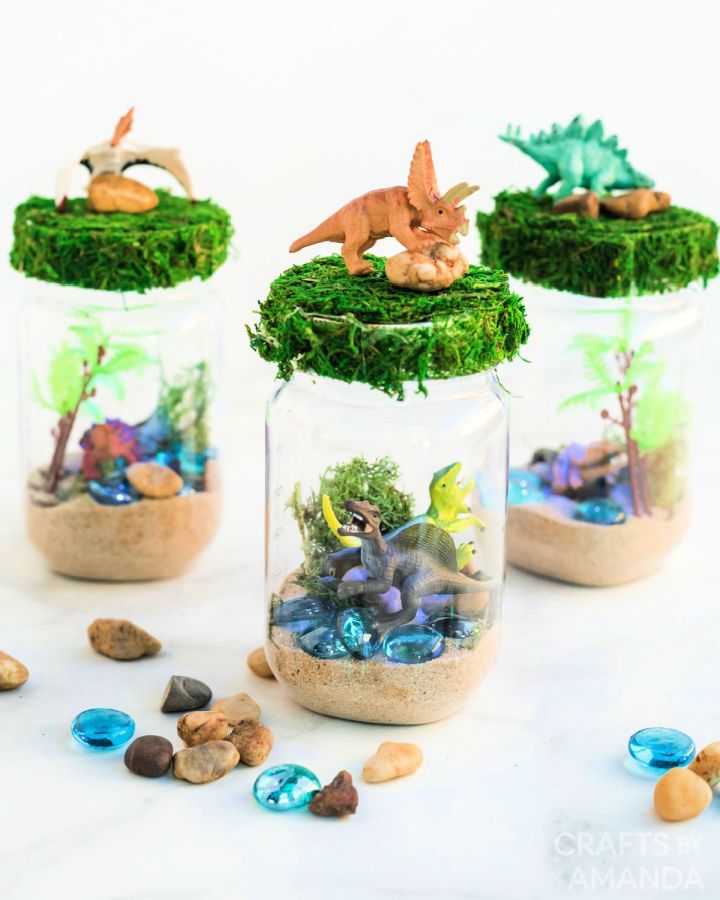 The perfect DIY project for an upcoming rainy sunday afternoon. It's not only a great way to foster your child's imagination, but it's also simple and fun to make! In less than 45 minutes and on an inexpensive budget, you can have this project done and displayed proudly in your children's room.
All it takes are simple supplies such as a 16-ounce plastic mason jar with a lid, plastic plants/trees, small rocks, sand, flat glass marbles, moss, plastic dinosaurs and two submersible candle lights. A DIY dinosaur nightlight will be a happy surprise for kids and a special home decoration that all will enjoy. craftsbyamanda
14. Do It Yourself Projects With Mason Jars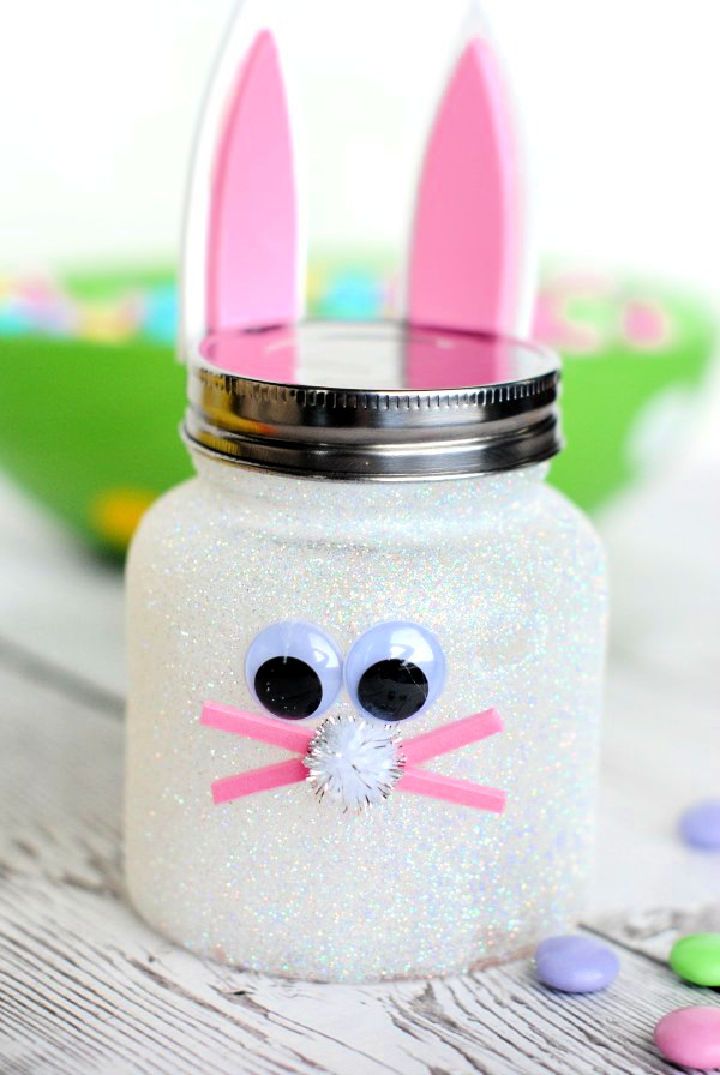 Making easy DIY easter candy jars are the perfect way to get into the easter spirit. These small jars take only 30 minutes and are very easy to make! Use decoupage, paint brush, fine glitter, craft foam or construction paper in pink, white, and orange – whatever you have lying around will do!
Fill the jars with candy and top with pom-poms, google eyes, then a touch of hot glue for an extra special festive touch. These candy jars are also great for presents as they're thoughtful and adorable —especially if you involve the kids for an extra dose of craftiness— making them a great affordable gift for friends and family this Easter. littleprojects
15. Cute Rose Mason Jars for Mother's Day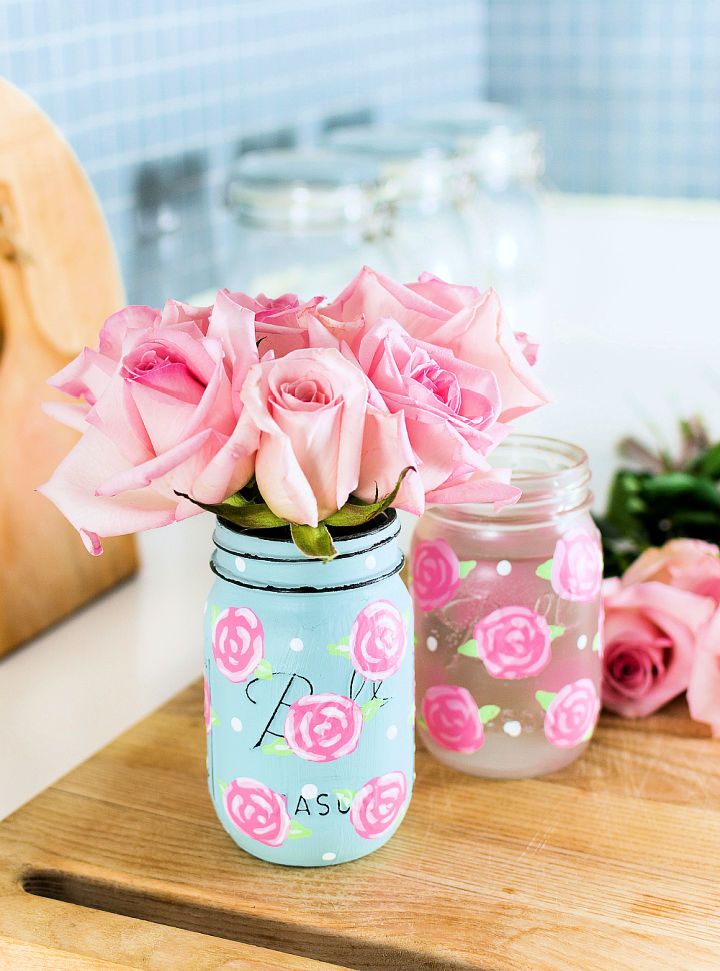 The DIY-painted rose mason jars make the perfect DIY mother's say gift, and they couldn't be easier to make. You only need simple supplies like rust-oleum chalked paint in serenity blue, americana baby pink paint, americana pistachio paint, americana white paint, a paintbrush, 80 grit sandpaper and a clear coat sealant in matte finish.
With careful effort and these items, you can create DIY painted rose masons jars that are both practical and cute! startedwithpaint
16. Recycled Food Jar Chick Candy Holder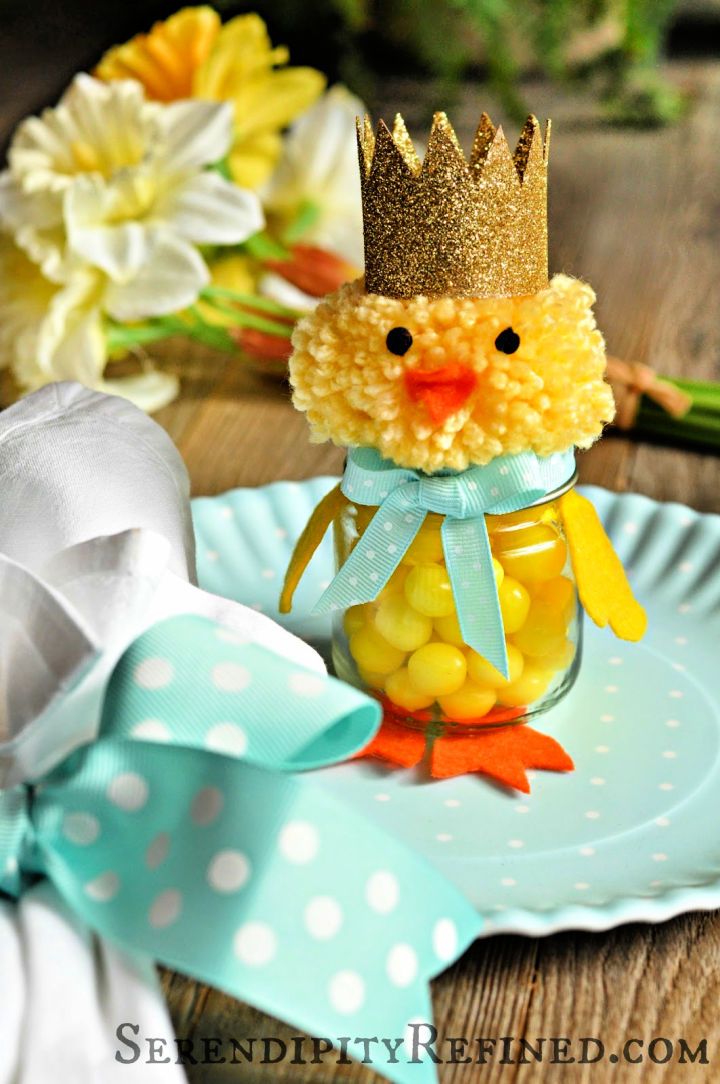 This DIY recycled food jar easter chick candy holder is a fun and easy craft activity for the whole family to enjoy! This adorable easter chick will bring cheer to your holiday table, a burst of sunshine with its bright yellow pom-pom body and sparkly gold glitter crown.
With just a few simple supplies, including yellow felt wings, orange felt feet, an orange felt beak, two black pom eyes, a small baby food jar and a 3-inch yellow yarn pom, you'll put together the perfect DIY easter chick candy holder in no time. Get creative with your DIY recycled project this holiday season! serendipity
17. Unique DIY Mason Jar Table Lamp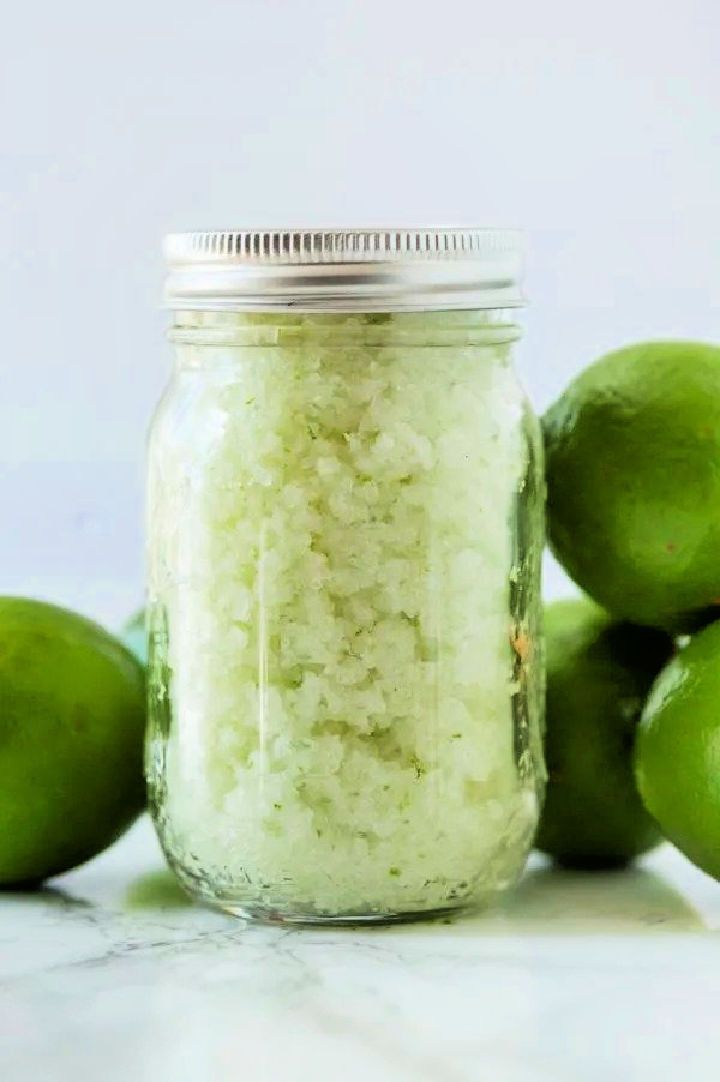 A DIY mason jar table lamp projects are a great way to add a unique, bright flair to your home. With the right supplies, you can easily create your DIY lamp. You will need items such as a bottle lamp kit, a lamp cord switch, some vintage glass look jars, a 5 "x5" round plaque and a 4 "x4" round plaque.
Additionally, it's important to have a drill with ½″ bit, wood glue, and super glue on hand. Lastly, you'll need a 25-watt small light bulb to make your DIY mason jar table lamp come together! Easy-to-follow instructions will help you bring your DIY project to life – surely changing the ambiance of any room in the house! creative
18. Valentine's Day Mason Jar Crafts for Your Love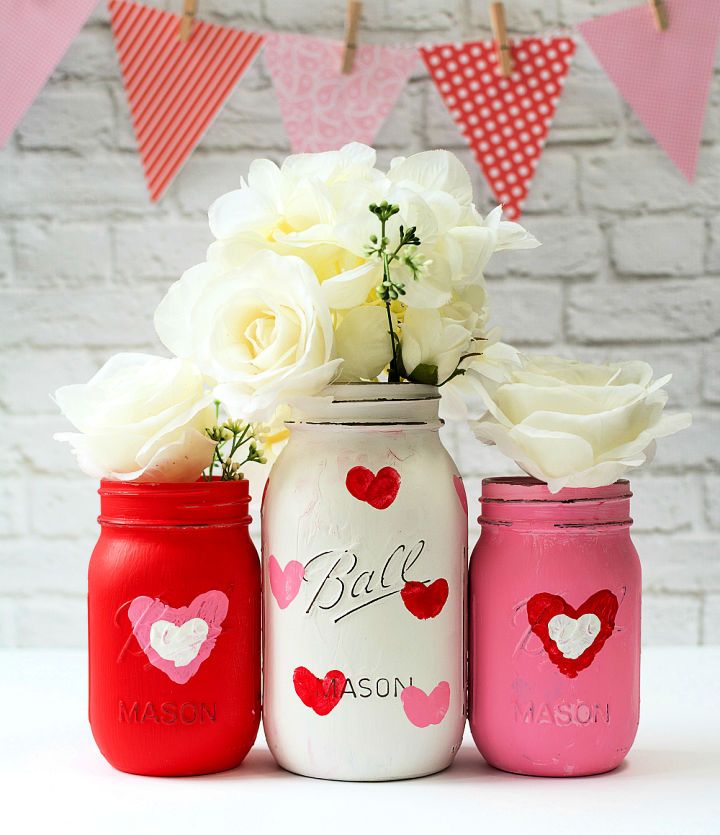 Are you looking for the perfect DIY craft diy valentine's day mason jar craft project to do with your loved one this valentine's day? This easy yet thoughtful idea will surely be a hit with your significant other and the little loves in your life.
You only need simple supplies and those little thumbs to make perfect, lovely thumbprint hearts. Paint them onto a mason jar and fill them with flowers, chocolates and love – what could be more romantic? This valentine's day mason jar craft is quick, easy and sure to bring a smile to everyone's face. masonjarcraft
19. Home Decor Fruit-Themed Mason Jars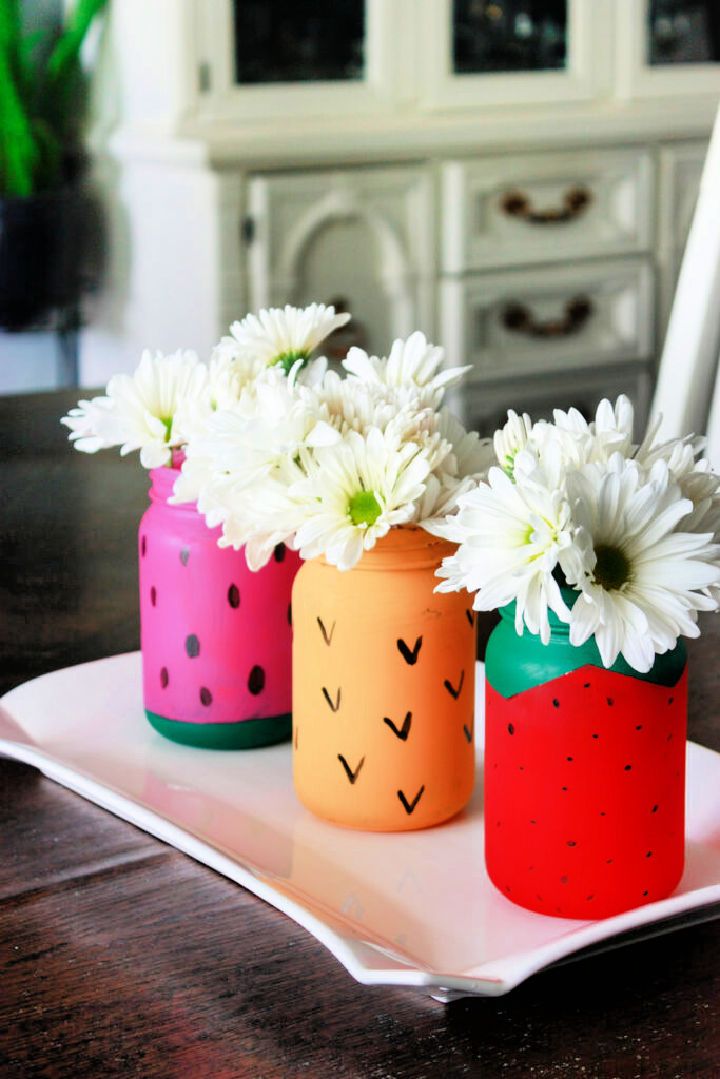 Creating these DIY fruit-themed mason jars is the perfect way to spend time with kids during summer. Taking DIY projects to the next level, this fun craft is easy, versatile and customizable!
These mason jars are made with just a few simple supplies: 3 jars painted in various colors (green, black, pink, yellow and red), paint brushes and frog tape chevron. With these supplies, each DIYer can create beautiful home decor or custom gifts for friends and family – perfect for this time of year! amberoliver
20. DIY Mason Storage Jars for Bathroom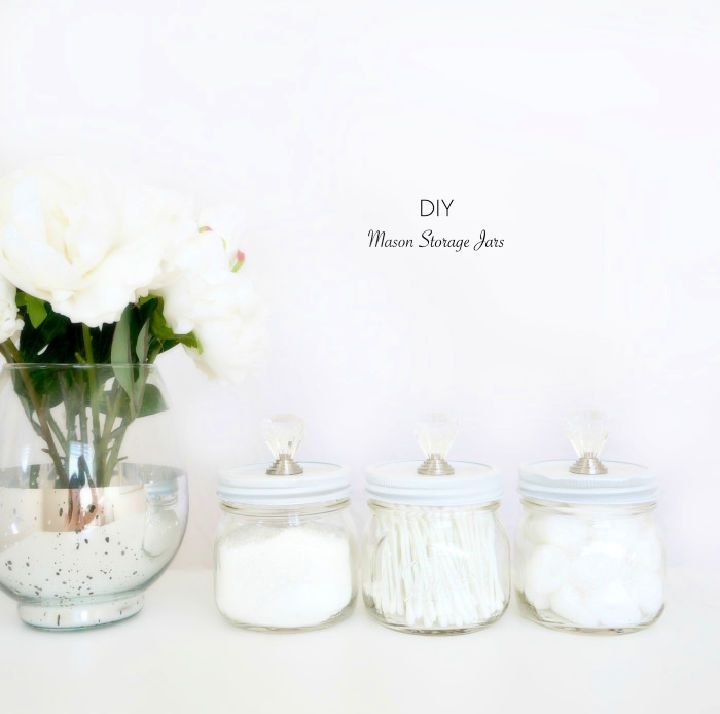 These DIY mason storage jars offer a great way to organize items in the bathroom or bedroom. You can make your storage jars with simple supplies and DIY know-how for just a few dollars.
These are perfect for storing small items such as Q-tips, cotton balls, and bath salts. Dress them up even further with some crystal knobs that will add an eye-catching flair! DIY mason storage jars always provide an affordable and attractive way to know where exactly your items are. healthyliving
21. Mason Jar Crafts for School Supplies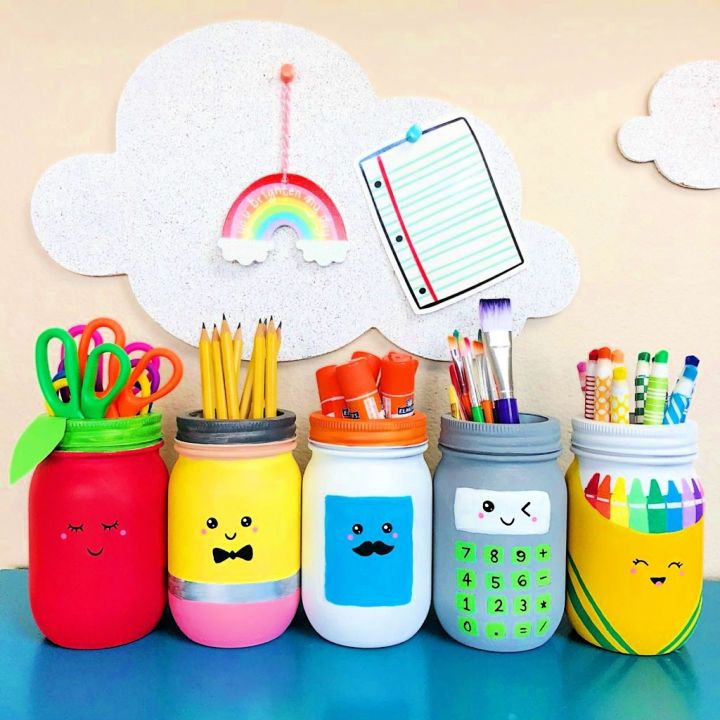 With this DIY craft, you can create decorative jars that are perfect for storing all school supplies and keeping the desk organized simultaneously. DIY mason jar craft for school supplies is a great way to add a personalized touch to any teacher's desk.
All you need is simple supplies such as Mason Jars, white primer, acrylic paint, paint pens, green card stock, washi or painter's tape and sealant (optional). The best part about this tutorial is that it doesn't take much time to craft these adorable DIY gifts, so they make for perfect teacher appreciation gifts or back-to-school teacher gifts.
Furthermore, they also look aesthetically pleasing and make great classroom decor that students will love. colorhappy
22. DIY Animal Painted Mason Jars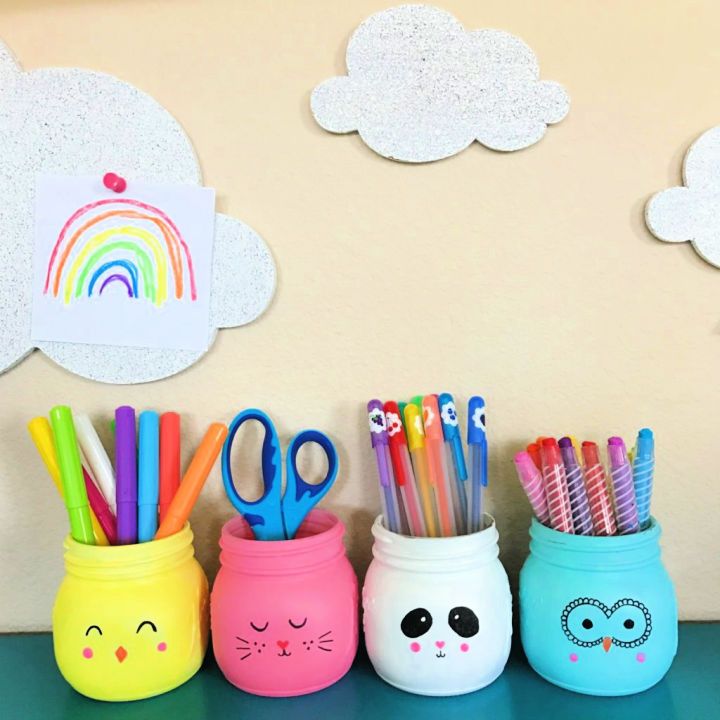 Need a way to store those crayons on the kitchen table? How about flowers for the bedroom? Mason jars are perfect for many kinds of storage, and bringing in some personality with DIY animal-painted mason jars will make them even better.
With just a few supplies like white primer, acrylic paint, paint markers, and sealant, you can create all sorts of animal-themed mason jars, from adorable rainbows to fun doodles.
Plus, adding sealant to your DIY jars will help ensure any contents remain fresh and dry! DIY animal-painted mason jars are a colorful way to organize and show off your creative side. colorhappy
23. Small Pinwheel Party Centerpieces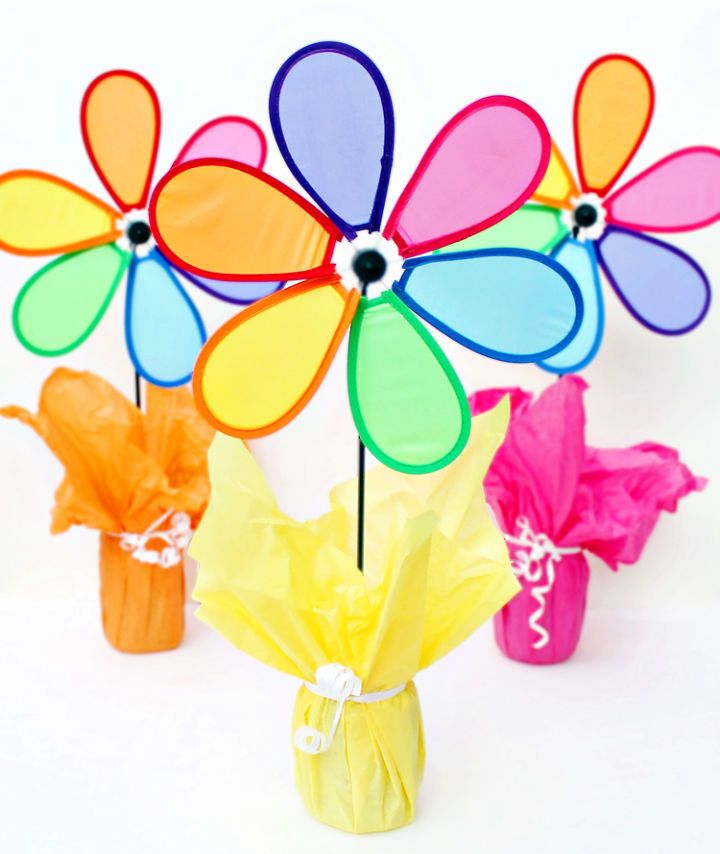 DIY pinwheel party centerpieces are a fun and affordable way to decorate for any event. Gathering the supplies is easy, with one flower pinwheel from Dollar Tree, a sheet of tissue paper, a mason jar with the ring, scrap cardstock in any color, curling ribbon, sand/dirt/rocks/vase filler. Your DIY project will be perfect for adding colorful fun to your next party.
Assembling your DIY pinwheel party centerpieces is straightforward; fold and layer the tissue paper over the pinwheel according to instructions and place it inside the mason jar. Cut a small cardstock circle and push it onto the bottom of the pinwheel stem before adding a little glue to secure it.
Then fill your mason jar with sand/dirt/rocks or whatever filler you choose before sealing it with its ring lid. Finally, add some ribbon by cutting two equal lengths and curling them around your finger for a cute finishing touch! craftpatch
24. Fishnet Wrapped Mason Jar Crafts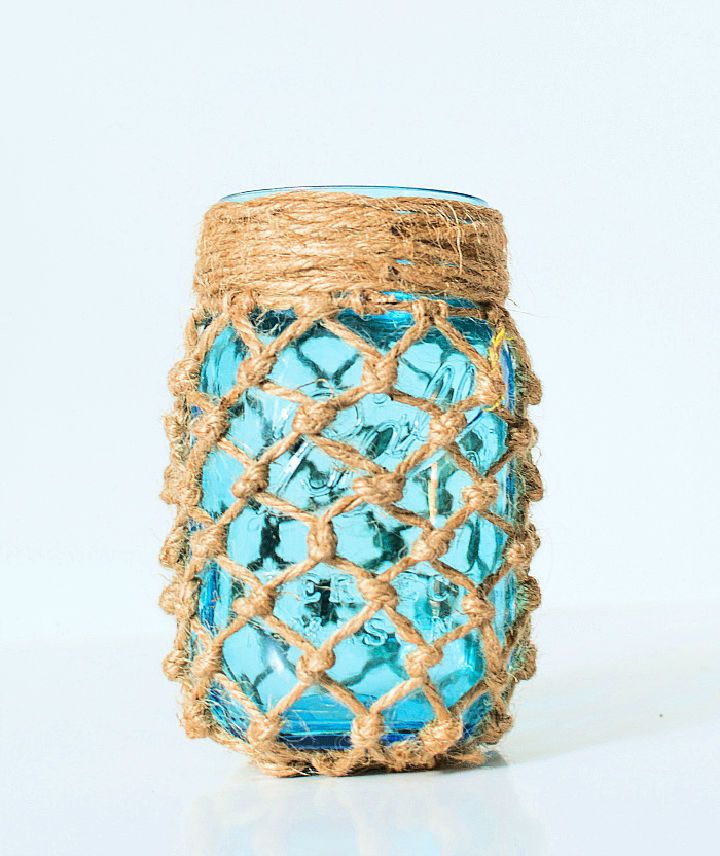 DIY projects such as the DIY fishnet-wrapped mason jar craft are a great way to add a beach-like touch to your home. The craft requires basic supplies: blue ball heritage mason jars, jute twine, scissors and some optional elements like sand and sea shells.
With these materials, you can create a faux fish net with an authentic coastal vibe by wrapping those blue mason jars in jute twine. Whether placed on shelves or coffee tables, these DIY crafts bring texture and character to your home in an affordable way that perfectly matches the 'smitten project' look. startedwithpaint
25. Pineapple and Tags Mason Jar Designs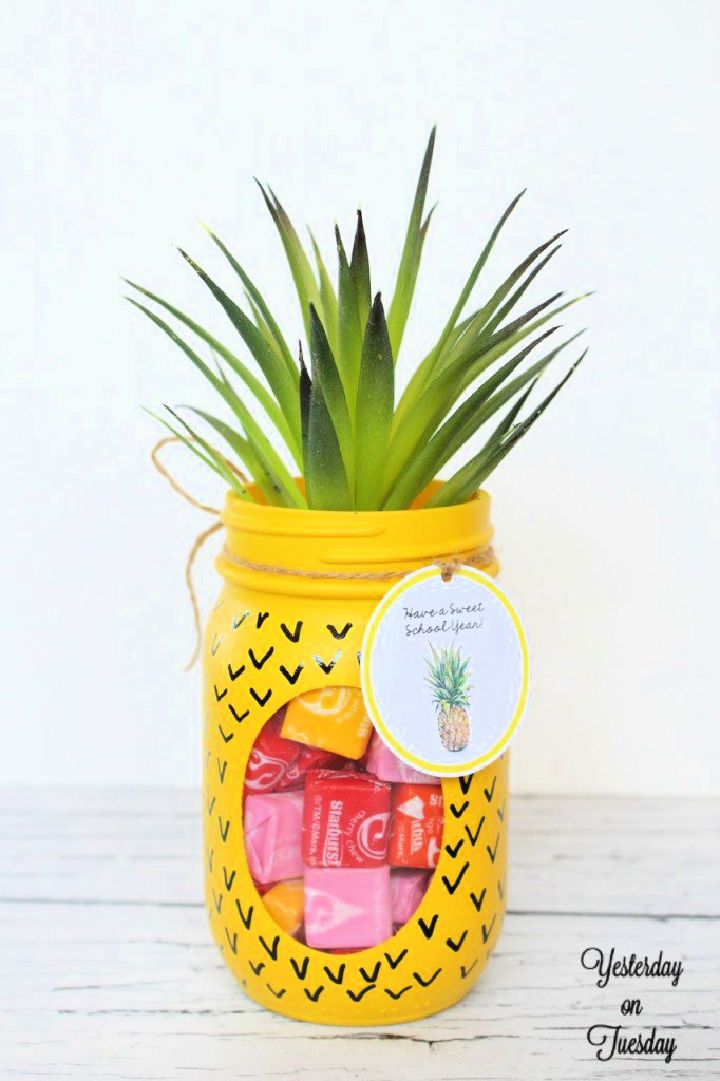 The DIY mason jar pineapple and tags are fun for any crafter. It's also a great gift that you can make quickly and easily.
First, fill the jar with small succulent plants and add candy. You can use various colors representing your recipient or choose their favorite colors. After you fill the jar with succulents, you can create DIY pineapple tags to add a personal touch to the DIY gift – these tags look like post-drawings and are perfect for adding an extra level of love to your gifting.
DIY mason jar pineapple and tags also make for fun teacher's gifts! All you need is some simple supplies like scissors, cardstock paper, glue, ribbon, rocks, etc., and in no time, you'll have a crafty DIY gift that looks as though it took lots of time to make! yesterday
26. Super Easy DIY Glass Jar Candles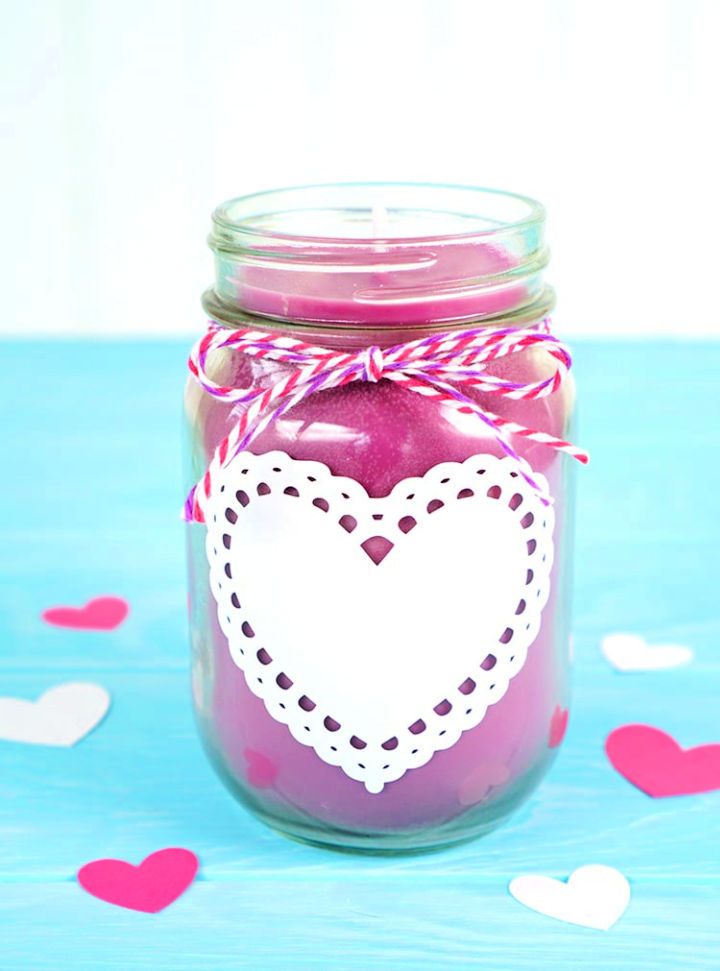 These sweet mason jar candles come with a decorative vinyl heart doily that adds a special touch for valentine's day. DIY mason jar candles are super easy to make, taking just 15 minutes and only requiring a few simple supplies.
You will need soy wax flakes (approx 4 cups or 1 lb per candle), candle making pitcher, pint-sized mason jars, 8″ candle wicks, wax colorant, and fragrance oil of your choice. DIY mason jar candles make a fantastic homemade gift idea that is quick and unique – sure to surprise and delight your loved ones! happinesshomemade
27. Rustic Farmhouse Mason Jar Wall Sconce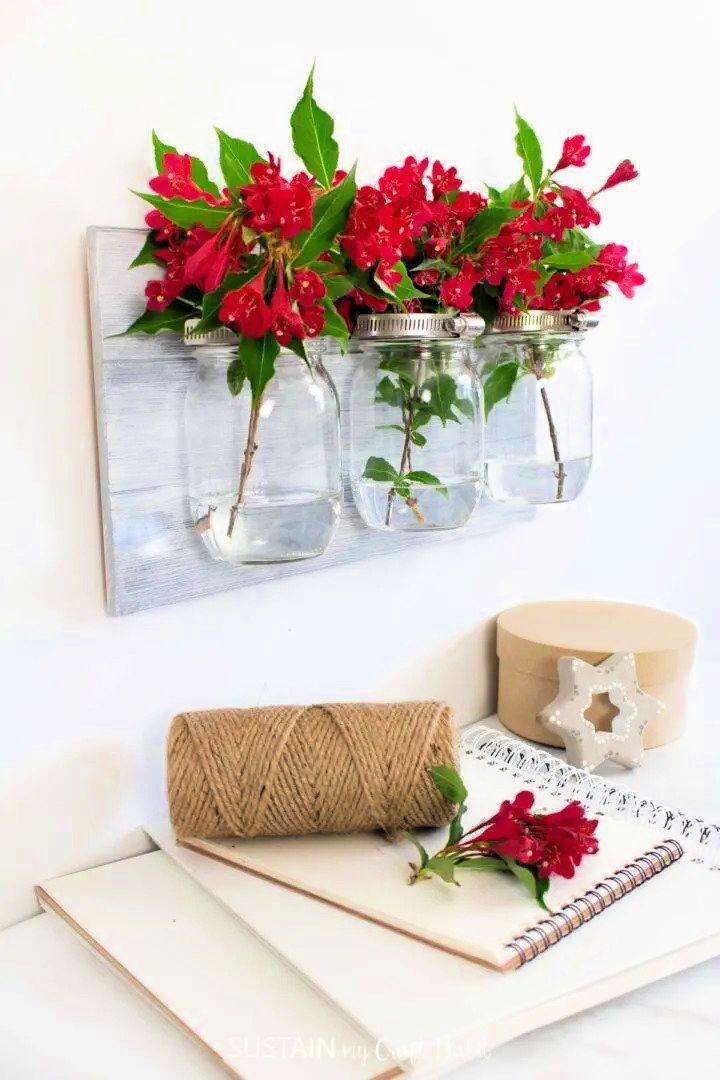 DIY projects are a perfect way to add a unique personal style to your home decor, and making this DIY rustic farmhouse mason jar wall sconce is no exception! This DIY project creates a rustic, farmhouse-inspired wall sconce using only some glass jars and a piece of pallet wood.
Not only will it provide a one-of-a-kind flair to any living space, but this wall sconce also allows versatility to hold fresh or faux flowers, candles or twinkle lights. You can also make one for your home with the simple supplies listed below! sustaincraft
28. DIY Glitter Mason Jar Tutorial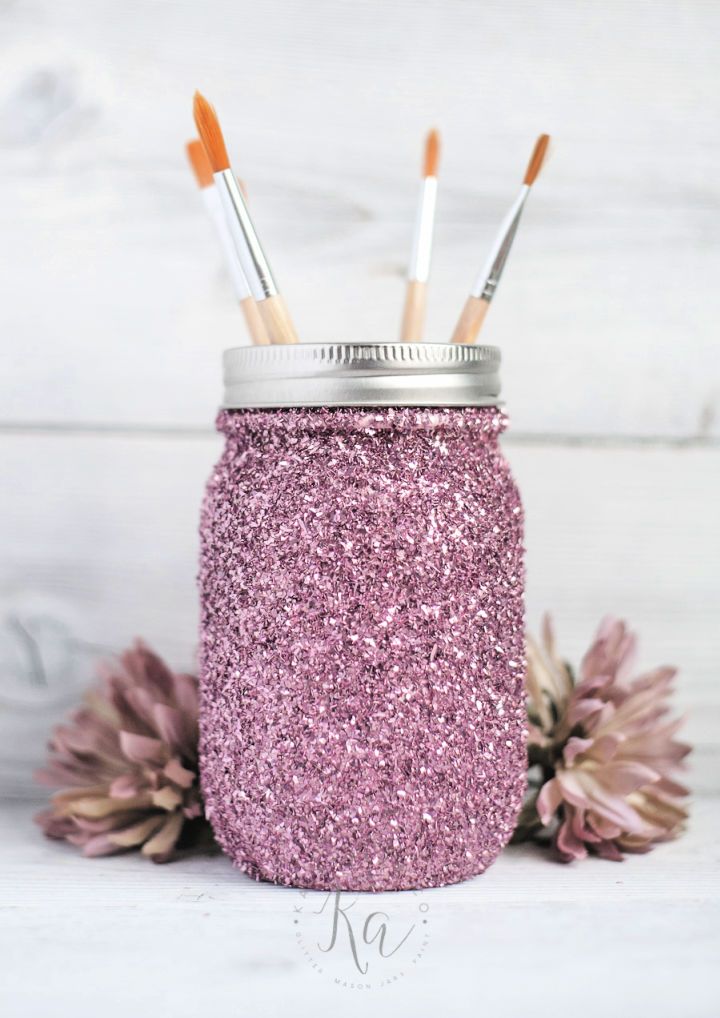 Making DIY glitter mason jar tutorials can be a fun, creative, and personal way to give the perfect gift to any teen or tween. It's simple to DIY style a mason jar with glitter – all you need is some glue and glitter!
You can even use this technique to add glitter to a frame, a nic NAC, a burned-out candle jar, wood and more. Plus, this DIY project is easy enough for anyone with minimal craft skills to do it quickly and enjoy the results. So why not add DIY sparkle with glitter mason jar tutorials this holiday season? kastyles
29. Painting Cactus Mason Jars Ideas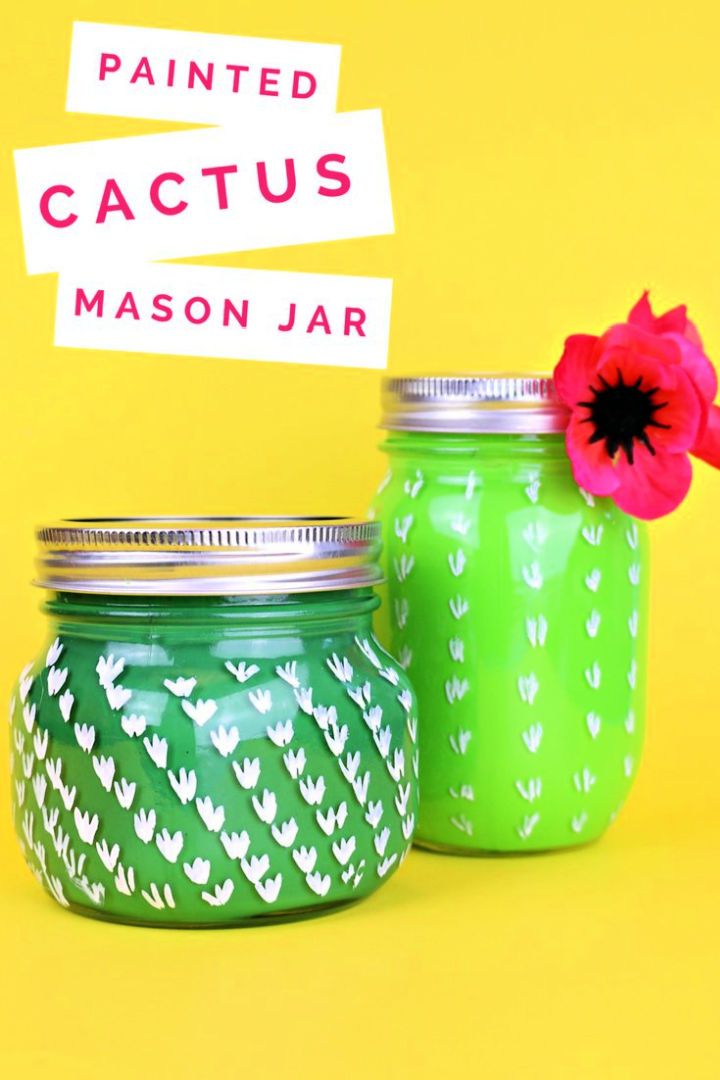 Are you looking for something creative and decorative? DIY-painted cactus mason jars are the perfect way to add a pop of decoration and color to your home. With simple supplies such as mason jars, craft paint, a white paint pen, and faux flowers, you can quickly create fun cactus jars that could be used as flower vases or simply stand-alone decorations.
All you need is an Elite 16 oz mason jar, dark green craft paint, and bright marbling paint, and then use the white paint pen to draw out cute little cacti. After the painting is dry, you can glue the faux flowers at the top for added texture and dimension. These DIY-painted cactus mason jars will bring a vibrant look to your space and introduce some fun, bright colors that will lighten up any area. madincrafts
30. How to Make Decorative Glitter Mason Jars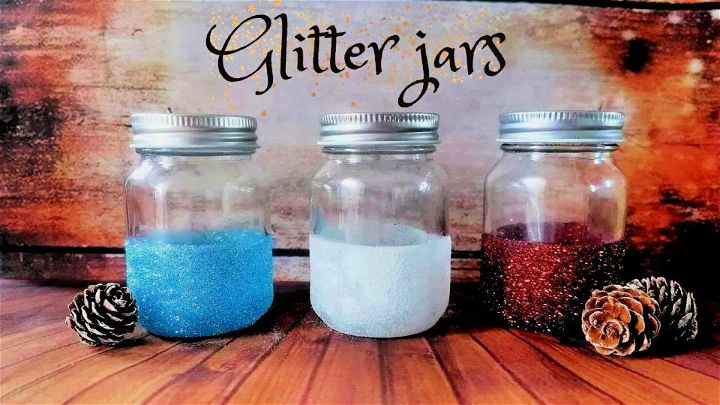 The DIY decorative glitter mason jars can make an otherwise dull DIY craft project burst with color and sparkle! It is a great craft idea for beginners and requires simple DIY supplies.
All you need are mason jars, glitter, and a small paintbrush – the result will look gorgeous! Not to mention, it's extremely easy to make as well. So the next time you're looking for a DIY project that will take no more than 5 minutes, DIY decorative glitter mason jars would be an effortless way to add a bit of magic and life into your home.
Related Crafts for Kids:
Encourage creativity and fun in your home with this wide selection of crafts for kids! From painting and coloring to jewelry-making, find the perfect craft project for your little one.
Conclusion:
Mason jar crafts and creative jar decor ideas can be a great way to add some rustic decoration to your home. Whether you enjoy crafting, decorating or making gifts for friends and family, mason jars provide endless possibilities. The jar decorating ideas are seemingly limitless, from simple upcycling projects like hanging lanterns made from old jars to more complex DIY projects such as creating unique flower vases from mason jars. With just a few items, you can create attractive decorations that will impress visitors with your ingenuity. Mason jar crafts are also easy to customize with colors and designs of your choice, so anyone can make something truly unique that no one else has seen before!