Leather crafts are a fantastic way for handmade enthusiasts to get creative. From crafting leather wallets and keychains to making fashionable leather bags and phone cases, there's something for everyone who loves to DIY leather projects! With the right tools and materials, anyone can start their journey in leather crafts – even beginners. Most of these leather crafts and projects are designed specifically with beginners in mind.
If you're looking to start creating leather pieces on your own, we've rounded up 25 simple and affordable leather craft projects perfect for any beginner looking to learn the ropes of leather crafting. Whether you're making an accessory or designing furniture, take some time this weekend to craft something amazing out of high-quality premium leather. With time, practice, and the right techniques, you can easily become an expert at Making all types of diy leather projects!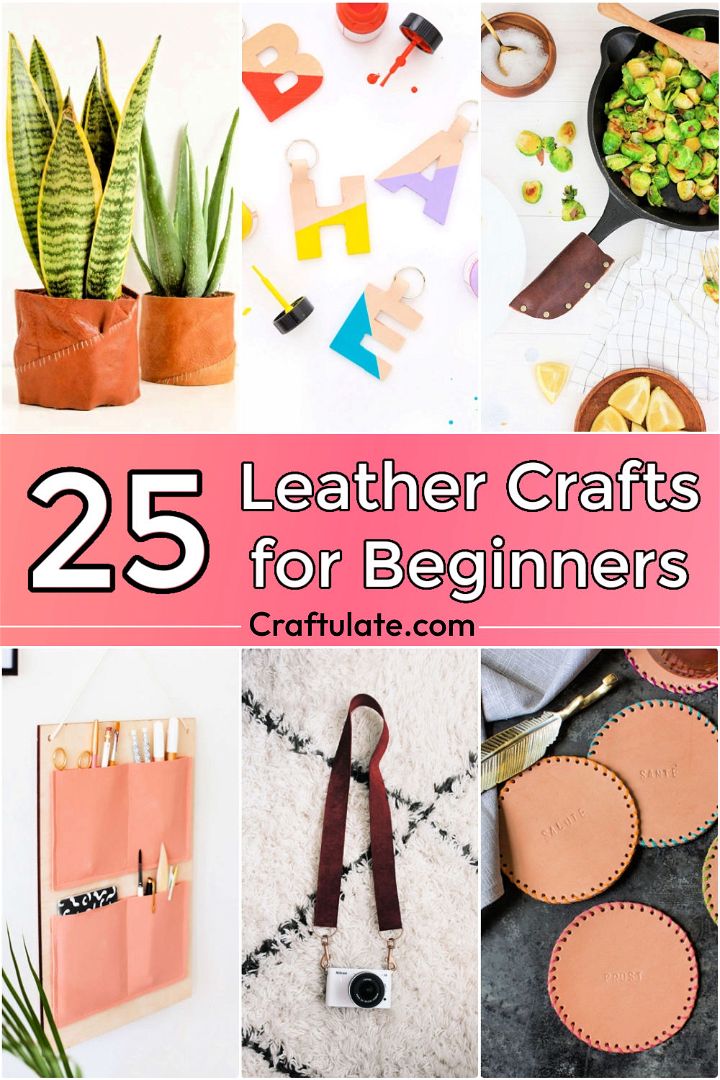 Easy Leather Crafts and Projects for Beginners
Leather is a perfect material for crafting and creating unique, beautiful projects. Whether you're looking to try simple leather craft ideas or just add a personal touch to your wardrobe, these easy leather crafts are a great way to go about it. With the right tools and basic knowledge of working with leather, you can create everything from jewelry to bags and gifts! Here we have compiled 25 easy leather crafts and projects for beginners. So no matter what experience you have with leather crafting, these leather craft ideas will surely get you started on an amazing journey into this wonderfully rewarding craft.
From simple DIY keychains that make great gifts for friends and family to making stunning home decor pieces like wall decor, picture frames or planters – there are plenty of diy leather projects in store when it comes to awesome beginner-friendly leather crafts. So if you want to start experimenting with colors, textures, shapes and tooling designs – look no further than our list of easy leather crafts and projects for beginners! You won't believe how satisfying it feels when your project is complete!
Are you interested in making your own leather projects but don't know where to start? Look no further – we shared everything you need to know about leather crafting for beginners, including beginner-friendly projects, easy-to-follow how-to guides and DIY leather craft ideas.
1. Real Leather Bow Cuff Crafts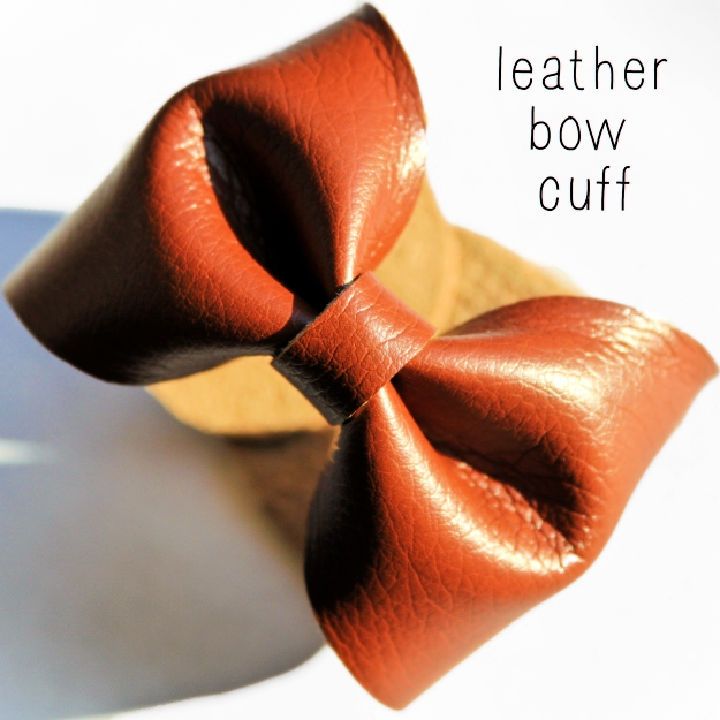 DIYing your own leather bow cuff is a quick and easy project that yields a cute and stylish result! You only need a few supplies you probably already have on hand, like leather, a tape measure, a needle and thread, and a snap. If you Don't have a rotary cutter, no worries – scissors Will work just fine.
This simple tutorial Will walk you through the steps to DIY your own leather bow cuff in no time! After following these instructions, you'll have a piece of beautiful and unique jewelry that Will turn heads. So what are you waiting for? Let's get started! something
2. Cool DIY Leather Camera Strap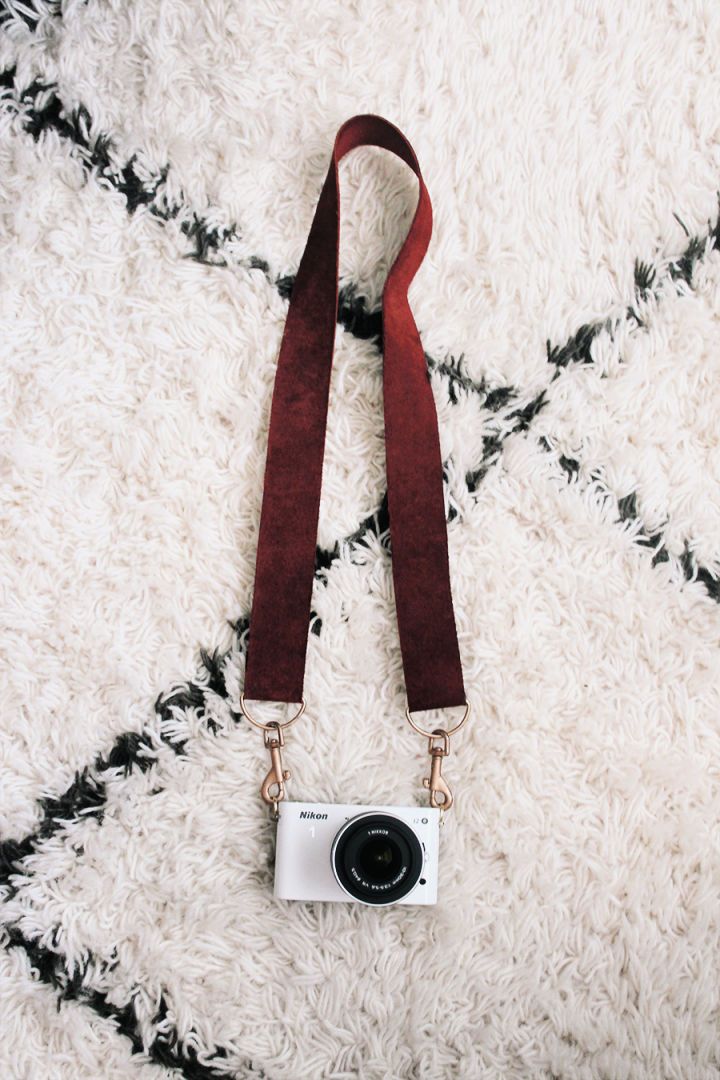 A DIY leather camera strap is a thoughtful and practical gift for any photographer in your life. It is quick and easy to make and only requires a few supplies that can easily be found at any craft store. Best of all, this leather strap can be customized to match the recipient's style.
Simply choose the type and color of leather you want to use, and then add any embellishments you like. D-rings, key rings, and swivel hooks are all great options for attaching the strap to the camera.
Once you've gathered all your supplies, simply follow this simple guide's instructions to create a custom camera strap in 10 minutes. makesperfect
3. Keychain Leather Tassel Crafts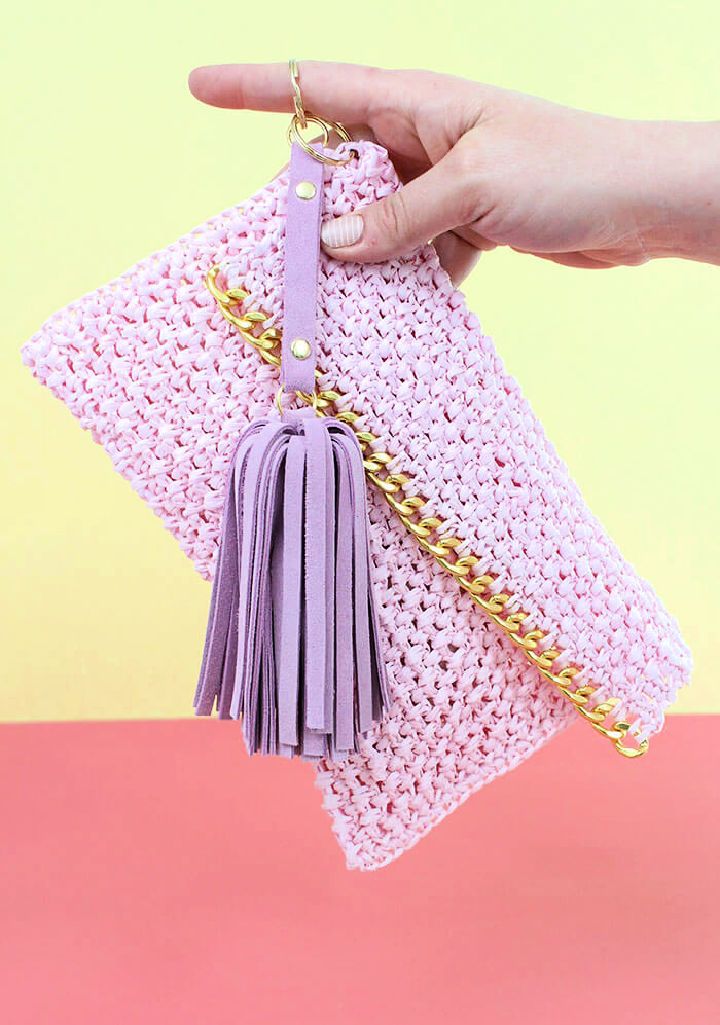 This DIY leather tassel keychain is fun to make and perfect to hold your keys with style or to hook with your clutch. This simple guide will teach you how to make a striking waterfall or bell shape keychain. You will need a cutting mat or rotary cutter, leather or suede, a leather punch, rivets and rivet setter, fabric glue, large gold jump rings, a gold keychain or keyrings, and masking tape.
First, cut the leather into strips using the cutting mat or rotary cutter to get started. Next, punch holes in the top of the strips using the leather punch. Then, thread the strips through the jump rings and connect them using the rivets and rivet setter.
Finally, glue the bottom of the tassel to the keychain or keyring using fabric glue. Allow the glue to dry completely before using your new handmade leather tassel keychain. persialou
4. DIY Blue Scrap Leather Laptop Case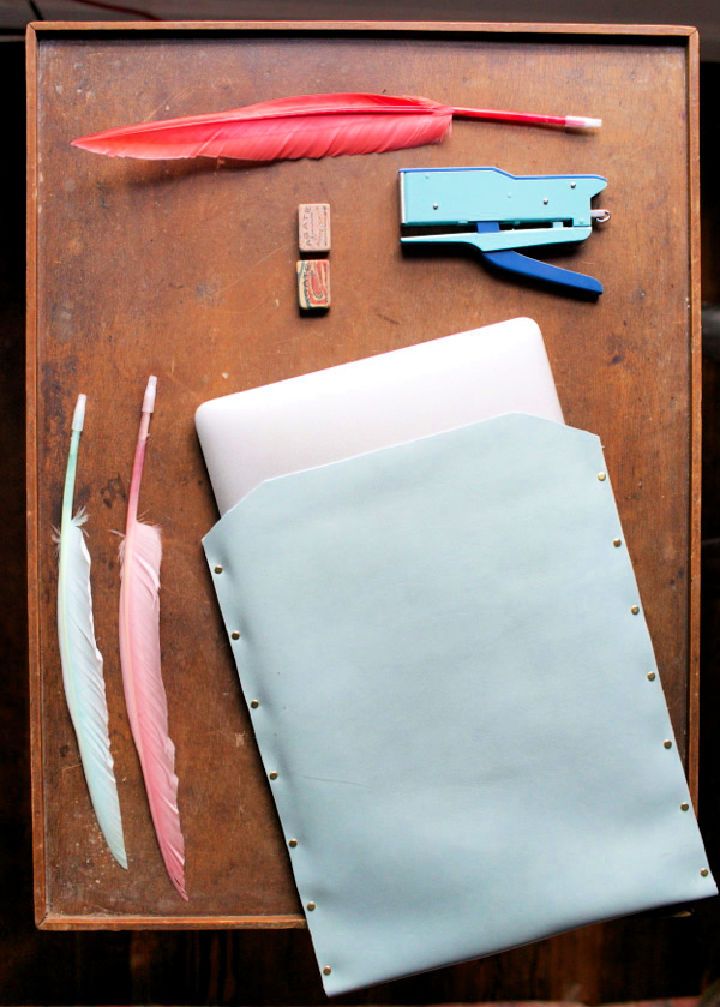 It's a simple guide to making a DIY laptop case out of blue scraps of leather and brass rivets. The result is an elegant and classy-looking case that takes less than an hour to make. This leather laptop case will be a great gift for friends and family who appreciate the DIY aesthetic.
Plus, it's a great way to upcycle scraps of leather that would otherwise be thrown away. So, if you're looking for a unique and stylish laptop case, follow this simple guide and make your own! ohhappyday
5. Upcycled Leather Bag With Paint and Print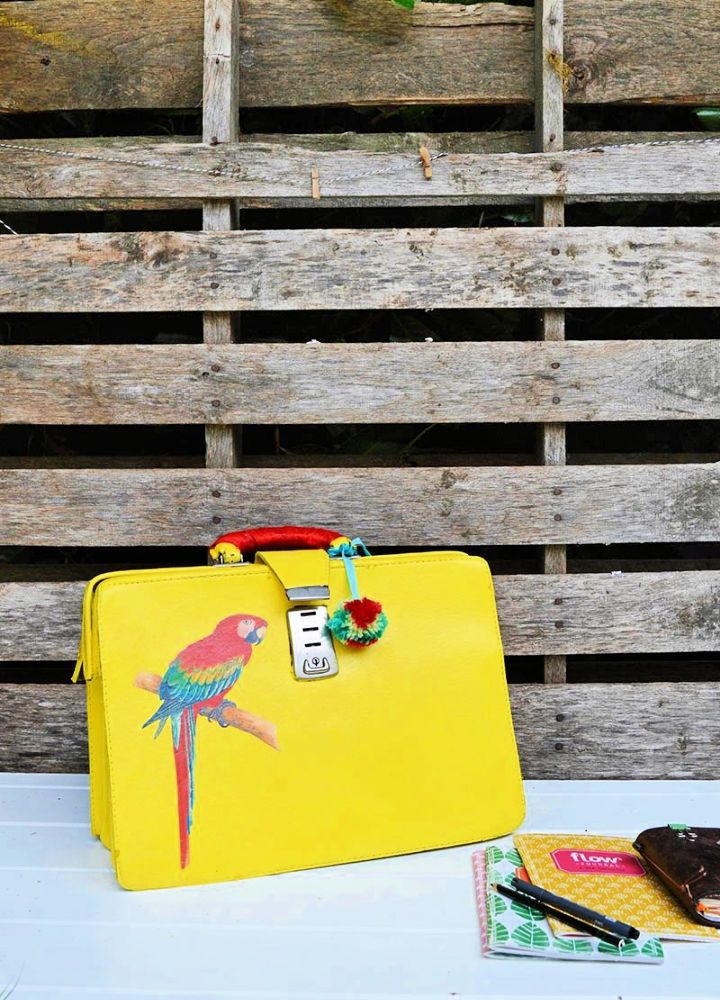 This DIY upcycled leather bag is a pretty and classy way to spruce up an old, boring leather bag. You can use paint and print to give it a new look. All you need is an old leather bag, spray paint, painter's tape, dark t-shirt transfer paper, vintage graphics, and an iron and Mod Podge.
Follow these simple steps to DIY your own upcycled leather bag:
Prime the bag with a universal primer.
Paint the bag with Citrus Yellow spray paint. Let it dry completely.
Tape off any areas you don't want to be painted. Paint over those areas with a dark color. Let it dry completely.
Transfer the vintage graphics onto the bag using the t-shirt transfer paper and iron.
Finally, seal it all with a layer of Mod Podge for an outdoor finish. That's all! Now go out and show off your amazing DIY skills! pillarboxblue
6. Leather Woven Storage Basket Projects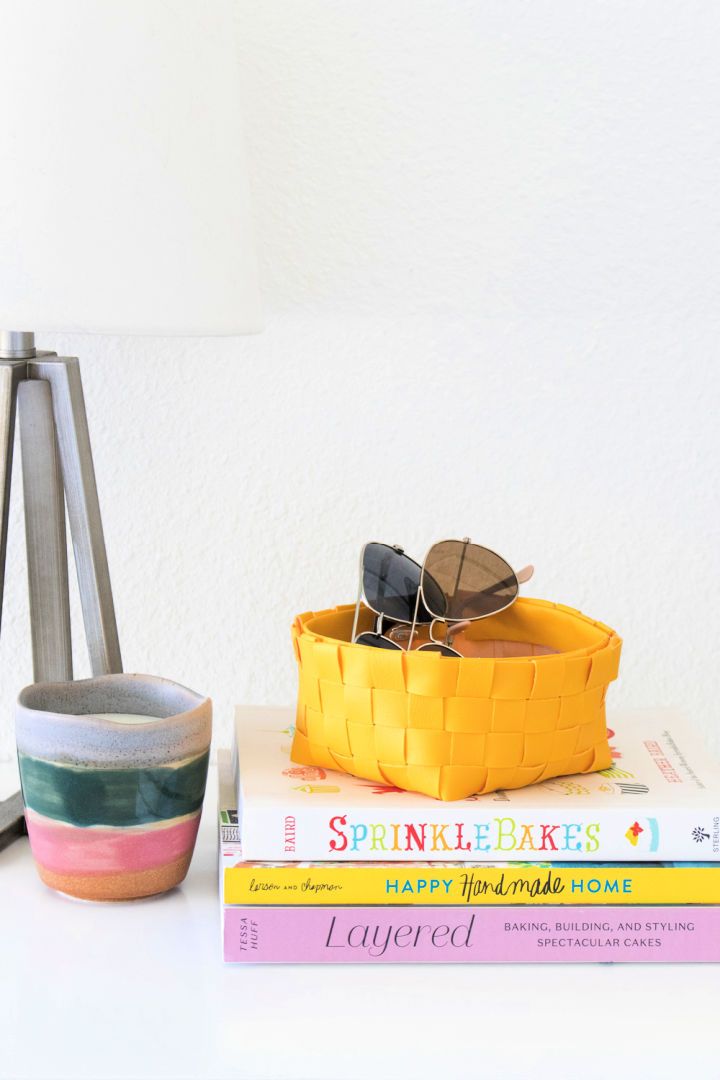 This DIY leather woven storage basket is perfect for organizing your home! It takes just 40 minutes to make and requires only a few supplies. Get some faux leather, an excel blades dual cutting tool, an excel blades cutting mat, scissors, a glue gun with glue sticks and some clothespins.
Cut the faux leather into desired strips with the tools provided. Then use glue to turn each strip into a braid shape and hold it together with clothespins until it sets. Finally, assemble all the braids in a woven pattern; You'll have a stylish storage basket that looks great on any shelf or countertop! clubcrafted
7. Easy DIY Hanging Organizer for Beginners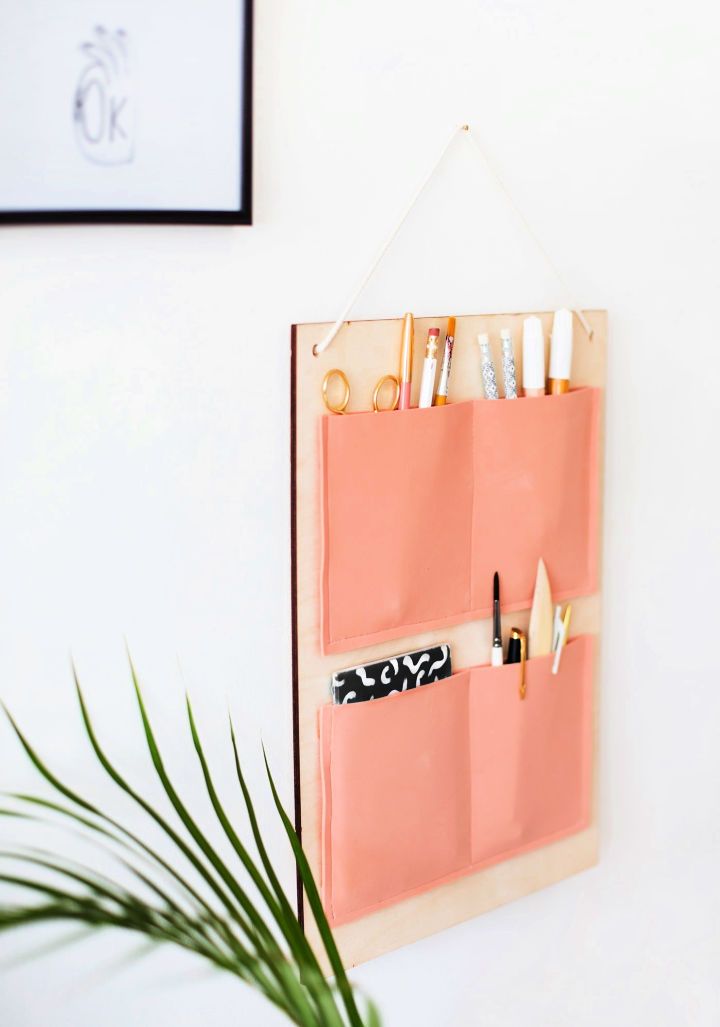 A DIY hanging organizer is a stylish and decorative way to keep your home organized. It is easy to make and can be customized to match your home decor. Plus, it is a great DIY project for both beginners and experienced crafters.
To make this hanging organizer, you will need a few supplies, including a sheet of plywood, a power drill, a paddle drill bit, colored foam or leather, machine thread, a ruler, a pencil, wood glue, a Stanley knife, and white rope.
Once all your supplies are sourced, follow the simple guide below to create your gorgeous hanging organizer. lovelydrawer
8. Color Blocked Leather Keychain Craft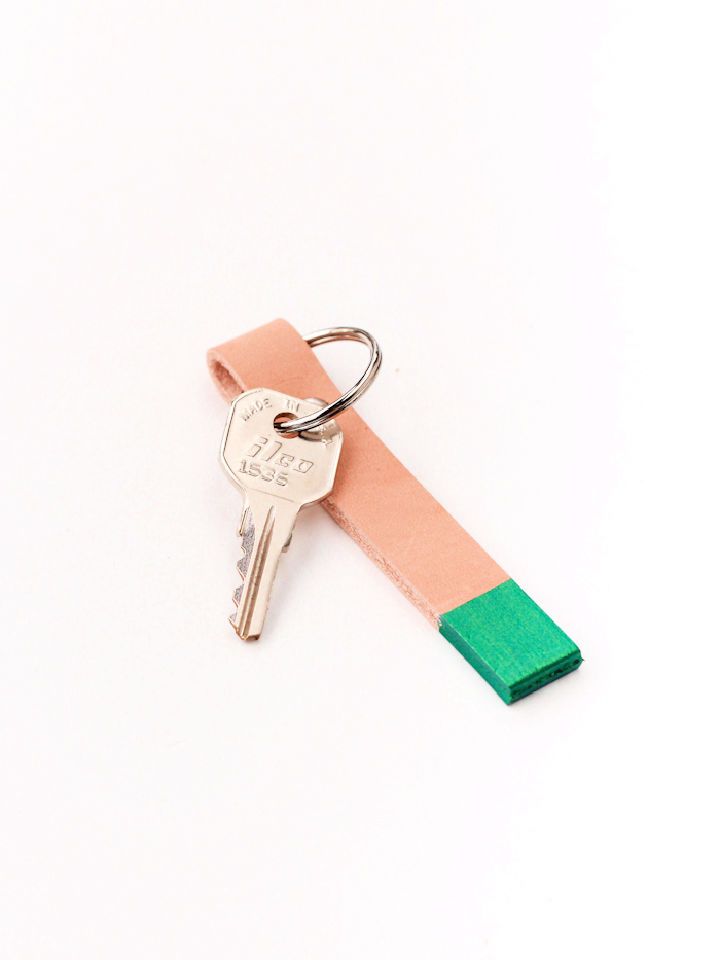 A DIY color-blocked leather keychain is a great way to keep your keys with you stylishly. This project only takes about 30 minutes to complete and requires a few materials you likely already have around the house. To get started, all you need is some leather, a hole punch, a rotary cutter, a cutting mat, and some leather paint. You can find all of these materials at your local craft store.
Once you have all your materials, use a tape measure to cut two rectangular pieces of leather. Next, use the hole punch to create a hole in the center of each rectangle. Then, use the rotary cutter to cut thin strips of leather paint along one edge of each rectangle.
Finally, tape the two pieces of leather together so that the painted edges are touching. Your DIY leather keychain is now complete! thecraftedlife
9. Faux Leather Succulent Wreath Crafts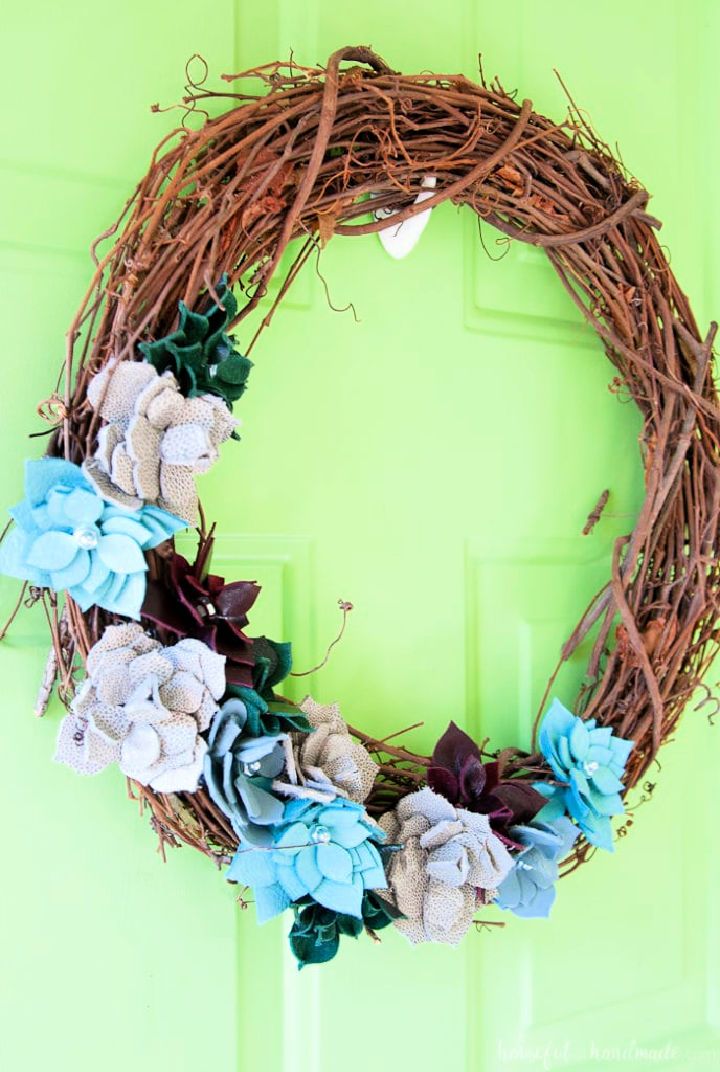 This DIY leather succulent wreath is an excellent idea for a succulent fan. It is a simple way to keep your succulents alive all year round with this faux succulent wreath. The colorful pieces of leather used in the wreath make it beautiful and welcoming.
You can use screws, washers, nuts, and cap nuts to fit the hole from the succulent dies, or you can use hot glue to attach the grapevine wreath to the back of the wreath. Follow this simple guide so that your succulent leather wreath looks its best. Happy DIY-ing! craftingmyhome
10. How to Make Leather Tassel Earrings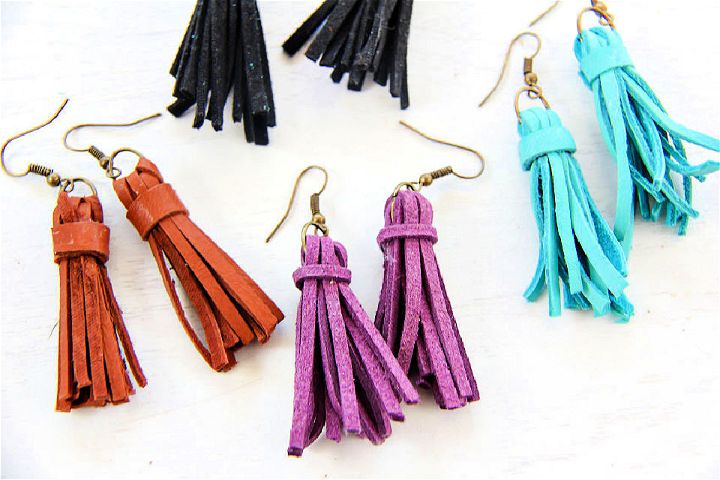 These homemade tassel earrings from leather are beautiful and decent jewelry. You can customize them to match any outfit. They look so pretty and easy to make. These leather earrings are made with scraps of leather; you can use suede or faux varieties. You will need earrings, jump rings, scissors, pliers, fabric glue or a needle and thread.
Follow this simple guide to make your own leather tassel earrings:
Cut strips of leather or suede into thin strips.
Tie the strips onto the jump rings.
Add the jump rings to the earrings.
Trim the strips to your desired length.
Wear and shine with your new DIY leather tassel earrings! makeandtakes
11. DIY Glasses Case with a Free Template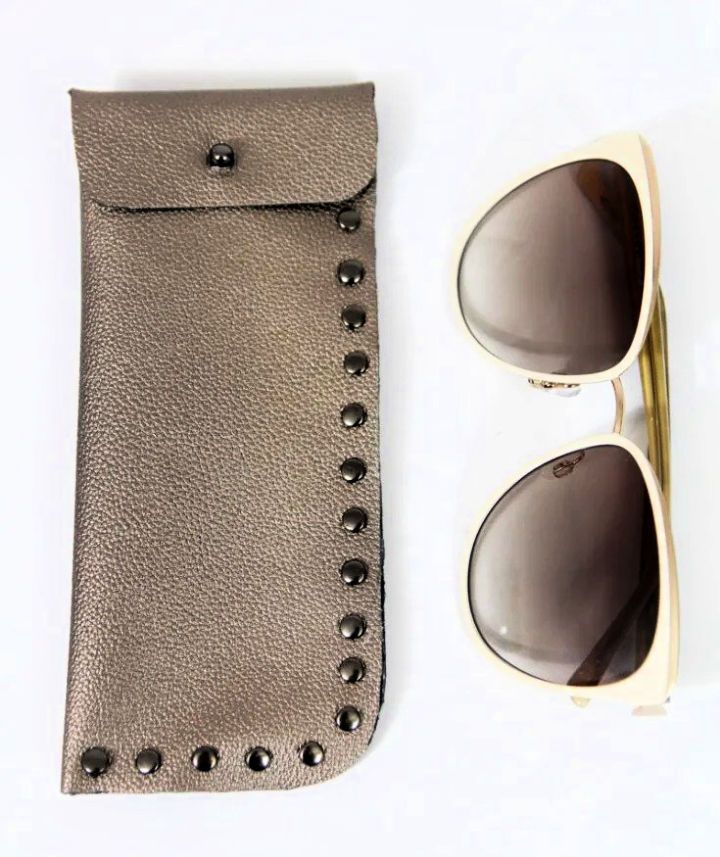 DIY-ing a leather glasses case is a great way to keep your glasses safe and secure while also personalizing them to your own taste. Plus, it's a fairly easy project that doesn't require many supplies.
All you need is faux leather, the template, scissors, one monk head screw, a hole punch, and a hot glue gun and sticks. You can add optional embellishments like contrasting leather, paint, grommets, or leather lacing. Just follow the simple guide, and you'll have a DIY glasses case in no time! momsandcrafters
12. Homemade Flower Hair Accessories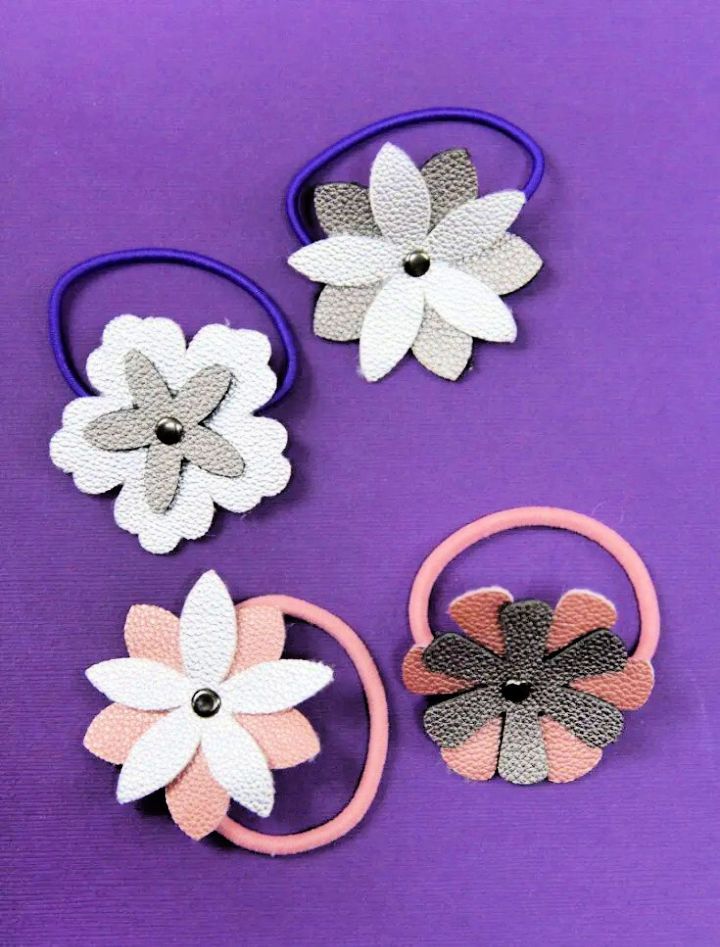 This DIY hair accessories project is a simple and easy way to make any hairstyle look pretty and elegant. You can make these accessories as simple or as complex as you want, making them a great gift for little girls.
To make these hair accessories, you will need some supplies. Faux leather or leather sheets, leather rivets, a rivet setting tool and hammer, a leather hole punch, a hot glue gun, and ponytail holders.
If you are cutting the leather yourself, you Will also need a cricut explore air 2 or maker, deep point blade or knife blade, stronggrip mat, stronggrip transfer tape, brayer, and masking tape. This easy tutorial Will walk you through the process step by step.
With some supplies and a little time, you can easily make your own flower hair accessories that will add a touch of beauty to any hairstyle. momsandcrafters
13. Mouse Pad Faux Leather Crafts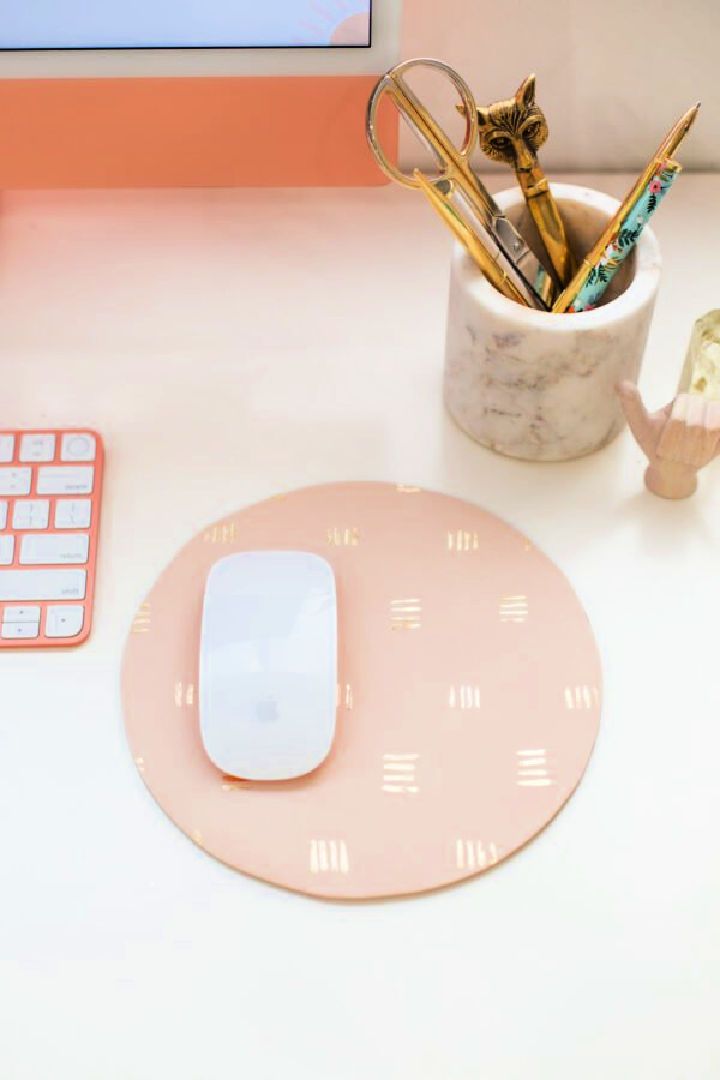 This DIY mouse pad is a great way to add a personal touch to your desk. To make one, you will need a plain mouse found at most office supply stores. For this project, you'll also need leather or faux leather, a fine paintbrush, Mod Podge (or gold leaf sizing), a gold leaf, a soft paintbrush, E6000, scissors, and a pen.
The first step is to trace the outline of the mousepad onto the back of the leather. Then, cut out the shape with scissors. Next, brush a Mod Podge layer onto the mouse pad's surface. Cover the entire surface evenly. Carefully place the cut-out leather piece on top of the glue, and smooth it down with your fingers. Let the glue dry for at least 30 minutes.
Once it's dried, apply a second layer of Mod Podge on top of the leather. Then, sprinkle gold leaf over the wet glue. Use a soft brush to brush away any excess leaves. Finally, apply a layer of E6000 on top of the leafing to seal it in place. Let dry overnight before using. Your beautiful handmade mouse pad is now complete! lovelyindeed
14. Beautiful and Unique DIY Leather Wallet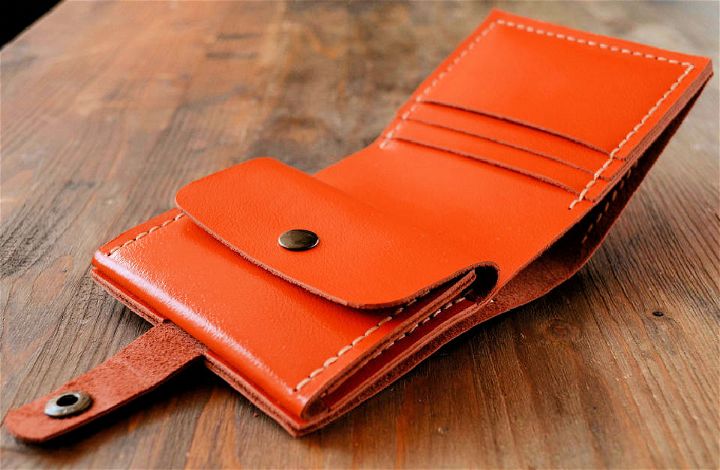 This DIY leather wallet is a simple but classy way to keep cards and money safe and secure. It can also be a thoughtful gift for any man in your life. You can easily make your own leather wallet with a sewing pattern and some basic supplies.
To get started, you'll need some leather, a leather punch, buttons, and a needle and thread. You can find all of these supplies at your local craft store. Once you have everything, follow the instructions in the tutorial to put everything together. In no time at all, you'll have a beautiful and unique DIY leather wallet. handmadiya
15. Stamped Leather Coasters Crafts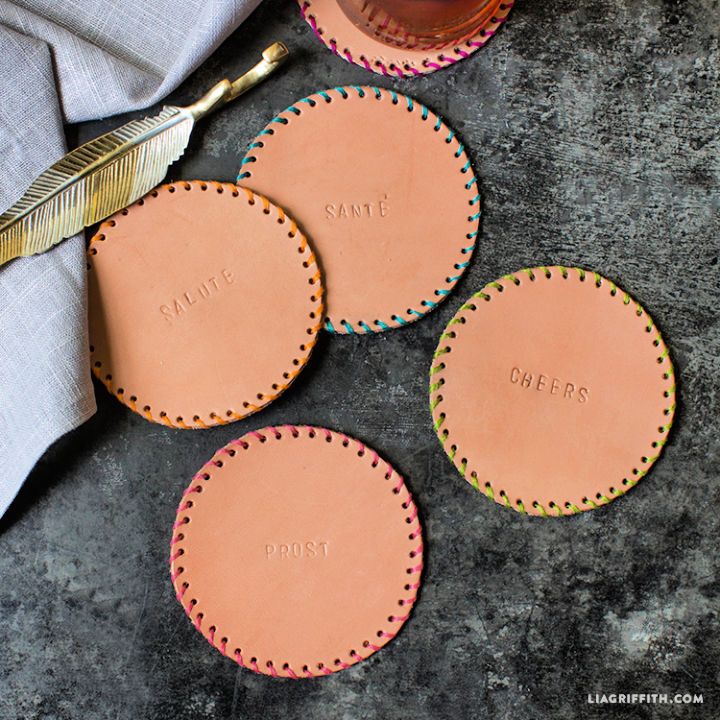 For a pretty upgrade to your coffee table decor, DIY stamped leather coasters are a great option. These leather coasters are a great way to add a personal touch to your coffee table decor. You can customize them with any words you like, making them a perfect personalized gift. Plus, they're fairly easy to make with some handy supplies. To make these coasters check out the easy instructions below.
First, cut the leather into coaster-sized round pieces. Then, use a 2mm leather punch to create holes around the edge of each piece. Next, thread embroidery floss through the holes and tie knots to secure. Once all the pieces are threaded, it's time to start stamping!
Place the letters you want to use on a steel block, then gently tap them with a mallet to transfer the image onto the leather. Finally, take off the tape and enjoy your new handcrafted stamped leather coasters! liagriffith
16. DIY Leather and Rope Jewelry Organizer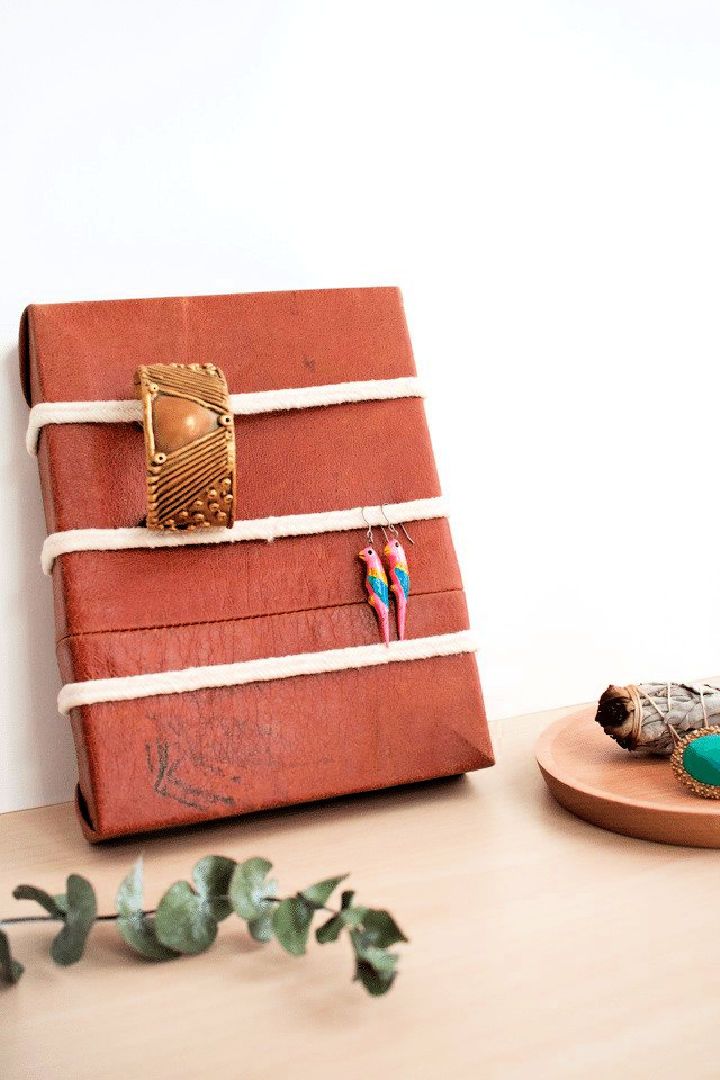 This homemade jewelry organizer from leather and rope is a great way to keep your jewelry organized and untangled. It is also easy to make and only requires a few supplies. You will need an old leather coat or handbag, cotton rope, a picture frame, a hammer, nails or a staple gun.
First, cut the leather into about a few inches wide strips. Next, cut the rope into lengths that will fit around the frame. Start by stapling one end of the rope to the back of the frame, then wrap it around the frame and staple it to the other side.
Finally, thread the leather strips through the rope loops and tie them in place. Your pretty and thrifty DIY jewelry organizer is now complete! saladcircus
17. Simple Leather Journal Crafts for Guys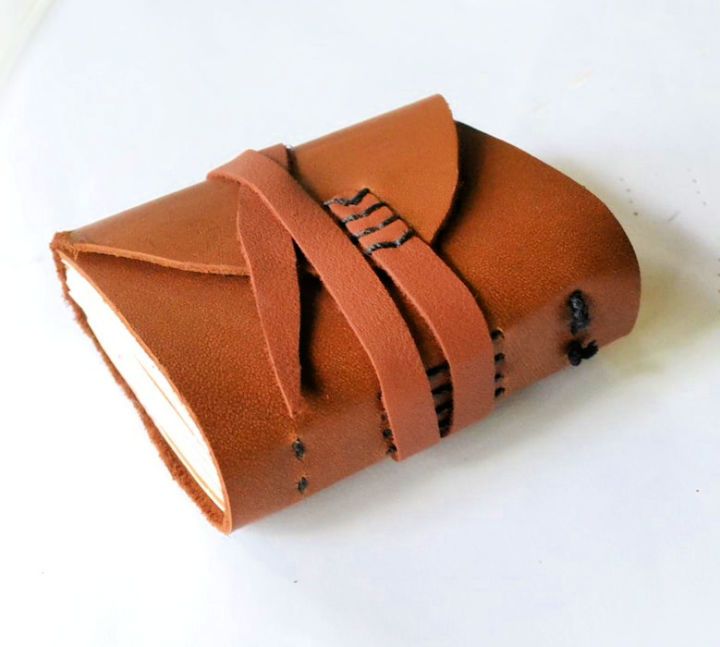 This DIY leather journal is a great way to express creativity and individuality. It will also make you feel good about yourself because you have created something with your bare hands that is one kind. It is also a great way to take notes and keep records of everything in one place.
Following some simple instructions, you can make your journal from recycled materials in no time. First, gather your supplies. You will need some leftover paper, cardboard, a scrap piece of leather, a leather cord, and waxed thread. Next, follow the step-by-step guide below to put your journal together.
This DIY journal is a fun and easy way to stay organized, so get creative and make one today! instructables
18. Handmade No-Sew Leather Bow Hair Ties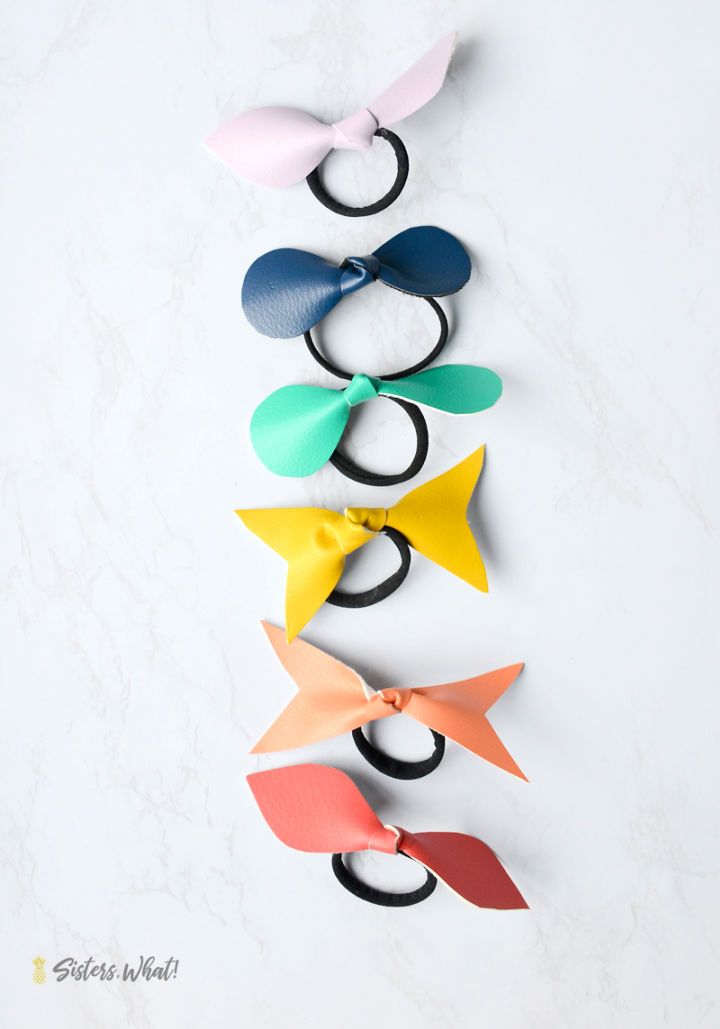 DIY no sew leather bow hair ties are an easy and quick project that makes an excellent gift for cute little girls. These pretty hair ties are also perfect for those who want to give a unique and handmade gift. The best part about these leather bow hair ties is that they require no sewing skills!
You only need colorful faux leather, hair ties, clips, and a free bow pattern. Once you have all your supplies, follow the step-by-step instructions to make your own handmade leather bow hair ties. sisterswhat
19. DIY Leather Monograms With Cricut Explore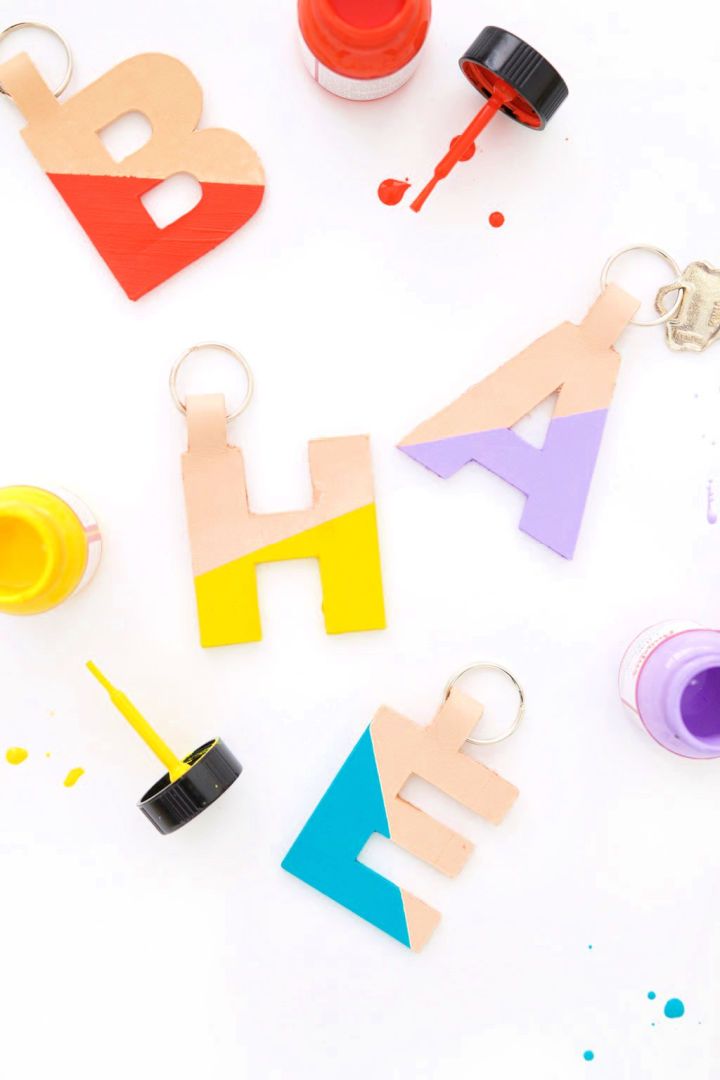 These DIY leather monograms are easy to make with Cricut Explore and also make personalized and thoughtful gifts. You can make them into keychains or use them as decoration. All you need is some leather, keyrings, leather glue, bull clips, Cricut explore air or cricut explore one, cricut transfer tape, cricut cutting mat, and tooling leather.
First, you'll want to gather your supplies. Then, follow the step-by-step instructions in this simple guide. These leather monograms are a great way to show your personality and give a great gift to anyone who loves DIY projects. damasklove
20. Copper Pipe Leather Wine Rack Craft Ideas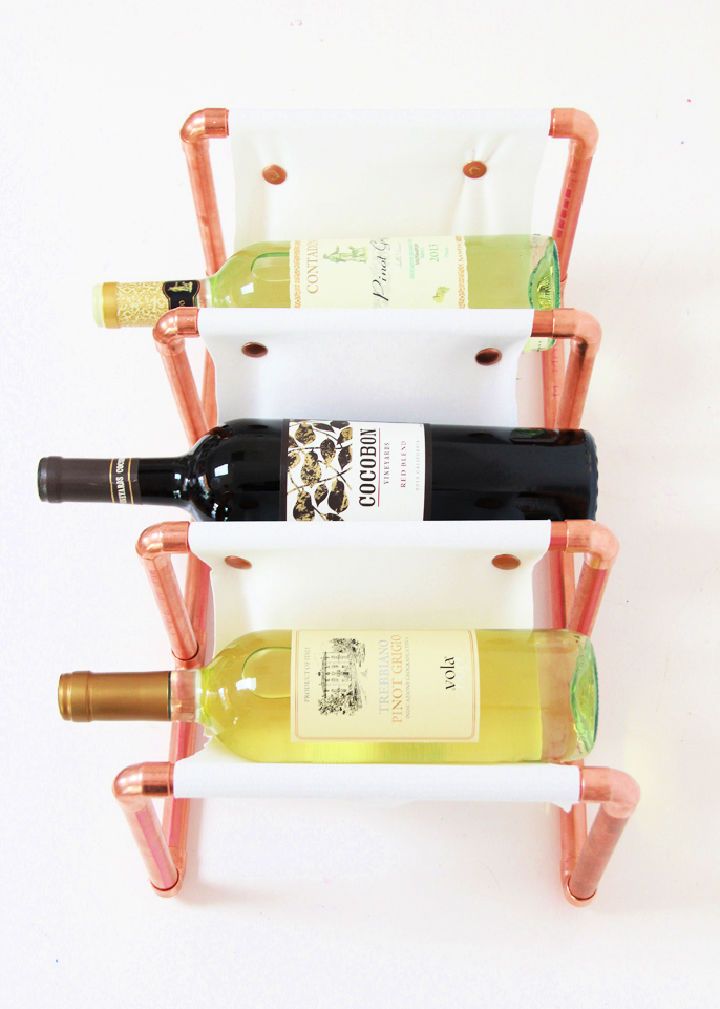 This DIY copper pipe & leather wine rack is a stylish and functional addition to any home and makes for a great gift for any wine lover. It's easy to make following the step-by-step instructions below.
It only requires a few supplies, including a pipe cutter, copper tees, copper elbows, leather, line snaps and copper tubing that are readily available at any hardware store.
This wine rack will keep all those wine bottles organized and out of the way while adding a touch of style to your kitchen or dining room. So, wait no more! Grab some copper tubing and leather and make this stunning and striking wine rack to keep your bar area de-cluttered or present a thoughtful gift for someone you care about. abubblylife
21. Leather Strips Potholder Crafts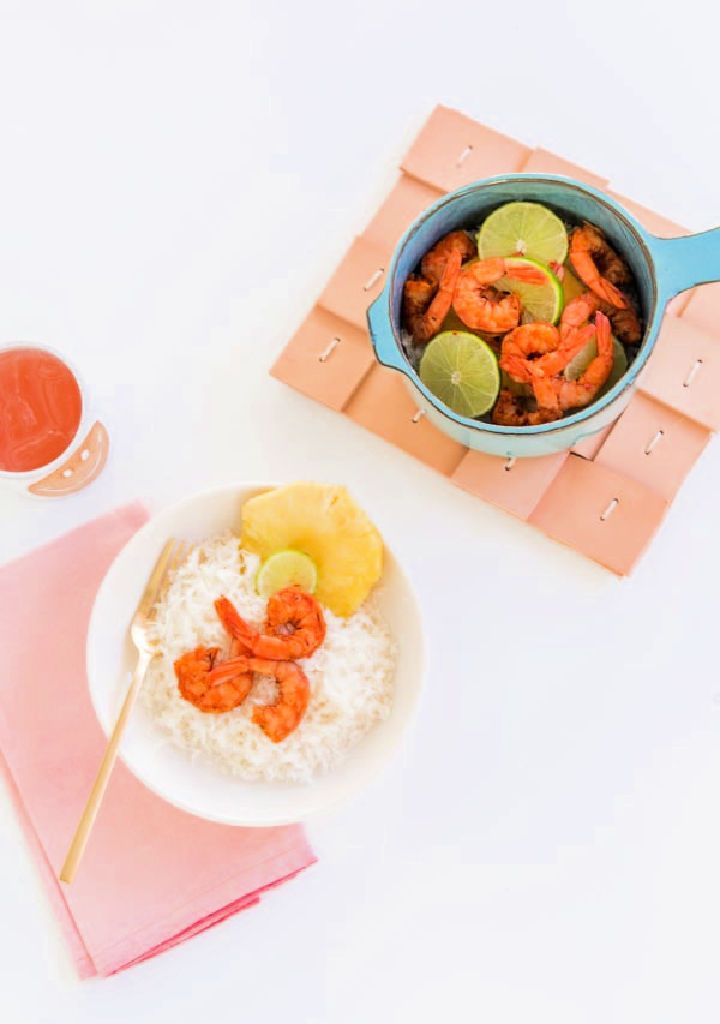 This DIY leather potholder is a beautiful and functional addition to any kitchen. It will help to protect surfaces from hot items and can be easily made with just a few thrifty materials. You will need leather strips, a sharp blade or box cutter, thick thread or string, a leather hole punch, a needle, and mini clamps (optional). Plus, it makes great gifts!
Follow these step-by-step instructions to make your own leather potholder.
Cut the leather strips into desired shapes and sizes. Make sure all the pieces are uniform in thickness so they will lay flat when assembled.
Use the leather hole punch to create two holes at each corner of the leather strips. If you're using mini clamps, place one at each hole to prevent the punch from slipping.
Thread the string through the needle and tie a knot at one end.
Starting at one corner, stitch through the first hole and then back through the second hole. Repeat this process until all four corners are secure.
Tie off the thread and trim any excess. VOILA!
You now have a beautiful handwrought leather potholder that protects surfaces from hot items! papernstitch
22. Small DIY Leather Plant Pot Holder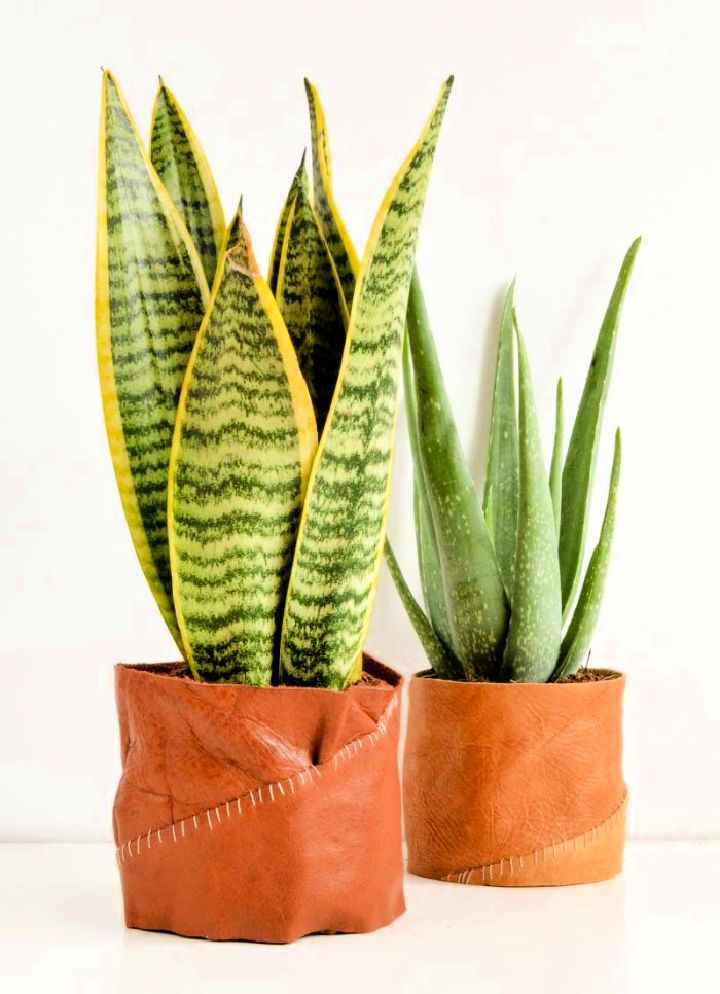 DIYing a leather plant pot holder is a fun and easy project that anyone can do. Not only is it a fantastic way to keep your indoor plants looking stylish, but it's also a great way to add visually appealing decoration to your home.
This project requires only basic materials and tools and can be completed in just a few simple steps.
Best of all, it's perfect for plant lovers who want to satisfy their green thumb with style. So if you're looking for a unique and beautiful way to display your plants, a DIY leather pot holder is the perfect solution. Follow the step-by-step guide below to get started. myerscreations
23. Cast Iron Grip Leatherworking Projects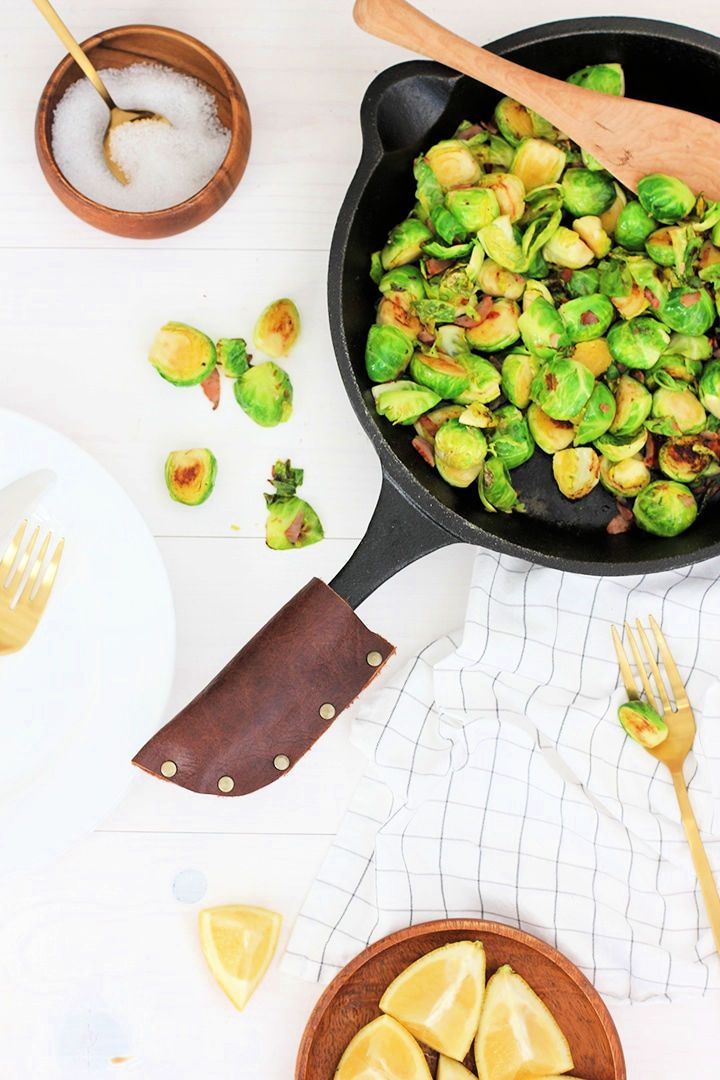 This DIY leather cast iron grip is a fantastic element to keep your hands safe while cooking. It is also quick and easy to make and very frugal. Here's a step-by-step guide on DIYing your own leather cast iron grip in just 5 minutes.
First, you'll need a piece of leather 4.5 inches wide by 4 and ⅝ inches in height. Use sharp scissors to cut it to size. Next, use a leather hole punch to make two holes near the top of the leather.
Then, use a rivet set to attach the leather to your cast iron skillet. That's it! Now you have a cute and functional DIY leather iron grip that will help you cook like a pro. aliceandlois
24. Pretty and Stylish Leather Photo Frame Crafts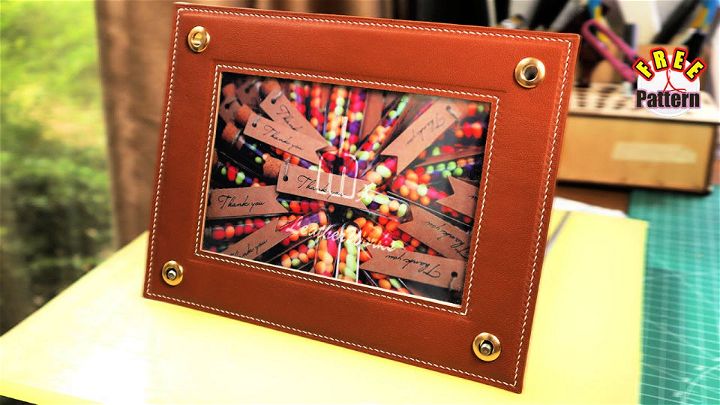 A DIY leather photo frame is a pretty and stylish way to display your favorite photos. It is also no-frills to make, and you can customize them to match your home decor. Best of all, this stunning leather frame makes a wonderful gift for friends and family.
To make this photo frame, you will need leather and reinforcement, thread, leather glue, leather punch, edge (Fenice mix), chisel (3mm French chisels) and four eyelets. So, if you're looking for a unique and thoughtful gift, follow these step-by-step instructions to make your handmade leather photo frame.
25. How to Make a Leather Notebook Wallet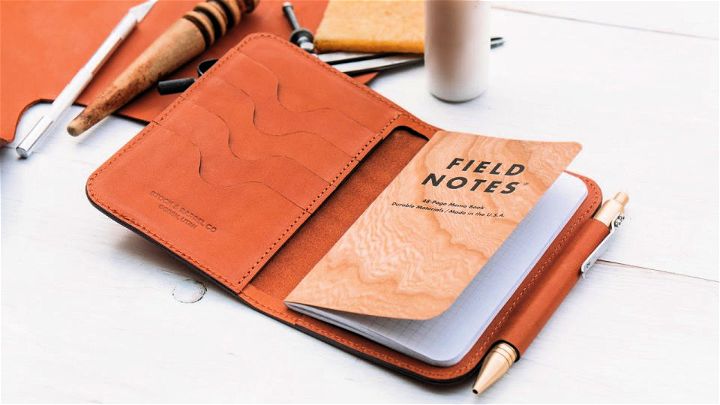 Looking for a unique and stylish notebook wallet? Look no further than this simple guide for making a DIY leather notebook wallet! Using just a few supplies, you can create a cute and functional mini notebook perfect for carrying around.
The best part is that it's easy to make, so you'll be able to whip one up in no time. Follow the step-by-step instructions below, and you'll have your cute handwrought leather notebook wallet in no time. Happy crafting!
Related Crafts for Kids:
Discover a variety of creative, fun crafts for kids including instructions and supplies to make DIY projects like paper airplanes, origami decorations, jewelry making kits and more!
Conclusion:
Overall, 25 easy leather crafts and projects for beginners are an enjoyable way to start working with leather. From simple coasters to more complex wallets, these leather projects for beginners provide a great introduction to the world of crafting with leather. Even if you don't have access to all the required tools, there are many creative ways to use items found around your home or local craft store. Completing any of these leather crafts for beginners will give you a sense of satisfaction from creating something beautiful out of raw materials.