Winter crafts are a great way to engage kids in creative activities. To help parents, teachers and other caregivers, we have gathered 30 easy winter crafts for kids! These fun art and craft activities are suitable for toddlers, preschoolers, kindergarteners, as well as elementary students. Each winter craft comes with step-by-step instructions and tips on how to make it simple or cheap – so now you can make the most of this winter season! Invite your kids over to create wonderful winter crafts while they develop their creativity today!
Engage your kids in some fun and easy winter crafts this season! With 30 of the best winter art and craft activities for kids of all ages, there are unique winter crafts for every child. Kids will love creating these simple yet creative winter crafts, such as snow globes, paper plate penguins, melted snowmen ornaments, popsicle stick sleds and more!
Get creative with seasonal materials like pinecones, yarn scraps and buttons while having a blast putting together delightful January crafts for kids that they'll be proud to show off. Whether you're looking for fun winter crafts to make indoors on cold days or want some inspiration for outdoor science projects – you've come to the right place! Let your young artist explore their creativity with our collection of easy winter crafts for kids specially designed for all ages.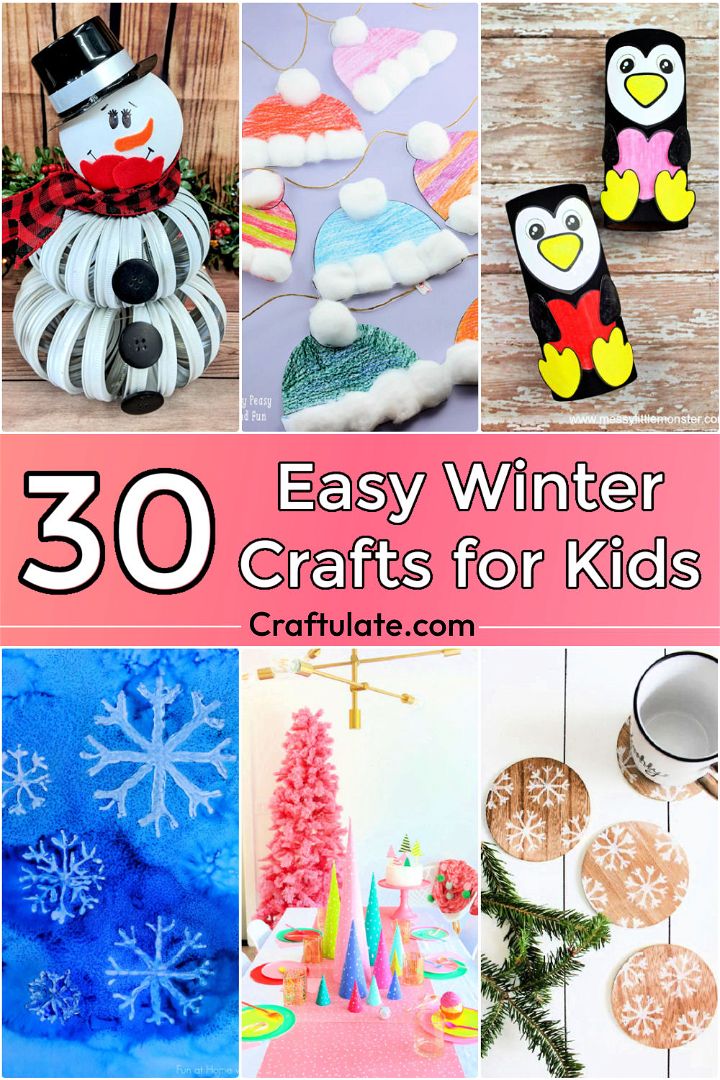 Winter Crafts for Kids – Easy Art and Craft Activities
Get creative this winter and have some fun with your kids with winter crafts. Whether you're looking for something to keep your toddler, preschooler or kindergartener busy, there are plenty of easy and fun winter art and craft activities to do. From snowmen and snowflakes to paper plate crafts, these winter crafts for kids with step-by-step instructions will help you get the most out of each project.
Many winter crafts and art projects for kids are easy enough for even the littlest crafters, while others are great additions to any winter classroom! Plus, best of all is that these winter projects for kids don't require a lot of money or time – so you can have fun without breaking your budget or running down the clock. Get your crafting supplies ready and get started on some awesome winter crafts today!
1. DIY Mason Jar Lid Snowman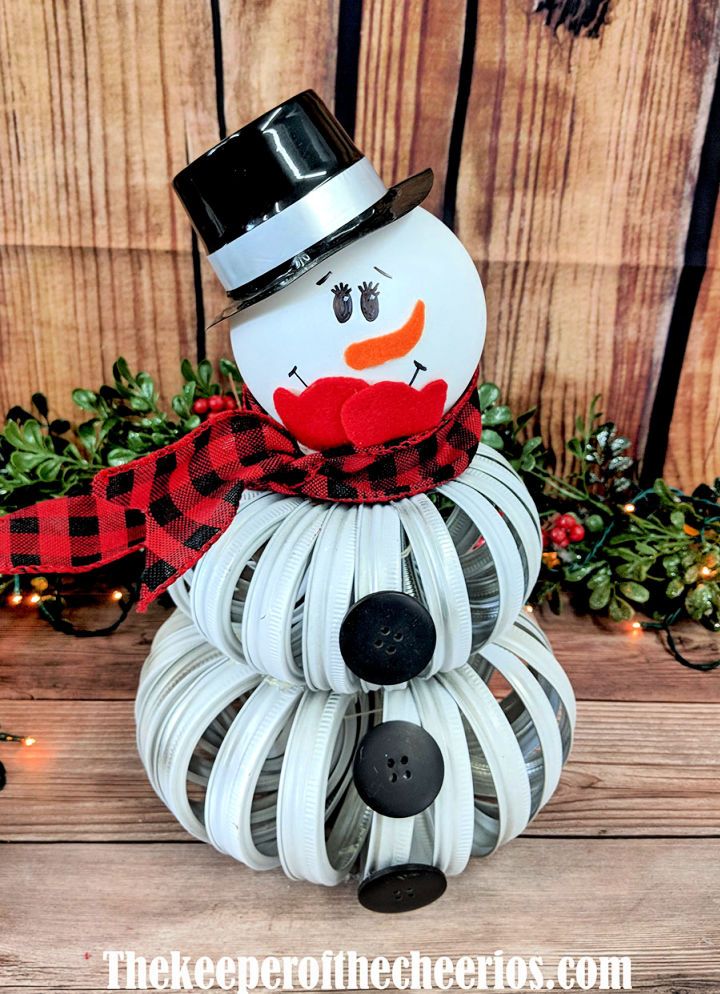 These DIY mason jar lid snowmen are easy to make and are adorable all winter Long. They make the perfect piece of winter home decor! You only need a few supplies to make these cute snowmen. You will need 18 silver mason jar rings, white spray paint, floral wire, a snowman ornament, needle nose pliers, and a hot glue gun.
First, you will need to paint the mason jar rings white. Let them dry completely. Next, use the needle nose pliers to bend the floral wire into the arms and legs of the snowman. Attach wire to the back of the snowman with hot glue. Finally, attach the snowman to the top of the mason jar lid with hot glue. That's it! Your mason jar lid snowman is now complete. Enjoy your new favorite piece of winter home decor! downredbuddrive
2. How to Make Scented Candles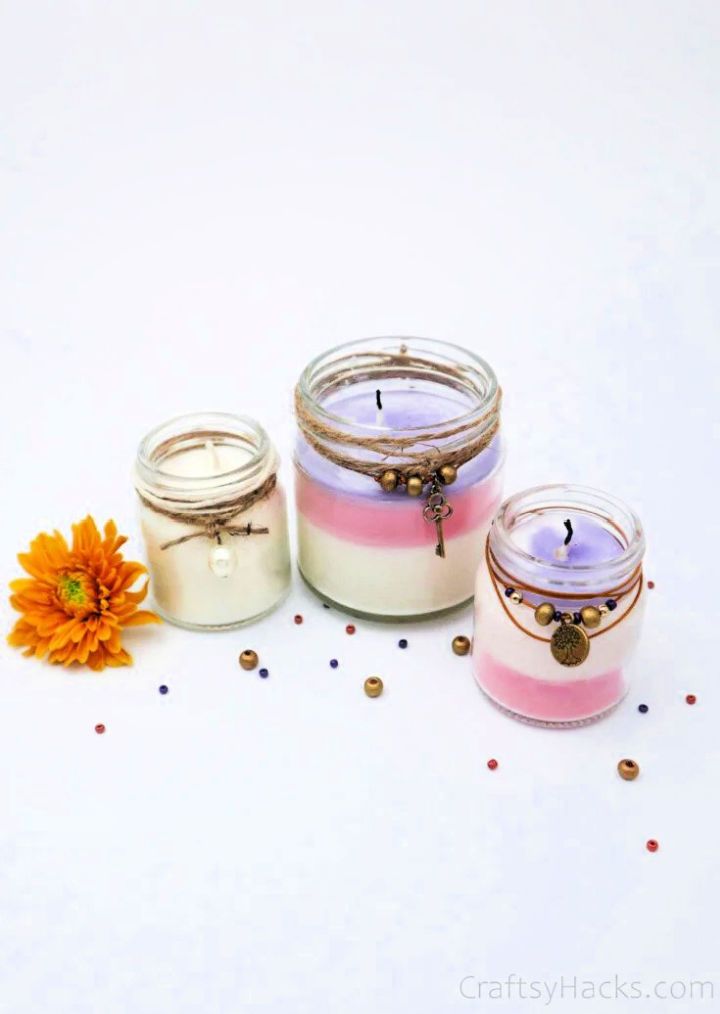 DIY scented candles are the perfect way to decorate your home and upcycle old jars! They're fun to make and a great gift or decoration. These scented candles are cheaper than buying them and are easy to make. You can use essential oil to scent your candles or add a few drops of fragrance oil to the melted wax.
You can add herbs, flowers, or fruit peels to the melted wax for a decorative touch. To ensure your candles burn evenly, use a wick holder and keep the wick trimmed to ¼ inch. When you're finished, you'll have beautiful candles that will fill your home with fragrance and light. craftsyhacks
3. Winter Hats Craft for Kids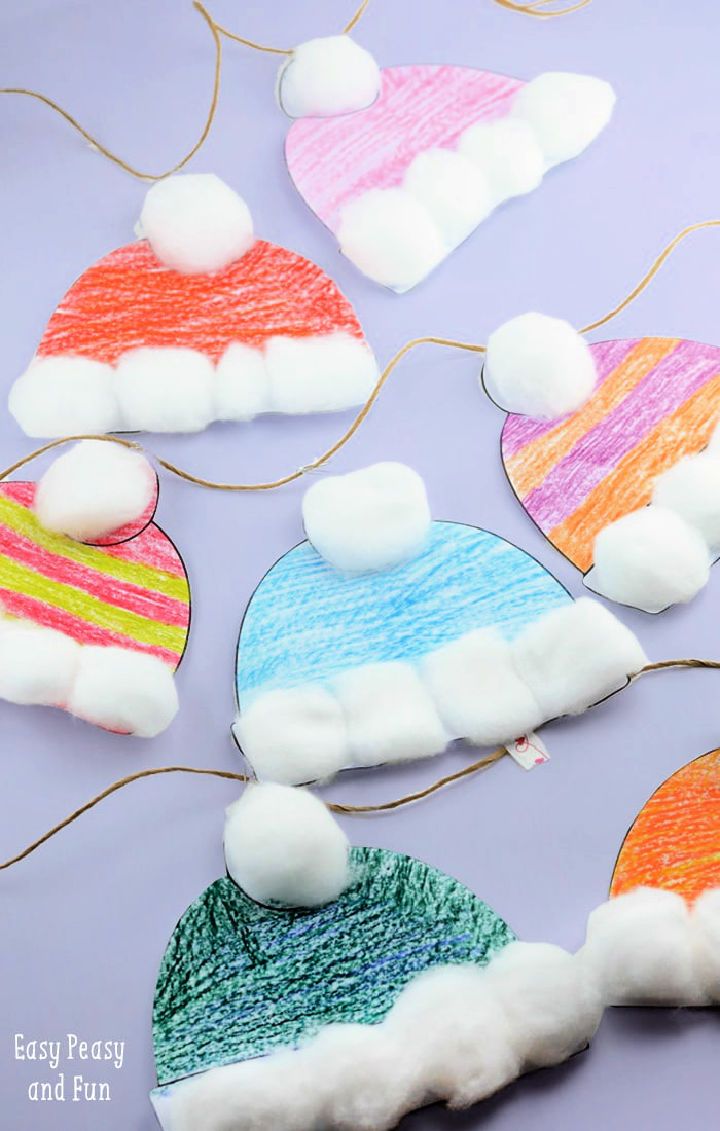 A DIY winter hats craft for kids is a creative and fun fine motor skill activity that is perfect for kindergarten, preschool, or toddler classrooms. It is easy to set up and quick to make. DIY winter hats craft for kids requires only a few supplies, including our hat template, colors, cotton balls, white school glue, and scissors. This craft is perfect for young ones as it helps them develop their fine motor skills while being creative. Winter hats craft for kids is a great way to spend time with your young ones this winter. easypeasyfun
4. Clothespin Snowman Craft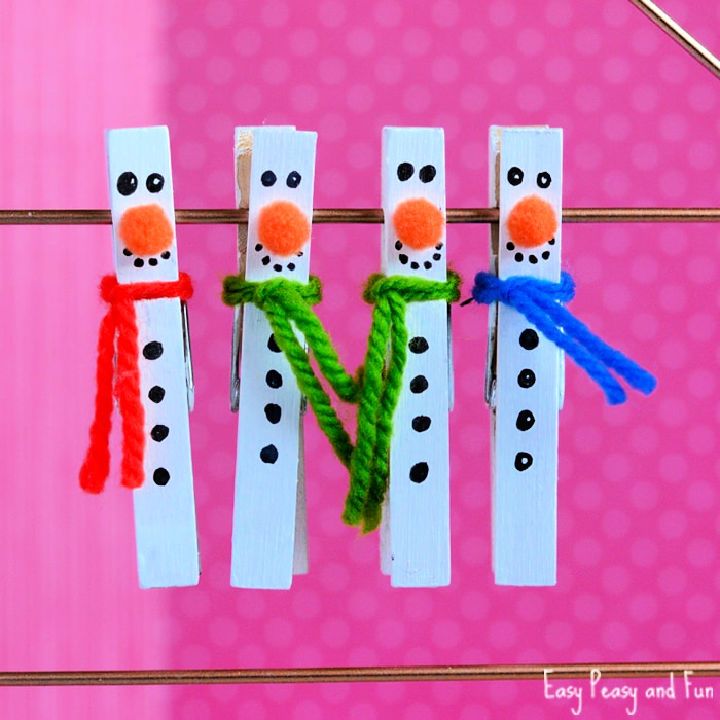 It's time to get crafty and make some DIY clothespin snowmen! This super easy and cute craft is perfect for kids of all ages. It would help if you had natural wood clothespins, yarn in various colors, glue, orange mini pom poms, white paint, a paintbrush, a black marker, and scissors. To start:
Paint the clothespins white and let them dry.
Once they are dry, glue the mini pom poms for the nose and use the black marker to add eyes and a mouth.
Cut a small length of yarn and tie it around the neck of the snowman. That's
It! You've now made your very own clothespin snowman. Hang them on your Christmas tree, use them as gift tags, or display them around your home – they'll look great everywhere! easypeasyfun
5. Popsicle Stick Arctic Animal Crafts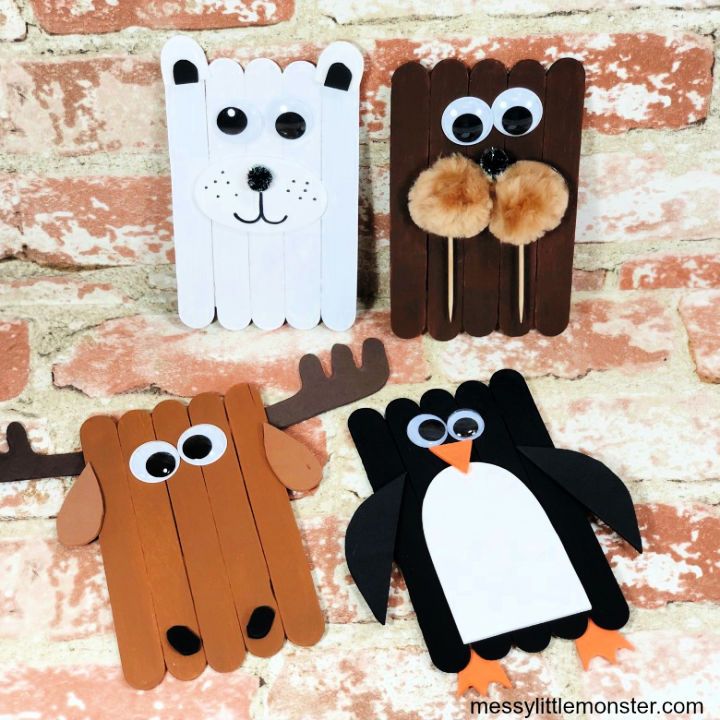 A DIY popsicle stick arctic animal craft is a super cute and easy way to decorate your home or office for the winter season. These DIY crafts are easy to make and only require a few simple supplies you probably already have around the house.
The best part about these crafts is that they are completely customizable. You can choose any arctic animal you want to make and then personalize it to look however you want.
This popsicle stick animal crafts make great gifts for friends and family, or you can keep them for yourself as a fun winter project. So gather your supplies and get started on your popsicle stick arctic animal crafts today!
6. Easy Penguin Craft for Preschoolers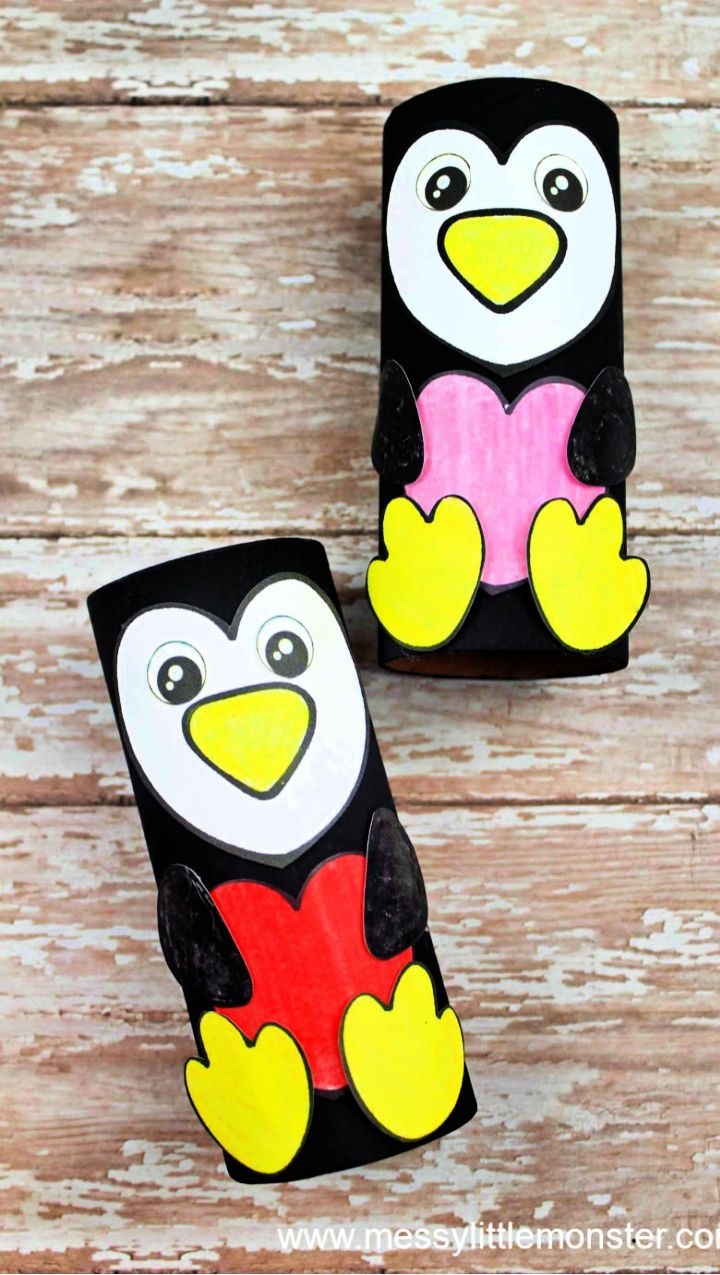 Looking for Pre k winter crafts? This DIY easy penguin craft for preschoolers and kindergarteners is a great way to get your little ones excited about crafting. This super cute and easy penguin craft is perfect for valentine's day, mother's day, or to make someone smile.
All you need is our free penguin craft template, some cardboard tubes, pens, paint, scissors, glue and some time with your little ones. Full instructions DIY easy penguin craft for preschoolers is so much fun to make and perfect to fit in as part of a winter project. Your preschoolers will have a blast turning their cardboard tubes into these adorable DIY easy penguin crafts. So grab the supplies, print out the template and let the fun begin! littlemonster
7. DIY Snow Dotted Cone Trees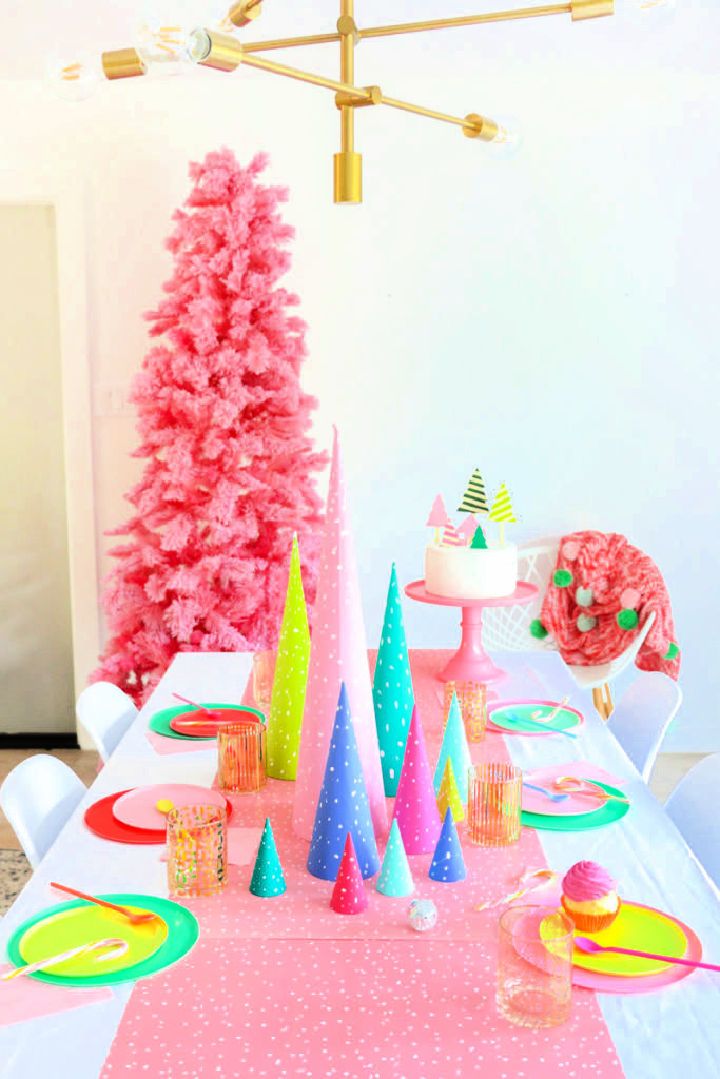 Want to add holiday cheer to your home? DIY snow-dotted cone trees are quick and easy to make, and you can customize them to match your holiday decor. All you need is a paper mache cone, some acrylic craft paint, and a paintbrush. To make the snow dots, dip your brush in white paint and dot it onto the cone. You can make the dots as big or as small as you like.
Once you've finished the snow dots, add a few drops of your chosen color onto the cone. Then use your brush to swirl the paint around, creating a marbled effect. Once you're happy with the results, let the paint dry and enjoy your snow-dotted cone tree! akailochiclife
8. Flamingo Snow Globe Ornament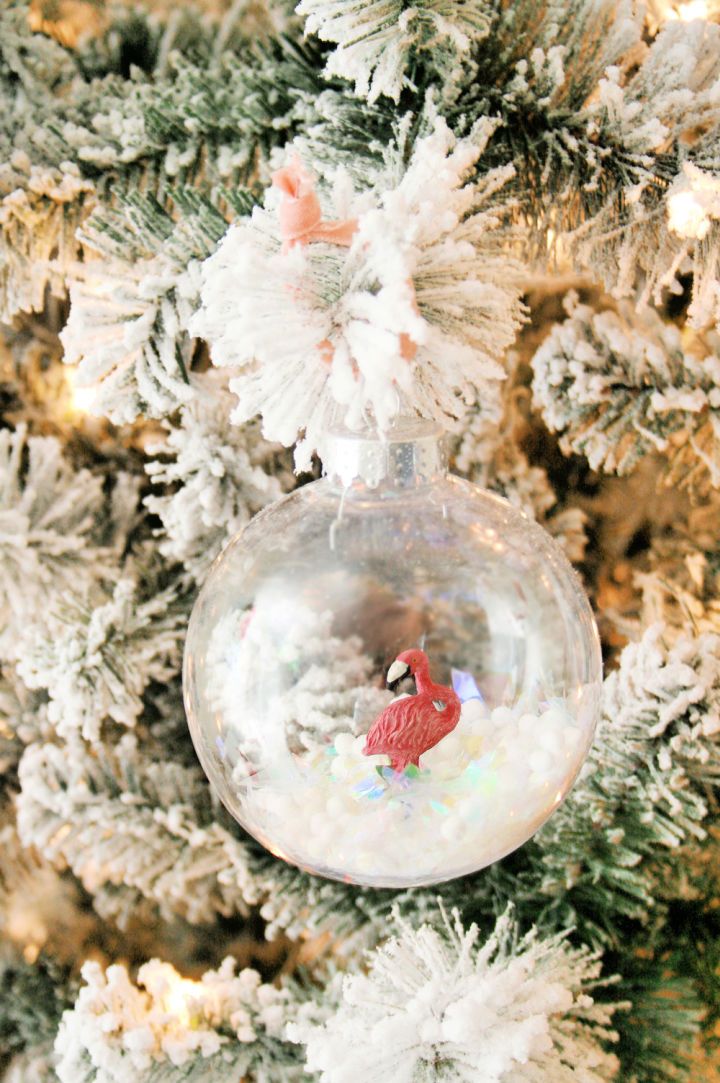 Looking for a fun, unique holiday craft? Make your own DIY flamingo snow globe ornament that looks professional and gives any tree an eye-catching look! All you need is a plastic craft ornament, a miniature flamingo figurine, mini white pom-poms, cellophane glitter, super glue and ribbon. Put all the pieces together to create a festive snow globe with a cute little flamingo inside! Show off your creativity this season and make this easy yet stylish ornament perfect for any holiday decorations.
9. Penguin Painted Rocks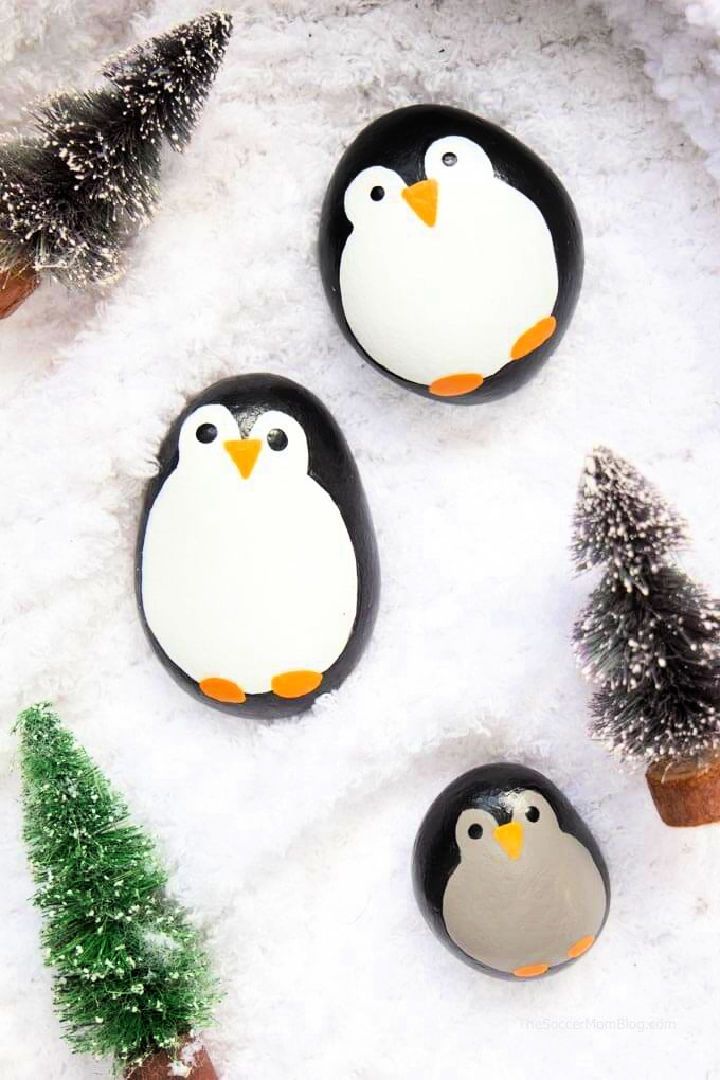 Unique DIY projects are always perfect for crafters of all ages. DIY penguin painted rocks are easy and fun to make. All you need are a few supplies and some rocks, and you'll be on your way to creating these adorably whimsical creatures. These tutorial penguins make for a great children's craft, as they are simple enough for even the youngest crafters to complete with assistance.
And, since most of the work is painting, it's also a great project for those not artistically inclined. So whether you're looking for a quick and easy DIY project or a fun craft to do with the kids, This DIY is sure to fit the bill. soccermomblog
10. Polar Bear Winter Crafts for Kids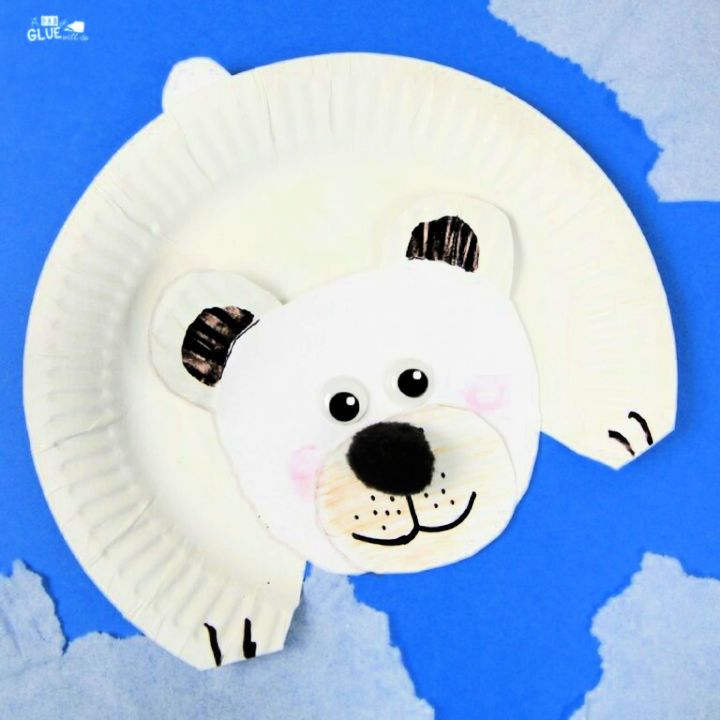 A DIY polar bear craft is perfect for arctic or habitat study. This easy step-by-step activity helps work on your child's cutting skills. Your child will have so much fun making this adorable polar bear.
Supplies: White paper plate, white construction paper, black marker, googly eyes, black pom, white tissue paper, scissors, tape, glue stick.
First, cut the polar bear's head and ears from the white construction paper. Next, use the black marker to draw on the polar bear's nose and mouth. Then glue on the googly eyes. Next, add the black pom for the bear's nose.
Finally, cut out small pieces of white tissue paper and glue them around the polar bear's head to create a furry effect. Tape the polar bear's head to the top of the paper plate. Your DIY Polar Bear Craft is now complete! adabofgluewill
11. DIY Snow Globe Ornaments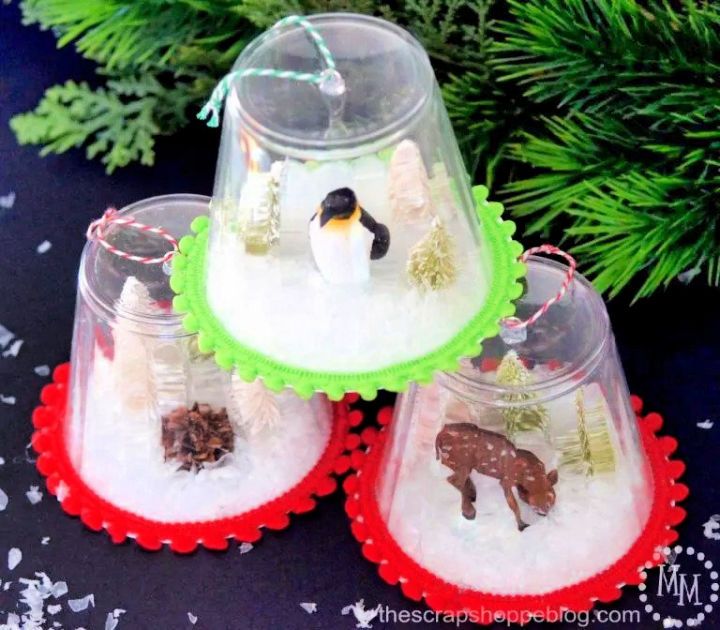 Were you trying to find something decorative for your holiday tree? Look no more. DIY snow globe ornaments are the perfect decoration. They're easy to make and only require a few basic supplies. Plus, your kiddos will LOVE picking out their favorite small decorations to put inside. Follow the tutorial below to learn how to make your snow globe ornaments.
To make this tutorial, you will need fake snow, adhesive, pom pom trim, white cardstock, small clear plastic cups, small decorations, jump rings (not shown), and twine. scrapshoppe
12. Pipe Cleaner Snowflake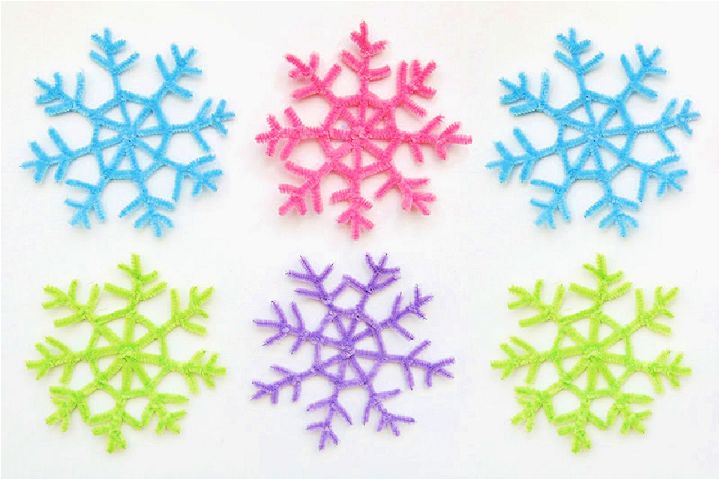 This classic DIY project is a great way to use bright-colored pipe cleaners. Plus, you can hang them around the house as winter decorations or even decorate your holiday tree. All you need to make these pretty eight-sided snowflake ornaments are six pipe cleaners and a ruler. Cut the pipe cleaners into equal lengths, then use the scissors to snip each one into thirds.
Next, twist three pieces in the center to form a snowflake shape. Repeat this process with the remaining three pipe cleaners. Once you have two snowflakes, tie them together in the center with a string. And that's it – your very own DIY pipe cleaner snowflake! firstpalette
13. Making Polar Habitat Diorama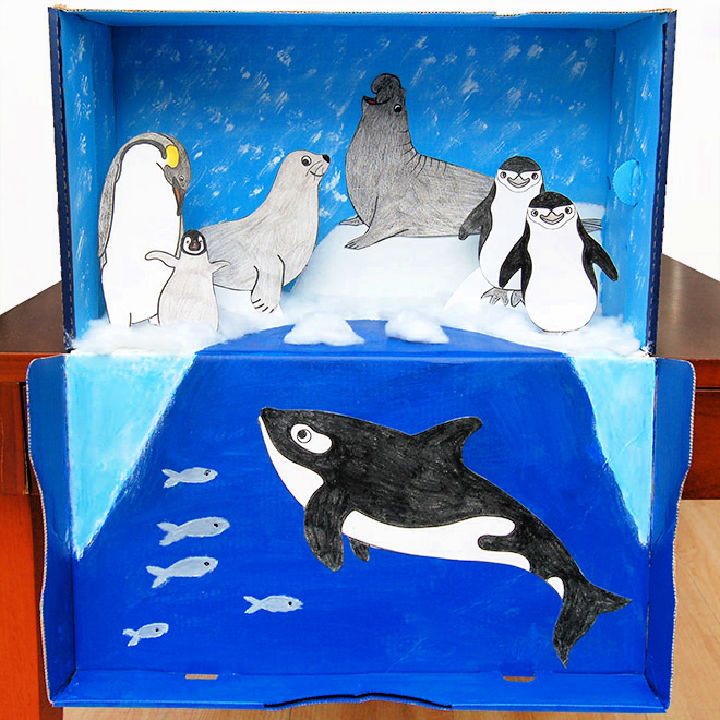 A polar habitat diorama is a fun and easy project that kids of all ages can do. All you need is a shoebox, some construction paper or cardstock, and a few other basic supplies. To get started, gather your materials and decide what kind of scene you want to create. Will it be an arctic tundra with icy mountains and furry animals? Or a scene from one of the poles, with penguins waddling along the shoreline?
Once you have an idea in mind, begin creating your diorama. Start by painting the background and then add details like mountains, trees, and animals. You can even add cotton to create a snowy effect. When you're finished, your diorama will be a work of art that you can share with family and friends. So grab a shoebox and get started today! firstpalette
14. Winter Watercolor Resist Art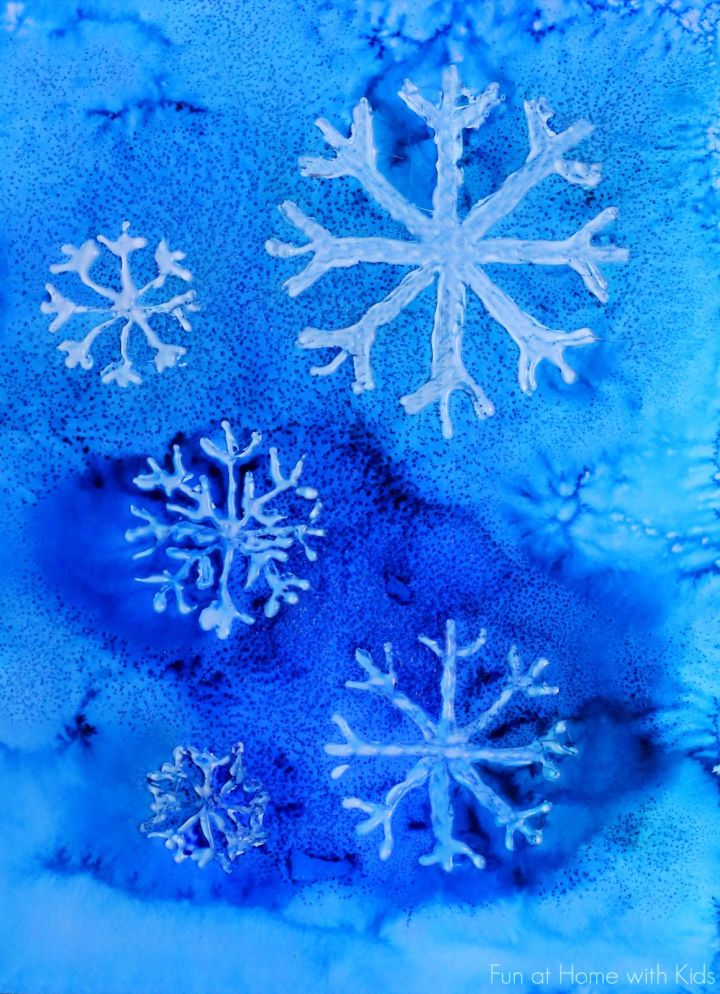 This DIY winter watercolor resist art is a fun and easy way to add color and glam to your home during winter. This project is perfect for kids and adults and requires only a few supplies you likely already have around the house. To get started:
Print out the template onto watercolor paper.
Use a paintbrush to apply water to the paper in the areas you want to paint.
Sprinkle salt over the wet areas. The salt will resist the watercolor paint, creating a beautiful and unique design.
Once you finish painting, Allow the picture to dry completely before removing the salt. You can then frame your work of art or give it as a gift.
This watercolor resists art is a great way to add personality to your home and get into the season's festive spirit. funathome
15. DIY Snowflake Votives for Winter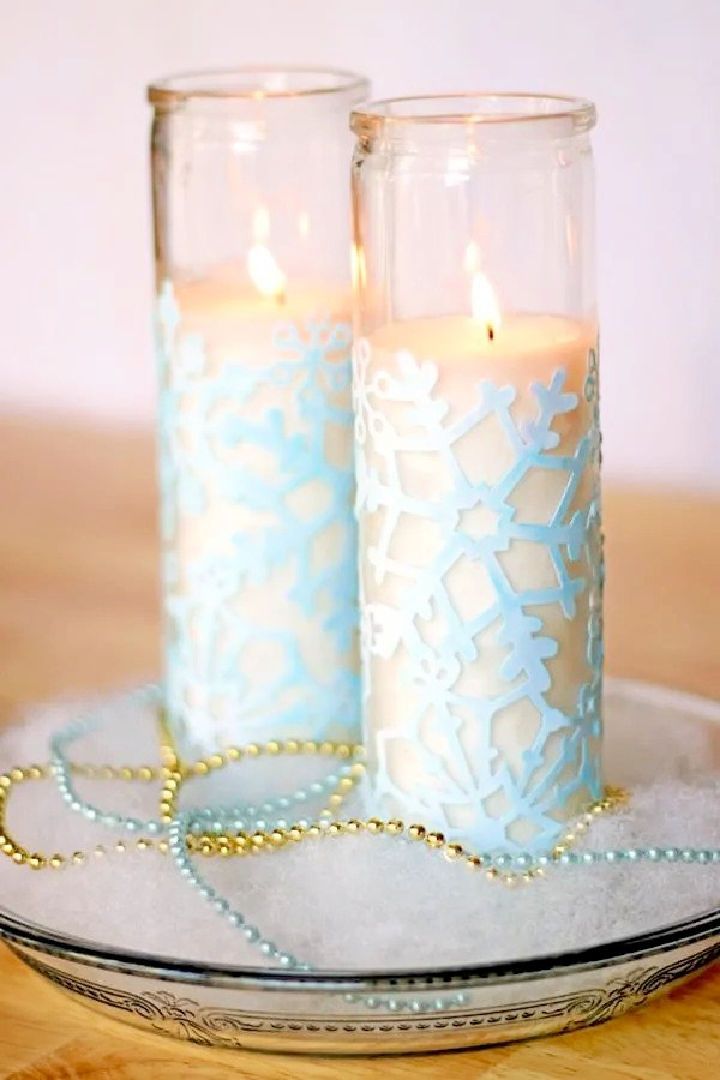 These snowflake votives are so easy and cute to make. And they add just their touch of winter to any room. You can make these DIY in any color to match your decor. They are also inexpensive and make great gifts.
All you need is a sheet of laser-cut scrapbook paper, mod podge matte, food coloring, water, a small bowl, a paintbrush, a sponge brush, waxed paper, a glass jar of candles and a little time. Follow the tutorial to make your DIY snowflake votives for winter. modpodgerocks
16. Snowy Pinecone Candle Jars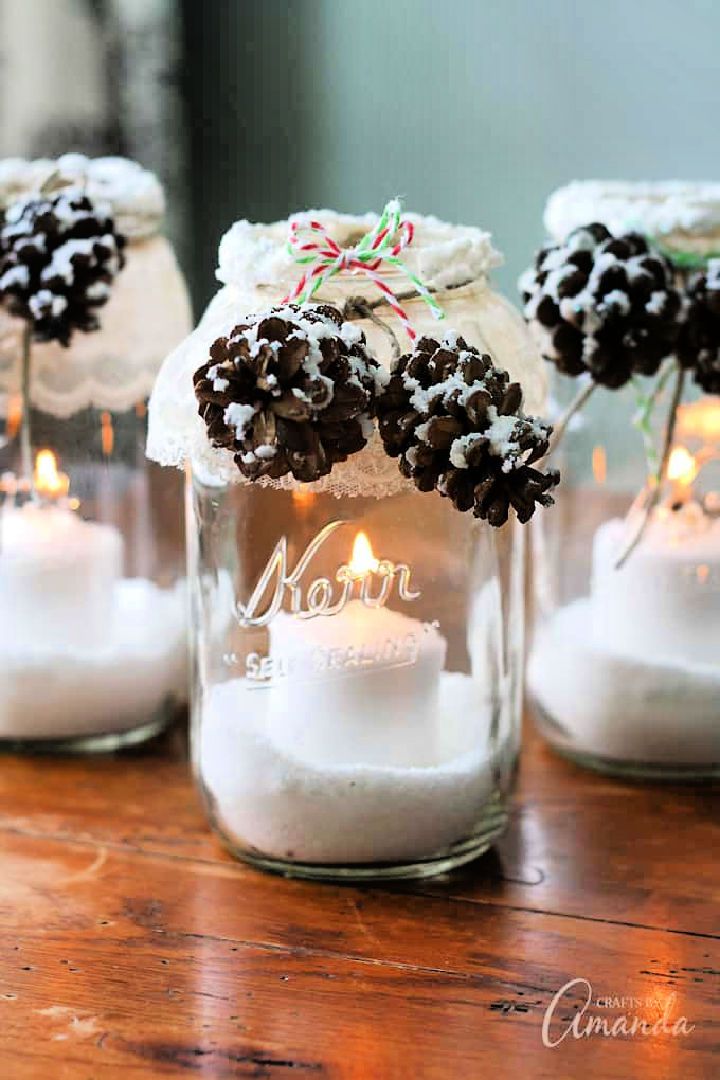 Were you looking for an easy and inexpensive way to add holiday cheer to your home? DIY snowy pinecone candle jars are perfect for that. You can use them as mantle decorations or even line the walk to your door with them. They are also great for ornaments.
All you need are jars, glistening snow writer, glistening snow tex, baker's twine, and lace. Write your holiday message on the jar with the snow writer, then cover it with the snow tex. Wrap the twine around the neck of the jar and tie it off with a bow. Finally, attach a pinecone to the twine. These snowy pinecone candle jars are gorgeous and perfect for the holidays.craftsbyamanda
17. How to Make a Citrus Wreath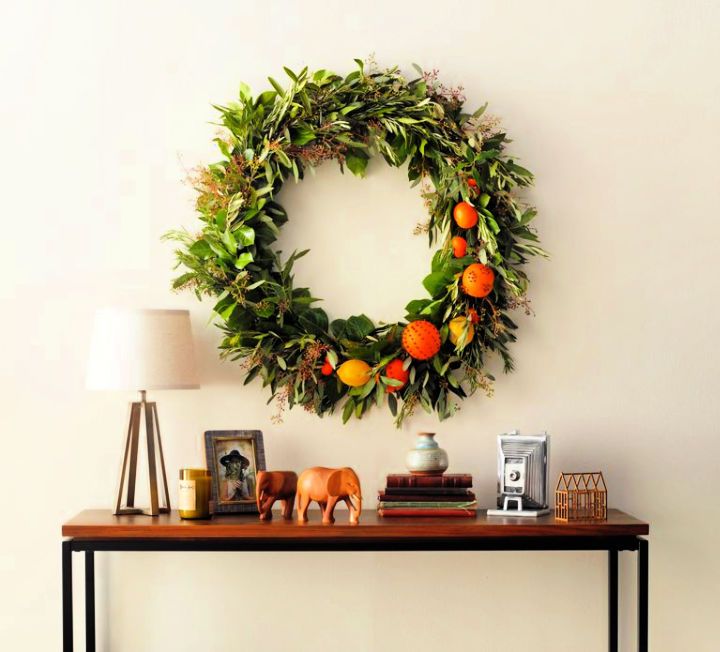 An easy DIY that will welcome friends and family home for the holidays. DIY citrus wreath is made with the alluring aromas of fresh fruit, spices, and herbs.
DIY Citrus Wreath instructions:
Prep citrus by washing fruit in cool water. Using a sharp knife or citrus zester, remove the outer peel of each citrus half, being careful not to remove any white pith.
Place citrus halves on a wire frame, using a toothpick to secure them if needed. Fill in any gaps with smaller pieces of citrus or greens.
To make the garland: Cut eight to ten 18 – inch pieces of 20-gauge wire.
Using needle nose pliers, make a small hook at one end of each wire.
Thread garland through spaces between citrus halves on the wreath, starting at the top center. Make sure all garland pieces are facing the same direction.
Once you reach the bottom center of the wreath, twist the wires together to secure it.
Hang a wreath on the door or wall using covered binding wire.
Add cloves: Using a toothpick, poke holes into the rinds of the citrus fruits. Insert cloves into holes.
Enjoy your fragrant DIY citrus wreath! tasteofhome
18. DIY Snowflake Coasters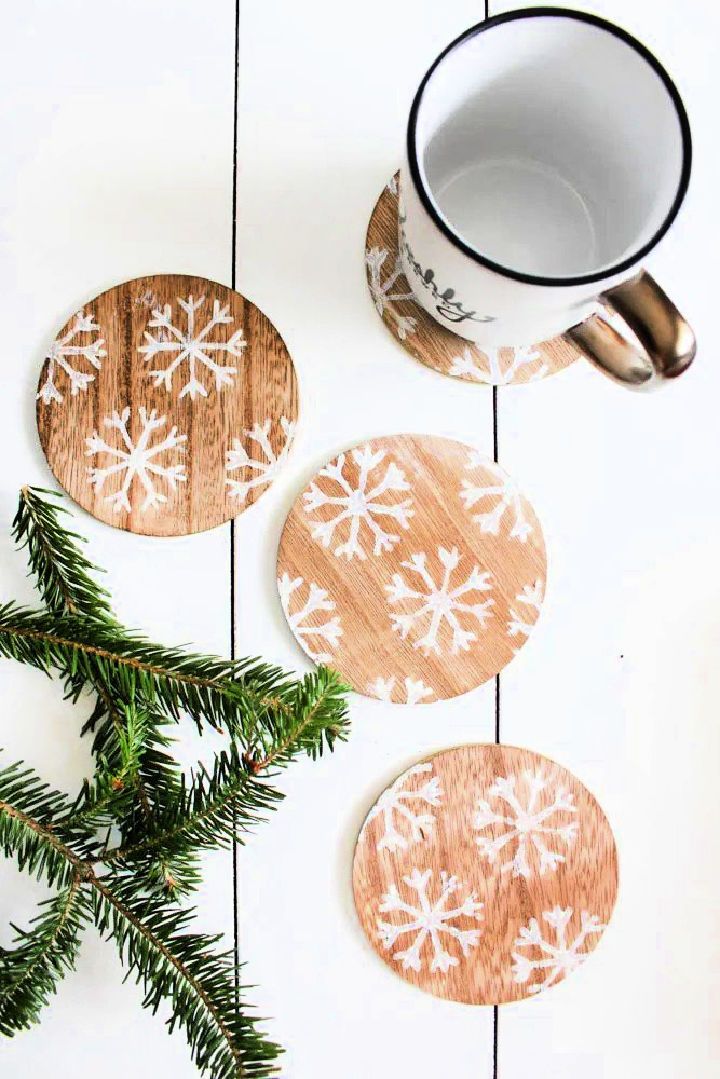 These DIY snowflake coasters are the perfect way to add a little winter flair to your home decor. They're easy to make, and they only cost a few dollars. Plus, they're adorable. If you're looking for a cute DIY project that you can complete in less than 20 minutes, this is it! These coasters would also make a great gift for friends and family. So what are you waiting for? Get started on your DIY snowflake coasters today! withinthegrove
19. 3D Polar Bear Winter Craft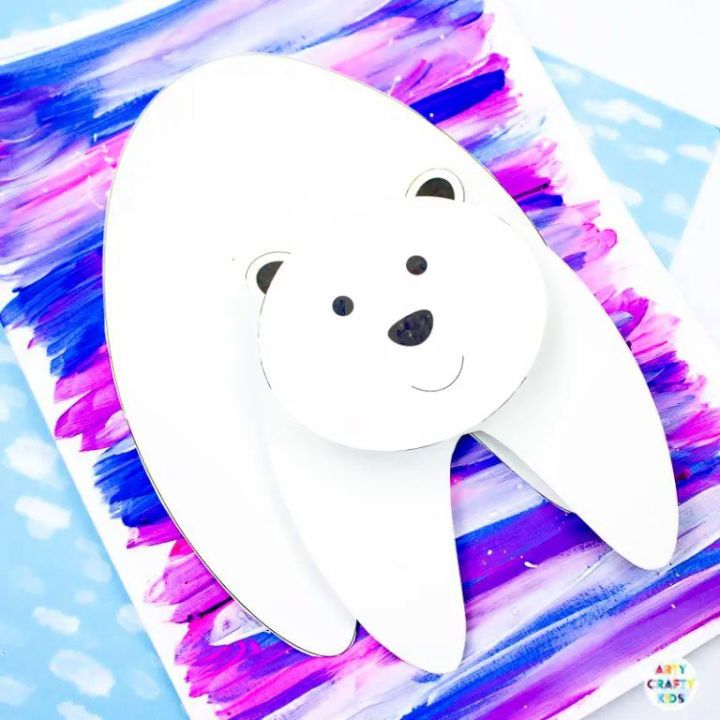 Want something cheerful, a friendly winter-themed craft that can be fine-tuned for preschoolers? DIY 3D polar bear winter craft is a great way to demonstrate different ways to create depth. This craft is a fun and easy project for people of all ages. It's perfect for a cold winter day when you're looking for something to do indoors. Plus, it makes a great decoration for your home or office! This DIY winter craft will bring a smile to children's faces. artycraftykids
20. Sparkly Winter Fairy Garden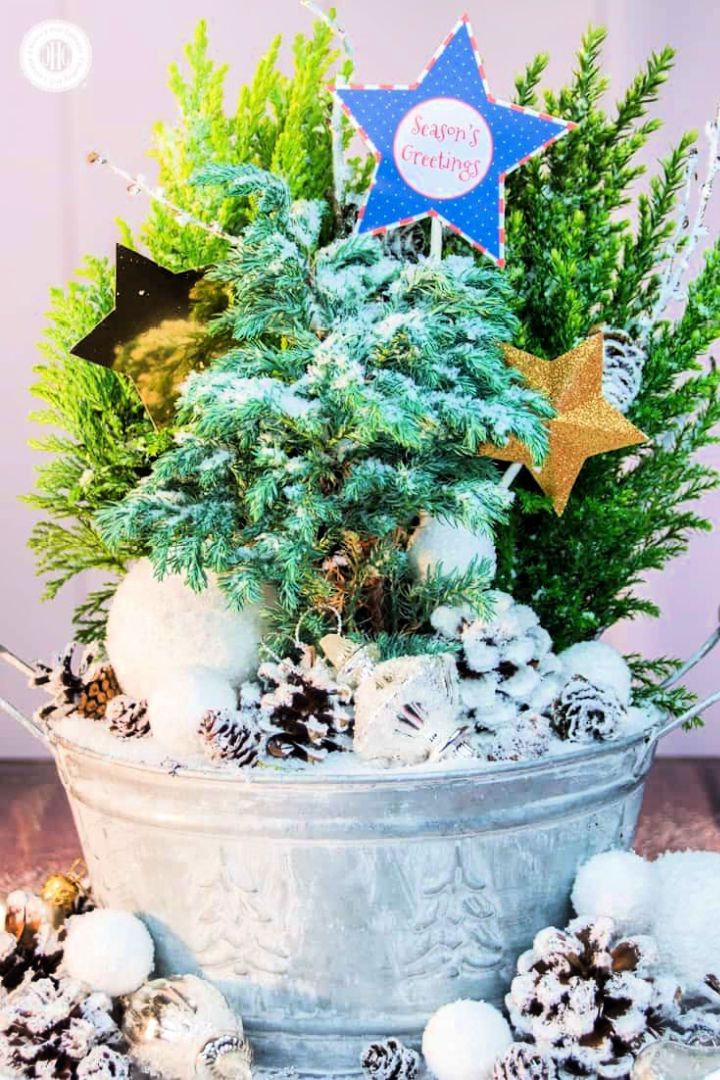 A DIY sparkly winter fairy garden is a fun and creative way to add holiday cheer to your home. It's also a wonderful, long-lasting gift for friends and family. To create your fairy garden, you'll need a lower pot and potting soil, ideally specifically for conifers, three dwarf conifers or other mini shrubs, such as dwarf pine, spruce and cypress. You'll also need white acrylic paint, artificial snow or granulated sugar, cones of different sizes, styrofoam balls, skewers, craft glue, and Christmas ornaments.
The first step is to paint the pot with white acrylic paint. Once the paint is dry, add a layer of artificial snow or granulated sugar. Next, add the conifers or mini shrubs. For added decoration, you can add cones of different sizes, styrofoam balls skewered on sticks, and printable ornaments. Finally, glue on some of your favorite Christmas ornaments. Your DIY sparkly winter fairy garden is now complete! Enjoy! countryhillcottage
21. DIY Snowman Sensory Bottle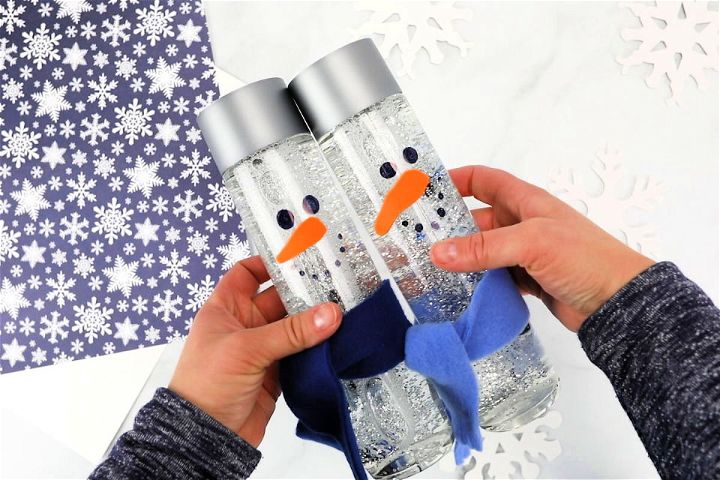 A DIY snowman sensory bottles are a quick and easy winter activity that is super cute and versatile. They are also a great winter activity for kids. The supplies you will need for this DIY project are water bottles, clear glue, water, glitter, snowflake confetti and sequins, buttons and beads for eyes and decoration, orange foam for noses, pipe cleaners or fabric scraps for scarves, and sharpies for drawing on the bottles:
You will want to add glue and water to the bottle.
Add the glitter.
Add the snowflake confetti and sequins.
Add the buttons and beads for eyes and decoration and the orange foam for noses.
Once you have added all the materials to the bottle, screw on the lid tightly and shake the bottle until all ingredients are mixed. You can then use the sharpies to draw on the bottles. This DIY project is a great way to keep your kids entertained during winter. binsforhands
22. Snow Ice Cream Craft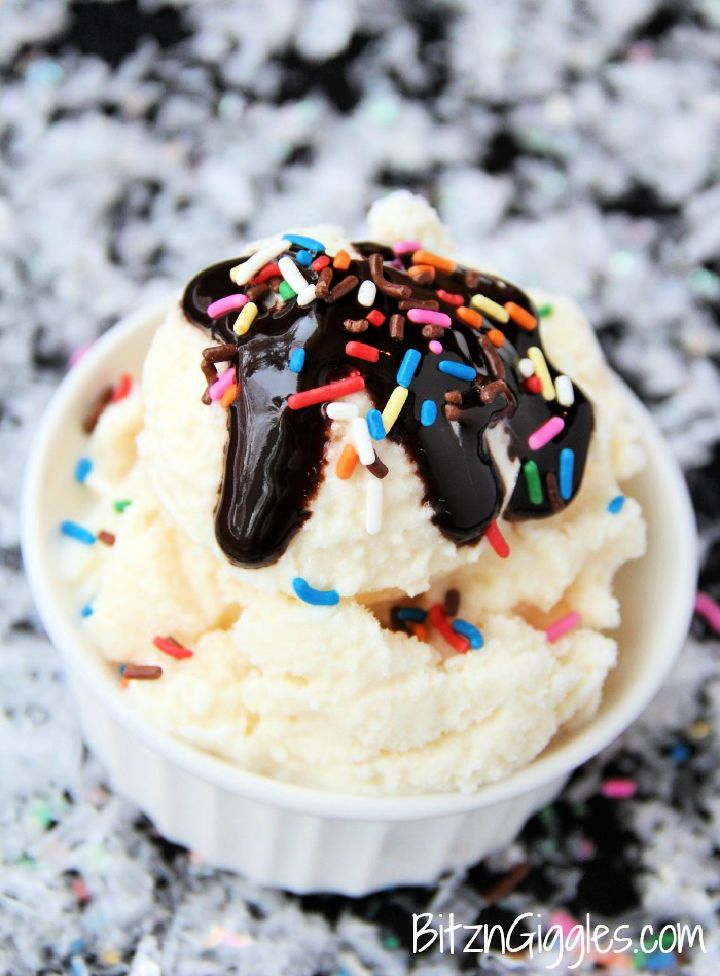 Snow ice cream is an easy and delicious way to enjoy a winter snow day! The best part is that it only requires a few simple ingredients you likely already have in your kitchen. All you need is freshly fallen snow, sweetened condensed milk, vanilla extract, and your choice of ice cream toppings. Mix everything and enjoy! Not only is DIY snow ice cream a great treat to serve on a snow day, but it's also the best way to stay hydrated. So why not make a batch today and enjoy the winter weather? bitzngiggles
23. Popsicle Stick Gingerbread House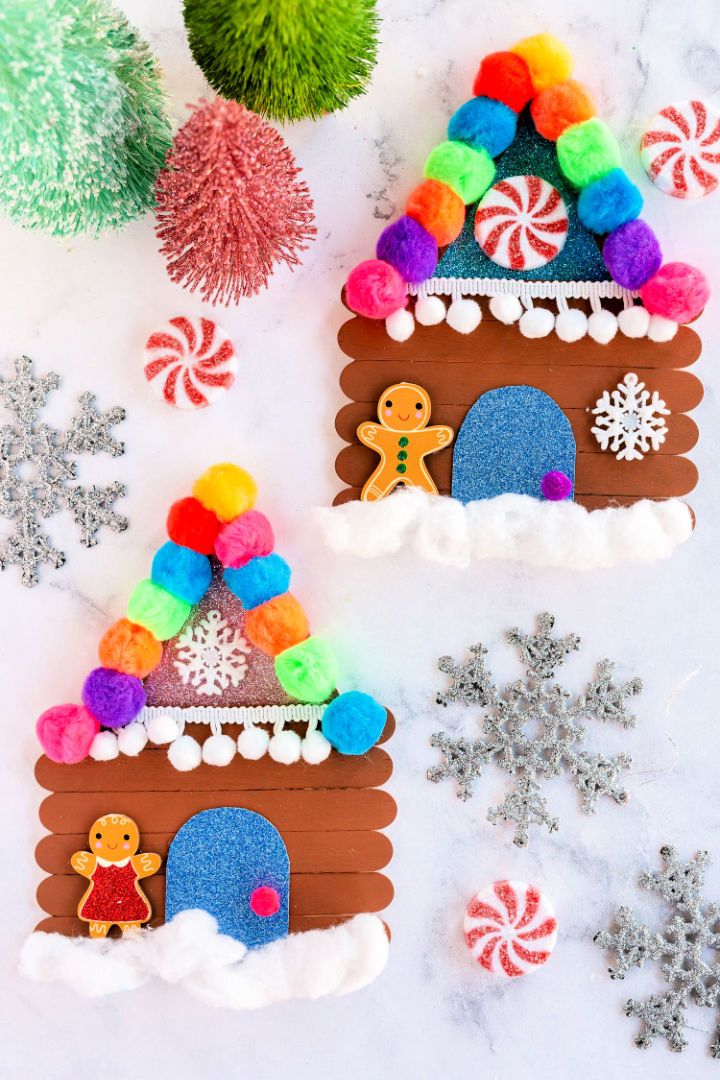 Get your kids into the festive spirit this holiday season with this DIY popsicle stick gingerbread house. It's an inexpensive, creative, cute decoration perfect for little ones. Plus, it's a great way to spend quality time with your kids. Gather some popsicle sticks, glue them together, and decorate to your heart's content. Then watch your kids light up with excitement as they see their very own gingerbread house. tobeamomma
24. DIY Beaded Snowflakes Winter Crafts for Kids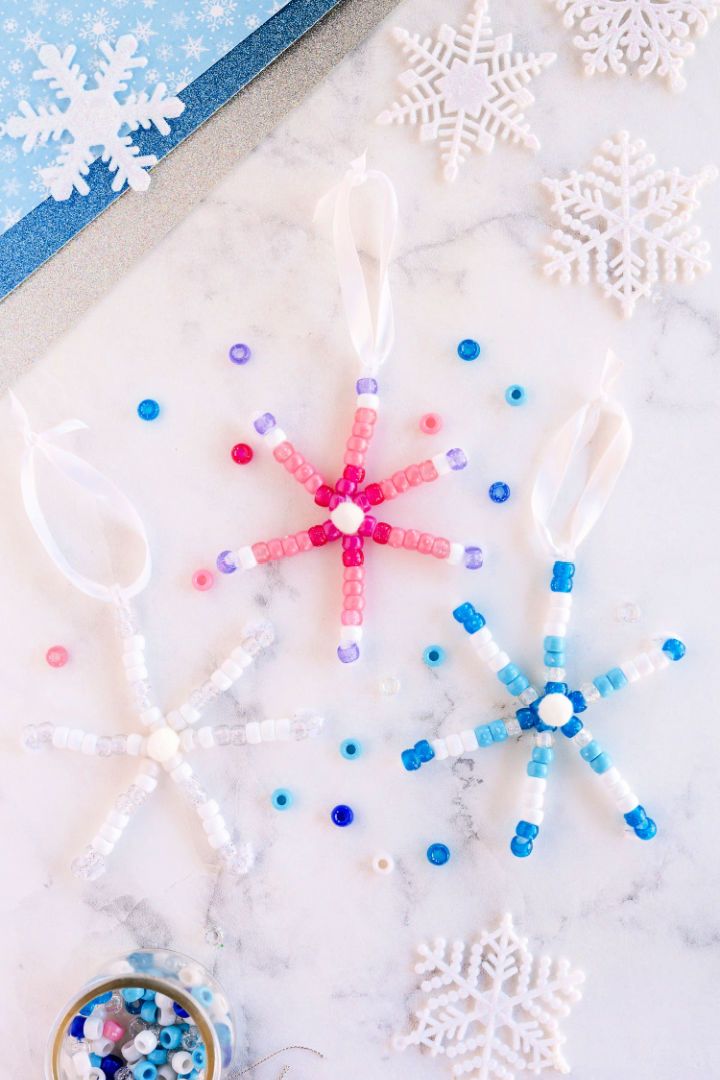 These DIY beaded snowflakes are a super easy and inexpensive craft that is perfect for all ages! With a minimal supply list, this craft is perfect for anyone looking for a fun way to add a little snowfall to their day.
All you need are white (or pastel blue, purple, silver) pipe cleaners and pony beads – soft blues, pinks, purples, white, and glitter white. String the beads onto the pipe cleaners in any pattern you like, then bend and twist the pipe cleaners into a snowflake shape. Hang your DIY from the ceiling or wall for winter fun! tobeamomma
25. How to Make Orange Pomanders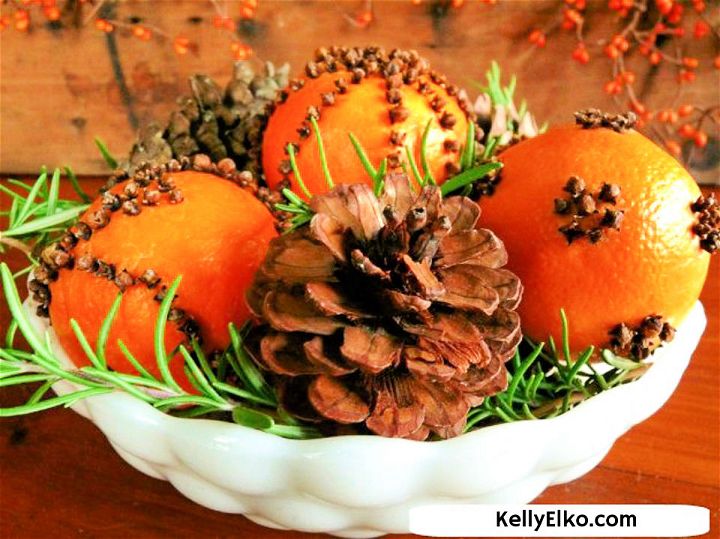 This Christmas craft is great for kids and adults alike! They are easy to make and can create beautiful displays around the house. All you need is a sharp knife, some oranges, and some cloves.
First, use the knife to remove the top of the orange carefully, ensuring not to damage the flesh. Next, insert the cloves into the flesh of the orange in the desired pattern. Once all of the cloves have been inserted, place the orange in a cool, dry place to allow the cloves to infuse the orange with their aroma. After a few days, your DIY Orange Pomanders will be ready to enjoy! kellyelko
26. Adorable Pine Cone Snowy Owl Craft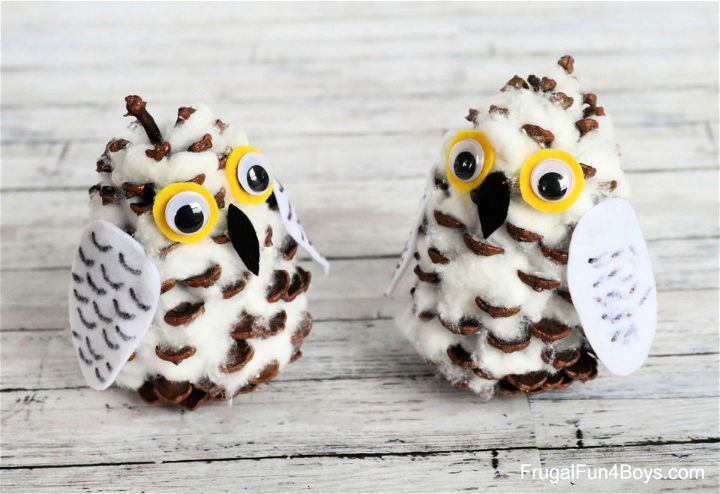 This Craft project is great for kids. It is an easy and fun winter decoration. You'll need the supplies for this DIY project: pine cones, black, yellow, and white felt, googly eyes, a sharpie marker, cotton balls, hot glue or tacky glue. This adorable DIY project is easy to follow, and the final product is so cute. Your family and friends will love your Pine cone snowy owl craft. frugalfun4boys
27. Popsicle Stick Sled Ornament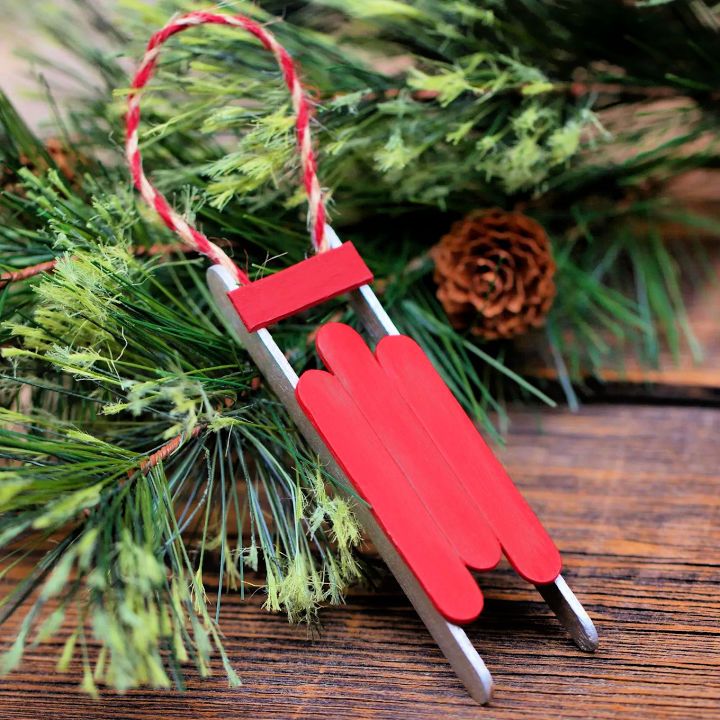 This sled ornament is easy for kids to make at home or school, and it's a beautiful keepsake craft for the winter season! All you need are some small and standard-sized popsicle sticks, twine, tacky craft glue or hot glue, red and silver paint, an antiquing medium, paper towels, paintbrushes, wax paper, and scissors:
Paint the miniature popsicle sticks red and silver using a foam brush.
Apply a thin layer of gloss over the entire surface of each popsicle stick using paper towels. Once the antiquing medium is dry, carefully tie twine around the sled's center.
Cut a small triangle out of wax paper and glue it to the back of the sled as a "flag."
These DIY popsicle stick sled ornaments are so fun and festive – hung on a tree as a decoration or dangling from the ribbon of a Christmas gift! firefliesmudpies
28. How to Make a Pumpkin Fairy House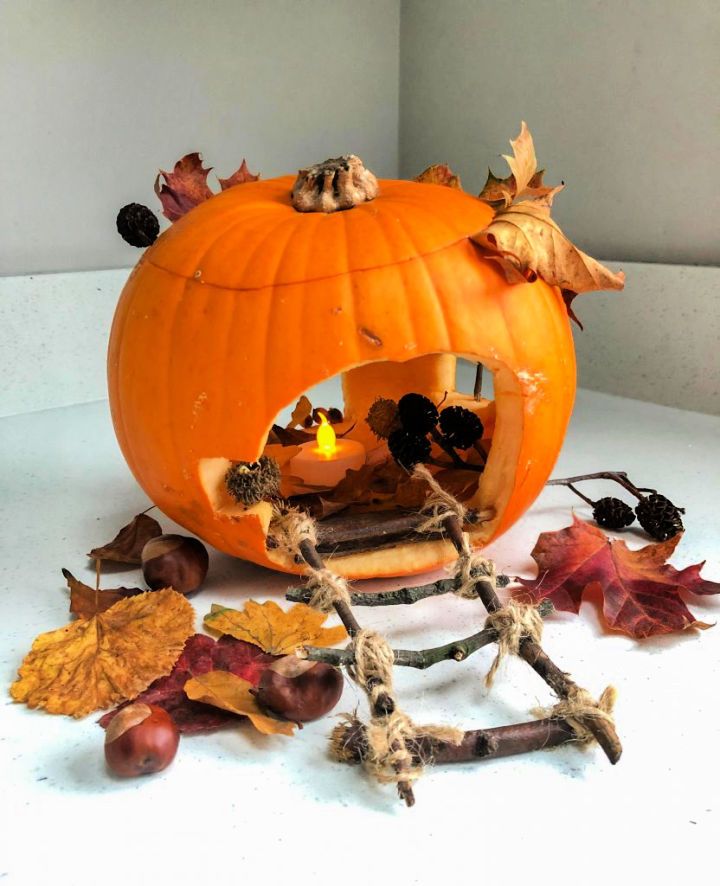 Making a DIY pumpkin fairy house is a fun activity to do with kids. It's also a great way to encourage them to spend some time outdoors collecting natural materials such as leaves, twigs, berries, seeds, conkers, pine cones and feathers.
Once you've gathered all your materials, you can start assembly by carving a door and window into your pumpkin. You can use a sharp knife or saw for this step. Next, use a spoon to scoop out the insides of the pumpkin.
The last step is adding your LED tealight and other finishing touches, like stringing up some sparkly tinsel. Your pumpkin house is now complete! It creates a great seasonal decoration and is perfect for fun autumn nature crafts. Thanks for following along! growingfamily
29. How to Make a Winter Wreath for Your Door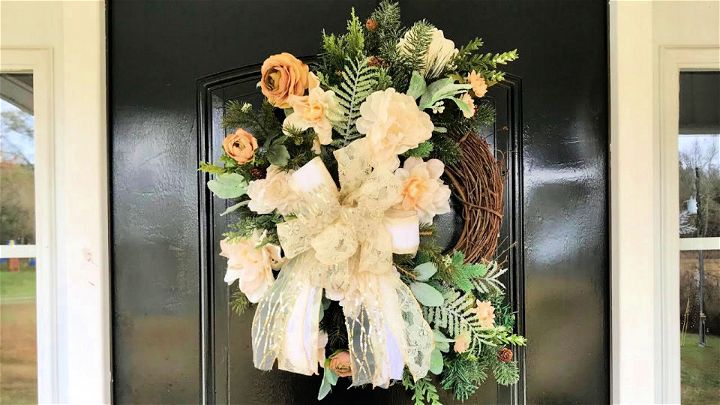 A DIY winter wreath is a beautiful transitional piece you can hang all winter long! This particular wreath is filled with winter greenery and lush cream flowers. The best part? It's easy to make and only takes a few minutes.
Begin by adding greenery to the frame. We started with the evergreen branches, tucking them in at various points around the frame. Then, we added the holly and eucalyptus.
Once you're happy with the greenery placement, it's time to add in the flowers. We love how the pops of cream add a touch of elegance to the wreath. Tuck the stems into the greenery, adjusting as needed until you're happy with the look.
Finally, attach a wire or ribbon to the wreath's top so it's ready to hang on your front door. That's it! Enjoy your beautiful winter wreath all season long.
30. Origami Knitted Hat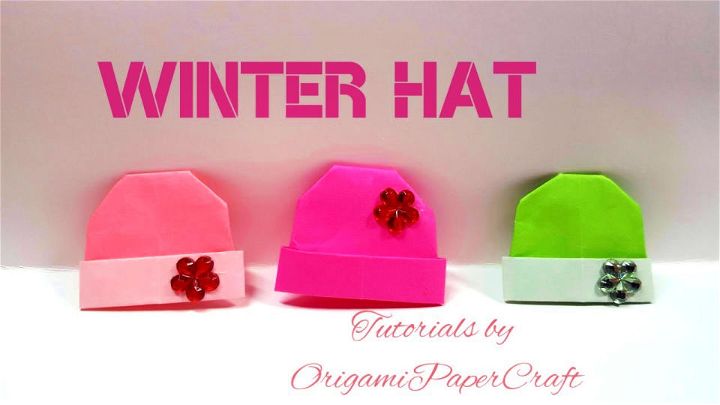 This origami knitted hat is a beautiful and useful origami that is easy to make. You can use different colors of origami paper to make it more beautiful, and faux flowers can also decorate the hat. This DIY is easy to make. This knitted hat can be a great addition to any outfit, and you can use it as headwear or decoration. It is also a perfect gift for any occasion. Try this easy-to-make tutorial by following the below instructions.
Related Crafts for Kids:
Discover easy and fun crafts for kids that inspire creativity, imagination, and education. From quick paper crafts to more advanced projects – your kids will love making these fun craft activities!
ns, gifts, and more.
Crafts to Do When Bored: Make the most of your downtime with these awesome DIY crafts to do when bored! Find fun and easy things to make that will keep you entertained while at home.
Crafts for Toddlers: Try these easy crafts for toddlers to get your little one making masterpieces! Fun and simple projects that will keep them entertained.
Popsicle Stick Crafts: Get creative with your kids! Explore creative popsicle stick crafts for making fun things like animals, frames, and more. Perfect for young crafters!
Fall Crafts for Home: Transform your home into a cozy, autumn oasis with these fun DIY fall crafts and decor ideas. Make the most of this beautiful season with fun projects that'll add a touch of warmth to any space.
Wine Cork Crafts: Create unique decor for your home with these best DIY wine cork crafts and ideas. From wall art to decorations, find the perfect project for any occasion.
Pool Noodle Crafts: Bring your pool noodles to life with these creative DIY pool noodle crafts! From wreaths to boats, explore our collection of creative projects for all ages.
Handprint Crafts: Let your kids unleash their creativity with these simple and fun handprint crafts and art projects! Perfect for any age, no experience required.
Egg Carton Crafts: Bring out your kids' creativity with cool egg carton crafts! From animals to jewelry, there are endless possibilities for crafting with egg cartons. Get creative and let their imaginations soar!
Coffee Filter Crafts: Discover easy coffee filter crafts and art projects that you can make with your family or friends. Create beautiful decorations, gifts, and more in just a few simple steps!
Seashell Crafts: Make unique coastal decor with these unique seashell crafts and ideas. Perfect DIY projects for your home, beach house, or vacation rental!
Fourth of July Crafts: Celebrate Independence Day with awesome 4th of July crafts for kids. Make decorations, wearables, and other activities that will bring the family together!
Pipe Cleaner Crafts: Discover innovative pipe cleaner crafts for kids! With easy to follow tutorials, your little ones will have hours of entertainment creating colorful characters and designs.
Conclusion:
Winter crafts are a great way to keep kids entertained and engaged in activities during the colder months. With these 30 easy winter crafts for kids, there are art and craft activities that can be done as an individual project or with family members. These winter crafts range from fun snowmen projects, simple paper snowflakes, january-themed characters, and wintery mason jars, among many others.
Kids will love how unique their creations turn out, and parents will appreciate how much is being learned by such creative endeavors! Winter crafting is perfect for helping children express their imaginations and develop new skills simultaneously. So gather your supplies and explore all the wonderful winter crafts for kids to create one-of-a-kind works of art this season!