Engage your kids in creative play with these 25 fun and easy egg carton crafts and art projects for kids! This collection of inventive egg carton crafts for kids makes it easy to recycle egg cartons into one-of-a-kind works of art. From imaginative animals, robots, bugs, cars and more – there's egg carton crafts to delight even the pickiest kids. Each project includes step by step instructions along with illustrations so you can easily create a masterpiece together. Have an adventure into egg carton crafts and activities today and see what amazing artwork your family can create!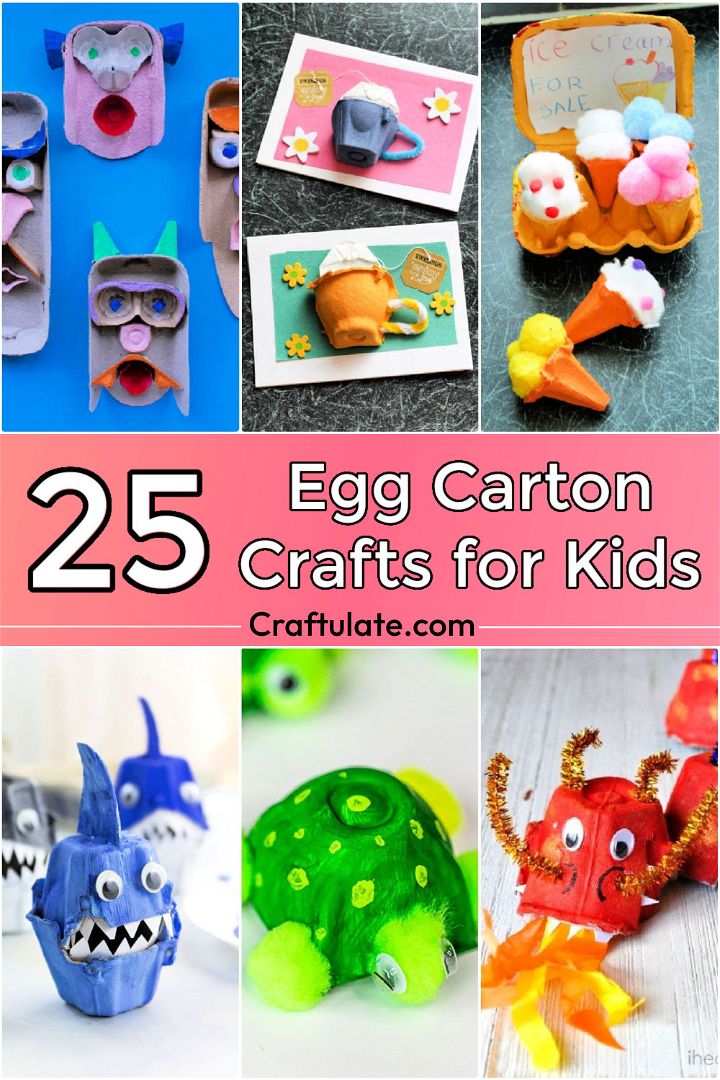 Easy Egg Carton Crafts and Art Projects for Kids
There are lots of ways to get creative with egg cartons! From making butterflies to whales, there is an awesome egg carton craft project suitable for both preschoolers, toddlers and kindergarten children. With just a few items available normally in the household, these easy-to-follow steps can make art activities even more enjoyable and fun. Even elementary students who may be more experienced with craft projects will be able to find great uses for egg cartons. Best of all, kids can showcase their creations anywhere in the home! Who knows? Egg Carton crafts and art could become a ritual weekend activity for the family.
Reuse your used egg cartons and get creative with them! Egg carton crafts are a fun and easy way to recycle while adding some unique home decor to any space. With just a few basic items, you can create many different kids craft projects or artsy pieces. Get inspired by the endless possibilities of what can be done with egg cartons and start crafting today! From jewelry holders to flower vases, these fun crafts with egg cartons have something for everyone in this great eco-friendly recycling project.
Styrofoam Egg Carton Crafts for Kids
Crafting with kids is a great way to nurture their creative side and promote learning in a fun and engaging way. With Styrofoam egg cartons, you can turn this everyday item into a variety of crafts that your children will enjoy making. From simple artistic projects to more unique and creative designs, there are endless styrofoam egg carton crafts that will help your kids develop their motor skills and confidence while having fun. Gather up some supplies from around the house like paint, beads, glue sticks and other materials to get started on these easy-to-make Styrofoam egg carton crafts for kids!
1. DIY Egg Carton Art on Canvas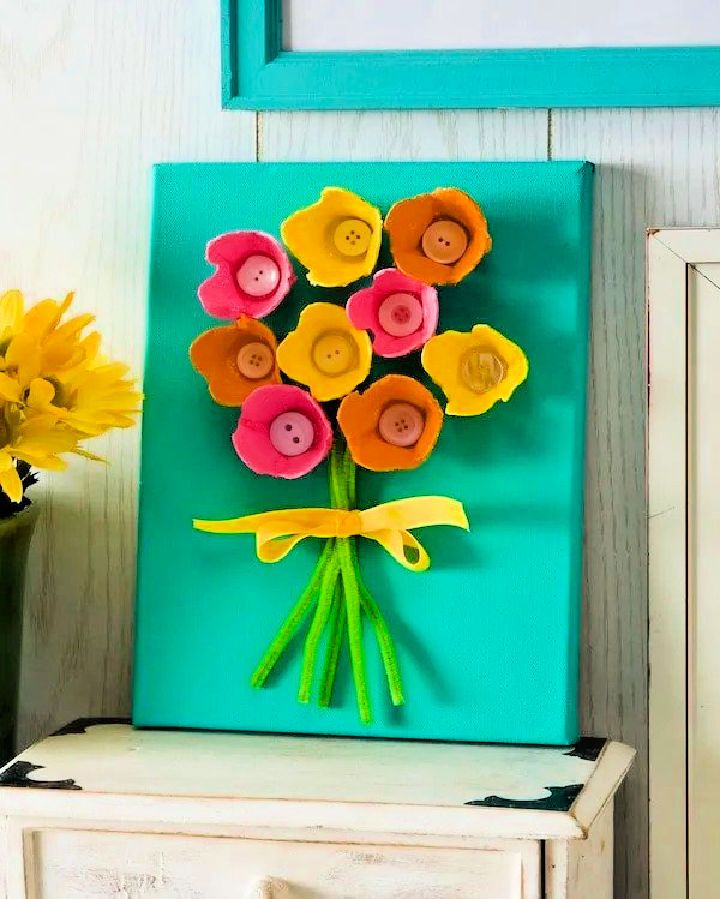 This DIY egg carton art on canvas is an easy and fun craft for kids, resulting in a cute piece of recycled art that can be customized for any holiday or decor. To create this project, you will need a 9″ x 12″ canvas, mod podge sparkle, an egg carton (not foam), and apple barrel paints in apricot, banana, pink parfait, and turquoise.
You will also require scissors, pipe cleaners (green), ribbon in a coordinating color, buttons, craft glue and a paintbrush.
With these items gathered together, it's now time to begin the DIY process! Follow a step-by-step guide below to complete this egg carton art on canvas project that your children and family will love while creating memories through quality time crafting. modpodgerocks
2. Egg Carton Garden Crafts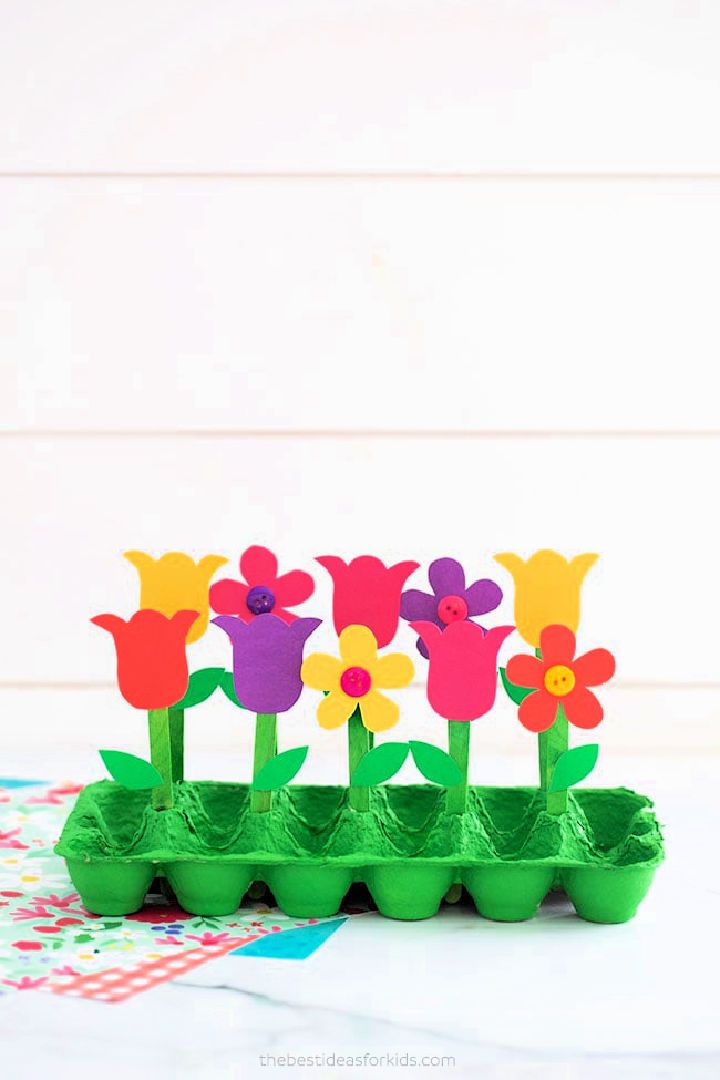 A DIY egg carton garden is a beautiful flower craft that anyone can make to brighten up any room or kitchen. All you need for this project are supplies like an 18-count or 12-count egg carton, colored buttons, cardstock in various colors, acrylic paint, popsicle sticks, and extra strong glue.
To make this egg carton art on canvas, simply follow the step-by-step guide starting with painting the egg cartons and popsicle sticks to gluing on the buttons according to the instructions in the guide. This DIY craft will surely provide a unique piece of art that adds a touch of whimsy anywhere in your home! ideasforkids
3. Spring Robin Egg Carton Candy Box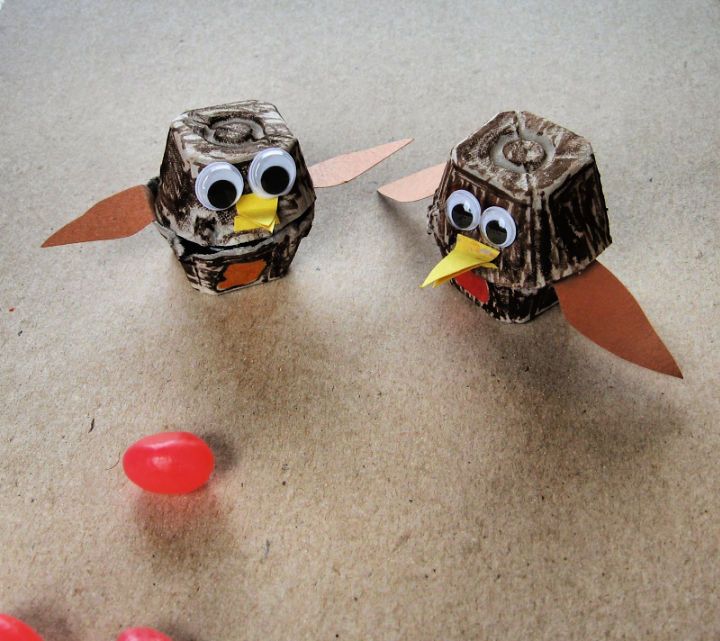 Embrace the DIY spirit this spring and make a delightful DIY spring-robin egg carton candy box. A fun and educational project for the whole family, creating these cute little robins can be a beautiful addition to any spring centerpiece.
All you need are some egg carton cups, colored markers, glue, tape, googly eyes, a glue stick, construction papers to cut beak and nose shapes and wings, as well as candies to fill your DIY box!
Follow this step-by-step guide to ensure your spring-robin egg is ready in no time. unschoolers
4. Butterfly Garland Out of Egg Cartons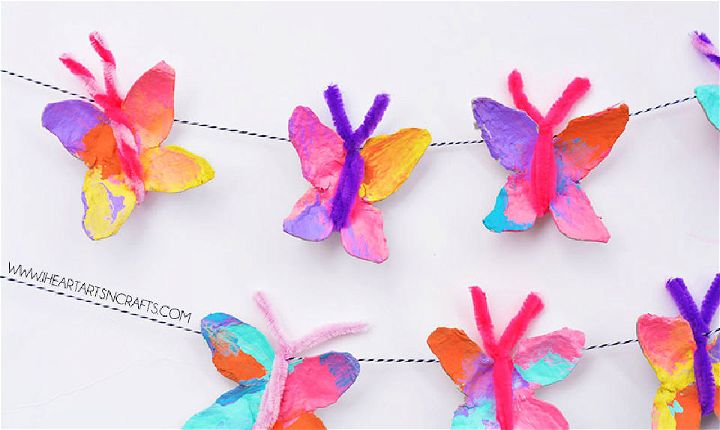 A DIY butterfly garland is a beautiful and thrifty way to decorate for the coming of spring. You can enjoy making this egg carton butterfly garland with your kids, as it is a simple craft that does not require many supplies or sophisticated techniques for assembly.
With just an egg carton, scissors, paint, pipe cleaners, and string, you will have your egg carton butterfly garland handled in no time!
Assembling this butterfly garland is so simple that you will certainly learn with this step-by-step guide within minutes and get started on spray-painting and gluing the glorious butterflies that are sure to turn any space into a one-kind paradise! heartartsncrafts
5. Creative Egg Carton Dinosaurs Crafts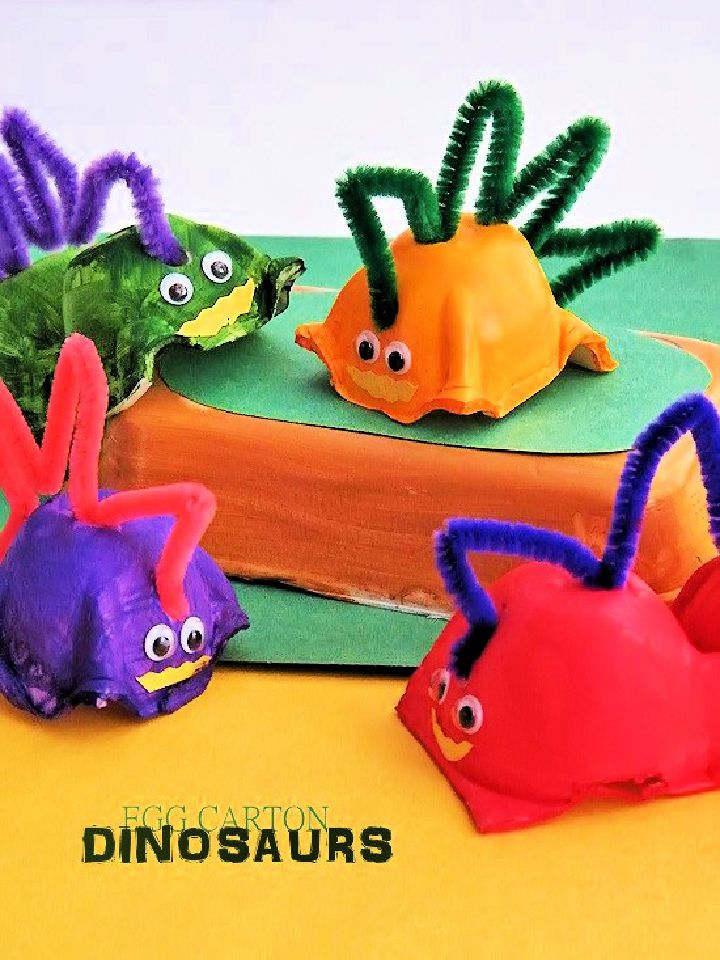 DIYing has never been so fun and easy – kids will love making DIY egg carton dinosaurs! All it takes is a 6-count egg carton, some small hole punches, pipe cleaners in assorted colors, acrylic paints in assorted colors, small googly eyes, green and yellow paper, scissors, glue, and a step-by-step guide to help you get creative.
Not only is this fun craft colorful and exciting to make, but it's also a great way to cultivate creativity in young minds. Make DIY egg carton dinosaurs today with your little ones! ourkidthings
6. Cute DIY Egg Carton Insects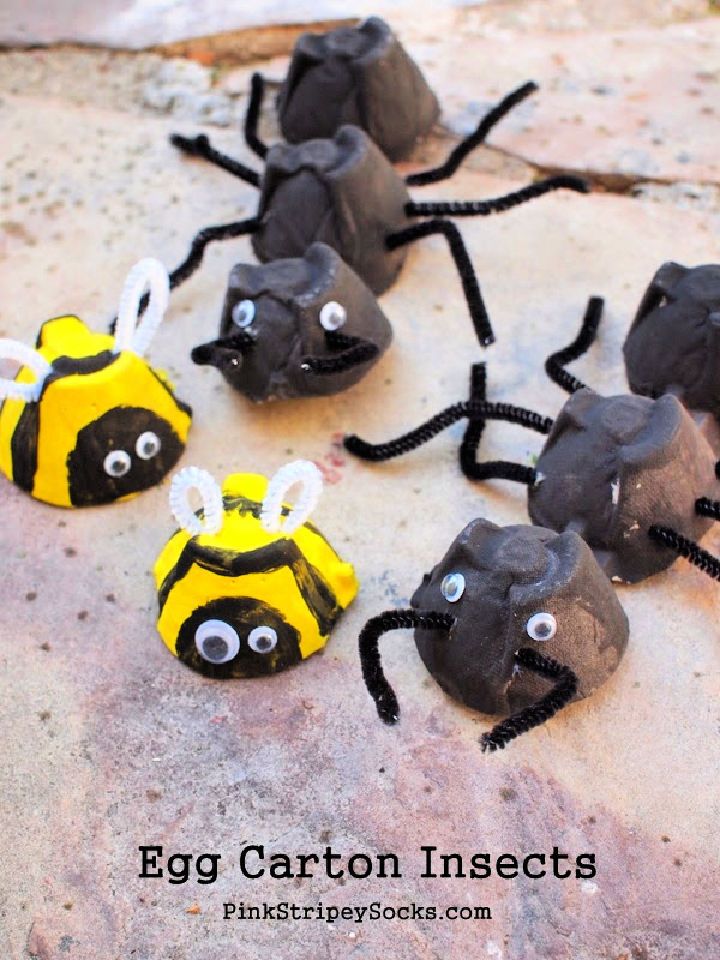 DIY egg carton insects are a fun and easy DIY project for kids of all ages. Using supplies like paint, paint brushes, scissors, craft knife, googly eyes, pipe cleaners and glue, you can create all sorts of creepy crawlies!
To make the project easier, try reading through this step-by-step guide to crafting egg carton insects from the comforts of your own home.
Whether you want to create cute bugs or scary ones – these homemade egg carton insects are an enjoyable experience that will bring smiles for years to come! pinkstripeysocks
7. Apple Egg Carton Crafts for Kids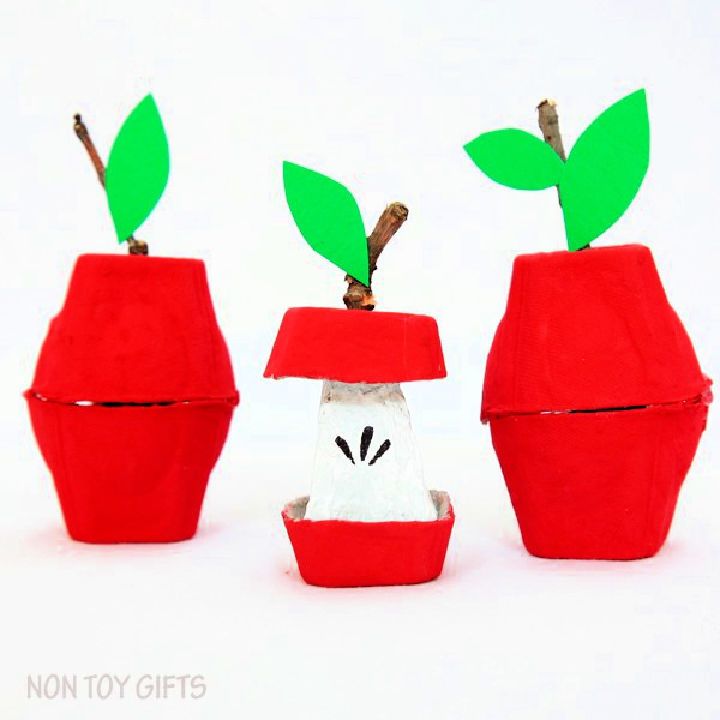 A DIY egg carton apple craft is a beautiful and simple way to make a perfect gift and a pretty decor piece. With just an egg carton, red paint, glue, a small stick, green card stock and a step-by-step guide, your little ones can make their own apple craft!
This craft is a fun project that the whole family can enjoy together, and the result will surely bring everyone immense joy. Make it more special by giving apple gifts to your loved ones or hanging them around your home to add some additional color and character. nontoygifts
8. Egg Carton Bee Craft for Preschoolers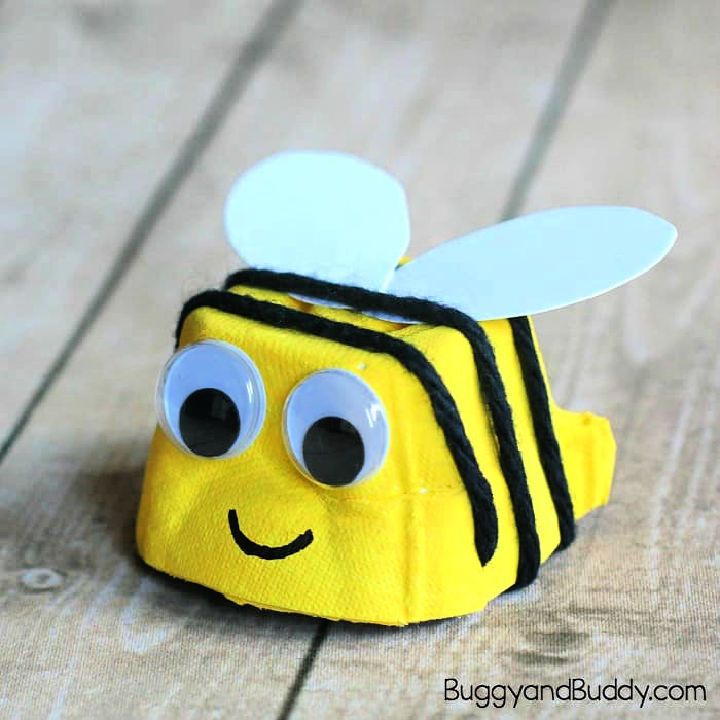 This handmade egg carton bee craft is a fun and easy project to do with young children. Not only is it an excellent craft for preschoolers and kindergartners, but it's also perfect for the spring or summer. All you require is an egg carton, scissors, yellow paint and brush, googly eyes, glue, black yarn for the antennae, white construction paper for the wings, and a black sharpie.
Putting together this bee craft with your kids by following this step-by-step guide is sure to yield some cute results! buggyandbuddy
9. Easy DIY Egg Carton Turtle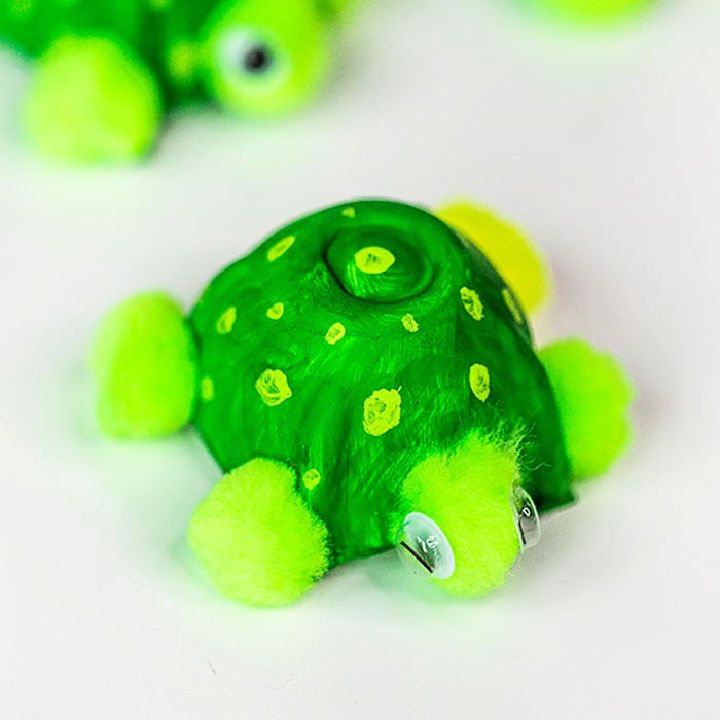 Looking for a fun project you can do with your family? Look no further than this DIY egg carton turtle craft! With only a few everyday items like an empty egg carton, acrylic paint, puff balls or pompoms, googly eyes and either hot glue or craft glue – you will have the cutest little turtles in no time! Follow this step-by-step guide to make this craft as easy (as well as affordable) as possible. Who knew DIY projects could be so much fun? onecrazymom
10. Egg Carton Flowers for Adults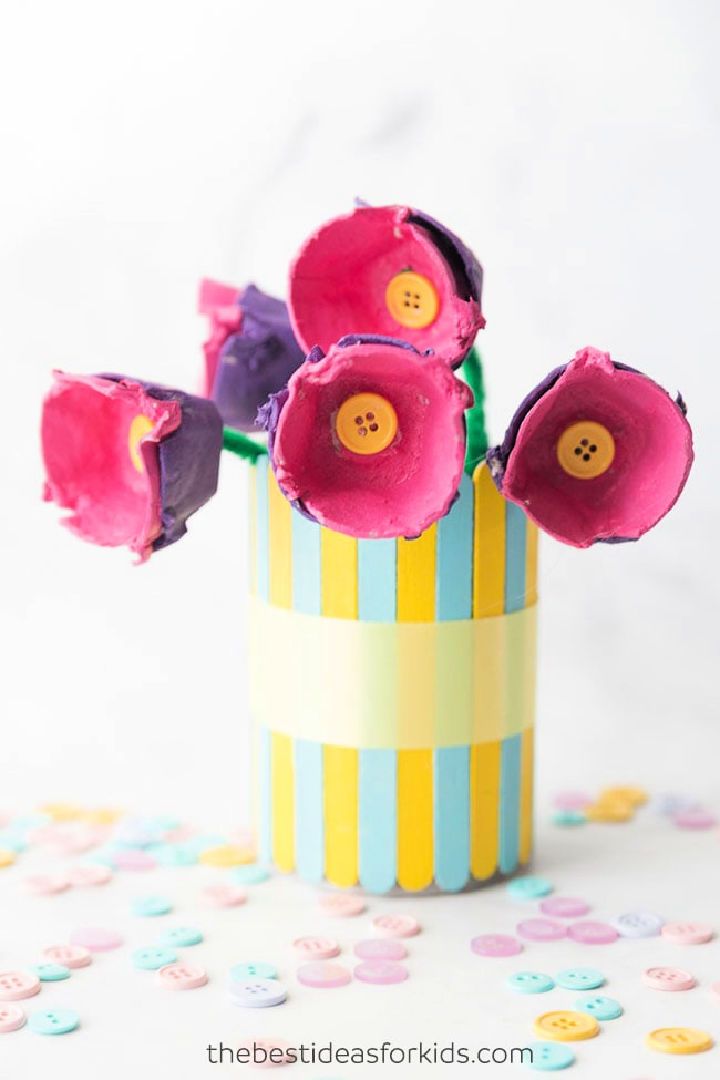 These DIY egg carton flowers are the perfect spring craft to brighten up any room! This project requires minimal supplies and is a great activity for children and adults. With a few simple steps, egg cartons can be transformed into beautiful flowers that make excellent DIY gifts for mother's day, father's day, or any special occasion.
When you get started, you'll need some medium-sized tin cans, egg cartons, brightly colored paint, popsicle sticks, yellow buttons, neon green pipe cleaners, large yellow ribbon and some green paper filler. Glue dots can also come in handy.
Once you have all these supplies, you can use them along with this easy step-by-step guide to creating these beautiful egg carton flowers for a lovely display in your kitchen! ideasforkids
11. Egg Carton Goldfish Art Projects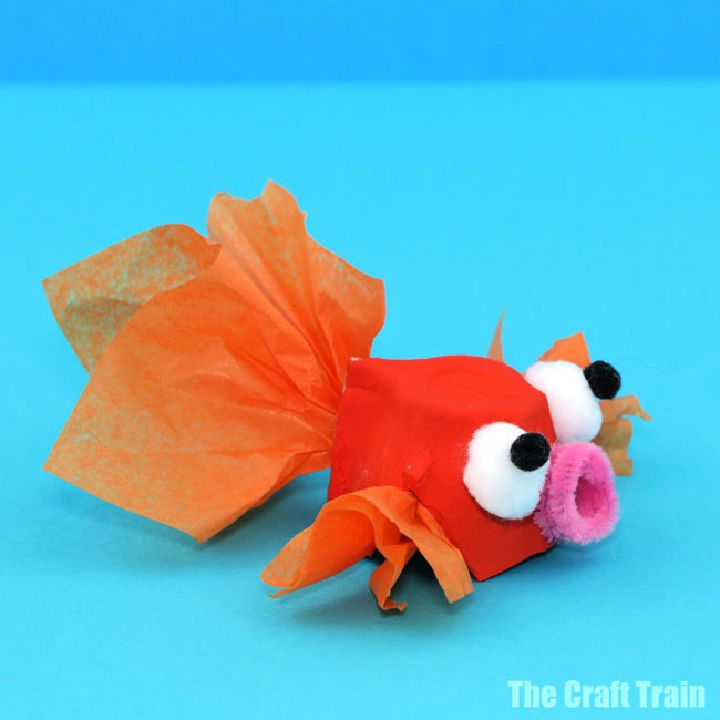 DIY crafting with the kids is a breeze with this fun and eco-friendly egg carton goldfish craft. It's easy to make, educational, and adored by all ages. Gather items such as an egg carton, glue, paint, tissue paper, pompoms and pipe cleaners – then follow this step-by-step guide for a classroom project or at-home activity! Most will find it simple to create this amazing piece of art! thecrafttrain
12. Homemade Egg Box Ice Cream Cones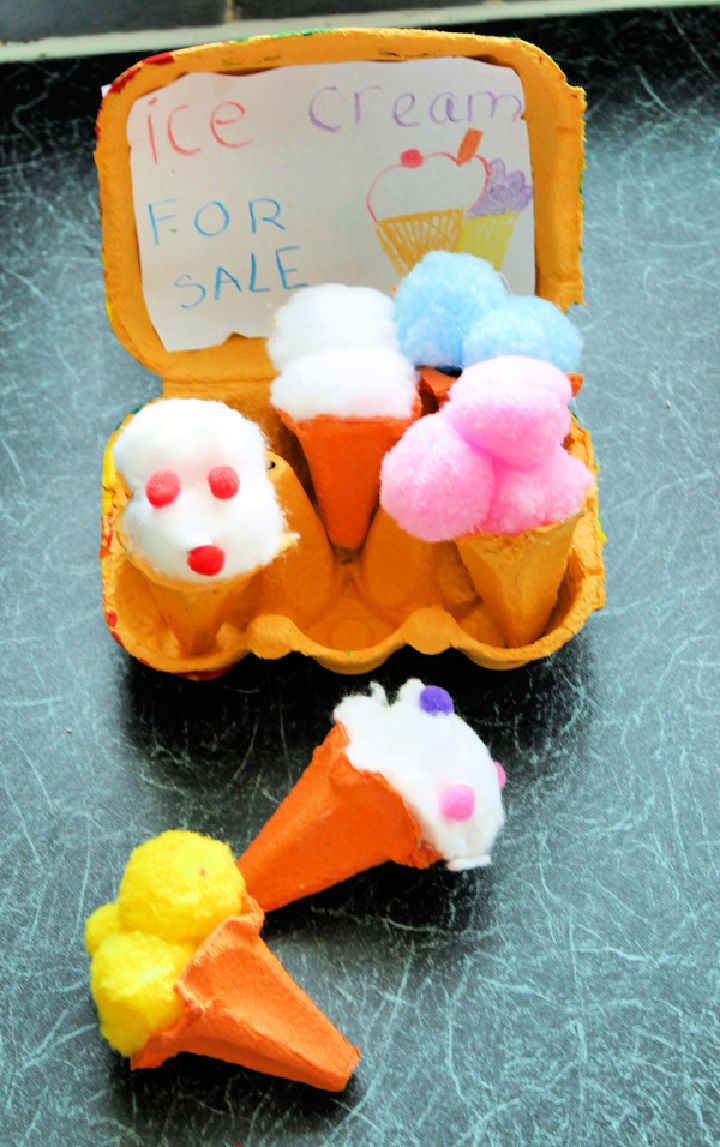 Make delightful homemade ice cream cones with egg cartons! This fun craft is perfect for kids and adults. Get 6 large egg box cones, 1 small egg box tray, cotton wool balls and variously colored large pompoms. For added cuteness, grab smaller pompoms and a glue gun. Follow our step-by-step guide to create these wonderful ice cream cones that your kids will love! intheplayroom
13. How to Make an Egg Carton Dragon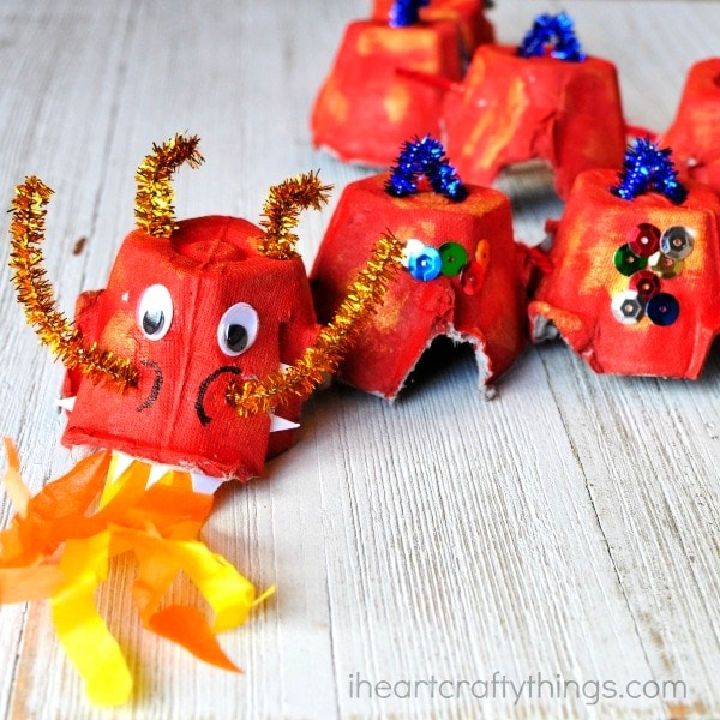 With all sorts of supplies and a DIY guide, crafting an egg carton dragon is remarkably creative and environmentally friendly. It is the perfect way to give discarded materials a new lease on life and unleash your inner DIY genius.
With this craft, you'll be provided with the necessary supplies from red acrylic paint, yarn, sequins, and white cardstock up to googly eyes, as well as a step-by-step guide for you to follow until your project is complete.
Whether you want to make it as a new year's celebration or just for fun, DIY egg carton dragons are a great way of getting into crafting with recycled materials. Try it yourself and get creative! craftythings
14. Egg Carton Treasure Box Arts and Crafts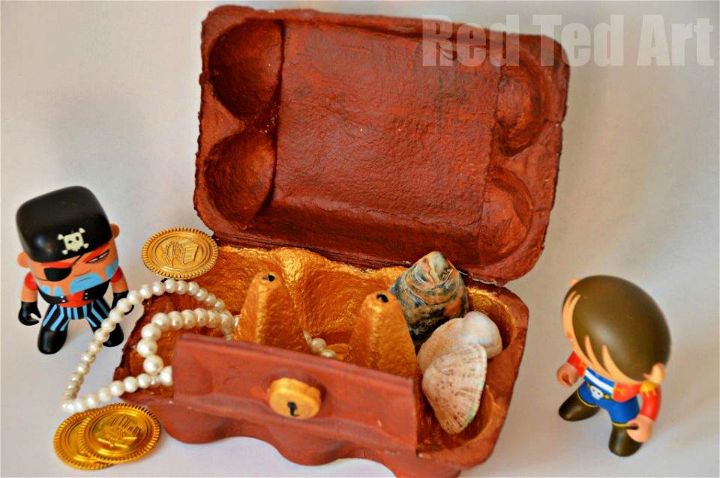 A DIY egg carton treasure box is a perfect holiday craft that keeps kids entertained on Pirate Day. It looks lovely and can also be a gift, such as for holding small hair bands and clips or small trinkets.
You'll need minimal supplies – an egg carton; brown and gold acrylic paint for decoration; decoupage paper and Pva glue; some washi tape; and a gem to complete the look. With a detailed step-by-step guide, creating this DIY project is easy, rewarding, and fun! redtedart
15. DIY Egg Carton Tea Cup Cards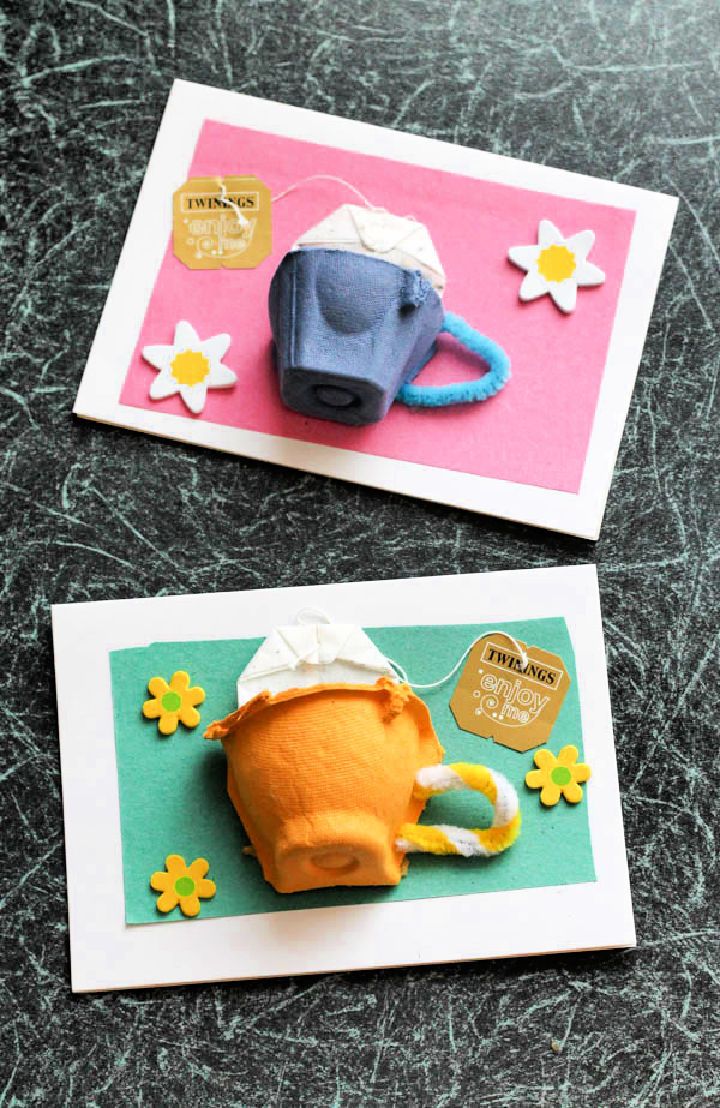 These DIY egg carton tea cup cards are the perfect craft to make for a special mother's day gift! Not only are they super easy and simple to make, but they will surely offer your mom a moment of peace and serenity in an otherwise chaotic world.
For this craft, all you need is a blank card, a piece of colored paper, a cut-up egg carton, a small pipe cleaner, your favorite twinings teabag variety, glue and flower shapes or stickers to decorate.
With this essential supplies list and the step-by-step guide, it won't be difficult at all to create these cute egg carton tea cup cards your lucky recipient will appreciate! intheplayroom
16. Whale Egg Carton Crafts for Kids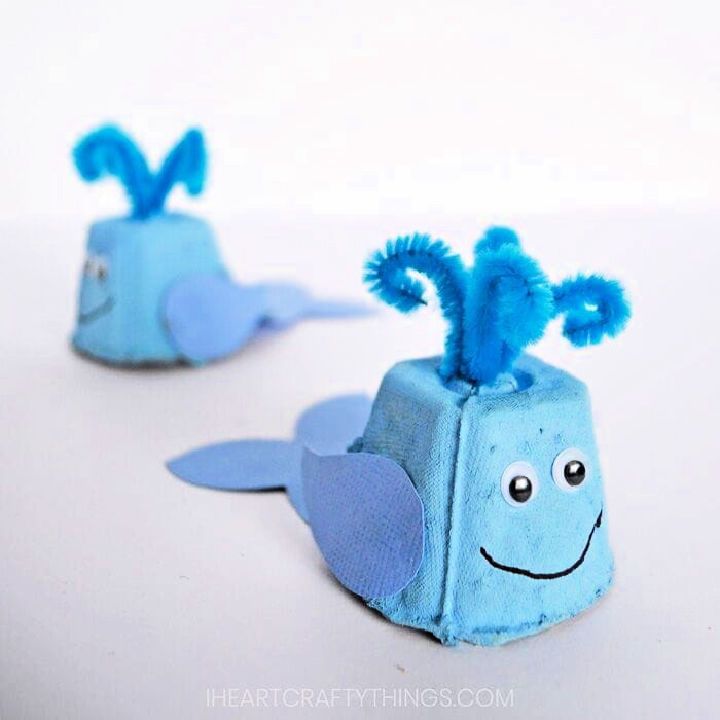 Surprise your little ones this summer with a fun DIY egg carton whale craft! This easy-to-make, recycled craft only requires a few simple supplies: egg cartons, light blue paint, googly eyes and more. Plus, you'll get a step-by-step guide and template to streamline the crafting process. Your kids will be delighted when they proudly present their own whale craft! craftythings
17. Bunny Craft Ideas With Egg Cartons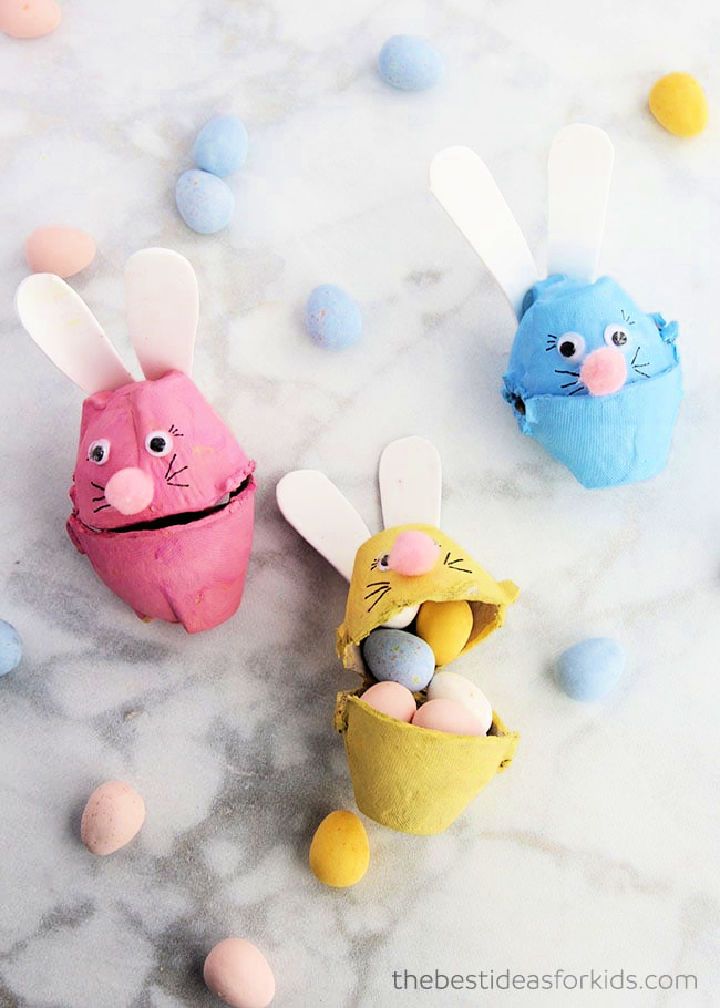 This homemade egg carton bunny will surely be a twist on the traditional easter craft. Fun and simple to make with the kids, this unique bunny is sure to be a hit! All you require is an egg carton, scissors, glue, googly eyes, and acrylic paint in pink, yellow and baby blue for decorating.
Little white foam pom poms can be used for the bunny's tail, a black marker for its whiskers and some masking tape to assist in cutting the egg carton.
This step-by-step guide will walk you through creating your own DIY egg carton bunny that will leave your friends and family filled with joy. Bring an egg carton bunny to life this easter! ideasforkids
18. Jawsome Egg Carton Shark Activities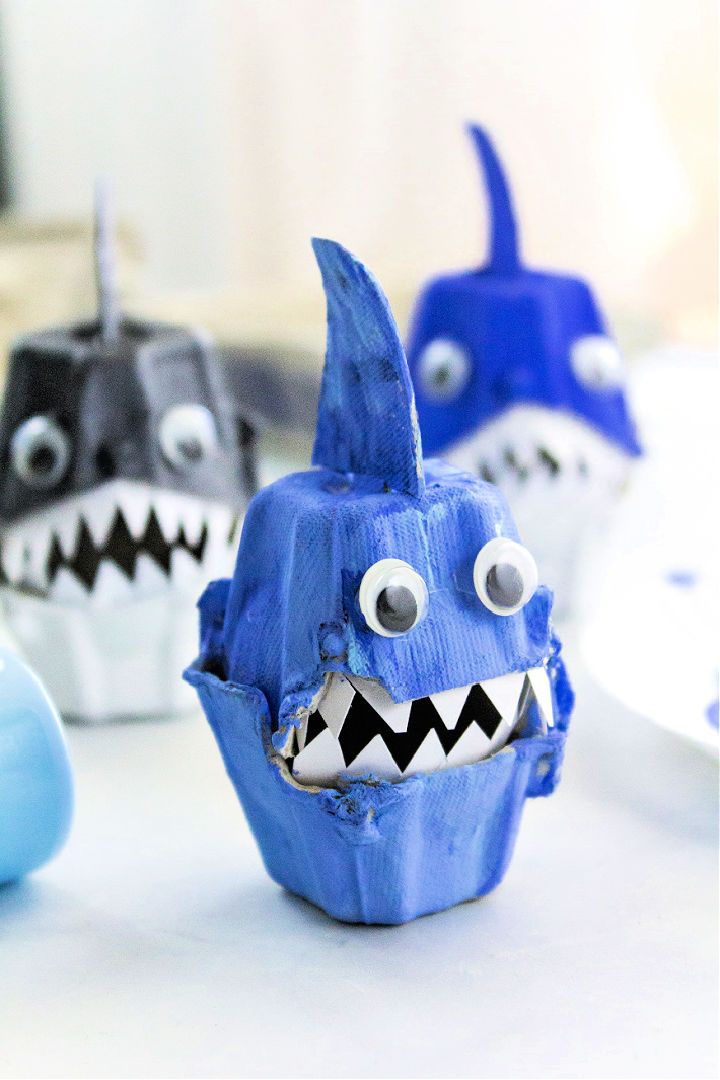 Love DIY projects? Then get ready to be amazed! Make a jaw-some shark from just an egg carton and some simple supplies. Adults & kids alike will love this creative art project! Gather materials like paint, glue, card stock, scissors, googly eyes & markers. Follow the step-by-step guide for great results. Enjoy an afternoon of fun crafting your own unique egg carton shark – sure to impress everyone around you! kidsactivities
19. Caterpillar Egg Carton Crafts for Toddlers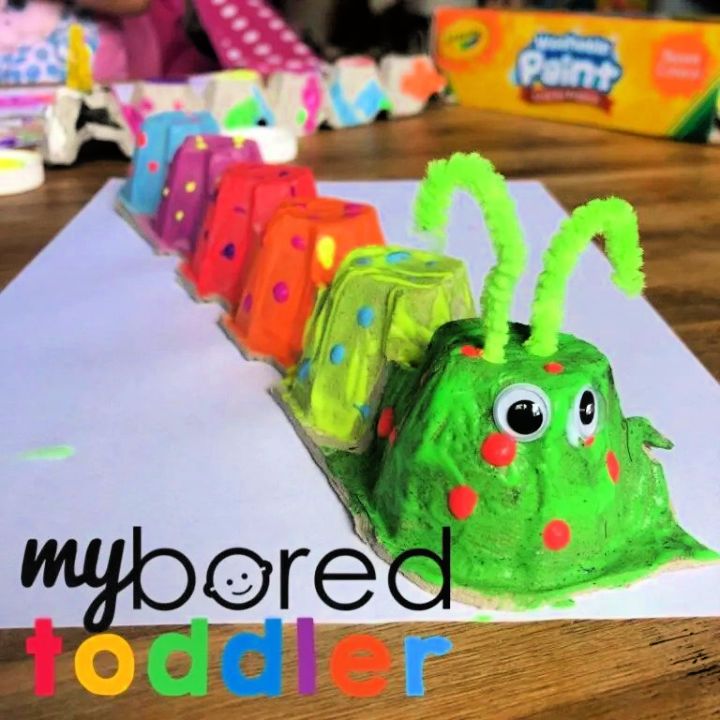 This DIY egg carton caterpillar craft is a fun and quick way to get your children's creative juices flowing! This enjoyable craft requires only a few supplies: an egg carton, scissors, paints and paintbrushes, pipe cleaner, and googly eyes.
Put the fun into crafting with this step-by-step guide for this egg carton caterpillar and enjoy the end result of your children's cute little creations. With just a few basic supplies, this DIY project is sure to become a favorite in no time! boredtoddler
20. DIY Alligator Affirmation Box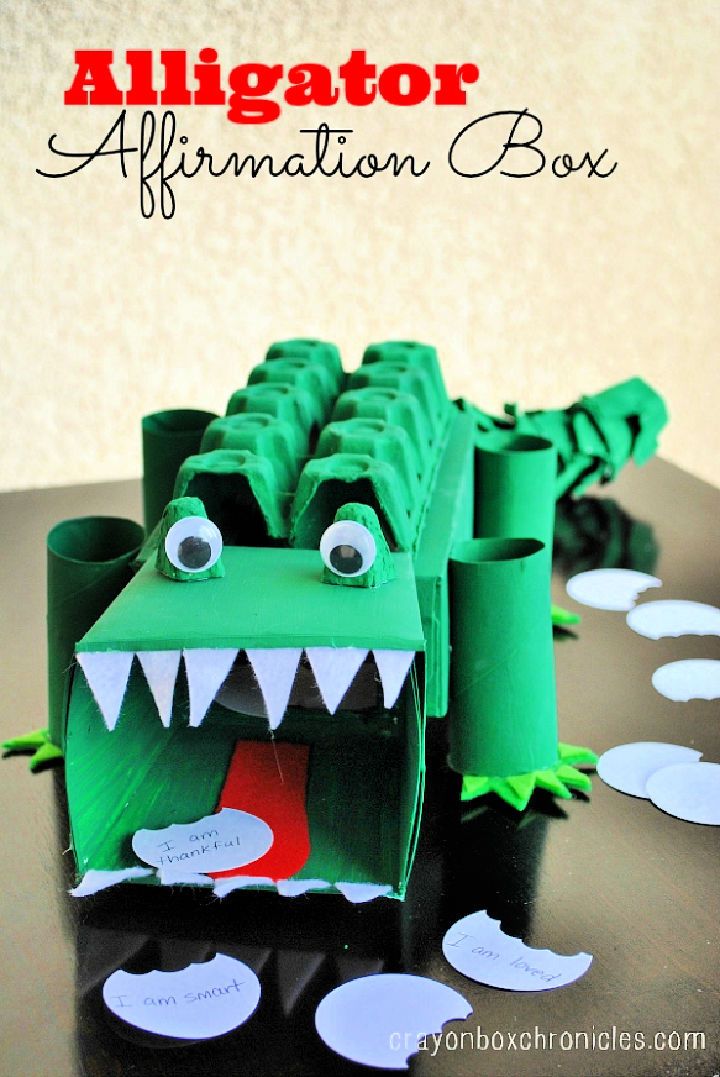 Create a unique keepsake that will help boost your child's self-confidence with this fun DIY Alligator Affirmation Box! Just gather some simple supplies like tissue and take-out boxes, paper egg cartons, paint, scissors, glue and more. Follow the easy steps to craft an adorable alligator affirmation box that kids of all ages can enjoy. Let them pick out their favorite colors for added personalization! Get creative and make the perfect gift for your child today. crayonbox
21. Adorable Five Little Ducks Craft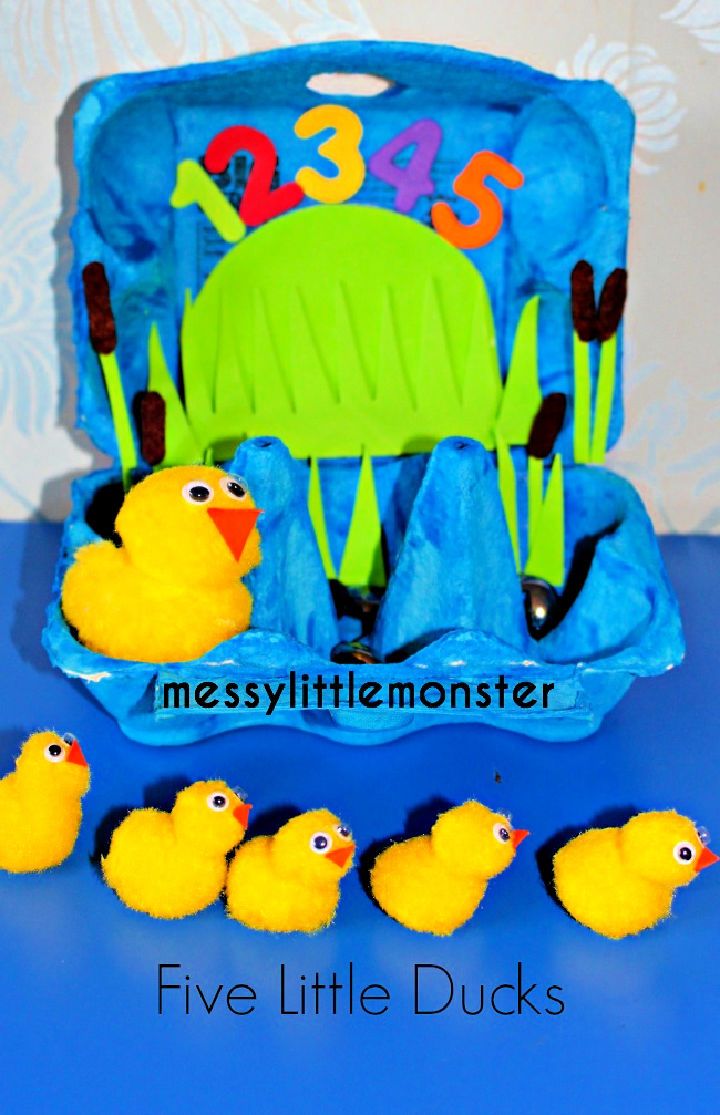 This DIY five little ducks craft is the perfect nursery project for an afternoon of hands-on fun. It's easy, quick and requires just a few supplies: an egg carton, blue paint, green foam, brown felt, foam numbers and glue.
Snap each egg cup from the egg carton to make your five darling baby chick's dips can look splendid when done correctly. Paint them blue as a base and finish with vibrant dots of brown felt and green foam feathers on their backs.
As a final touch, you can add 1-5 foam numbers at the base for classic "five little ducks" look. This innovative DIY craft will give you an adorable result that your child will love! littlemonster
22. Upcycled Egg Carton Succulent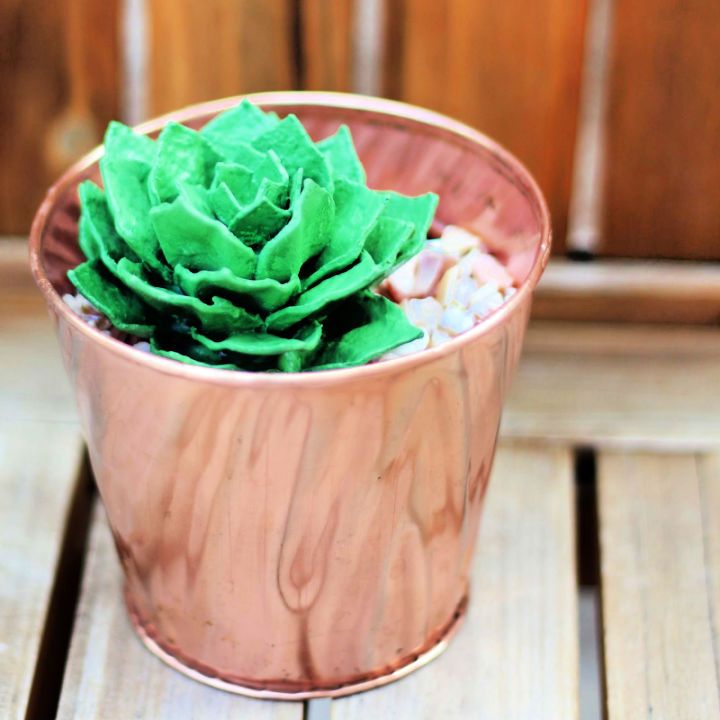 DIY projects are always fun, and the DIY upcycled egg carton succulent ticks all the boxes! This project is exceptionally appealing yet so easy to put together. It can be used as a wonderful gift for a succulent lover, and you don't have to worry about breaking the bank in the process. To do this project, all you need are the following:
Some paper mache egg cartons
Scissors
Green and white acrylic paints
A hot glue gun
Apply the paint with your preferred design and then adhere the leaves together with hot glue – it's that simple! So, why not give it a try? blissbloom
23. Simple DIY Egg Carton Faces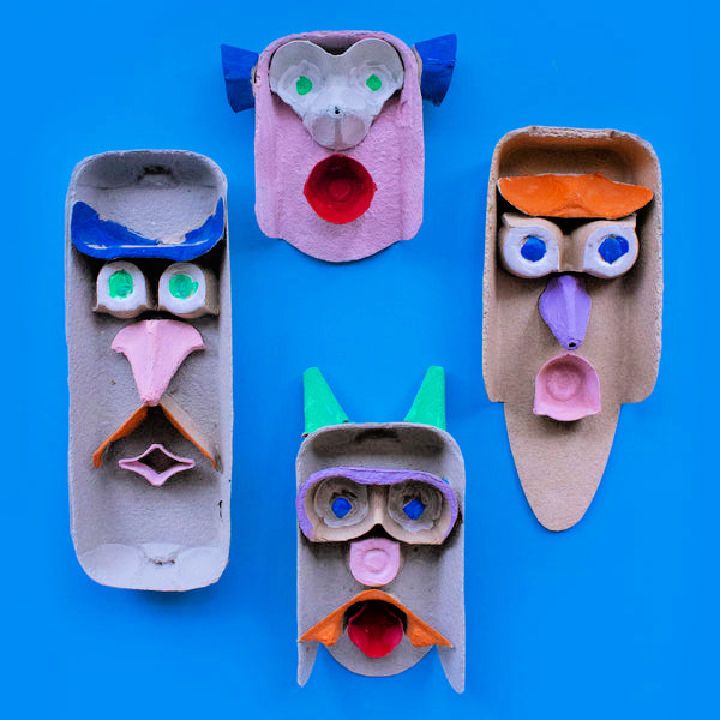 These egg carton faces are the perfect project for DIY enthusiasts looking to get creative and thrifty! Not only is it a no-frills project to make, but you can also personalize the faces with paints or any kind of face you like to make.
With just some simple supplies, including egg cartons, craft glue, scissors, and paints, you can create a one-of-a-kind artistic masterpiece!
It's an interesting and fun project guaranteed to provide plenty of satisfaction in seeing the result. These handcrafted egg carton faces will surely be a source of pride and joy! minimadthings
24. Recycled Egg Carton Flower Wreath

Welcome spring with a colorful DIY recycled egg carton flower wreath! Perfect for the whole family, this craft requires just egg cartons, acrylic paint, hot glue gun & wire wreath base. Create stunning entryway decor with easy steps today. Enjoy your inviting floral display & add warmth to your front door!
25. How to Make an Egg Carton Bee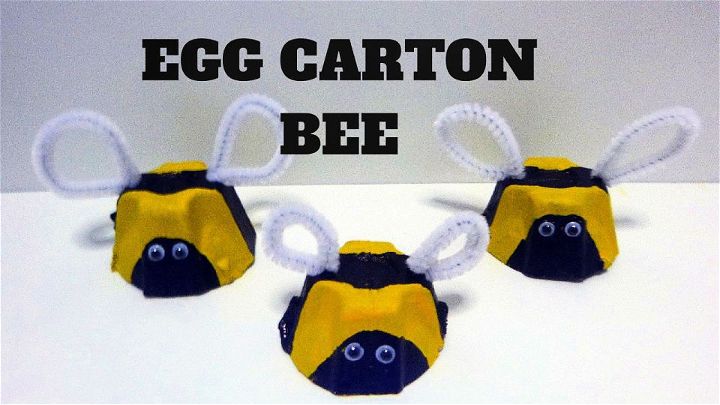 Creating a DIY egg carton bee is a lovely and crafty idea your kids will love to make and play with! All you need is an egg carton, yellow paint, black markers, white pipe cleaners, googly eyes, and glue. Your handmade egg carton bee will come to life in easy steps. Why not try it and see what kind of inventions you can make with an egg carton?
Related Crafts for Kids:
Creative and fun activities to keep the little ones busy. From simple paper crafts to more difficult DIY projects, we have something for everyone!
Conclusion:
Egg carton crafts and art projects are a great way to get kids creative juices flowing. Not only do they provide hours of fun, but they also help build fine motor skills and promote problem solving. With just a few simple supplies, you can create everything from animal figures to solar system models with egg cartons. All it takes is some imagination and creativity!