Seashells are always associated with a carefree day spent at the beach or simply lazing around by the ocean. Now you can bring that spirit indoors and make your own seashell crafts and decor ideas! From simple seashell craft ideas to more creative home decor, these 25 easy seashell crafts and decor ideas are perfect for kids and adults to try. With step by step instructions, these seashell crafts are easy, simple, and cost-effective – perfect for bringing out your inner creativity! Get started today with some of these fun seashell crafts and decor ideas!
You can create beautiful seashell crafts and decorations with these 25 easy and creative ideas! Whether you're looking for DIY home decor, beach-inspired gifts, or something to keep the kids entertained during summer vacation, we've covered all your seashell craft needs. From elegant shell wreaths to fun, kid-friendly projects like shell animals and picture frames, these easy-to-make crafts are sure to bring a bit of sunshine into any home. Plus, if you don't have access to an actual beach nearby, many of our projects can also be made using store-bought shells. So gather up your supplies and get ready to explore the ocean – right in your own living room!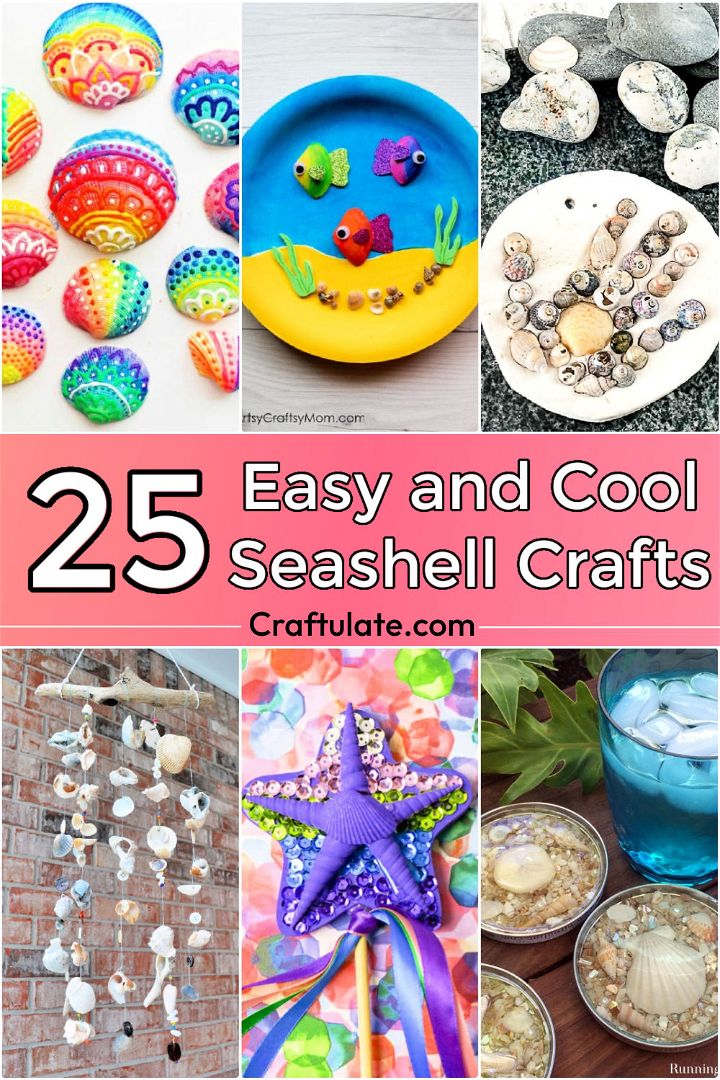 Easy Seashell Crafts and Decor Ideas
Revamping your home with handmade decorations can be a great way to have creativity and personality to your decor. Seashells are great for crafting and make for beautiful decorations. With 25 easy seashell crafts and decor ideas, you'll have plenty of inspiration for dressing up your living space with seashells. From easy craft ideas with seashells with step-by-step instructions suitable for kids of all ages to more advanced seashell decor ideas suited for adults, everyone can enjoy them. All these seashell craft ideas offer a wide range of possibilities, from cheap to chic. Give these seashell crafts and ideas a try – you will love the results!
1. DIY Coastal Wreath With Seashells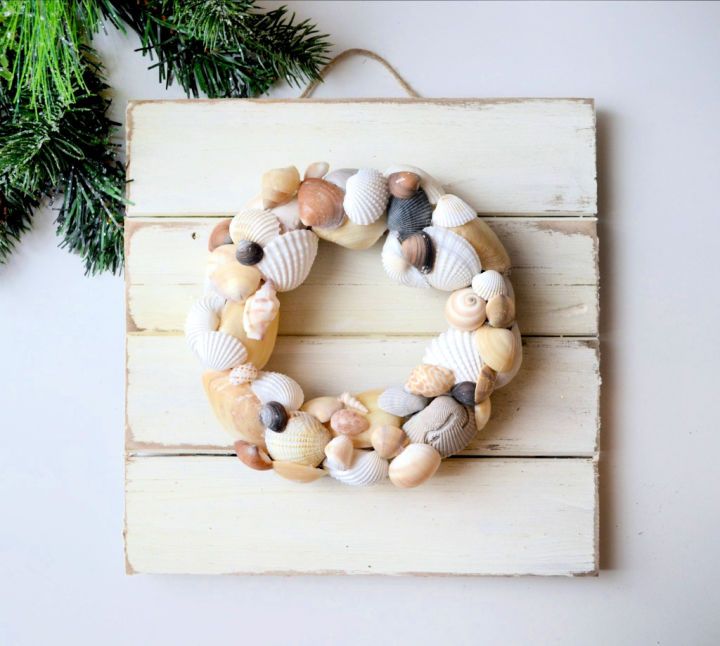 Looking for a unique and easy craft? Look no further than this DIY coastal seashell wreath! This project is excellent for beach lovers and only requires a few basic supplies. Best of all, it's easy to make and stand out from the rest.
You'll need a small wooden sign, a small grapevine wreath, and assorted seashells to get started. You'll also need chalk paint in adirondack white, a hot glue gun and glue sticks, a paintbrush, sandpaper or a power sander.
Once you have all your supplies, paint the wooden sign with chalk paint and let it dry. Attach the seashells to the wreath using a hot glue gun. Start at the end and work your way up, overlapping the shells as you go.
When you're finished, add a loop of twine to the back of the sign so it can be suspended on a door or wall. This easy coastal seashell wreath is sure to impress your guests! Thanks for following along with our tutorial. amylattacreations
2. How to Decorate Frame With Seashells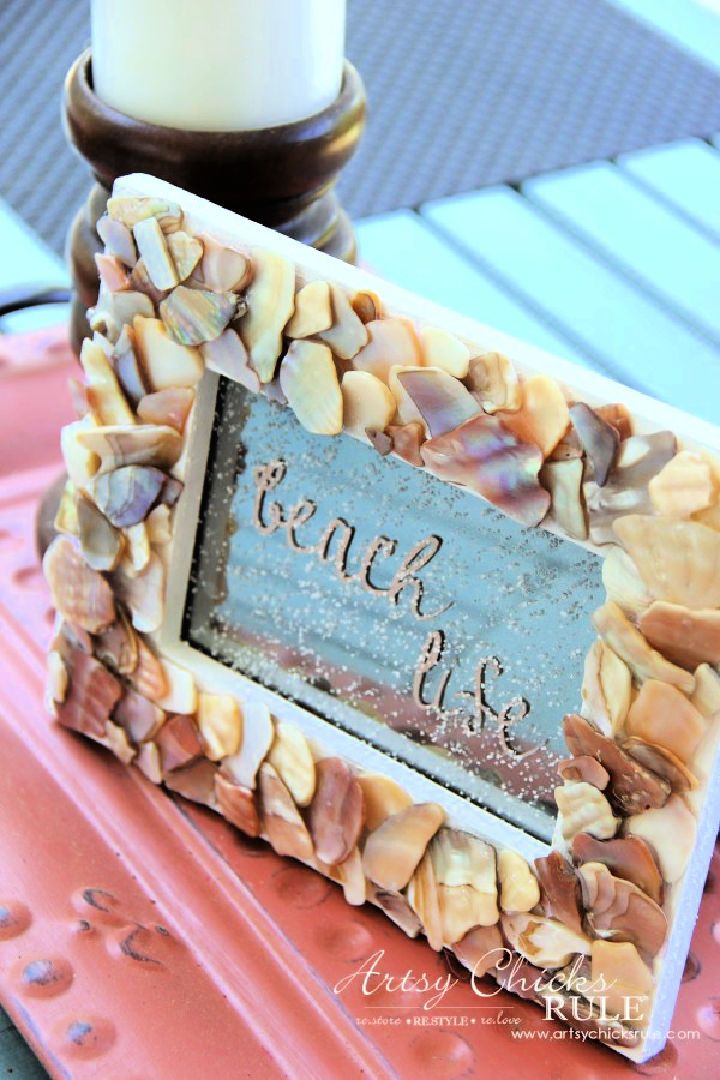 DIY seashell frame art is a unique and beautiful piece of art that is easy to make. You can use any shell you like to create a one-of-a-kind look. This project is also easy to customize to create a lovely gift for friends or family.
To do this project, you will require a wooden frame, white paint, shells, and a hot glue gun. You can find easy steps for this project in this tutorial.
First, paint the frame white and let it dry. Then, start gluing the shells to the frame. You can glue them in any pattern or design you like. Once all the shells are in place, let the glue dry, and your project is complete!
This project is an easy way to add beachy charm to your home decor. Or, you can give it as a unique and thoughtful gift. Either way, this seashell frame art is sure to be a hit! artsychicksrule
3. Beautiful Resin Coasters Using Seashells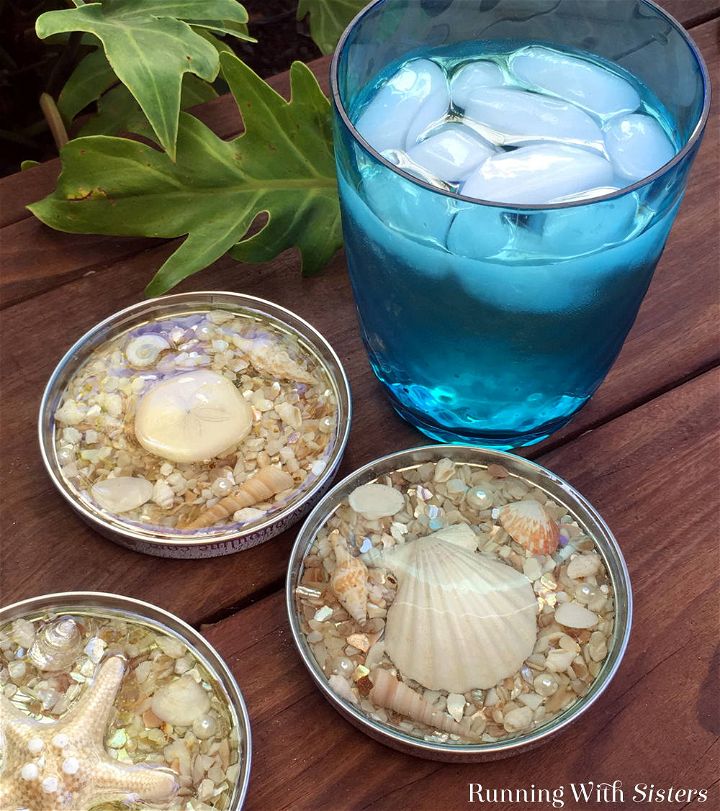 These DIY seashell resin coasters are a beautiful and classy way to add a beachy feel to your home. They also make great gifts! They are easy to make with just a few supplies, and the results are stunning. You can get all the supplies you need for this project at your local craft store.
To make your coasters:
Start by spraying the jar lids with silver spray paint.
Let them dry completely.
Use a clear silicone adhesive to attach the seashell chips to the lids. You can be creative with this part and use different sizes and colors of shells to create unique designs.
Once all the shells are in place, allow the adhesive to dry for 24 hours.
Next, it's time to pour on the resin. Mix the resin and hardener following the instructions on the kit. Once it is mixed, carefully pour it over the shells, covering them completely. Allow the resin to cure before using your new coasters!
If you want, add felt pads to the bottom of each coaster to protect your furniture. Enjoy your beautiful new seashell coasters! withsisters
4. Cool DIY Glitter Sea Shell Picture Frame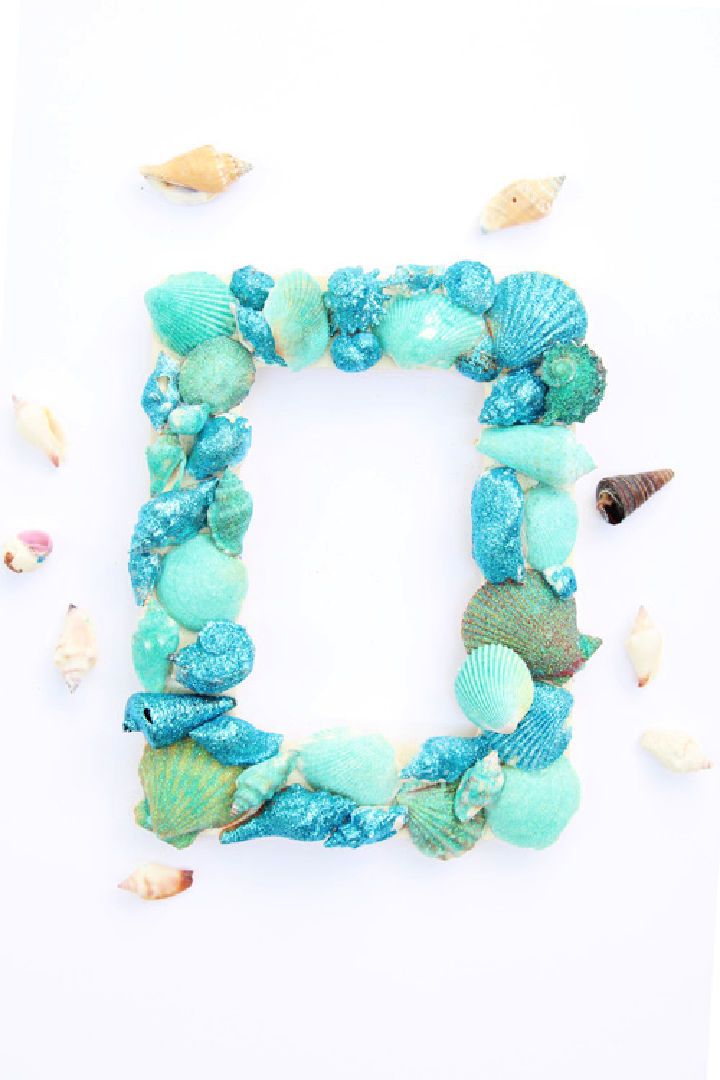 Make your own DIY glitter seashell picture frame with this easy tutorial! This stunning, sparkly frame is the perfect summer decor, and it's a cool craft project to do with kids.
You only need some shells, extra fine glitter, Mod Podge, and a plain wooden frame. First, glue the shells to the frame using a glue gun. Then, use a paintbrush to apply a layer of mod podge over the shells. Sprinkle on the glitter and let it dry. That's it! You've now made your very own glittery seashell picture frame. Hang it up and enjoy your handiwork! onelittleproject
5. Homemade Shell Frame with Handprint Art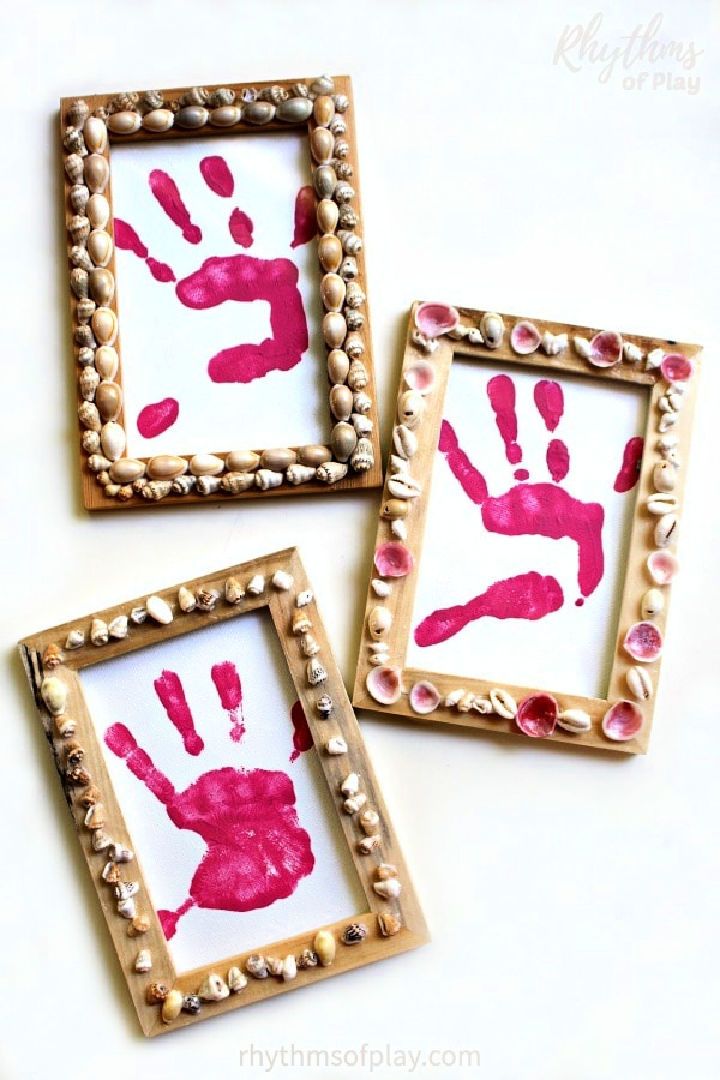 These DIY shell frames with handprint art are an amazing homemade craft that can be a memorable gift for mother's day, father's day, or a birthday! They look striking and are easy to make following the tutorial below.
First, gather your supplies. You will need small to medium craft shells, frames, sandpaper sponge (if using raw wood picture frame), white glue, canvas paper for the handprint art or footprint art, acrylic craft paint for the handprint art (optional), and mod podge and foam brushes.
Next, it's time to get started on your project! Using a raw wood picture frame, begin by sanding down the edges with a sandpaper sponge. This will help smooth out any roughness and create a nice finish.
Once your frame is sanded, it's time to start gluing on the shells. Start by attaching the larger shells around the outside of the frame, then fill in the gaps with smaller shells until the entire frame is covered. Don't be afraid to get creative with this step.
Now that your frame is complete, it's time to add the handprint art! If you use acrylic paint, start by painting your child's hand with their chosen color. Help them press their hand onto the canvas paper, then repeat with their other hand. Once both hands are printed, allow the paint to dry completely.
Once dry, carefully peel off the prints and set them aside. Using mod podge, apply a skinny layer onto the back of each handprint and place them onto the shell frame. Let the mod podge dry fully before hanging up your masterpiece! rhythmsofplay
6. Easy Arts and Crafts With Seashells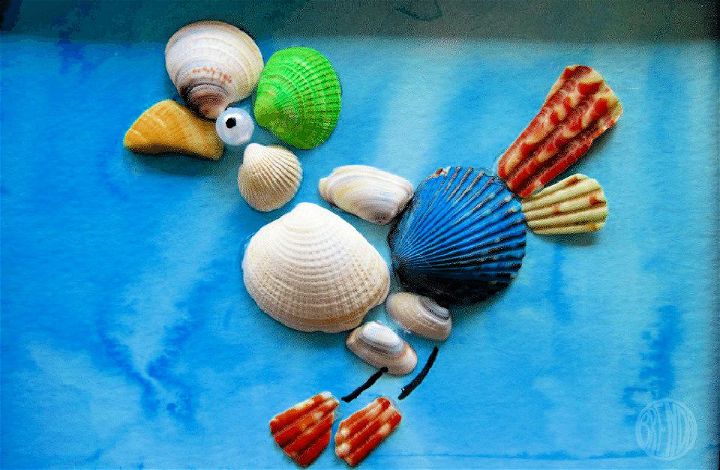 DIY sea shell art is a fantastic way to bring a unique look to your home decor. It's also an easy project that makes for a beautiful and unique gift. All you need is a thrift store frame, some black paint, water-based acrylic paints, shells, and glue.
Once you have your supplies, follow the easy tutorial below to create your own sea shell art. With just a little time and toil, you'll be able to create a gorgeous piece of art that will be adored for years to come. alphamom
7. DIY Underwater Seashell Candles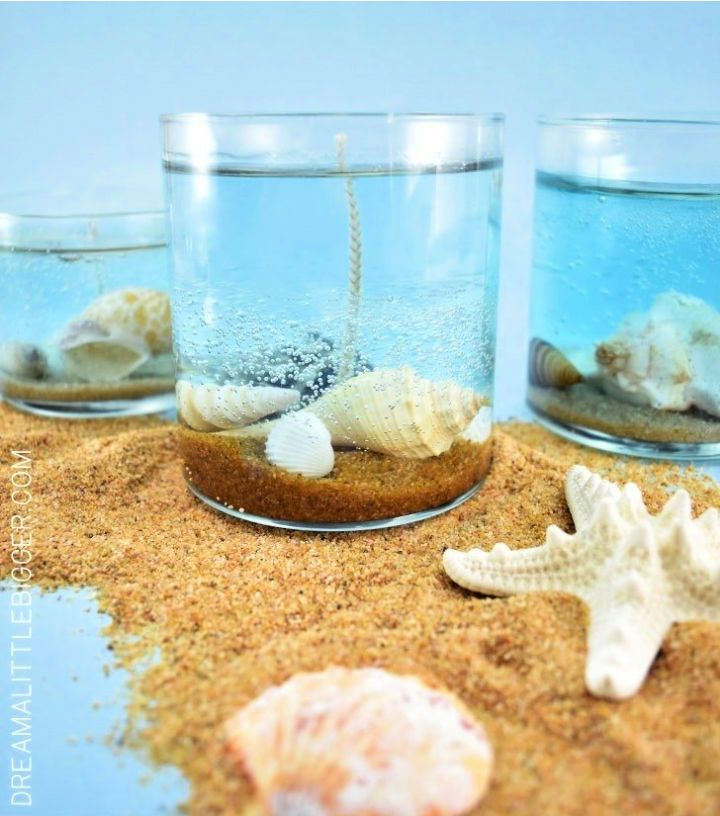 Make your home decor shine with a beachy touch by creating beautiful DIY underwater seashell candles. You can easily turn your ocean finds into unique art pieces with the right supplies.
You'll need seashells, gelly candle wax, fragrance oil, gel wax colorant, glass jars, wicks and sand to start. Melt the wax and add colorants for the desired effect, then add fragrances of choice before pouring them into seashell molds or glass jars. Place the wick inside before it hardens, then complete with a layer of sand over the surface – voila! Enjoy these stunning handmade creations at home, or give them as gifts! dreamalittlebig
8. How to Make Shell People for Kids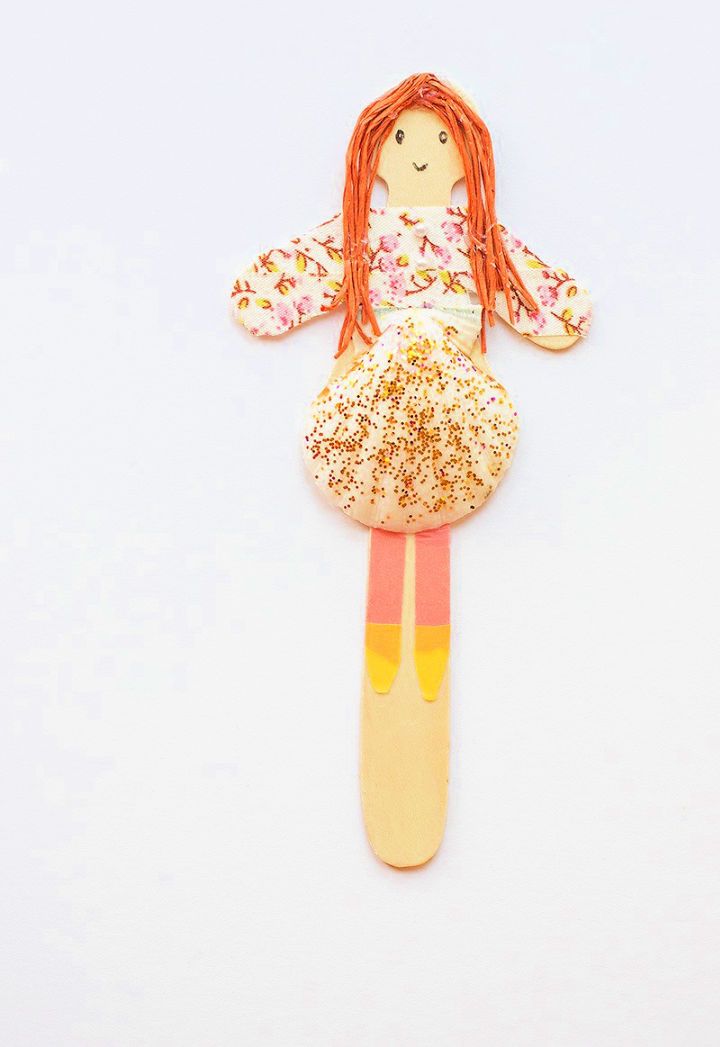 DIY fun shell people are perfect for kids and adults. These shell people are easy to make and look cool. You need shells, lolly sticks, string, washi tape, glitter, pens, shiny button stickers, and a glue gun or strong glue.
This DIY project is easy to follow with this tutorial. You can make these shell people with any shell; it is also an excellent way to show your creative side. Let your creativity run stormy, and have fun with this DIY project. somethingcrafty
9. How to Do Seashell Turtle to Sell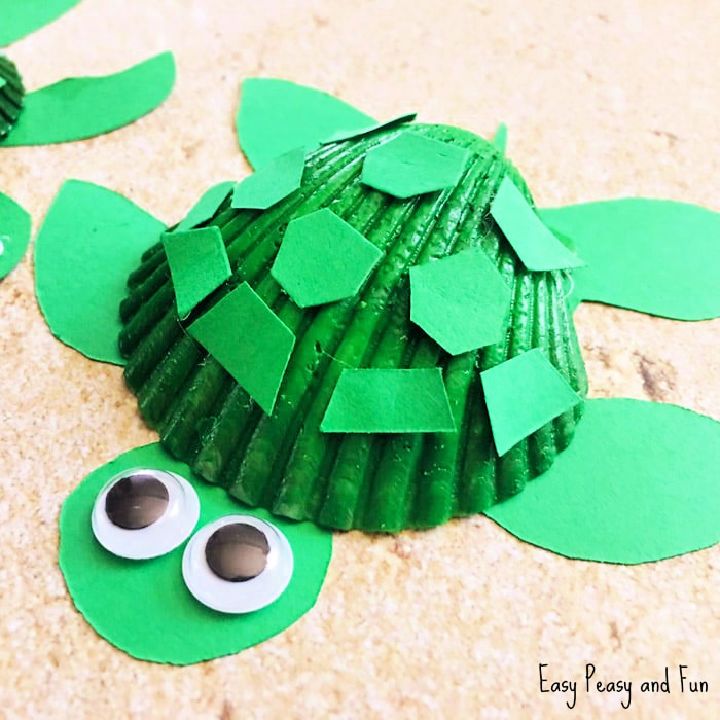 This DIY seashell turtle is a fun summer craft for kids! It is easy to make and only requires a few supplies. Plus, it looks so adorable when it's finished. To make your own seashell turtle, you'll need seashells, green construction paper, googly eyes, glue, green paint, scissors, and a paintbrush:
Paint the seashells green.
Cut out a turtle's parts from the construction paper.
Glue the turtle's parts onto the seashell.
Add googly eyes to the turtle.
Your handmade seashell turtle is now complete! easypeasy
10. Home Decor Planter Seashell Crafts for Adults

This homemade seashell planter is a fantastic way to add beachy decor to your home, making it a great gift for plant lovers. Most satisfying of all, it is simple to make with just a few basic supplies. You'll need terra cotta pots, seashells, glue, succulents, and extra potting soil.
First, glue the seashells around the rim of the pot. Next, add some potting soil and carefully transplant your succulent. Be sure to use a cacti mix or extra sandy soil, as succulents need well-drained soils to thrive.
Finally, give your DIY seashell planter a little water and place it in a sunny spot. In a little time, you'll have a beautiful and unique piece of home decor. billabong
11. Animal Jellyfish With Beach Seashell Crafts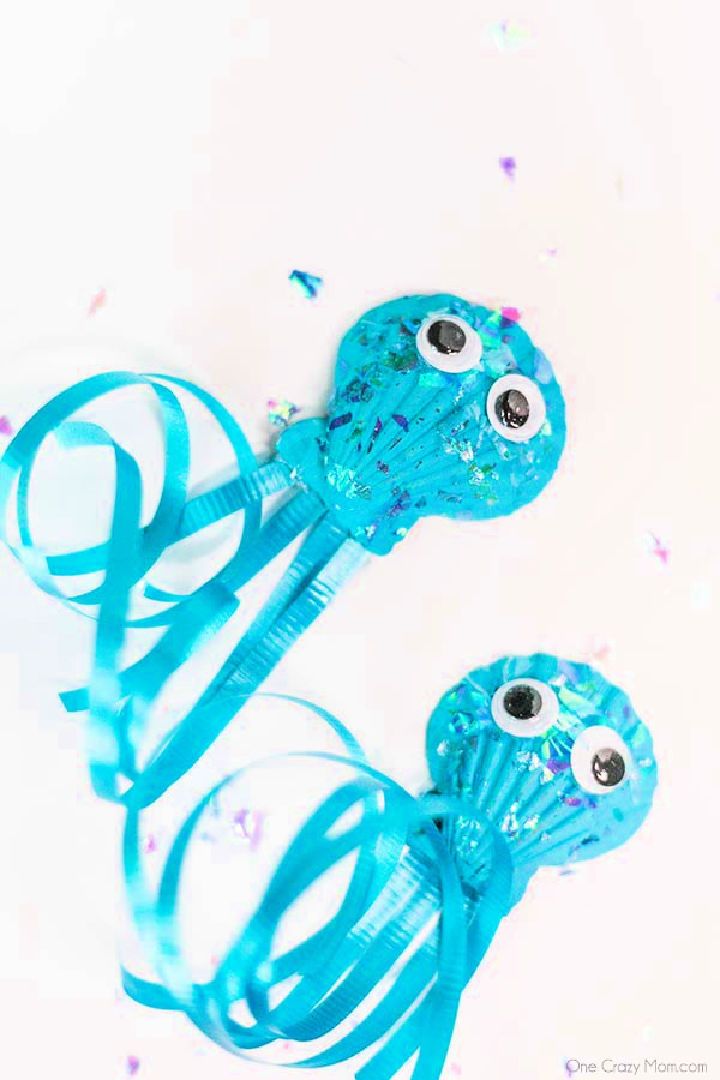 This DIY jellyfish seashell craft is a fantastic way to keep kids engaged during summer. It is a simple, cheap, and lovely beach craft that is perfect for kids of all ages. Plus, it is no-frills to make!
Simply paint seashells light blue, add some confetti and curling ribbon, and glue on some googly eyes. Voila! You've got yourself a beautiful jellyfish seashell craft. For a step-by-step guide, check this tutorial. onecrazymom
12. DIY Mermaid Wand for Preschoolers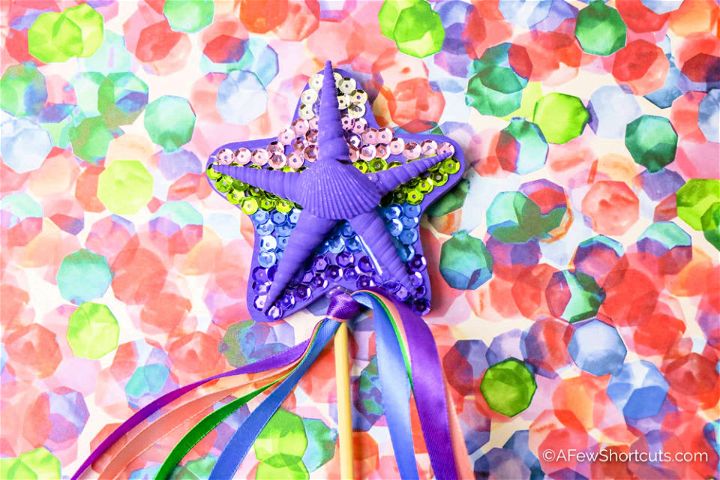 This DIY mermaid wand is so much fun for kids to make! It is a bright, sparkly, and gorgeous craft. It is also excellent as a party favor or just a rainy-day craft. And the best thing is that it is customizable, so you can make it in however color you want. It is also super easy to whip up.
You'll need a few supplies: a wooden star wand, acrylic paint, seashells, school glue, sequins, hot glue and a hot glue gun, ribbon, and scissors. Then follow the easy tutorial, and you'll have the most beautiful mermaid wand in no time! afewshortcuts
13. How to Make Handprint Shell Keepsake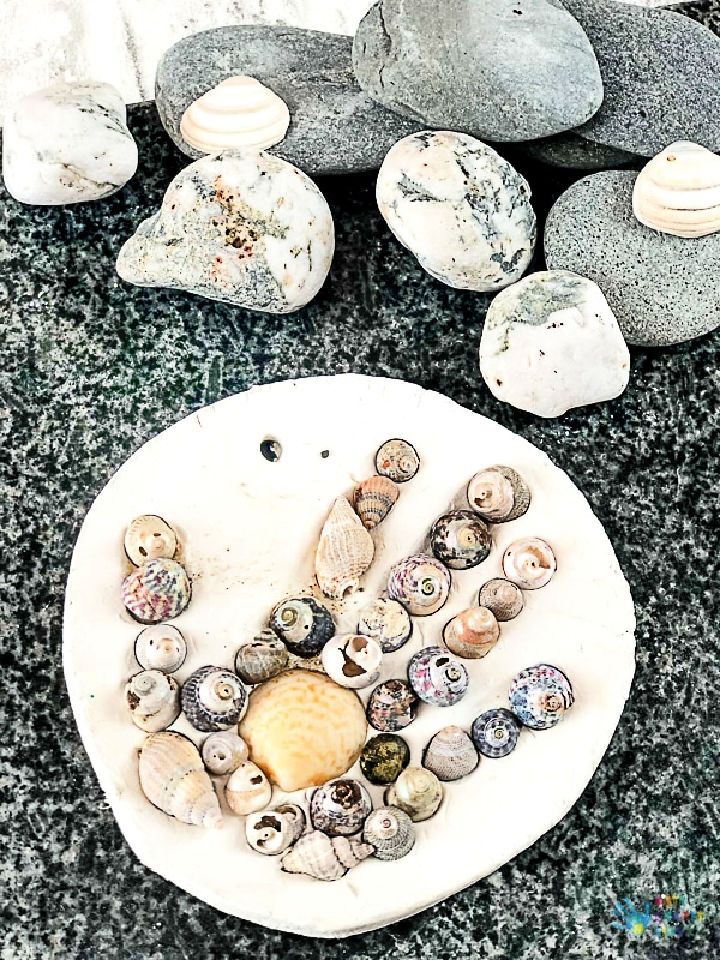 This DIY handprint shell keepsake is an exquisite and meaningful gift that can be quickly made. This easy tutorial will guide you on making your own handprint shells in just a few minutes. You only need a hard surface, shells, a rolling pin, a knife, a paintbrush, PVA glue, and a drying rack.
First, roll out your clay on the hard surface. Then use the knife to cut out handprints of the desired size. Press the shells into the clay handprints. Make sure to press them firmly so that there is a good imprint.
Next, use the paintbrush to apply PVA glue around the edge of each shell. Allow the glue to dry completely before removing the shells from the clay. Your pretty handprint shell keepsake is now ready to enjoy! artycraftykids
14. DIY Seashell Shadow Box for Decorating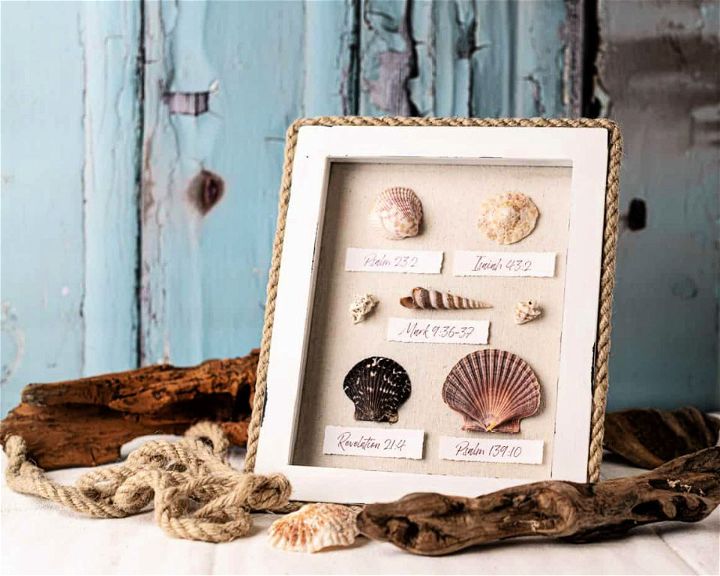 DIY crafts are a great way to add personal touches to your home decor or to give as gifts. This DIY handprint shell keepsake is a beautiful, easy-to-make project that adds a coastal vibe to any room.
The most satisfying part is that it's easy to do and only requires a few supplies you likely already have. You can also customize the color and size of the shadow box to fit your taste. This makes for a perfect summer craft project! So, grab a shadow box and some shells and get started today! joyfullife
15. Creative Painting Sea Shells Ideas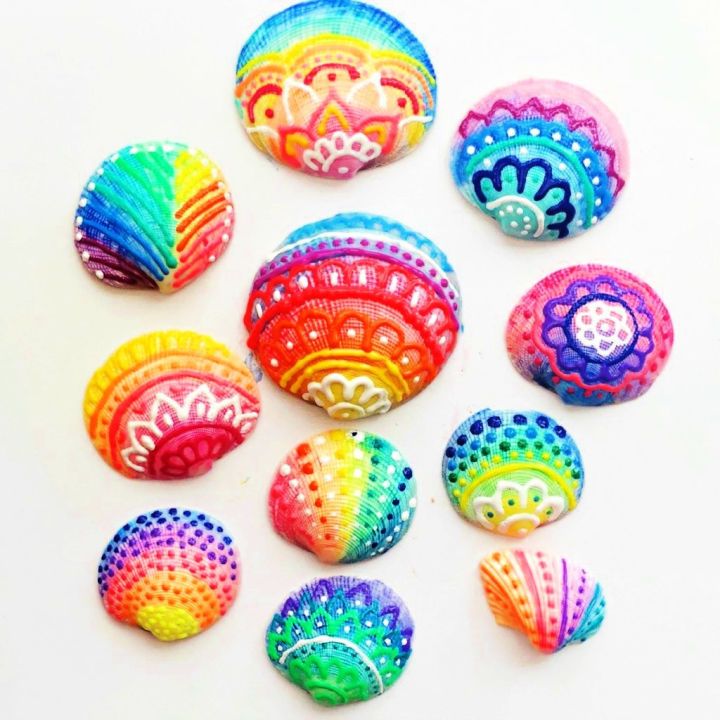 This DIY painted sea shell is an easy and fun project to keep kids engaged. You only need some sea shells, puffy paints, and a paintbrush. You can also add white acrylic paint to give the shells a bright and cheery look. This cool summer project is an excellent way to have a delightful time with your kids.
Here are some simple steps to follow:
1) Begin by collecting some sea shells. Make sure they are clean and dry before beginning this project.
2) Next, choose your colors of puffy paint. You can use one color or multiple colors for this project.
3) Once you have chosen your colors, start painting the sea shells with the puffy paints. Be creative and have fun with this step!
4) If you want, you can also add white acrylic paint to the mix for a brighter look.
5) Allow the paintings to dry completely before handling them again.
6) That's it! You have completed your own painted sea shells with a puffy paint project. Enjoy! colormadehappy
16. DIY Displaying Seashells Artwork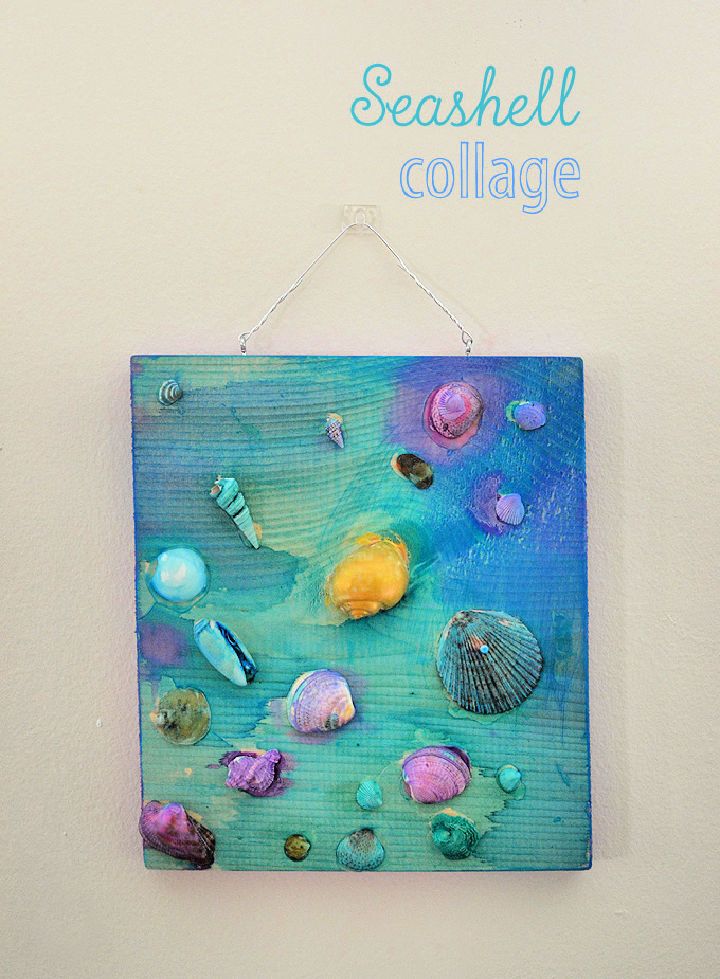 This DIY seashell collage with Kids is a great way to create a unique piece of wall art that is perfect for kids and adults to do. Plus, it is pretty enough to bring life to otherwise a bland wall.
This seashell collage is a fantastic activity for a rainy day or weekend afternoon. It's simple and easy to follow the tutorial and doesn't require a lot of materials.
All you need is shells, a piece of wood, tacky glue, liquid watercolor, brushes, and eye screws. This craft is perfect for enhancing your kid's creativity, and kids will love seeing their own artwork on display. So, grab your supplies and let your creativity run wild! artbarblog
DIY Seashell String Lights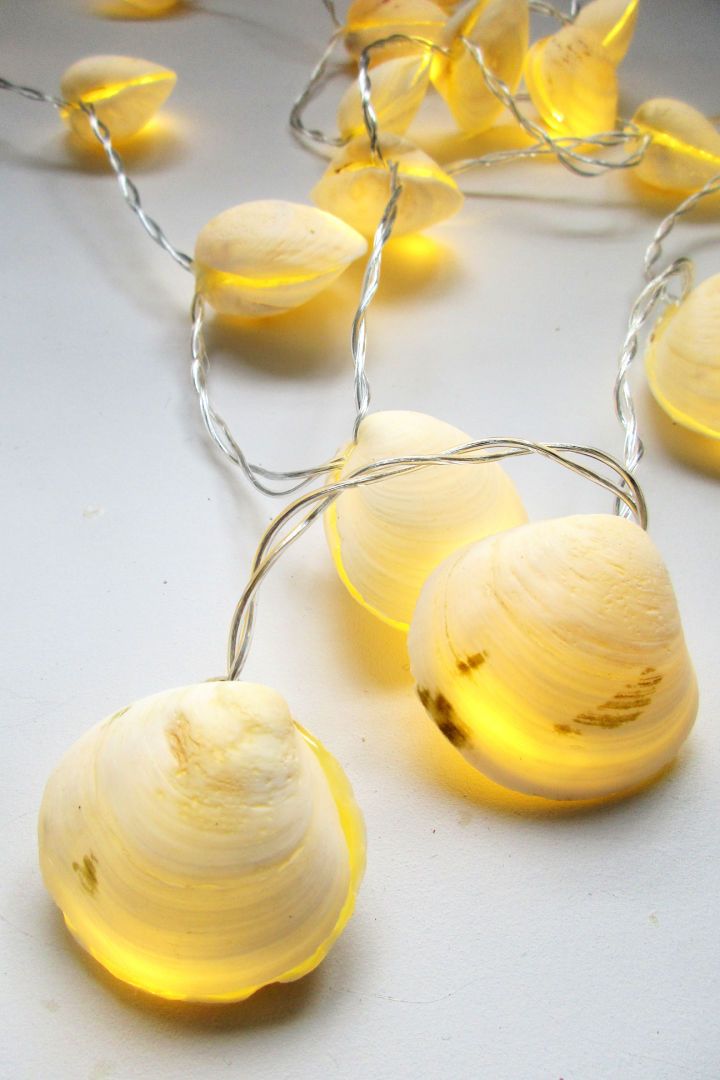 Create a bohemian or beach-themed atmosphere with these DIY seashell string lights. With just some sea shells, string lights and a glue gun, you can craft your own unique lighting decoration. This simple project will add an elegant touch to any home while displaying your treasured souvenirs from beach holidays. Whether indoors or outdoors, this easy-to-make seashell string light will surely bring a summery charm into any space! bywilma
18. Simple DIY Mason Jar Lamp Tutorial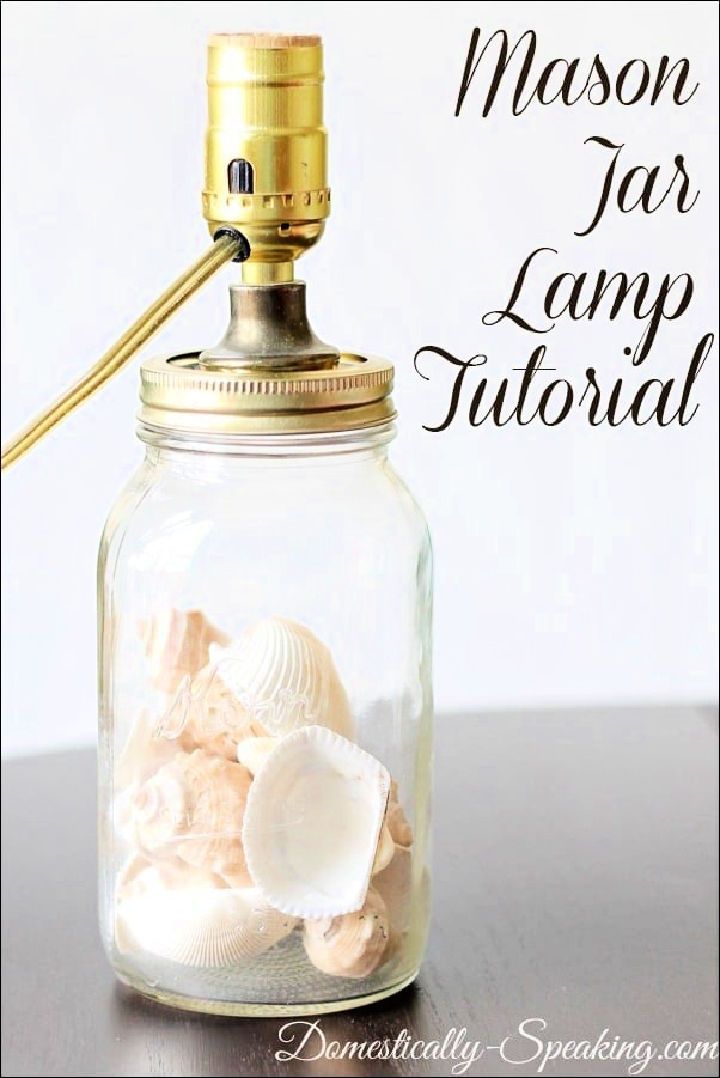 A DIY mason jar lamp is a fantastic way to personalize a lamp and add a touch of brightness to your decor. It is also easy to make! This tutorial will instruct you on making your own mason jar lamp in just a few simple steps.
You'll need a mason jar, a drill with a large drill bit, a lamp lighting kit, and a lamp shade.
First, use the drill bit to make a hole in the jar's lid.
Next, insert the socket from the lamp kit into the hole.
Then, screw in the light bulb and assemble the rest of the lamp according to the instructions in your kit.
Finally, add your desired shade and some shells and enjoy your new handmade mason jar lamp! domestically
19. Modern Seashell Door Hanging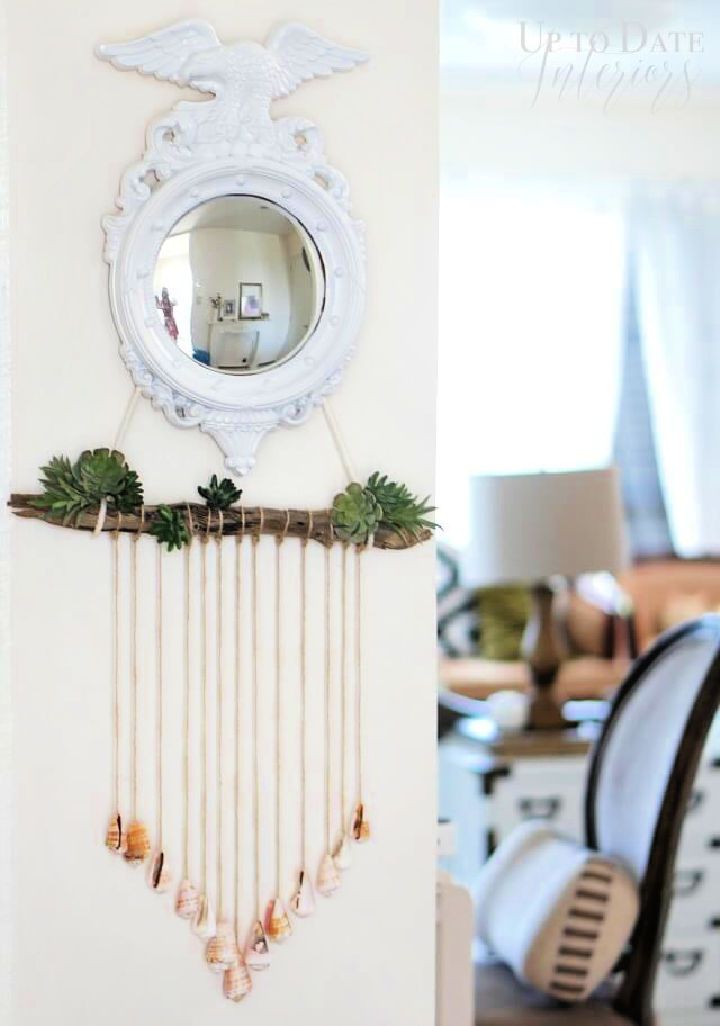 Looking for a trendy and classy summer project? Check out this DIY modern seashell door hanging! It's a quick and easy project to add a gorgeous wall hanging to your home. And the best part is that it's thrifty – you can probably find everything you need at your local store.
To make your own modern seashell door hanging, you'll need the following:
A Piece of Driftwood
Seashells
Hemp Twine and Rope
Faux Succulents
A Hot Glue Gun, Scissors, and Needle Nose Pliers (Or Chop Stick)
Here are some simple steps to make Modern Seashell Door Hanging:
Start by cleaning off your piece of driftwood. If it's weathered, you may want to sand it down a bit so it's smooth.
Next, thread each seashell to each single hemp twine (cut to the desired length) and tie it up at the end to secure it.
To add a bit of greenery, glue some faux succulents around the driftwood.
Once everything is glued in place, use a rope to create a hanger on the top of the driftwood. You can tie knots or use hot glue to secure the rope.
Lay out your shells with a twin in a v-shaped pattern on driftwood and tie a knot to each twine. That's it!
Hang your modern seashell door hanging and enjoy! homemade
20. DIY Seashell Candle For Childrens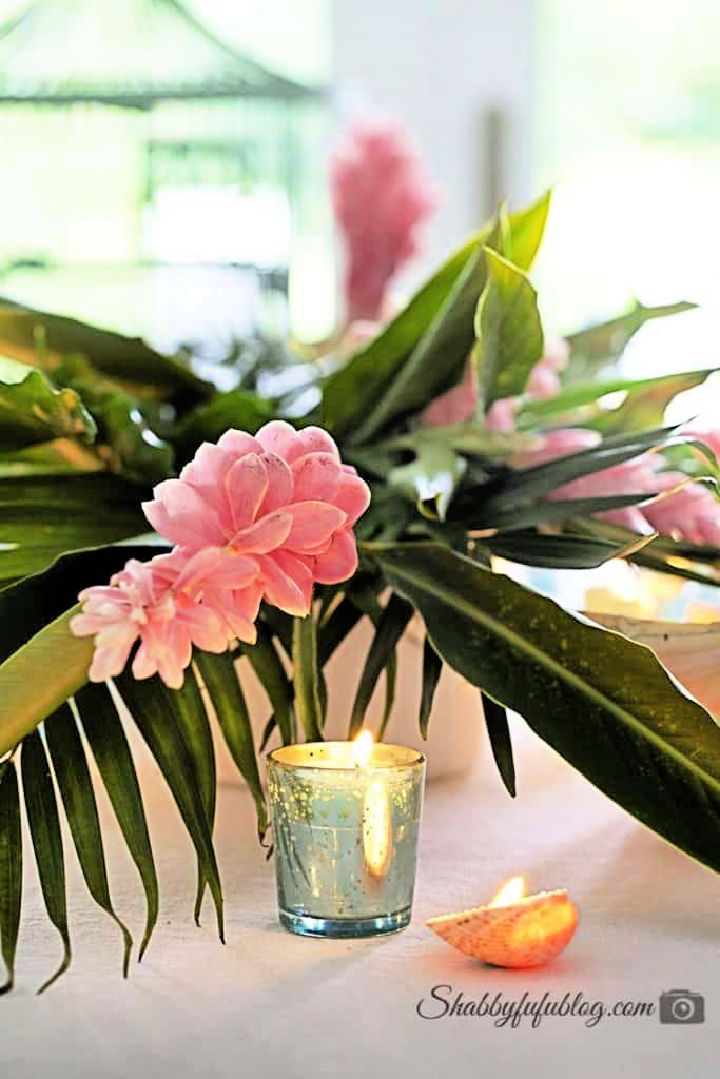 A DIY seashell candle is a great way to add a warm and inviting glow to any room. It also makes a beautiful summer table decor piece. With just a few simple supplies, you can create a beautiful coastal look that will fill your home with a nice fragrance. This seashell candle is simple and can be tailored to your favorite scent. Follow this easy tutorial to get started. shabbyfufu
21. Sea Shell Fish in an Aquarium Crafts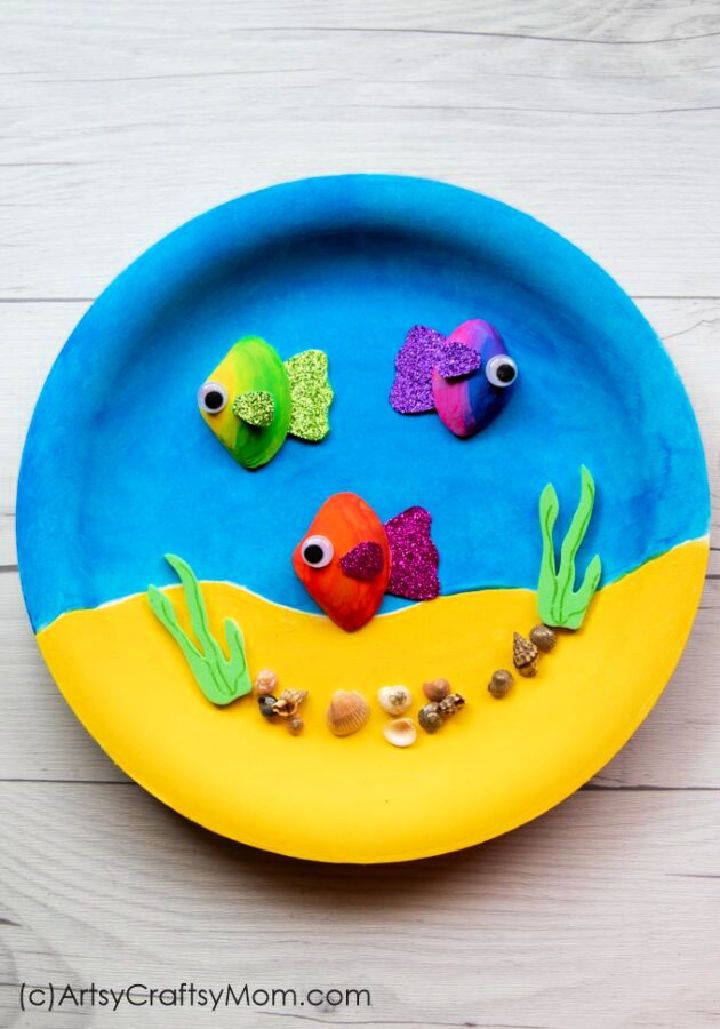 DIY sea shellfish in an aquarium is an easy, quick craft that makes a stunning wall hanging perfect for kids. All you require is a white paper plate, large smooth sea shells, tiny sea shells of assorted shapes, craft foam in different colors – plain and glitter, googly eyes, tack its, paints and brush. This DIY tutorial is easy to follow, and the result is gorgeous. This sea shellfish will be perfect for any room in the house and will make a great gift idea. Happy DIY-ing! craftsymom
22. Windchime Sea Shell Project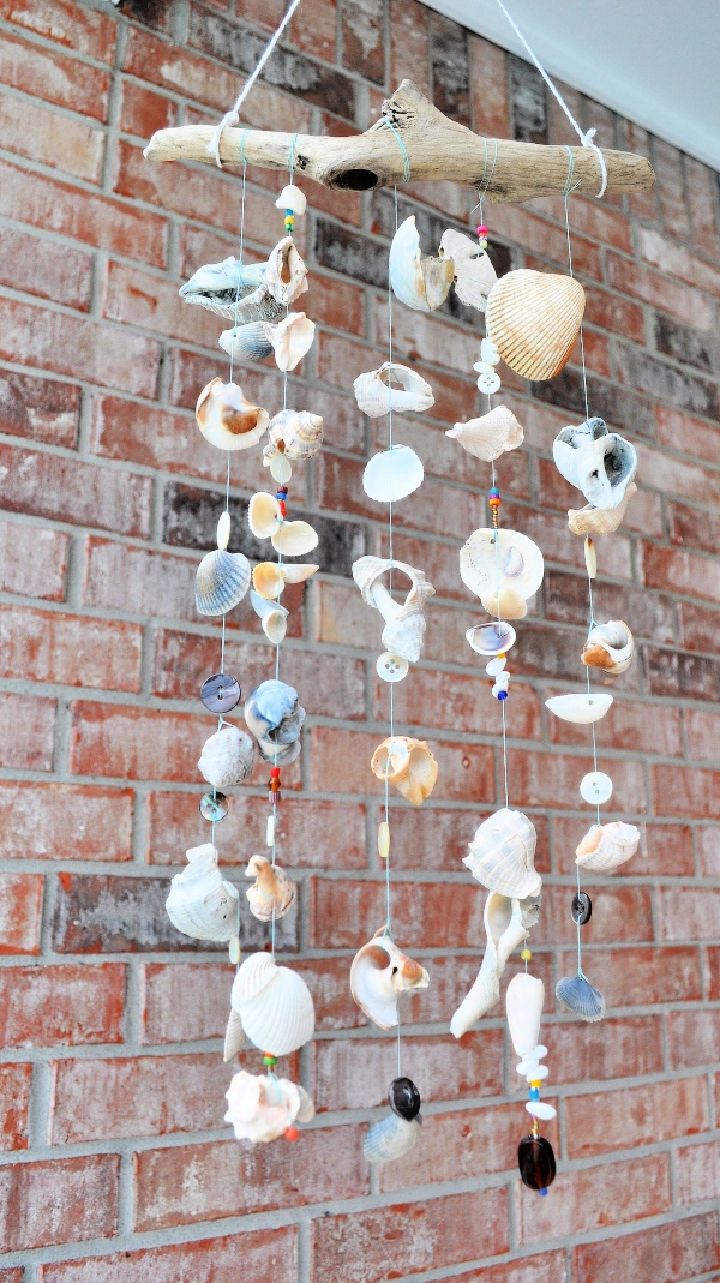 DIY enthusiasts and beach lovers rejoice! This project combines the best of both worlds, allowing you to create your own seashore-inspired DIY wind chime. And the best part? It's easy to put together, using only a few simple supplies. You'll need some driftwood, shells, sparkly beads, buttons, string, and rope.
Once you have all your materials gathered, follow the easy tutorial, and you'll have your own seashore windchime in no time. Hang it on your porch or garden and enjoy the gentle clinking sound as the wind blows. You may even attract some hummingbirds! poindextr
23. Whale Art With Clam Shell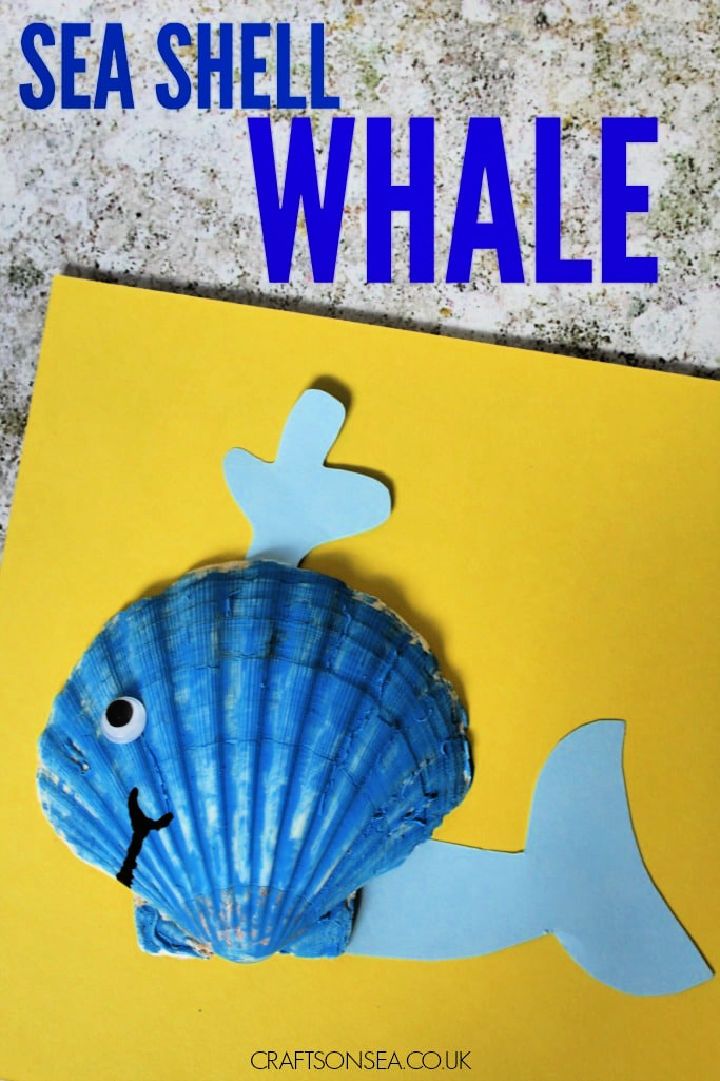 DIY projects are a superb way to add a unique touch to your home decor. They can also be a fun and inexpensive way to hang out in the afternoon with your kids. This DIY sea shell whale is a perfect example. You can create a cute and unique decoration for your home with just a few supplies. And, most satisfying of all, it's easy to make.
Gather large sea shells, blue paint, blue card stock, washi tape, glue, a googly eye, and a black pen. Then follow the tutorial below. In a little time, you'll have a sweet whale that will bring your family and friends smiles. craftsonsea
24. Peacock Sea Shell Art Project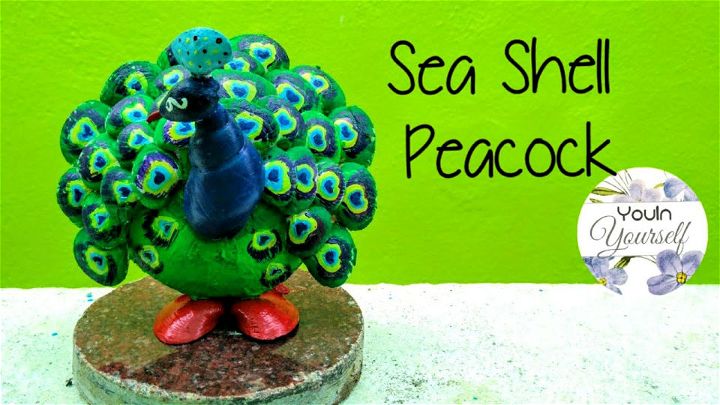 DIY sea shell peacock art is a creative way to show your personality in your home decor. This artful and captivating decor piece is made easy and simple with just a few supplies. All you need is a coconut shell, some sea shells, acrylic paints, cloves and instant gum.
Another great thing about this DIY project is that it is budget-friendly since you might already have most, if not all, of the materials.
Simply follow the easy tutorial, and in a little time and with a blast of fun, you'll have a beautiful handmade sea shell peacock to show off. This art would be a great conversation starter at your next dinner party or get-together with friends. So what are you waiting for? Give this sea shell peacock art a try today!
25. Seashell Picture Frame Decoration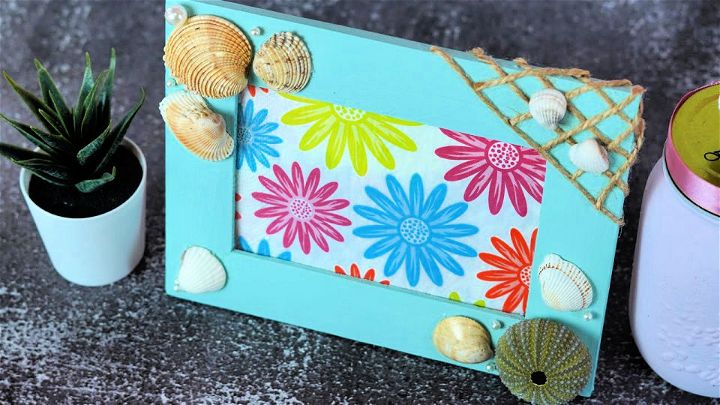 DIYing a seashell picture frame is easy and fun to bring summer vibes into your home as a beachy decoration or a unique gift for a beach lover. All you'll need are a wooden picture frame, hemp twine, blue acrylic paint & paintbrush, seashells, beads, scissors and hot glue. Follow this simple tutorial for step-by-step instructions on putting together this seashell picture frame that will impress anyone with its cute charm.
Related Crafts for Kids:
Discover easy, fun crafts for kids to keep them engaged and entertained. From paper crafts to painting projects, there's something for every child!
Conclusion:
Seashells are beautiful and can also be used to make amazing crafts and decor ideas. With the help of these 25 easy seashell crafts and decor ideas, you can create something stunning that will look great in any room or outdoor setting. Whether you choose a wreath with shells, wind chimes made from shells, or a unique piece of artwork made from shells, it's sure to add a touch of beauty and freshness to your home. Even if all you do is simply scatter colorful sea shells around your space for decoration – it's still an excellent way to bring the beach vibe into the comfort of your own home!