Make your kids happy with these 30 easy dinosaur crafts and activities that are perfect for preschoolers, kindergarteners and toddlers! From paper plate dinosaur activities to making their dinosaur food, we have the perfect dinosaur crafts art and crafts that will engage and delight your little ones. Get creative with these fun dinosaur crafts ideas — they will make memories that last a lifetime. With step-by-step instructions and free printable templates, our easy dinosaur crafts and activities are ideal for budding paleontologists of all ages. Introduce your kids to an ancient world full of fascinating creatures!
This guide has 30 fun and easy dinosaur crafts and activities for kids to teach children about dinosaurs. From making paper plate T-Rexes to creating fossil rubbings, each craft or activity will bring the prehistoric world alive. For those who prefer educational projects, there are also coloring pages, counting games, and more. Whether you have a preschooler learning their ABCs or an older child mastering multiplication tables – these dinosaur crafts and activities are sure to spark an interest in science that lasts a lifetime.
With step-by-step instructions in each craft tutorial, it's never been easier to educate your little ones about these fascinating creatures that once roamed our earth millions of years ago. Plus, with such simple supplies needed (like construction paper & glue), they're budget friendly too! Get ready to make some lasting memories while learning all about the ancient past – explore 30 easy dinosaur crafts & activities for kids today!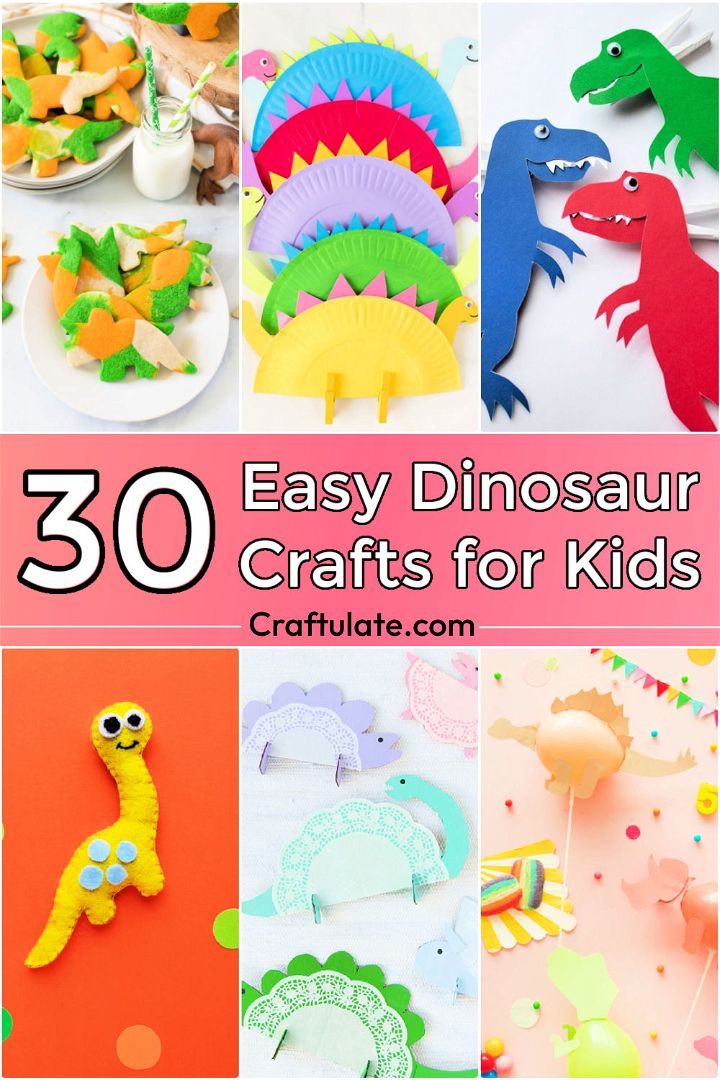 Easy Dinosaur Crafts and Activities For Kids
So, get creative with these easy, fun and creative dinosaur crafts and activities to keep your preschoolers, kindergarteners or toddlers busy. We have put together a list of simple step-by-step dinosaur crafts and activities to keep your kids entertained. From making dinosaur fossils out of clay to constructing paper plate dinosaurs, these activities will provide hours of imaginative play for your little ones!
1. Easy Dinosaur Craft for Kids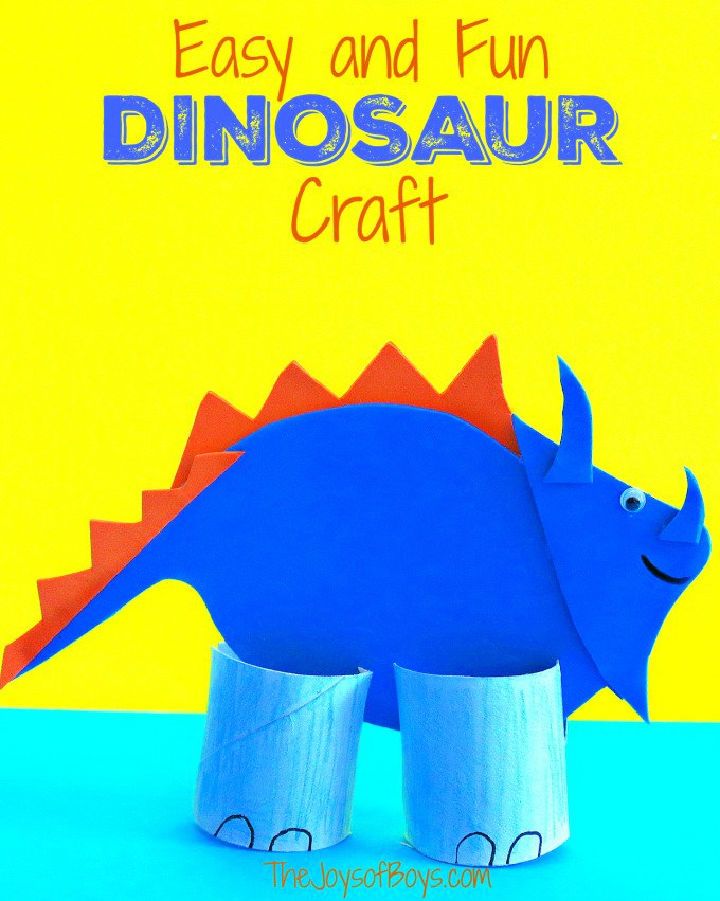 A DIY Easy Dinosaur Craft for Kids is a great way to have fun while being creative. All you need are some toilet paper or paper towels, cardboard tubes, craft foam (2 colors), scissors, craft glue, googly eyes, and colored pencils:
Cut the cardboard tube in half.
Cut two pieces of foam into triangle shapes. These will be the dinosaur's spikes. Glue the spikes onto the back of the cardboard tube.
Cut out a small oval shape from the second color of the foam. This will be the dinosaur's mouth. Glue it onto the front of the tube, just below the spikes.
Add googly eyes and use a colored pencil to draw a nose and mouth.
Your dinosaur craft for kids is now complete! joysofboys
2. DIY Cupcake Liner Dinosaur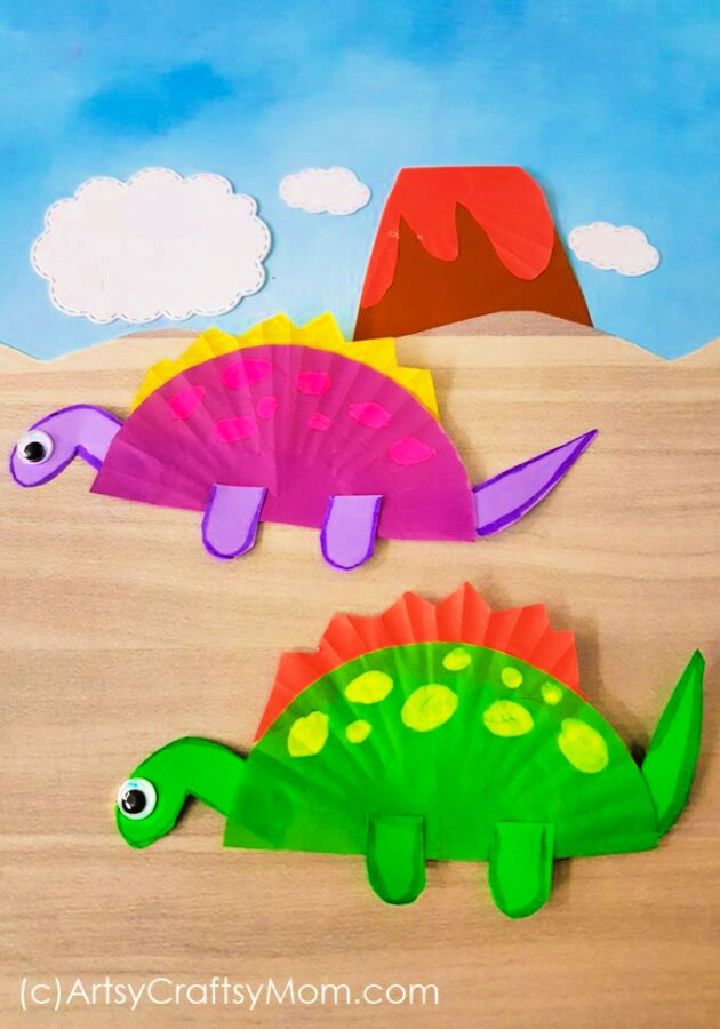 DIY projects are an amazing way to add a personal touch to your home décor. They also make great gifts for friends and family. This DIY cupcake liner dinosaur craft is an easy project that anyone can do. You only need craft paper, cupcake liners, googly eyes, scissors, glue, and a pencil.
You can create a fun and festive dino-themed decoration for your home with just a few supplies. The best part about this project is that it can be customized to look perfect in any room. So whether you're looking for a unique addition to your child's bedroom or want to spice up your living room, this cupcake liner dinosaur craft is the perfect solution. artsycraftsymom
3. Dinosaur Handprint Card for Toddlers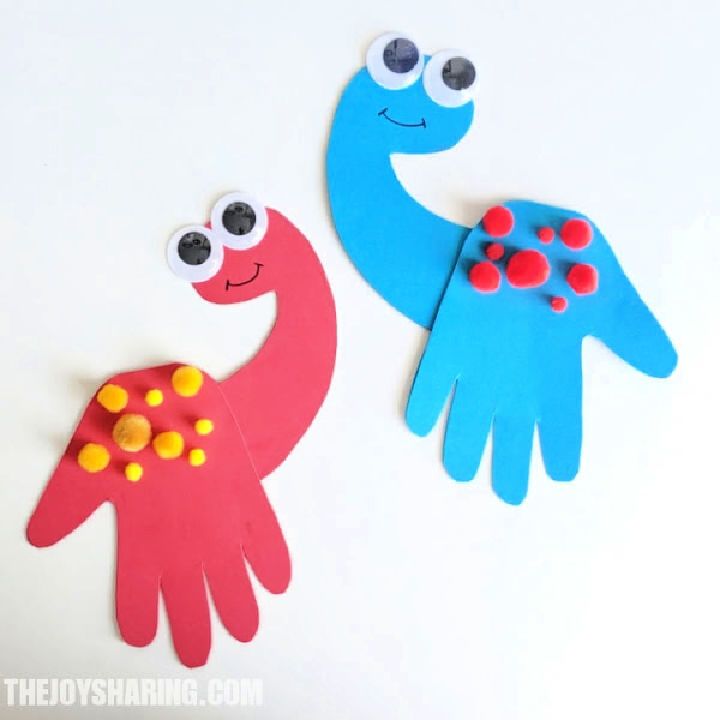 Kids love DIY Dinosaur Handprint Card because it is friendly, herbivorous, and super large. Making this card is easy; you only need some cardstock paper, pom poms, big googly eyes, glue, black marker, scissors, and a dinosaur head template.
First, you will need to trace your handprints onto the cardstock paper. Next, cut out the handprints with scissors. Once your handprints are cut out, it's time to start assembling the card! Glue on the pom poms for the spikes, glue on the big googly eyes and then use the black marker to draw on a mouth. Last but not least, glue on the head of the dinosaur. Your dinosaur handprint card is now complete! joysharing
4. Preschool Clothespin Dinosaur Crafts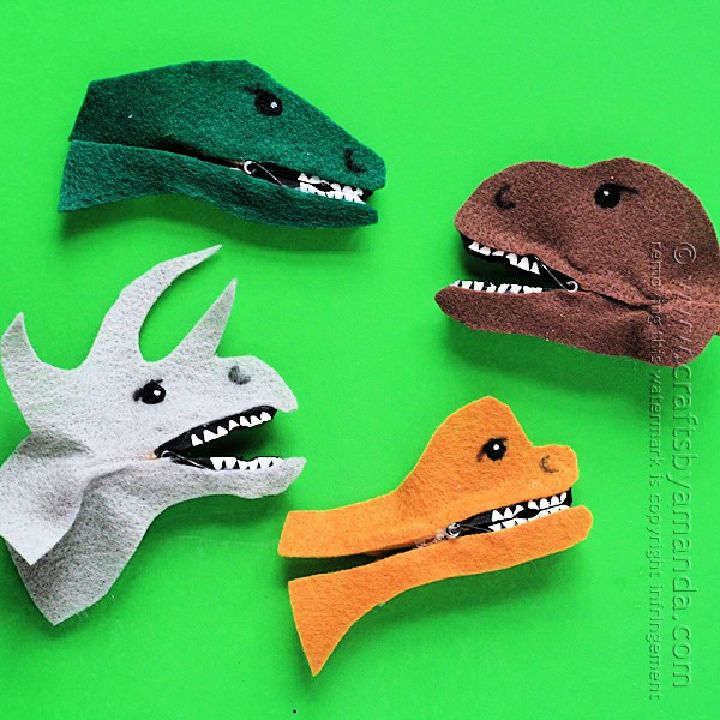 Enjoy a fun dino-themed activity with the kids by making these DIY clothespin dinosaurs. These little raptors are easy and inexpensive to make and can be used as decorations or toys. To get started, print out the dinosaur pattern and use it to cut felt shapes for the tail, wings, spikes and eyes. Next, paint the clothespins black and white, then assemble the felt pieces using hot glue. For an added touch, use a toothpick to add texture to the spikes and teeth and a black marker to add pupils to the eyes. Whether you make a T-Rex or a Triceratops, your kids will surely enjoy this fun dinosaur craft. craftsbyamanda
5. Fun DIY Movable Dinosaur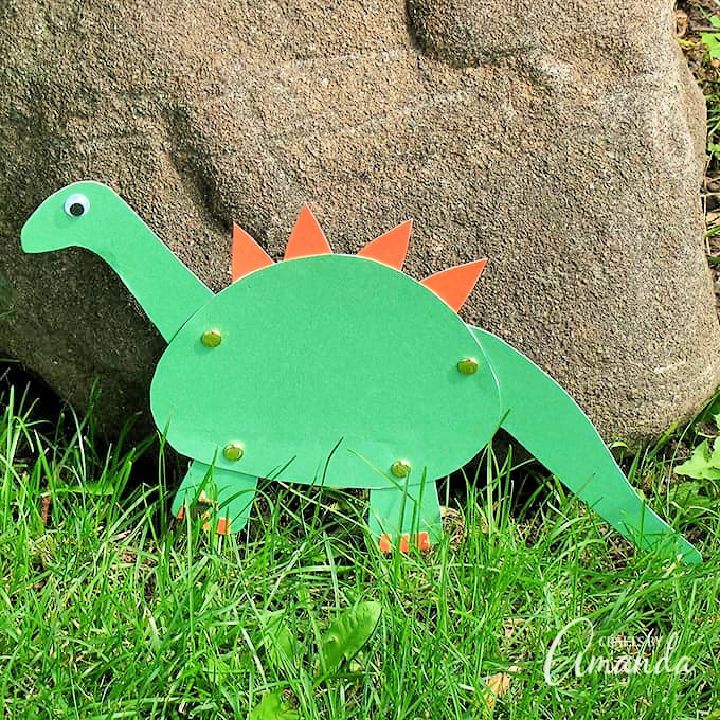 This DIY Movable Dinosaur Craft is an opportunity to enlighten your little ones about the world that once was long ago. This is a fun project for kids of all ages alike that will engage your child in the prehistoric world. The easy paper dinosaur is a great way to teach kids about safety scissors, following directions and measurable amounts.
What you will need for this DIY Movable Dinosaur Craft are; 1 sheet of green construction paper, ½ sheet of orange construction paper, a pen, scissors, thin cardboard (recycled snack box, etc.), glue stick, four paper fasteners, one medium wiggle eye, white craft glue and pattern.
There are easy steps to follow; first, cut out all the pieces from the pattern according to the lines given.
Second, use dotted lines as folding guides and crease with the back of a butter knife.
Third, cut a small slit on each tab so it will fit over the body piece. Fourth, begin gluing pieces together, starting with the tabs on the bottom of the dinosaur's body.
Make sure only to use a small amount of glue so it doesn't ooze out and make a mess. The last step is to add details like eyes and spikes using white craft glue. Please wait for it all to dry before playing with your new movable dinosaur! craftsbyamanda
6. Cute Rainbow Dinosaur Paper Plate Craft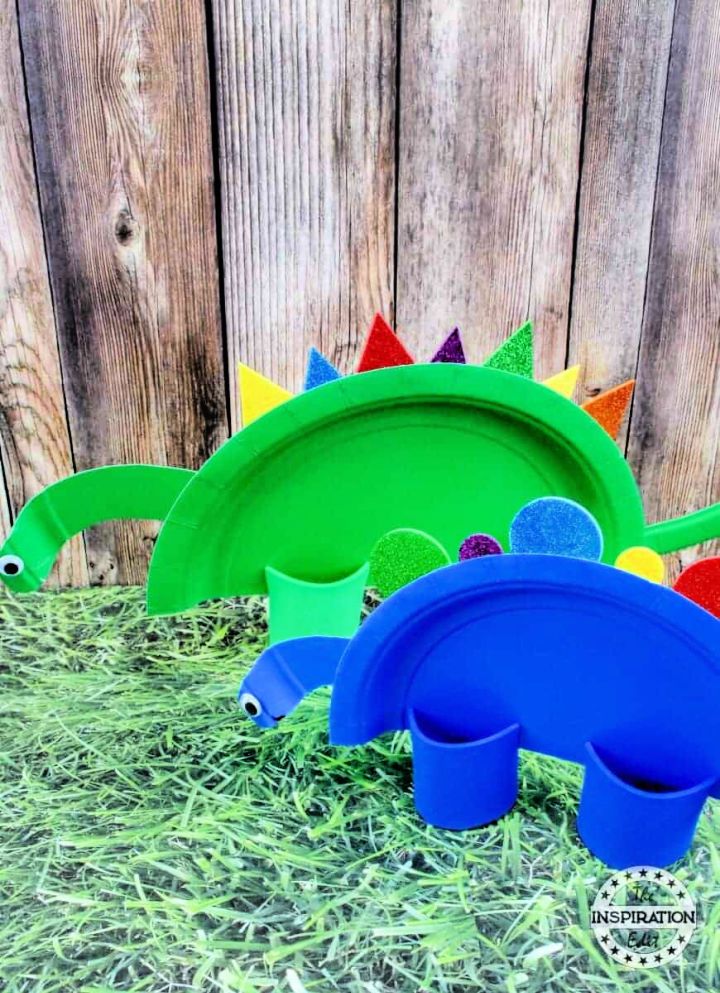 Are you looking for a DIY craft project that is both fun and educational? Try this cute DIY rainbow dinosaur paper plate craft! This craft sparks a child's interest in dinosaurs and history. It makes for a great crafty activity for preschool, at home, or in the classroom. Plus, it's a great way to enjoy a fun theme with your child. This dinosaur paper plate craft idea is both easy and simple to make. All you need are basic supplies like paper plates, foam sheets, and googly eyes. With a little help from an adult, your child can put together their very own movable dinosaur! inspirationedit
7. Make a Paper Dinosaur Puppet Craft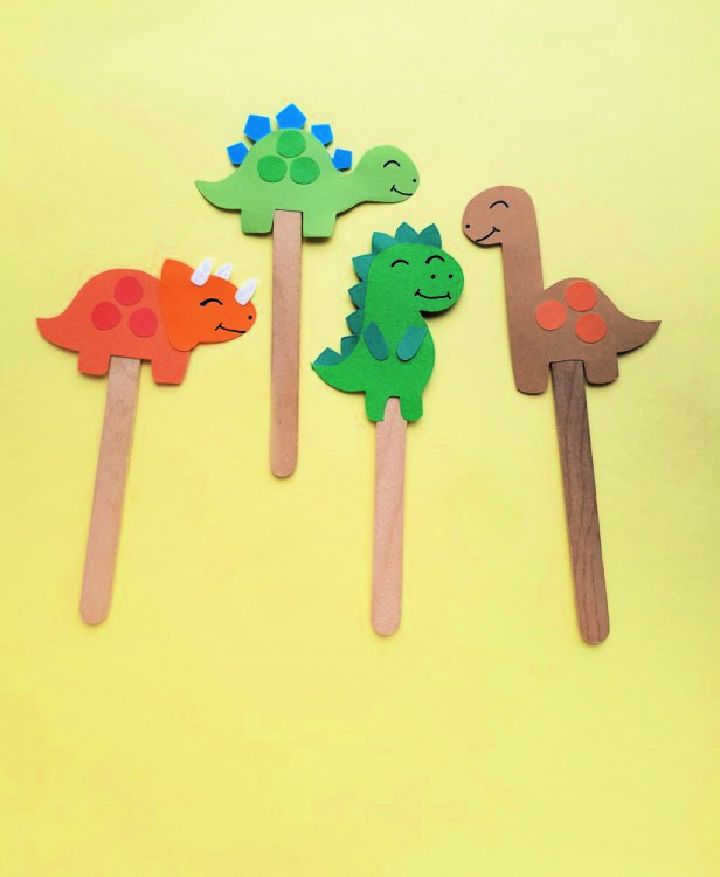 A DIY Paper Dinosaur Puppet Craft is a great activity for kids. It is easy to make and promotes imaginative play with your kids. The supplies needed are colored paper, craft glue, a pencil, popsicle sticks, a sharpie, and scissors. The template for the dinosaur puppet is available for free. This craft can be made in no time, and your kids will go wild playing in them. This DIY is great for having fun with your kids while promoting their imagination. Try this easy-to-make dinosaur puppet craft today! frostingandglue
8. DIY Mason Jar Dinosaur Nightlight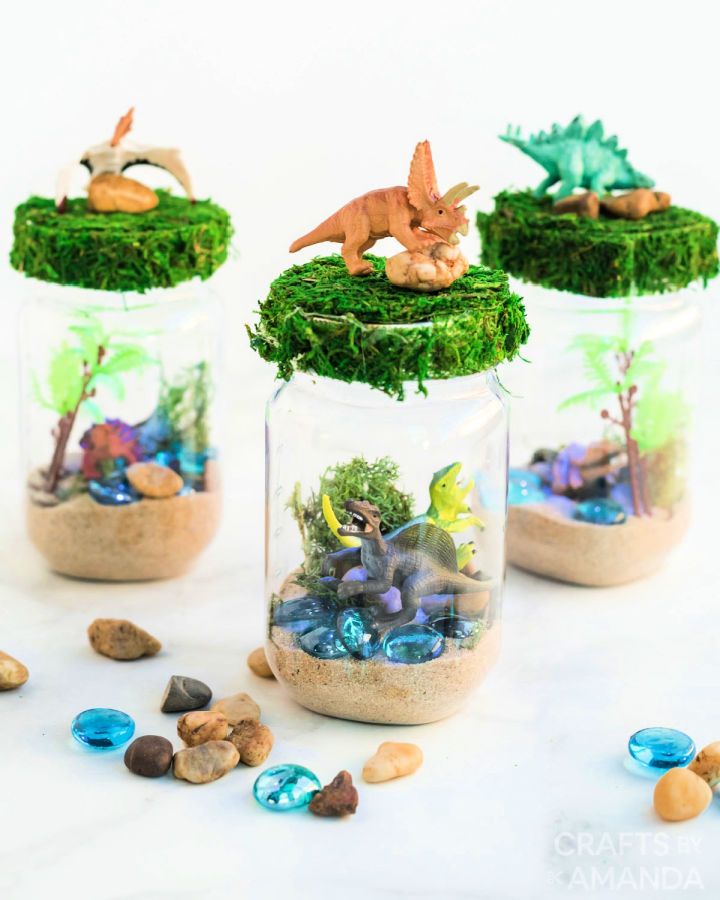 Imagine your child's amazement when they see their DIY Dinosaur Nightlight glowing in their room! This fun project is inexpensive to foster your child's imagination and can be completed in less than 45 minutes. All you need is a mason jar, sand, moss, rocks, and a plastic dinosaur and tree. To create the scene inside their little night light world, arrange the items in the jar as desired. Then add a glass marble, a submersible light, and screw on the lid. Your child will love going to bed with their very own dinosaur nightlight! craftsbyamanda
9. T-Rex Crafts for Preschoolers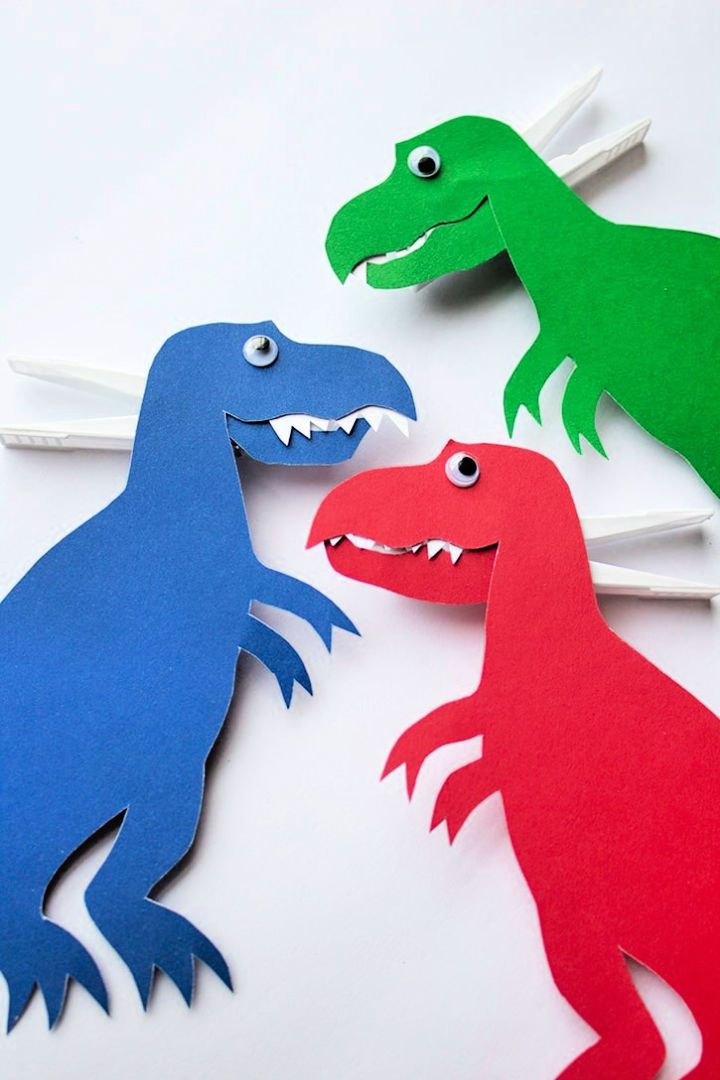 This DIY T Rex Kids Craft is a quick and easy project that will only take 45 minutes. It's a social and interactive craft project for kids that is also inspiring and will help to create new interest in dinosaurs. All you need are basic supplies, like scissors, glue, cardstock, and a clothespin. You can also use a printable template to make things even easier. Once you have everything ready, follow the instructions to assemble your DIY T-Rex. It's a fun activity for kids of all ages and will be a hit with any dino-loving child. gluedots
10. DIY Mini Dinosaur Balloon Sticks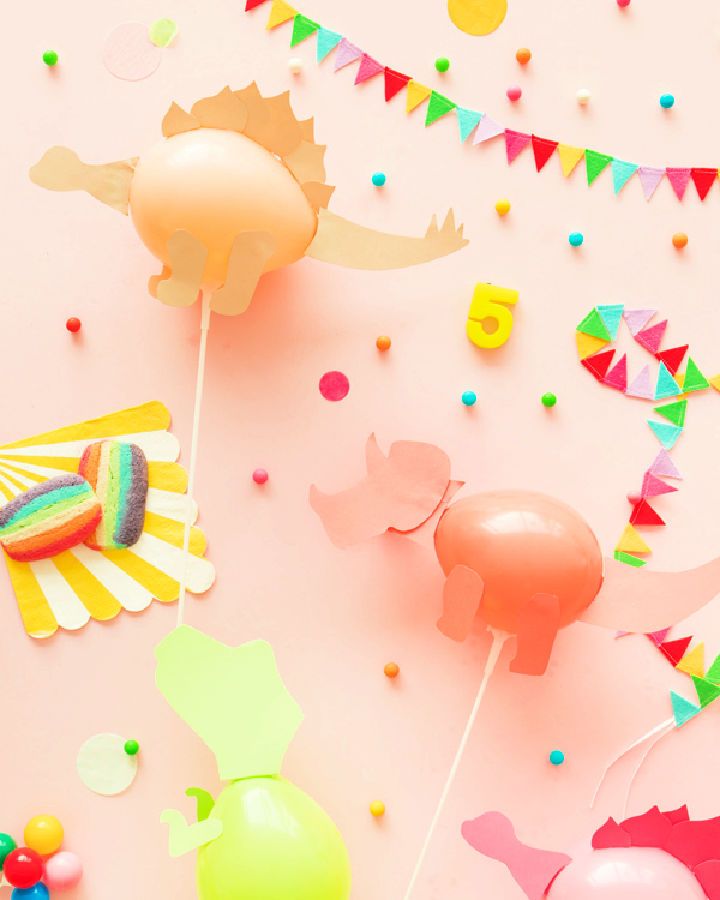 Were you looking for the perfect non-candy favor or photobooth prop for your next birthday party or celebration? DIY Mini Dinosaur Balloon Sticks are perfect for it! This is used as great decorations – super easy to craft with kids and looks adorable as dinosaur balloon sticks. All you need is a dinosaur printable template, scissors, cardstock, mini balloons, a balloon hand pump, and a low temp hot glue gun.
Print out the dinosaur template onto cardstock and cut out the shape. Then, use a hot glue gun to attach the cardstock cut-out to the jumbo balloon stick. Finally, inflate the mini balloons with the hand pump and tie them onto the back of the jumbo balloon stick. Your mini dinosaur balloon sticks are now complete! ohhappyday
11. Making Marbled Dinosaur Cookies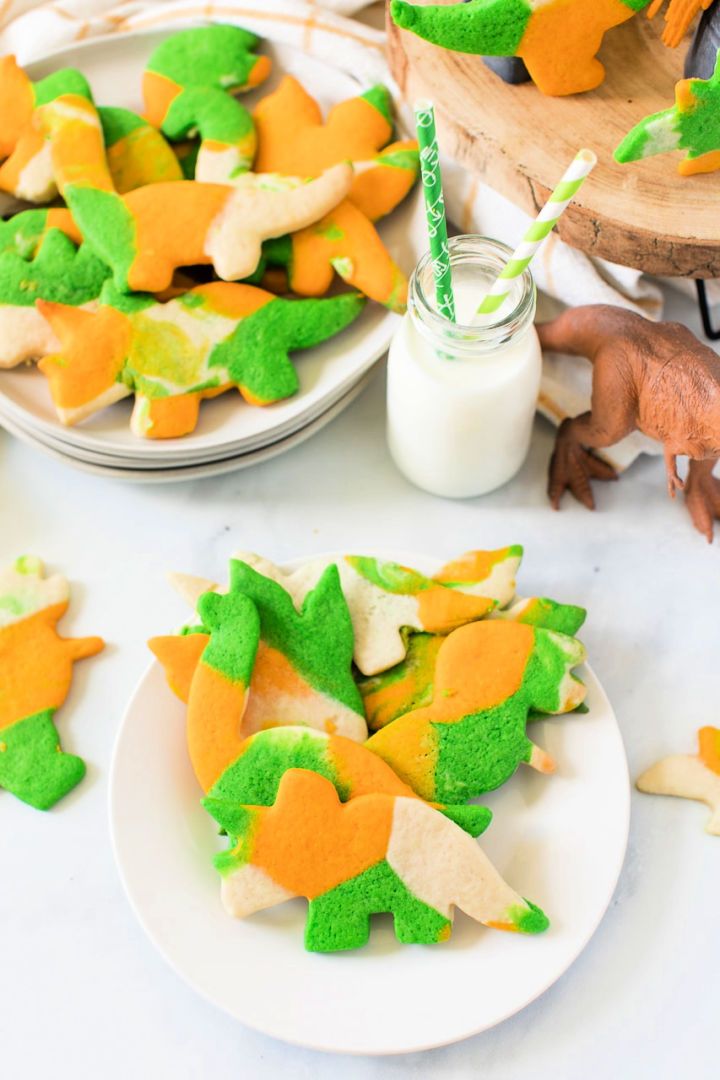 These DIY marbled dinosaur cookies are the perfect addition to any dinosaur theme birthday party or just a fun prehistoric party for the kids. The bright colors of their favorite prehistoric friends adorned on these delicious and colorful dinosaur treats will make the kids smile. They're easy to make with simple ingredients and a little time. So let's get started!
You'll need the following:
2 cups cold butter cubed
1 ½ cups sugar
add ¼-1/2 cup (additional sugar for cookies not being topped with icing, but I don't think it's necessary)
½ teaspoon sea salt
two eggs
1 ½ teaspoons vanilla extract
5 ¼ cups all-purpose flour
½ cup cornstarch
¼ teaspoon nutmeg
½ cup sour cream.
12. Paper Plate Dinosaur Activities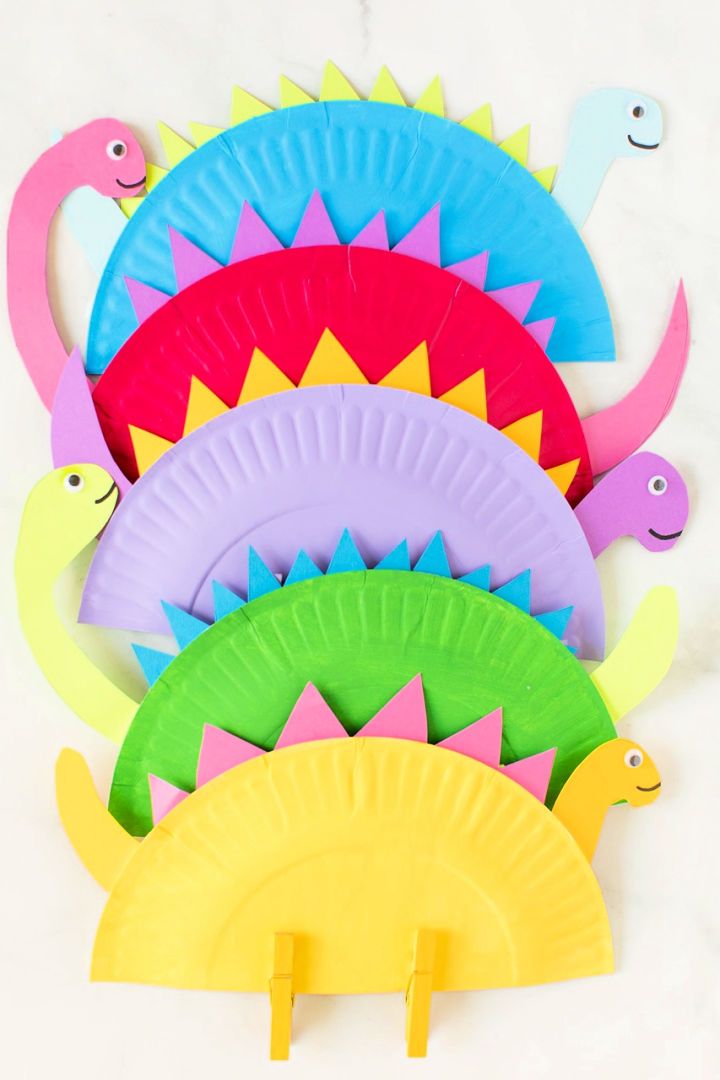 Want a great way to spend time with your kids while making a cute DIY dinosaur? DIY Paper Plate Dinosaur Craft is simple and easy to make. You only need paper plates, clothespins, paint, googly eyes, and paper. This project can be done in under 30 minutes and saves money. It's also great to get your kids interested in DIY projects. The paper plate dinosaur craft is a great craft for dinosaur-loving kids and is perfect for activity rainy-day activities. Thanks for choosing this project! madetobeamomma
13. DIY Felt Dinosaur Plushie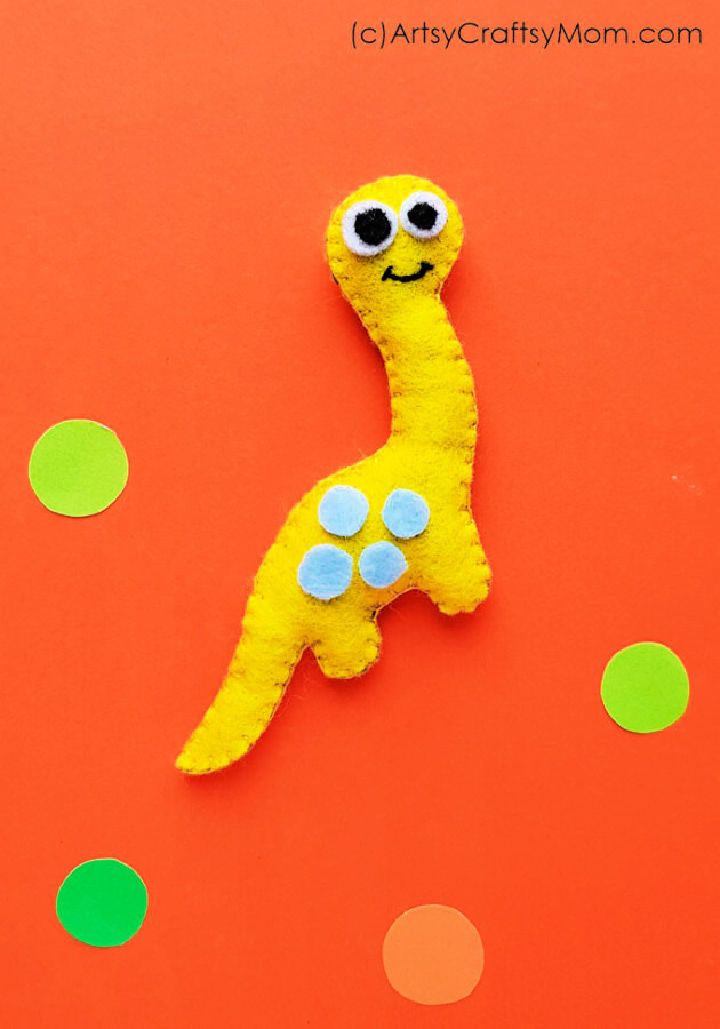 What could be cuter than a DIY Felt Dinosaur Plushie? This project is perfect for your dinosaur fan. The best part is that it's quite easy to make. Print the template, trace it onto felt, and cut it out. Then, stitch the pieces together with a needle and thread. Finally, stuff the plushie with cotton or scrap felt. Add a little personality by giving your dinosaur some googly eyes or a cute smile. Your child is sure to love their new DIY Felt Dinosaur Plushie. artsycraftsymom
14. Surprise Dinosaurs Egg Cards for Children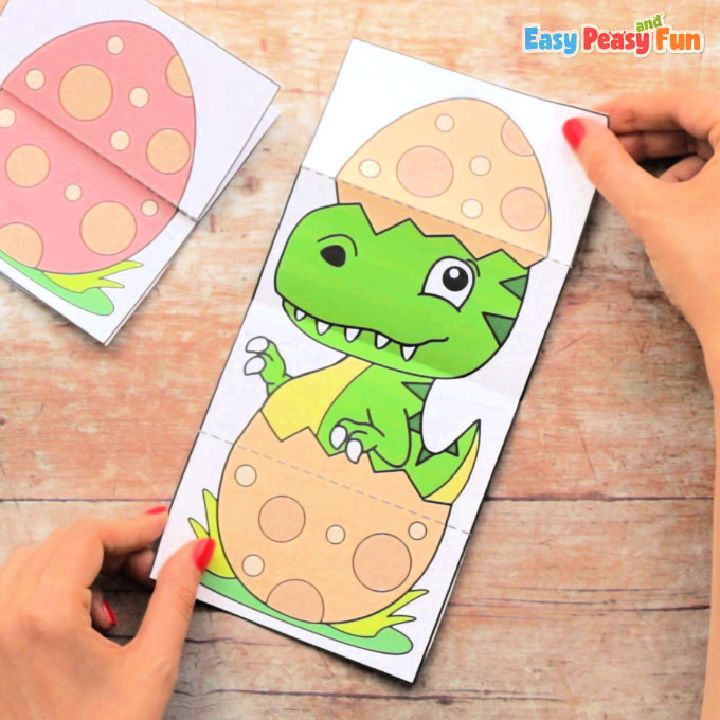 These DIY Surprise Dinosaurs Egg Cards are a fun and creative way to take your child to a creative place. They are simple to make and easily take your child to a creative place. You can make these cards with a few supplies that help your child learn and be creative.
These DIY Surprise Dinosaurs Egg Cards are perfect for any child who loves dinosaurs. You only need a dinosaur egg card template, scissors, and imagination. Print out the template, cut the eggs, and let your child's imagination run wild. You can add other supplies like googly eyes or markers to make the cards more fun. This project is the perfect way to get your child's creativity flowing. So grab some supplies and get started today! easypeasyfun
15. Free Printable Toilet Roll Dinosaurs Crafts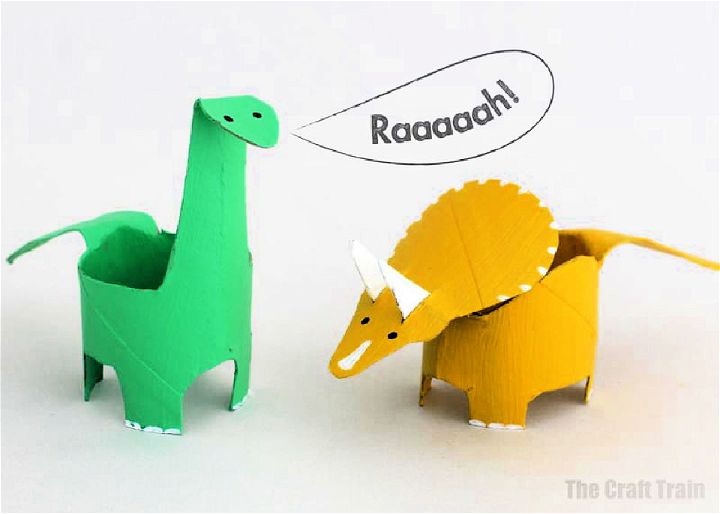 A DIY Toilet Roll Dinosaurs is a fun and easy project for kids. You can make a diplodocus and a triceratops with just a few supplies and a free printable template. This is a great upcycling project; the dead dinosaurs make great toys.
To make your roll dinosaurs, you will need cardboard tubes, scissors, paint, a paintbrush, and a permanent marker to draw on the eyes. The dinosaur shape templates can be found online. Print them out and use them to trace the shapes onto the cardboard tubes. Then, cut out the shapes and paint them however you like. Add eyes with the permanent marker, and you're done! These toilet roll dinosaurs are sure to be a hit with kids of all ages. thecrafttrain
16. Dinosaur Small World in a Suitcase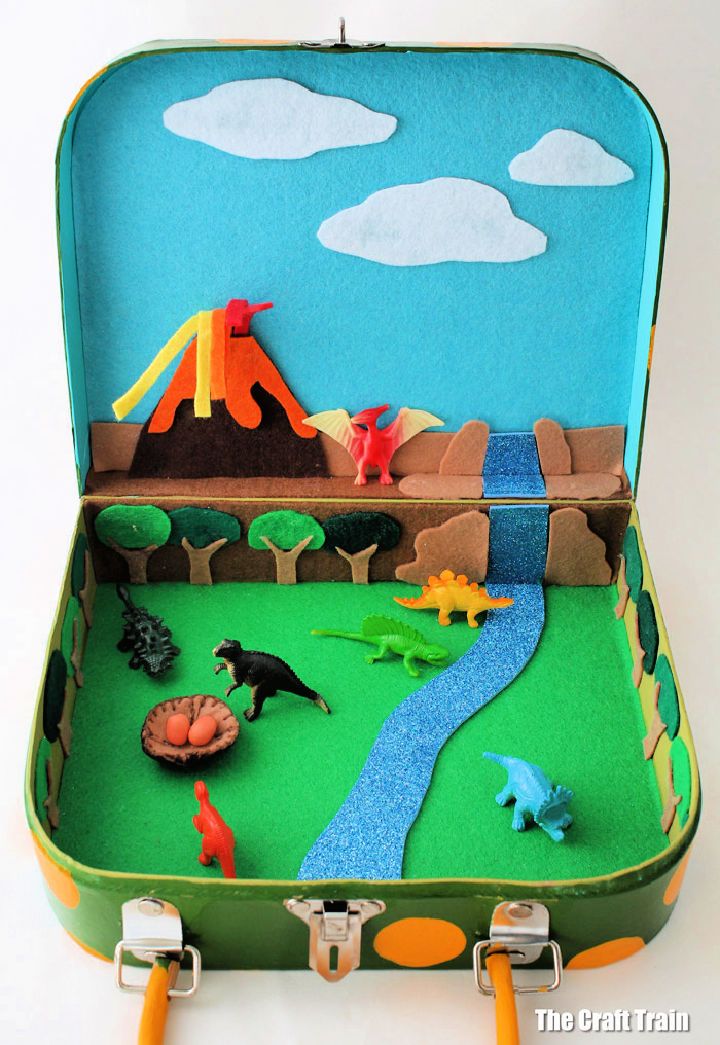 A DIY Dinosaur Small World in a Suitcase is perfect for dinosaur-loving kids. It is also perfect for traveling, as it can easily be transported in a suitcase. The small world is made of papier mache and felt pieces and is decorated with sparkly glitter foam and small plastic dinosaurs:
Cut the felt pieces into different shapes to make a small world.
Glue the pieces together to form the land masses. Once the land masses are complete, glue them onto the base of the suitcase.
Add the glitter foam to represent water.
Add the plastic dinosaurs.
To complete the small world, add some air dry modeling clay to create dinosaur eggs. This DIY project is simple enough for younger kids, but older kids could also make a more complex version of it. Whether you make a simple or complex version, a small dinosaur world in a suitcase will surely be a hit with any dinosaur lover. thecrafttrain
17. DIY Back to School Dinosaur Mason Jars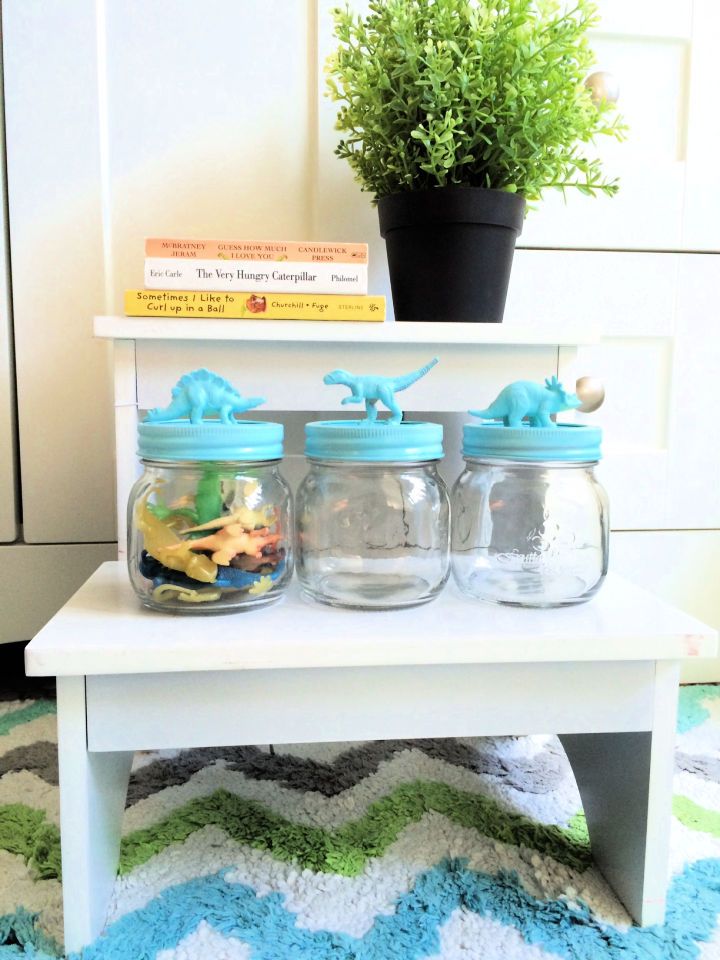 These fun DIY Dinosaur Mason Jars are a great way to show off your child's dinosaur collection and make great party favors too! They're easy to make with just a few supplies from the dollar store, and you can customize them however you like. Just fill the jars with your favorite mini toys, add glue around the rim, and then paint the lid for a finishing touch. Your guests will be sure to remember your party when they take home their very own Dinosaur Mason Jar! harlowandthistle
18. Dinosaur Bookends with Hot Glue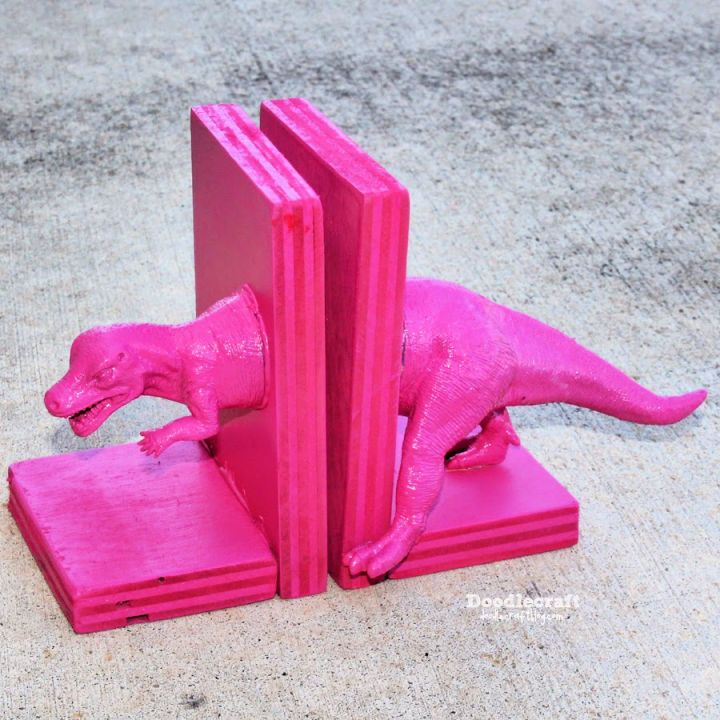 These dinosaur bookends are not only great for a kid's room on a bookshelf, but they are also beautiful and amazing. The supplies you will need for this project are a colored x-acto knife, plastic dinosaurs, glue sticks, and scrap wood blocks.
With these supplies, you can easily make bookends that add personality and style to any room. These bookends are perfect for any dinosaur lover and make a great gift for any occasion. Thanks to the hot glue, these bookends are very strong and durable, so you can rest assured that your books will be safe. Thanks to the scrap wood, these bookends are also very affordable. So if you're looking for a fun project that adds personality and style to any room, these dinosaur bookends are perfect. doodlecraft
19. DIY Dinosaur Handle Cups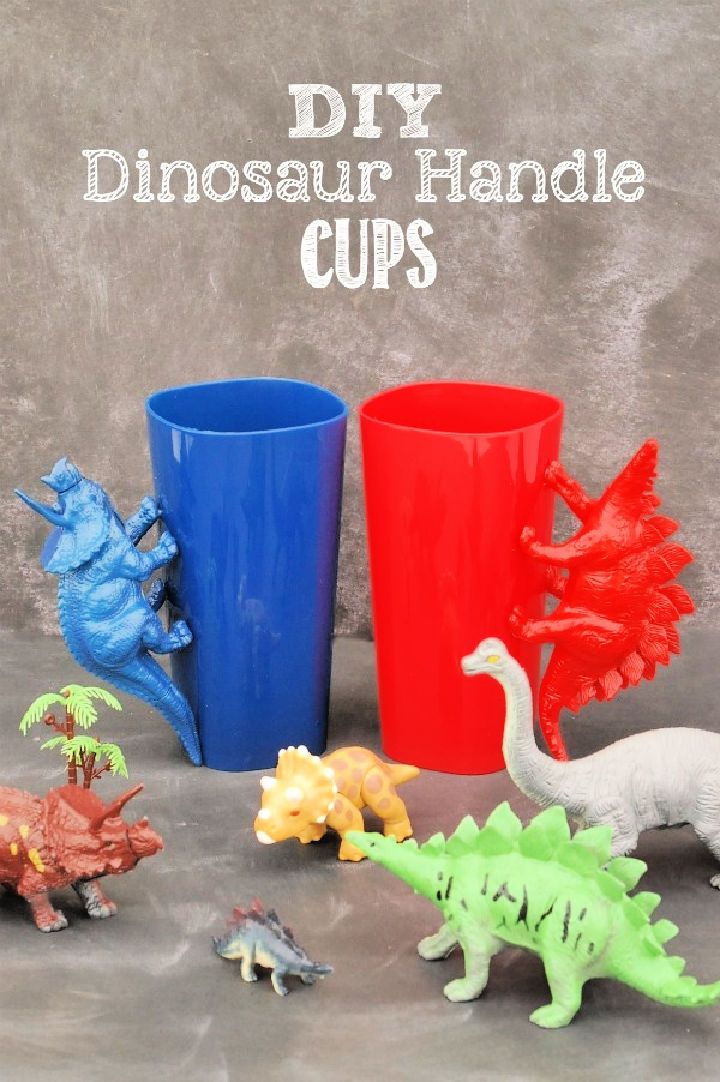 These DIY Dinosaur Handle Cups are not only easy and inexpensive to make but also super cute and would make a great addition to any dinosaur-themed bedroom or playroom! The best part about this project is that you can use any cup on hand, so there is no need to go out and buy anything special. I used some old plastic cups in my cupboard, but paper or Styrofoam cups could also be used. Glue the dinosaurs onto the cups and then paint them to match your child's room decor. These would also make a great gift for a dinosaur-loving friend or family member! whitelightson
20. Cardboard Dinosaur Crafts for Kindergarten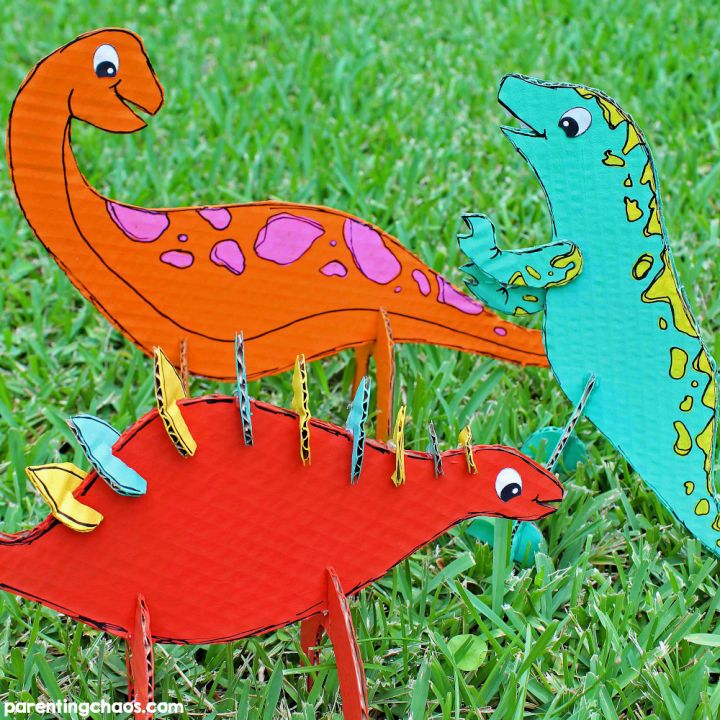 Were you looking for a fun and easy craft with the kids? Look no further than this DIY Cardboard Dinosaur Craft! You can create an amazing dinosaur perfect for pretend play using simple supplies. Just grab some cardboard, paint, glue, scissors, and a paintbrush, and you're all set. The best part is that this craft can be easily customized to suit your child's preferences. So whether they want a ferocious T-Rex or a friendly Triceratops, they can make it their own. So get crafting and let the imagination run wild! parentingchaos
21. Creating Your Own Dinosaur Succulent Garden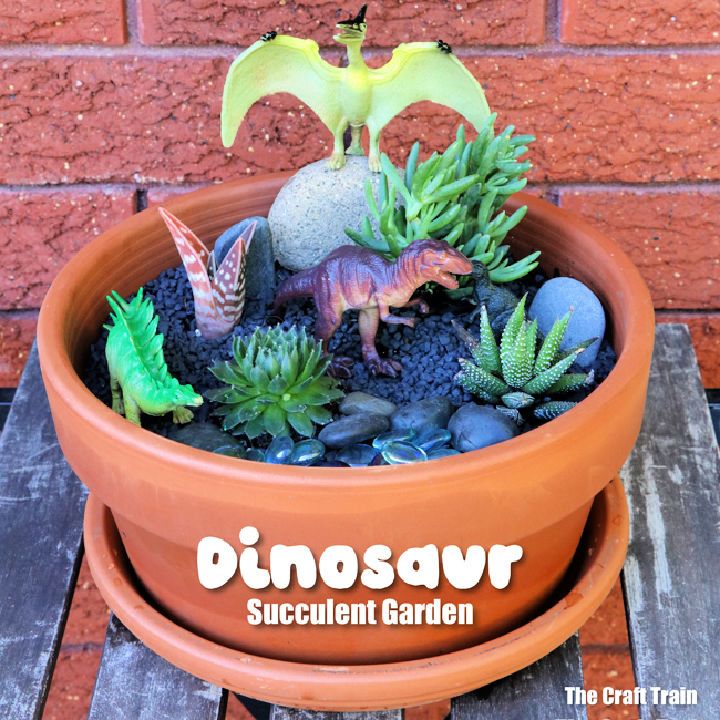 A succulent garden is a beautiful, easy-to-care-for addition to any home. They are perfect for those who want to enjoy the beauty of plants but only have a little time for maintenance. And what could be more fun than creating your own Jurassic Park with a DIY Dinosaur Succulent Garden?
Supplies for this project are easy to find and relatively inexpensive. You will need a round pot, potting mix, small decorative rocks, large and medium rocks, small succulent plants or cuttings, plastic dinosaurs, and blue glass gems.
To create your landscape:
Start by placing the large rocks at the bottom of the pot.
Add a layer of potting mix.
Add the medium rocks and another layer of potting mix.
Add the small rocks and succulents.
Place the glass gems around the edge of the pot to create a "lake."
Arrange your plastic dinosaurs however you like.
This makes a great handmade gift for somebody special. It's also a fun Spring gardening project for kids. Just supervise closely if they are handling any of the glass gems. Enjoy your new succulent garden! crafttrain
22. Mini Dinosaur Garden in a Jar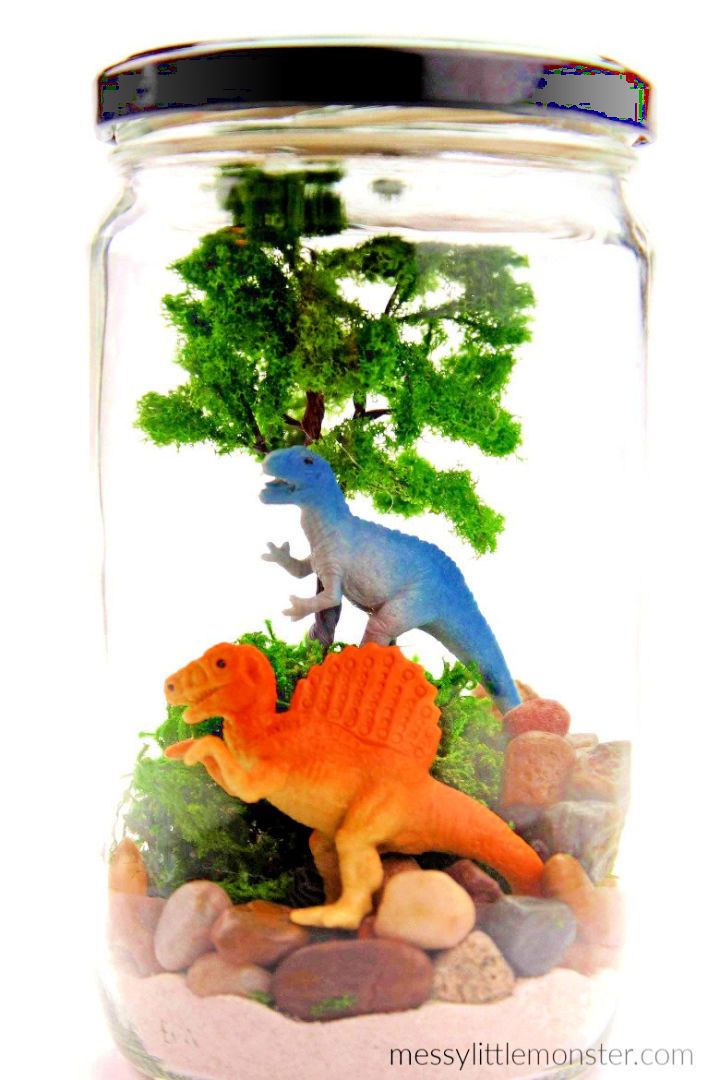 If you're looking for a fun and unique DIY project with your kids, look no further than this mini dinosaur garden in a jar! It's easy to make, completely mess-free, and can be taken anywhere. Plus, it's affordable and simple to put together.
To make your mini dinosaur garden, you'll need a glass jar, moss, fake plants, sand, blue pebbles, small rocks, fairy lights, glue, scissors, and foam:
Glue the moss to the inside of the jar.
Add the sand, blue pebbles, and small rocks.
Arrange the fake plants however you like.
Add the mini plastic toy dinosaurs.
Once everything is in place, turn the fairy lights on and enjoy your new dino-themed garden!
This is the ultimate craft for any dinosaur-obsessed little ones in your life. So what are you waiting for? Get started today! messymonster
23. Scratch Art Dinosaur Craft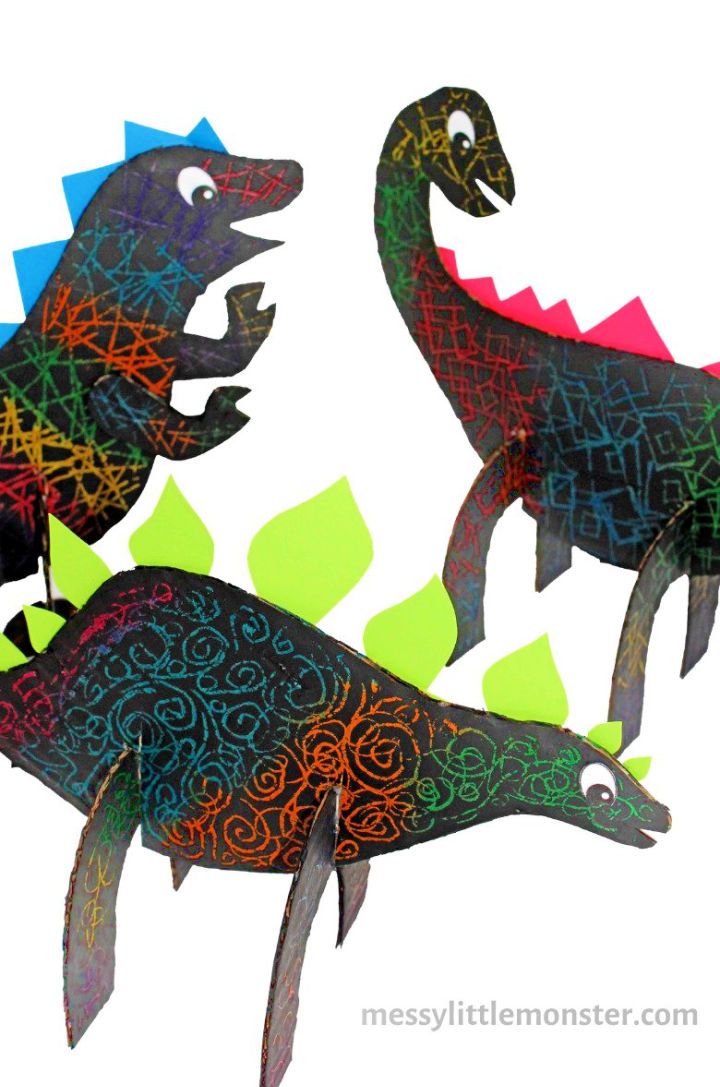 A Scratch Art Dinosaur Craft is a great way to have some prehistoric-themed fun! This project is best for anyone who loves dinosaurs or is looking for a unique and creative way to craft. All you need are basic supplies and step-by-step directions, which you can find below. Plus, we've even included a free template to make things easier. So gather your supplies and get ready for some scratch art Dinosaur fun!
Supplies:
Cardboard
Black Paint
Dish Soap
Crayons
Glue
Scissors
Paint Brush
Coloured Paper
Toothpick (or anything sharp)
24. Simple and Easy DIY Luggage Tags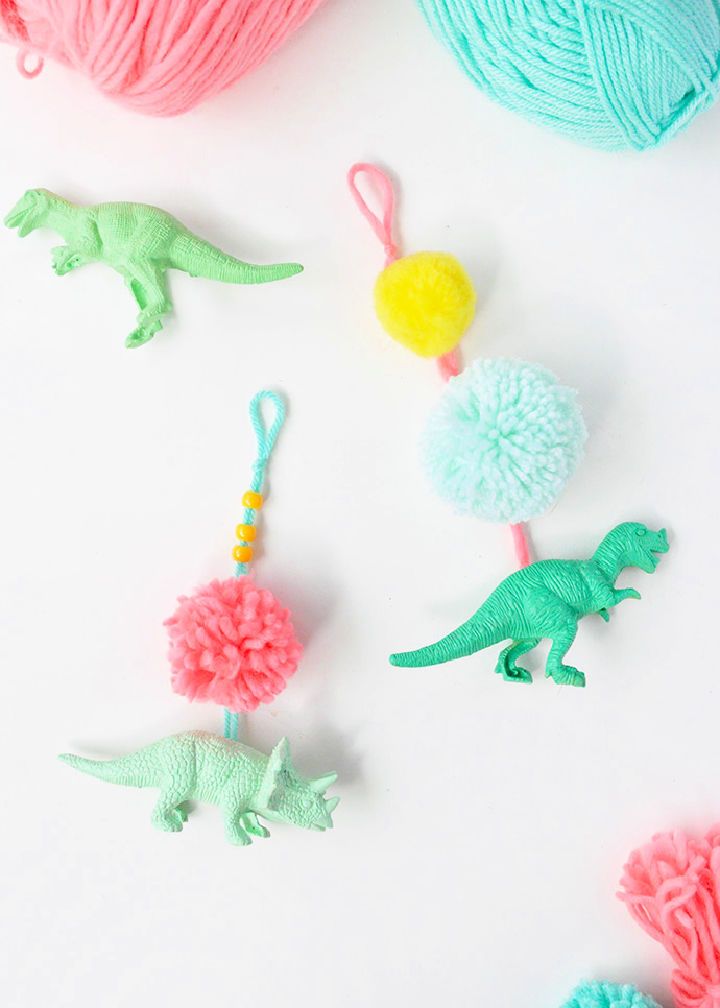 These luggage tags are a great way to add a personal touch to your luggage or backpack. By customizing your tags, you'll be able to identify your belongings immediately. Plus, DIY luggage tags are simple and easy to make. All you need are a few supplies and some creativity.
You'll need the following:
small plastic toys
beads (alphabet and assorted)
scissors
yarn
paint
paintbrushes
a nail or safety pin
wire
wire cutters
a hot glue gun
25. Adorable Doily Dinosaurs Art Project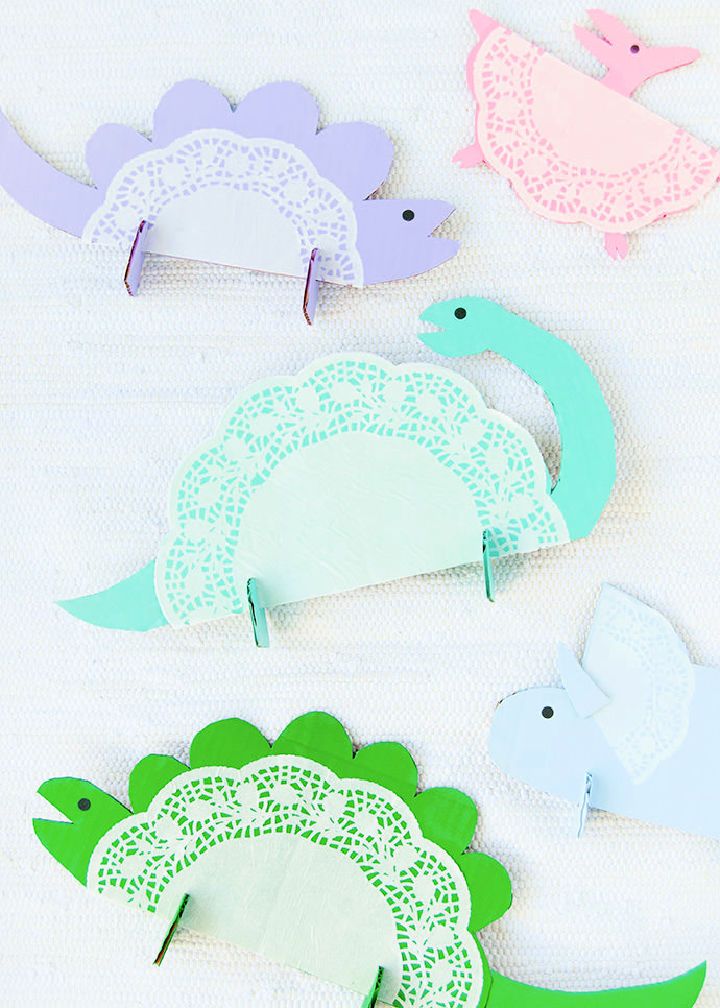 These DIY doily dinosaurs are the perfect way to add fun and creativity to your home décor. The best part is that they are incredibly easy to make, and you can use different dinosaurs as inspiration. The friendly crew is sure to be a hit with both kids and adults alike. To make these adorable creatures, follow the instructions below. handmadecharlotte
26. DIY Stegosaurus Dinosaur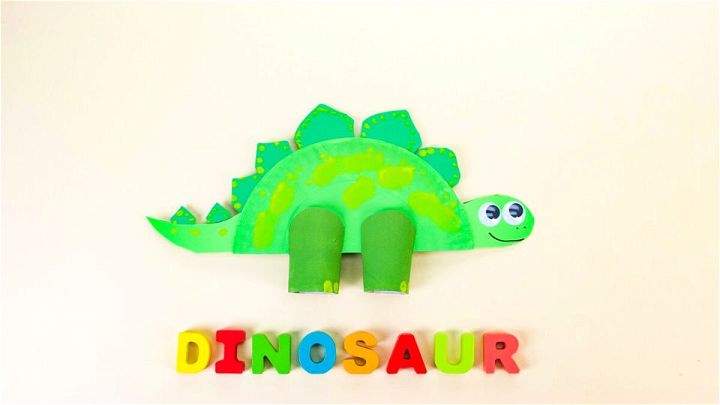 Here's a fun DIY project for kids of all ages – creating their stegosaurus dinosaur! This craft is simple, using only easy-to-find supplies like green construction paper, a paper plate, and cardboard tubes. And it requires no special skills – just some basic scissors and tape skills.
The hardest part might be painting the dinosaur, but even that is made easy with two shades of green craft paint. Just brush on the lightest shade first, then add the darker shade in patches. Once the paint is dry, it's time to add the finishing touches. Use a black marker to dot some spots, a cotton swab and a cotton ball to create a tail, and googly eyes to give your dinosaur some personality. You'll have your very own stegosaurus to play with in no time! supersimple
27. Dinosaur Fossils Craft Ideas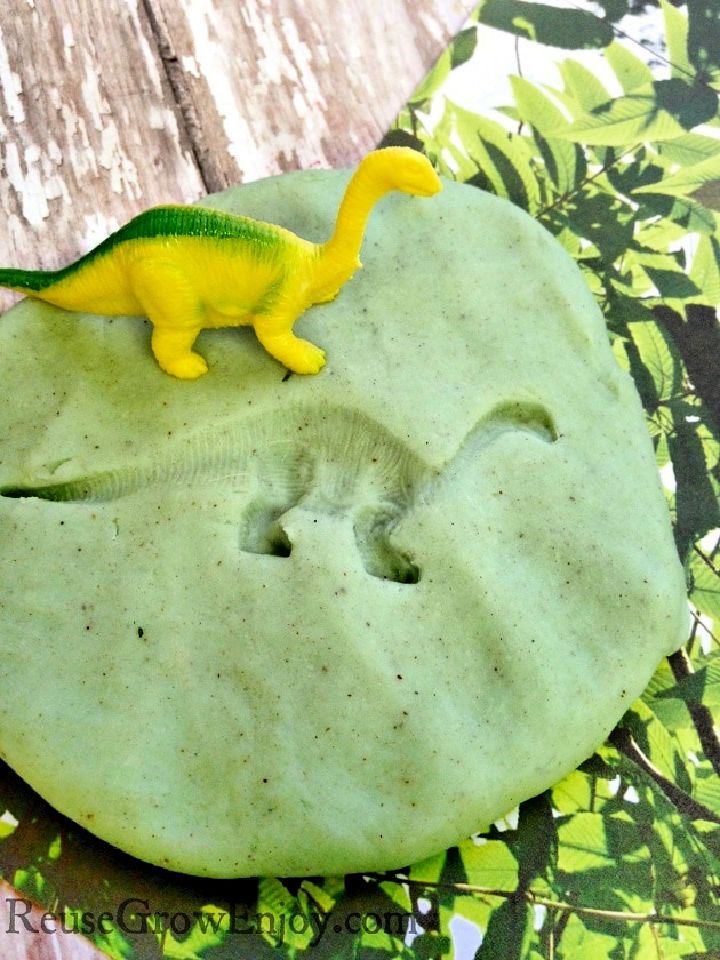 A Dinosaur Fossils Craft is a great way to keep kids busy on a rainy or snowy day. This homemade play-doh is easy to make and something to do that is fun, easy and teaches. This DIY is made with supplies you probably already have in your kitchen.
All you need is 1 cup of water, 4 cups of flour, three tablespoons of canola or vegetable oil, 1 ½ cups of salt, and food coloring. Food coloring. Add the ingredients to a large bowl and mix until well combined. If the dough is too sticky, add more flour. Once the dough is the right consistency, let the kids have fun! They can use cookie cutters to make shapes or use their hands to form dinosaurs.
Once they're done, place their creations on a baking sheet for 30 minutes. The dough will harden as it cools, so let it cool completely before playing. DIY Dinosaur Fossils Craft is a fun and easy way to keep kids entertained while teaching them about science! reusegrowenjoy
28. Dinosaur Ice Cream Sundaes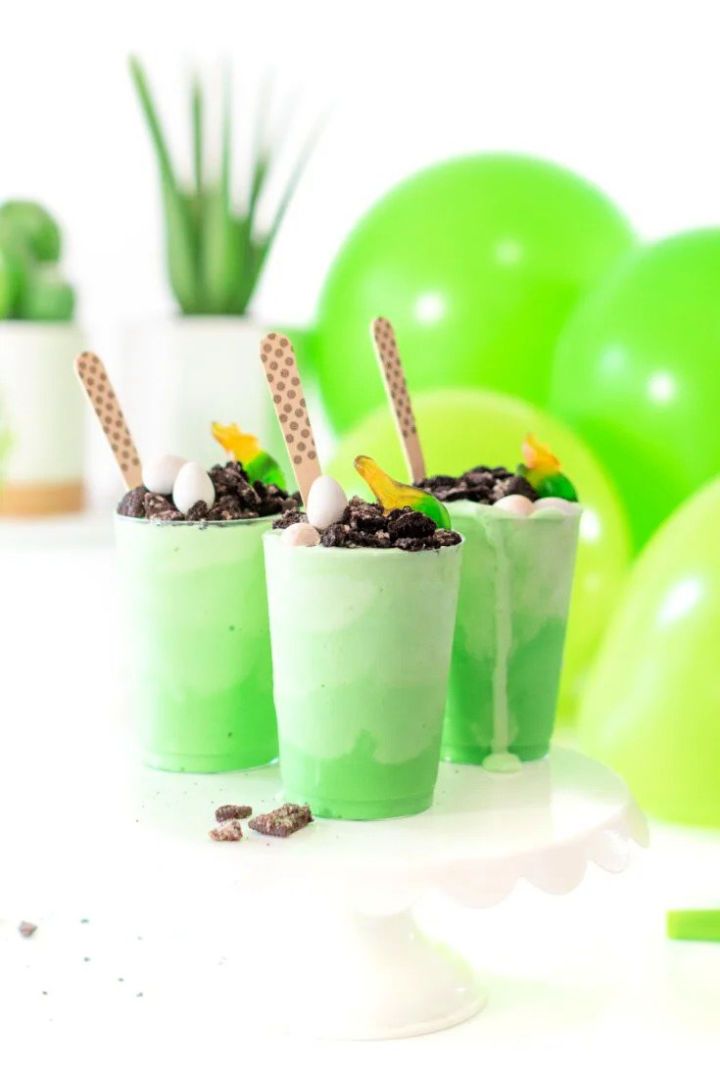 Making DIY Dinosaur Sundaes is perfect for celebrating birthdays or enjoying a fun movie night. The best part about this project is that they are easy to make and only require a few ingredients. Start with a layer of vanilla ice cream, then add a few drops of green food coloring. Continue adding layers of ice cream, alternating between green and vanilla, until you reach the top of the cup.
Then, top it with your favorite dinosaur-themed toppings. We recommend crushed Oreos, dino "eggs," and dino gummy candies. This DIY is simple but a pretty twist to a basic ice cream dessert. Not to mention, they are also adorable! So, give this Dinosaur Sundae a try next time you want a fun and festive treat. cutefetti
29. DIY Dinosaur Pen Stand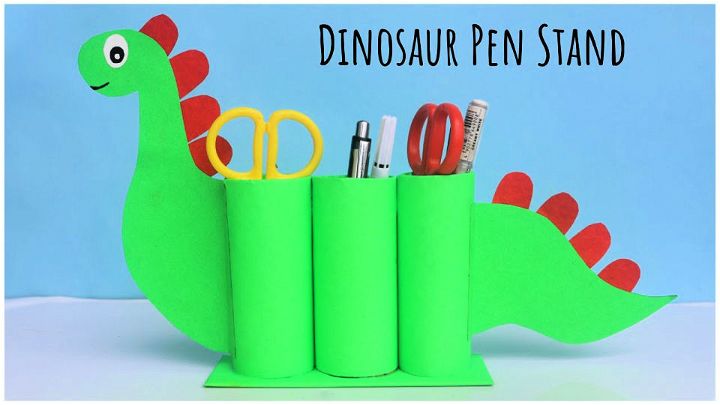 DIYing your desk organizers are a great way to add a personal touch to your work area. Not to mention, it's a fun way to show off your personality. And what could be more fun than making a DIY Dinosaur sundae?
This desk organizer is made by recycling cardboard tubes or empty paper rolls. The simple supplies needed for this project are a dinosaur sundae (you can use any flavor of ice cream), hot glue, ribbon, and googly eyes. First, start by hot gluing the ribbon around the lower part of the dinosaur sundae. Then, add the googly eyes. That's it! Your DIY Dinosaur Sundae desk organizer is complete.
30. Dinosaurs Flower Pots For Small Garden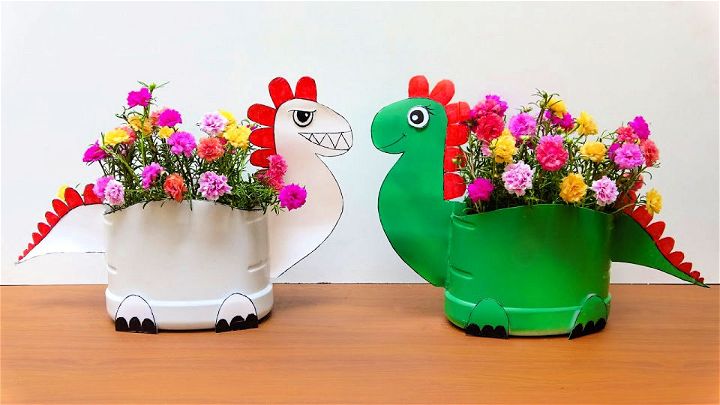 Have you ever considered decorating your small garden with DIY Dinosaurs Flower Pots? This is a beautiful idea and is made from recycled bottles. So, it is also simple and easy to make it. You only need supplies, such as scissors, a craft knife, permanent markers, acrylic paint, and a sponge brush. First, you need to cut the following:
Youg scissors. Second, make the dinosaur f
Making the craft knife. Then, add some color to it
Permanent markers. After that, give the final touch by adding black acrylic paint. Finally, your DIY Dinosaurs
Your Small Garden is ready to decorate your garden.
Related Crafts for Kids:
Explore the world of crafting with our fun and engaging crafts for kids! From painting to paper mache, find the perfect craft activity for your little ones.
Conclusion:
Crafting and engaging in activities related to dinosaurs is a great way for kids to learn about the natural world while having fun. From simple paper crafts and coloring pages to more complex science experiments, there are plenty of easy dinosaur crafts and activities for kids that will keep your little ones entertained for hours. With these 30 easy dinosaur crafts and activities, you can give your children the perfect outlet to explore their creative sides and gain knowledge simultaneously!