One of the fine motor skills we have been working a lot on recently is how to SQUEEZE!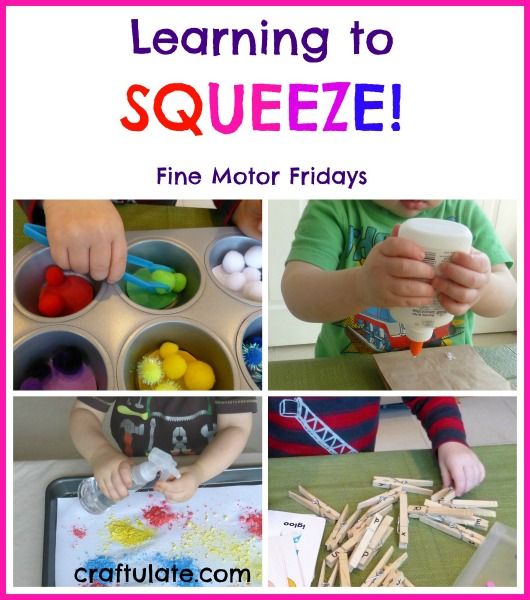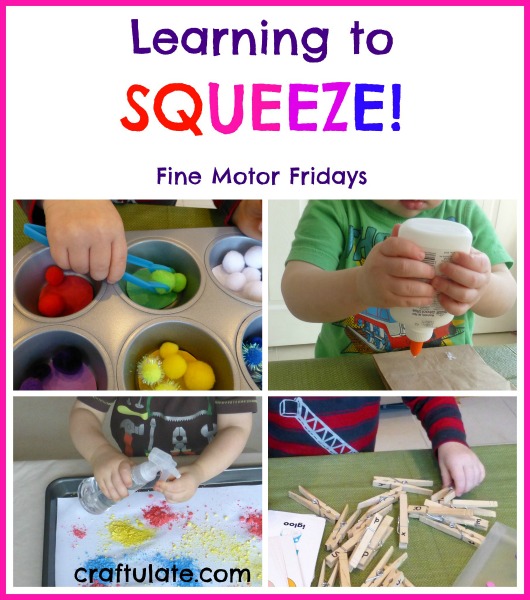 The following post contains affiliate links, which means that at no extra cost to you I can make a tiny bit of money to help support this blog. Thank you!
Learning how to squeeze things builds up core strength in those little hands and starts to get children ready to use tools like scissors.
Spray Bottles
These are great for squeezing because children get an effect from their squeeze as soon as they do it! We used spray bottles with water in for Chalk Spray Painting and Paper Towel Art, and with vinegar for dissolving our Magic ABC Rocks.



Clothespins
We recently featured these on another Fine Motor Friday post, Clothespin Letter Match. They are VERY tricky to handle but if you find the right activity children will want to keep trying!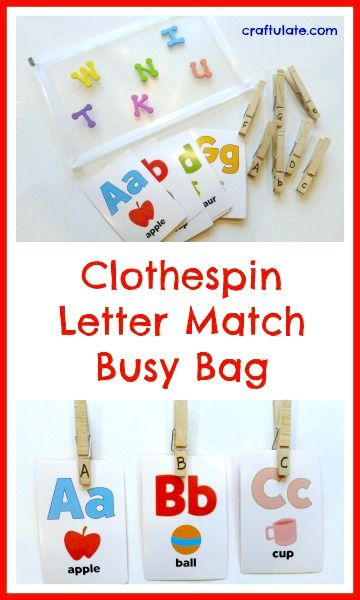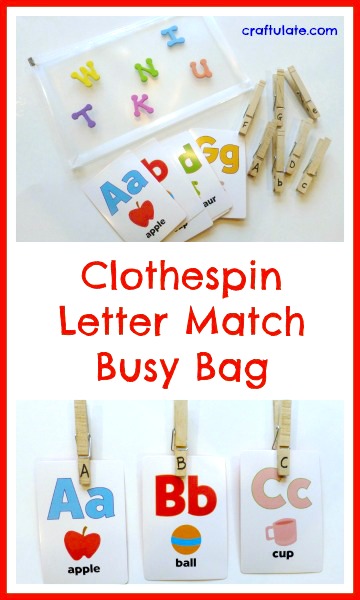 Glue and Glitter Glue Bottles
I've recently been letting F loose on the glue bottle, as neither of us really got on well with glue sticks. White glue bottles with twisty lids are perfect because you can help control the flow, but still let the child use the glue independently.
We used glue to make these Paper Bag Luminaries, glitter glue to make these Snowman Suncatchers and glue and glitter glue when making these DIY Window Clings.
Tongs and Tweezers
Here's another Fine Motor Friday post that I published recently, Tongs and Tweezer Training. F also did a lot of learning to squeeze when we practiced with Tongs and Pom Poms.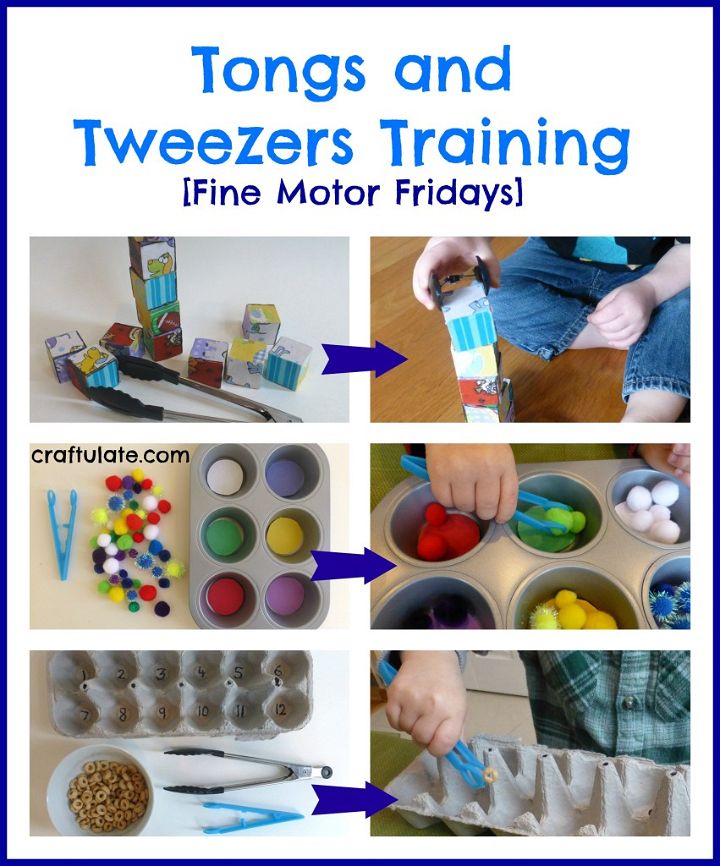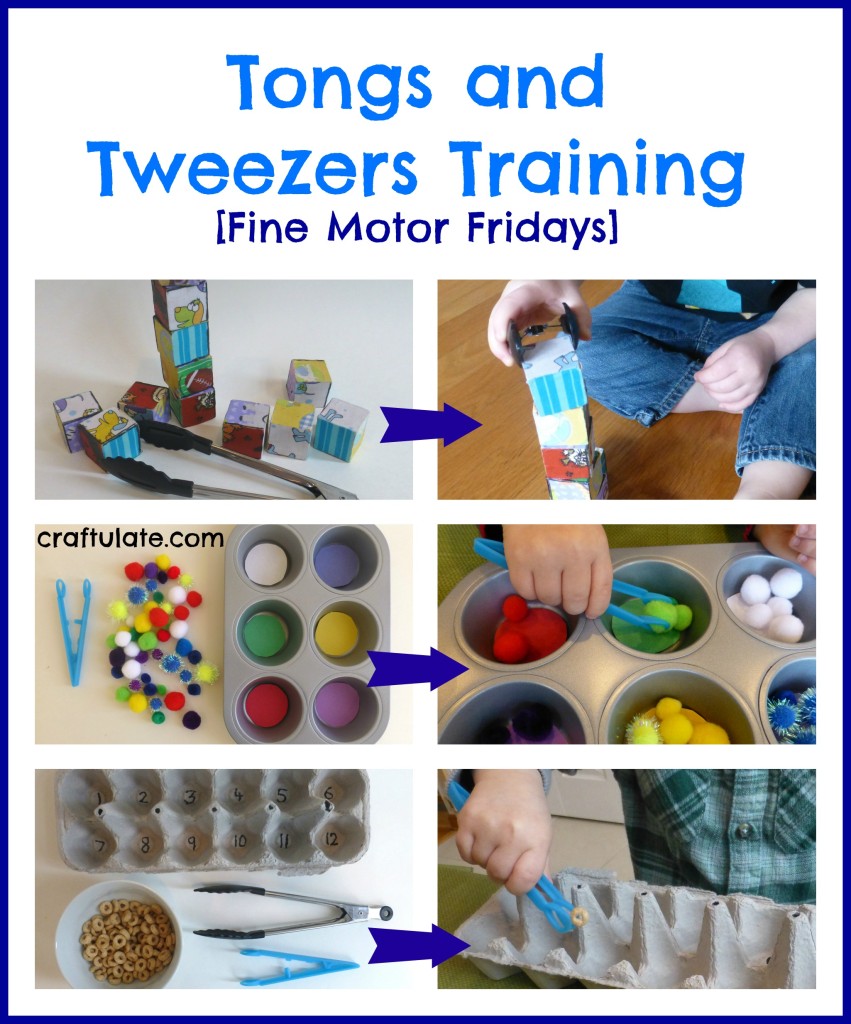 Other Ideas
Water squirt toys likes these ones are fun bath toys that also encourage children to squeeze. Sponges are great too – we have this set from Sassy with two squirt toys and one sponge. We have also tried these Water Wow books from Melissa & Doug with pens that you can fill with water and reusable pages. You can also buy paint in squeezy tubes which are great for mess-free painting, but we haven't tried these yet! We use mini squeeze bottles for all kinds of things too – they're supposed to be for culinary use but I think they are perfect for dispensing water or paint! Or you could get the kids to help out in the kitchen and decorate cookies by squeezing icing pens over them like we did with these Monster Cookies. And don't forget mealtimes! Food that comes in squeezy pouches or tubes all helps to develop these skills – you can even buy your own reusable squeeze pouches!
[bctt tweet="Learning to squeeze is an essential #finemotor skill! So many tips here!"]
So what has everyone else been up to this week? Check out the rest of the Fine Motor Friday posts!
Valentines Cutting Skills Activity Tray from Little Bins for Little Hands