Here are 27 Jello activities, crafts, art and snacks! Let's get wiggling and jiggling!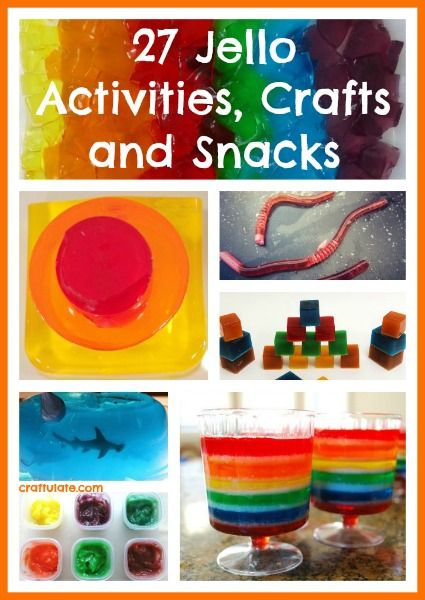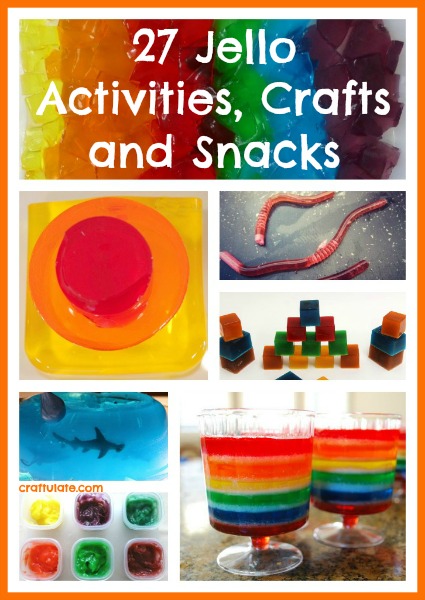 We are taking part in the 31 Days of ABCs series, and we are featuring J – for Jello! We took part in this series last year with D is for Dough. We are so pleased to be part of it again this year!
Jello Activities
Jello is great for creating sensory activities – the bright colours, scents and of course textures will keep kids coming back for more. It is also the perfect ingredient for some fun science experiments and great for hiding toys in!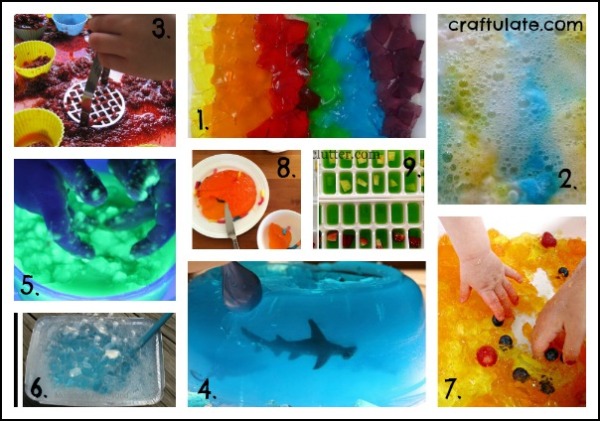 1. Rainbow Jello Sensory Bin from Craftulate
2. Scented Colour Mixing from Craftulate
3. Exploring Jello with Kitchen Tools from Powerful Mothering
4. Ocean Exploration on the Light Table from Still Playing School
5. Glowing Jello Experiment from Learn Play Imagine
6. Jello Bubbles from Momma's Fun World
7. Jello Sensory Bin for Baby from Stay at Home Educator
8. Jello Brain Surgery from Left Brain Craft Brain
9. Ten Jello Science Experiments from The Chaos and the Clutter
Jello Crafts and Art
Jello can be used to make play dough, paint, building blocks and some fun art!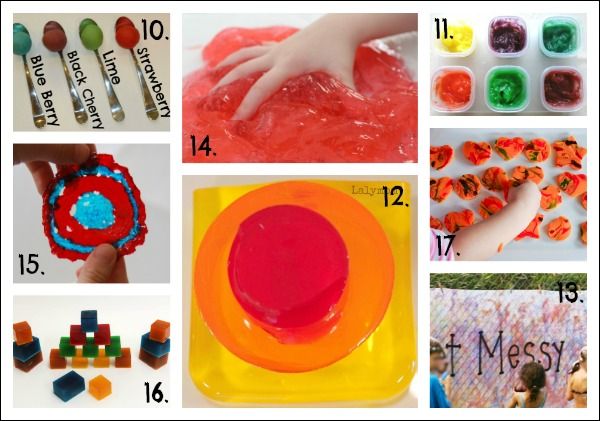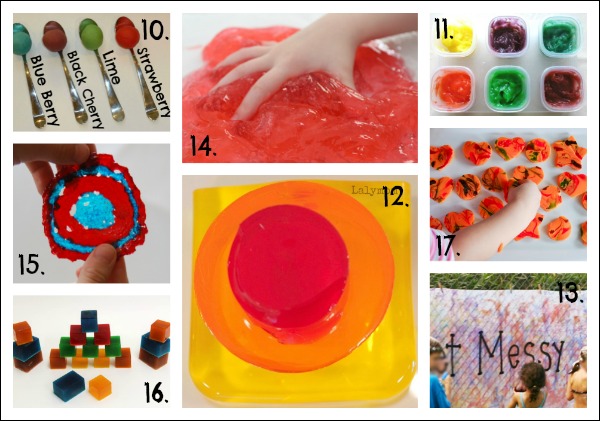 10. Jello Play Dough from Craftulate
11. Jello Pudding Paint from Craftulate
12. Kadinsky Jello Art from Lalymom
13. Jello Mural from Bee in our Bonnet
14. Jelly Silly Putty from Paging Fun Mums
15. Candy Ink from Kids Activities Blog
16. Jello Building Blocks from Kiwi Crate
17. Jello Art Activity from A Little Pinch of Perfect
Jello Snacks
Don't forget you can eat Jello, too! Oh right, you didn't! Here are some creative ways to use Jello to make some really fun snacks.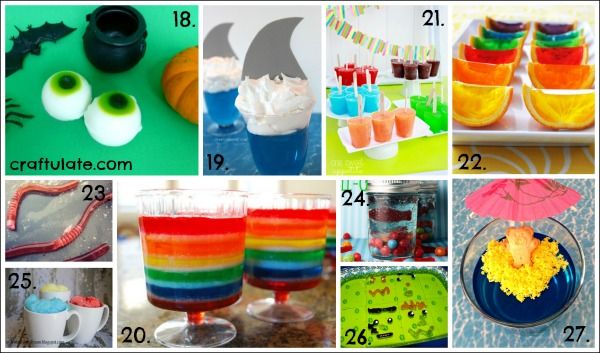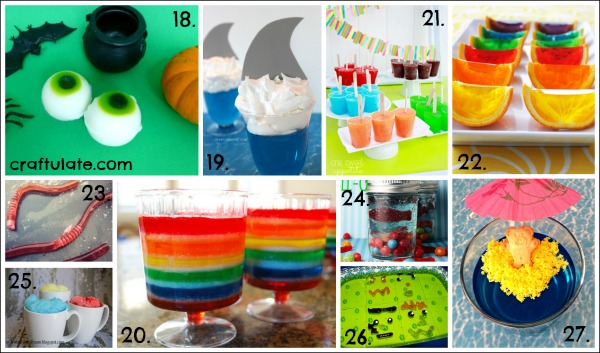 18. Edible Eyeballs from Craftulate
19. Shark Fin Jello Cups from Oh My Creative
20. Rainbow Jello Cups from Mess for Less
21. Jello Popsicles from One Sweet Appetite
22. Rainbow Jello Orange Slices from Tablespoon
23. Edible Jelly Worms from Adventures of Adam
24. Mini Jello Aquariums from Confessions of a Cookbook Queen
25. Jello Shaved Ice from Tips from a Typical Mom
26. Jello Monsters from Mama Pea Pod
27. Dreaming of Summer Teddy Bear Jello Snack from Childhood 101
Check out the rest of the series!!