We had a LOT of fun with this Jello sensory play bin – and even placed pieces of Jello on a light box for an amazing effect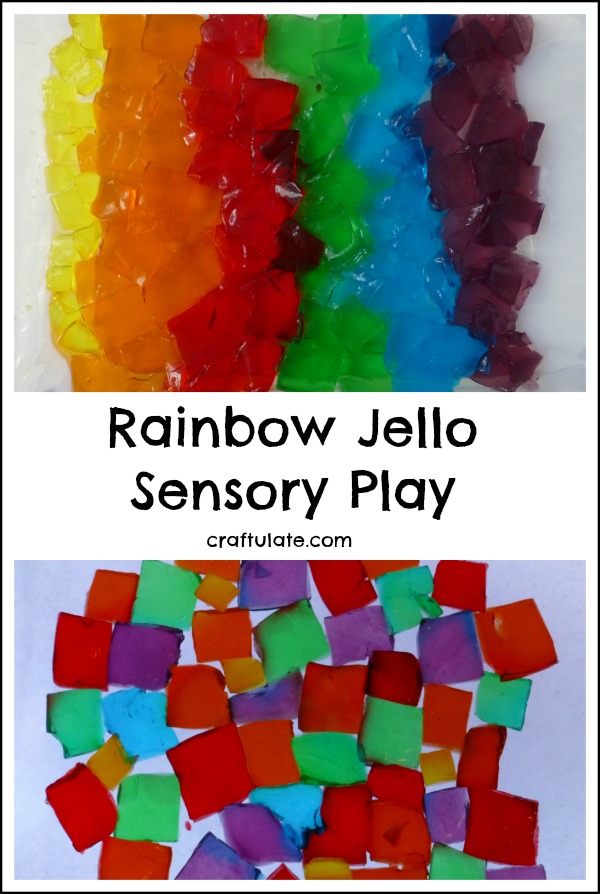 The following post contains affiliate links, which means that at no extra cost to you we can make a tiny bit of money to help support this blog. Thank you!
First of all, this didn't start out as a rainbow of colors. I had some opened Jello packets leftover from our science experiments and thought I would use them up with this sensory play. But just yellow, blue, and green didn't look right. So I added some red. After that, adding orange and purple seemed the most obvious thing to do!
When making each batch of jello, I put slightly less water in than the box suggested to make the jello firmer. I sprayed a non stick cake pan very lightly with cooking spray, then set the jello. I cut the set jello into chunks, which were easy to remove thanks to the spray.
I kept some of the jello aside to make this cool layered Jello snack cup.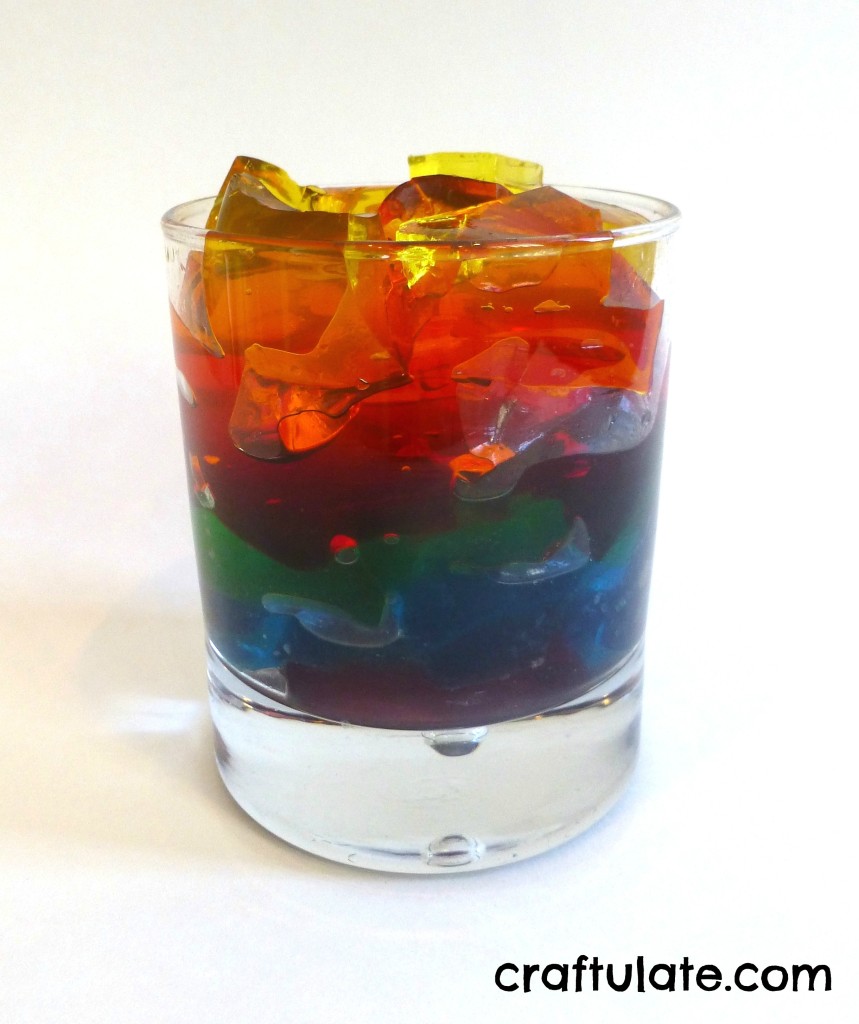 Then I put the rest of the jello into a large container, laying it out into a rainbow of colours (and yes, I know it isn't in rainbow ORDER – I realised this too late).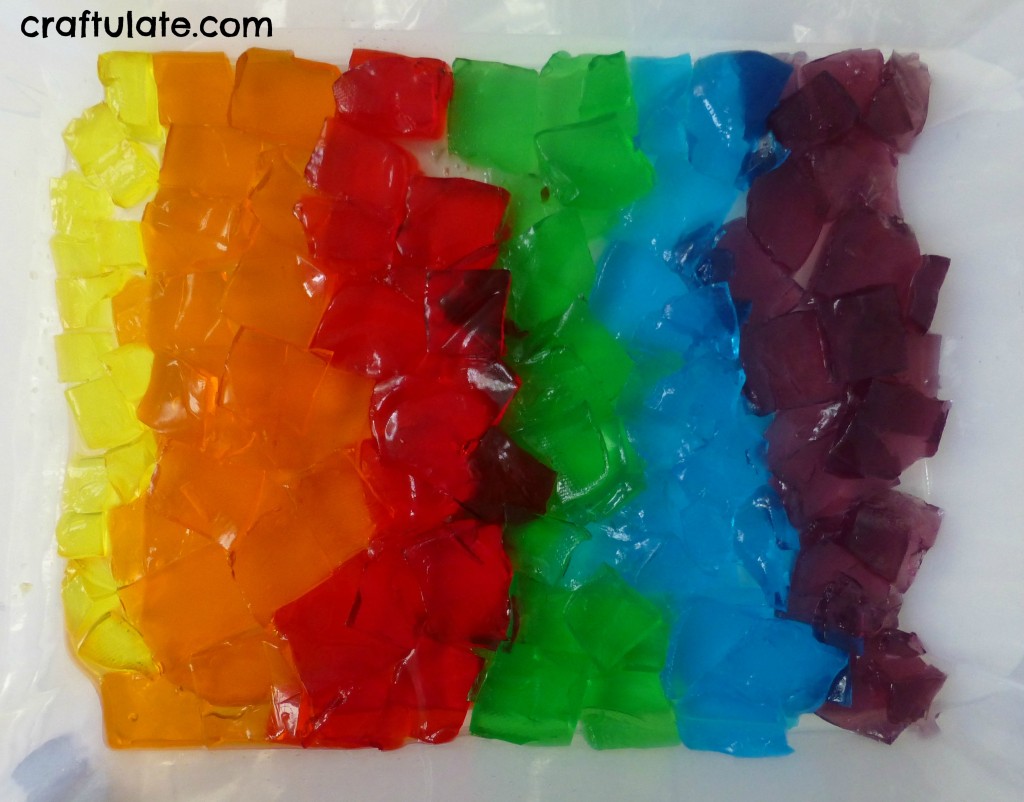 F was intrigued, but reluctant to touch the Jello. He touched it briefly, but wanted no more to do with it.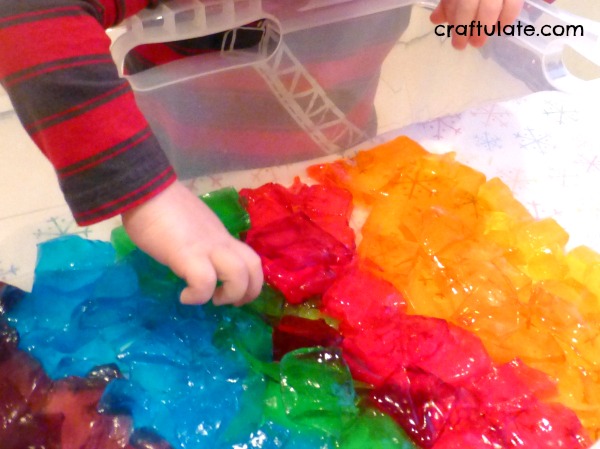 The next day we tried again. He was a little braver this time, and even picked up a piece!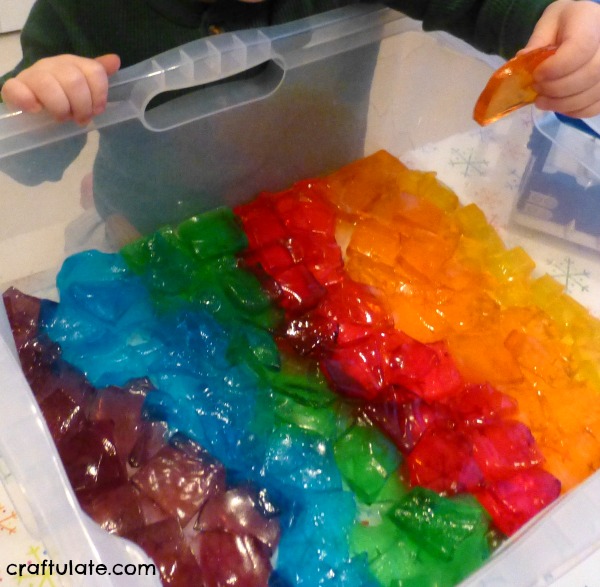 But it just wasn't engaging him for long, so I decided to schlep the whole container over to LalyMom to see what her kids thought of this sensory experience. And they didn't disappoint! Like true sensory bin pros they were right in there at the start! Ladybug (3.5 yrs) enjoyed getting stuck in with both hands, and also squishing the jello pieces in one hand.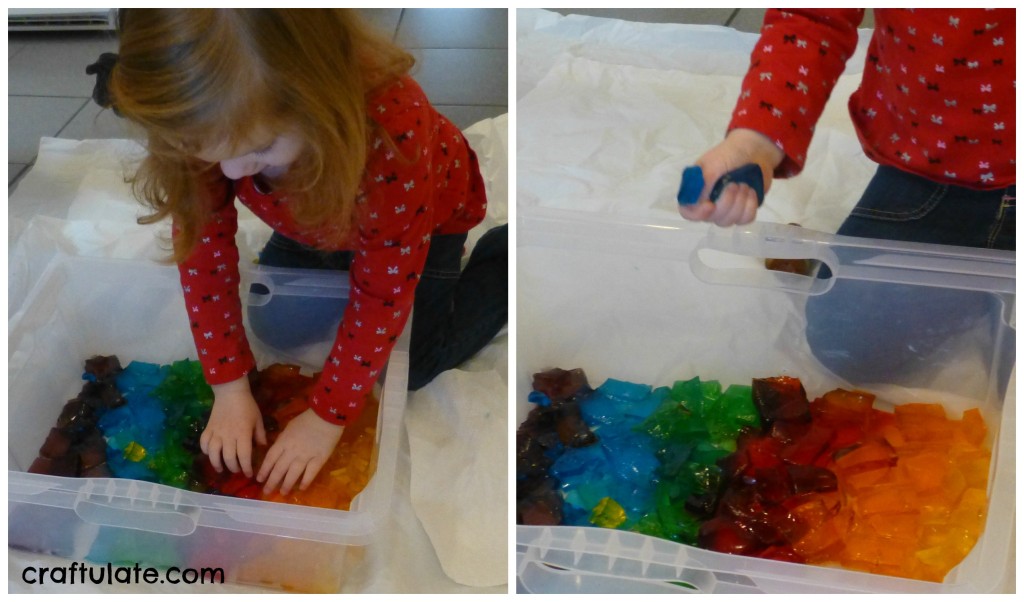 And of course, some Jello got eaten, too – although Little Big Man (1 yr) wasn't too sure!
Next we had the brainwave of getting out the LalyMom lightbox! First we put the whole container onto the lightbox.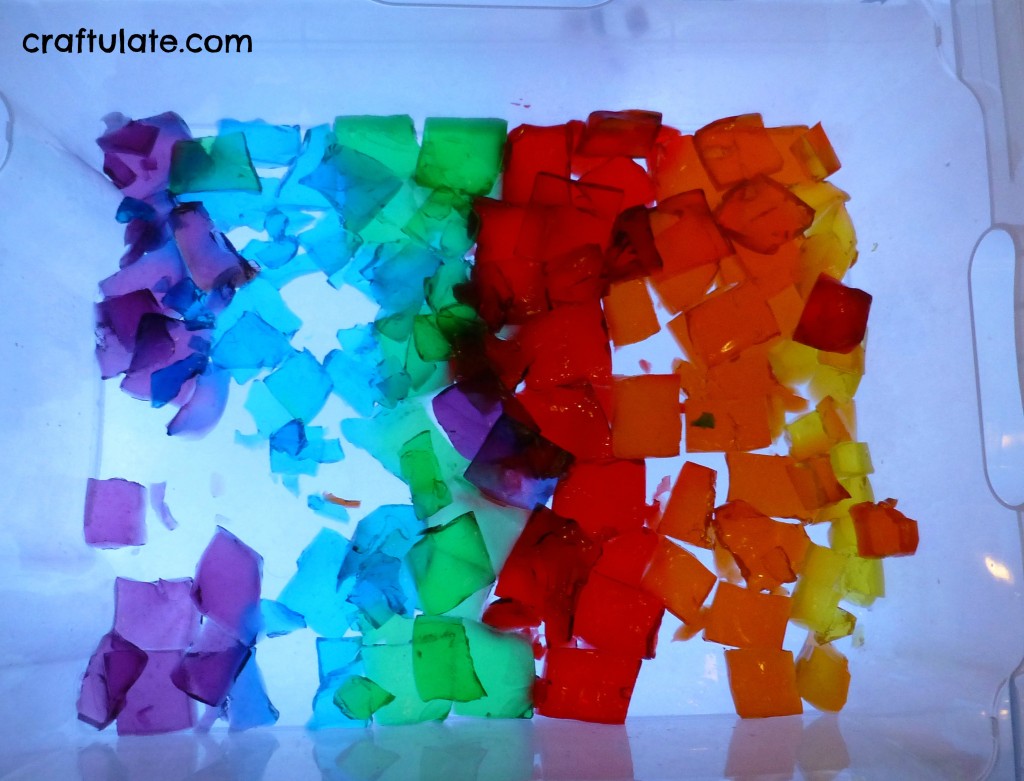 Then we started laying out the individual pieces. Even F (who had been keeping a low profile until this point) couldn't resist joining in!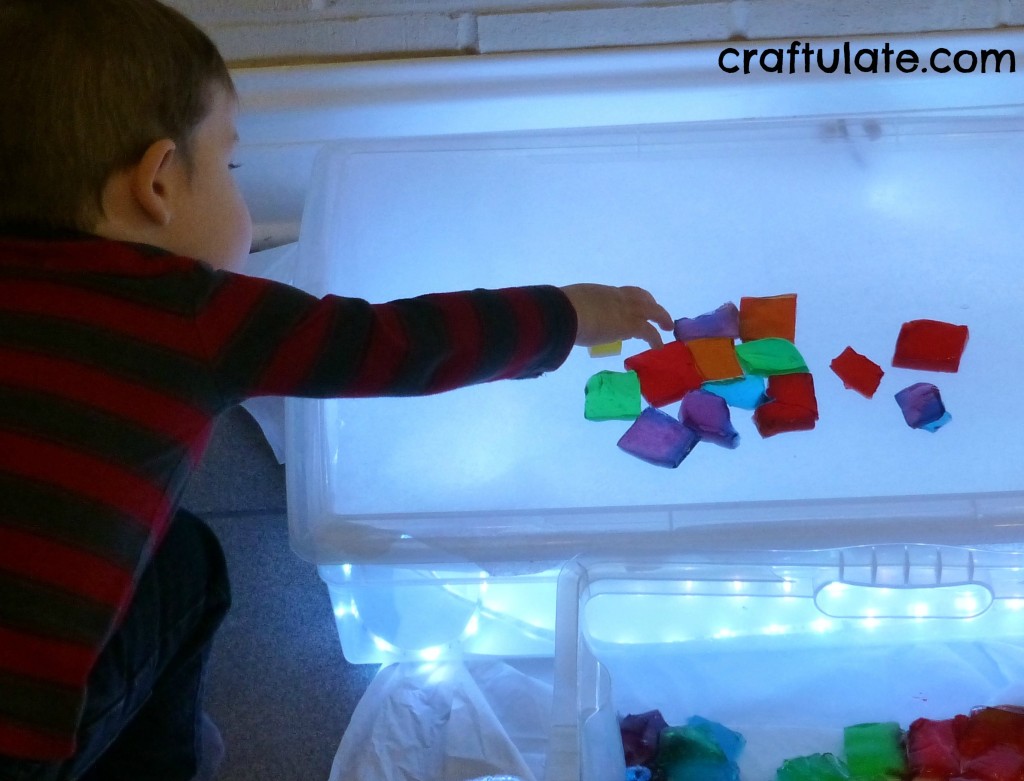 We made this beautiful mosaic of Jello!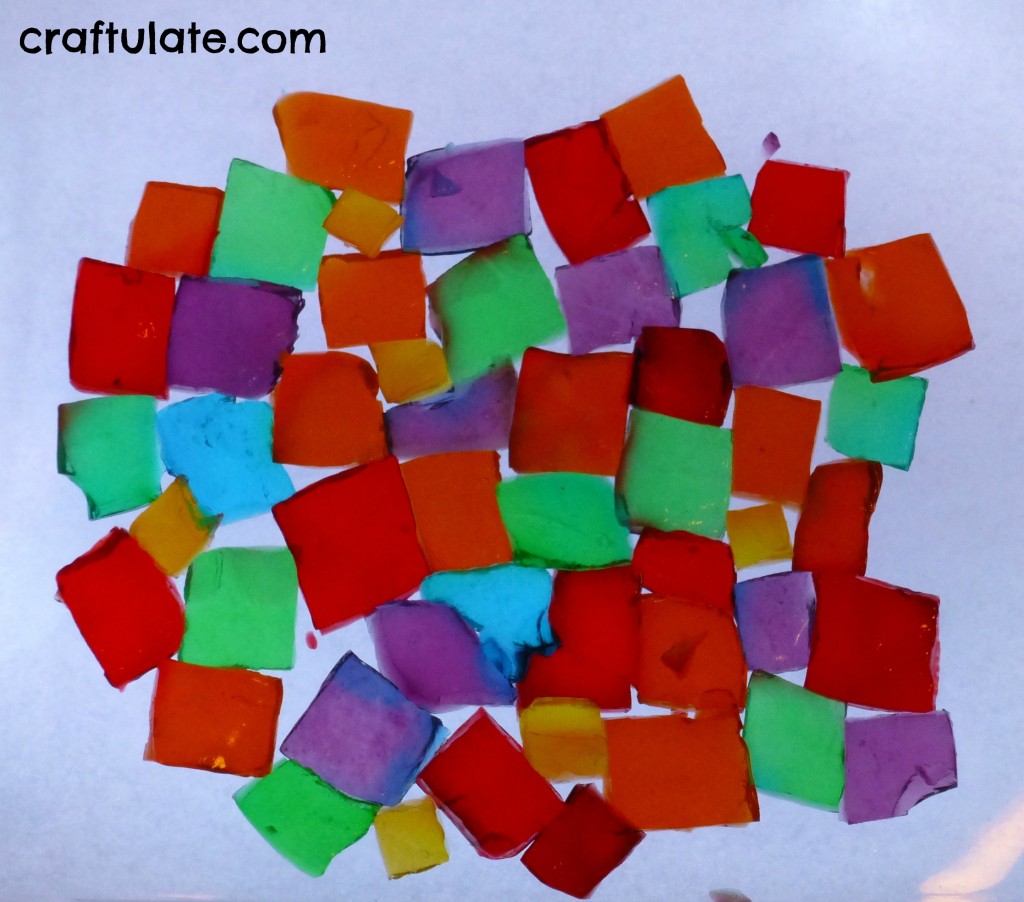 Rainbow Jello Sensory Play #jello #sensoryplay #rainbows
Click To Tweet