If you're looking for fun and creative ocean themed activities to keep your kids entertained and educated, look no further! Find 25 fun ocean crafts and art for kids of all ages provides a great selection of ocean themed arts and crafts that are perfect for your children. From painting seashells to making jellyfish out of paper plates, these ocean crafts will help your little ones explore the wonders of the deep blue sea while having some fun at the same time.
Your kids will be able to learn about different types of sea animals like sharks, dolphins, whales, turtles and more while they get their creative juices flowing with these artistic ocean art and crafts. With easy-to-follow instructions that take less than an hour to complete, each project in this collection of under the sea crafts is perfect for children ages 4 through 12 years old.
These 25 easy and fun ocean crafts and art makes it simple for parents too: all materials needed can be found around the house or purchased easily from any craft store nearby. These easy ocean crafts will provide hours of enjoyment as well as memories that will last a lifetime – all thanks to our creative list of 25 fun ocean crafts for kids. Get started today on making amazing ocean crafts with your kids!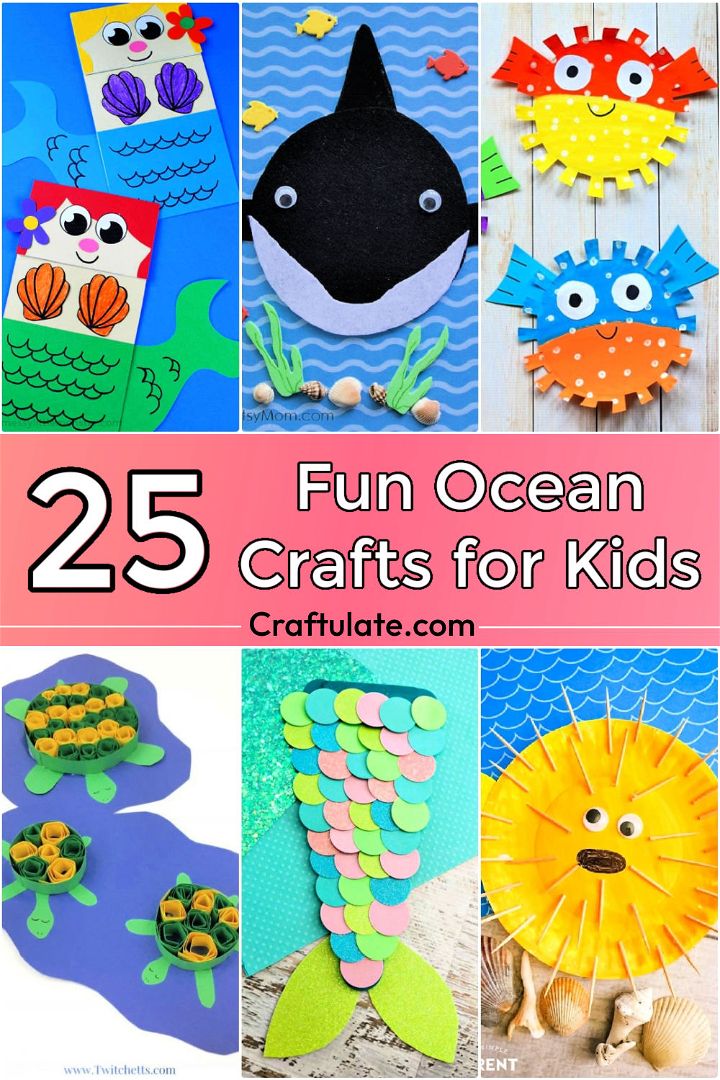 Fun Ocean Crafts and Art for Kids of All Ages
This article provides 25 DIY ocean crafts and art projects perfect for kids of all ages, from preschoolers to kindergartners to toddlers. Each craft is fun, easy to do, and includes step-by-step instructions so even the littlest crafters can get in on the fun! Get ready to explore with your preschoolers as they create their own undersea adventures with these ocean themed craft ideas.
1. Cute Egg Carton Goldfish Craft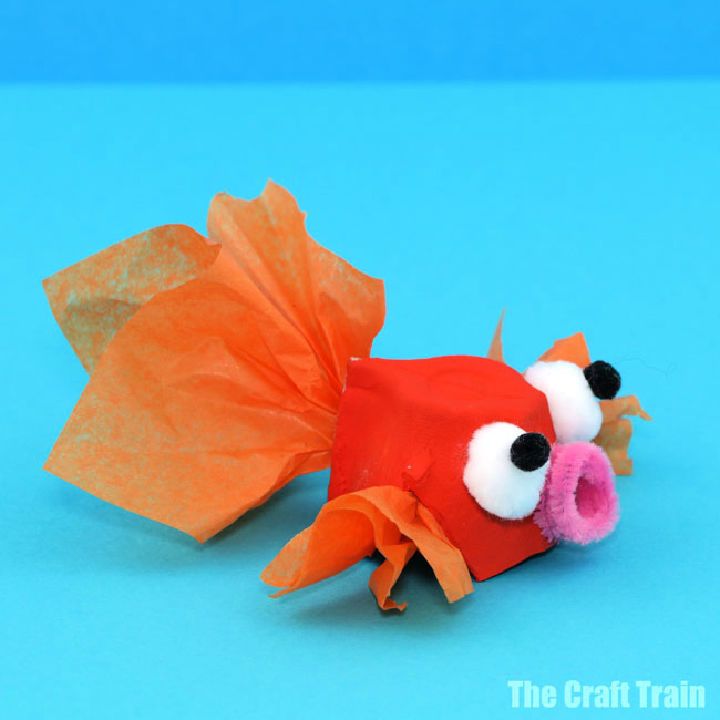 This DIY egg carton goldfish craft is simple, pretty and for kids of all ages. You only need an egg carton, orange or yellow paint, tissue paper in the same color as your paint, small white pompoms, black pompoms (very small), pink pipe cleaner and tacky craft glue.
Once you have collected your supplies, follow this easy tutorial to make one yourself. This goldfish craft is a great way to upcycle an egg carton that will make it low on your wallet, and your kids will love playing with their new goldfish friends. So, why not give it a try? thecrafttrain
2. DIY Paper Roll Seahorse Puppets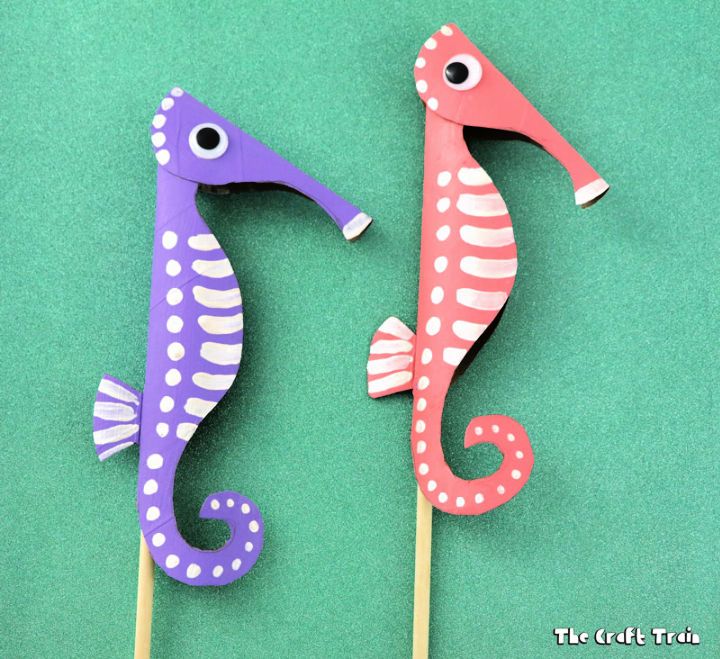 These DIY seahorse puppets from the paper roll are a cute and easy way to bring imaginative play to your kids! All you need is a painted paper towel roll, a wooden dowel rod, craft glue, a hot glue gun, a craft knife, some googly eyes, and this seahorse template.

With a little bit of paint and glue, you can create a cute sea horse puppet that will be loved by all. These paper roll seahorse puppets are also great for storytime. Use your puppet to bring mystical creatures to life and transport your little ones to an underwater world of make-believe. So, what are you waiting for? Get crafting today! thecrafttrain
3. Paper Plate Pufferfish Crafts for Kids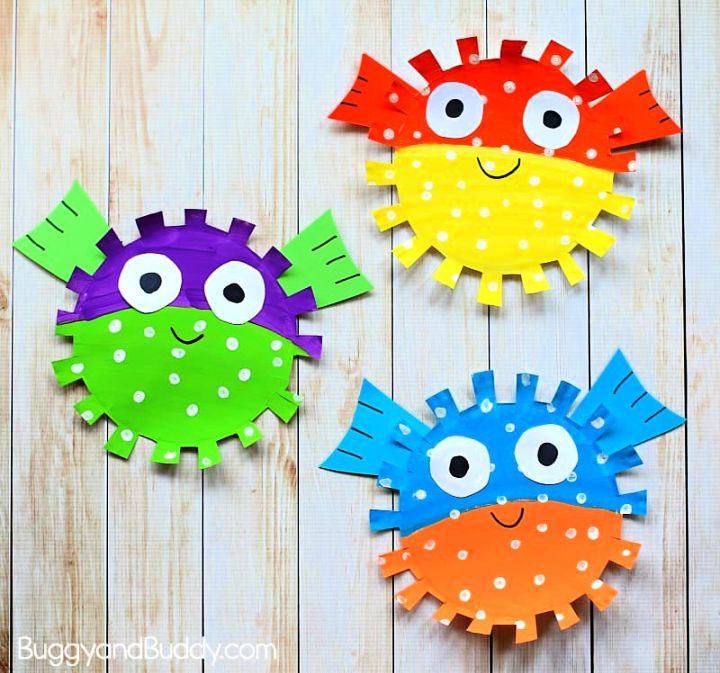 This DIY paper plate craft is a simple and cute way to make your own pufferfish. All you require is a white paper plate, tempera paint, paintbrushes, cotton swabs, scissors, glue, scraps of construction paper, and a marker or crayons. This easy tutorial will guide you through making your own paper plate pufferfish.

First, cut out a circle from the paper plate. Next, paint the paper plate with tempera paint using a paintbrush. Then, use cotton swabs to add dots of color to the paper plate, and cut some construction paper to make the fish's eyes.

Once the paint is dried, glue on two scraps of construction paper for the fish's fins. Finally, use a marker or crayons to add details like scales and a mouth. Your pretty pufferfish is now complete! buggyandbuddy
4. Easy DIY Paper Quilling Turtle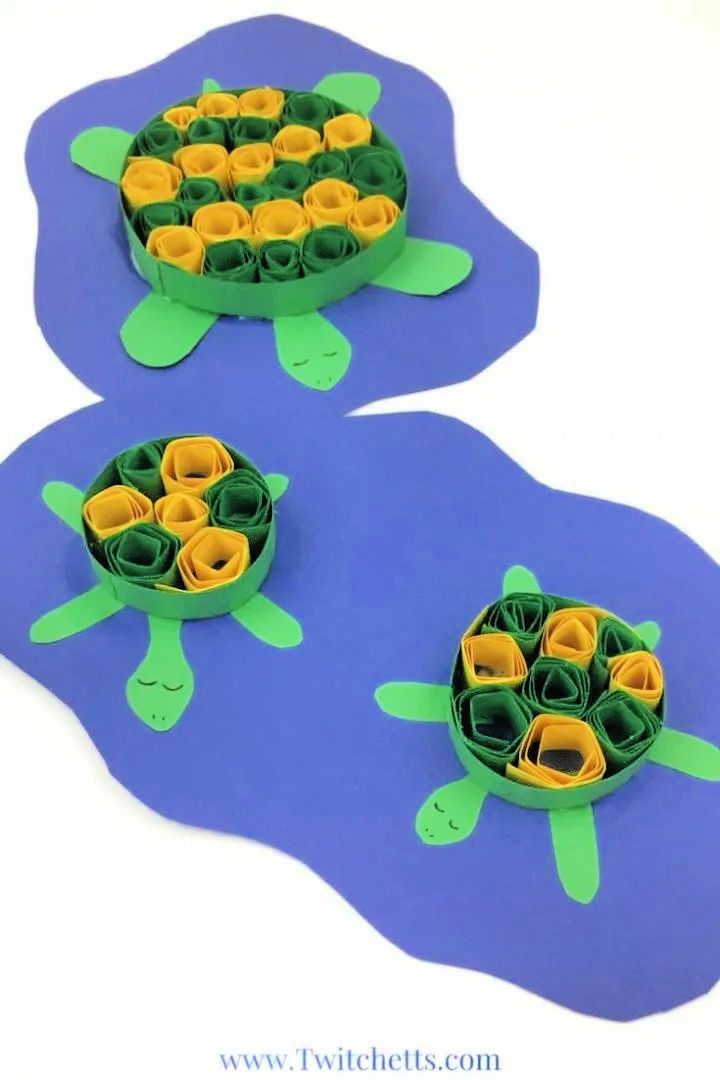 DIY paper quilling turtle is an easy ocean-themed craft idea that can be made with just a few supplies. Construction papers in blue, green, and yellow are all that you need, along with a paper cutter, white glue, scissors, and a craft stick. You can get the full step-by-step guide in this tutorial.
This DIY quilling turtle is a fun piece of art that's perfect for summertime crafts. It's also a great way to recycle construction paper scraps. So, what are you waiting for? Grab some construction paper and get started today! twitchetts
5. Paper Plate Jellyfish for Preschoolers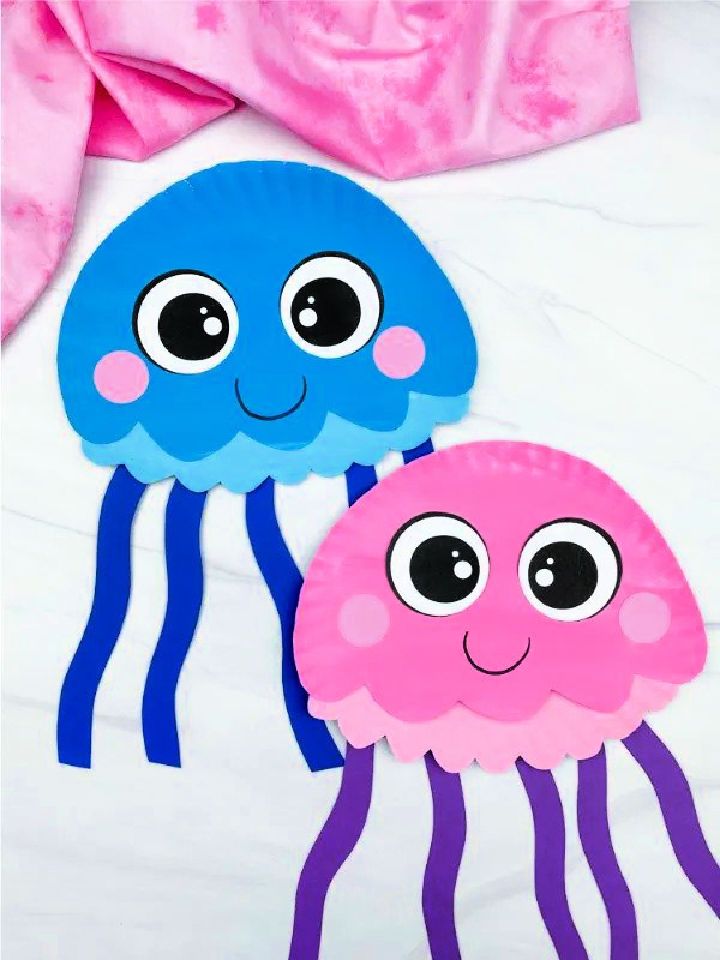 This DIY jellyfish is an easy and fun ocean craft idea for preschoolers, kindergarteners, and elementary school children. All you need is a paper plate, paint, colored cardstock or construction paper, black marker, glue, tape, scissors, and a jellyfish template.
Follow the tutorial below to make your own paper plate jellyfish.
Paint your paper plate with desired colors. This project uses blue and green to represent the ocean. Let dry.
Cut tentacles out of green construction paper and cut spirals out to make our tentacles.
Once the paint is dried on the plate, glue the tentacles around the edge of the plate.
To make the eyes, use a black marker to draw two dots on the center top of the plate.
Hang your DIY jellyfish by attaching a string or ribbon to the top of the plate with tape.
Display your jellyfish in a cool place in your house or classroom as ocean decor!
This handmade jellyfish is an easy and fun summer activity for kids! You can create these cute ocean creatures with just a few inexpensive supplies in no time! everydaymom
6. Origami Whale Crafts for Kids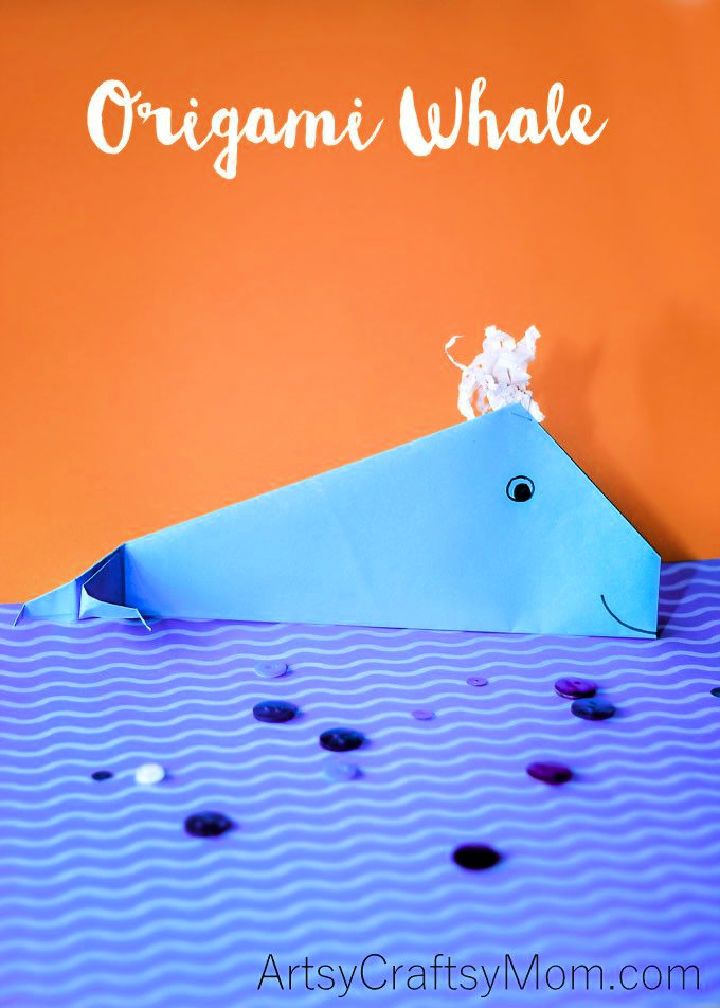 Looking for an easy and simple project for making an origami whale? This DIY origami whale project is perfect for ocean lovers of all ages! Made with just a few sheets of blue craft paper and some scissors, this whale craft is both easy and impressive.
Follow the easy tutorial below to create your own origami whale. It's a great ocean craft idea for kids and adults alike! With just a few simple steps, you'll have your own origami whale to display proudly. So what are you waiting for? Give this project a try today! craftsymom
7. Easy Shark Ocean Crafts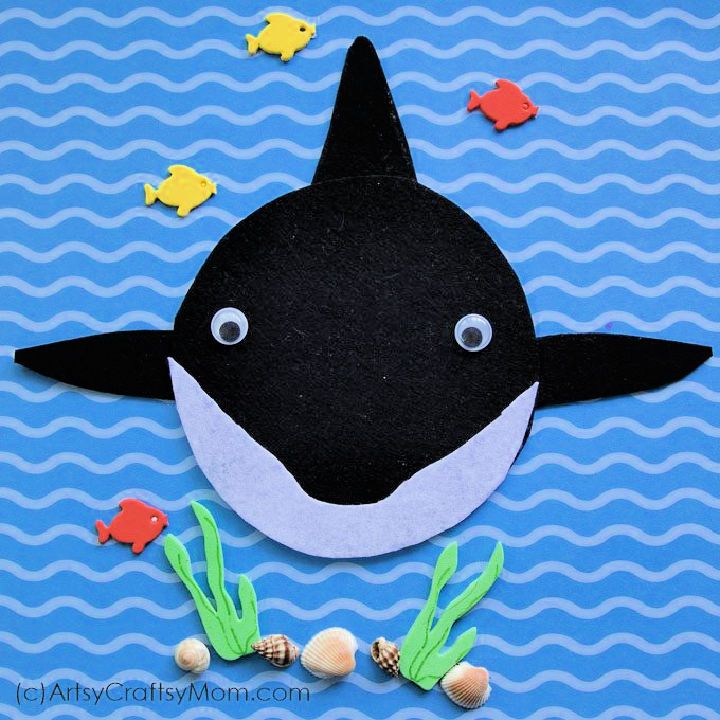 Let the kids have a blast with this DIY shark craft that is perfect for shark week, a fun school or classroom activity and a great way to learn the letter S. All you need are some supplies that you may already have at home or easily get at any craft store such as printable template, some white and black felt or construction paper, googly eyes, an old CD, scissors, and a glue gun or glue stick.

This easy tutorial will guide you on making this ocean craft in just a few easy steps. With just a few simple steps, they'll be on their way to having their own DIY shark!
So dive into this Ocean Craft idea and have some fun! So grab your supplies, and let's get started! craftsymom
8. Ocean Crafts for Elementary Students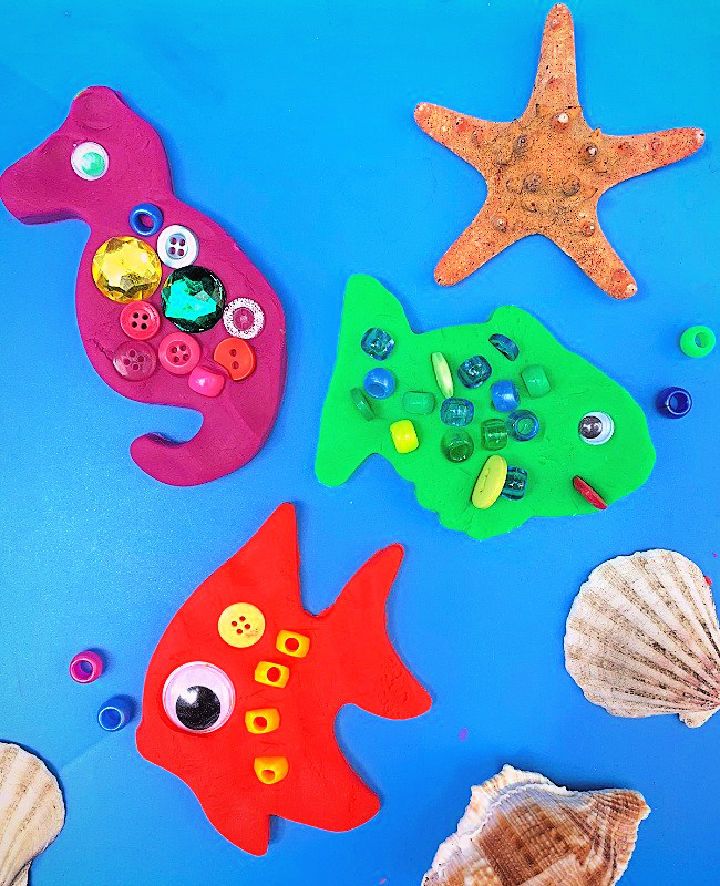 This DIY playdough ocean animals project is a great way to be creative and artful while also being thrifty. This craft is simple and easy to follow, with only a few supplies needed. You will need play dough, animal shape cookie cutters, pony beads, buttons, gems, googly eyes, real shells, and an easy tutorial.
With these supplies, you can create cute ocean animals that are realistic and fun. Not only is this a fantastic activity for the classroom, but it is also great for home too. So get creative and have fun with this DIY ocean animal craft. flashcards
9. Button Fish Ocean Themed Crafts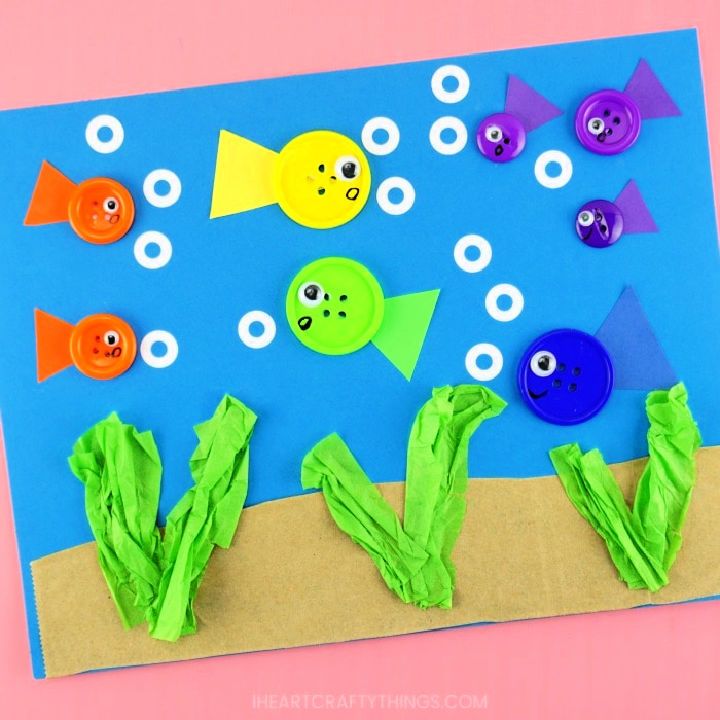 This DIY button fish is a simple and fun ocean-themed craft for kids! Kids of all ages will love this DIY marine life. All you need are some colorful buttons, cardstock, googly eyes, and a black marker to make these innovative and cute little button fish.
With this easy tutorial, you can make your button fish in no time! This ocean craft is perfect for summertime or whenever you want to add a pinch of color to your decor. So dive into this project and have fun making your own handmade button fish! craftythings
10. Little Fishy Cupcake Marine Crafts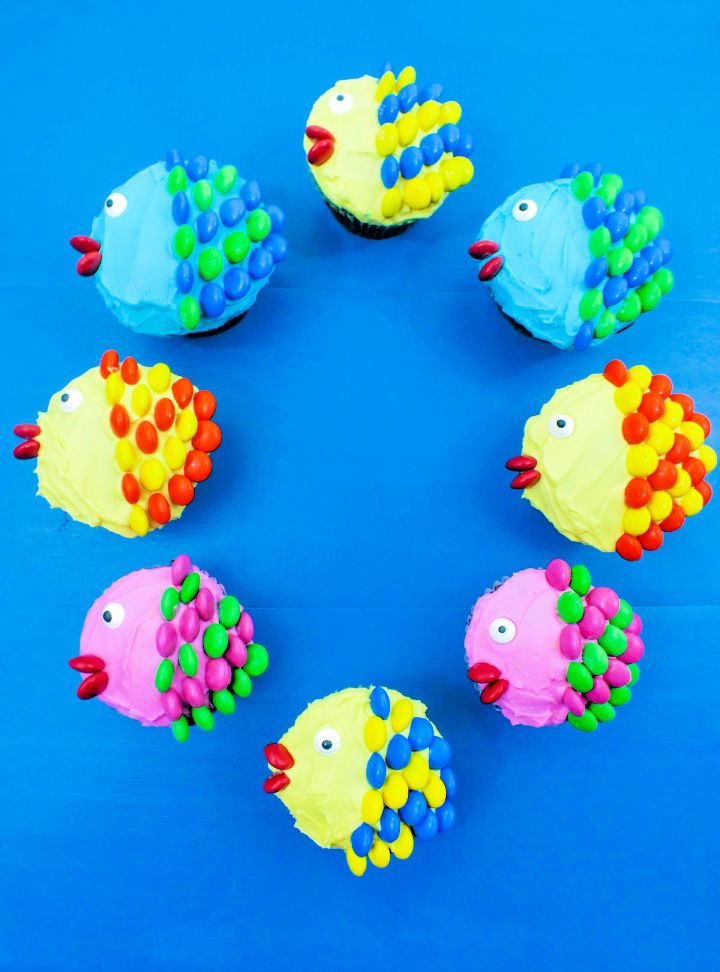 These DIY fishy cupcakes are adorable and quite easy to make. All you need is a batch of the best buttercream frosting, some M&M's, food coloring, and candy eyes. Simply decorate the cupcakes with the frosting to create a sweet fish that kids will love.
These ocean-themed cupcakes are perfect for a birthday party or any other special occasion. And with this easy tutorial, anyone can make them! These little fishy cupcakes are a fun and simple way to show your creative side. sisterscrafting
11. Watercolor Sea Animals Craft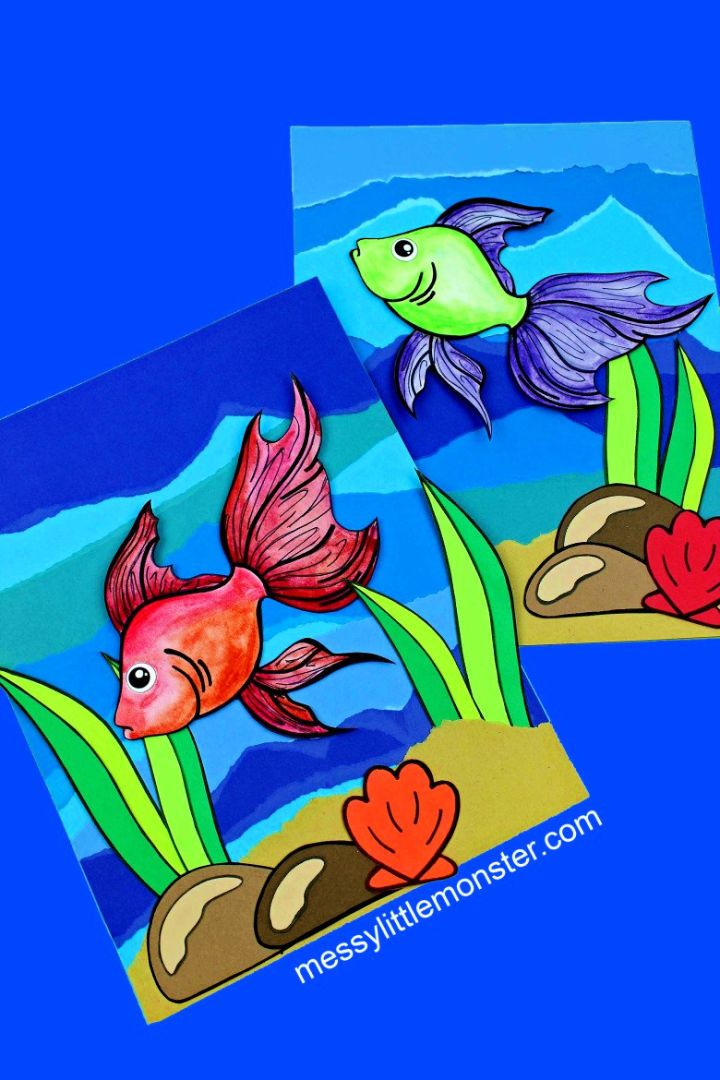 This DIY watercolor fish is a fun and easy way to bring some color to any room. You can create a cheery and artful ocean fish with simple supplies and a printable fish template. This project is excellent for kids or adults and can be customized to fit any décor.
Print out the fish template and trace it onto watercolor paper to get started. Next, paint the fish using your desired colors. Once the paint is dried, carefully cut out the fish and glue it to a piece of paper.
Use different paper and templates to create under the sea background and plants. Then paste the fish onto the decorated paper, and voila! Hang your finished watercolor fish craft in a sunny spot and enjoy! littlemonster
12. Mermaid Paper Bag Puppet – Ocean Art Activities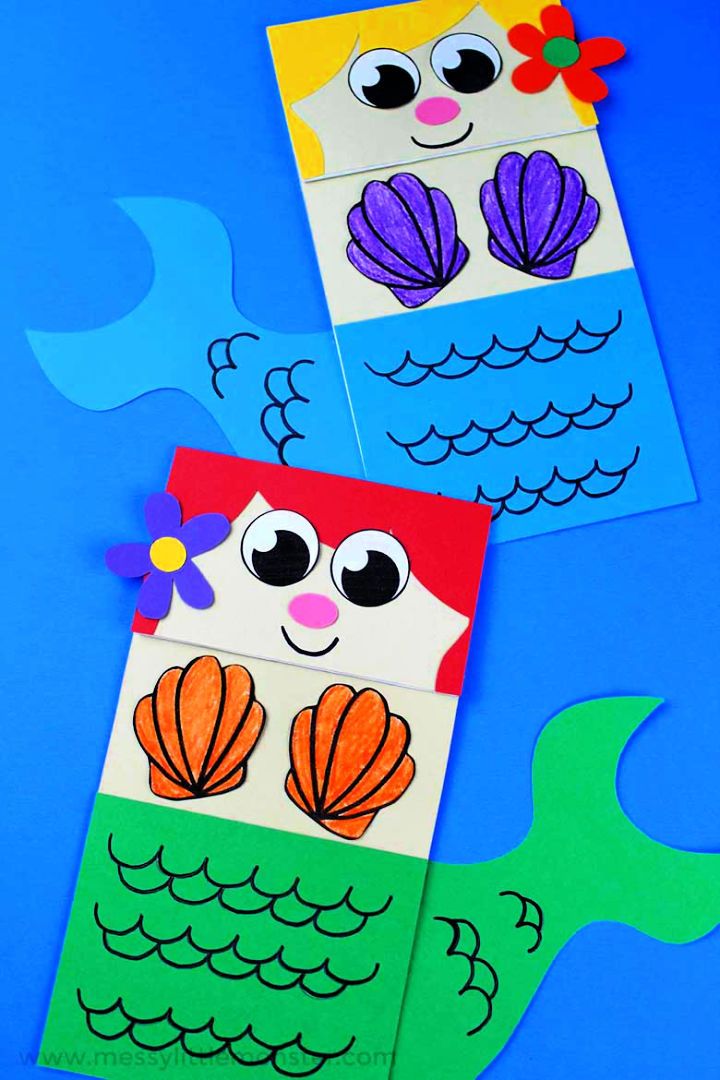 This handmade mermaid puppet is an easy and fun project for toddlers and preschoolers. It looks fantastic and only requires a few supplies you probably already have at home. You will need a mermaid puppet template, cardstock or construction paper, paper bags, glue, scissors, black marker, and crayons or markers. This craft is perfect for an ocean-themed party or room decor. The tutorial is easy to follow, and you will surely love the result. littlemonster
13. DIY Changing Weather Picture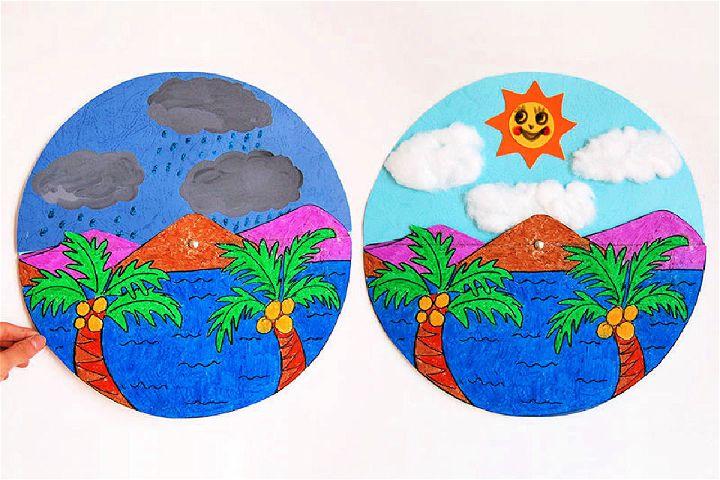 This DIY-changing weather picture is an easy and fun ocean craft for kids! With just a few supplies, you can create a beautiful and color-changing work of art. All you need is construction paper in light blue, dark blue, and white, crayons, oil pastels or poster paint, a round-head paper fastener, a black permanent marker, scissors, glue, and a pencil. You will also need cotton and glitter glue (optional).
To start:
Trace a large circle on the light blue construction paper using a compass or a large plate.
Cut out the circle. This will be the sun.
Trace a smaller circle on the dark blue construction paper and cut it out. This will be the moon.
Now it's time to start assembling your picture! Glue the sun in the top left corner of the light blue paper.
Glue the moon in the top right corner of the dark blue paper. Glue the clouds around the sun and moon.
To finish, attach the two pieces with the paper fastener.
Add cotton to make clouds and glitter glue for a touch of sparkle (optional). Now your handcrafted changing weather picture is complete! firstpalette
14. Paper Plate Sailboat Ocean Crafts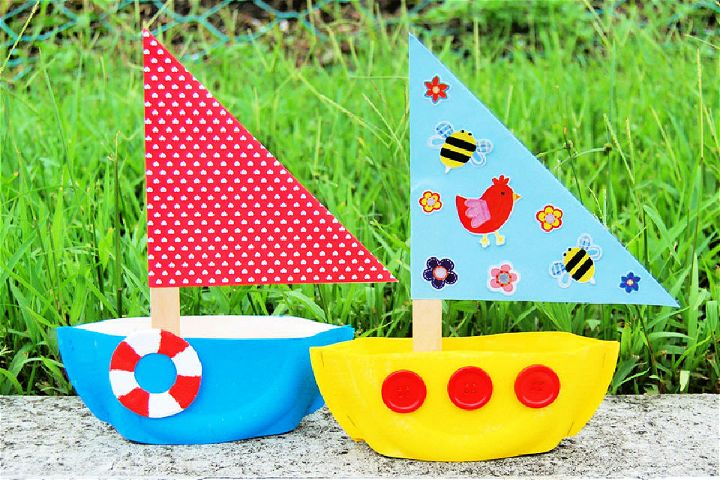 This DIY sailboat from a paper plate is the perfect ocean craft for summer! It is simple to make, and you only require a few supplies. It is super cute and can be used as decorative pieces or toys.
To make your own sailboat, you'll need a paper plate, a craft stick or wooden dowel, a toilet paper roll, paper, poster paint, tempera, or acrylic paint, a paintbrush, white glue, scissors, and a box cutter.

You can also use crayons or colored markers to decorate your sailboat and add stickers, buttons, or other embellishments if you like. Check out this easy tutorial for more detailed instructions. This DIY craft is an amazing craft that anyone can make – so get creative and have fun! firstpalette
15. Easy Origami Ocean Crafts for 2 Year Olds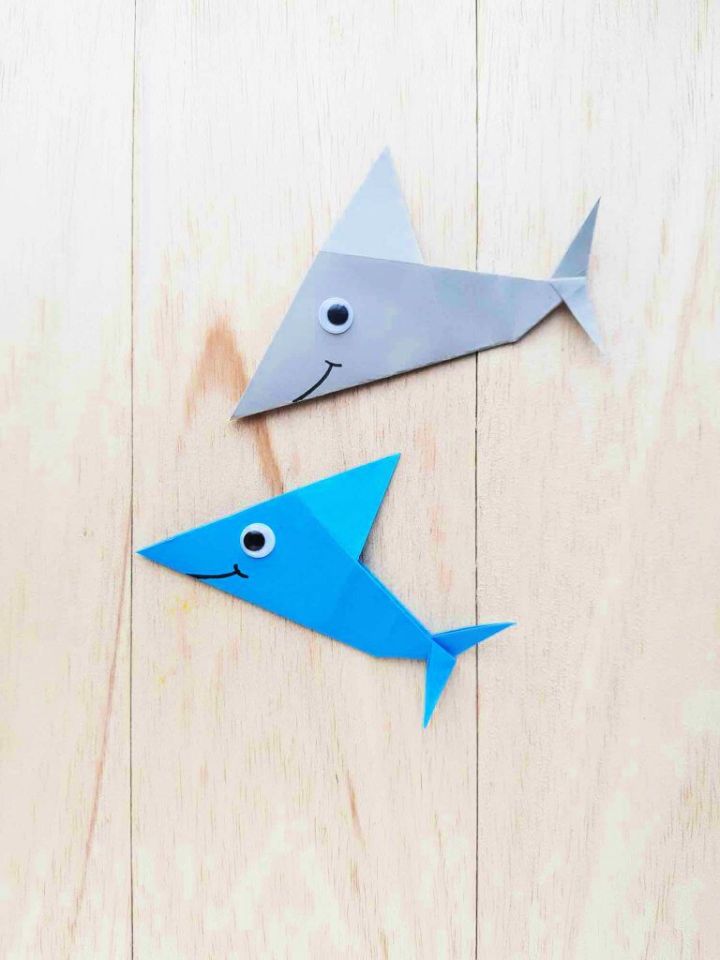 This DIY origami shark is a fun ocean craft that is easy to make and looks adorable! All you need is some colored craft paper or origami paper, craft glue, googly eyes, and a sharpie. Follow the easy tutorial below to make your own origami shark!
Cut a piece of paper into a square shape.
Fold the paper in half to create a crease down the middle.
Unfold the paper and then fold the top two corners down to meet in the middle, creating a triangle shape.
Fold the triangle in half, creating another crease down the middle.
Unfold the paper and fold each side towards the center, creating two smaller triangles.
Turn the paper over and repeat steps 2-5 on the other side.
Cut along the creases to create four triangular flaps.
Spread open each flap and glue it down, as shown in the photo below.
Add googly eyes and draw on a mouth with a sharpie.
Your handcrafted origami shark is now complete! travelwithkids
16. CD and Button Turtle Craft Ideas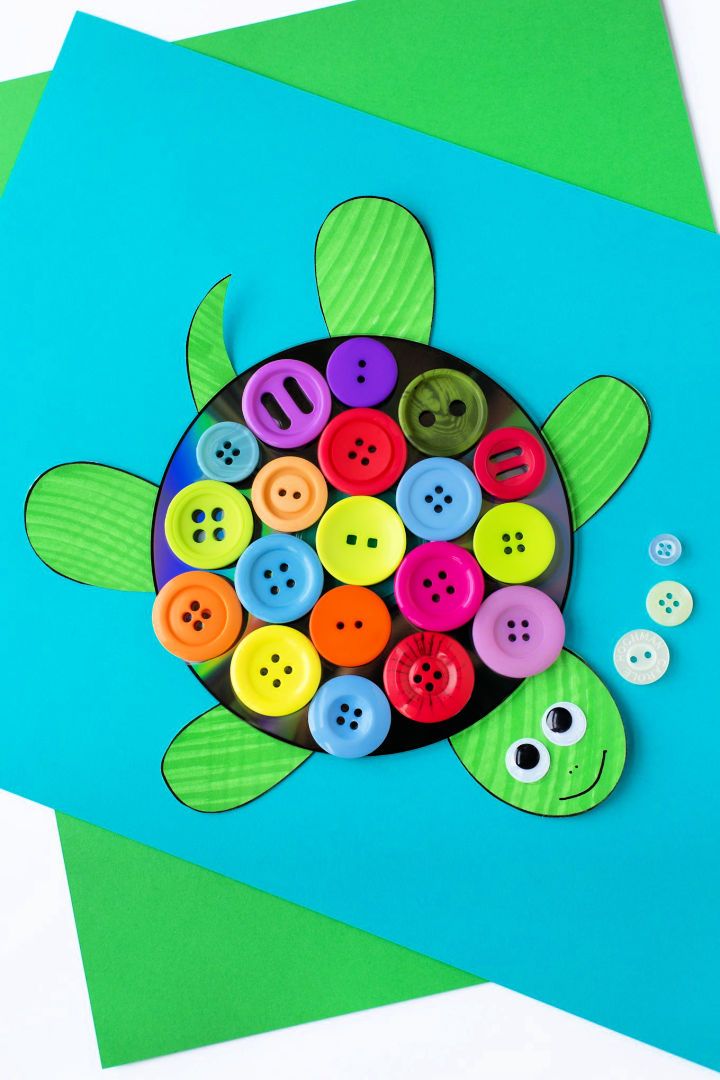 This DIY turtle is a simple, fun craft that can be enjoyed by toddlers, preschoolers, teens, school-age kids, and even adults. This easy tutorial will instruct you on making your own CD and button turtle using recycled materials.
You will need a turtle template, one CD, buttons, white school glue, scissors, green marker, wiggly eyes, a black felt tip pen, and tape.
Follow the steps below to create your very own turtle craft:
Cut out the turtle template.
Glue the buttons onto the turtle shell.
Glue the wiggly eyes onto the turtle's head.
Use the black felt tip pen to draw a mouth onto the turtle head.
Cut out two flippers from the green felt and glue them onto the bottom of the turtle's shell.
Tape the completed turtle onto the CD. That's it! Your handcrafted CD and button turtle are now ready to play with! fireflies
17. Paper Plate Sea Creature Craft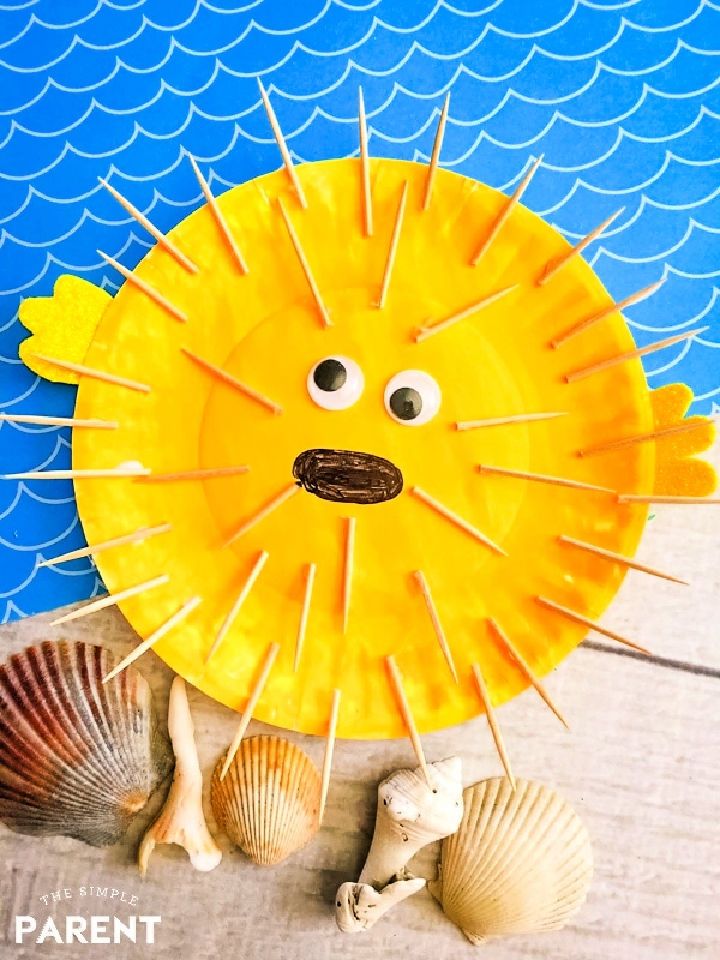 This DIY puffer fish craft is not only fun, but it is also pretty simple to make. You'll need a small paper plate, some toothpicks, yellow and orange paint, yellow glittered craft foam, googly eyes, paintbrushes, white glue, black marker, and scissors.
Once your supplies are gathered, follow the easy tutorial to create your own pufferfish friend. This ocean craft is perfect for preschoolers who will love painting and gluing their own puffer fish.
Plus, it makes a great decoration around the house or classroom. So dive into this project and have some fun! simpleparent
18. Confetti Sea Life Craft for Pre-K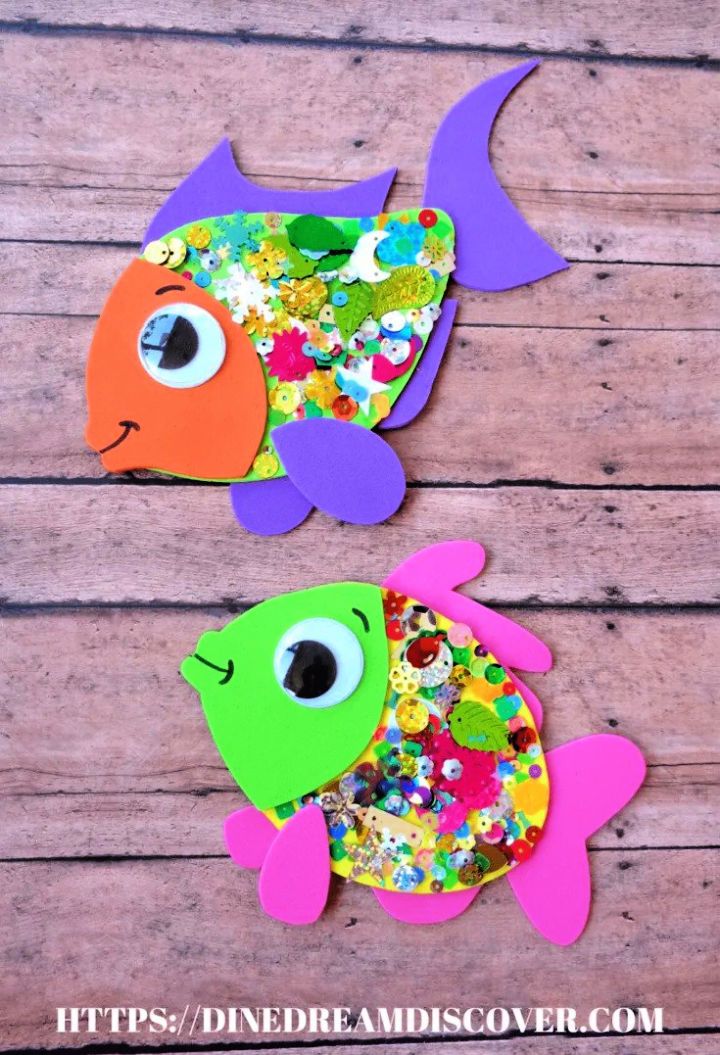 This DIY confetti fish craft for kids is an excellent activity for kids. This is a really easy tutorial with the template. With just a few supplies like Craft Foam Sheets, Scissors, School Glue, Google Eyes and Confetti, you can easily make this cute confetti fish. Black Marker is also needed to draw the smile on the face of the fish. This DIY confetti fish would be perfect for ocean craft! Let's begin! dreamdiscover
19. Underwater Ocean Arts and Crafts for Toddlers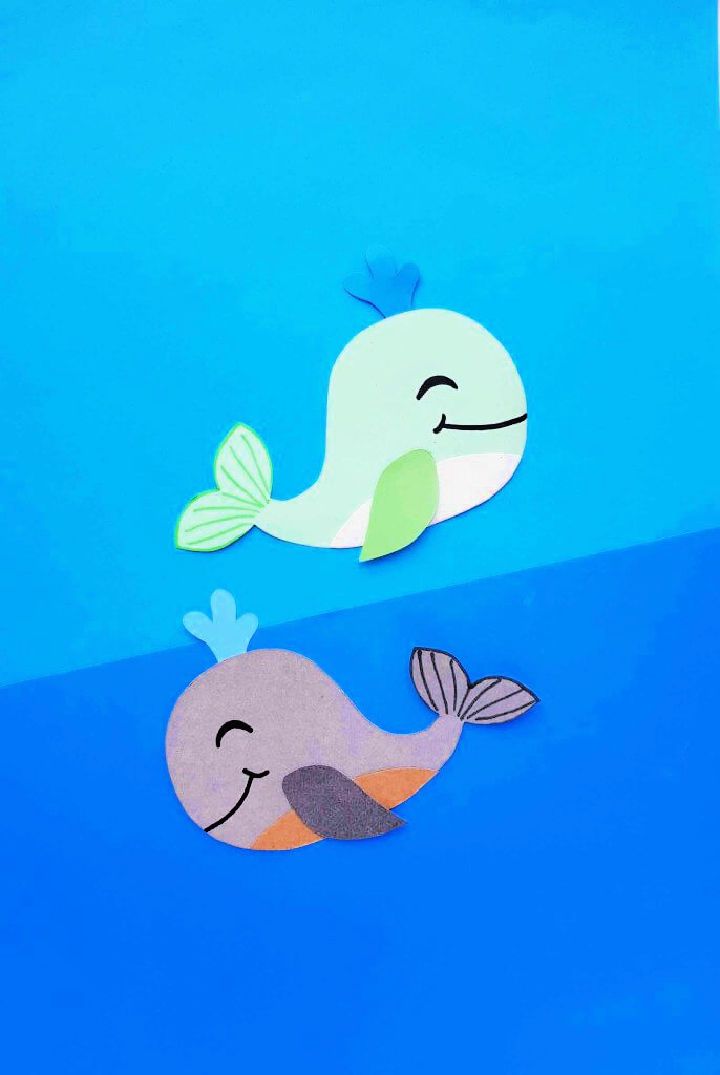 This DIY whale craft is a super cool ocean art activity that is easy to make. This project is perfect for kids who love crafting and also want to learn about ocean life. This whale craft is not only easy to make, but it's also very cute. You can find the template for this project in this tutorial. All you need is some colored craft paper, craft glue, a sharpie, and a pencil.

Once you have all of your materials, follow the instructions in the guide. Within minutes, you'll have your very own papercraft. This project is perfect for kids of all ages and can be enjoyed by the whole family. So get creative and make your own DIY whale paper craft today. travelwithkids
20. Paper Plate Ocean Life Crafts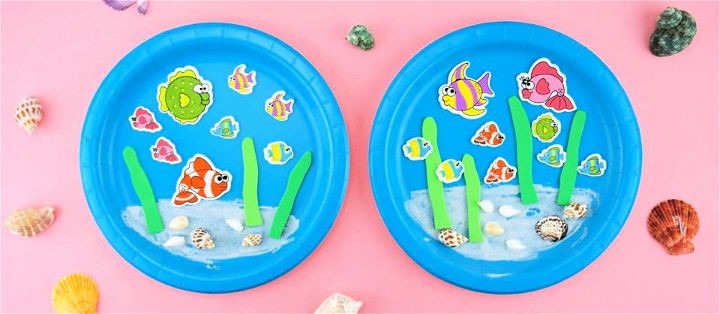 This DIY ocean craft from a paper plate is a fun summer project for toddlers, preschoolers and kids of all ages. It is simple, perfect for teaching kids about ocean life and easy to make with just a few supplies. All you need is a turquoise paper plate, some school glue, a sponge paintbrush, a bag of white sand, green adhesive foam sheets, self-adhesive tropical fish shapes and seashells. Follow this easy tutorial to make your own paper plate ocean craft. fun365
21. How to Make Starfish Texture Art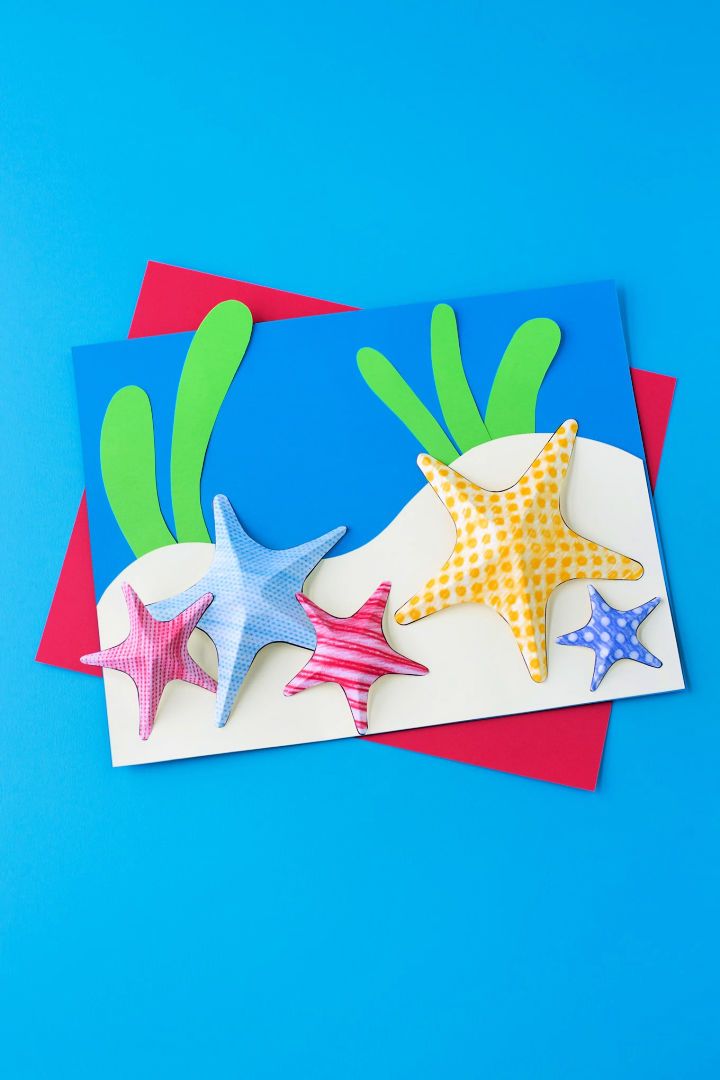 This DIY starfish texture art is a great way to keep kids entertained during summer. Not only is it a cool and unique craft, but it also helps to enhance their creative and learning skills.
The best part about this starfish art is that it's very easy to do. All you need is a starfish template, crayons, construction paper, scissors, and glue.

Simply have your kids color the starfish template with crayons and then cut it out. Next, have them cut out small pieces of construction paper in various colors. They can then glue these pieces onto the starfish template to create a cool, realistic-looking, textured starfish. This DIY craft is perfect for any ocean lover and will bring a smile to your child's face. fireflies
22. Easy Mermaid Tail Crafts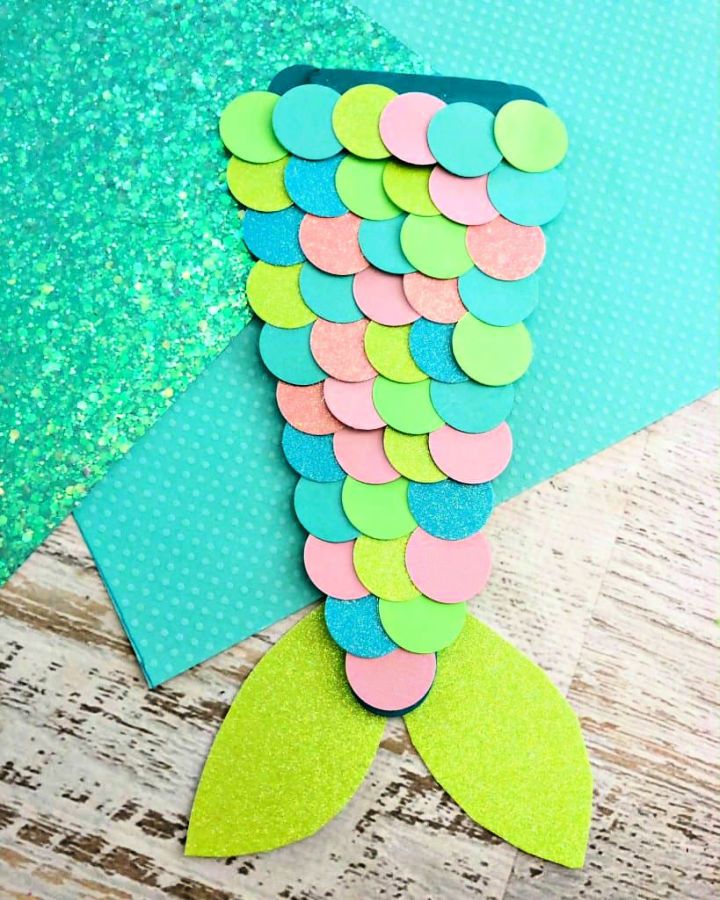 This handmade mermaid tail craft is a fun and easy way to show your love for the ocean and mermaid. All you need are some basic materials like cardstock, a circle punch, and jumbo wavy craft sticks. Plus, you can add your own personal touch with light pink, light blue, mini craft sticks, craft paints, hot glue gun, foam paint brush and light green glitters.

Simply cut out a mermaid tail shape from the card stock, punch out circles, and glue everything onto the jumbo wavy craft sticks. For an extra special touch, sprinkle some glitter. You can glue on some magnets and put your mermaid tail craft on your fridge. An excellent project for any mermaid lover, this DIY mermaid tail craft is sure to be a hit! stylishcravings
23. Water Themed Hungry Fish Craft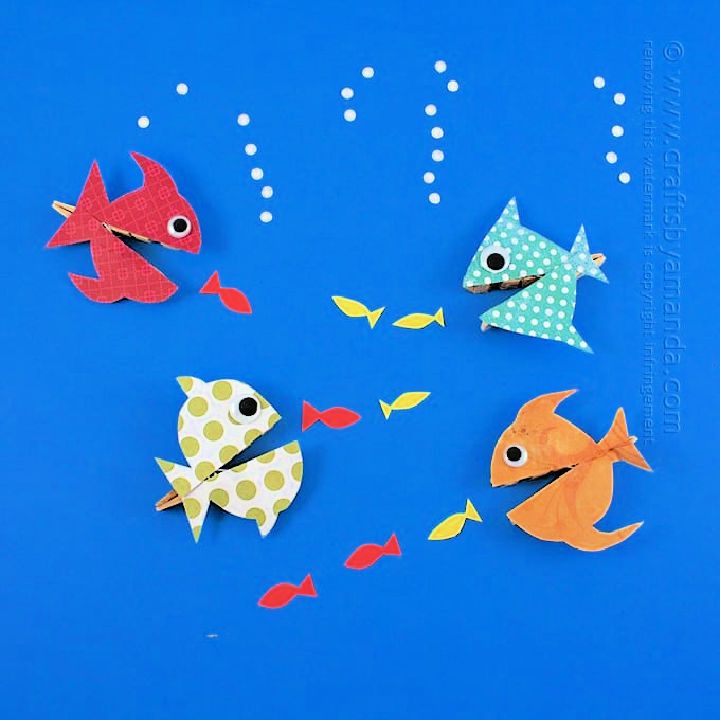 This DIY hungry fish craft from clothespins is a great way to use up those extra clothespins lying around the house. This hungry fish craft is a fun and creative way to use the clothespin lying around your house. The great thing about this craft is that it is simple to make and wonderful to play with. Kids will adore these cute little fish. And when they're done playing with them, they can be used as clips to hang up artwork or photos.

To make this DIY clothespin-hungry fish craft, you will need four wooden clothespins, colorful scrapbook papers, a fish pattern, four googly eyes, a hot glue gun, and scissors. Begin by painting the clothespins with ocean-themed colors.
Once the paint is dried, cut out the fish pattern from the scrapbook paper and glue it onto the clothespins. Then, add the googly eyes and mouth using hot glue. That's it! Your hungry fish craft is now ready to play with. Enjoy! craftsbyamanda
24. Paper Plate Crab Ocean Art Project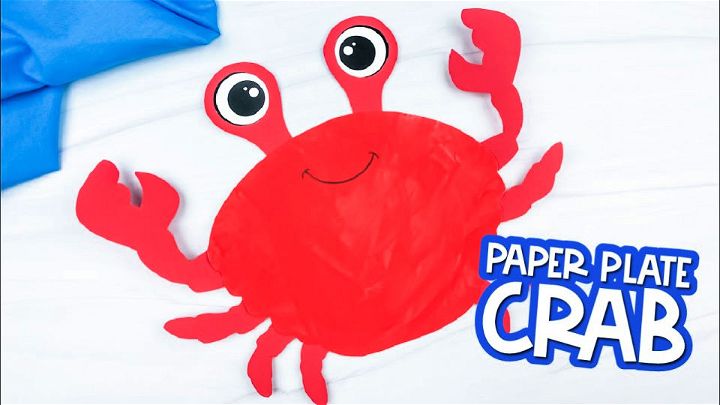 DIY crab craft is a cool ocean animal craft that is fun to make for kids. The materials you will need for this craft are a free printable template for the crab's parts, a paper plate, scissors, red craft color and tape.
The step-by-step instructions for this craft are as follows:
1) Print out the free printable template.
2) Cut out the crab's parts from the template.
3) Trace the crab's parts onto the paper plate.
4) Cut out the traced parts from the paper plate.
5) Paint the crab's parts red with a craft color.
6) Tape the crab's parts onto the paper plate. That's all! You have created a gorgeous paper plate crab craft that will be a great ocean-themed activity for kids!
25. How to Make Paper Bag Octopus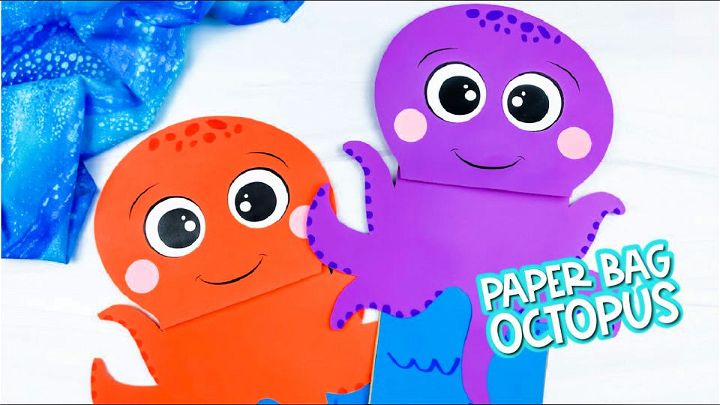 This DIY paper bag octopus craft is fantastic for kids who love ocean crafts! It is super easy to make with a free printable template and so fun to play with. Print the template, cut the pieces, trace them onto a colored piece of cardstock, and glue the parts together.
Then add some details with a marker, and you're all done! This cute octopus is perfect for playtime, or you can use them to decorate your child's room. Either way, it will surely bring a grin to your child's face.
26. 3D Beach Ocean Craft for Adults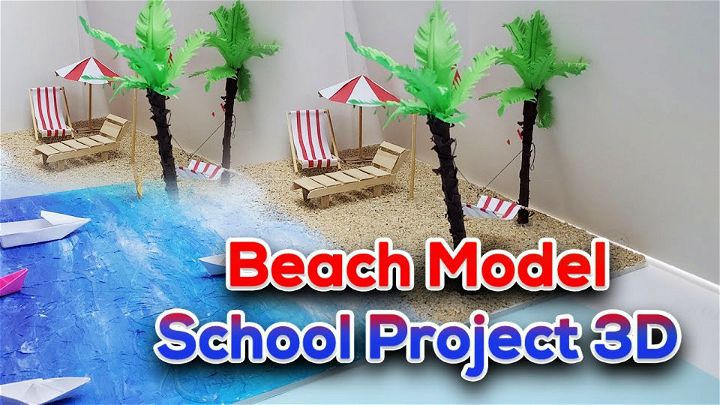 This 3D Beach Ocean Craft for Adults is the perfect way to bring a touch of nature into your home. Our easy-to-follow instructions and pre-cut pieces make this craft kit a breeze to assemble. With bright colors and intricate details, it will be sure to become the centerpiece of any room! This ocean craft is great for adults who are looking for an interesting way to express their creativity while bringing the look of a beach paradise into their living space. Find inspiration in making these beautiful 3D models that capture the beauty of our environment's greatest coastal creations. Create unique decorations or use them as gifts – with this craft set, you can paint and enjoy true artistry on your own terms! youtube
Related Crafts for Kids:
Get creative with this list of fun and easy crafts for kids of all ages. Make memorable keepsakes or gifts that are sure to bring a smile.
Conclusion:
These 25 fun and easy ocean crafts and art ideas for kids of all ages are excellent resources to help parents, teachers, and caregivers provide educational and entertaining activities for their kids. The under the sea crafts are great for any age level, from preschoolers to older children. They are also easy to make, inexpensive, and engaging enough that the child will have fun completing them.
Each craft comes with detailed instructions on how to proceed as well as a list of materials needed so that it can be done quickly and easily. With these ocean-inspired crafts, your child can learn about sea creatures in a hands-on way while having lots of fun too!