Felt crafts are a great way to make simple and beautiful projects. Whether you are na experienced in crafting or a beginner, these 25 easy DIY felt crafts are perfect for you. Using wool felt, craft yourself anything from bows to banners with easy step-by-step tutorials. With some printable felt patterns available for free, creating these felt projects will be fast and fun! So if you love making your own creations and adding personalized touches, try out these DIY felt crafts today!
Looking for a great way to add fun, color and texture to your home decor? Find this list of easy DIY felt crafts, projects and free printable patterns for beginners! Felt is one of the most versatile materials – it's affordable, strong, easily manipulated into different shapes and comes in various colors. Whether you are into sewing or not, felt can be used to create amazing creations.
From simple keychains to intricate wall hangings and even 3D decorations like flowers – these felt crafts are for everyone! With this collection of 25 easy DIY felt crafts and free patterns, you will be inspired to get creative with wool felt. We have included everything from cute coaster sets to stylish jewelry holders so that you can find just what you need. Our craft ideas range from beginner-friendly crafting tutorials to more advanced designs perfect for experienced crafters. And if that isn't enough, there are even some really cool free patterns too – these include detailed step by step instructions as well as pdf felt pattern templates, making them easier than ever before! So start getting crafty today with our awesome selection of 25 easy DIY felt crafts, projects and patterns!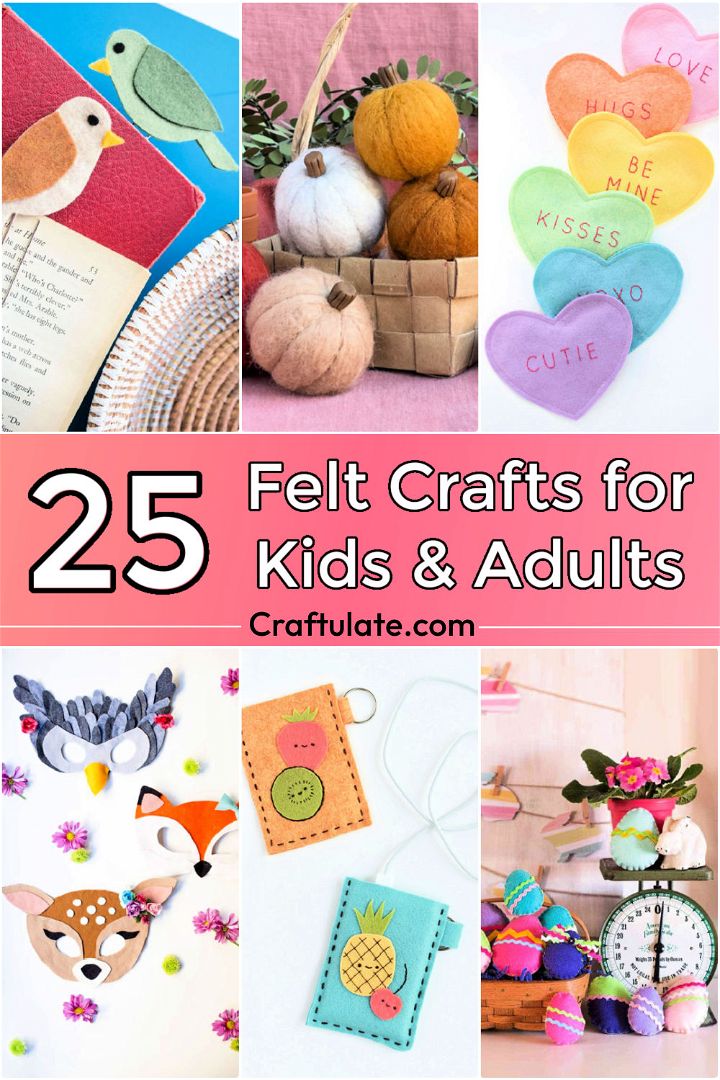 Easy DIY Felt Crafts, Projects and Free Patterns
If you're an avid crafter, felt crafts make a great addition to your rotation! Felt fabrics are easy to work with, making them perfect for beginners who don't have access to expensive materials. We've included 25 free felt patterns and printable pdf instructions for felt crafts. Most offer step by step instructions so you can complete the project without any stress or confusion. The options are endless with felt crafts; from jewelry, decor items or accessories – there's something for everyone. So why don't you give one of these felt crafts a go and get creative today?
1. DIY Needle Felted Mouse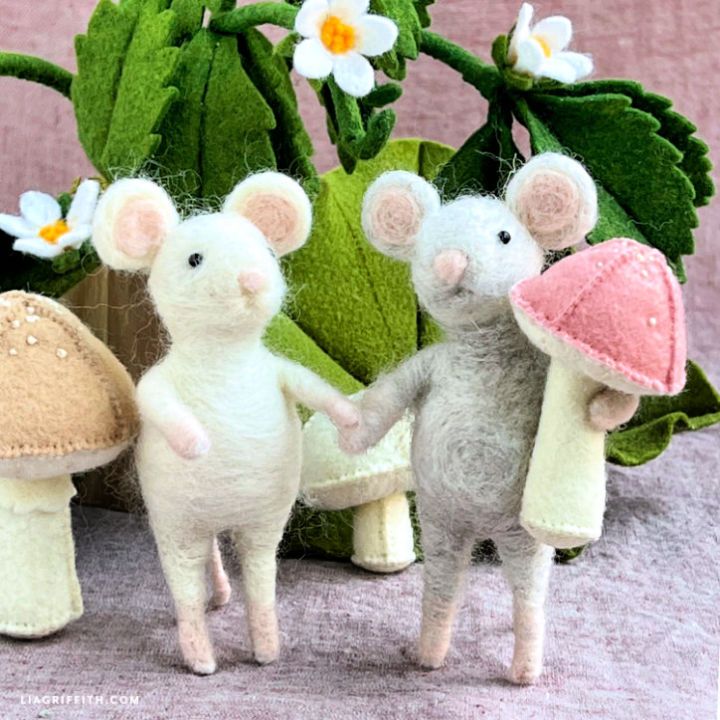 Needle-felted mice are an adorable project that is easy to create. Beginner needle will love this project as it only requires a few basic supplies, and there is a printable template to help you get started. These little guys are designed as animated characters and can be customized with any additions of cute hats, mouse houses, and more.
Materials Needed:
ashford corriedale wool
lia griffith felt balls
needle felting craft eyes
chenille stems
2. Mini Felted Pumpkins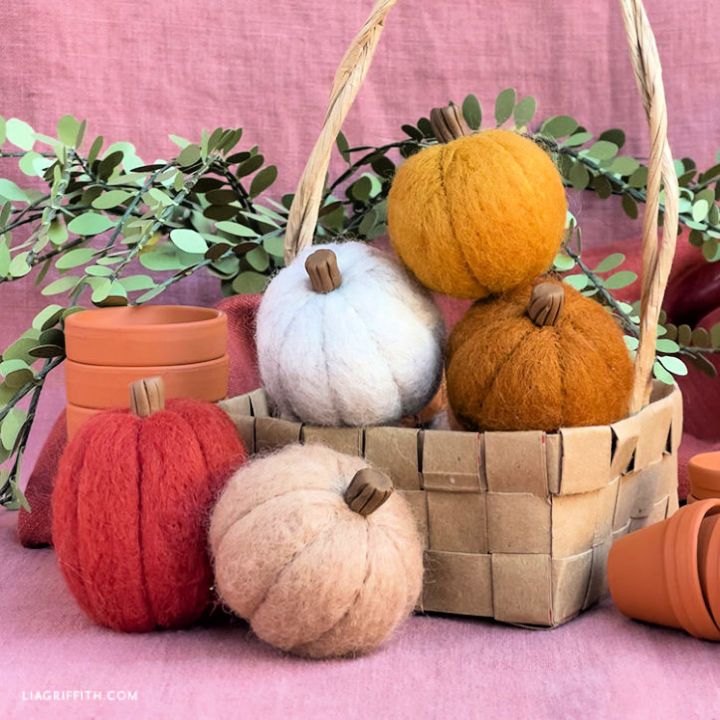 DIY mini felted pumpkins are a great craft for kids to make. They are perfect for fall and a wonderful decoration for the halloween season. The simple version is perfect for beginners. You can use them to dress up your mantel, set them on a shelving unit, or dress up your holiday table.
You will need 4cm felt balls, sculpey clay, and needle felting roving wool. First, take the sculpey clay and make small balls. Next, take the felt balls and needle-felting roving wool and start needle-felting the roving wool onto the clay balls. Keep needle felting until the entire ball is covered. Make sure to add a stem to the top of each pumpkin.
Once you are finished, you will have beautiful DIY mini felted pumpkins to enjoy all autumn! liagriffith
3. DIY Tweety Felt Bird Bookmarks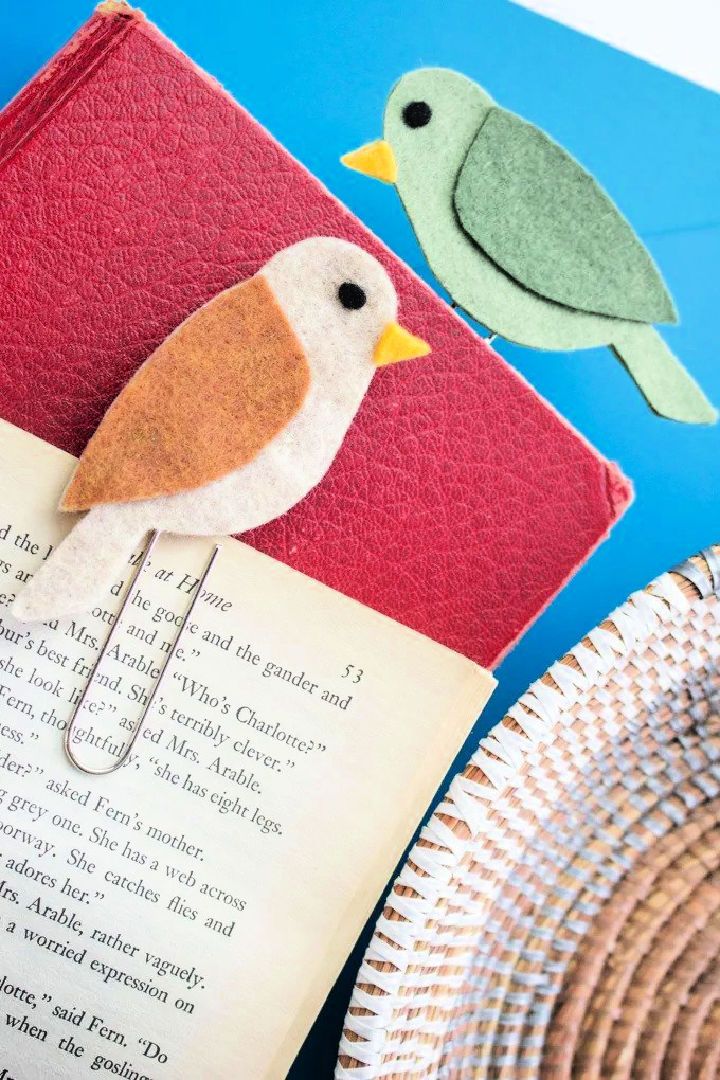 DIY bookmarks are such a fun and easy project to make! Not only are they adorable, but they're also practical. These DIY tweety-felt bird bookmarks fit the bill. They would make an adorable and practical teacher's gift or be handy around our home. These little bookmarks are easy to make and require only a few materials.
Plus, the free printable bird template makes them even easier! Please print out the template, cut out the felt, and glue it together, and you're done! These DIY bookmarks are so cute and would make a special treat for any book lover. So, whip up a batch of these DIY tweety felt bird bookmarks today! You'll be glad you did. sustaincrafthabit
4. Felt Chocolate Chip Cookies Crafts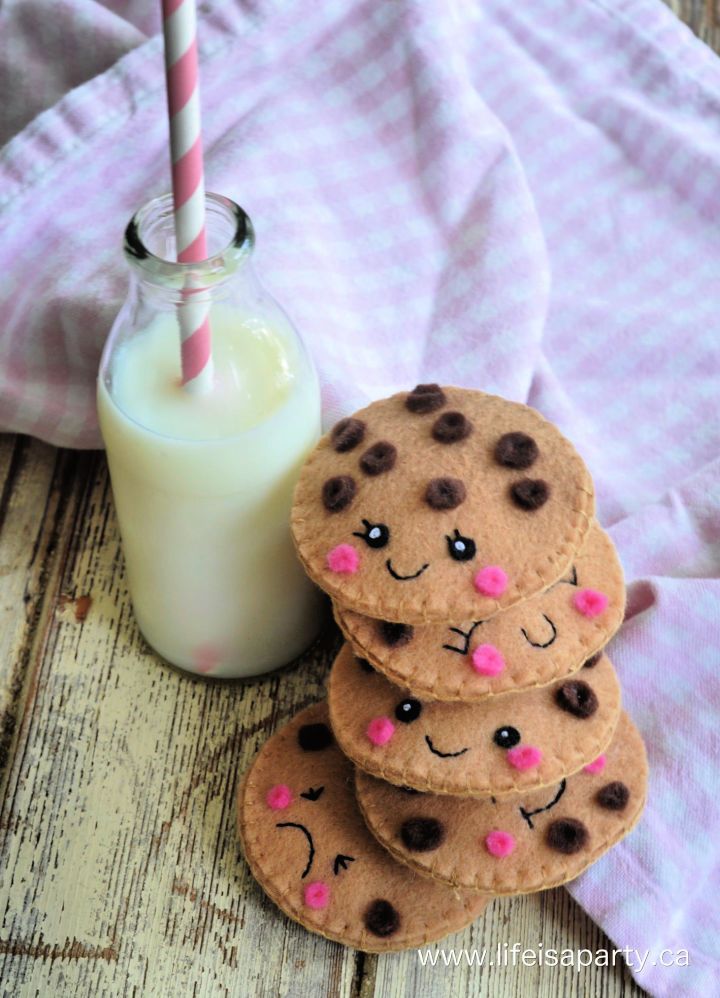 A DIY felt chocolate chip cookies are a great project for anyone who loves to sew and create toys. Made from recycled materials, these DIY felt chocolate chip cookies are thick, soft, and easy to work with.
They're also fun to make, and kids will love playing with them. Perfect for a playroom or bedroom, these DIY felt chocolate chip cookies are sure to add some excitement to any space. lifeisaparty
5. DIY Magic Wand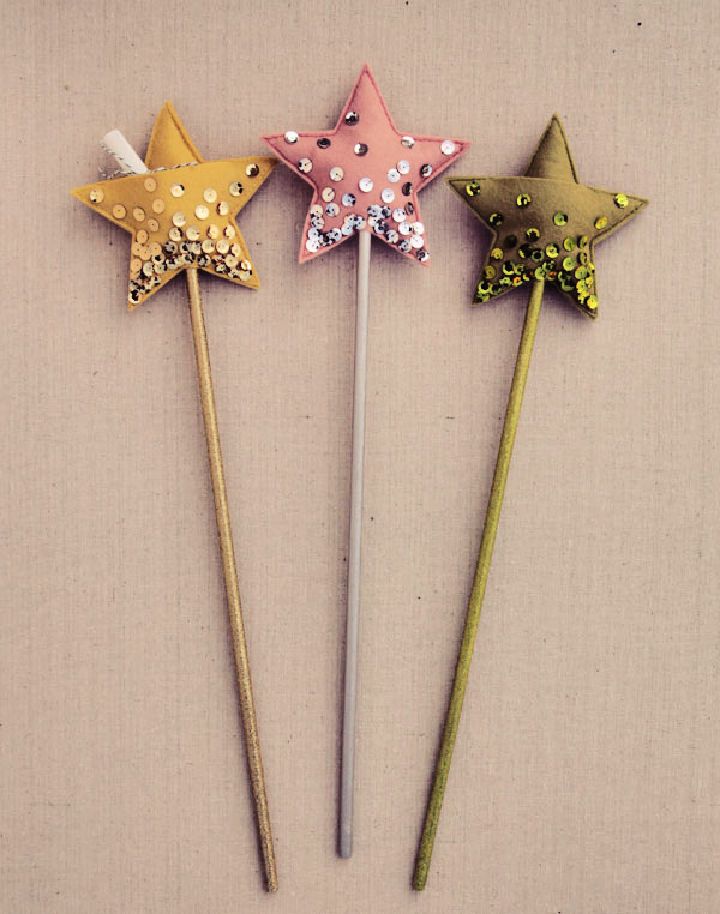 This DIY magic wand is the perfect match for your fairy costume or wizard costume! It's simple to make, and a little bag of glitter, a love note or a gift card can turn it into a beautiful magic wand! It's sure to be a hit with all your friends! All you need is a dowel, paint, glitter, fluff, and a few other materials. Follow the below steps, and you'll have your magic wand in no time! heartmade
6. Making a Felt Lion Wall Art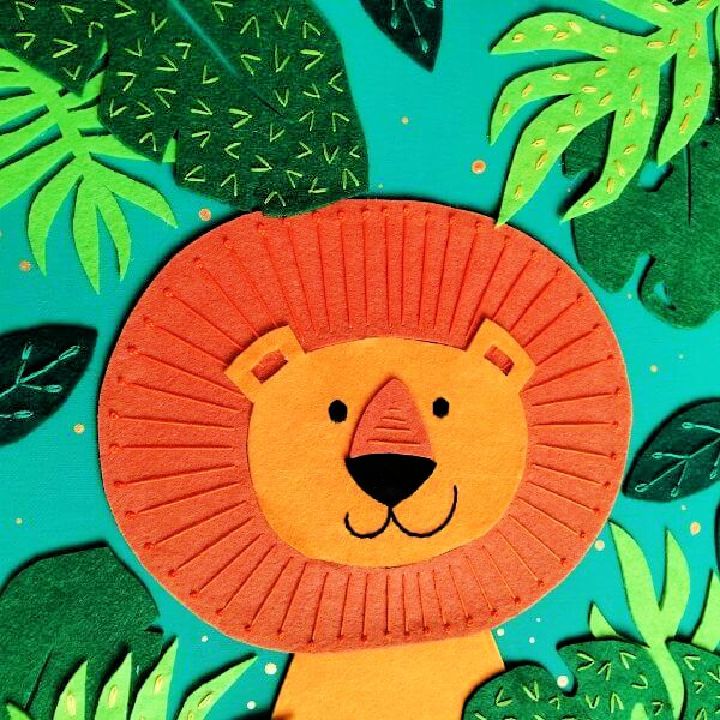 This DIY project is cheap, easy, and perfect for beginners. It's a great way to add creativity to your child's room, and you can use any colors you like. The best part is that it only takes a few materials and a bit of time. So gather up your supplies, and let's get started!
You'll need the following:
a canvas
felt
scissors
acrylic paint
paintbrush
glue gun + glue
the free templates
printer
paper + pencil
freezer paper
sulky sticky fabry solvy
cotton embroidery floss and needle.
7. Felt Pumpkin Thanksgiving Centerpiece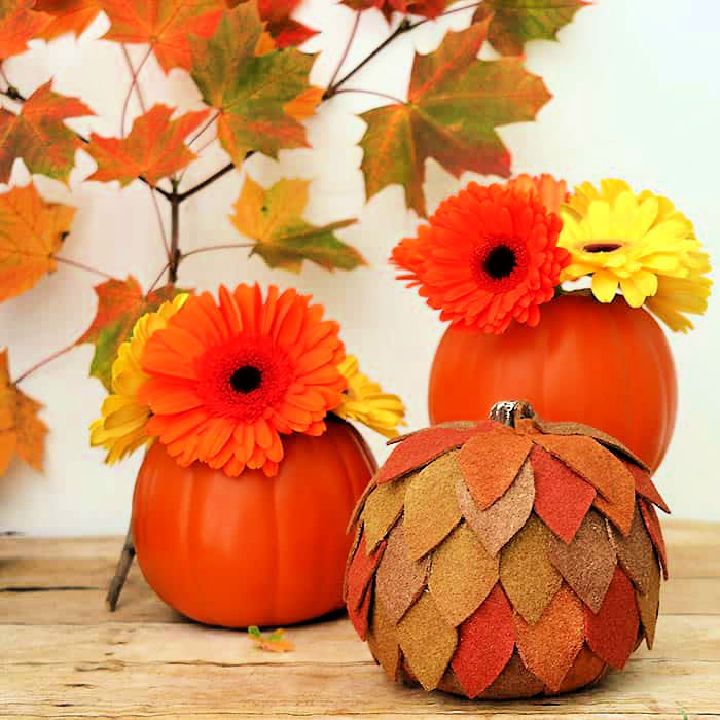 This DIY felt pumpkin thanksgiving centerpiece is an easy and great way to upgrade your styrofoam pumpkins. A colorful centerpiece that will brighten up any Thanksgiving table. It is also a great way to DIY your own thanksgiving decorations.
The best part about this project is that it is very easy. You only need a few supplies and can make this felt pumpkin in no time. So, if you are looking for an easy and affordable way to decorate your table this thanksgiving, this beautiful felt pumpkin thanksgiving centerpiece is the perfect project for you. gina michele
8. DIY Hand-Lettered Felt Flags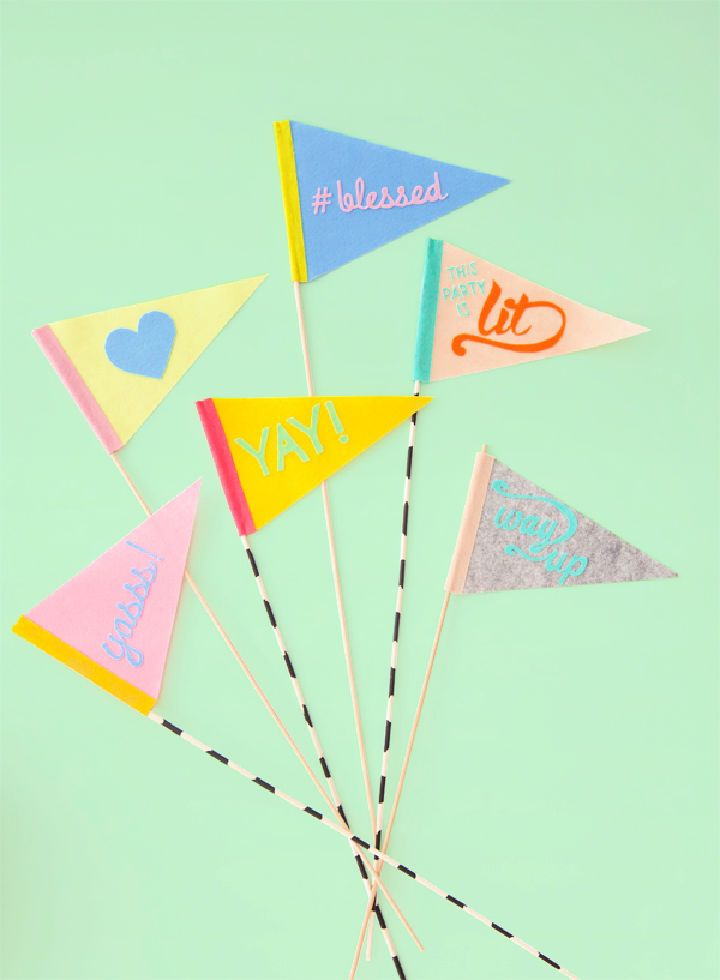 Make hand-lettered felt flags that are easy to make and look beautiful at a wedding or birthday party. You can find printable lettering templates online or DIY your own. Once you have your template, cut out the letters with scissors or an x-acto knife.
Then, use packing tape to transfer the letters onto stiff felt. Cut out the letters again, this time using mini-precision scissors. Finally, apply aleene's tacky glue to the back of each letter and adhere them to ⅜″ wooden dowels. Allow the glue to dry completely before displaying your flags.
DIY hand-lettered felt flags are a great way to add a personal touch to any celebration. ohhappyday
9. DIY Cherry Pie Potholder – Felt Crafts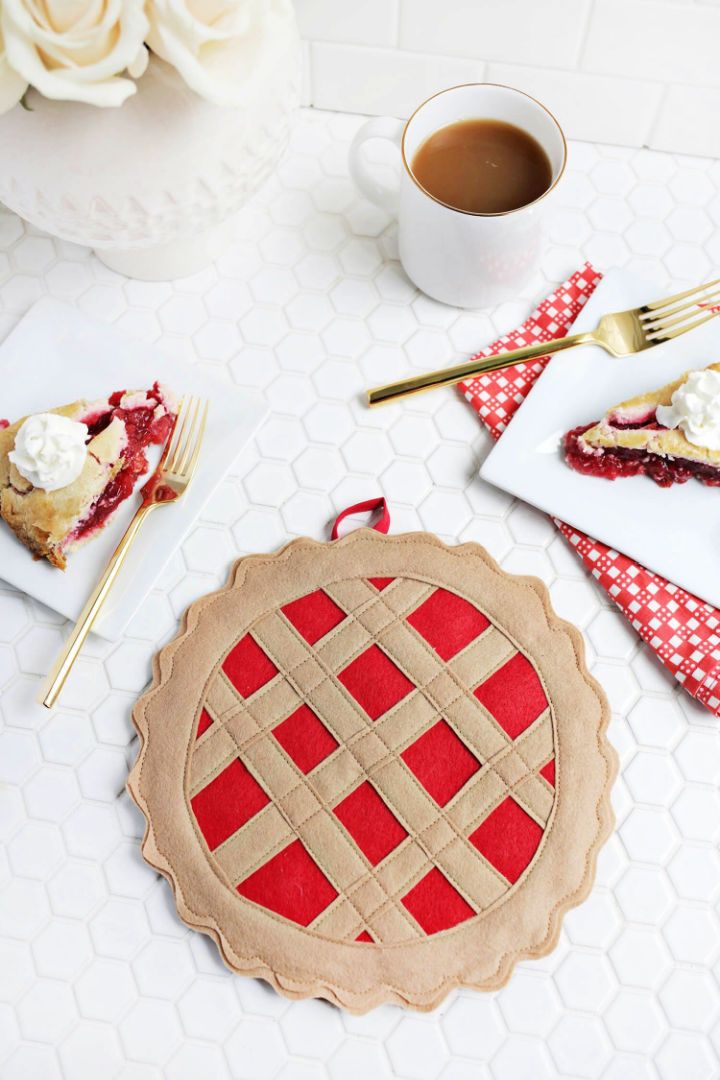 These oven mitts protect your hands from hot pies and make a great gift for the baker in your life. DIY cherry pie potholders are a fun and easy way to show off your baking skills in the kitchen.
To make your pot holder, you will need some wool felt in tan and red, fabric scissors, fabric glue, and a sewing machine. Cut out two circles of felt for the cherry pie crust, two smaller circles for the cherries, and one small rectangle for the stem. Glue these pieces together and then sew them onto a round potholder. Your DIY cherry pie potholder is now complete and ready to use! abeautifulmess
10. No Sew DIY Felt Scalloped Pillow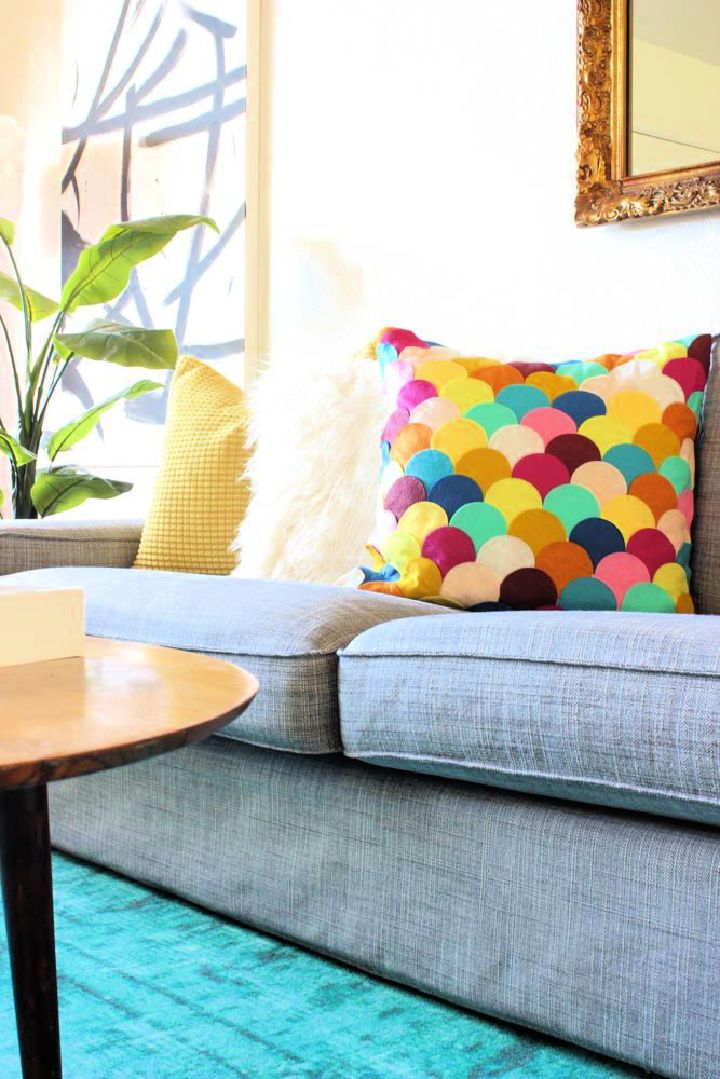 This no-sew DIY felt scalloped pillows are so fun and easily customizable to fit any decor style by switching up the color palette. You can make it with a hot glue gun, glue sticks, felt circles, scissors, and a gurli Ikea pillow cover. Cut the felt circles into equal-sized strips and hot glue them around the perimeter of the pillow cover. That's it! You now have a beautiful DIY scalloped pillow that adds a touch of fun and color to your space. classyclutter
11. How to Make a Lantern With Felt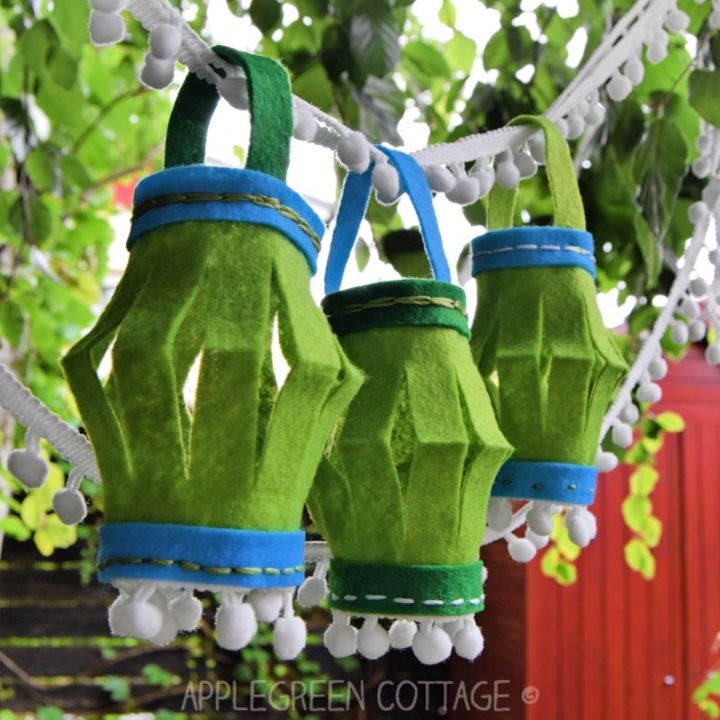 These DIY lanterns are a great way to add easy party decor to your home. They can be made by kids and are perfect for decorative DIY lanterns for hanging up around the home. This little project is fun, awesome, and quick! You will be surprised at how easy these DIY lanterns are to sew.
Supplies:
5″ x ½" strip of felt – for the handle
6″ x 4″ (1 piece) – for the lantern body
6″ x ½" (2 pieces) in contrasting colors as embellishment
matching thread, sewing needle or sewing machine
embroidery floss
scissors
measuring tape
option: pompom trim
12. How to Sew a Felt Sandwich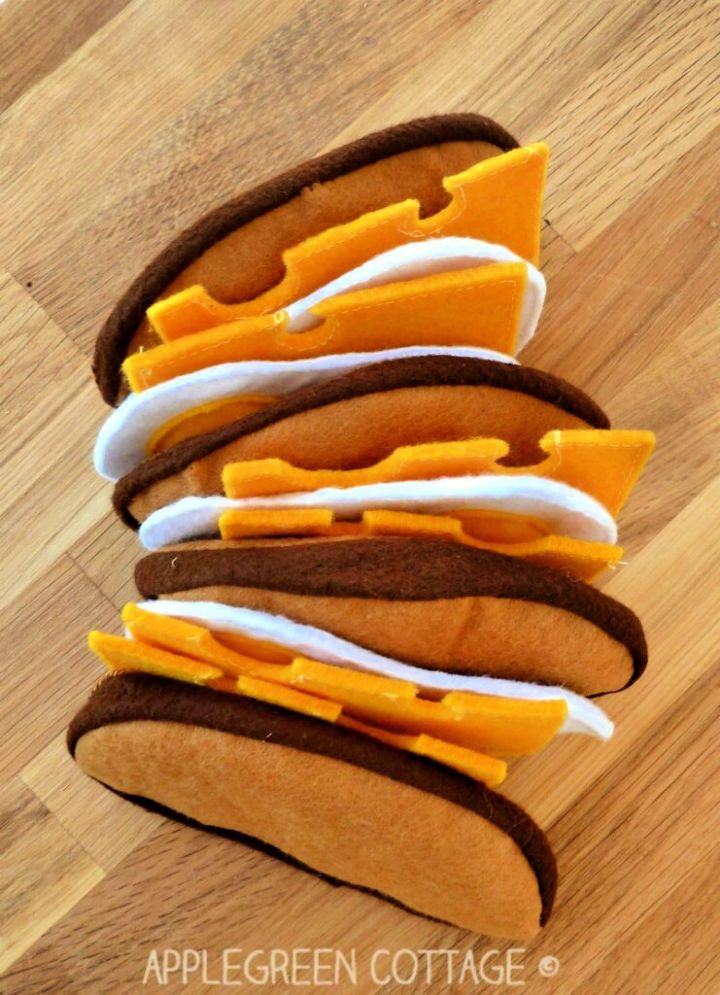 DIY projects are always fun, but DIY projects that you can use? Even better! This felt sandwich sew incredibly cute and a great way to add a ton of playful learning situations to kids' play. The best part? It's super easy to sew, and you only need a few simple supplies.
So, this DIY felt sandwich is the perfect option if you're looking for an awesome DIY birthday present for a toddler, a preschooler, or even an adult. Trust us; they'll love it! applegreen
13. Colorful Felt Easter Eggs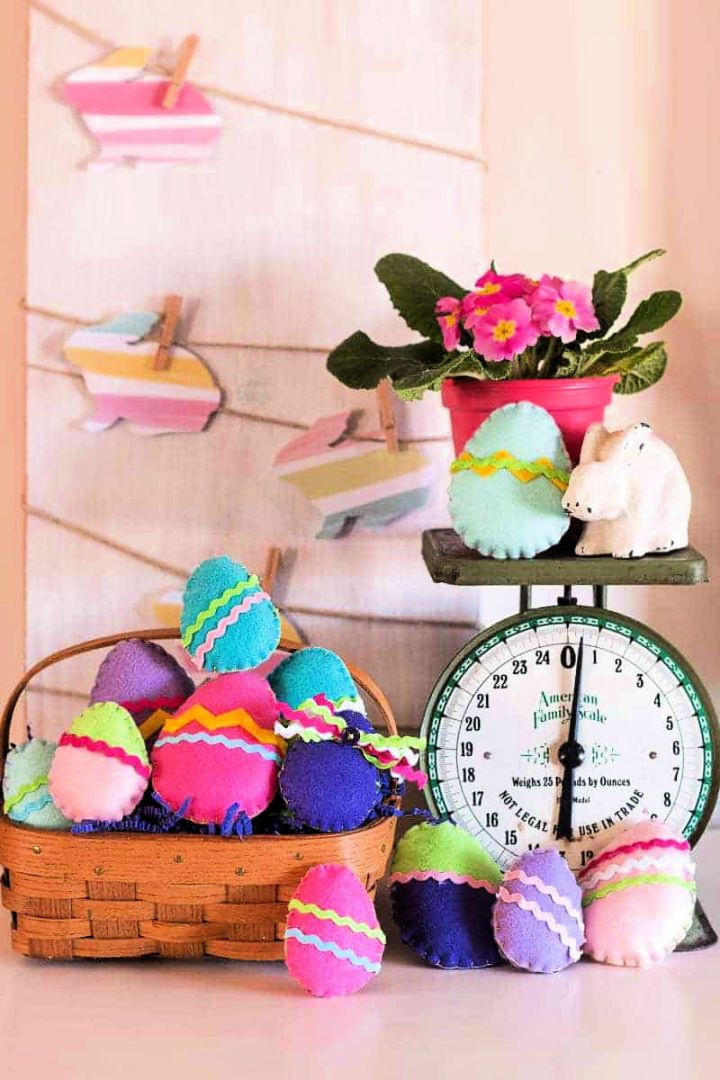 These DIY colorful felt easter eggs are an easy, inexpensive way to add Easter cheer to your home this spring! Made with just a few simple supplies – felt, embroidery floss, fiberfill stuffing, and a sharpie or other fabric marker – these cute little eggs can be customized with buttons, ricrac, and beads.
They make the perfect Easter decoration for your mantle or coffee table, and they're also a fun project to do with the kids. So whether you're looking for a quick DIY project or a fun easter activity for the family, Colorful felt easter eggs are the perfect solution! howtohome
14. How to Make Pretty Felt Roses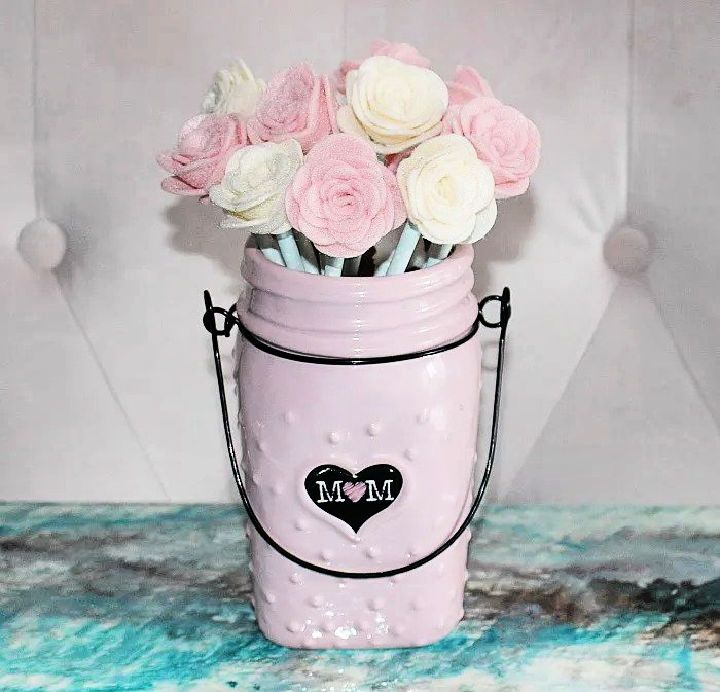 Want something decorative for your place? DIY pretty felt roses are an easy, no-cost way to add a touch of elegance to any project. This easy tutorial can be completed in under 15 minutes using simple supplies you may already have.
All you need is a surebonder cordless glue gun, sizzix big shot, and a color felt pack. With quick and easy steps, you can create beautiful felt roses that can be added to picture frames, pillows, or any other project. So grab your supplies and get started today! ourcraftymom
15. DIY Wine Glass Holder Necklace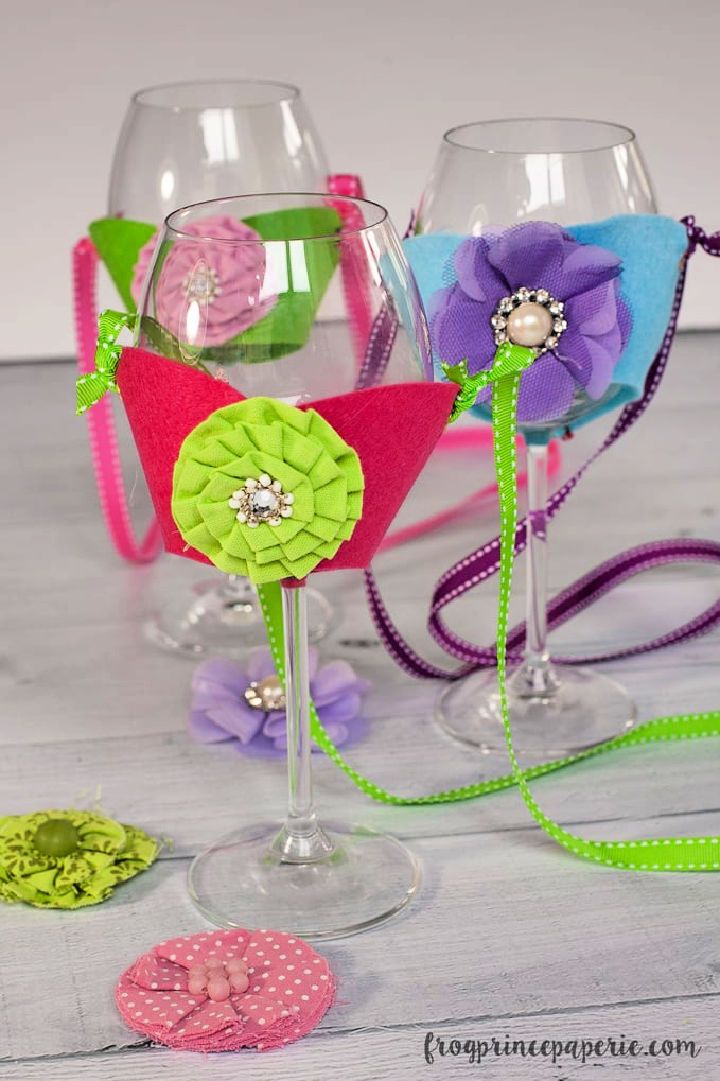 A DIY wine glass holder necklace is a great way to have a proper wine glass holder while still being able to take advantage of the appetizer table or shopping! These necklaces can be made in under 15 minutes, and with simple supplies, you may already have them.
All you need is stiff felt, embroidery floss, grommets, ribbon, and optional embellishments. With this easy-to-follow DIY guide, you will have a wine glass holder necklace in no time! Whether you make them for yourself or as a gift, these necklaces will surely be a hit.
Get creative and make them your own by choosing different colors and felt patterns or adding unique embellishments. Wine glass holder necklaces are the perfect way to enjoy your next glass of wine! frogprincepaper
16. Pokemon Felt Pikachu Craft for Kids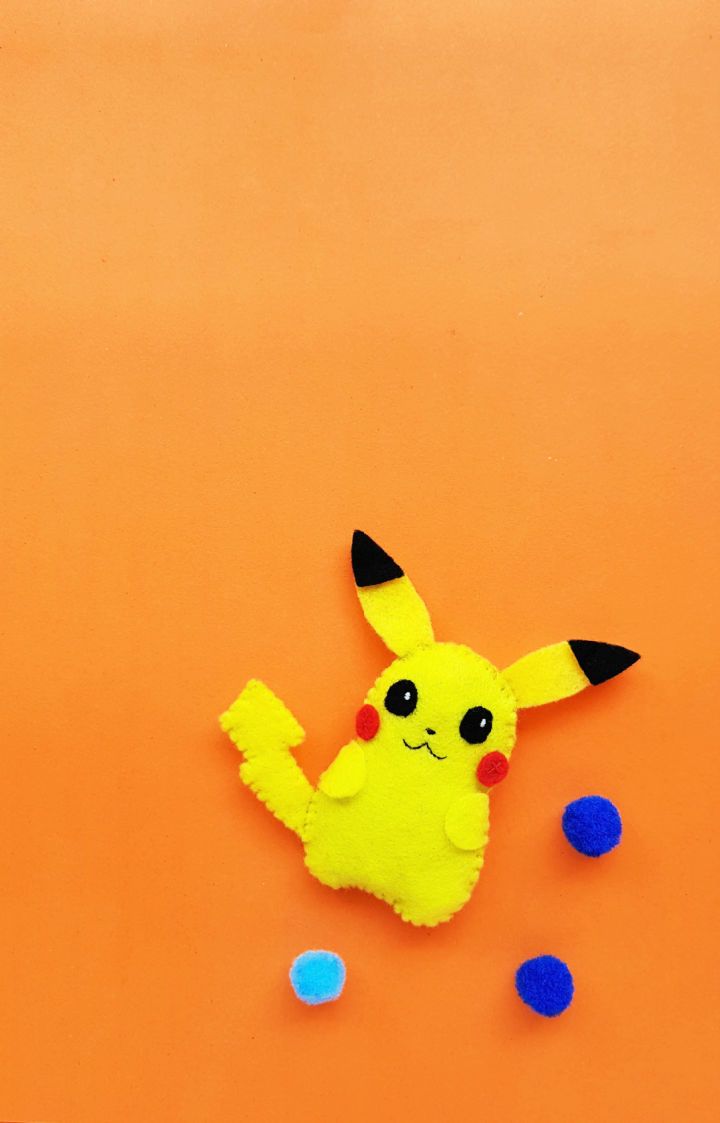 If you're looking for an easy and epic Pokemon craft for kids, this diy pokemon felt pikachu craft is perfect! Your kids can make their own Pokeball with you with little guidance.
And it's so simple to make – all you need are basic supplies you probably already have at home. Plus, we've included a step-by-step template to make it even easier!
This DIY craft is perfect for kids of all ages – from toddlers to tweens. And it makes a great gift or party favor too! So, what are you waiting for? Get crafting! inspirations
17. DIY Felt Crinkle Conversation Hearts Crafts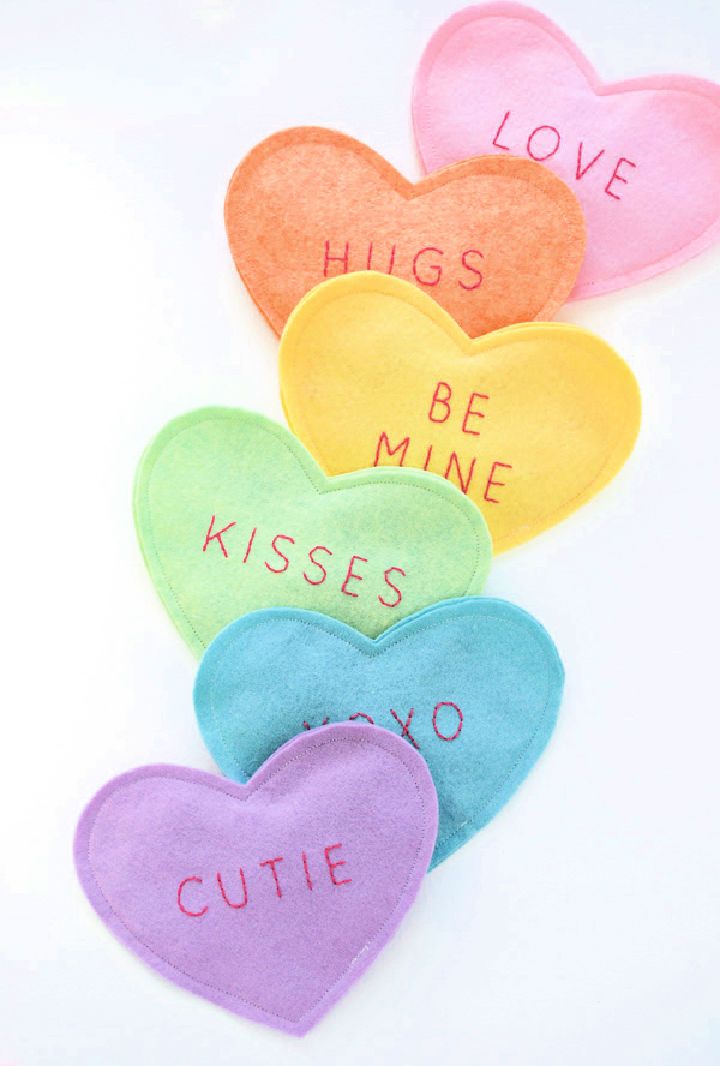 Are you looking for a quick and fun diy valentine's day project? Look no further than these diy felt crinkle conversation hearts! Made from felt and filled with crinkling cellophane, these big hearts are sure to delight the senses. Best of all, they're completely sugar-free!
Begin by tracing heart shapes onto the tracing paper. Cut out the hearts from the felt, using the tracing paper as a guide. Pin the two heart pieces together and sew them together with a needle and thread. Alternatively, you can sew the hearts together with a sewing machine.
Once the hearts are sewn together, it's time to add the crinkling cellophane filling. Cut a strip of cellophane slightly smaller than the opening of the heart. Slip the cellophane into the opening and pin it in place. Sew the opening shut with a needle and thread or a sewing machine.
Finally, hand-stitch a message onto each heart using embroidery floss. These diy felt crinkle conversation hearts make an adorable and unique gift for valentine's day – or any day! hellobee
18. Simple Felt Heart Wall Hanging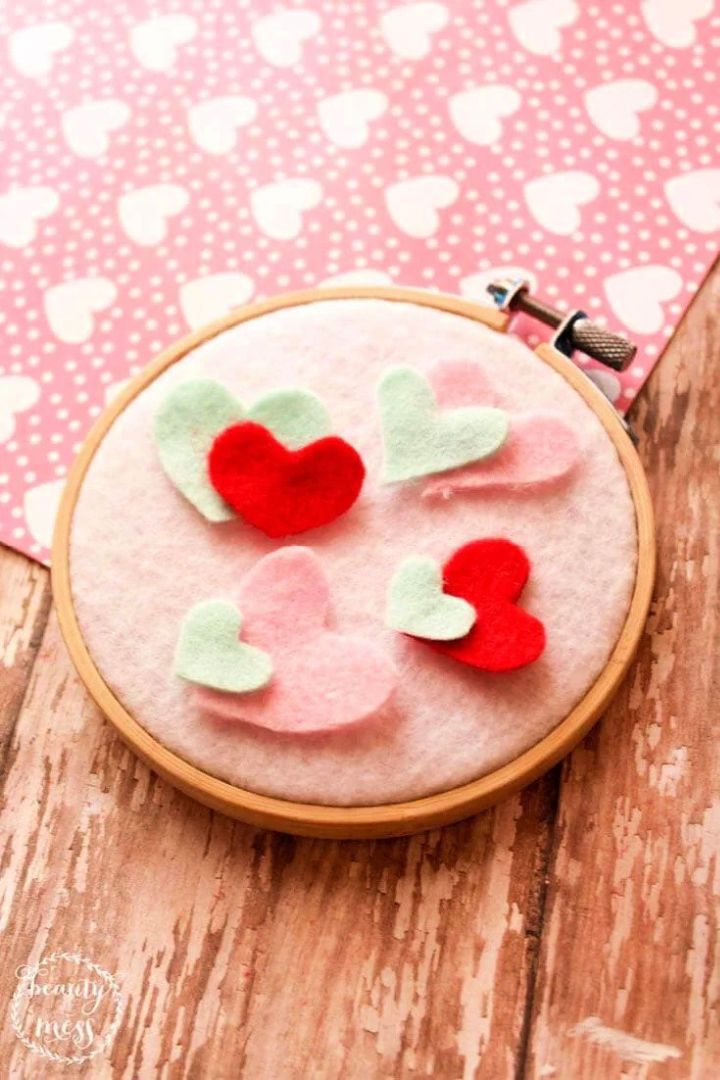 A DIY simple felt heart wall hanging is the perfect decor for valentine's day or to fill space in your gallery wall. This craft is simple and easy to make with just a few supplies. You will need an embroidery hoop, white, pink, red, and teal craft felt scissors and craft glue.
First, cut out a heart shape from the white felt. Then, cut out smaller hearts from the other colors of felt. Glue the smaller hearts onto the white heart. Next, place the felt heart inside the embroidery hoop and tighten it.
Finally, hang the felt heart wall hanging on a nail or hook on your wall. Enjoy your beautiful new decoration! simplifyingfamily
19. No Sew Free Felt Animal Mask Pattern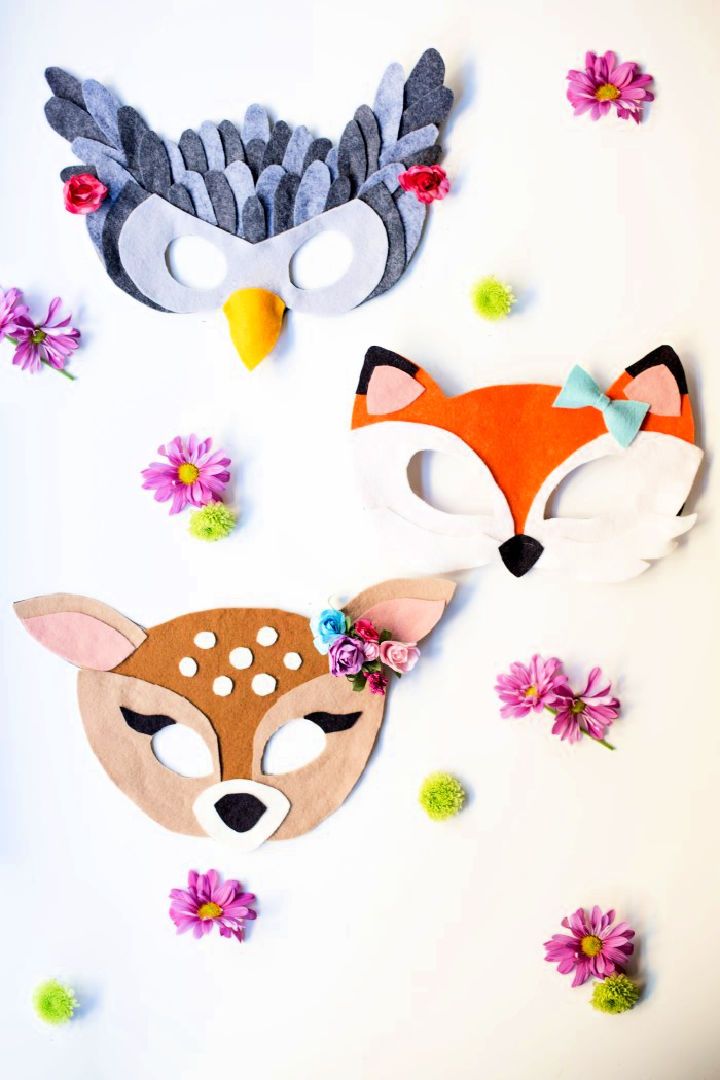 Make your own custom handmade felt crafts with our unique selection of felt, needles, and supplies. Create one-of-a-kind gifts or decorations for yourself or loved ones today! DIY no sew free felt animal mask patterns are a little more time intensive than your standard DIY halloween costume, but the cutest costume always wins. These DIY animal masks are no exception.
They make great dress-up fodder for kids any time of year and are especially relevant for halloween. The best part is that they are a great way to add your personal touch to a store-bought costume or to create a unique DIY halloween costume from scratch.
The result is always the same: adorable masks that will make you the hit of any Halloween party or trick-or-treating excursion. flaxandtwine
20. Adorable DIY Felt Animal Pencil Toppers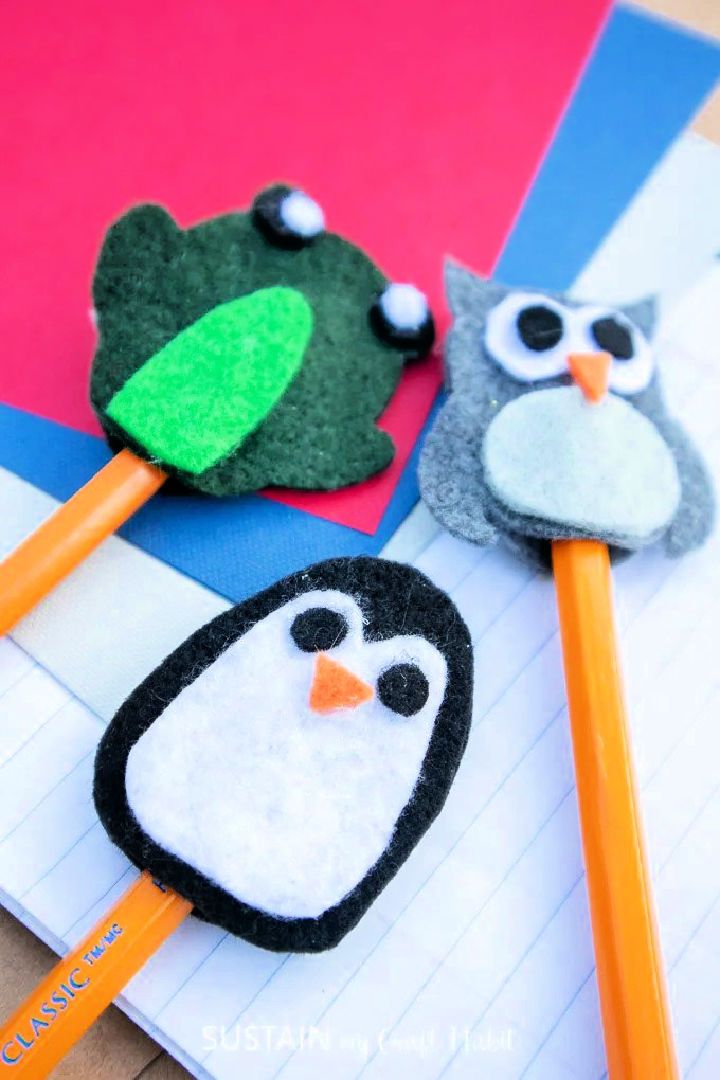 Bring whimsy to your pencils with these adorable felt animal diy pencil toppers! This fun and creative back-to-school accessory are perfect for adding personality to any desk or locker. With felt sheets in color combinations like owl, frog, and penguin, you can create the perfect accent piece for your favorite writing utensil.
All you need are fabric scissors, a hot glue gun and clear glue sticks, pencils, and some imagination! These handmade animal pencil toppers will make schoolwork more enjoyable while ensuring that your supplies stand out from the rest. sustaincrafthabit
21. DIY Felt Stove Kids Play Kitchen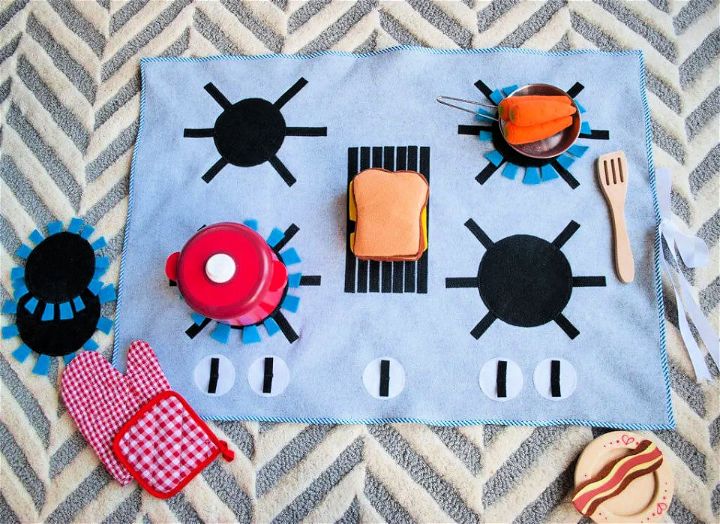 Create beautiful, unique gifts for your loved ones with DIY felt crafts. Learn how to make different craft items using affordable and easy-to-find materials. A DIY felt stove kid's play kitchen is perfect for pretending. Kids use the stove with pots, pans, felt, and wooden food. It is a handmade play kitchen. It is a portable DIY kid's play kitchen that doesn't have to take up a lot of space. You can easily move around from room to room.
The simple supplies are black felt, white felt, blue felt, gray felt, heatnbond lite or heatnbond ultrahold, ½″ striped bias tape, thread, good fabric scissors, rotary cutter, clear ruler and self-healing mat, good iron and ironing board, sewing machine, fabric glue, grosgrain ribbon. merrimentdesign
22. Felt Juice Box Power Bank Case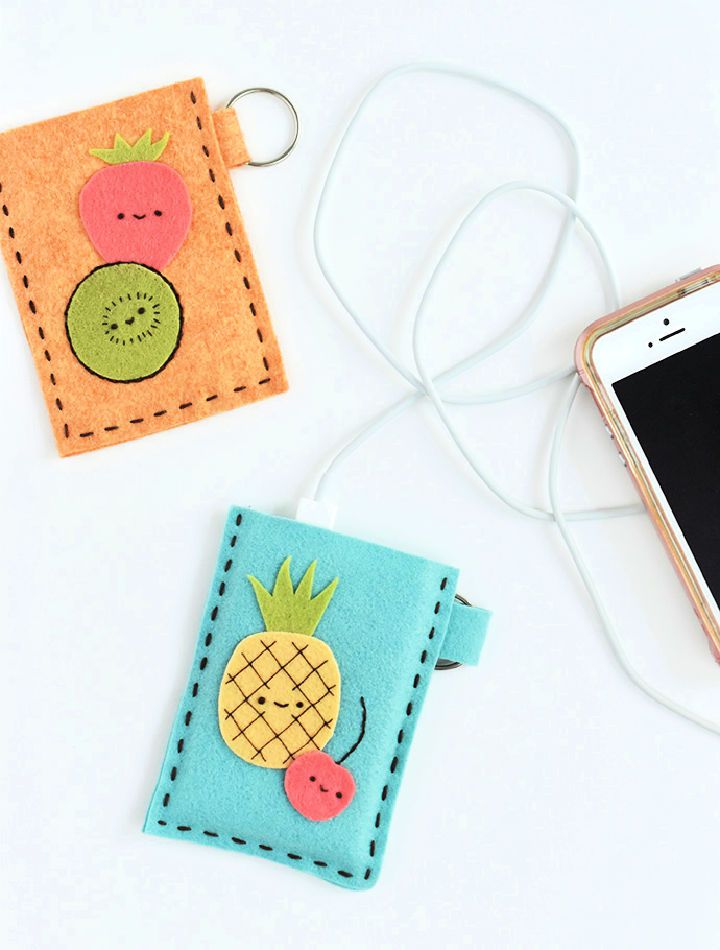 If you've ever been caught without a phone charger, you know the panicked feeling of watching your battery die. Phone dies. No worries, we've all been there. But is there a way to avoid that dreaded feeling? DIY-felt juice box power bank case to the rescue!
This project will show you how to make a case for your power bank that is juice box-inspired and super cute to boot! All you need are some basic craft supplies and a bit of time, and you'll have a handy case for your backup battery. So next time your phone starts to die, you can rest assured knowing that you're prepared! handmadechar
23. DIY Felt Dinosaur Plush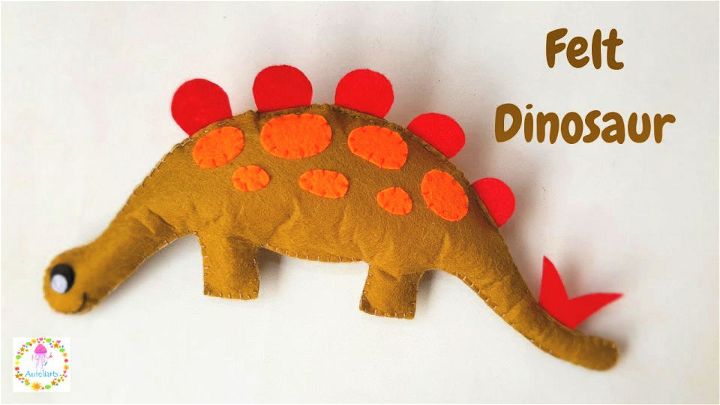 DIY felt projects are a great way to get your kids involved in crafting. The projects can be as simple or complex as you like and are a perfect way to use fabric scraps. This DIY-felt dinosaur plush is a great project for kids of all ages.
It's simple enough for younger children to make, but older children can add details to make it their own. Plus, it's a great way to teach kids about dinosaurs! All you need is some felt, stuffing, and basic sewing supplies. Follow the steps below to make your DIY felt dinosaur plush.
24. Easy Sew Animal Belt Buddies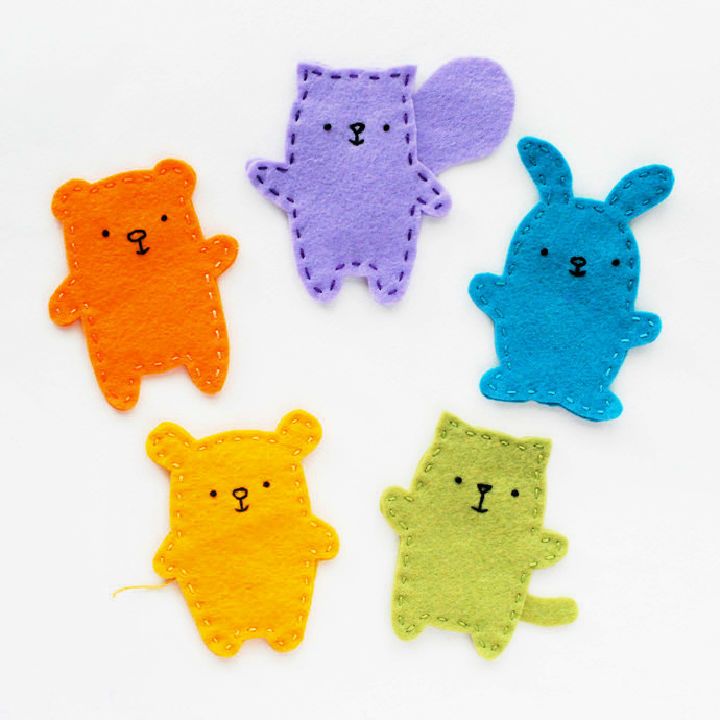 Don't let the name fool you; these DIY easy-sew animal belt buddies are not just for kids! They make great travel companions too. Cute and with personality, these little animals are sure to make friends wherever they go.
And the best part is that they're easy to make. Print the template, cut out the felt pieces, and stitch them together. Then add a belt or 1-inch wide belting and two D-rings, and you're all set. So whether you're looking for a fun DIY project or a new best friend, these easy sew animal belt buddies are sure to please. handmadechar
25. DIY Felt Leaf Wreath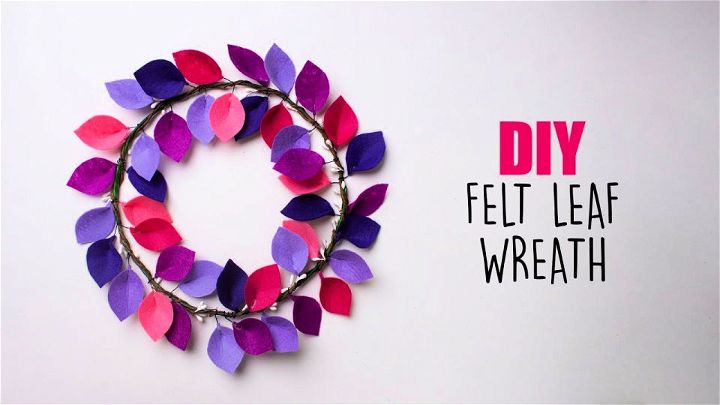 This gorgeous felt wreath is the perfect way to decorate your home for fall! With just a few supplies, you can make your beautiful DIY felt leaf wreath in no time. This wreath is perfect for adding a touch of Fall to your front door or mantle, and makes a great DIY gift idea, too! So gather up your supplies, and let's get started!
Related Crafts for Kids:
Let kids explore their creativity with these fun and easy related crafts!
Conclusion:
In conclusion, felt is a great material to use for crafting projects. Felt crafts are a great way to add color and fun to your home decor or make unique gifts for friends and family. With 25 easy and free felt patterns available above, you can easily make beautiful felt crafts projects. Whether you're looking for wool felt projects or simple felt craft patterns, these DIY felt crafts will help bring your creative ideas to life. And the best part is that they're easy and inexpensive to make! Check out our easy DIY felt craft ideas, including free patterns and instructions.