This list of craft supplies for kids will get you completely ready for crafting with your little ones!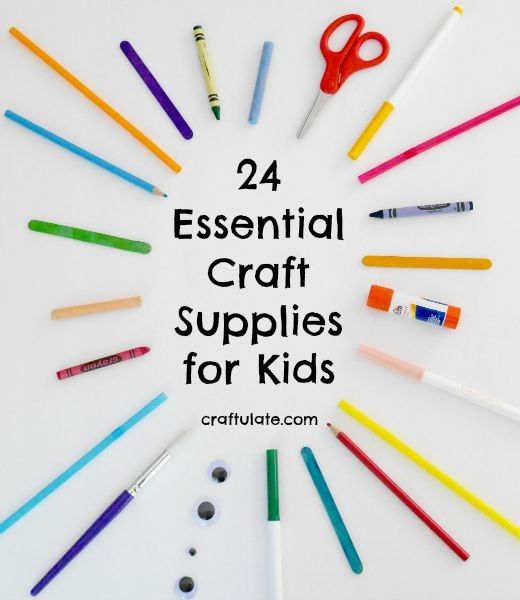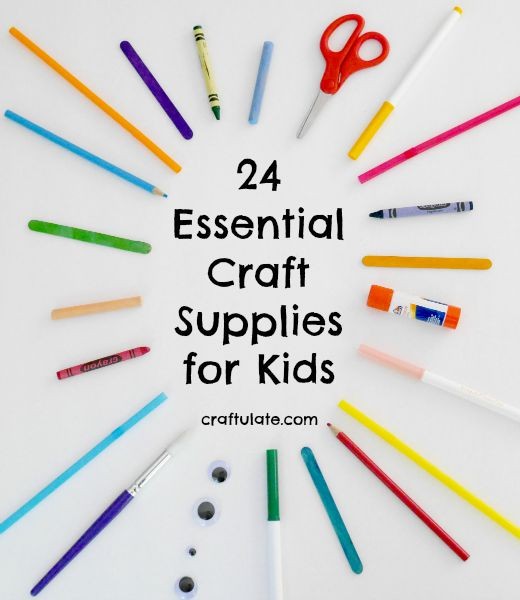 The following post contains affiliate links, which means that at no extra cost to you I can make a tiny bit of money to help support this blog. Thank you!
If you're planning to start introducing your kids to crafts then it can be daunting to know where to begin. Or perhaps you're planning a playdate and want an activity for all the children. Maybe you have friends or relatives with young kids coming to stay with you? I mentioned a list of basic craft supplies in my ebook Art, Craft and Cooking with Toddlers – a beginner's guide but I wanted to expand that list a little.
I'm not suggesting that you need ALL these craft items, but if you have a good amount of them then there are so many projects and activities available to you! I've tailored this list to include particularly child friendly items – especially washable versions of marker pens, paint and glue!
Washable Paint – Crayola is absolutely my go-to brand!
Fingerprint Paper – large size paper that is coated so it doesn't soak in large amounts of paint
Glue Sticks – perfect for gluing paper onto paper with minimum mess
Washable Markers – again I really recommend the Crayola brand!
Googly Eyes – I'd be lost without them when it comes to crafting – I even wrote a whole post about them!
Tissue Paper – perfect for suncatchers and collages
Buttons – thread them onto pipe cleaners, use them in sensory play, or make a collage!
Washable Glue – stronger than glue sticks and an invaluable supply
Construction Paper – useful for all sorts of paper crafts
Liquid Watercolors – use these paints for crayon-resist projects
Washable Glitter Glue – the easiest way to add glitter to any craft!
Crayons – an essential in any craft cupboard
Craft Foam Sheets – bright bold colors and very easy to work with
Craft Sticks – great for making models or homemade puzzles
Scissors – make sure you have a good supply of child-safe options
Pom Poms – wonderful for animal crafts!
Pipe Cleaners – useful for bracelets, crafts, and threading practice
Contact Paper – the clear kind is ideal for collages and suncatcher crafts
Chalk – use on black paper for dramatic effects
Paper Roll – great for easels or for art projects on the floor!
Feathers – essential for bird crafts!
Colored Pencils – the classic coloring tool
Paint Brushes – make sure your kids have some decent quality brushes
Straws – snip them into small lengths and use them as beads or in collages
Need some crafty inspiration? Try these projects!
Use pom poms, pipe cleaners and googly eyes to make Mouse Finger Puppets
Dip chalk in water to make these stunning Outer Space pictures
Give your child a glue stick and a pile of small construction paper shapes and watch them create a collage
Use tissue paper to make these gorgeous votive holders
Button Art is a simple yet effective way for kids to create masterpieces
Use washable paint to create animal handprints with your children – we made one for every letter of the alphabet!
Add a little sparkle to crafts with glitter glue – no loose glitter to clean up afterwards!
Get creative with these 15 Feather Crafts for Children
If you need more information about craft materials, check out the 50 supplies listed in The Ultimate Guide to 50 Craft Materials!