This Christmas ABC art book is a fun project for kids to complete over the holidays. With free printable!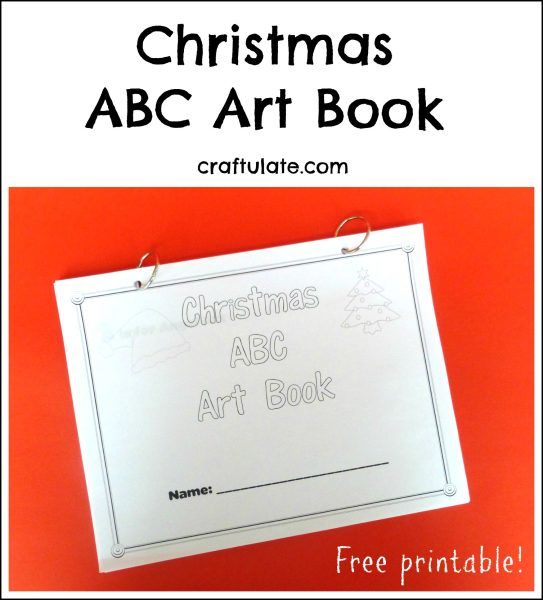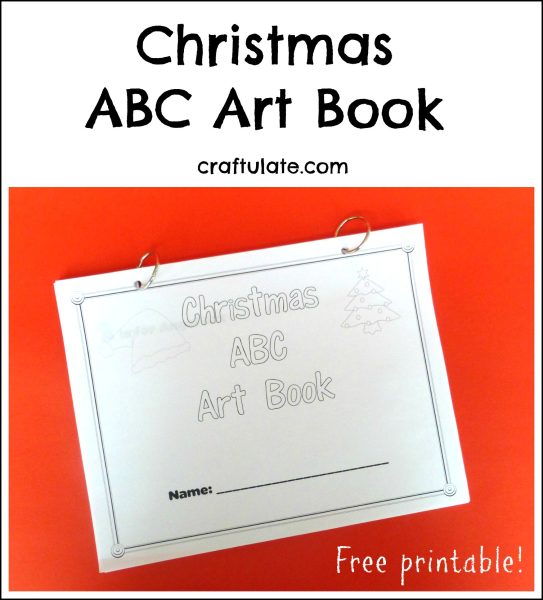 The following post contains affiliate links, which means that at no extra cost to you I can make a tiny bit of money to help support this blog. Thank you!
To download your FREE copy of the Christmas ABC Art Book, go to the Craftulate.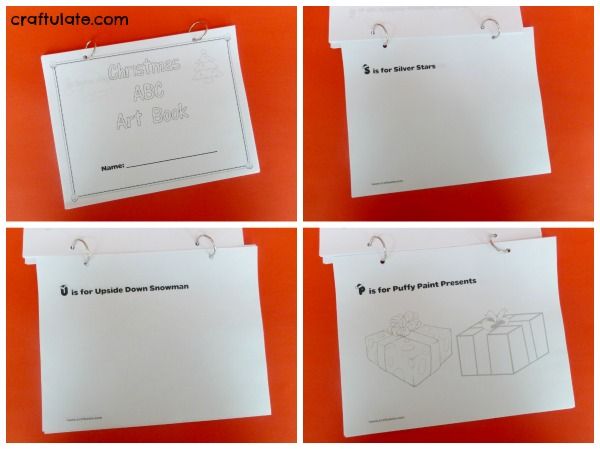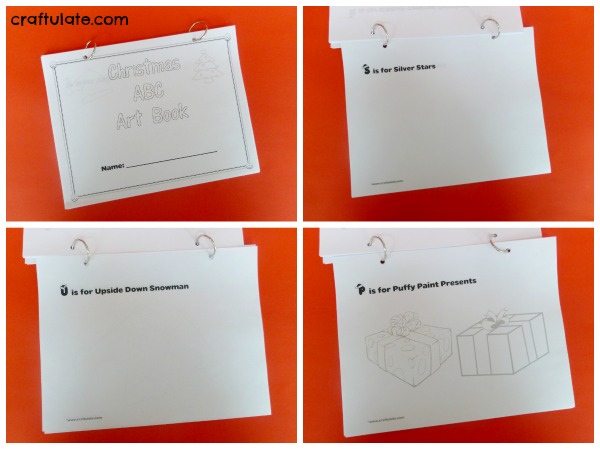 Once downloaded, print out the art book and bind it together however you'd like. You could use split rings or to make life easier you could store them in a binder or use book rings – they are available in color or silver versions!
This book has more art prompts than the original version – partly because of the theme and partly because of the ages of the children I would be making it for. The outlines are all from clker.com apart from the candy cane and the stocking (from clipartpanda – link no longer working, sorry!). It provides the child with a prompt that they can embellish however they would like! Here's a quick guide to the pages inside:
 A is for angel art
– use cookie cutters as stampers, or draw an angel and add white tissue paper or tulle for wings
B is for bubble wrap stamped bauble
– see my post
Christmas Ornament Bubble Wrap Prints
to see how we made these!
C is for crayoning candy canes
– use crayons to make the classic red and white striped candy cane
D is for draw a Christmas dinner – what would your child like to eat for their Christmas dinner?
E is for excited elf – use crayons, paints, or pencils to colour in this silly elf
F is for fir tree prints – use a small piece of fir tree branch (real or fake!) and create prints from it
G is for gift wrap collage – use different scrap pieces of gift wrap to create a fun collage
I is for glittery icicles
– use glitter glue, glitter paint or loose glitter sprinkled onto wet glue
K is for King's crown
– use gold foil or gold tissue paper for a crown and glue on jewels
L is for Christmas lights
– 
use crayons, paints, or pencils to colour in these lights
M is for marker pen Merry Christmas – use marker pens to colour in  this festive text
N is for nativity scene – use crayons, paints, or pencils to color in this classic scene
O is for ornament decorating – decorate the ornaments with glitter, paints, sequins or jewels
Q is for Q-tip snowflake – Cut Q-tips (cotton buds) in half, glue onto the paper in a snowflake shape, add glitter
R is for ribbon-covered reindeer
– use ribbon scraps to decorate this reindeer
S is for silver stars – glue silver star sequins to the page, cut stars out of silver paper, or draw with a silver pen
T is for tinsel printing – use small pieces of tinsel dipped into paint to make prints
U is for upside down snowman – turn the paper upside down and make a snowman picture
V is for very velvety Santa hat
– use scraps of velvet or felt to create a textured hat
W is for watercolor wreath – use watercolor paints to decorate the wreath
X is for Xmas stocking – decorate the stocking and ask your child what they think might be inside
Y is for yellow Christmas tree decorations
– draw a Christmas tree then add yellow and gold decorations
Z is for Party at the Zoo
–  use crayons, paints, or pencils to colour in this fun party scene
Try to be creative and use whatever you have available! If the child doesn't want to use the template provided for a particular page then suggest that they create their art on a plain piece of paper then glue it onto the page.
Here are a few of our completed pages – artwork by kids aged 3.5-6.5 years.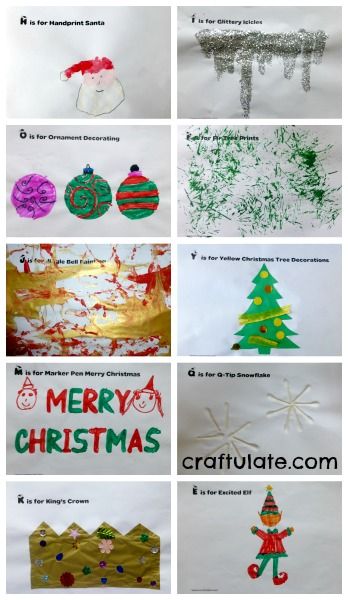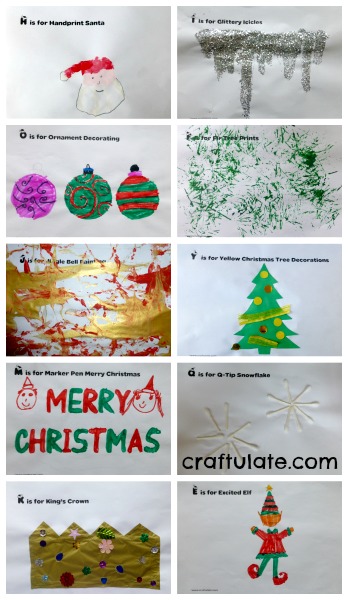 If you liked this art book please also grab the free one from Playdough to Plato! This version inspired such activities as Frozen Paint Art and Marble Painting, and I have also now made the Train ABC Art Book!
Follow Craftulate's board Christmas and Winter on Pinterest.