My son is just under 2 years old, and doesn't yet understand the concept of Easter. These Easter crafts were a great way to introduce him to eggs, bunnies, chicks, and fabulous fresh spring colours.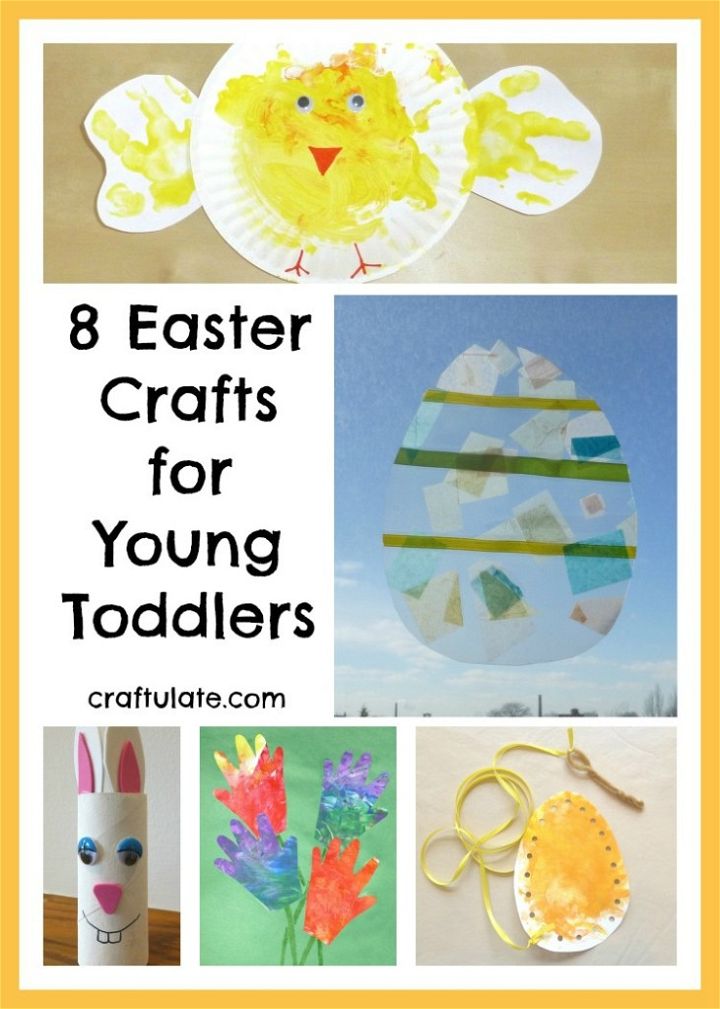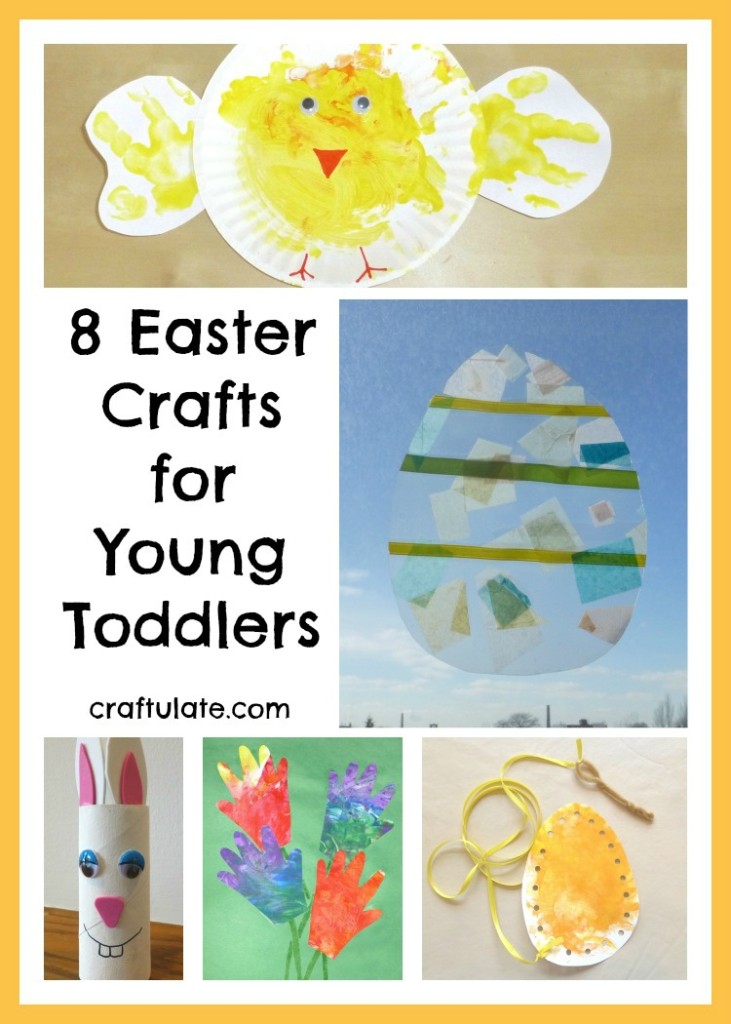 The following post contains affiliate links, which means that at no extra cost to you I can make a tiny bit of money to help support this blog. Thank you!
Paper Plate Chick
I gave F some small paper plates and some yellow and orange paint. It wasn't long before the plate got painted! I also got him to make some yellow handprints. Once the paint had dried, I taped two handprints to the plate as wings, drew on feet and a beak (or you could use card cut to shape), stuck on googly eyes, and added a few feathers at the top of the head. So cute!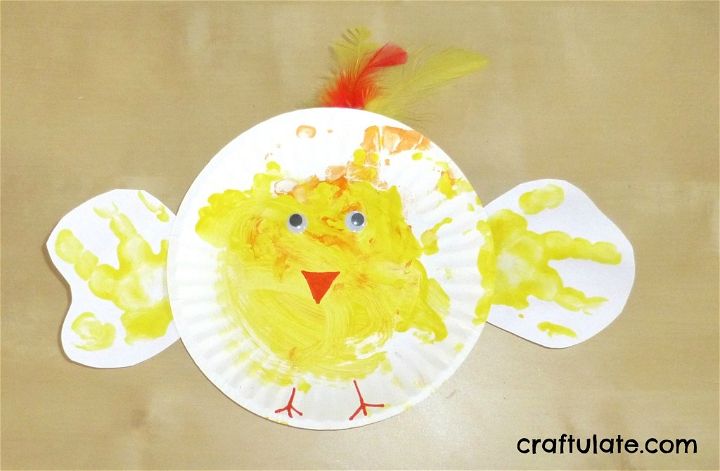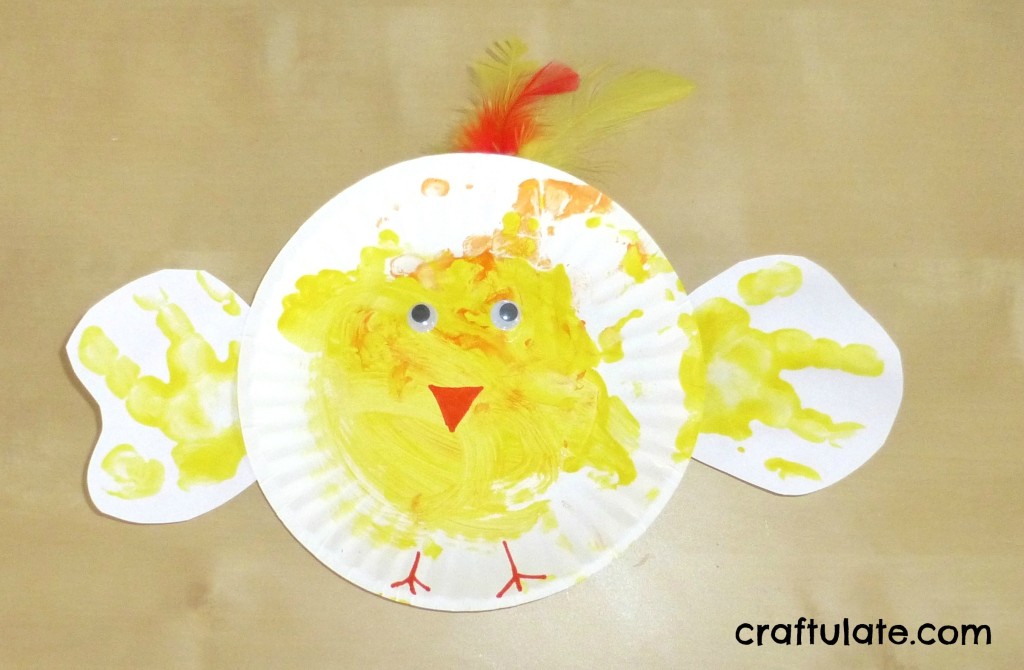 Handprint Flowers
These are so easy to make – especially at the end of any painting session if things have got a little messy! Just have some plain white paper on hand and press your child's painty hand onto the paper. Alternatively, keep a card template of your child's hand outline (I used them for Family Hands Wall Art) and use it as a stencil on artwork they have already created (as pictured here). I cut out several and made a bouquet by mounting them on card and adding stems. These make great greeting cards too.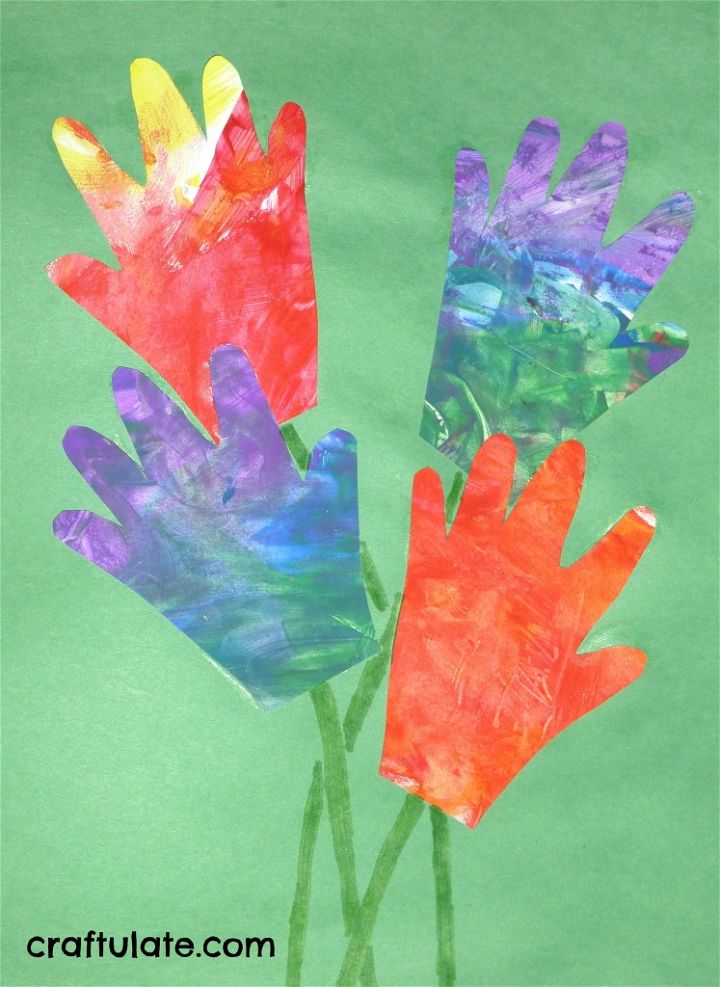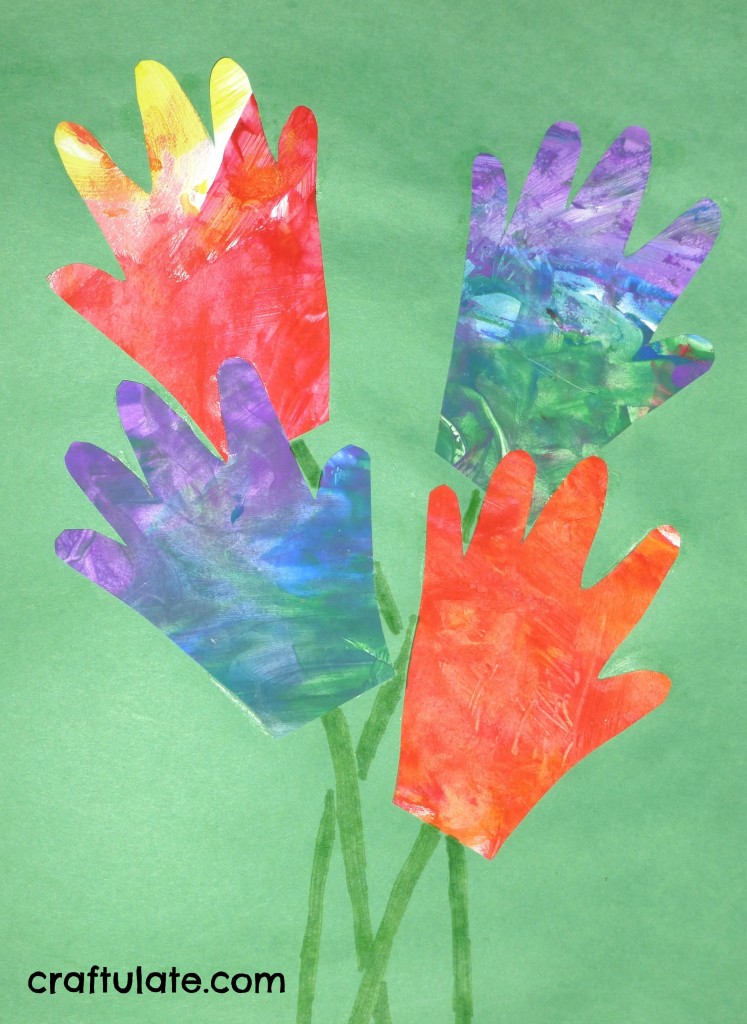 Cardboard Tube Rabbit
I gave F an empty tube and some white paint. He made a good attempt at painting it although I had to finish it off. After it had dried I added craft foam ears and nose (or you could use card), googly eyes and then drew on mouth and teeth. A whole family of these would make a great Easter display.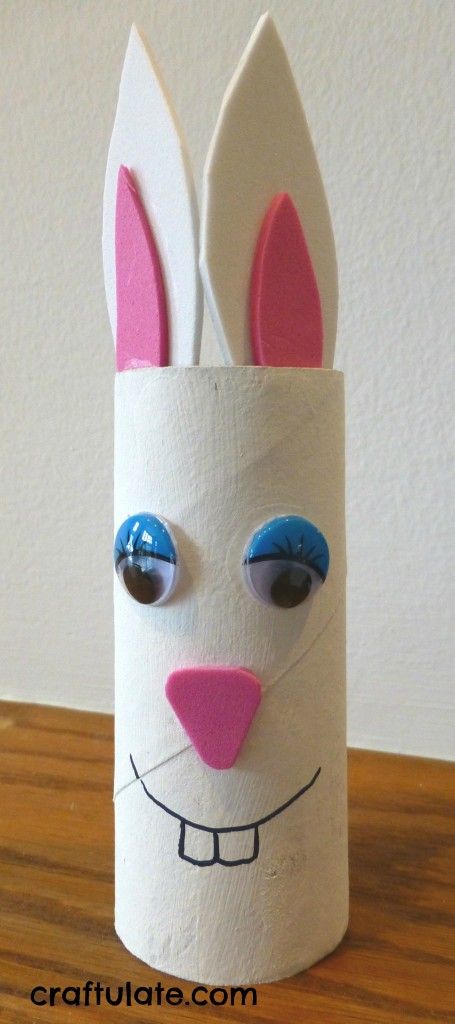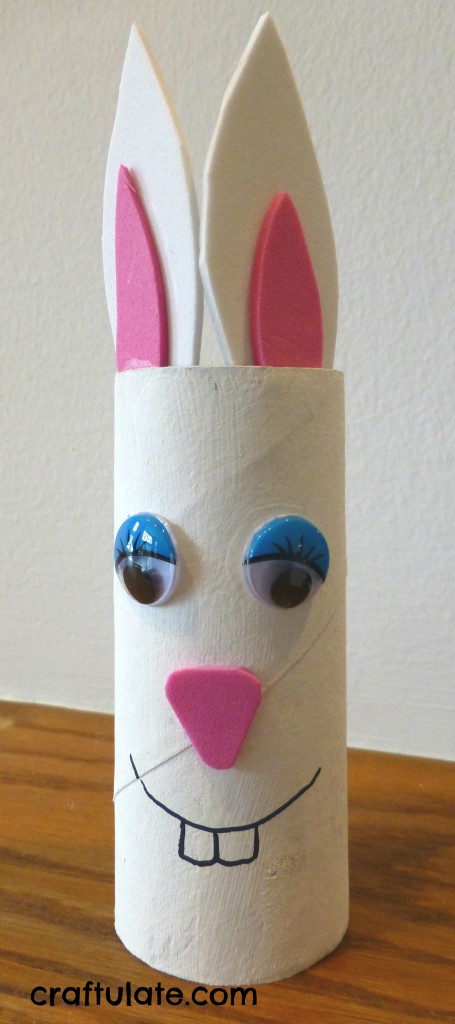 Contact Paper, Ribbon and Tissue Paper Egg 
We love our tissue paper collage crafts but I thought I would enhance it a little by adding ribbons to make the classic stripes on the eggs. I taped some contact paper to the table (sticky side up) and laid two bands of ribbon horizontally across it. Then I gave F a bowl of pre-sorted tissue paper shapes in spring colors.
When he had finished adding the tissue paper I added another piece of contact paper over the top to seal it all in, and cut out egg shapes.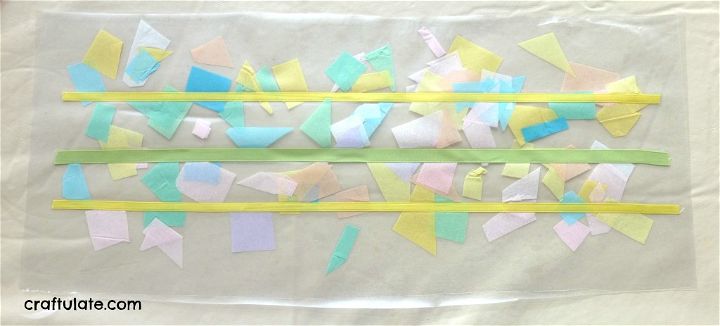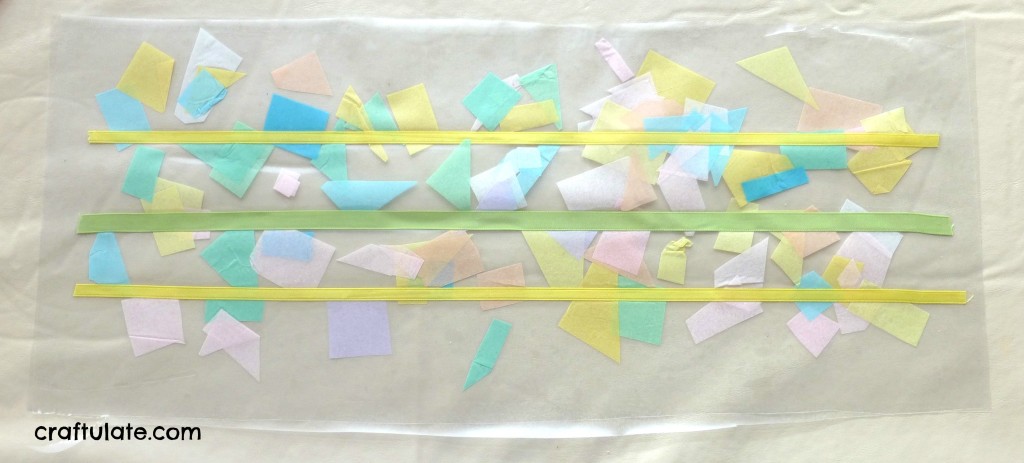 These made great suncatchers!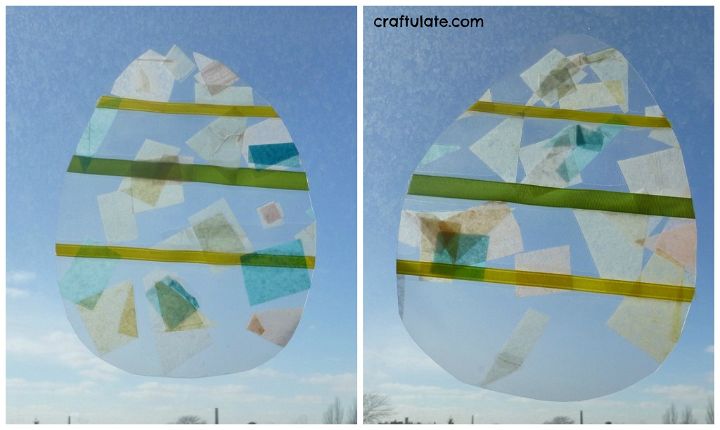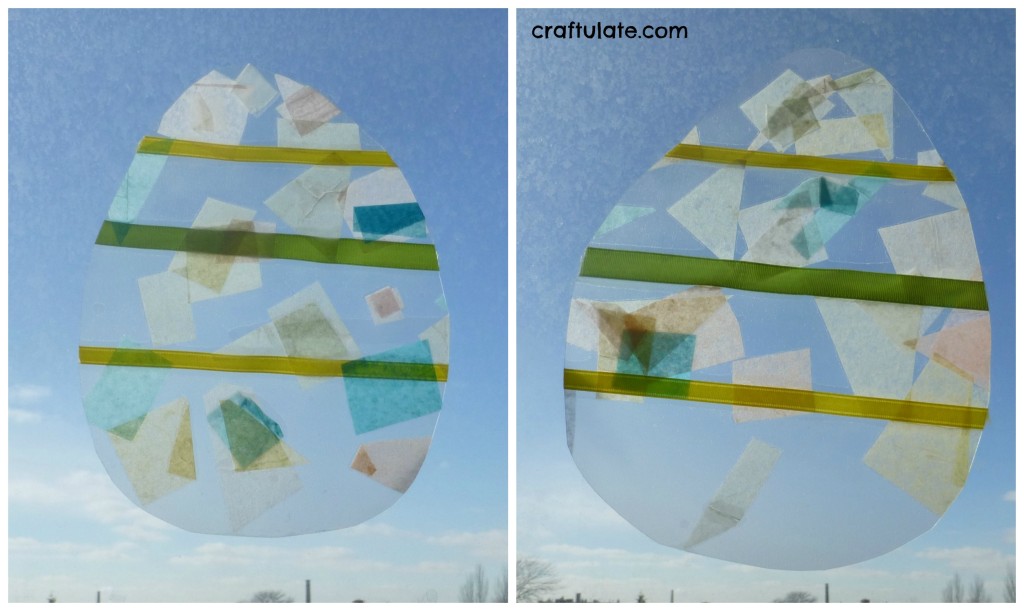 Easter Egg Letter Hunt
I love this great idea from No Time For Flashcards – fill plastic eggs with letters and give to your toddler! I didn't use magnetic letters but just printed out alphabet onto yellow card (using a really cute free font called "RM Egg") and inserted those into the eggs.
I gave the eggs to F and he *really* loved playing with the actual eggs! But I figure we'll have these around for several more Easters to come, so he can get used to them this year. Every now and then he'd pick up a card and recognise the letter – but for right now the eggs were more interesting!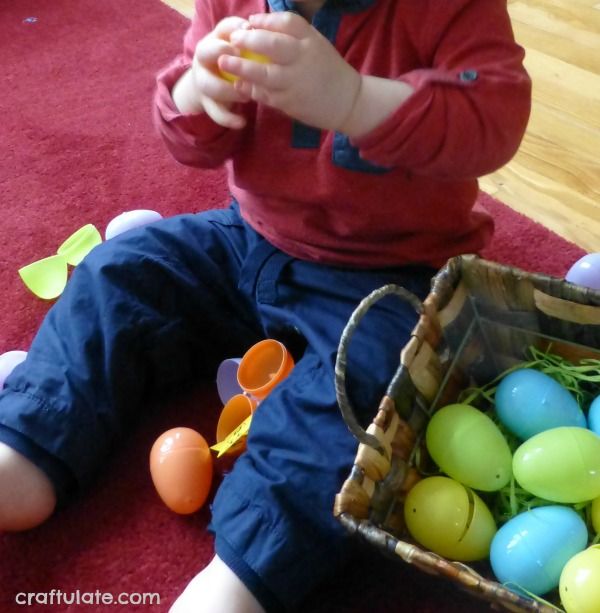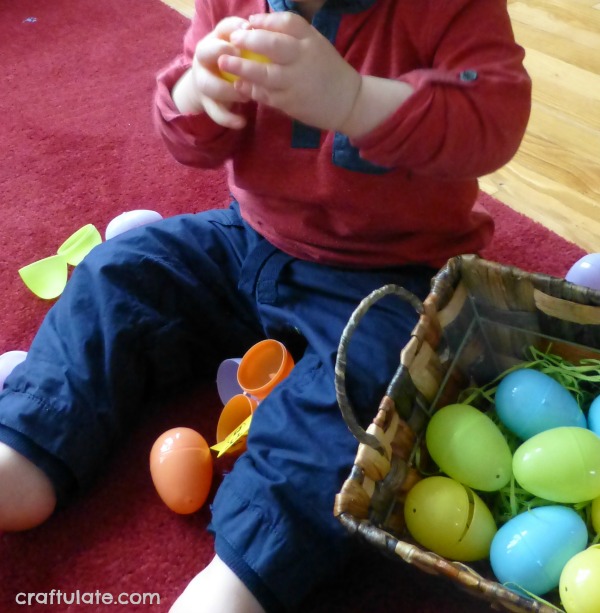 But maybe the fake grass layer I'd added under the eggs wasn't the best idea for mess free play!
Carrot Stamps 
Carrots aren't technically anything to do with Easter but I thought it would be fun to include this activity in the round-up! I used a knife and peeler to shape three carrots: a round shape (easy), square shape (fairly easy) and triangle shape (not so easy).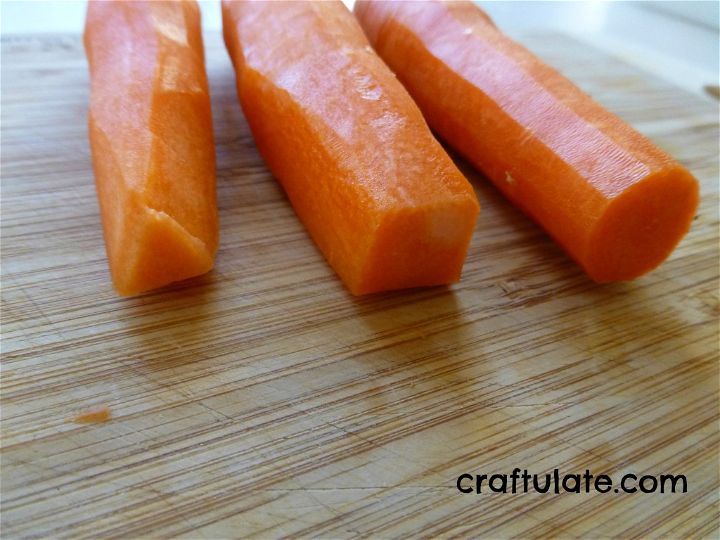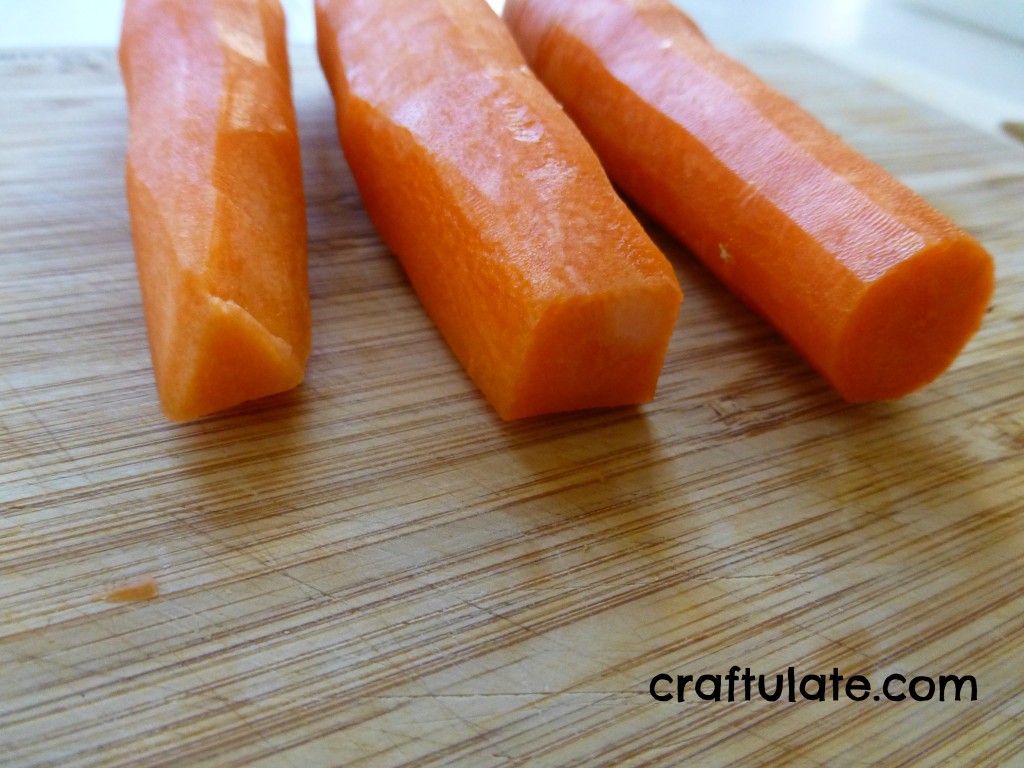 Then I let F get stamping!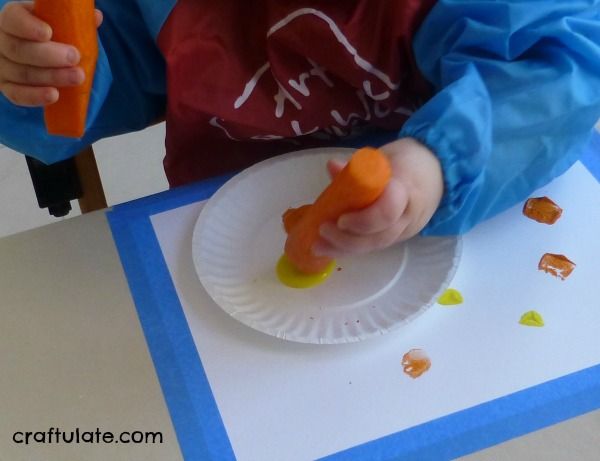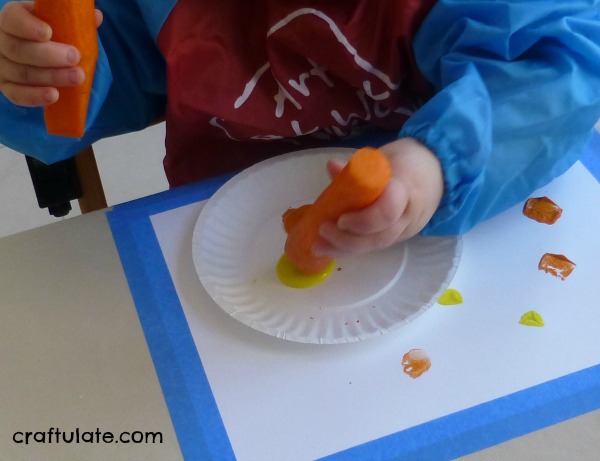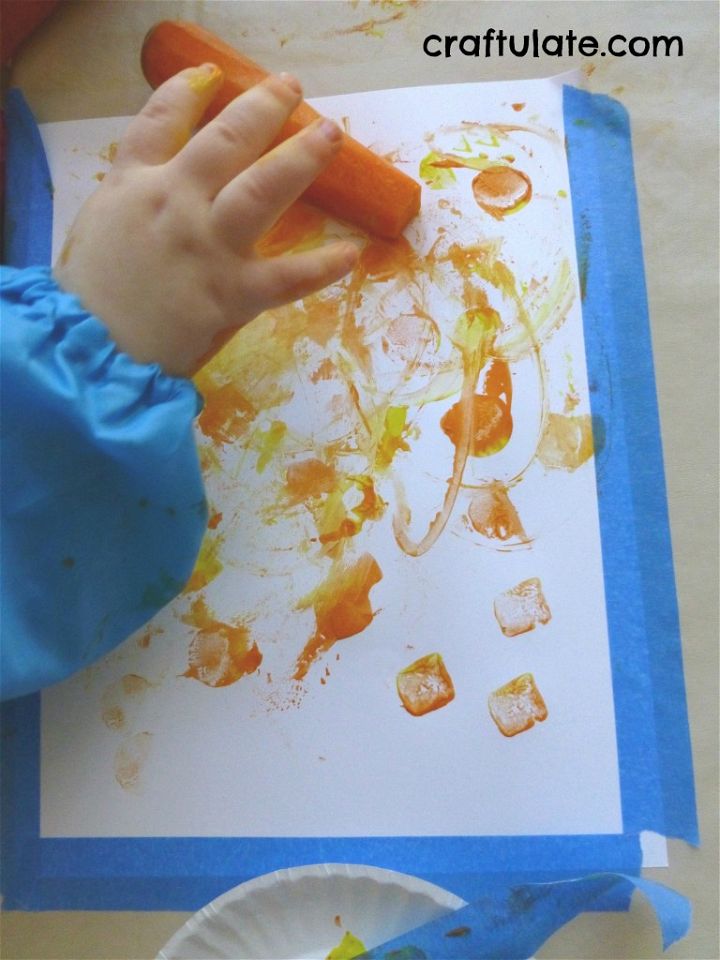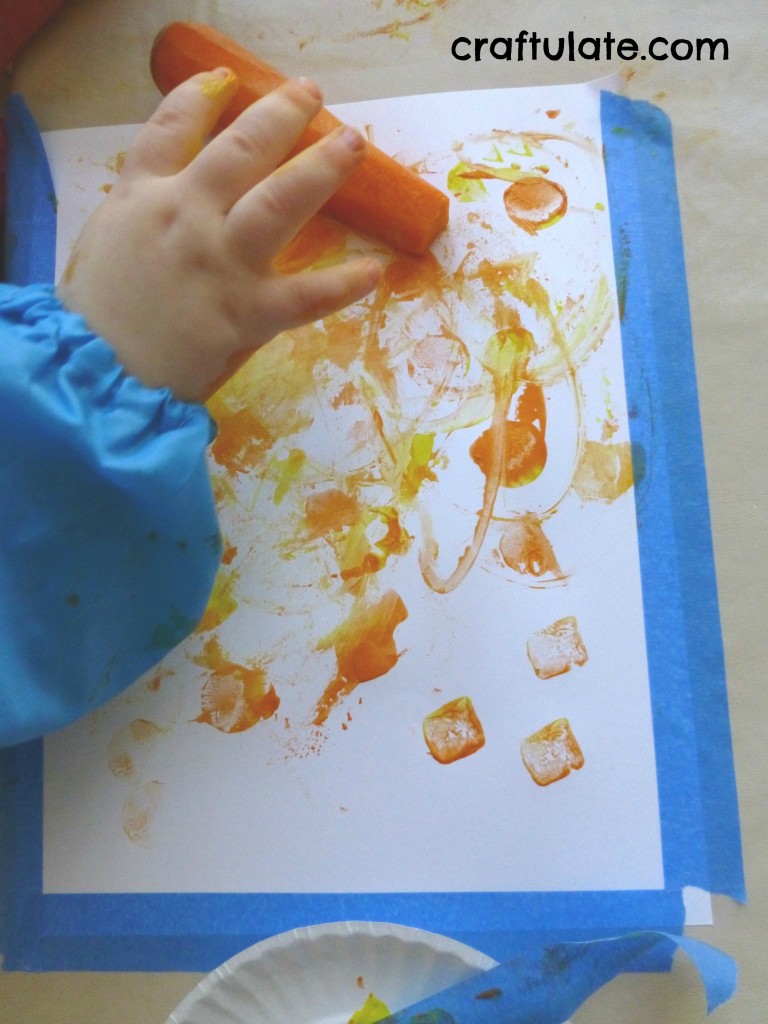 Lacing Egg
I cut out an egg shape from one of F's finger paintings, and punched holes around the outside. Then I attached some ribbon and a pipe cleaner shaped into a "needle". This looks like a really cute activity but it wasn't for F at all! Maybe next year. 🙂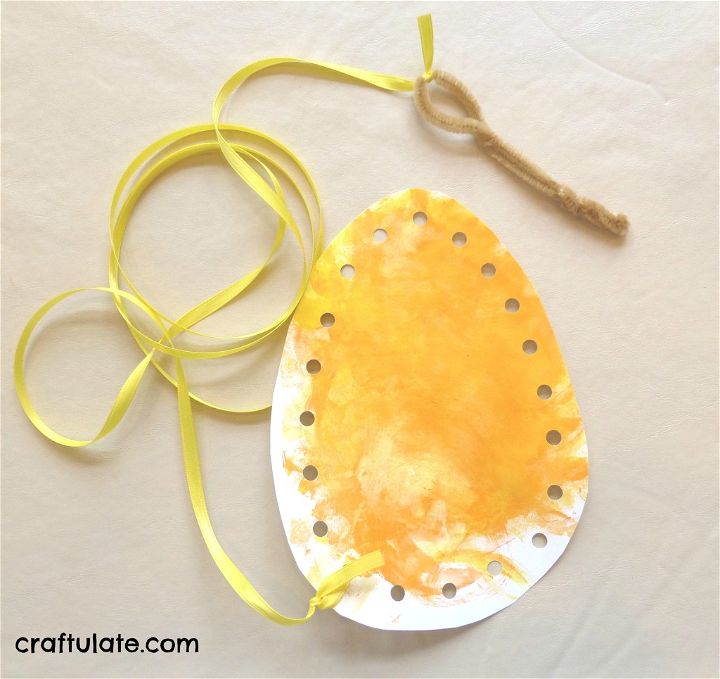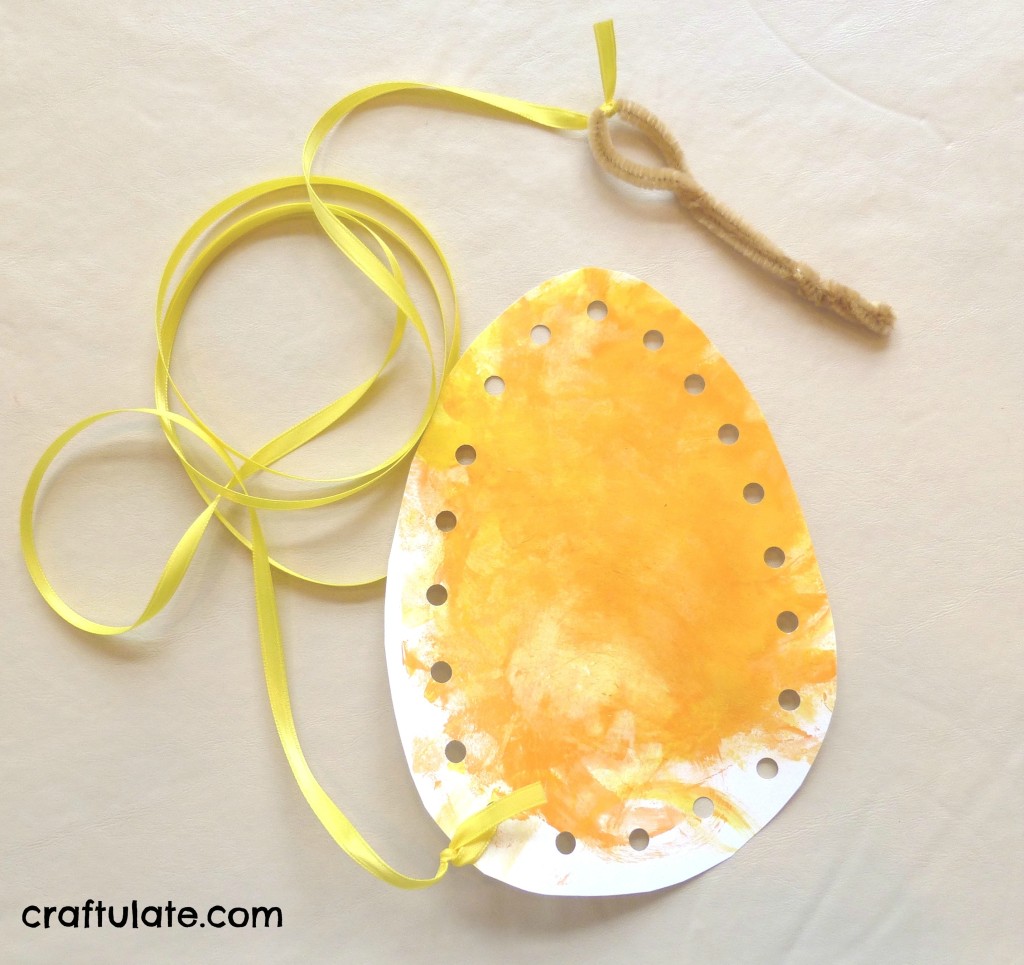 Coffee Filter Paper Flowers and Butterflies
Check out my previous post here on how to make wonderful displays of spring flowers and butterflies from coffee filter paper.
I hope you enjoyed this bundle of Easter and Spring activities!