Are you baffled by the range of Thomas and Friends train sets that are available to buy? Read on and I will explain everything!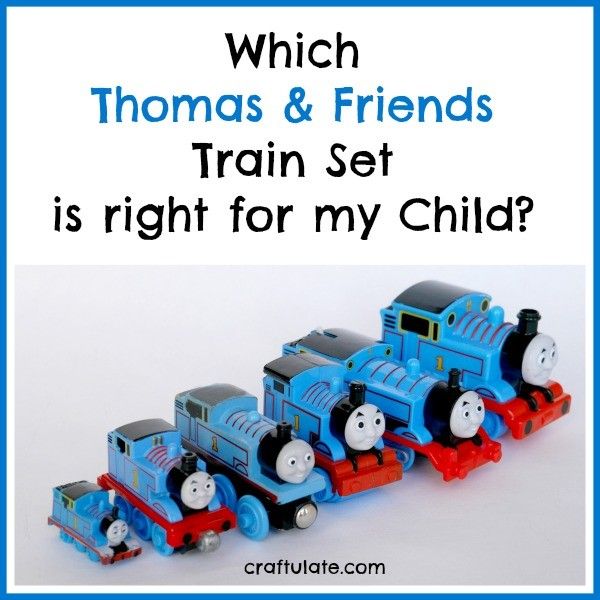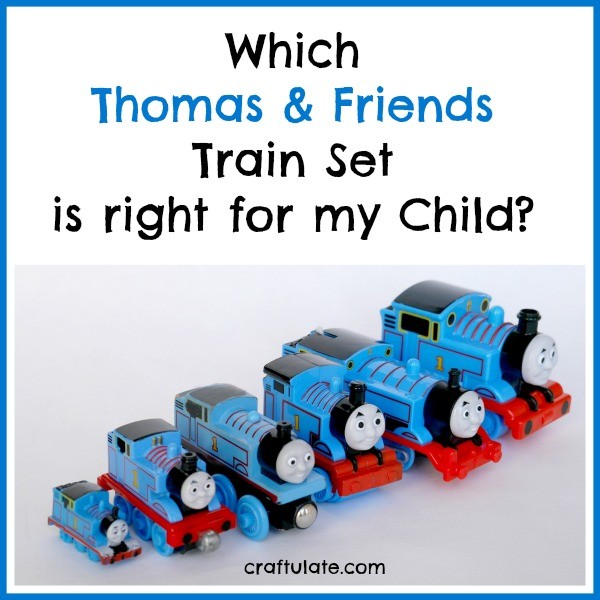 The following post contains affiliate links, which means that at no extra cost to you I can make a tiny bit of money to help support this blog. Thank you!
When you stand in the toy shop looking at the range of Thomas and Friends merchandise, there's a reason you're confused! So many to choose from, so many different sizes! So let's have a look at that main photo again.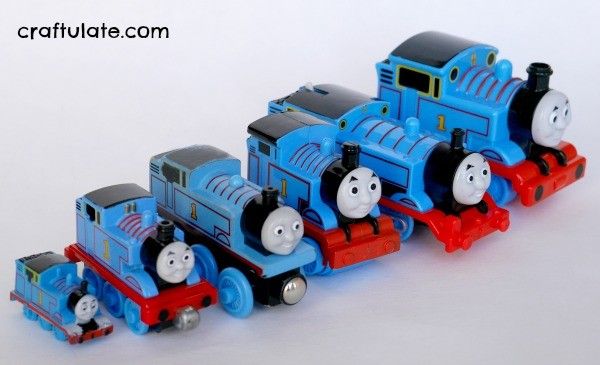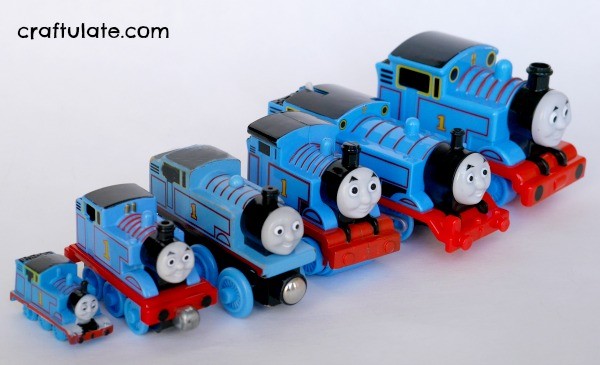 From left to right they are:
Additional Thomas & Friends train sets not featured in this photo are Lego Duplo and Mega Bloks.
In truth, a few of these toys aren't really sets with track. Let's take a look:
Busy Book
These tiny trains don't have turning wheels and come as part of the Thomas & Friends My Busy Book that comes with a fold-out map track. The book is quite hefty but the other components are pretty good for travel. We used them for our Trains in Ice activity.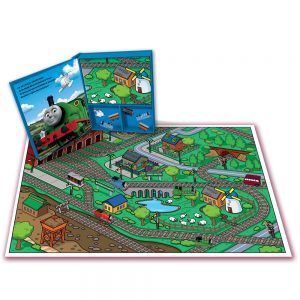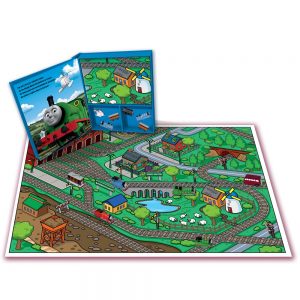 Bath Tracks Toy
This Thomas Bath Tracks toy is listed as a preschooler toy but it is super basic. It's fun to have a Thomas train that floats, but that's about it!
PullBack Racers
These larger Pullback Racer trains don't require a track; just pull them back and off they go. They are also listed as a preschool toy but toddlers will happily play with these too. Available trains are Thomas, Percy and James and they're quite fun to race together!
So now onto the serious sets!
Take-n-Play
Designed for travelling and for visiting places that don't have trains or tracks, the Take-n-Play sets are light and fold up fairly flat. There are, however, larger components that aren't so compact but fit with the track. The grey track is easy to put together and pull apart, and the trains are small metal die-cast ones. They are cheaper than other track sets so we started building up the collection of trains for a while, but then realized that we didn't want to take them all with us every time so now we make do with what we have. Despite its basic nature I think we'll have this set for a while because it is perfect for road trips and for taking on our trips back to the UK.
Wooden Railway
The classic train set! There are MANY Thomas & Friends wooden railway sets to choose from, and a huge amount of engines to collect (see our Sorting Trains by Color post for an insight into our collection)! For a long time this has been our main train set (although TrackMaster is starting to take over as my son gets older, see  below). There are several different manufacturers of wooden track and they are mostly compatible – in fact the times we've had most trouble is when we've put wooden Chuggington trains onto Thomas track – but that's a whole different review! 🙂 So the Thomas & Friends branded track can be pricey, but there are cheaper options available. At one point we were using wooden trains and tracks as a potty-training incentive for my son, and I regularly picked up some great deals on ebay.
Because of the range of compatible track, there is a lot of variation in layouts and additional pieces. We found we needed key pieces like male and female adapters and some SUPER handy swiveling flex adapter pieces to make things easier. Over the years we have made SO many layouts and it has been worth every penny.
What the wooden railway sets don't do well is height. Raising the track up one level is easy enough, but building up two levels and more needs some creative thinking. Which of course is no bad thing if you have a keen engineer! We never tried out any of the battery-operated trains because my son was very happy to push the trains round himself. Over time the paint can chip off the wooden trains but that is after playing with them a LOT. Or perhaps it was my son taking them to the park and letting them loose down the highest slide he could find…

Lego Duplo
Lego Duplo make train sets that don't have the Thomas branding, and that's what my son started with. While these sets are moderately priced, the Thomas & Friends sets are *crazy* expensive. We've increased our collection mainly from hand-me-downs and from searching ebay, which is why we don't even own a Thomas train to feature in the main photograph of this post. But it is hard to understand why they charge so much. There is very little variation in the track, which makes completing complex layouts challenging even for adults. There aren't any "action" pieces of track either, which makes for rather monotonous game play.
TrackMaster
We're just starting our TrackMaster collection, but so far we love it. TrackMaster trains are plastic, all battery operated, and available for a range of prices. BUT there are some important things to know if you choose this track. There are four different kinds. There. I even underlined it.  So here is the history of TrackMaster and the main differences:
The first sets were made by TOMY, under the name Motorized Road & Rail System, and have blue track.
In 2007 it was rebranded to TrackMaster, and was made by HIT Toy Company. The new track was brown, and everything was compatible with the TOMY track with the help of adapters.
In 2010 TrackMaster was manufactured by FisherPrice who made no significant changes.
In 2014 FisherPrice redesigned the trains AND track. The new track is now grey, and needs special adapters to connect it  to the old brown track. The trains are faster and are better at climbing steeper inclines.
So if you're buying new sets now, you'll probably only find sets from 2010 onwards. If you happen to get two different colours of track, it's not too much of an issue. You'll need adapters but it works fine. Note – my son is nearly 4 years old and finds the brown track MUCH easier to handle.
But the trains? That's a different story. Unsurprisingly, the old trains work fine on the old track, and the new trains work well on the new track. The old trains just about cope with the new track, apart from when there is a steep hill. Which is quite a lot of the time! The new trains come with this little logo on the packaging:



They are much better designed (quieter, too!) but they really HATE the old track! The reason for this (and a hack to get round it) is covered very well in this YouTube video. Definitely something to be aware of.
All those differences aside, TrackMaster is full of exciting action and the gameplay is changed significantly by having all battery-operated trains. The adventure sets (like the avalanche set featured below) can be tricky to put together in the exact recommended layout. But over time (and with some extra pieces) this is proving to be our favourite track of all. The range of characters aren't so wide as the wooden railway, but now we've finished potty training I think we'll cope!
Mega Bloks
I have to confess that the Mega Bloks Thomas & Friends set is the only one of which I have no experience. It looks similar to the Lego Duplo sets but availability is much better and it is certainly a lot cheaper!! There are also possibilities for the track to gain some height with some of the adventure sets, but the price is starting to creep up! If you have some views on it please leave me a comment!
[bctt tweet="Which Thomas and Friends Train Set is Right for my Child?" username="craftulate"]
Need MORE? Try these: