This train track art was created using one of our favorite painting techniques – tape resist!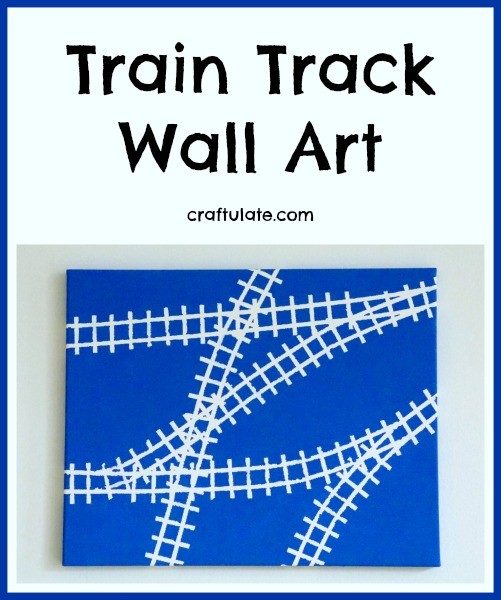 The following post contains affiliate links, which means that at no extra cost to you I can make a tiny bit of money to help support this blog. Thank you!
As you may know we have just moved house, and as much as we loved my son's Construction Site themed bedroom, it is time for a change. If you're a regular reader it won't be much of a surprise that this time the theme will be trains! There are a lot of amazing branded room decor available – especially for Thomas & Friends, and we'll probably get some of those items. But I think I prefer the majority of the decor to be non-character-specific.
To make this wall art, we used:
Scissors (optional)
Paint
Brushes and/or rollers
This was the first time that I'd worked with this super thin tape – and I love it! Perfect for going round slight corners. To start on the artwork, I needed to mark out a complex train track. I *nearly* made the mistake of sketching it out in pencil. The problem with that? I'd cover the lines with the tape, paint over it all, remove the tape – and SEE THE PENCIL MARKS in the white spaces that weren't painted on.
So I decided just to wing it and go slowly, planning my layout as I went. I started with sets of two parallel lines, marking out the track.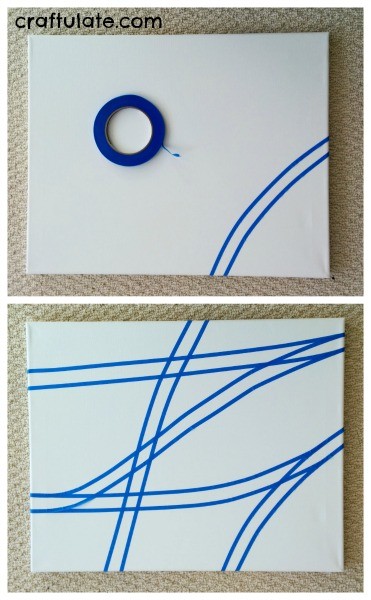 Adding the railroad ties was actually slightly harder as it needed a *lot* of short pieces of tape all the same length. I made sure all the tape was firmly stuck to the canvas to ensure the paint didn't get underneath. I wanted those white track lines to be as sharp as possible! I also extended the tape around the edges of the canvas as I wasn't planning to frame it.
Finally it was time to start painting, and of course I got my son involved.
We had a lot of "Thomas blue" paint left over from making his Thomas Costume, and I thought we may as well use that! We used a foam brush and foam roller to try and get an even coating of paint. I turned the canvas around so that he could reach every part of it.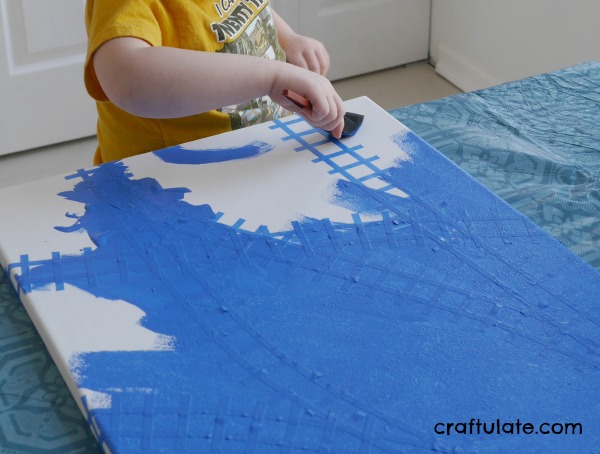 Once the paint had dried, I carefully removed the three thousand pieces of tape. There were a couple of places where the paint had run under the tape, but overall it was very effective. And ready to hang in his new room!