I gave my son a construction site bedroom makeover – he loved it!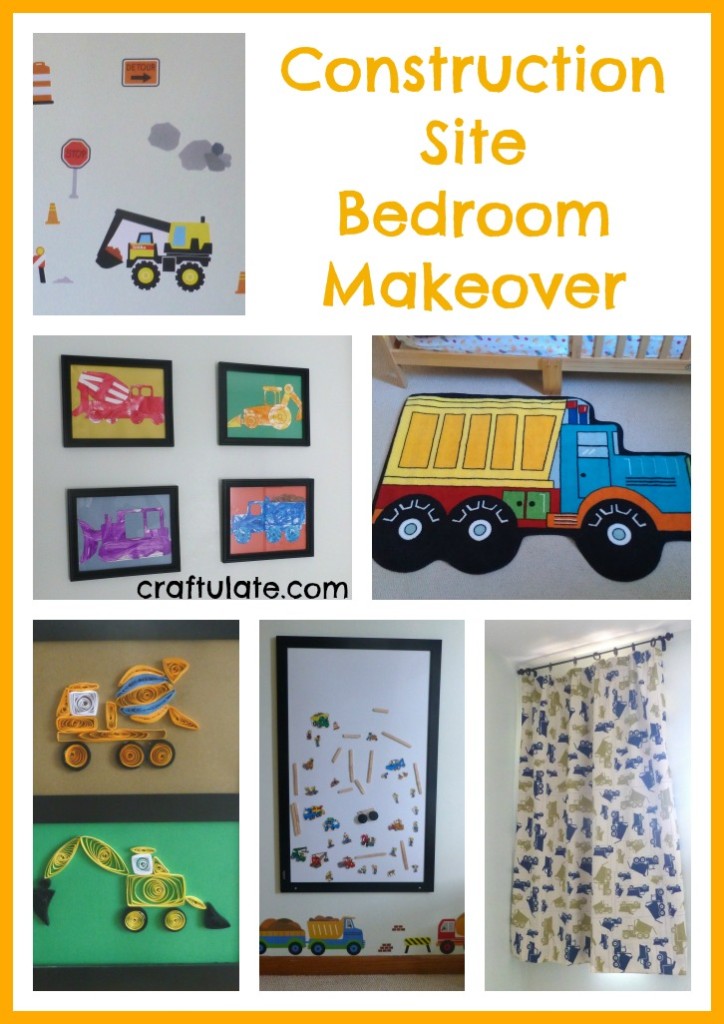 The following post contains affiliate links, which means that at no extra cost to you I can make a tiny bit of money to help support this blog. Thank you!
Ever since we completed our All Things Construction Vehicle week as part of our transport series, F has become even more obsessed with everything to do with construction sites. As much as I love his woodland animals bedroom theme that he's had since he was born, I thought it was about time for a change. Here's how he had a construction site bedroom makeover.
Here are the "before" photos, taken a few months ago. Cute, but a teensy bit babyish now.

We took the makeover opportunity to change the crib to a toddler bed, using the same mattress but adding a construction themed fitted sheet.
I removed the woodland-themed decorations and replaced them with construction themed ones including a new clock, two sets of construction site decals and a dump truck-shaped rug (F said "wowww, BIG dump truck!" when he first saw it!).
However, I had the most fun with the new wall art! The first thing we did was make some art together, using Learn Create Love's great printables. F painted a dump truck, cement truck, backhoe, and bulldozer.
I added some painters' tape to the cement truck to get red and white stripes like the ones we see around here.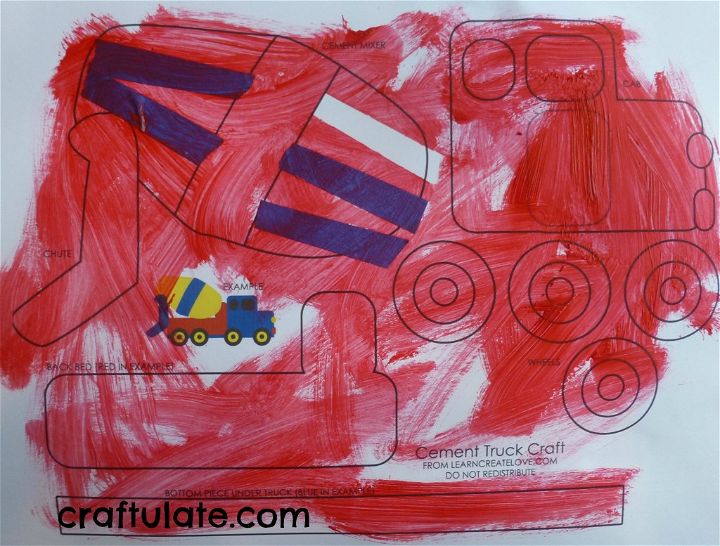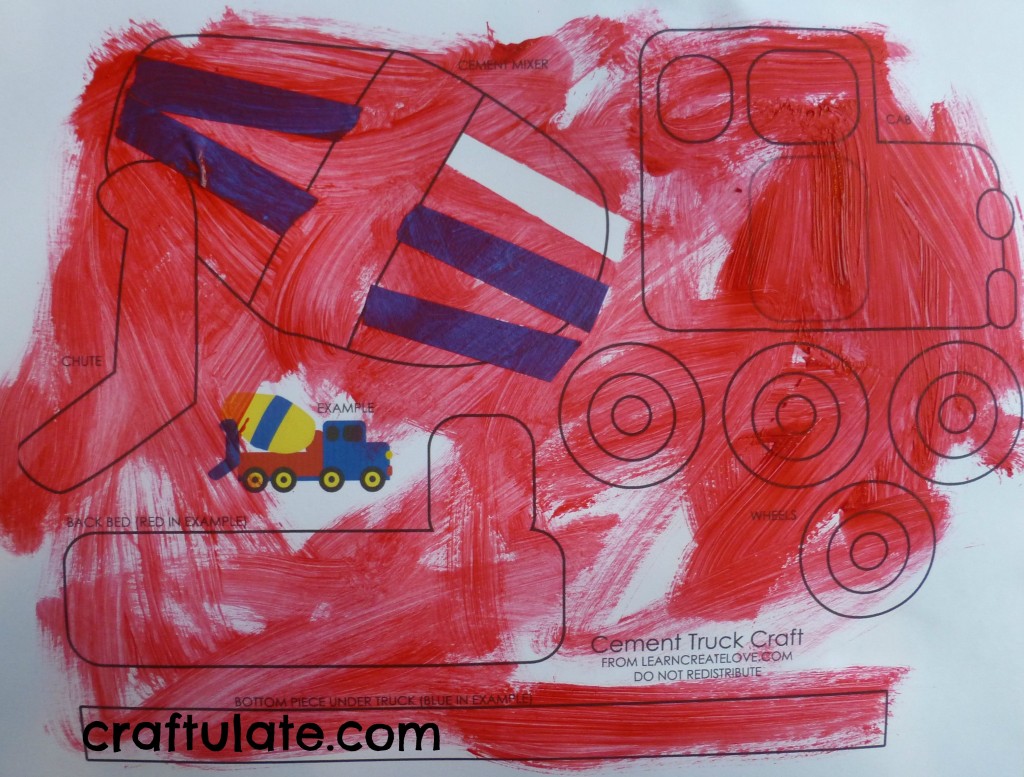 Then I framed them and hung them on the wall.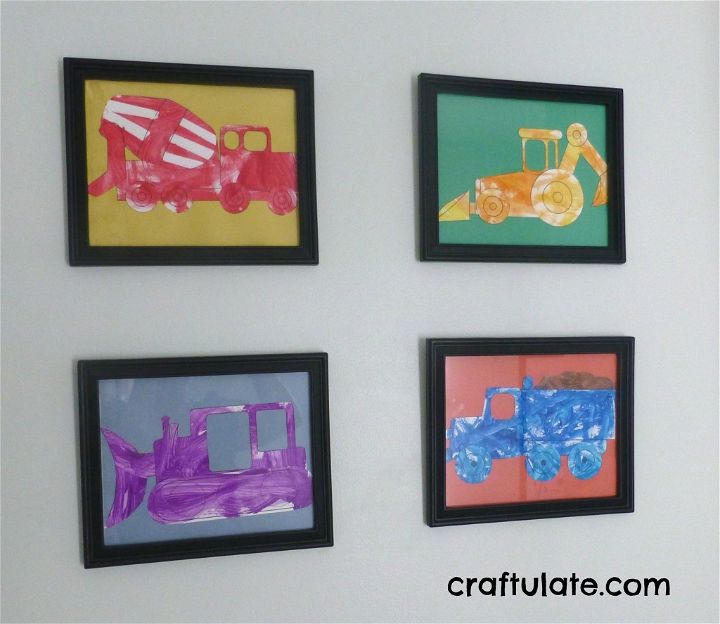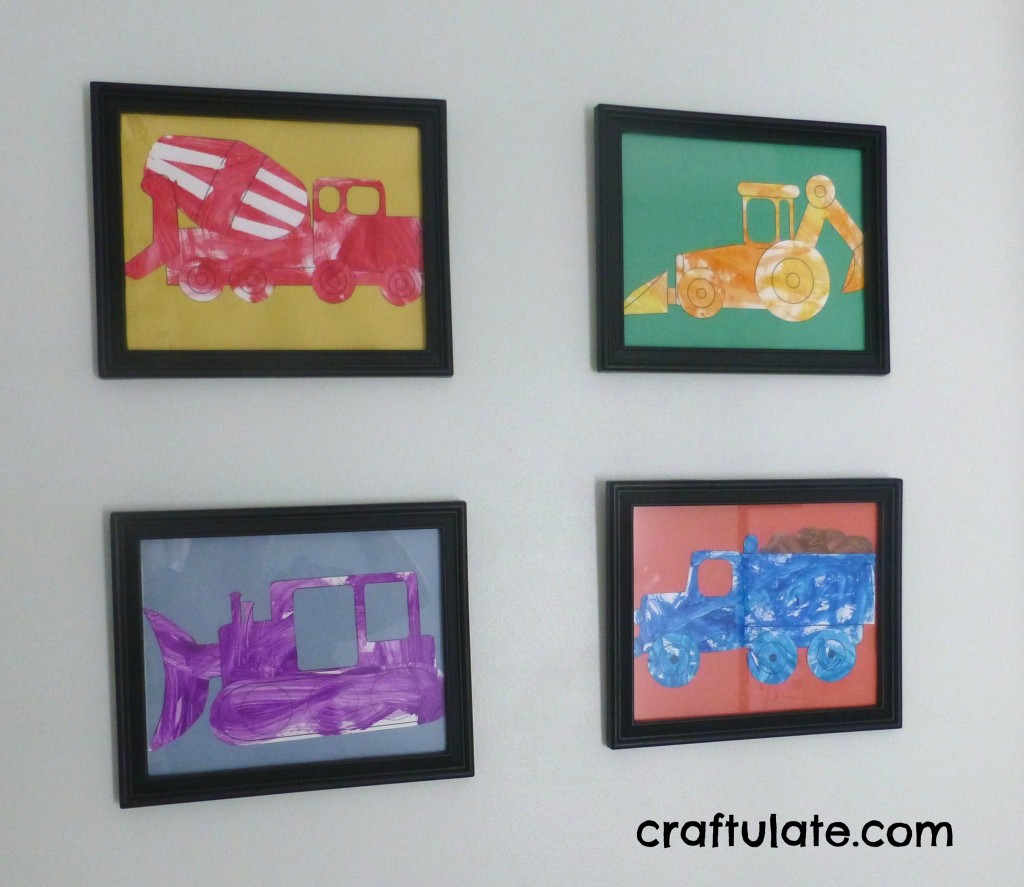 Next I really wanted a magnetic board for some construction themed magnets. I'd seen some magnetic paint which I thought was a great idea, but didn't get good reviews. Next I thought I'd get some sheet metal, and some wooden trim to frame it. Then my very-sensible-husband suggested I just buy a magnetic board. Not so fun, but it actually looks pretty smart. I also added the Craft Stick Magnets to the board.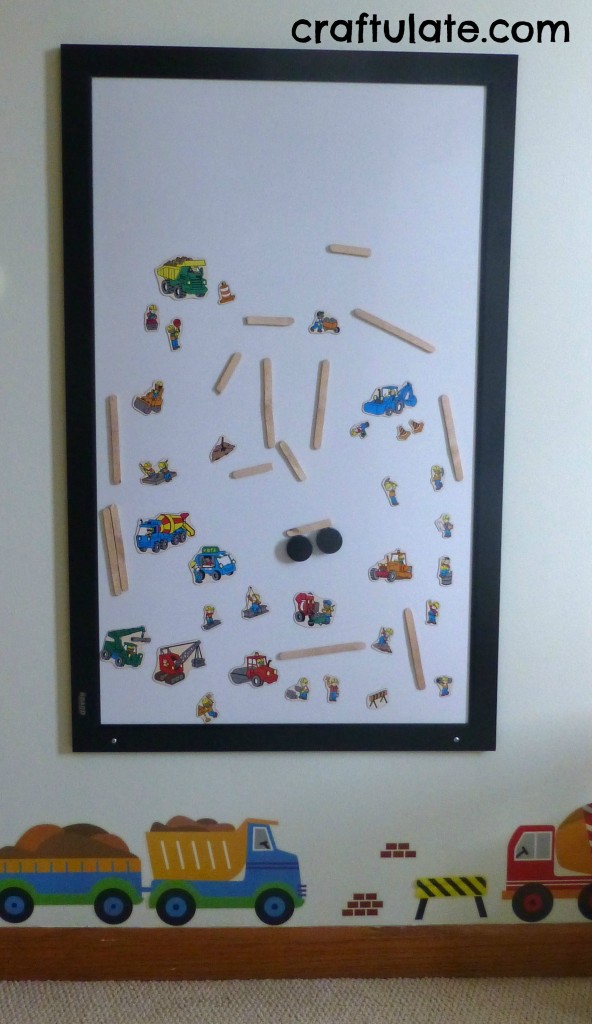 Another piece of artwork was a glow in the dark canvas. I bought a black canvas, and used Baumarkt font for the lettering (another font candidate was this fun SketchTools font but I couldn't make it work for this project). I painted the yellow letters and also some construction vehicle clipart images with two coats  of glow-in-the-dark paint. I then used a black marker to draw back in the details of the font. Sorry that you can't see his name (for privacy reasons) but hopefully you get the idea.
I also bought and framed this cute Lego Lunch on a Skyscraper poster, a parody of the famous Lunch Atop a Skyscraper photo.

Finally the last piece of artwork was one one that I made for him. I received a beginner's quilling kit for my birthday some months ago, and *finally* got round to trying it out. I made two vehicles: a backhoe and a cement truck. I think there is room for improvement in the amount of detail but I don't think it's too bad for a first effort!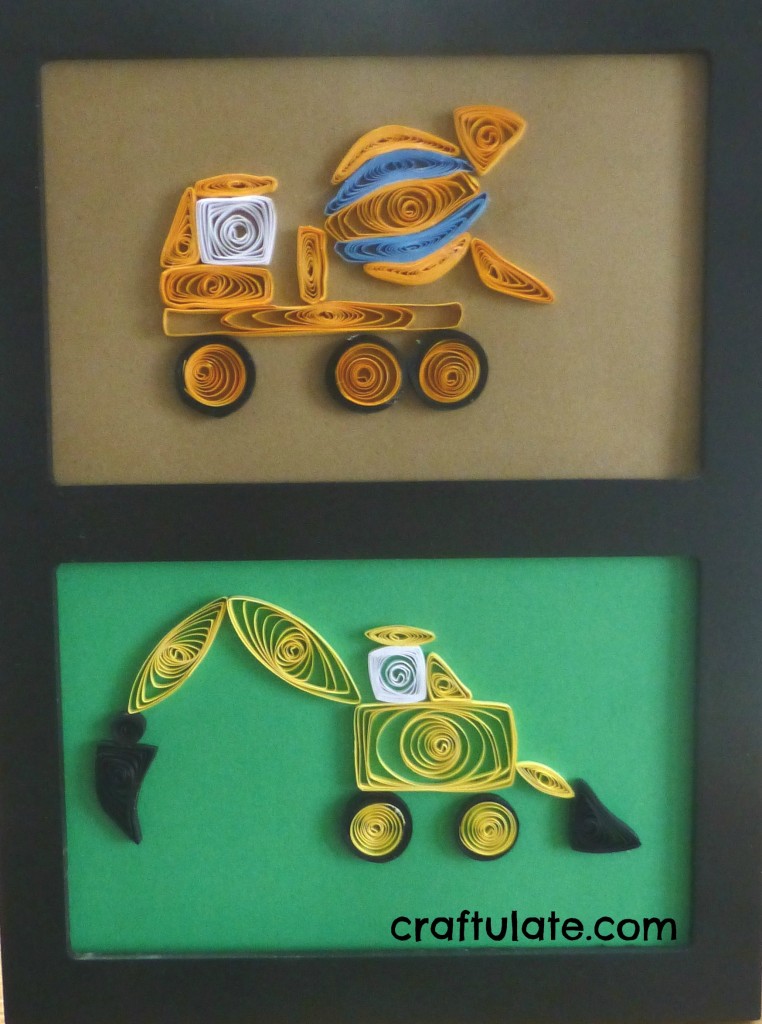 And if all that wasn't enough – I also changed the curtain fabric from cute owls to cute diggers!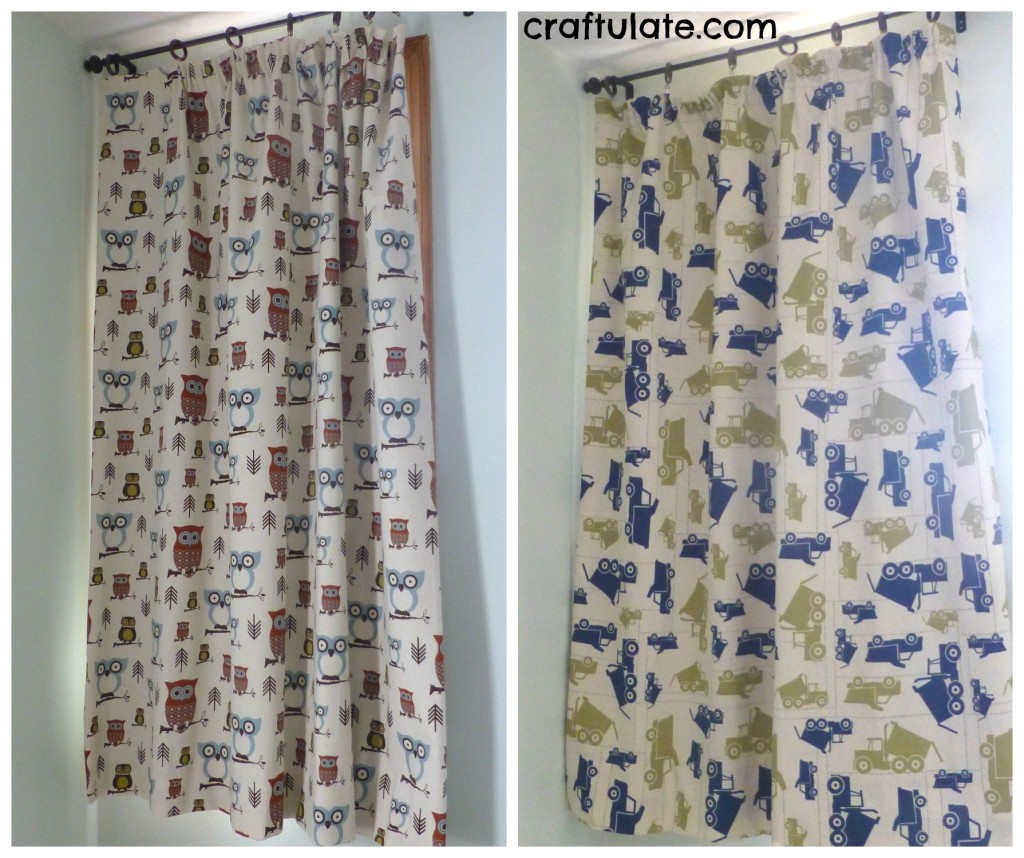 As you can tell *I* had a lot of fun planning out F's new room – luckily he liked it too! 🙂
[bctt tweet="Construction Site Bedroom Makeover"]