This free downloadable art book features the Train ABC – a different train-themed art activity for every letter of the alphabet!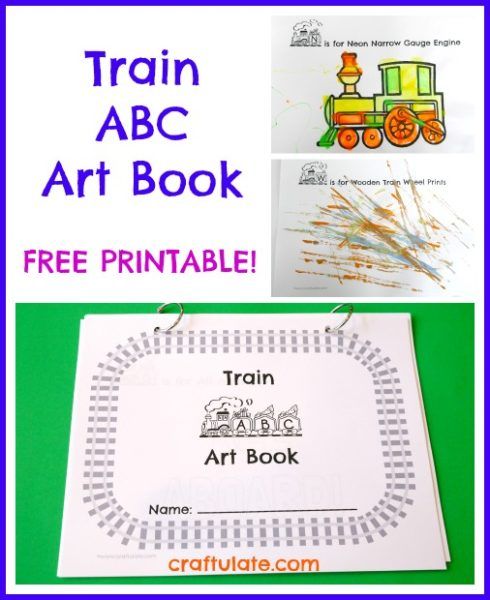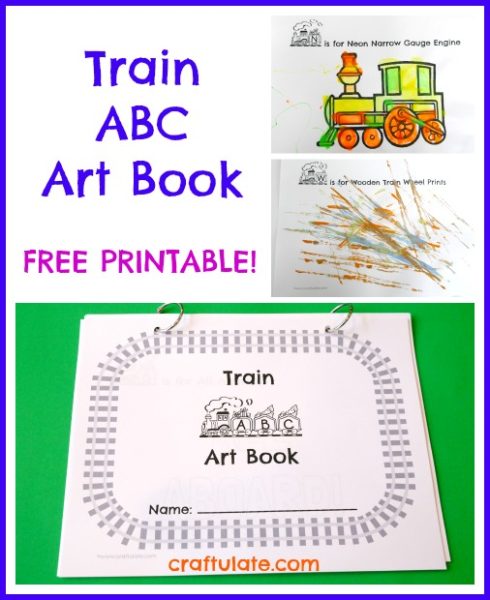 The following post contains affiliate links, which means that at no extra cost to you I can make a tiny bit of money to help support this blog. Thank you!
As we were finishing off the Christmas ABC Art Book, one of my son's friends asked me to make a train art book. As I knew that F would like it too, I was happy to oblige! Out of necessity this book has many pictures to complete, rather than blank pages. I'm aiming this at kids 3-6, and I wouldn't expect them to be able to draw many of the items that correspond to the letters. But there are lots of ways to color in pictures – try mixing it up by using a range of crayons, colored pencils, marker pens, watercolor paints and acrylic paints. A full list of picture credits are given at the end of this post.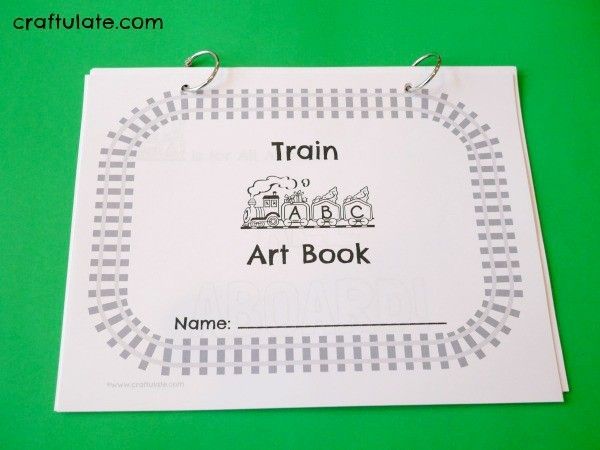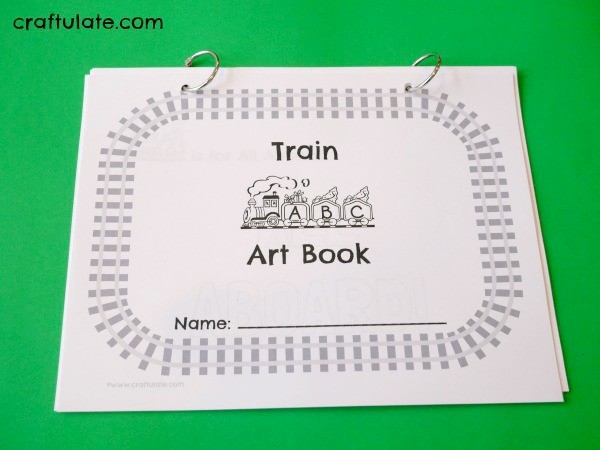 So you'll need to grab the FREE printable from Craftulate. Once downloaded, print out the book and bind it together however you'd like. You could use split rings or to make life easier you could store them in a binder or use book rings – they are available in color or silver versions!
Here's a list of all the letter pages included in the book and some tips for completing them.
A – All Aboard – color in this classic phrase
B – Blue Bridge – draw or paint a blue bridge over a train track
C – Cork Stamped Coal Car – use corks as stampers to color the car and then add black stamps for coal
D – Dot marker Diesel train – color in the train using dot markers
E – Electric Train Engineer – color in this picture
F – Fingerprint freight cars – make fingerprints with ink or paint all over the cars
G – Glitter Glue Crossing Gate – use glitter glue to color in this picture
H – Hidden High Speed Train – how is the train hidden? Time to get creative!
I – Ice Cream Decorated Interchange – cover the interchange track with drawings or stickers of ice cream!
J – Jolly Journey (what do you see out of the window?) – draw what you might see out of the window on a train journey
K – Kite Flying Train – draw or paint a kite at the end of the string, then add some tissue paper streamers
L – Lavender Locomotive – paint the train a lavender colour
O – Orange Oil Tank Car – use orange crayons, paint, pencils or markers to colour in this tank car
P – Purple Paint Passenger Car – use purple paint to color in this passenger car
Q – QTip Steam Train – use QTips dipped in paint to complete this steam train picture – see my QTip Train Art post
R – Red Caboose – use red crayons, paint, pencils or markers to color in this caboose
S – Sponge Stamped Smoke – stamp some grey smoke by using sponges dipped in paint
T – Tissue Paper Tunnel – glue small pieces of tissue paper onto this tunnel picture
U – Underground Train – color in this picture
V – Very Vibrant Viaduct – use the brightest colors you can find to color in this viaduct picture
W – Wooden Train Wheel Prints – dip toy wooden trains in paint and let the wheels make the picture!
X – X shape railroad sign – color in this picture
Y – Yellow Yarn Track – glue pieces of yellow yarn to the paper in the shape of a track
Z – Zig Zag Train Track – draw a track that goes in a zig zag
And here are some of the pages completed by my son (3.5 years) and his friend (5 years).