This Thomas the Train Birthday party was for my son's second birthday, and included homemade invitations, party bags, and birthday card plus themed food and games!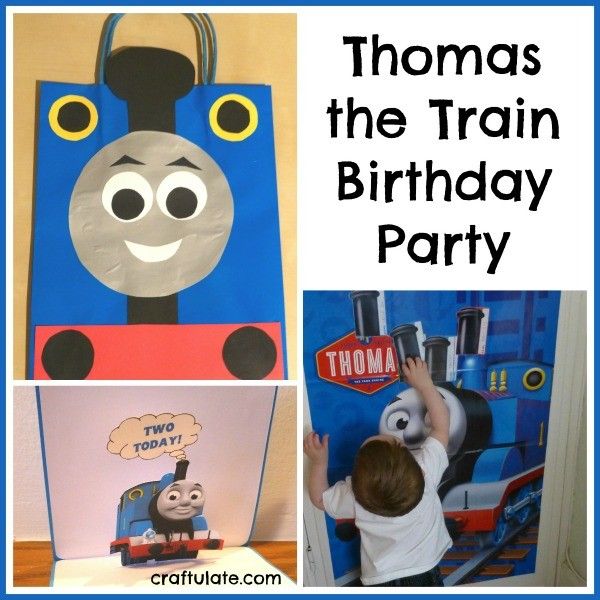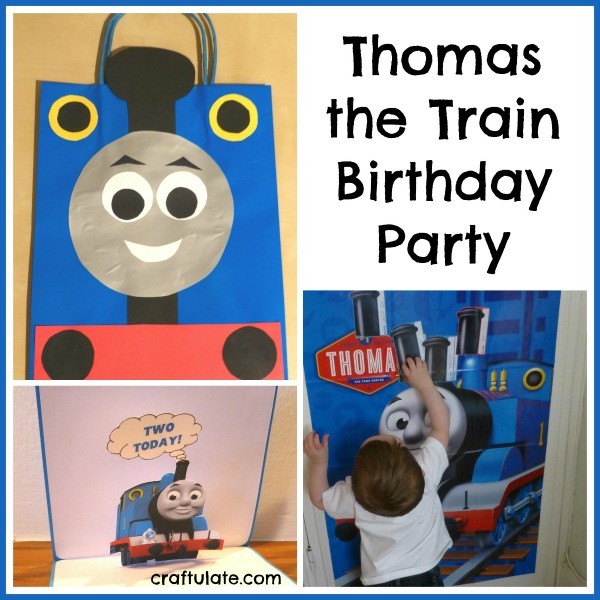 The following post contains affiliate links, which means that at no extra cost to you I can make a tiny bit of money to help support this blog. Thank you!

F has just turned 2 and we were visiting family in the UK at the time. This meant that we couldn't throw a party for all his little friends back in the US, so we had a little mini train birthday party with two of his cousins instead.

Invitation
Even with such a small invitation list I just had to make invitations! The official Thomas & Friends font is bespoke, so I used a similar free one called "Flange BQ".
Birthday Card
I made a really easy pop-up card using the box support method. At the folded edge of the card, make two cuts. The length of the cuts depends on the size of your image and how far out from the card you want your image to stand. About 1cm is a good starting point. Then make a crease between the ends of the two cuts. Open the card out and push the creased and cut part (the box) through the card so that it looks like this: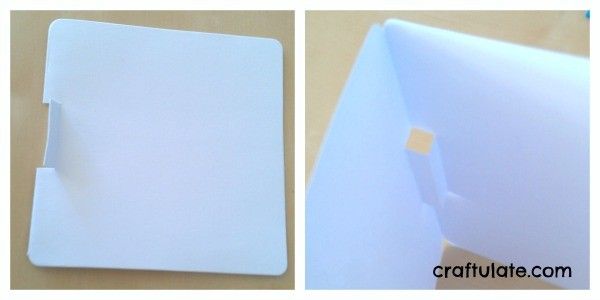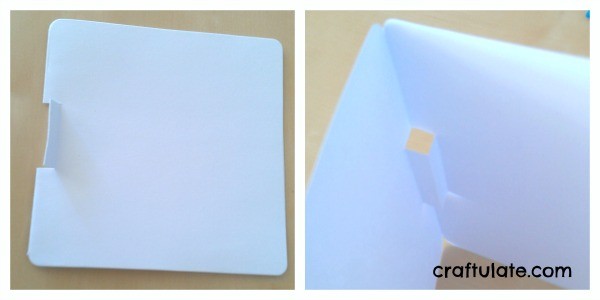 Then you can glue any image on to one side of the box, just check that when the card is closed the image does not extend beyond the card. This style of card creates a gap behind the box, so I usually add another piece of card behind it to form a front cover.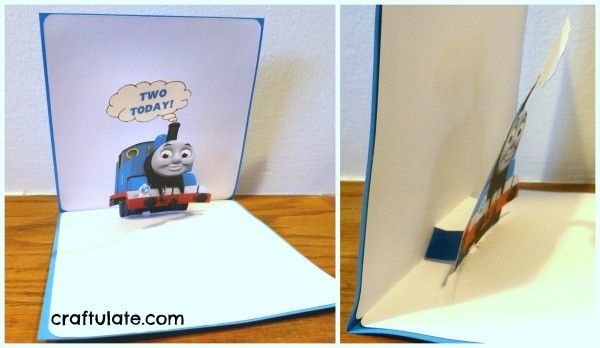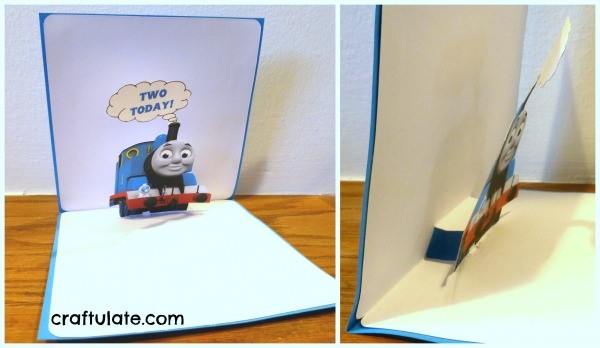 Party Decor
In addition to banners and hanging garlands, we used silver tape to mark out a track shape on the front path and inside the house.
Birthday Boy Outfit
I ordered F a custom shirt from JamieSewCute embroidered with his name, age and (of course) a Thomas logo.
Party Food
We served the food in foil "carriages" and had a train theme for the food:
Thomas Train leading the carriages with popcorn "steam" threaded on a wire
Coal car (raisins)
Wood car (mini breadsticks)
Mini Oreo wheels
Stone blocks (cheese cubes)
Engine Smoke (popcorn)
Cookie wheels (round cookies decorated with blue sprinkles)
Train-shaped sandwiches using cookie cutter
For the cake, my mother and I made a two layer sponge cake. She covered it in icing while I made some leaves and an edible Thomas train for the top. Then around the base ran a little battery-powered Thomas train.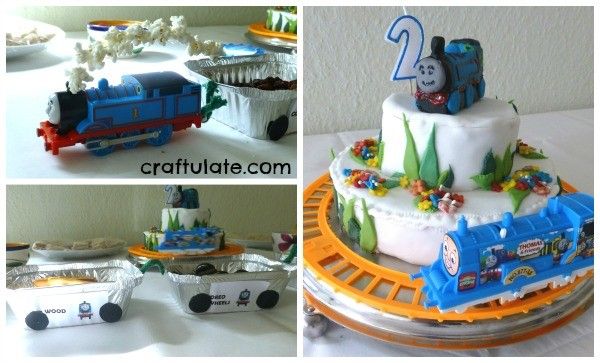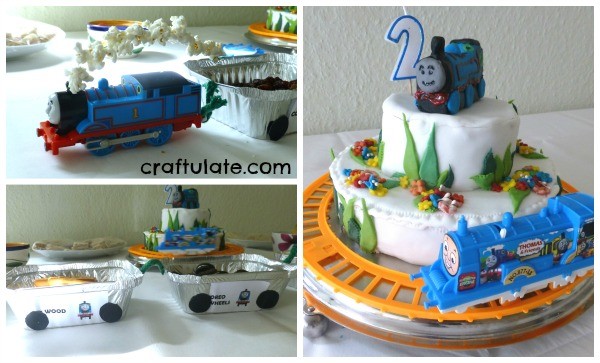 Party Games
As it was a small party and the children's ages ranged from 2-7, we didn't organise too many games and activities. But we did do the following:
Pin the Funnel on the Train (all the adults played too!)
Hunt the Thomas (pictures of Thomas printed onto cards and hidden around the party rooms, with a prize for whoever collected the most)
We put a sticky wall collage up (similar to this one) and invited F and his cousins to add to it throughout the party.
Party Favour Bags
I used plain blue bags and glued on the details cut out from card and paper.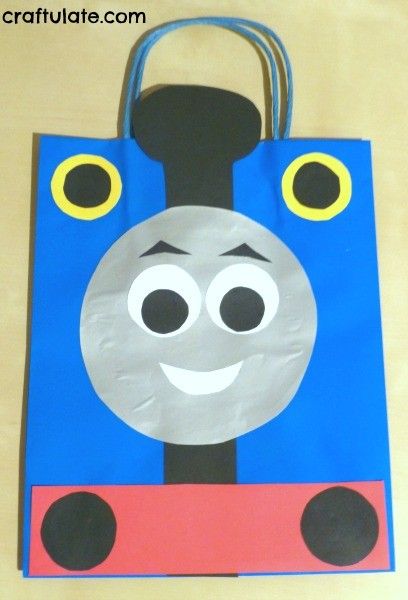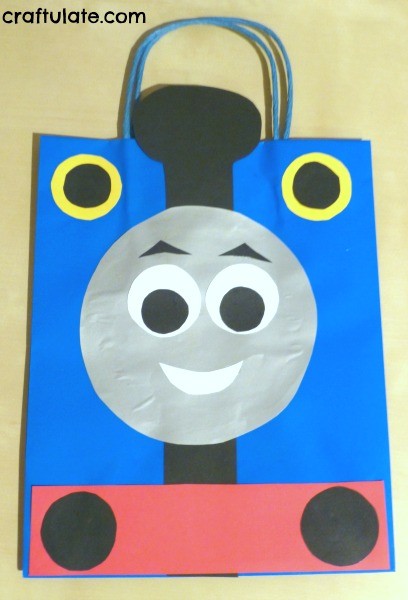 For party favours we provided bubbles, whistles, toy cameras,  and a print-out of a Thomas paper craft from Working Mom Cook Fusion.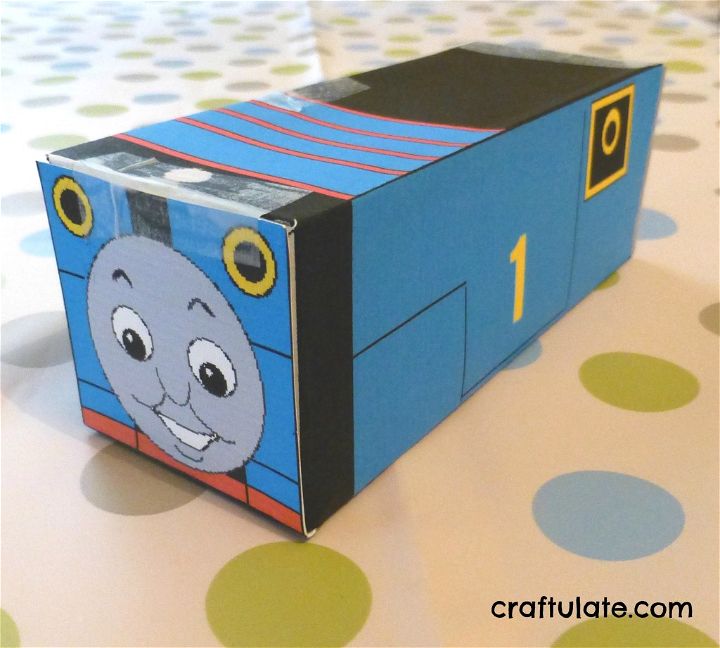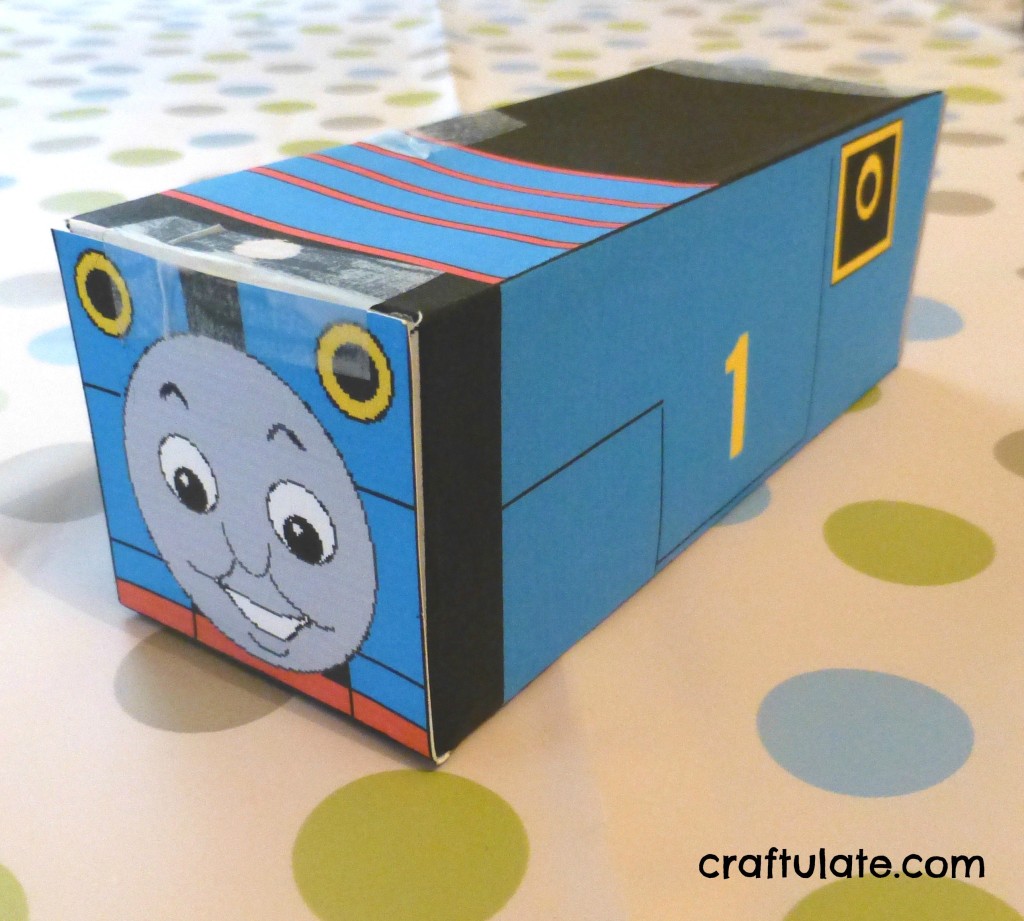 Having a small party is probably unusual, but perfect for F. He really enjoyed it and just couldn't get enough of all the trains!
Oh and if you're looking for train related crafts – here's a homemade Table tent and a Thomas costume made from a cardboard box!