Kids will love personalizing their own Mod Podge Treasure Chest!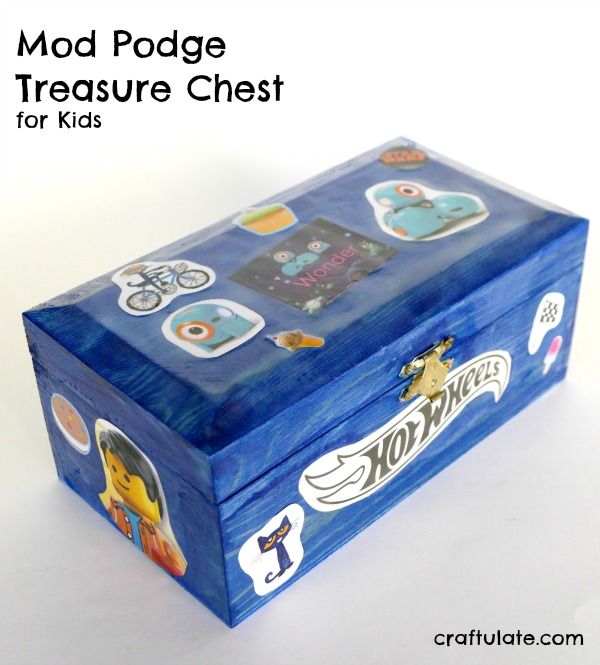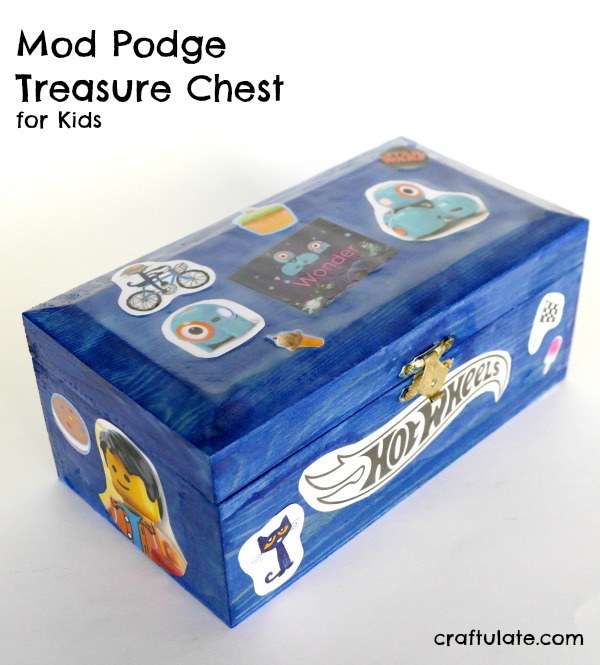 This is a sponsored post written by me on behalf of Plaid Crafts. All opinions are my own. Please see my disclosure policy. The post also contains affiliate links, which means that at no extra cost to you I can make a tiny bit of money to help support this blog. Thank you!
Did you know that May 19 is National Mod Podge Day?!?
Mod Podge was created in the 1960s, and the title comes from the term "Modern Découpage". Découpage is the art of decorating an object (pretty much anything!) by gluing colored paper cutouts onto it with layers of varnish or lacquer. These days Mod Podge has many different varieties, including gloss, matt, fabric, outdoor, sparkle, and many more! Over the years we've used it for all kinds of projects, including Craft Stick Photo Frames, DIY Wooden Tic Tac Toe, Sparkly Painted Rocks, Tissue Paper Votives, and more!
To join in the celebrations, I decided that we should take Mod Podge back to its découpage roots. We used the formula designed especially for kids – Mod Podge Wash Out – and bought an unfinished wooden chest from our local craft store (here's a link to a similar one from Amazon). We painted the box first using Folk Art Ultra Dye.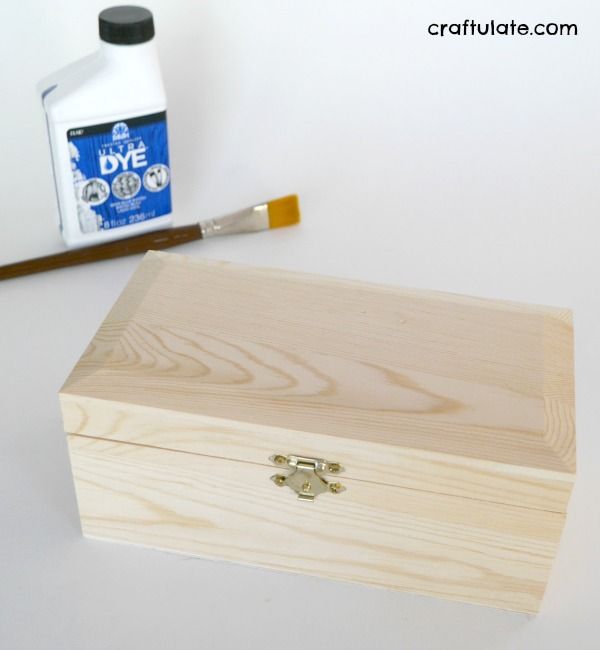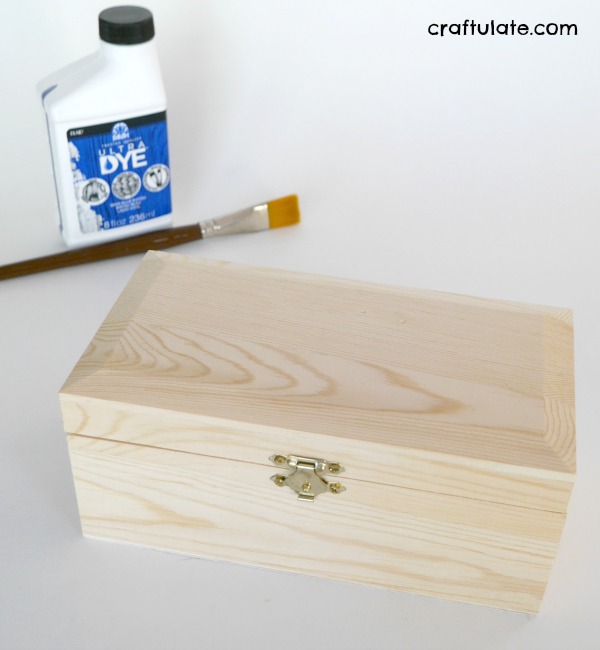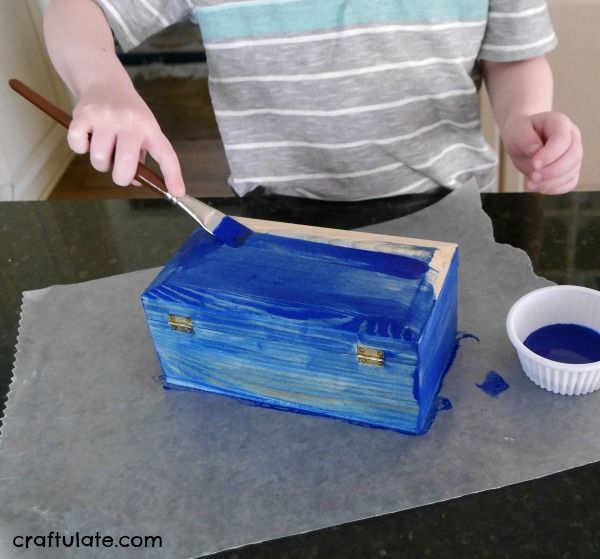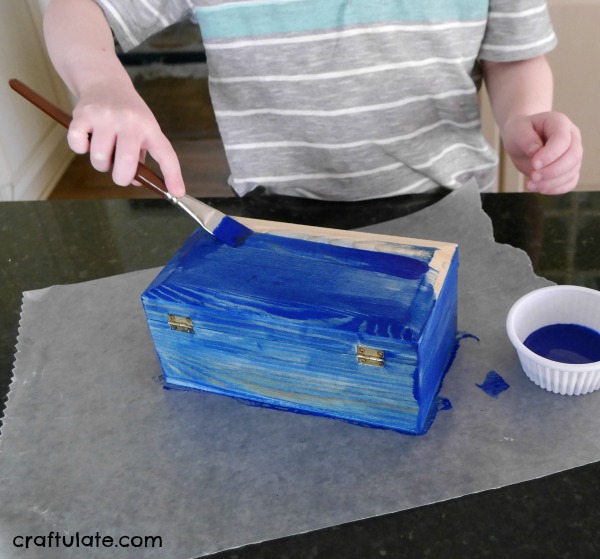 When the box was dry, I found all kinds of pictures from magazines and instruction manuals for some of my son's favorite things, and we were ready to start.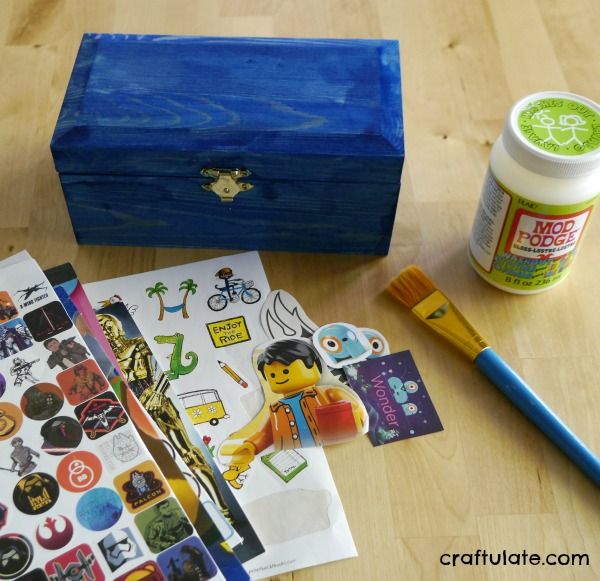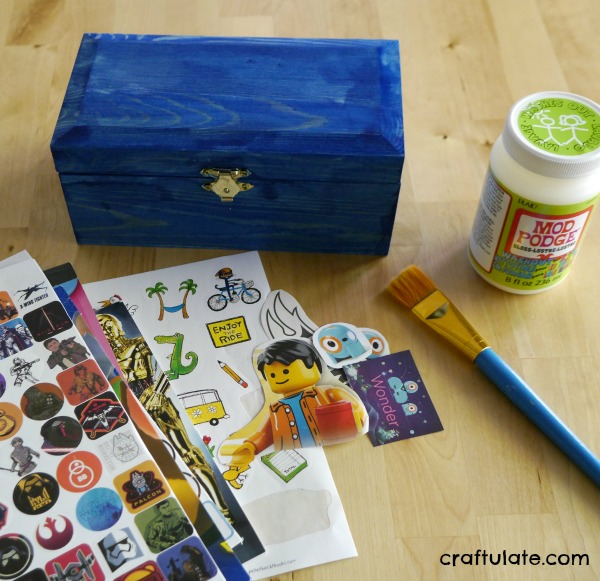 He spread a generous amount of the Mod Podge on each side of the chest before adding the pictures. I included some stickers which he also put into position.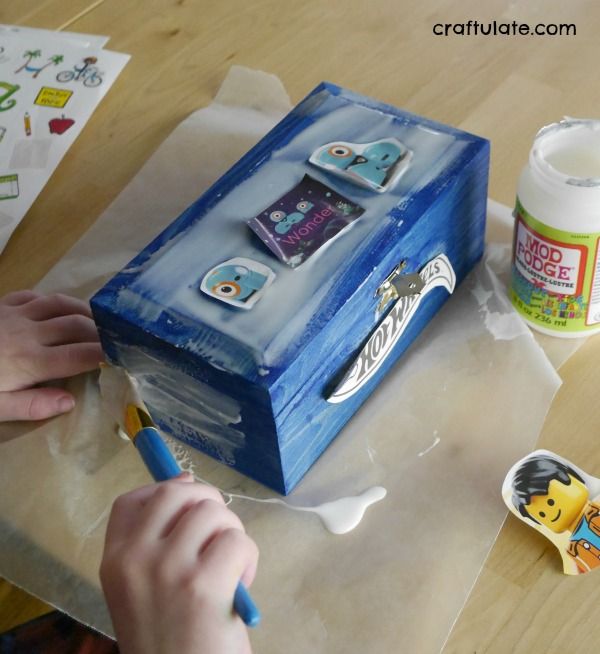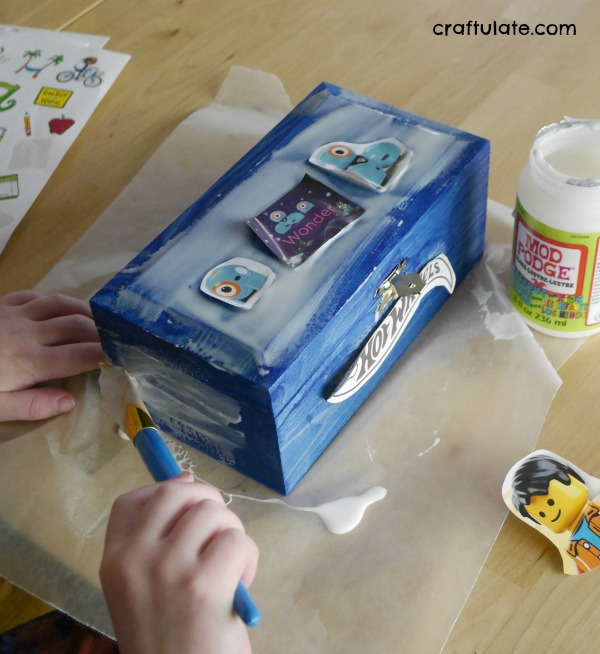 When he had added all that he wanted (I had hoped he would cover more of the box than he did – but this was enough for him), we added a layer of Mod Podge over the top to seal everything in place.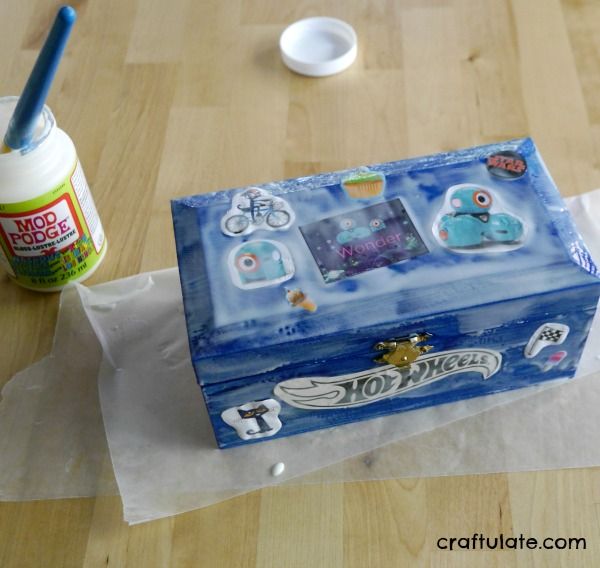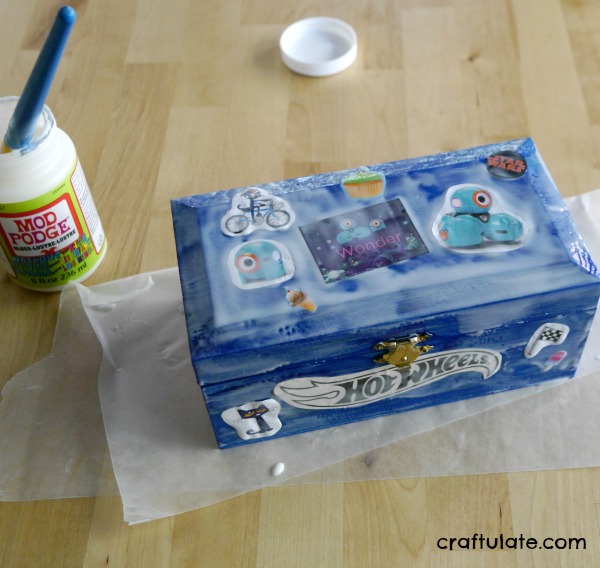 It only needed one coat but you can see how glossy and smooth the top looks in this photo!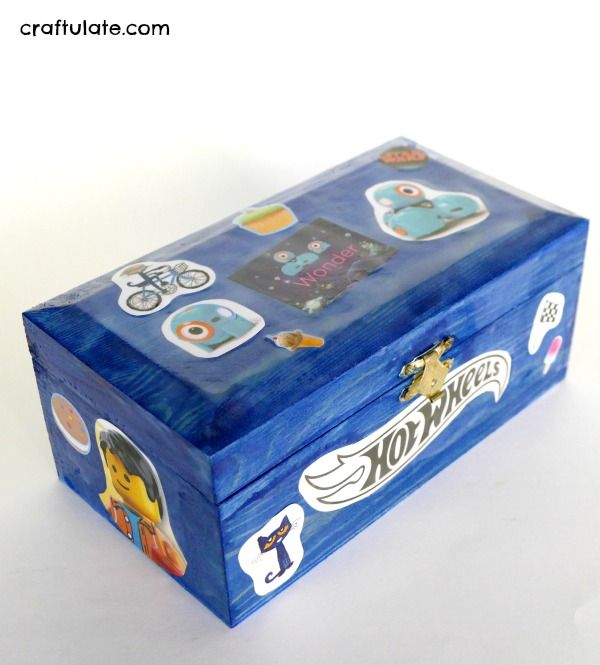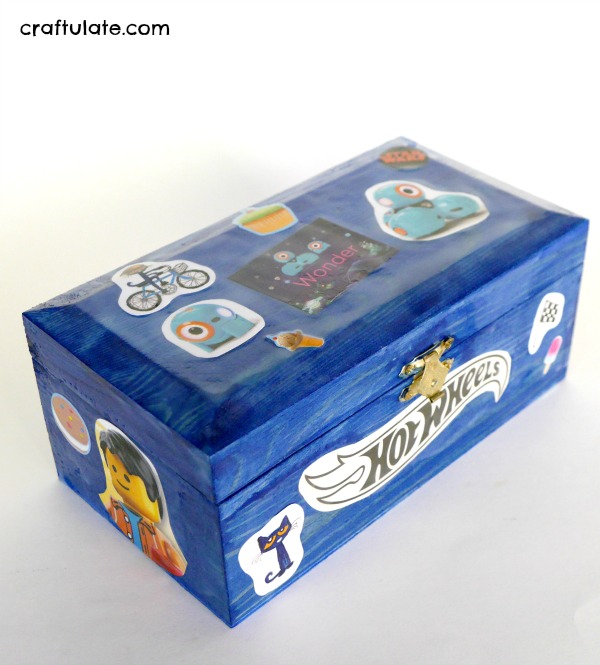 Then it was ready for him to load up with his treasure – but preferably not so much that he couldn't close it… 🙂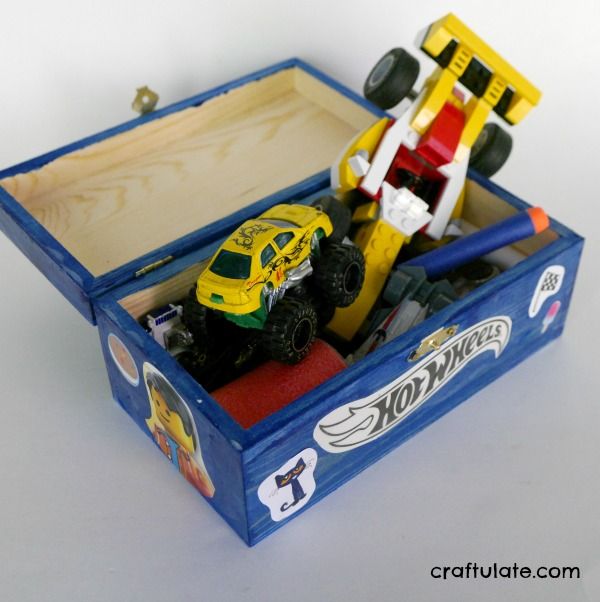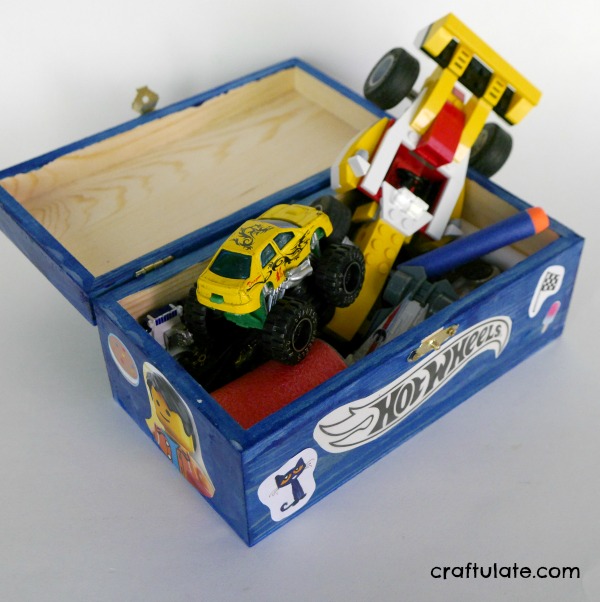 [bctt tweet="Mod Podge Treasure Chest – a personalized craft for kids to make" username="craftulate"]
Want to try Mod Podge for the first time? Check out this 11-piece starter kit! And don't forget to head over to the Plaid Crafts Facebook page to enter the giveaway!