Learning to use scissors can be pretty tricky for children, so here are some tips and tricks to help get them started on this essential fine motor skill.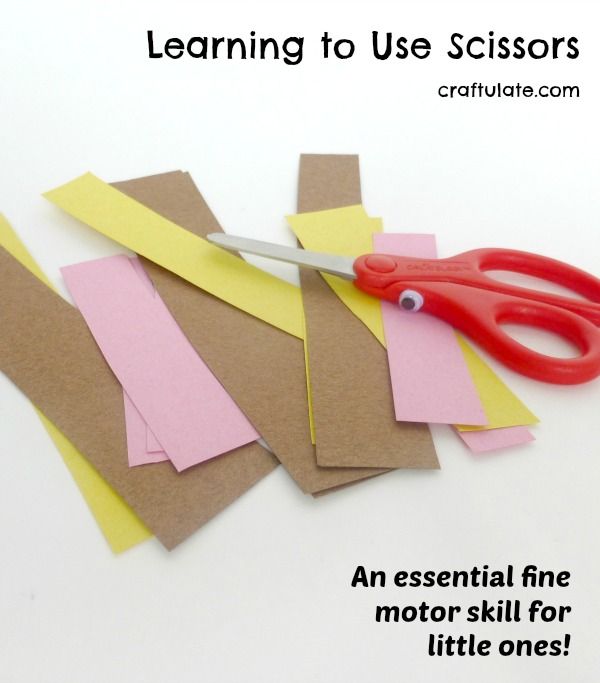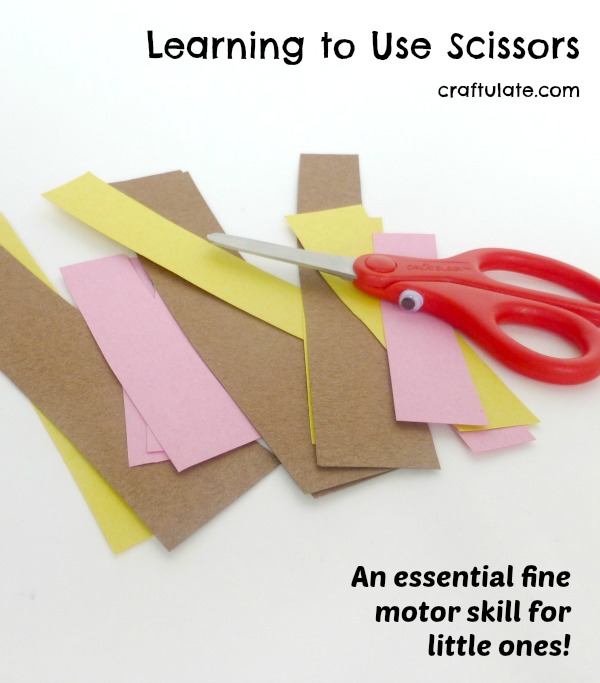 This post contains affiliate links, which means that at no extra cost to you I can make a tiny bit of money to help support this blog. Thank you!
A few months ago we worked on Tongs and Tweezer Training, and my son still loves tongs. Working with tongs and tweezers is great preparation for learning how to use scissors. At Easter we used some bunny egg tongs which were a great compromise – the tongs had handles like scissors but cups instead of blades.  Now F has turned 3 I wanted him to be able to use scissors properly, so here is how we practiced.
I read that a great way to start out with scissors is to practice cutting play dough. So I made some logs from our jelly bean play dough and set out three pairs of scissors – including some blade-less dough scissors.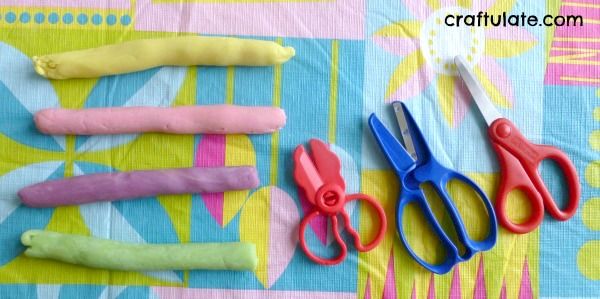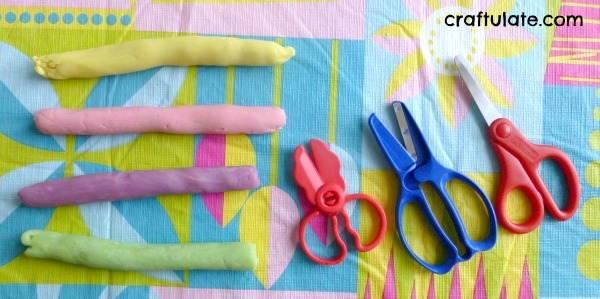 I demonstrated to F how to hold the scissors, but he was having none of the one-handed method. Two hands for him. He did have a bit of success but it didn't look comfortable and wasn't great for my tablecloth!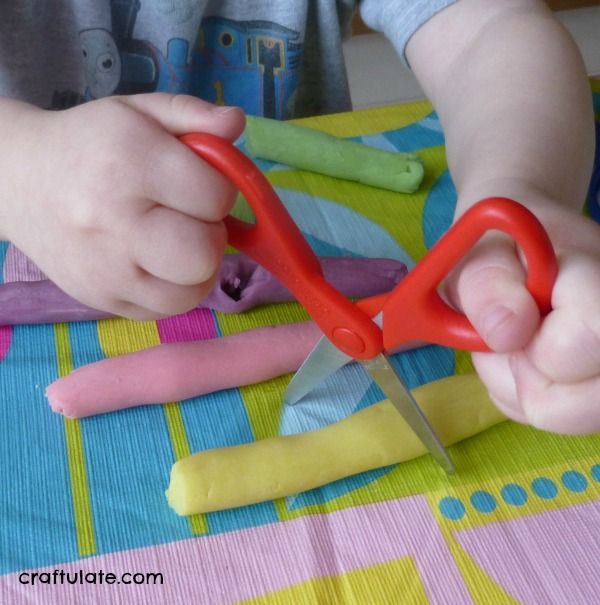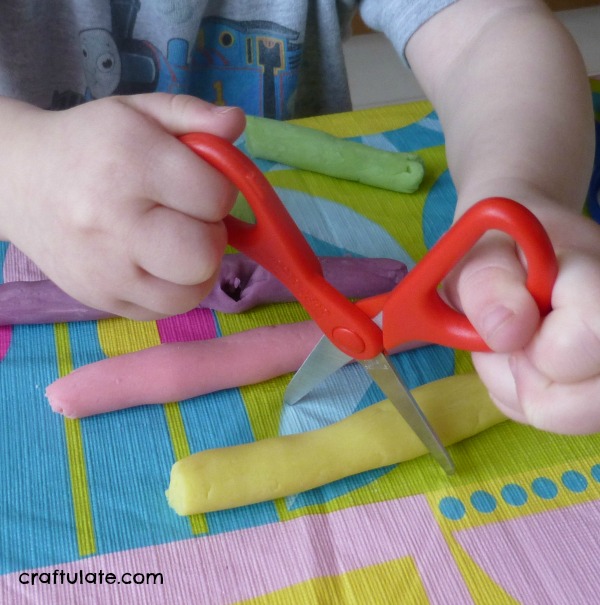 I used the blade-less scissors to show F how to cut the logs into small chunks, but he found it too hard and soon lost interest.
A few weeks later we tried again, just with paper. F was keen but it was hard to get him to hold the scissors properly; he just wanted to do it his way and not accept any direction!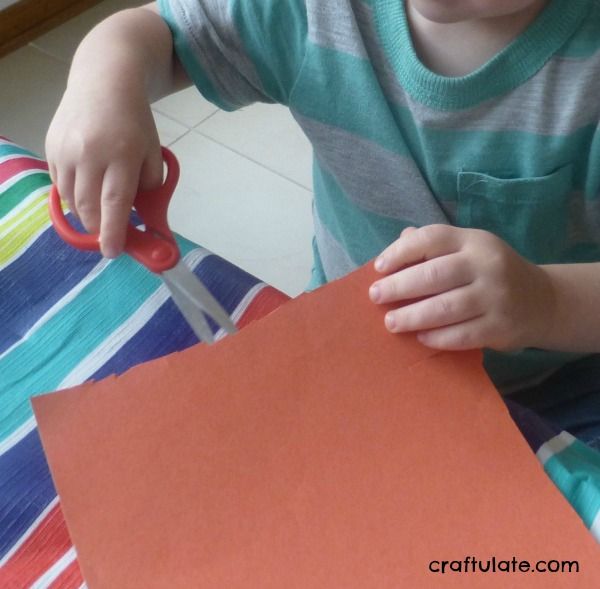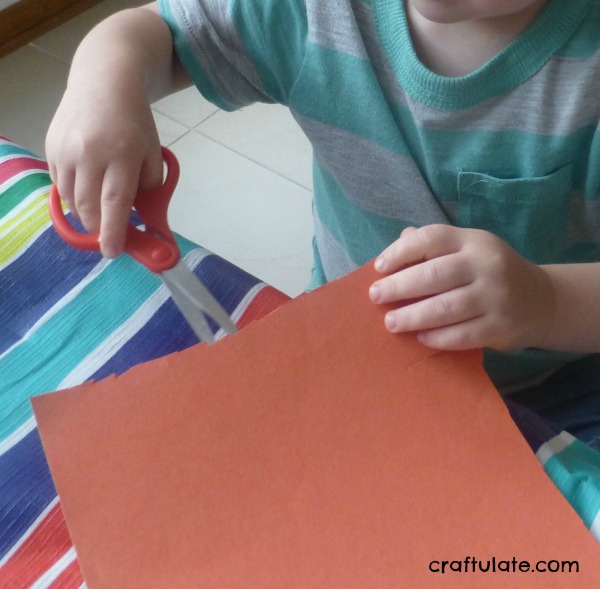 Then I saw P is for Preschooler's photo that shows googly eyes glued to the top edge of the scissor handle. This encourages the child to hold the scissors the right way up so that they can see the eye. Definitely worth a try! It really seemed to help, despite F's natural tendency to turn them the other way up. But he started to make some really good snips and I feel like we're finally on the right track!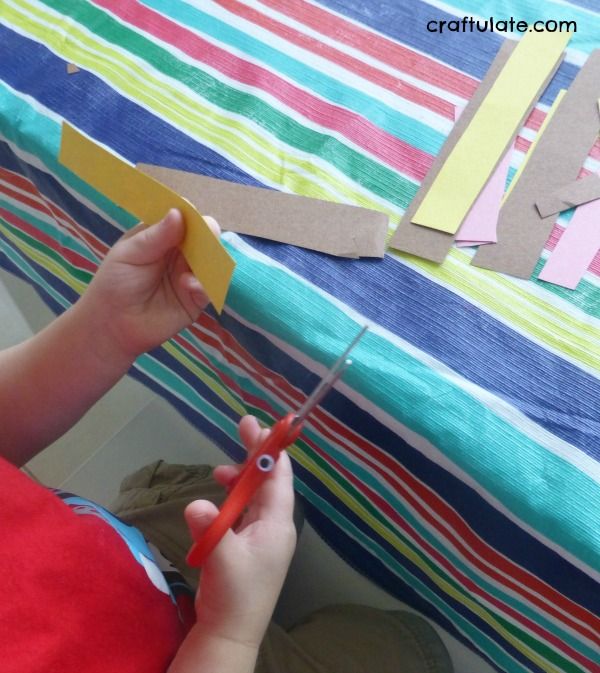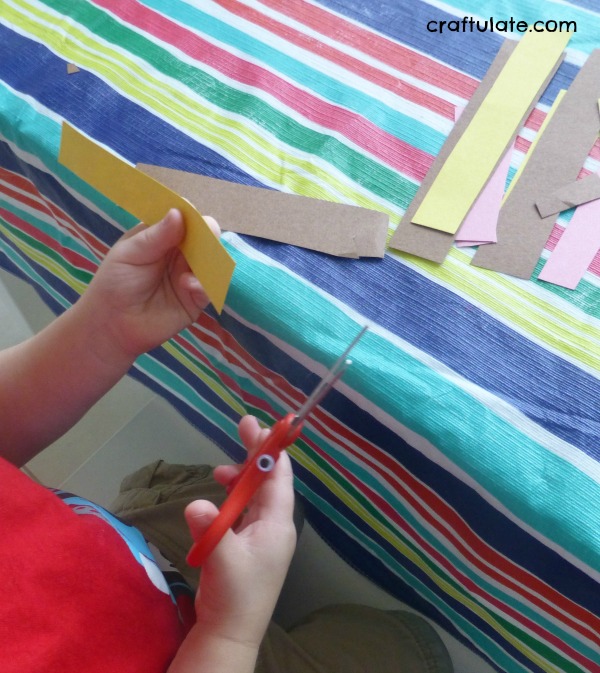 [bctt tweet="Here are some great tips for little ones on how to use scissors!"]
Here are some other tips on how kids should hold the scissors:
Draw a smiley face on thumbnail of cutting hand from Happy Hooligans
Hold paper above eye level to correct wrist from Parents.com
Add tape to the paper from The Inspired Treehouse
Further resources for learning to use scissors:
Tips for Choosing Scissors for your Preschooler from Teach Preschool
Guide to Scissors and Cutting for Lefties from Left Handed Children
The Ultimate Guide to Cutting Activities for Preschoolers from Lalymom
Why Scissor Cutting Skills are Important from Makeovers and Motherhood
Outdoor Scissor Skills Activity from No Time for Flashcards
Straw Cutting Activity from Play Dr Mom
Tips for Teaching Scissor Cutting from Stay at Home Educator
Free Printable Cutting Practice Strips from Royal Baloo
Developing Cutting Skills with a Cutting Tray from Mama Papa Bubba



Fine Motor Fridays is a weekly series that has now been running since October 2013! Please check out these other great fine motor skills ideas from my co-bloggers!
Honey Transfer: A Fine Motor Water Activity from Still Playing School
Busy Bags for Fine Motor Activities from Powerful Mothering
Fruit Kabobs for Kids: A Yummy Fine Motor Activity from School Time Snippets
Simple Activity for Learning Colors for Toddlers from Lalymom
Dinosaur Excavation Activity For Fine Motor Skills From Little Bins For Little Hands