Did you know that you can make jelly bean play dough? It smells fantastic!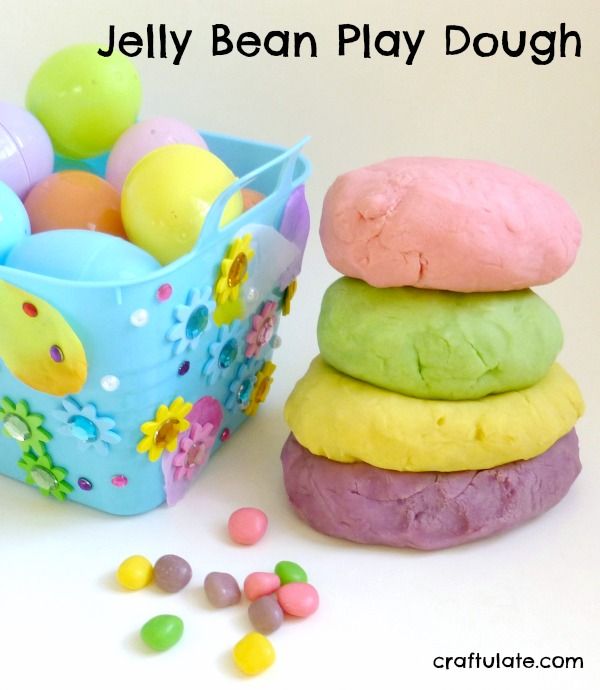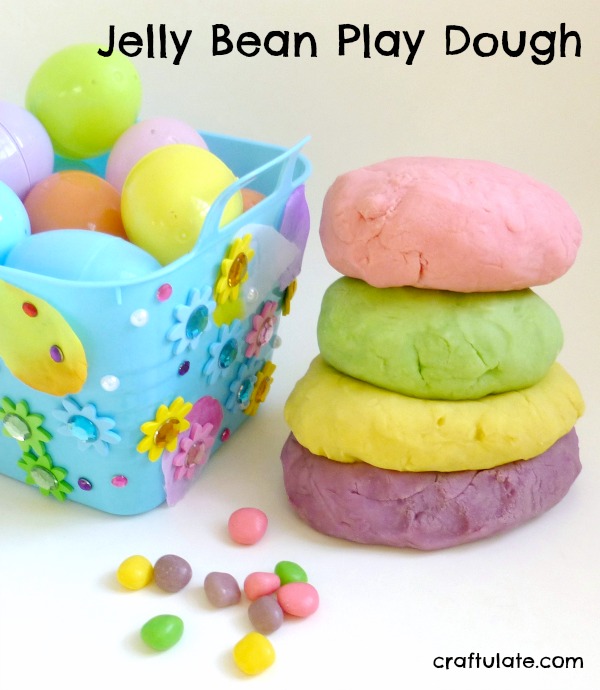 This post also contains affiliate links, which means that at no extra cost to you I can make a tiny bit of money to help support this blog. Thank you!
Easter is such a fun time of year, with all the fantastic colours and the whole outdoor world coming to life. It is also a time for indulging in some delicious seasonal candy.
Recently I found some Wonka Laffy Taffy Jelly Beans – I am a huge fan of Wonka candy and couldn't resist. The flavors are grape, banana, cherry and apple.  The smell reminded me of scented play dough – so I decided to make some jelly bean play dough! That's just the way my mind works. 🙂
Preparing the Jelly Beans
I sorted the jelly beans by colour (after consuming several for quality control purposes) – and placed them in microwavable bowls.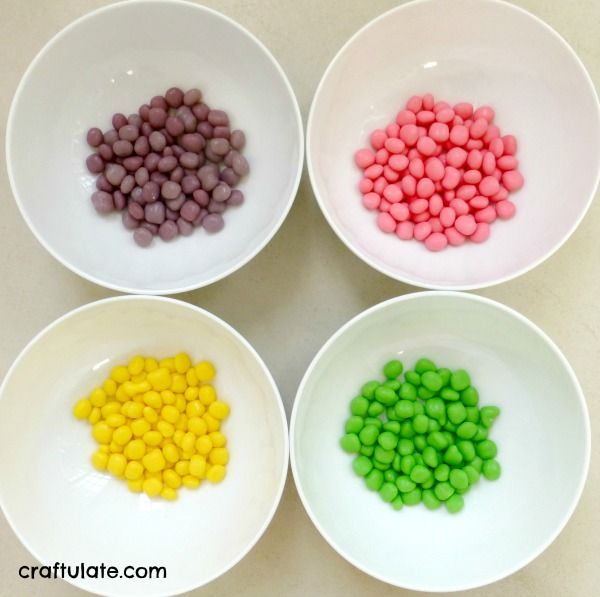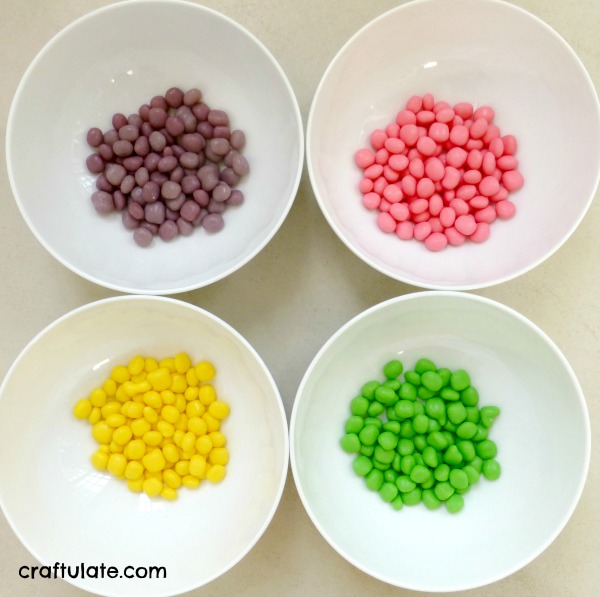 I added ½ cup water to each bowl and cooked it on high in the microwave for 1½ minutes until all the colour from the beans had dissolved into the water. I strained the beans and discarded them, reserving the water – I wanted that wonderful scent and color, not the actual bean!!
Making the play dough
Ingredients (to make one colour of jelly bean play dough):
½ cup AP flour (plain flour)
½ cup reserved water from melting jelly beans as above
2 tbs salt
1 tsp cream of tartar
In a saucepan (preferably nonstick), combine the  ingredients until the mixture is fairly smooth – it is OK if a few little lumps remain.
Place the saucepan over a low-medium heat and stir regularly. As the mixture starts to thicken, stir constantly. Soon it will start to pull away from the sides of the saucepan and form a ball. As this makes quite a small batch of play dough the cooking time should only be a couple of minutes.



Remove from the heat and place the play dough ball on some parchment or wax paper. It might look a little lumpy at this point! Once it has cooled enough to touch, knead it for a minute or two until smooth.
Then I repeated all this three more times for the other colors!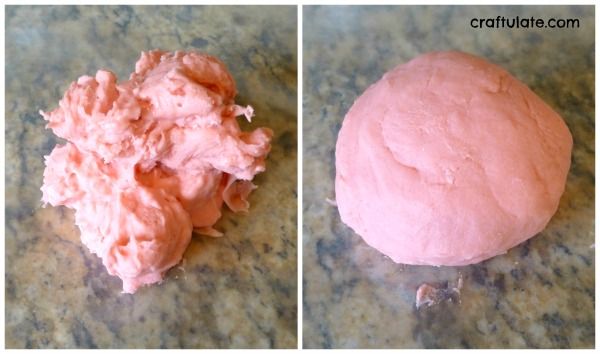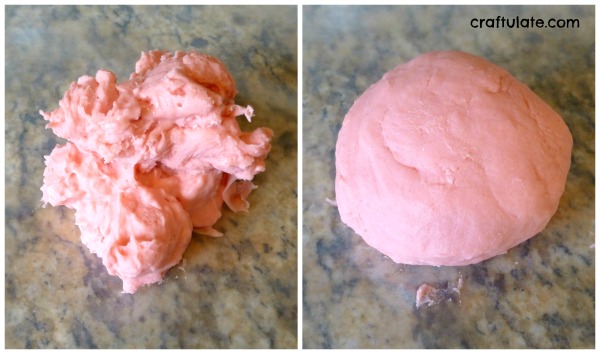 The play dough has a lovely soft texture and is not sticky at all. I love the pretty Easter colors and the amazing scent – particularly the grape and cherry!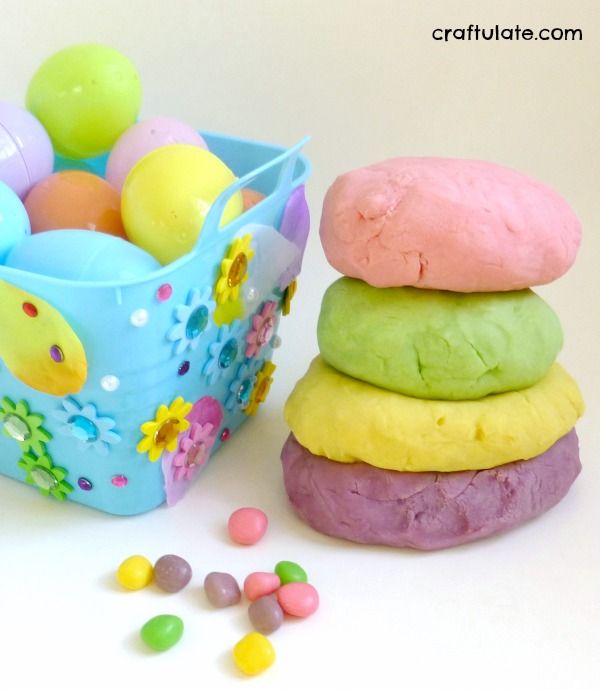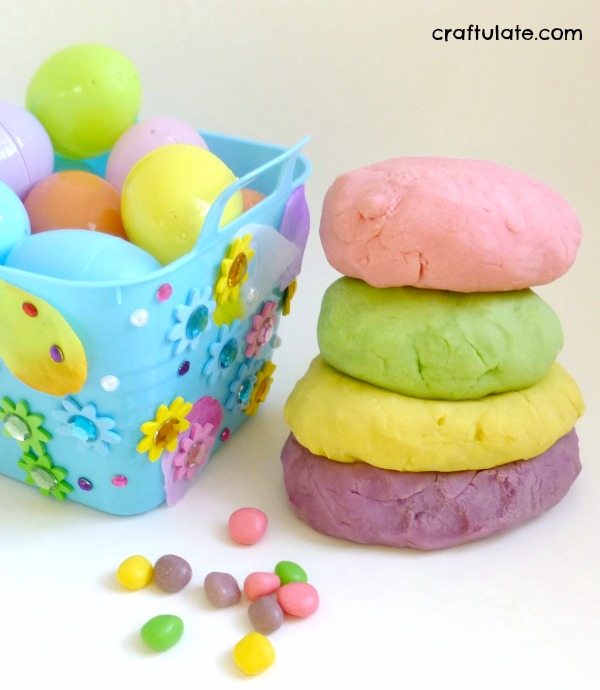 [bctt tweet="Did you know that you can make play dough from JELLY BEANS?!? #playdough" username="craftulate"]
This play dough would make great Easter party favors if presented in plastic eggs!
 Note: Technically this play dough is edible, but I wouldn't recommend it as it doesn't taste very good!