These ten super simple ideas are perfect for making bathtime for preschoolers (and toddlers!) more fun!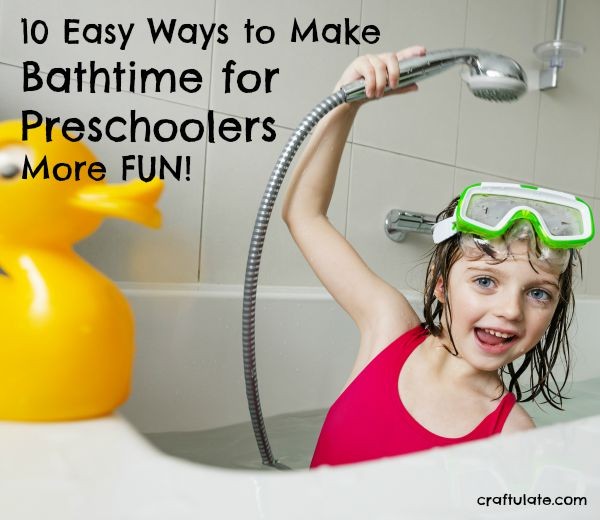 The following post contains affiliate links, which means that at no extra cost to you I can make a tiny bit of money to help support this blog. Thank you!
My son hasn't always liked bathtimes and because of that it hasn't become part of our nightly bedtime routine. But I feel that we are starting to turn a corner and I love using these easy ways of making bathtime more enjoyable – for both of us!
Colour-Change Tablets
These tablets have been a life saver! The ones I buy come in red, blue and yellow – and in two sizes. Perfect for learning about primary color mixing!
Craft Foam Sheets
You can buy foam sheets from craft stores or dollar stores in a variety of colors. When wet they stick to the sides of the bath! I made a whole train set for my son but I've also made simpler items like little yellow ducks! Cut out basic shapes of whatever your child likes to play with – so easy!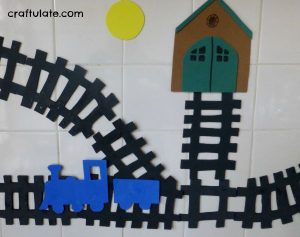 Homemade Bath Paint
There are many ways to make your own bath paint but the simplest recipe that I like is just shaving foam and food dye. Mix it up and give them a paint brush! The food dye doesn't stain the bath or their skin, by the way!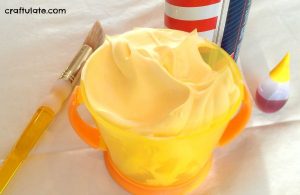 Measuring Cups
You can buy cheap sets of measuring cups from the dollar store – and they are perfect for endless scooping and pouring activities!
Homemade Bath Bombs
OK so this one takes a bit more advance planning – but is so easy to customize for your child! I hid
mini trains
in ours but you could hide anything that is water-safe in yours. Then just let the bath bombs fizz away, the essential oils get released, and your child discovers the hidden toy!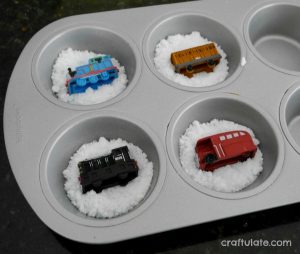 Bubble Blowers
We've had various bubble makers over the years that adhere to the side of the bath. If your kids like bubbles – then these toys really add fun to bathtimes!
Go Fishing!
I made a
simple fishing game
for my son over two years ago and he still plays with it! It's made from a bead, magnets, craft foam, yarn, and a freebie wooden chopstick!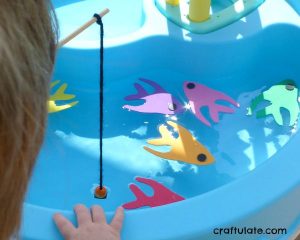 Bathe in the Dark!
Why have a bath with the lights on?!? We use lovely color-changing submersible lights but if you do a quick search on Pinterest you can also find fun ways of making the bath water glow in the dark!!
Foam Letters
We received a set of
foam letters and numbers
when my son was born and 4.5 years later he's still playing with them! I've added an extra set now so that he has more chance of being able to spell words, as only one of each letter is included in each set.
Themed Baths
This can incorporate all or some of the previous nine ideas! You could make everything one color by using the water change tablets, some craft foam, and some bath paint. One of the favorite themed baths that I made for my son was Ocean themed – with toy boats, the fish from the fishing game, blue color change tablets, shells, and more!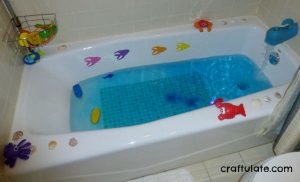 Oh and here's a bonus idea for you!! These have been such a success in our house that I just had to mention them. Robotic Fish! Made by the same people who make Hexbugs, these AquaBots react to the water, swishing their tails and propelling themselves forward. They are mesmerizing!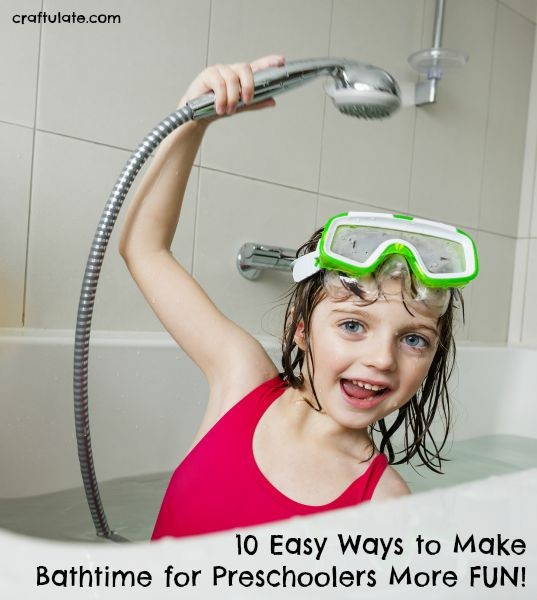 Main image photo credit: ©
Verastuchelova
|
Dreamstime.com
–
Little Girl In A Bathtub Photo