These Valentines crafts for toddlers are super easy and perfect for celebrating all things hearts and Valentines.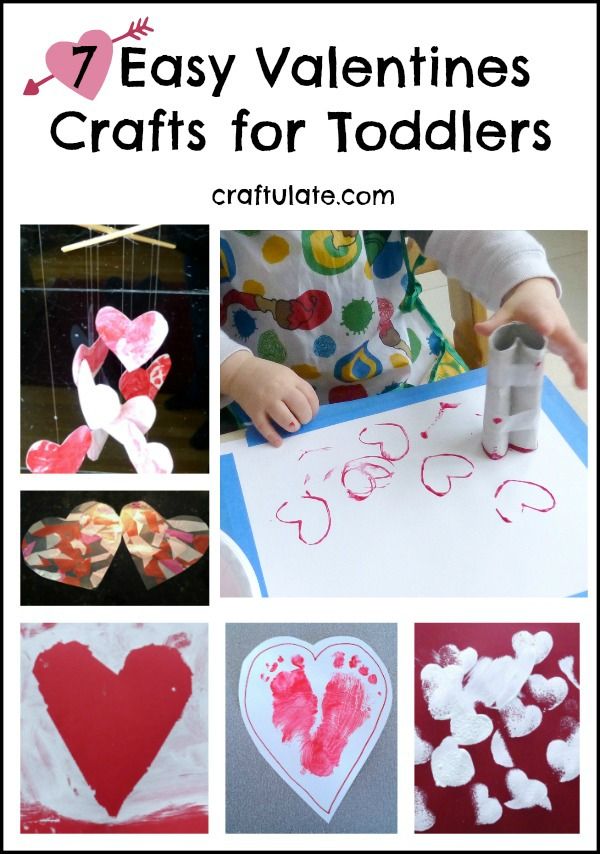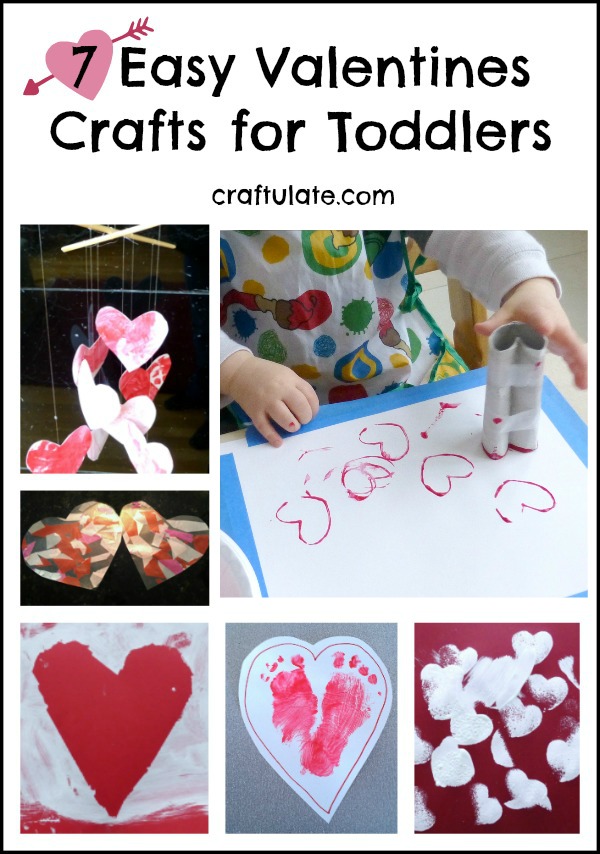 This post contains affiliate links, which means that at no extra cost to you I can make a tiny bit of money to help support this blog. Thank you!

Here's a great selection of Valentine's crafts for toddlers. They're all super easy, with minimum set-up. So take your pick!
We used an assortment of red
finger paint
, a red crayon, and a red colored pencil, all in one session, on one piece of card!
Heart Mobile
From the artwork created above, I made a heart mobile. Using a template I cut out heart shapes from the red artwork. If your child likes things sparkly then this would be a great time to use a red glitter glue pen or glue on some red sequins.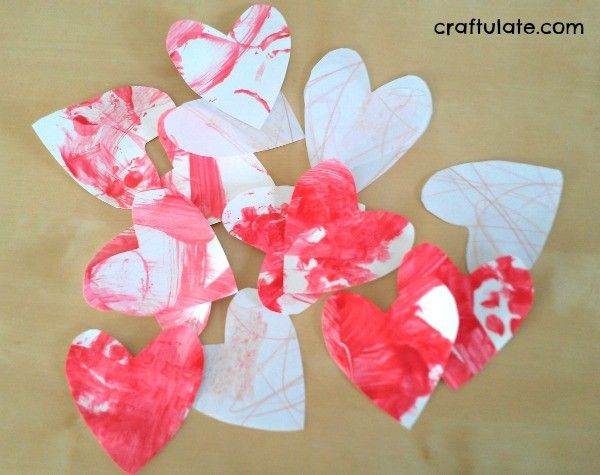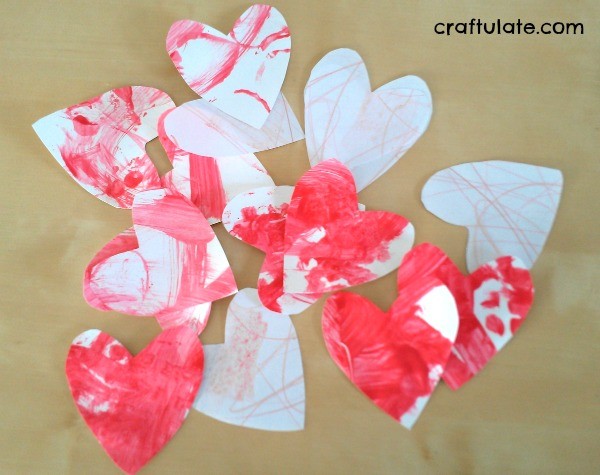 I attached string to the back of one heart by winding some thread twice round a piece of tape then attaching it.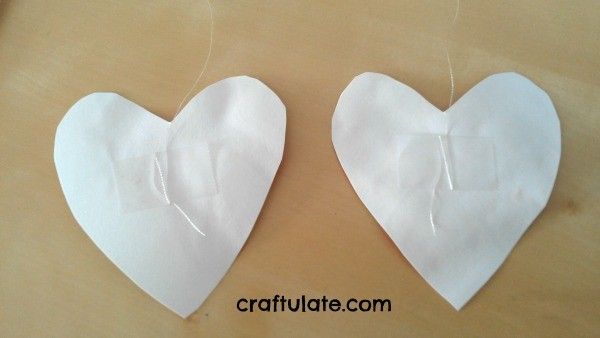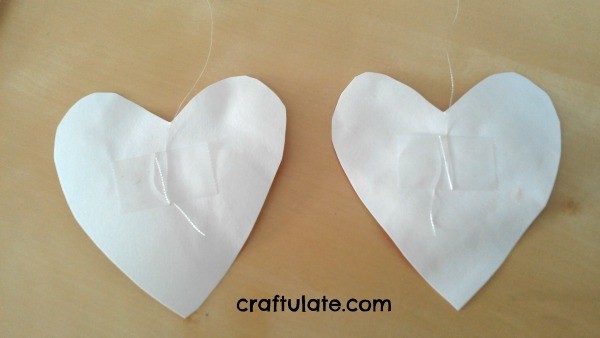 Then I glued on another heart covering the tape, painted sides facing out. I made eight of these and tied the string to a pair of freebie wooden chopsticks. The chopsticks can be tied or glued together in an X shape (hot glue would probably work best, I just tied them) and then hang the hearts at various intervals. You'll need to suspend the mobile from somewhere as you tie them to ensure that they balance out OK.
There is a great tutorial from
Rust and Sunshine
on how to make a heart stamp from a toilet paper tube. The basics are that you crease down the length of the tube on opposite sides. Then fold one side back in on itself, forming a heart shape. You'll then need to tape the top curves of the heart together to keep the shape.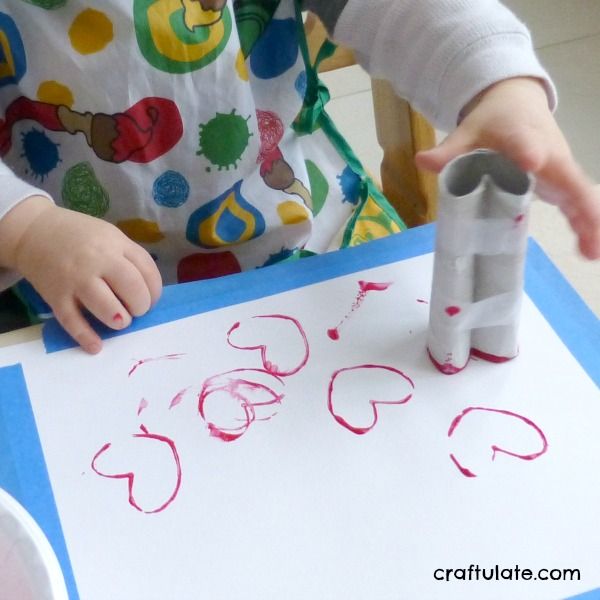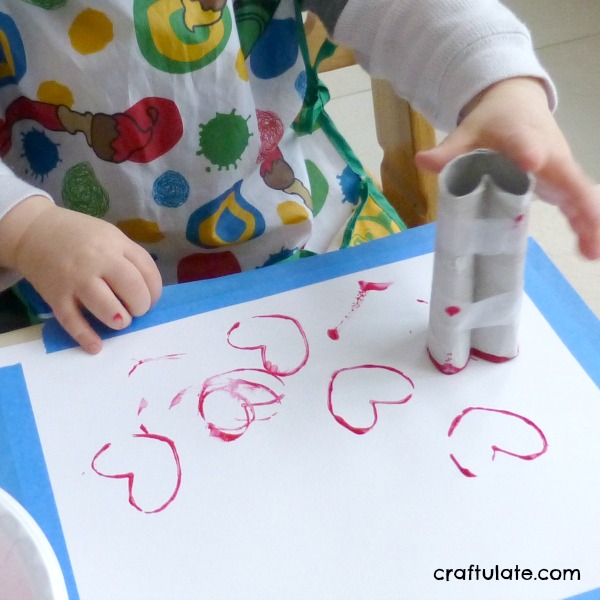 Heart Sponge
We already had a heart shaped sponge in our collection but it would be pretty easy to cut one out from a regular sponge if you didn't have one.
Tape-resist Heart
A little bit of planning needed here. You could use white crayon on white card and then colour with red watercolour paint, but we're still working on that technique, so I decided to make a heart from tape – which takes a little while! Then I asked my son to painted over the tape with white paint, but I had to keep a close eye on him as he wanted to peel the tape off!
Once the paint had nearly dried I removed the tape. Then I used the artwork to create a Valentine's Card!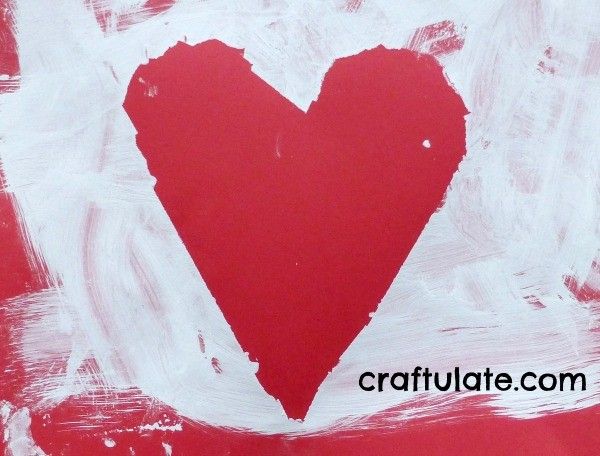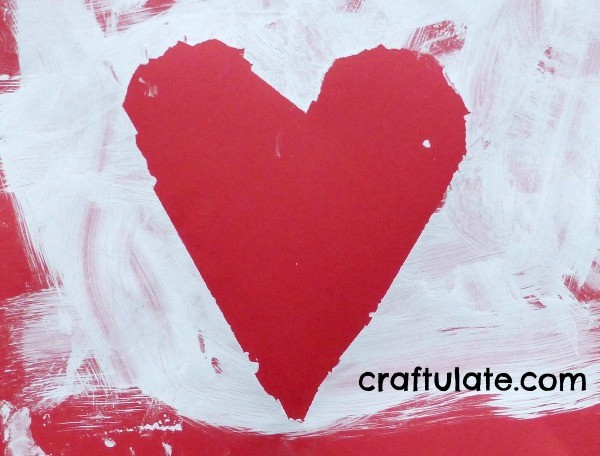 Heart Suncatcher
F just loves contact paper and tissue paper! This time we made heart suncatchers as part of a crafty playdate at a friend's house. I taped some contact paper to the floor (sticky side up) and the children stuck on red, pink and silver tissue paper. Then I laid another piece of contact paper over the top to seal it.
Then we cut out a heart shape. You can seal the edges with glue or tape if required. This is a great mess free activity and it would look great in a window to catch any winter sunshine!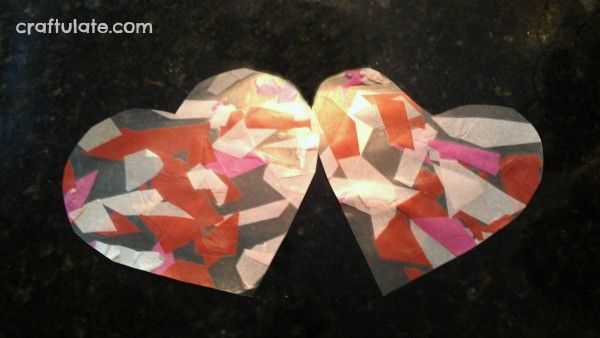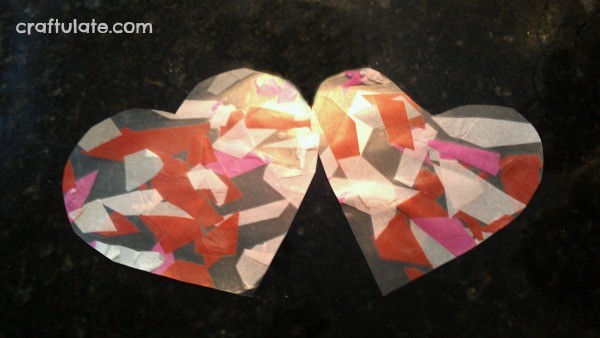 Heart Footprints
I don't have many photos for this as it was all done very quickly! When F was in his high chair I brushed red paint on to one foot, and took two prints. I cleaned off the paint. Then I repeated this with the other foot, getting the heels of the prints overlapping, so that a heart shape was formed. I drew a heart around the feet with a marker and cut around the heart. Then I mounted it on silver glitter card.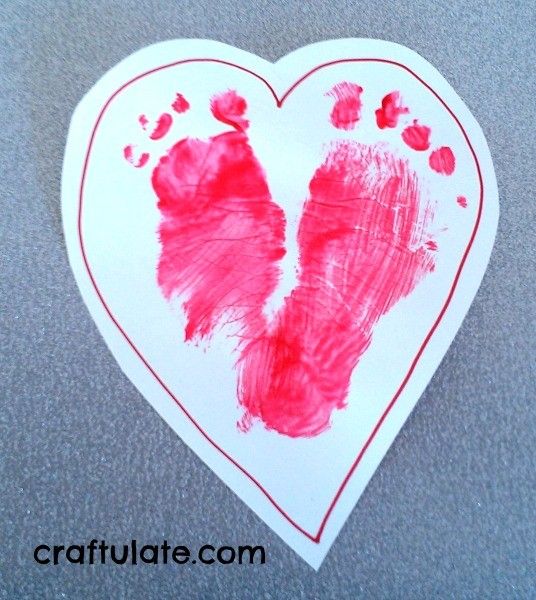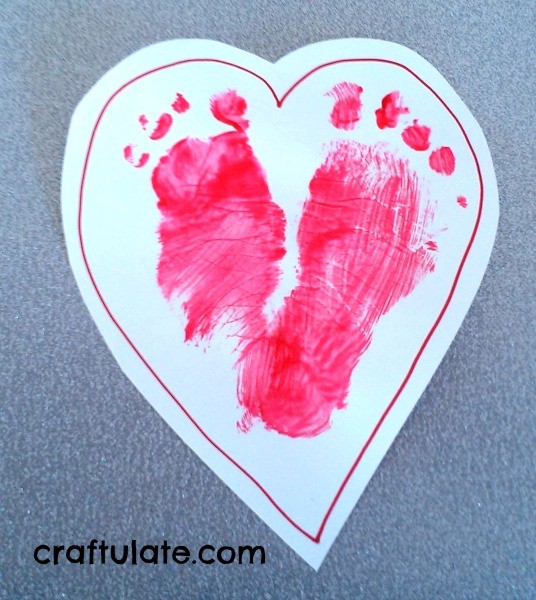 Now we are very ready for February 14th!
[bctt tweet="7 Easy Valentines Crafts for Toddlers – perfect for little ones! #toddlers" username="craftulate"]