We had so much fun using Kwik Stix for making resist art canvases! Perfect for gifts or homemade wall art!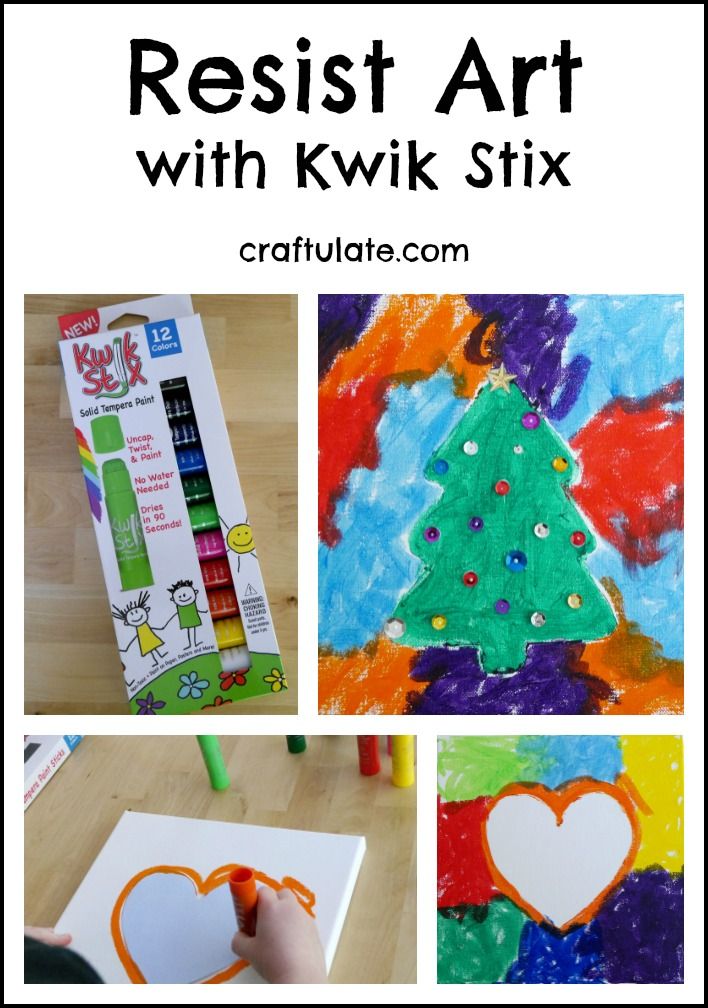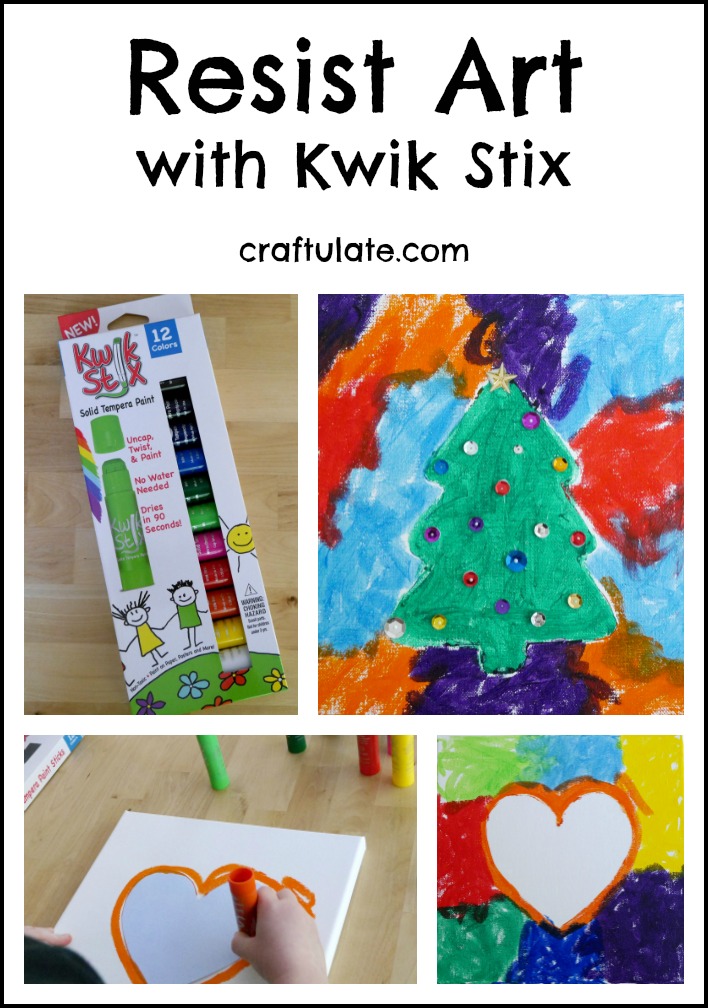 This is a sponsored post written by me on behalf of Kwik Stix. All opinions are my own. Please see my disclosure policy. This post also contains affiliate links, which means that at no extra cost to you I can make a tiny bit of money to help support this blog. Thank you!
We've been a HUGE fan of Kwik Stix for ages! We "introduced" these mess free paint sticks over a year ago, followed up with showing how well they worked for dot art – and many "offline" projects since then!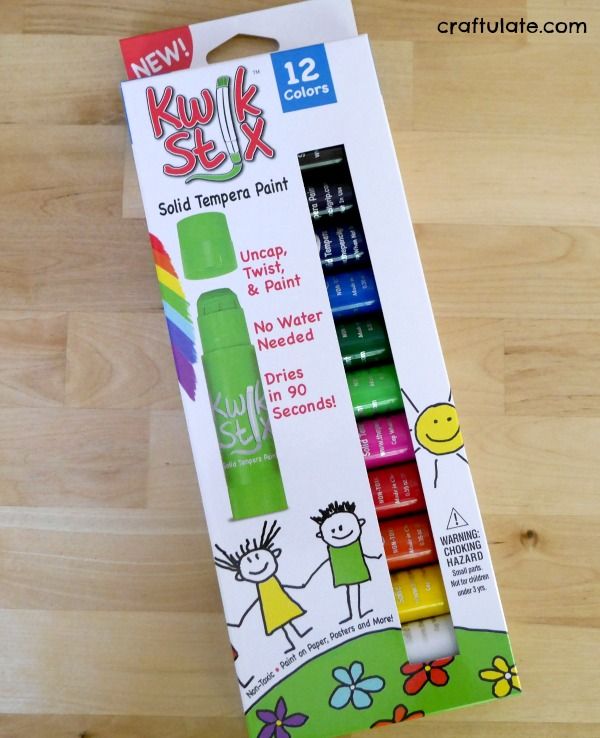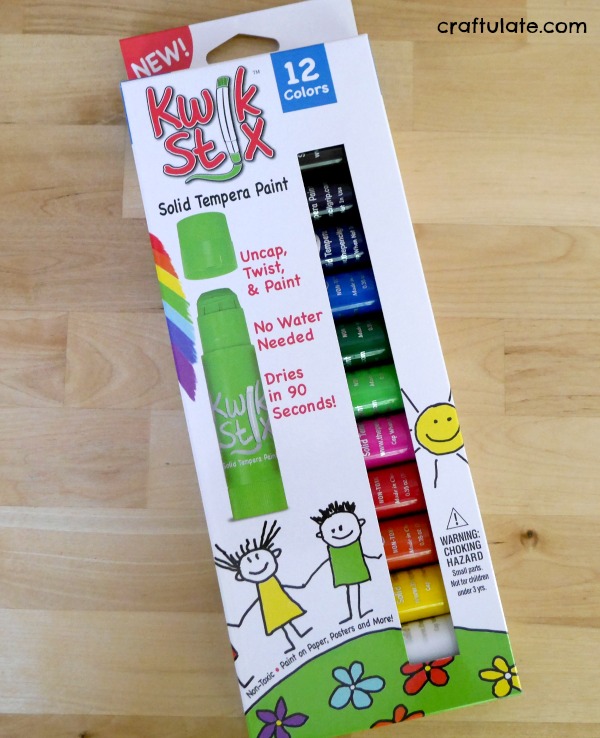 Here are the essential things to know about Kiwk Stix:
Non-toxic
Great range of colors
Twist up sticks (like a glue stick!)
Great for stocking stuffers
Solid tempera paint
Works on paper, wood, cardboard and more
And the most important fact – they dry in 90 seconds!
And yes, they REALLY dry that fast, which makes them perfect for classrooms, crafty playdates, and more! I recently recommended them to a neighbor, as her child has just started an art group during recess, and was having a hard time deciding what projects to attempt with limited time and resources.
As for the technique I used to show off these paint sticks, it's one I never tire of: resist art. Over the years we have employed it over and over again, with tape, stickers, crayons, and more. When F was just only one year old, and messing about with paints for the first time, he could still create gifts for his cousins using this method.
I had a spare 10×10″ canvas and wanted to make a gift for F to give to a friend for their birthday. I printed out a simple heart shape onto white card, then cut it out.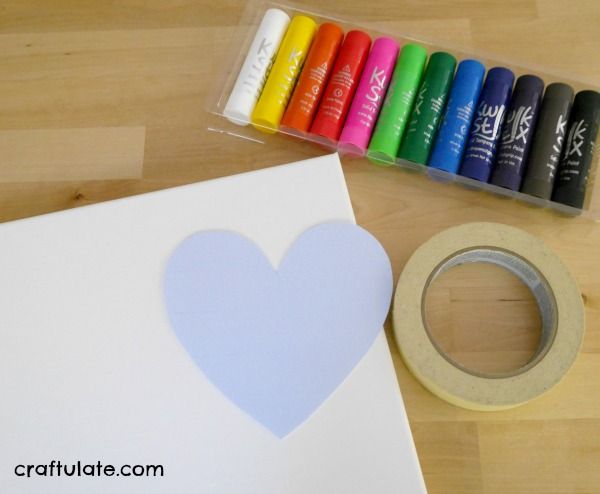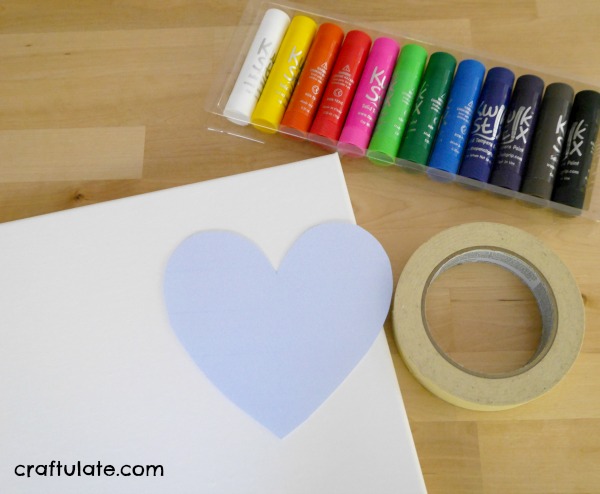 I used painters' tape to secure it to the middle of the canvas, then invited F to decorate the white parts with the Kwik Stix.
The bold, vibrant colors were immediately leaping out from the picture!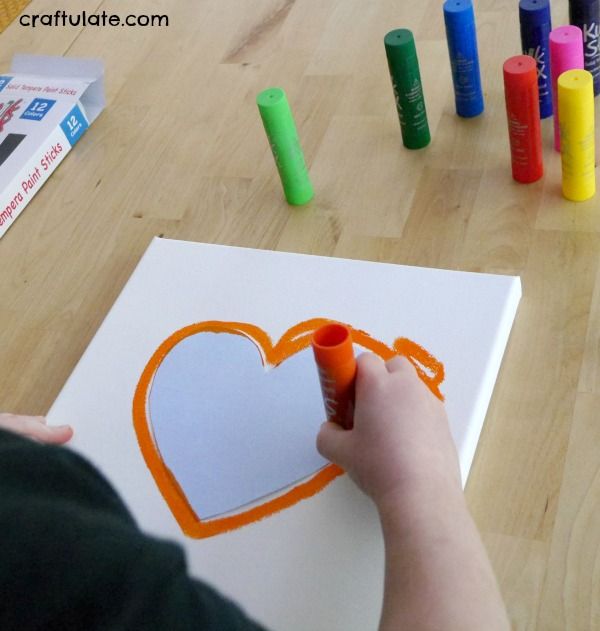 I encouraged him to complete the whole canvas, then I added some extra color to the side edges. Then I could remove the heart template and the picture was complete – and DRY!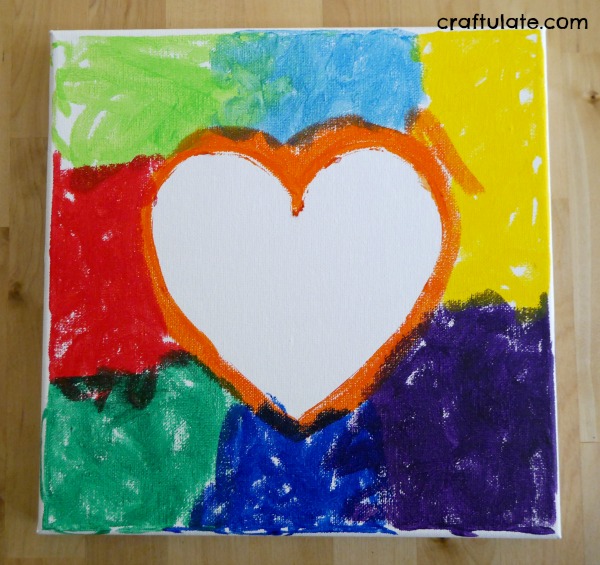 But then we wanted to do another one, so we decided to make a Christmas tree! I got quite cunning with the template – cutting around the edge but keeping the tree and the "frame" intact. I taped the frame to another canvas, and invited F to color in the tree with a dark green Kwik Stix.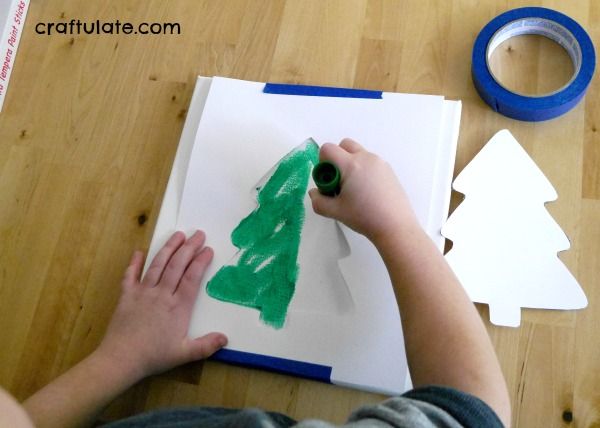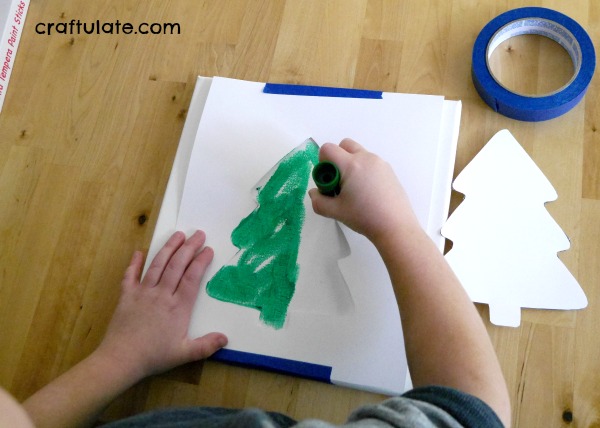 When the paint had dried, I removed the frame, and lightly taped the tree template over the painted tree. Then he decorated around the tree!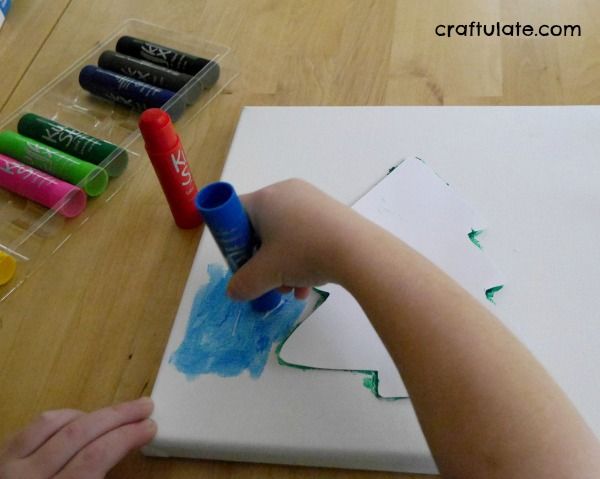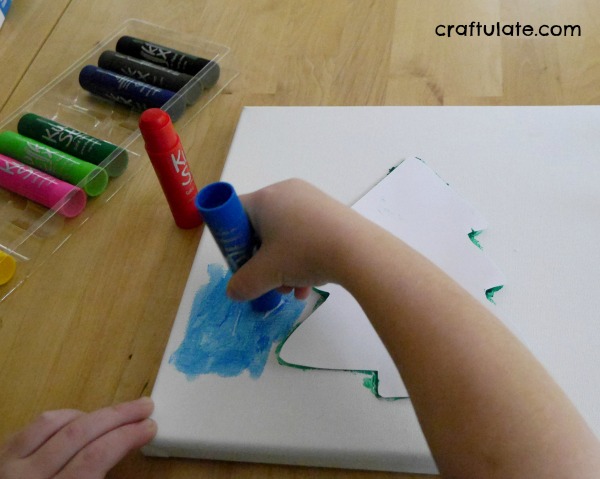 To finish, we glued on some sequins and a star! Perfect for decorating our walls at Christmas!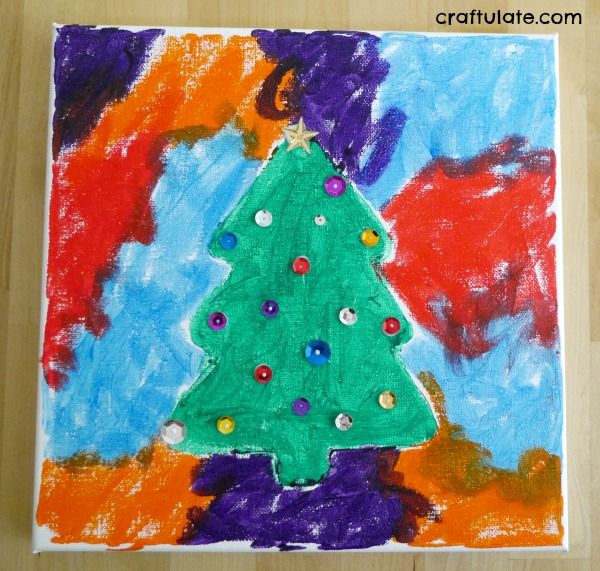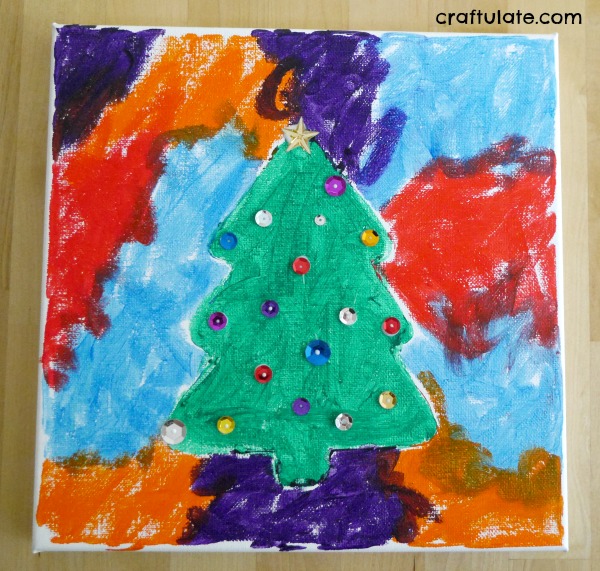 The possibilities for resist art are endless – you could use letters or whole words, or any simple design that you cut out in card or mark out in tape (pumpkins for Halloween, snowflakes for the winter, flowers for the spring – and so on).
So if you're looking for for a gift for an arty child, a stocking stuffer, or a mess-free solution for your own children, then Kwik Stix is what you've been waiting for!
[bctt tweet="Resist Art with Kwik Stix #kidsart #artforkids" username="craftulate"]