Have you tried Kwik Stix yet? These mess free paint sticks have to be tried at your next art session with the kids!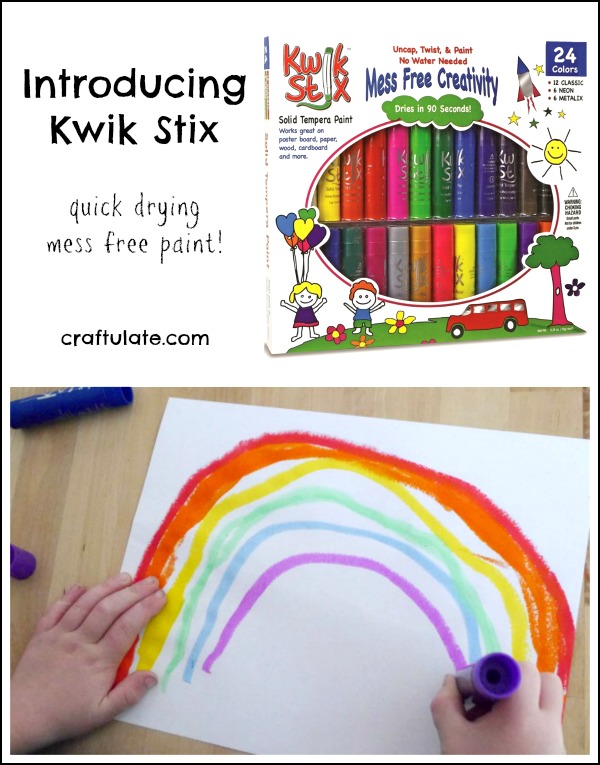 This is a sponsored post written by me on behalf of The Pencil Grip. All opinions are my own. Please see my disclosure policy.
We are always looking for new art techniques here at Craftulate – and I thought we'd seen it all when it comes to painting. But enter Kwik Stix! If you haven't heard of them before, here's what you need to know:
Non-toxic
Great range of colors (including neon and metalix varieties)
Twist up sticks (like a glue stick)
Solid tempera paint
Works on paper, wood, cardboard and more
And the most important fact – they dry in 90 seconds!
The latter point is quite a game changer when it comes to classroom art or crafty playdates at home – no more waiting for masterpieces to dry before storing or giving back to the kids to take home!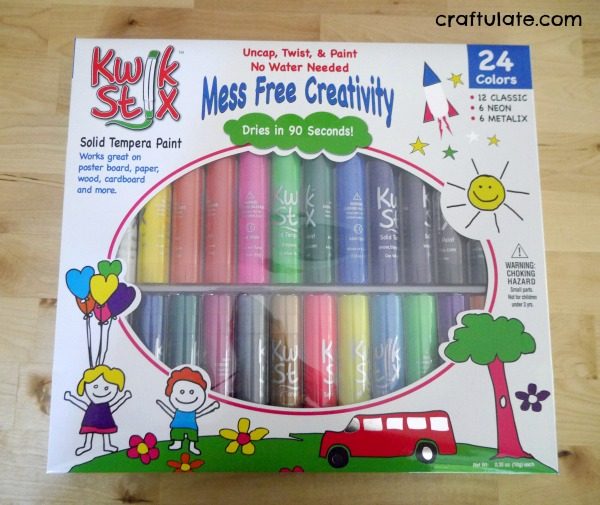 So let's see what they're really like. My son and I eagerly opened our box of 24 Kwik Stix, which included 12 classic colors, 6 neon, and 6 metalix. Our first thoughts were "wow!" Huge bright bold colors on the paper with absolutely minimal effort!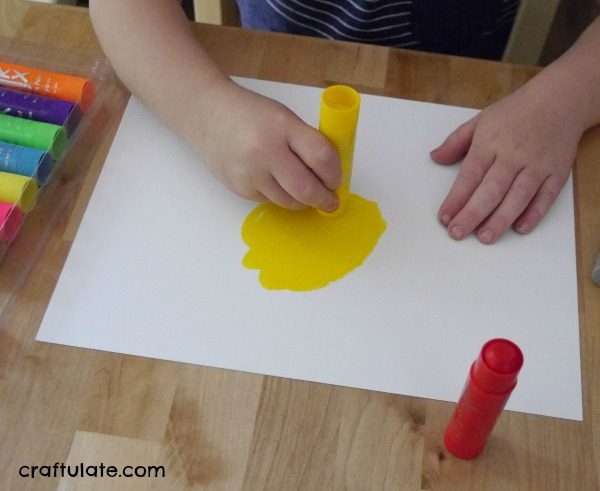 To use, they feel like soft jumbo crayons.  As soon as they are on the paper, you can touch them and not get a spot of color on  your finger. They feel slightly waxy – again like crayons. But then they dry completely, just like paint.
My son's first picture was of a pizza, and pizza box.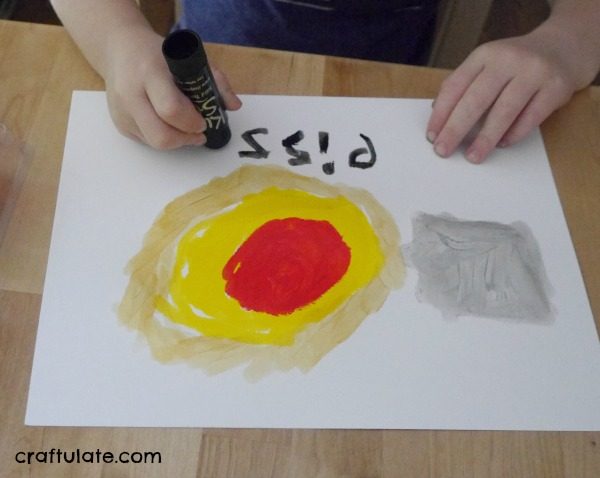 And yes, he used the paint sticks for writing, too!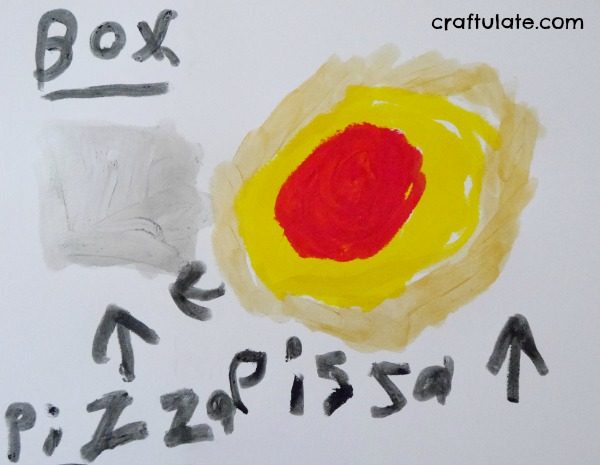 My son and I were both really impressed, and we spent a happy afternoon experimenting with different color combinations and how they worked on different paper. With Halloween coming up, we both made some ghost pictures.  F made his in white and I made mine in silver.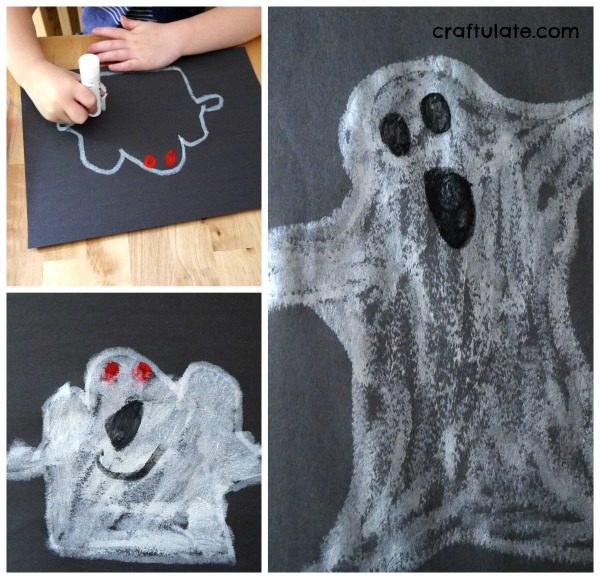 Then it was rainbow time! You can see that we had enough variety to do all 7 colors, he just forgot the indigo and went back and added it afterwards!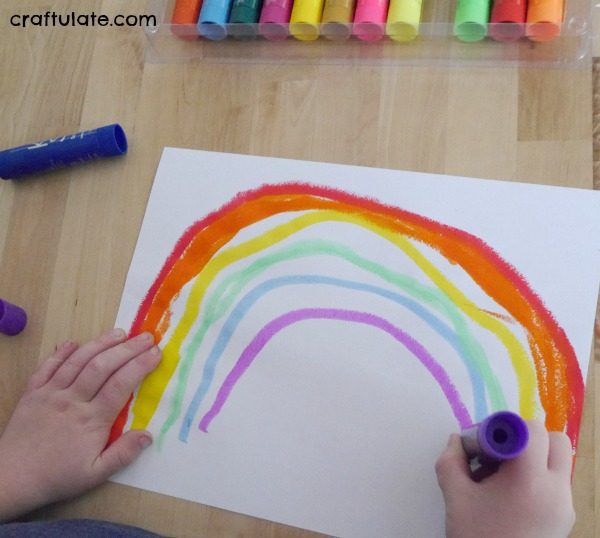 And then to finish he painted a snowman!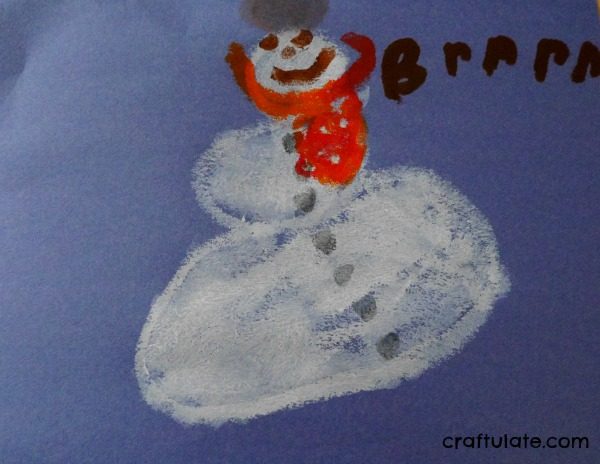 To illustrate three simple effects from the Kwik Stix, I made this little sample sheet. First is with the stick firmly down on the paper. The middle is lightly dragging the stick on the paper, and the third is using the edge, which is great for detail and text.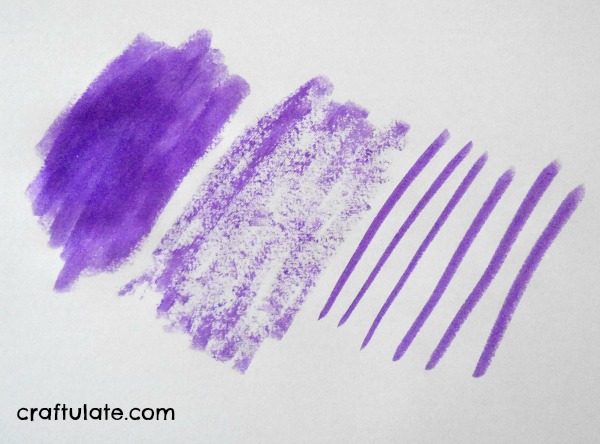 Introducing Kwik Stix - quick drying mess free paint sticks! #kidsart
Click To Tweet
You can get packs of 6 Kwik Stix (either basic or metalix colors) in Target stores. All the other pack sizes (including the 24 pack that we tried) are available at Target.com.