I've been excited to start the wonderful tradition that is the Elf on the Shelf. But would my 2.5 year old understand what was going on?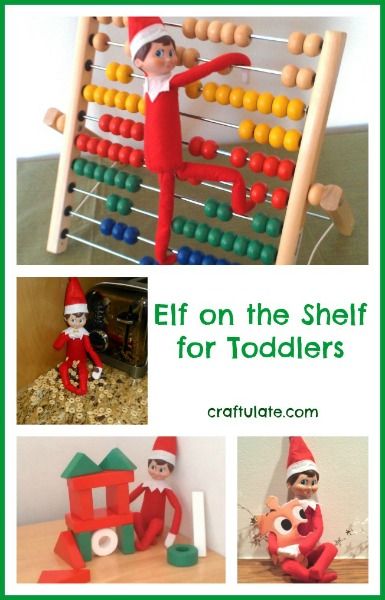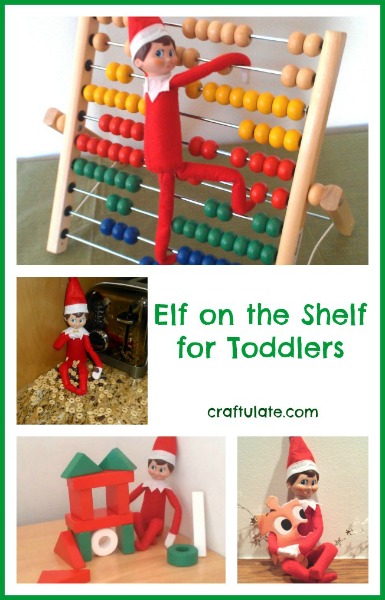 The following post contains affiliate links, which means that at no extra cost to you I can make a tiny bit of money to help support this blog. Thank you!
If you're unfamiliar with the tradition, the Elf on the Shelf is a scout elf sent by Santa to check on your children. How else would he manage all his naughty and nice lists?!?
The Elf flies to the North Pole each night to report to Santa, and next morning the Elf is found in a different position in the house. However the Elf cannot be touched, otherwise it will lose its magic (although some households decide that an Elf can be touched by adults, for practical reasons!). The Elf returns to the North Pole on Christmas Eve, and will return the following year.

I decided that the way to make this work for my son was to involve items that were familiar to him as much as possible. Yes, having our Elf fly down a zip line or plant candy cane seeds would be fun, but as he's not familiar with the original concept, he wouldn't get the parody. I decided to stick with things that he knew: books, puzzles, building blocks and other items he would recognise.
The Elf traditionally arrives on Thanksgiving or the day after. As a Brit we don't really celebrate Thanksgiving with the same enthusiasm as our native neighbours here in the US, but this gave me the perfect opportunity to get planning for the arrival of our Elf.
After purchasing the Elf, the first task was to name our Elf. My husband suggested Cecil. It stuck.
Before Cecil made his first appearance, I was inspired by Dirty Diaper Laundry to make him bendable and grippy. She also has a great tutorial for making magnet mittens, but I don't think we'll need those this year.
Cecil arrived during nap time on Thanksgiving Day, and was discovered sitting calmly on the mantelpiece . We'd read the Elf on the Shelf book several times in the previous week, so F immediately recognized the Elf and smiled at him. But he was also a tiny bit wary of him – how much of the book had he understood?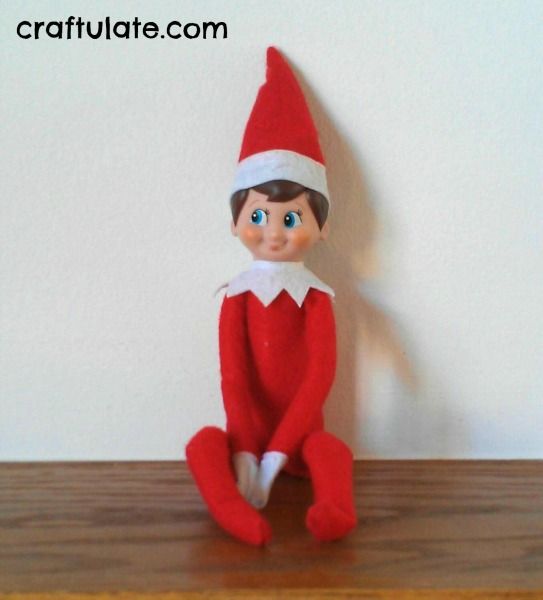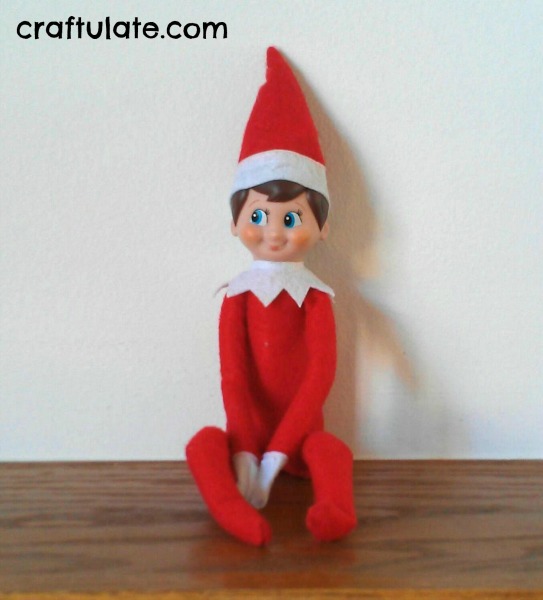 The next day Cecil made a peace offering to F of a book: The Missing Christmas Tree, that F had seen in a store a few days earlier.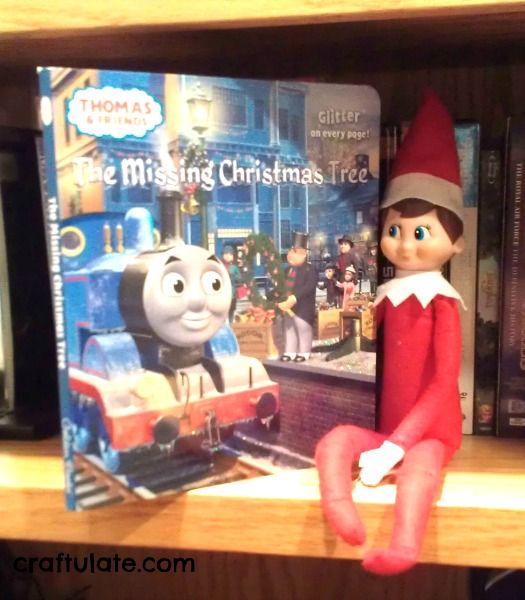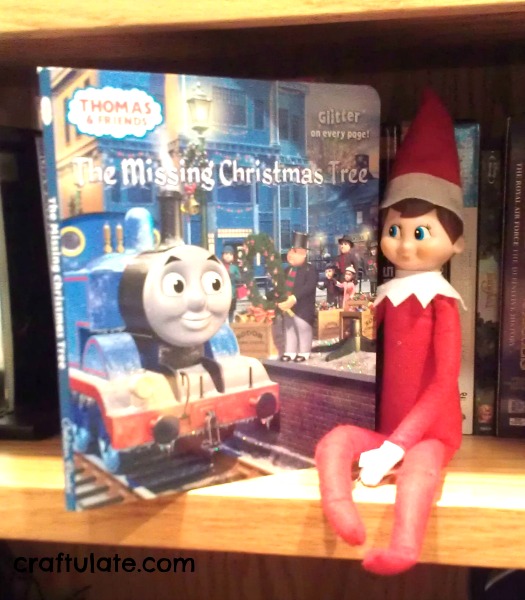 The next day Cecil was found trying to climb up F's abacus.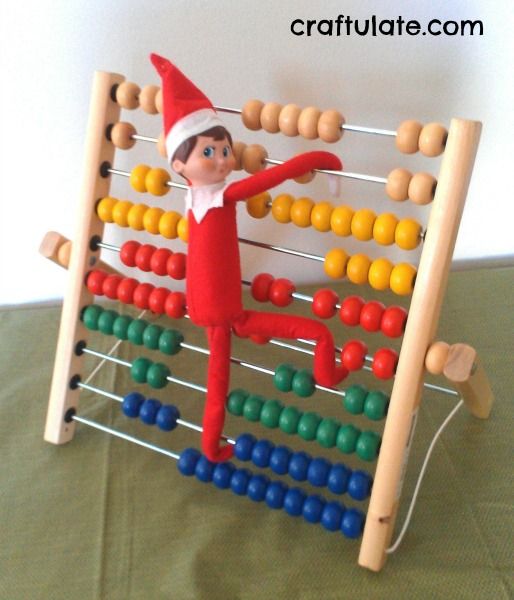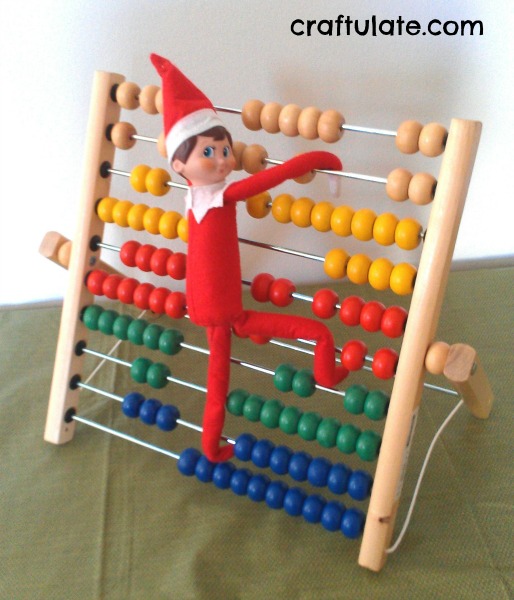 For December 1st, the Elf brought us our advent calendar.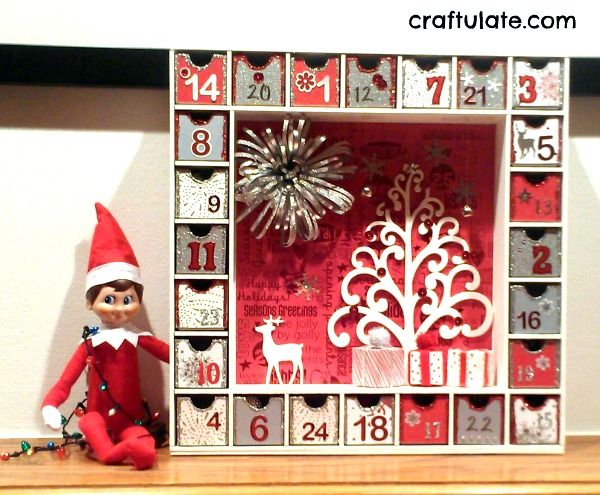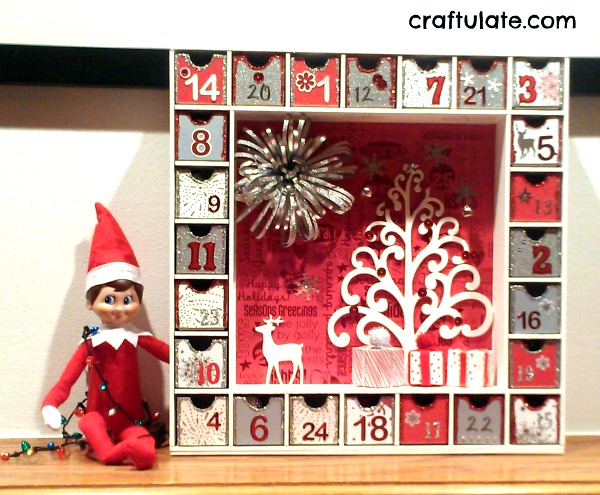 The next day Cecil was found on a side table, playing with F's wooden blocks. This was the first time that F had been able to reach the Elf, and I was curious to see what he would do. He didn't touch the Elf but he did take all the blocks away from him!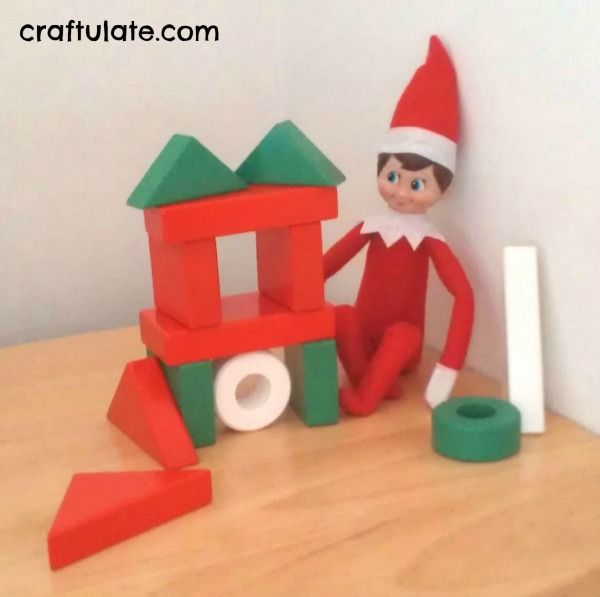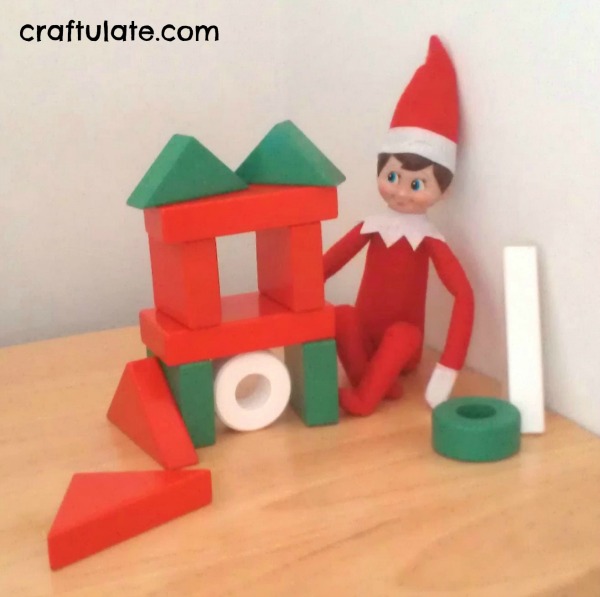 Cecil brought another present the next day. It was a cute jigsaw puzzle which was completed on the floor, all but the last piece which Cecil held onto, back in his mantelpiece position.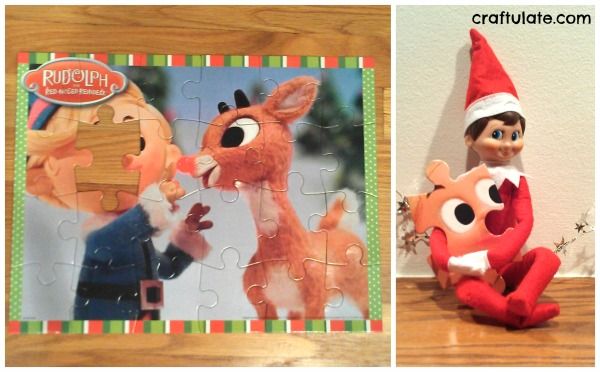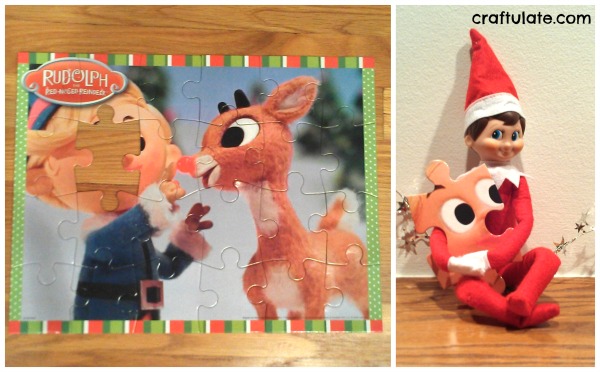 So far the Elf had only been discovered in the living room, so it was time for a change! Cecil was found in the kitchen, snacking on Cheerios and raisins.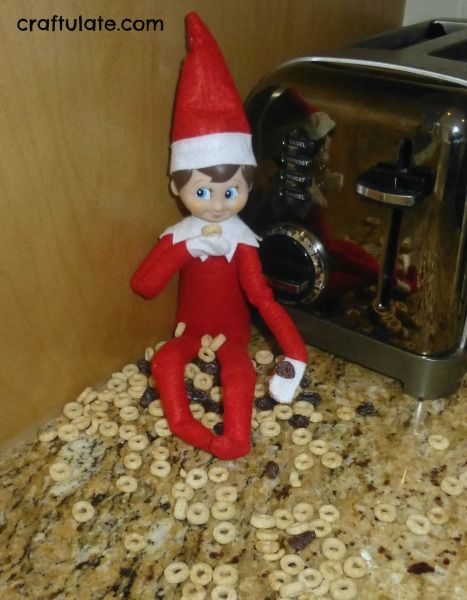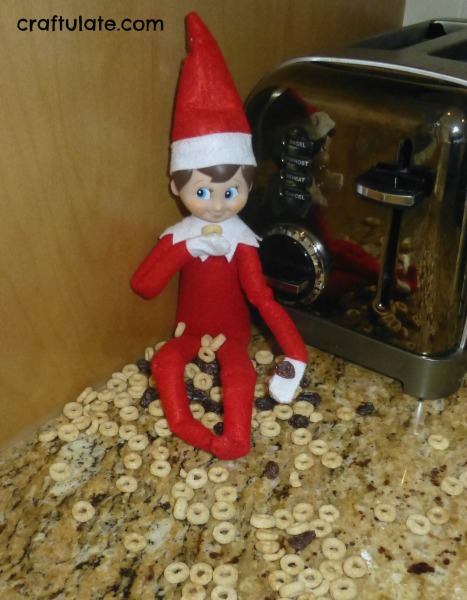 Then back to the living room table the next day to peruse a toy catalogue.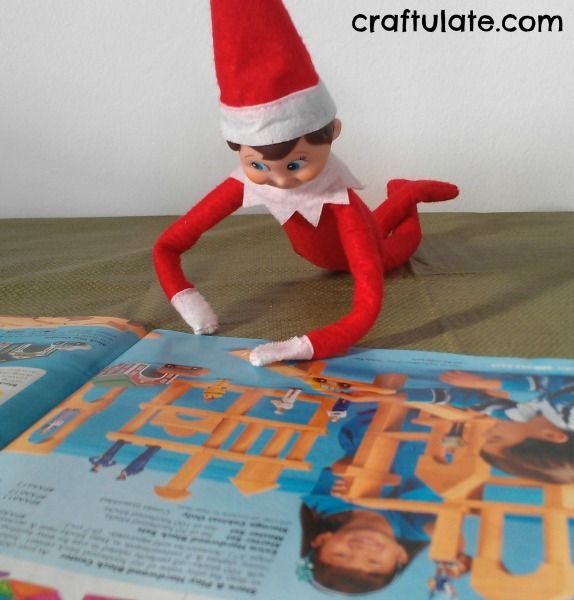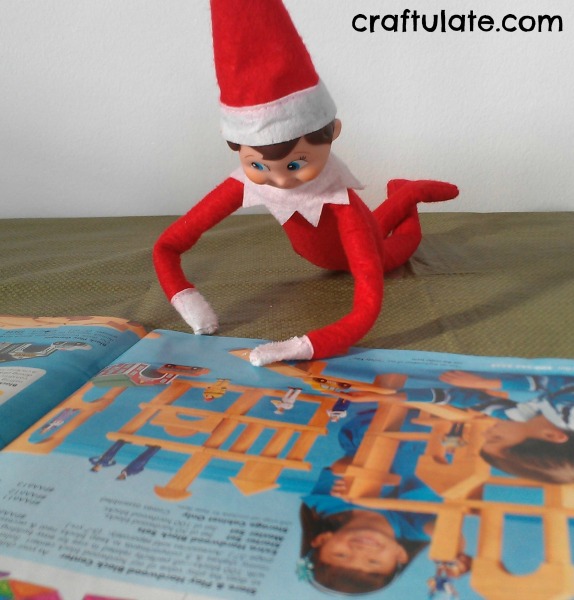 Elves need to drink too! Cecil the Elf's favourite tipple is Elflower Cordial.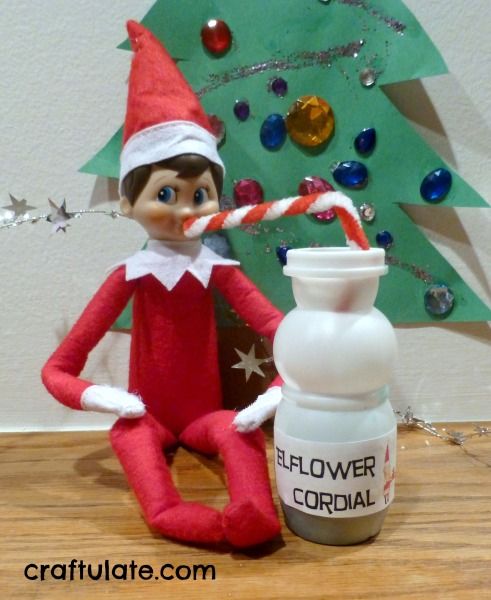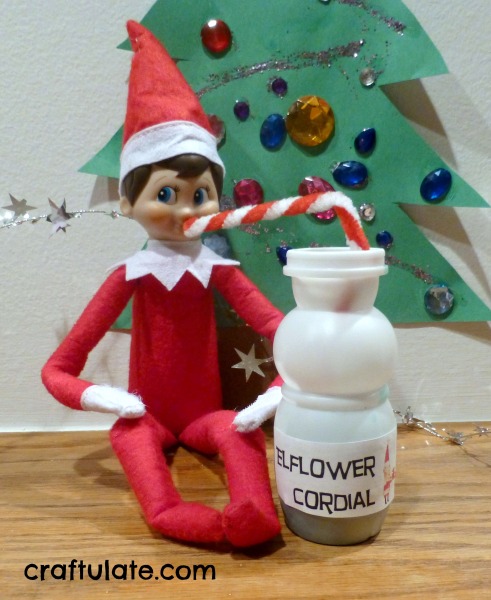 By this point, F had got so used to the Elf moving around each day, he treated it as perfectly normal. I think it's time that Cecil got a little crazier!! So the next day Cecil was found abseiling on a red and white sparkly tinsel garland down the curtains. F *really* loved this one!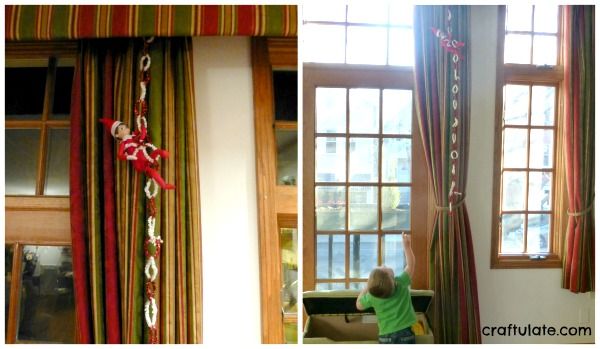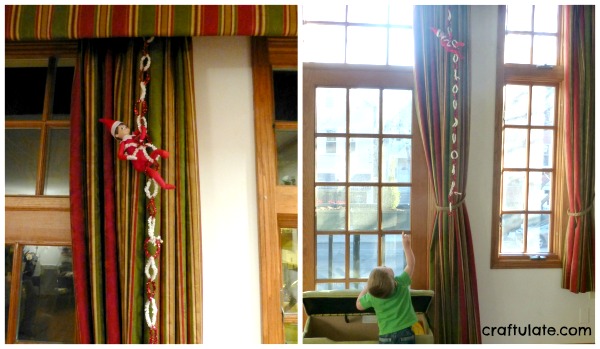 I have to confess that the Elf move was a bit of a rush the next night – so here is my quick fix – head first down a candle holder. Perhaps he thought it was a chimney…?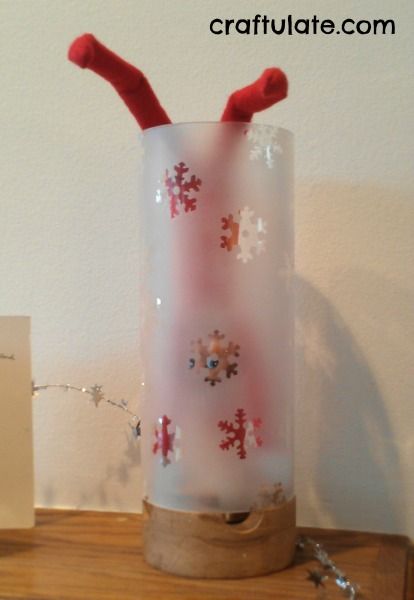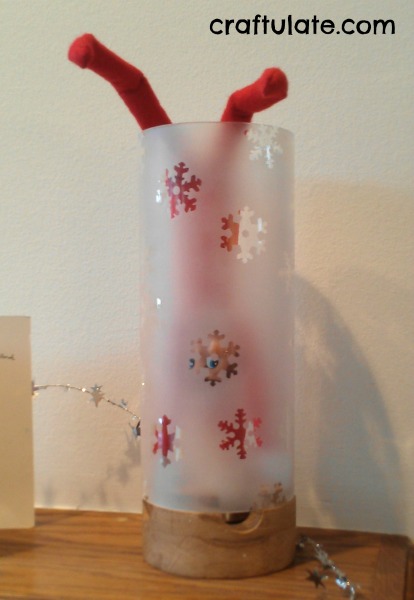 The next day Cecil took a candy cane bath…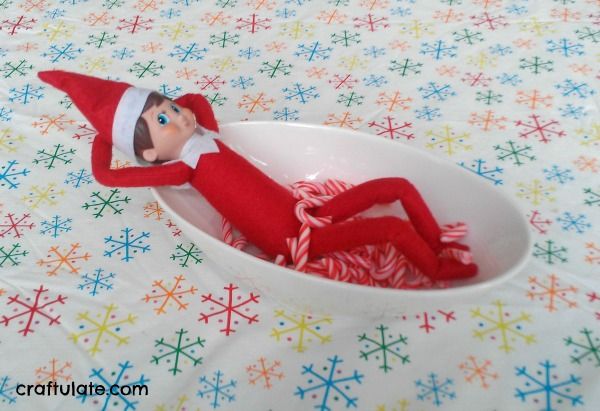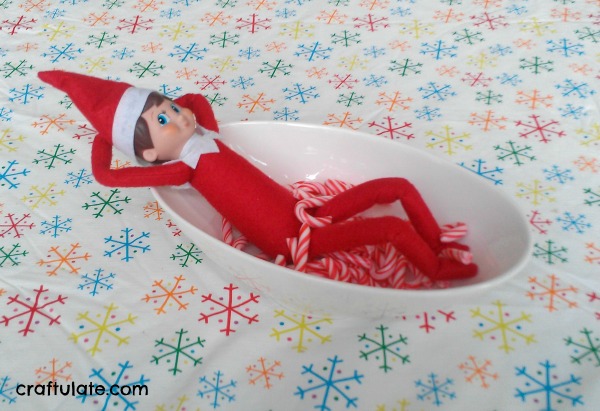 The Elf had a VERY good hiding place – in the fridge!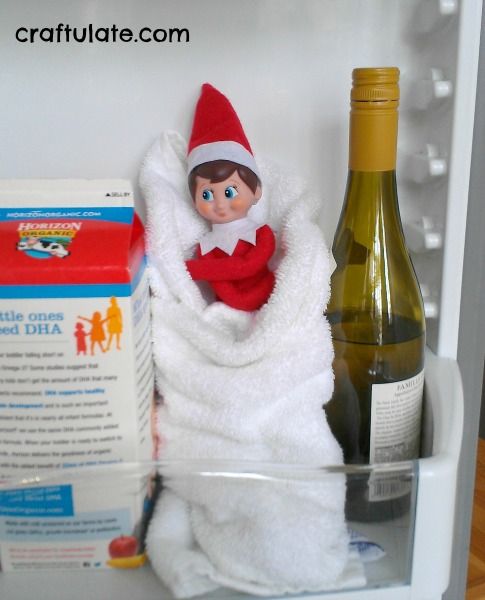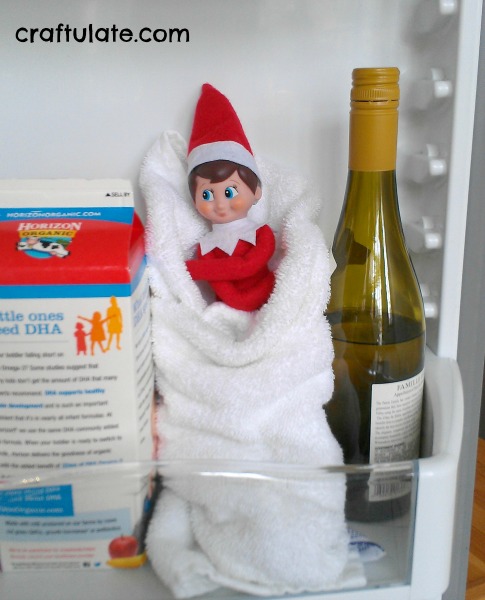 The next day we found Cecil telling wild stories of the North Pole to the frogs, turtles, snakes and a, um, dinosaur. Ahem.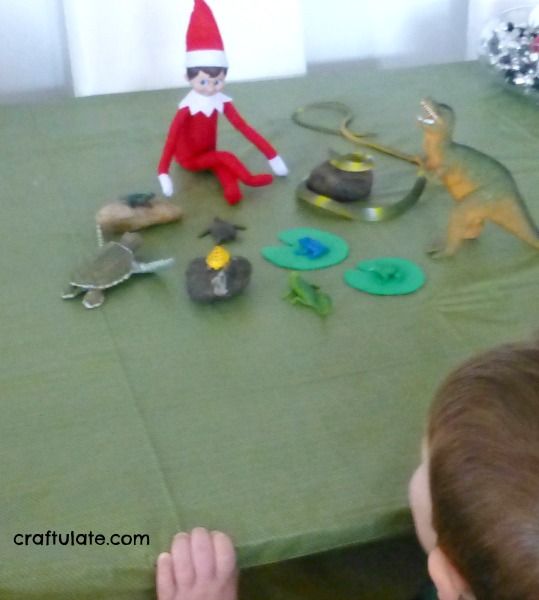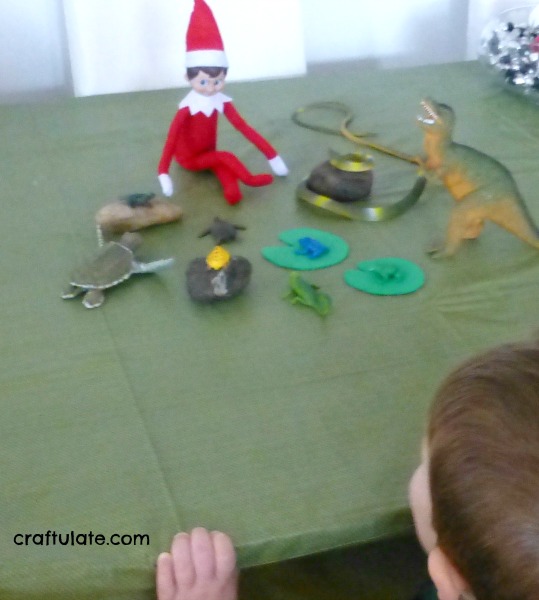 Cecil appears to be a very generous elf, as he brought a coloring book for F. Although he had added his elf magic to some of the pages already (the Santa picture is sparkly!).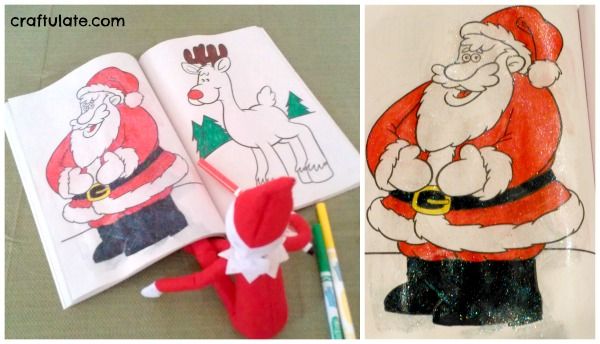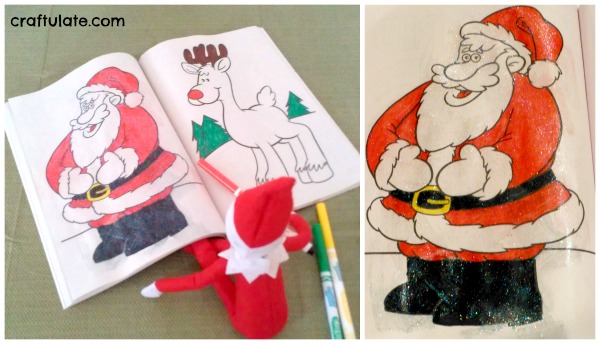 Well he's tried abseiling, now for mountaineering! Cecil is discovered climbing the Christmas tree.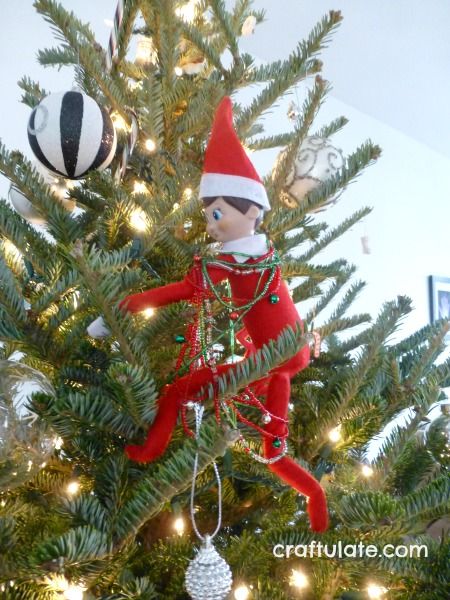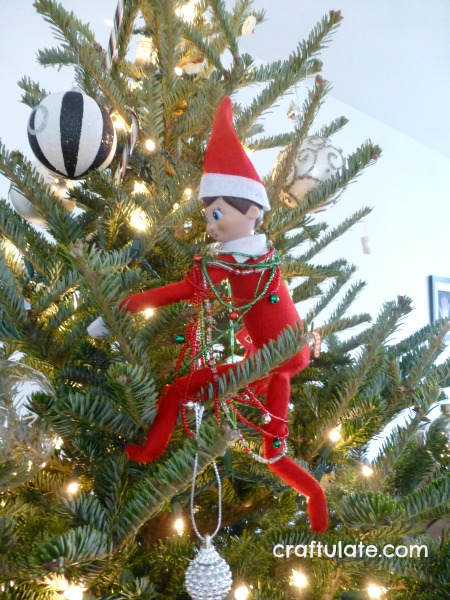 The next day Cecil was clinging to our Family Hands picture, having added his own handprint!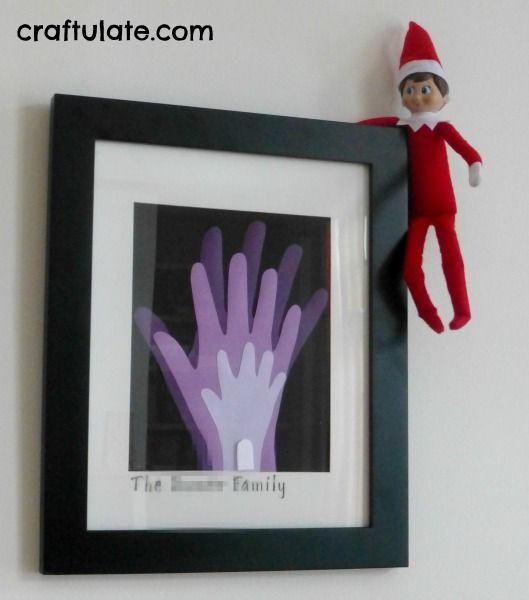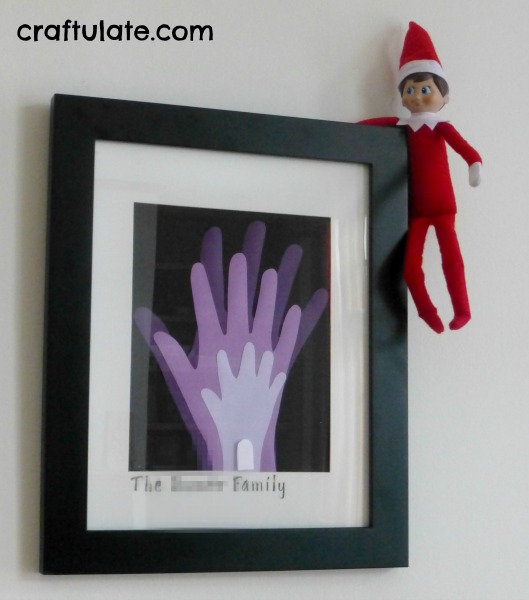 F was very pleased to receive a new set of cards for his Cariboo game from the Elf – all with a Christmas theme! If you'd like a printable copy please email me  georgina @ craftulate.com (remove the spaces!)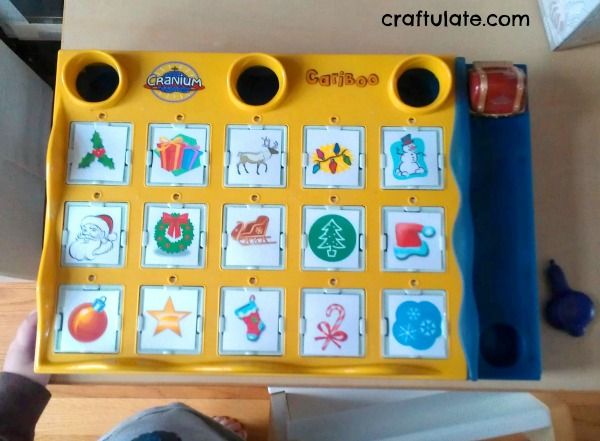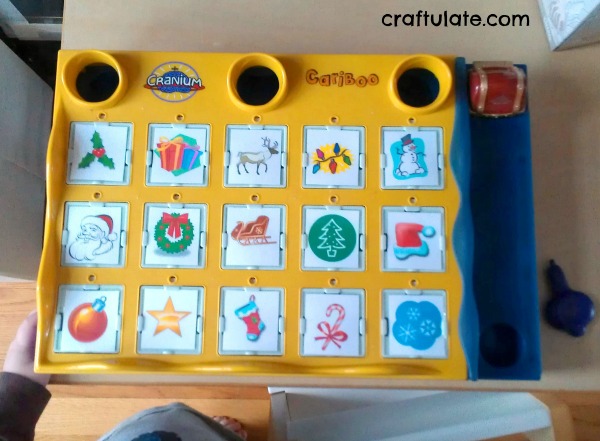 The next day Cecil was discovered back on a shelf, with googly eyes. Naturally.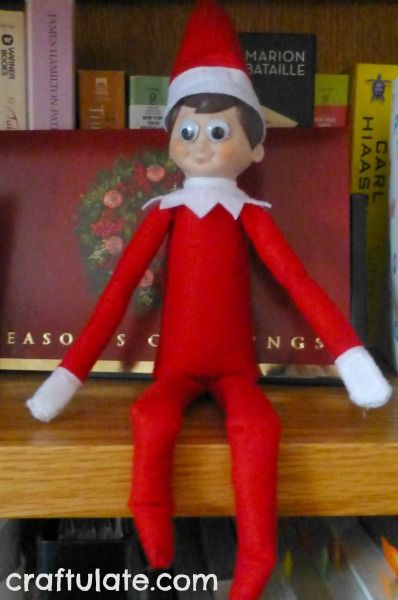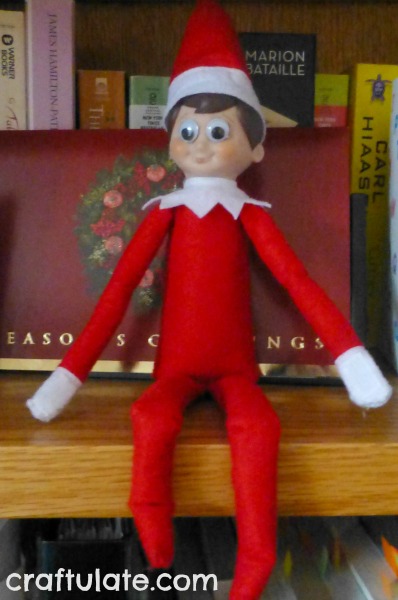 Another present! Cecil brought some Glittery Christmas Pasta for Sensory Play!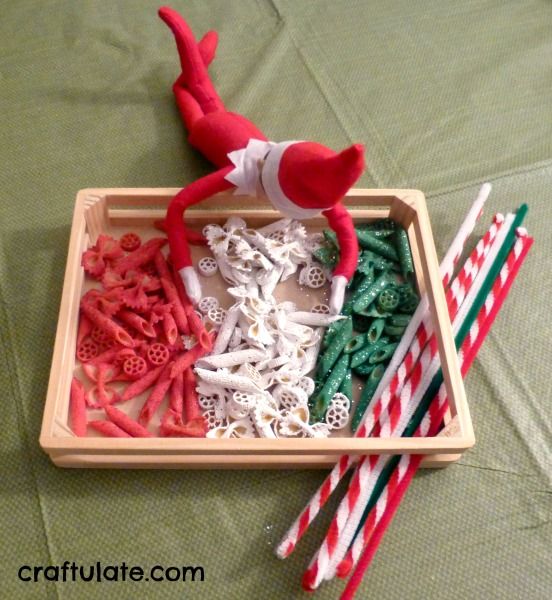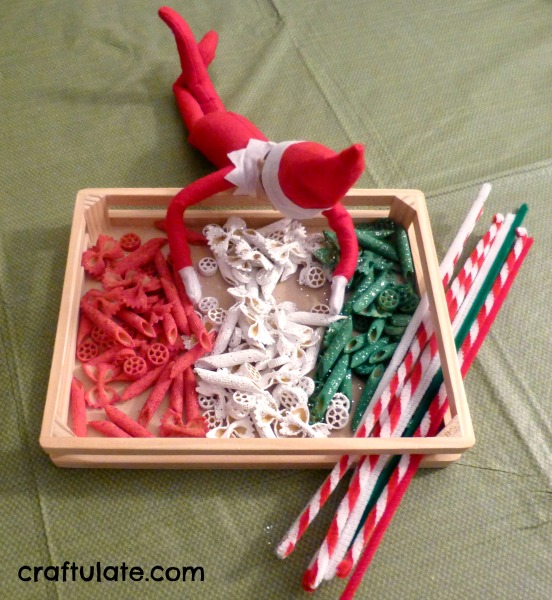 This one needs no explanation!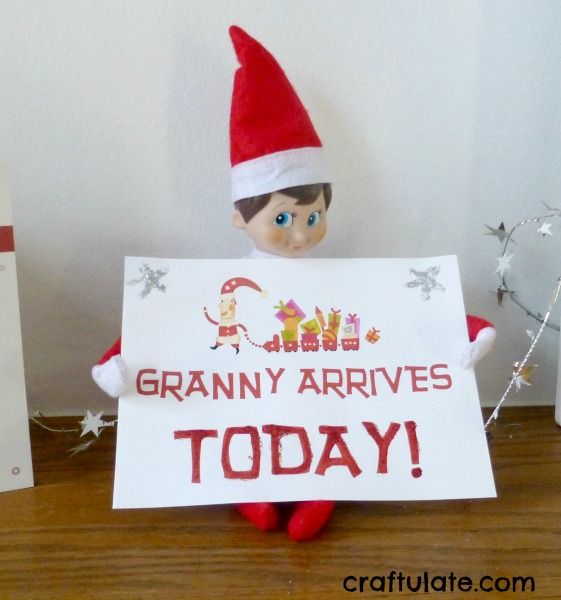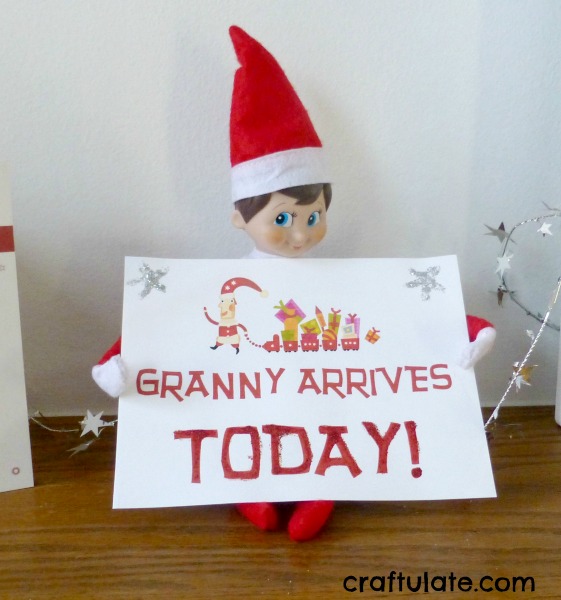 The next day Cecil took a risk and had a little nap in F's dump truck. F was slightly amused, then wanted his truck back! I had to carefully lift the Elf out by the covers so that I didn't touch him…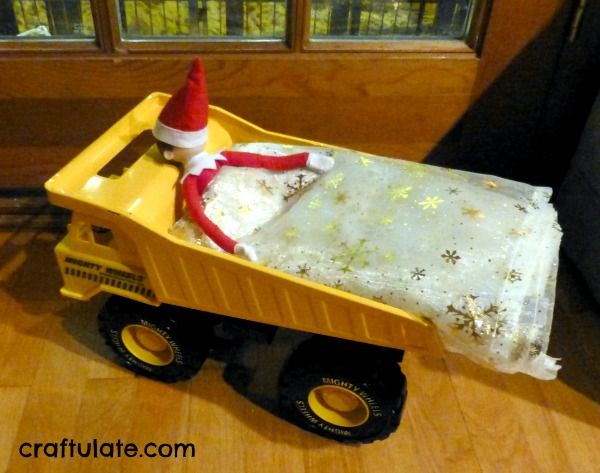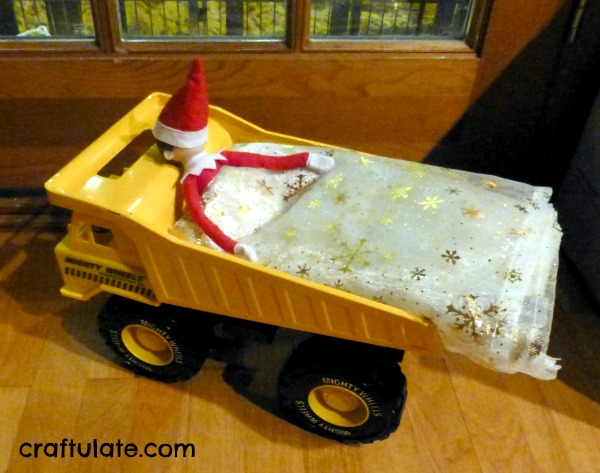 Cecil got a bit tangled!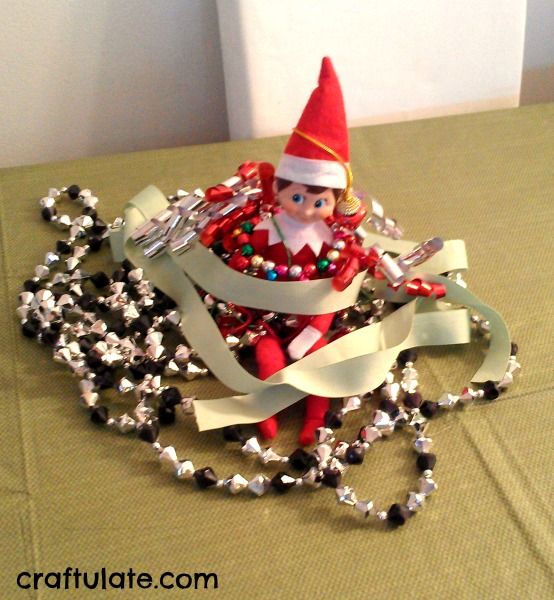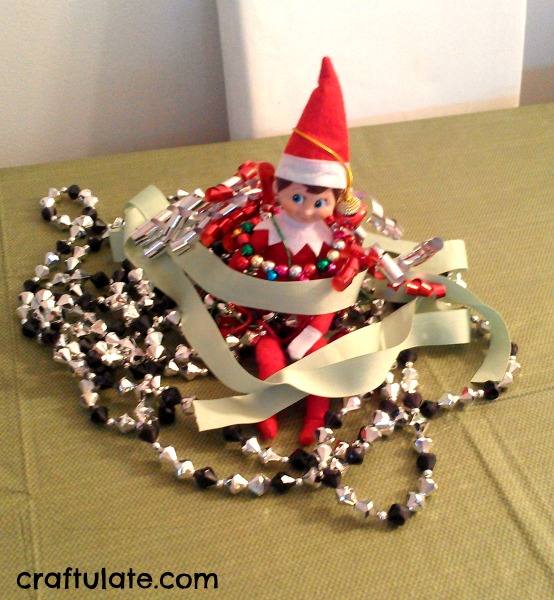 The next day we found F's train table covered in bows. He swiftly removed them but wasn't upset!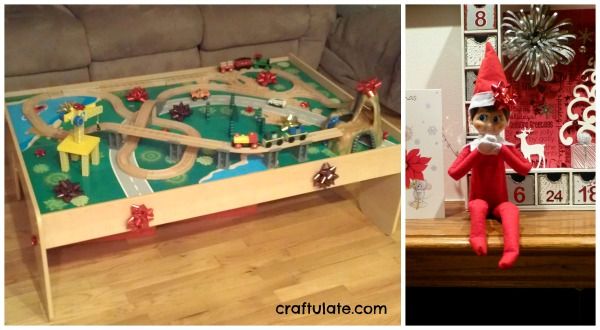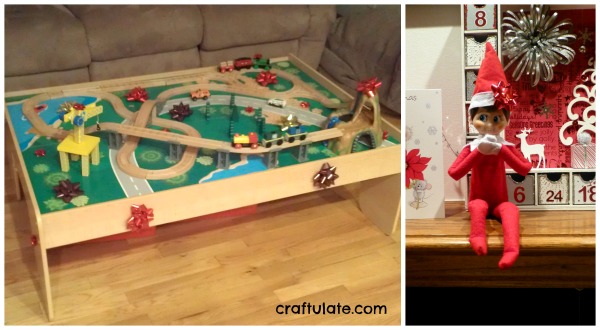 When setting up the Elf for the next night, I discovered that I am *really* bad at making paper snowflakes. I did one that looked rather like a frog, which in a way was quite impressive. Thankfully my mother came to the rescue and made these lovely snowflakes on behalf of Cecil.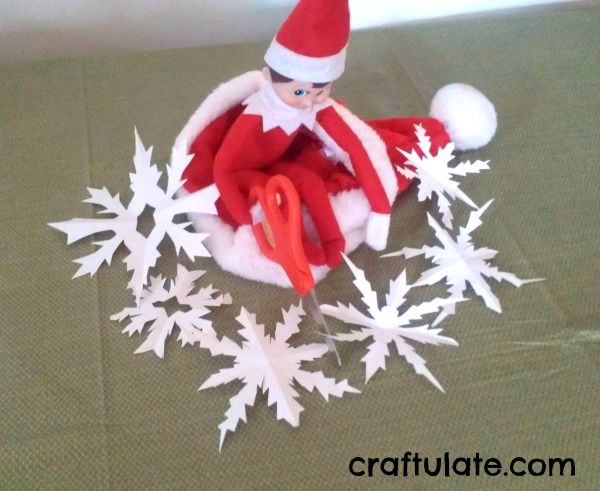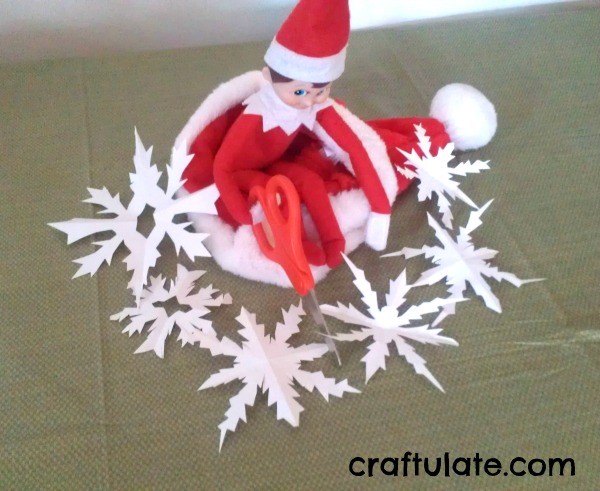 My husband set up this fab zipline for the Elf. F loved this one and it was very difficult for everyone to resist touching the Elf to make him go up and down!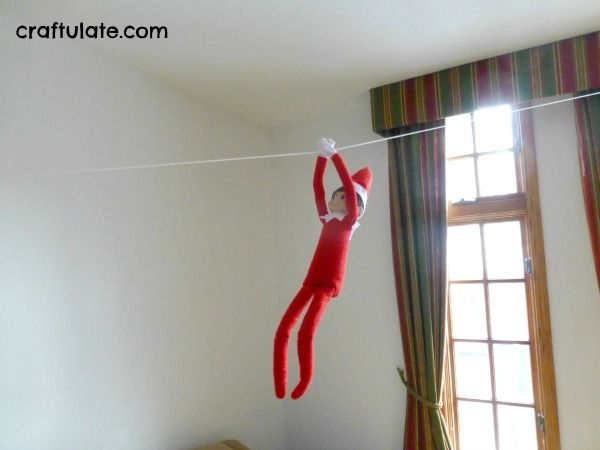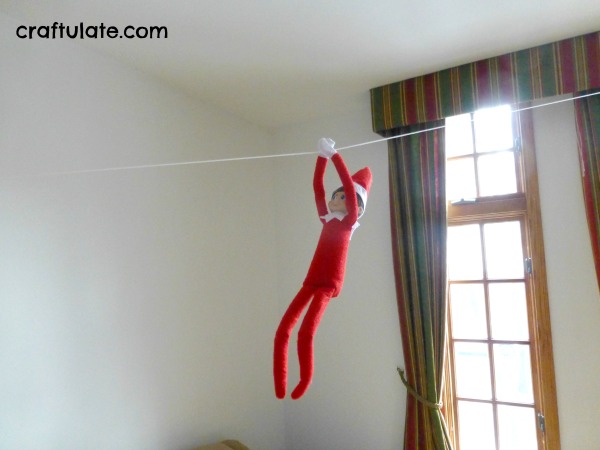 On Christmas Eve Cecil was found peering out of a cupboard above the fridge, holding a chocolate Santa.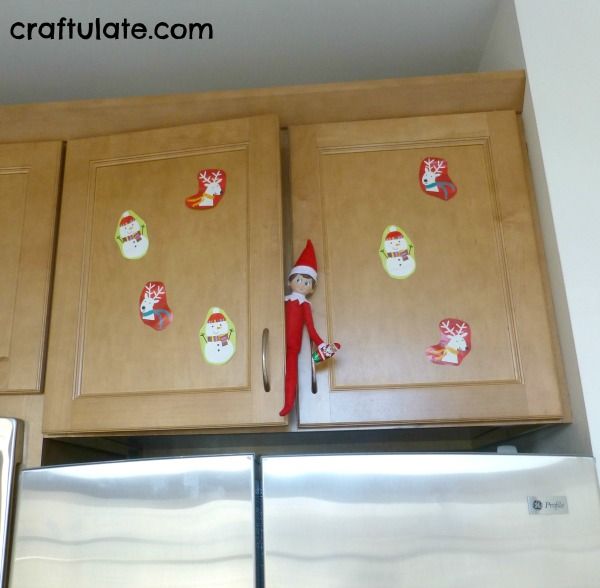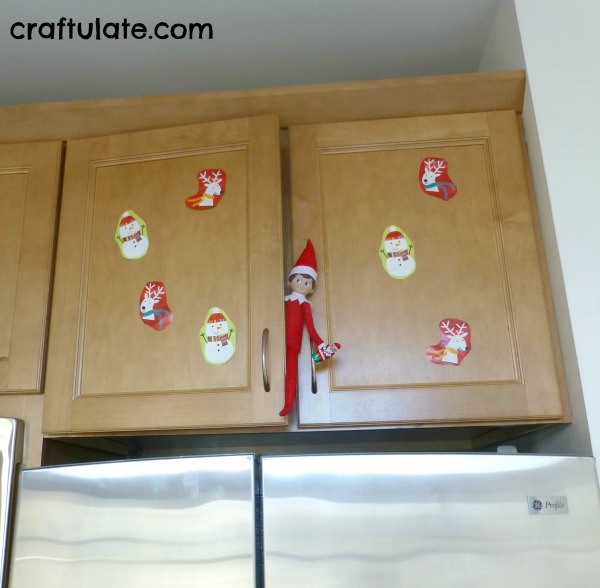 On Christmas Day F did look around for the Elf several times and I'm not sure he understood my explanation of why he was no longer around. But I know that by next year F will definitely look forward to the Elf's return!
Follow Craftulate's board Christmas and Winter on Pinterest.