For our latest Easter fine motor activity we used plastic eggs, a painted egg box, and some new tongs!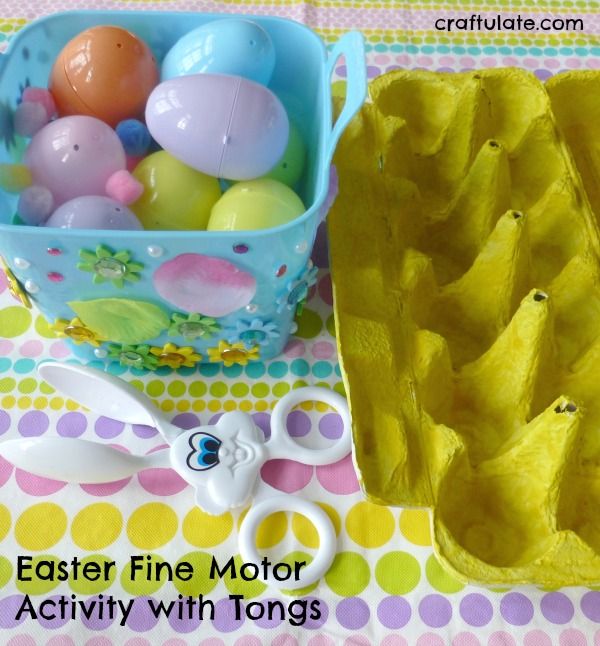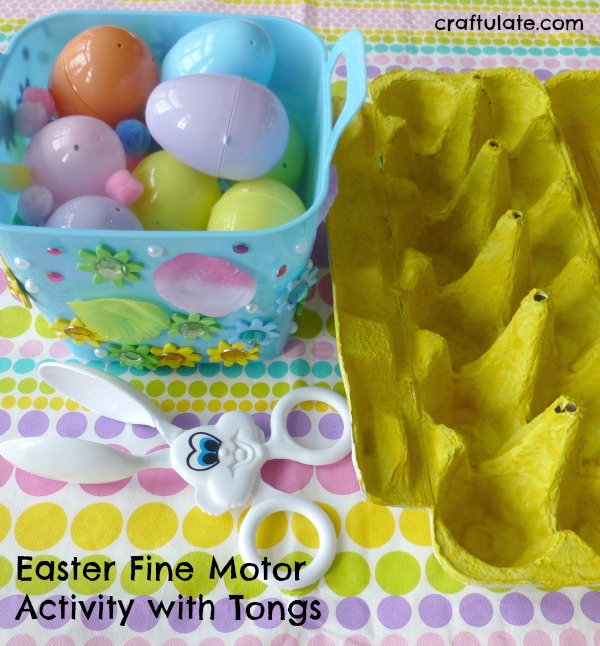 The following post contains affiliate links, which means that at no extra cost to you I can make a tiny bit of money to help support this blog. Thank you!
Last week we had some fun with plastic Easter eggs and pompoms. The blue basket that we used looked a little plain so I decided to make it more festive! I've just started working with Baker Ross, a UK-based company who offer a wide range of craft materials. We used some of their fabric petals, flower gem stickers and self-adhesive pearls and gems to decorate our dollar store container.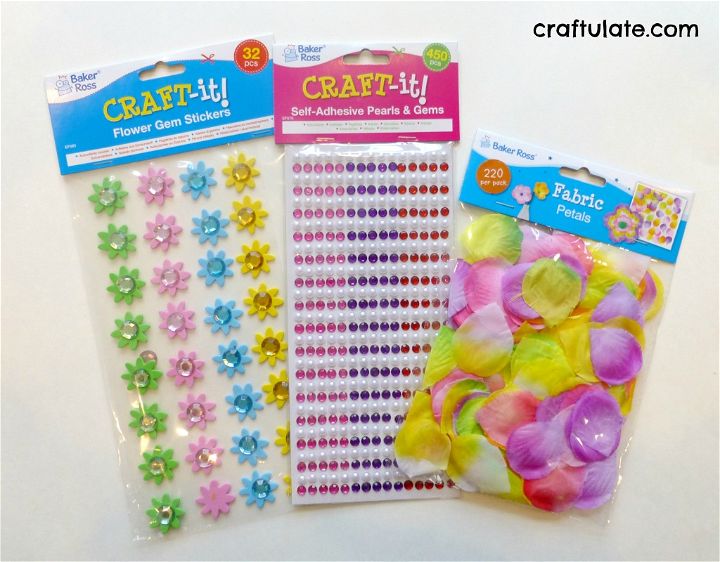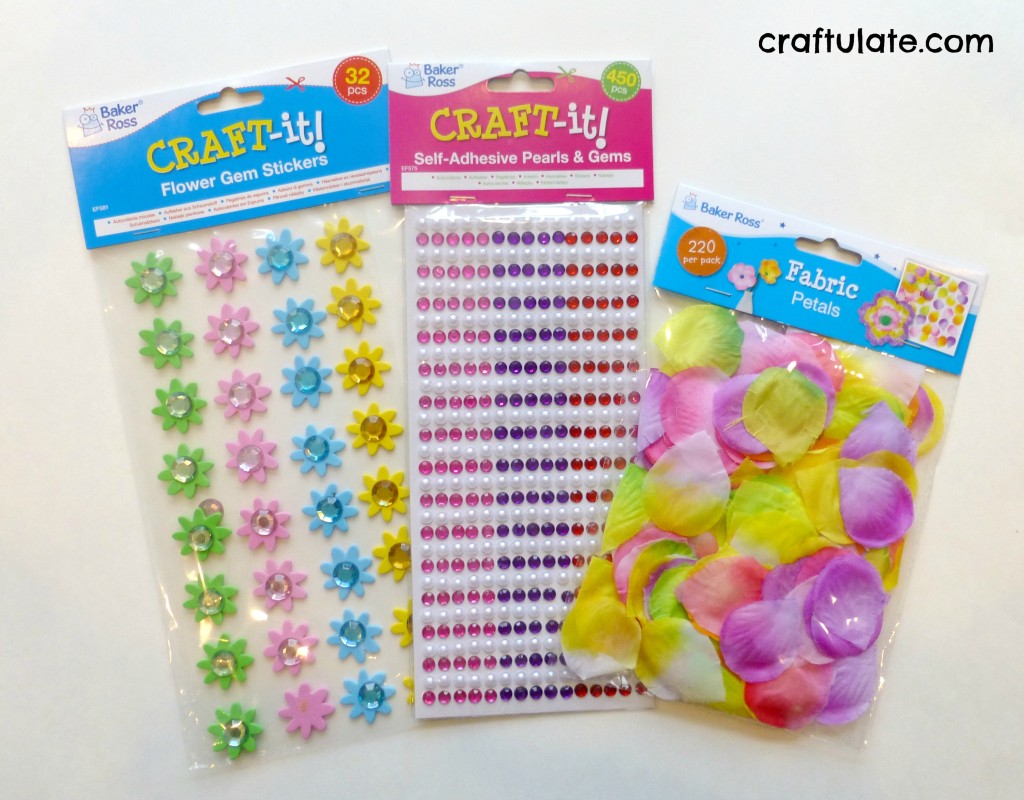 We attached the petals with some white glue, then F attached all the flower gem stickers. It was good fine motor practice for him to peel them from the backing paper. I'd hoped that he would stick the little gems on as well but by that point he'd had enough – I think they were just *too* small for him to be interested. So I got to add those. 😉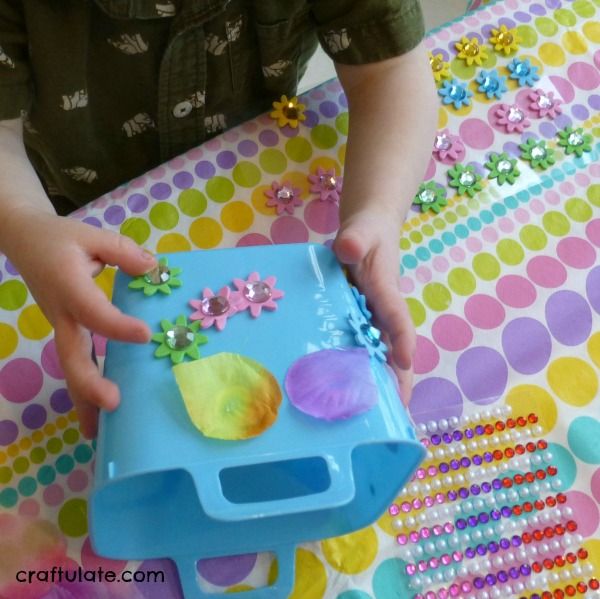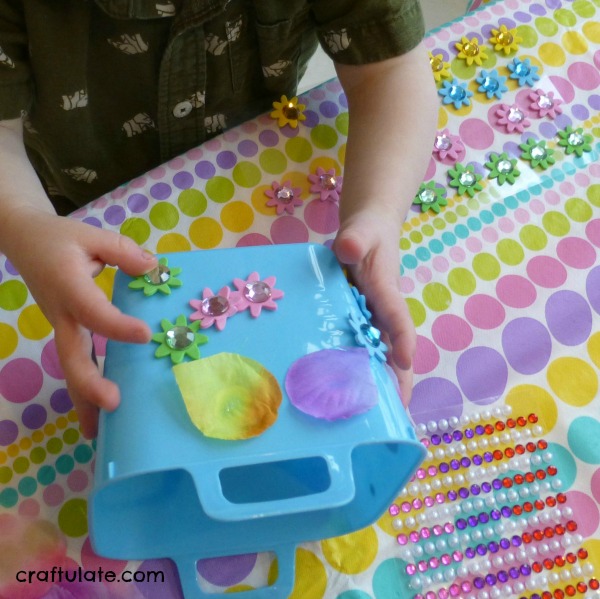 In preparation for our main activity I painted the inside of an egg box with several layers of yellow paint. Obviously this step is optional but I thought it looked more spring-like! I provided F with the egg box, the decorated blue basket, some plastic eggs and some super-cute bunny egg tongs that I found at the craft store. I think they are for lifting eggs out of dye, but they worked great for this activity!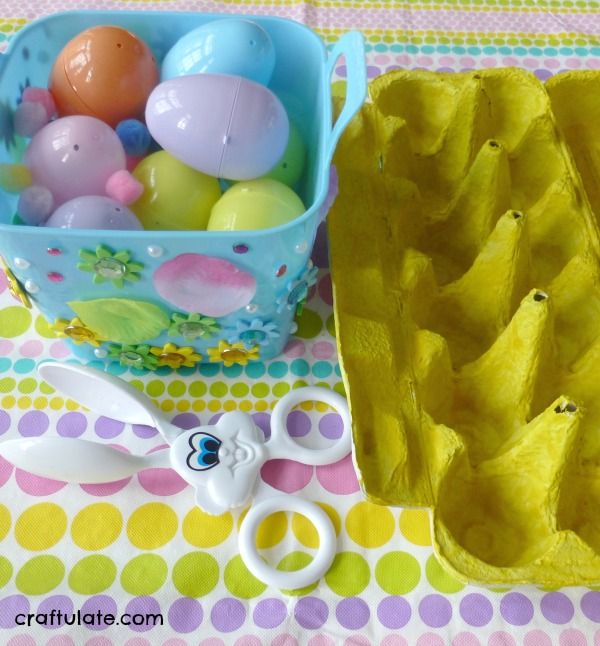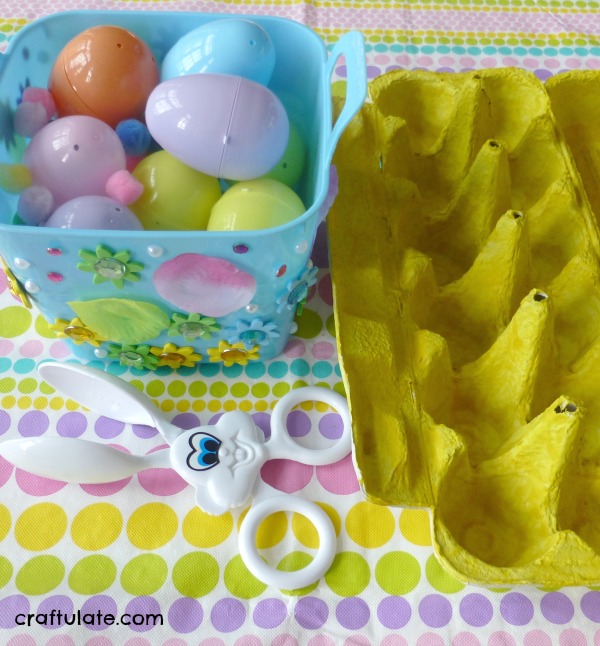 F was very intrigued by the egg tongs, although he found them quite hard to operate properly. But he did manage to transfer some of the plastic eggs into the egg box – using his own way with tongs!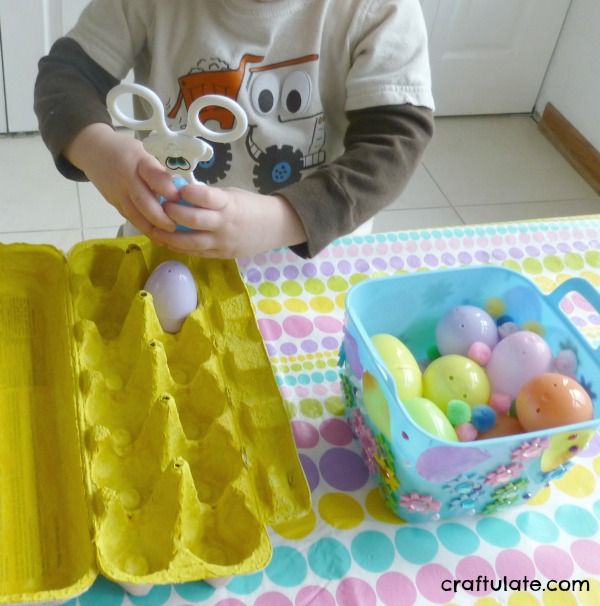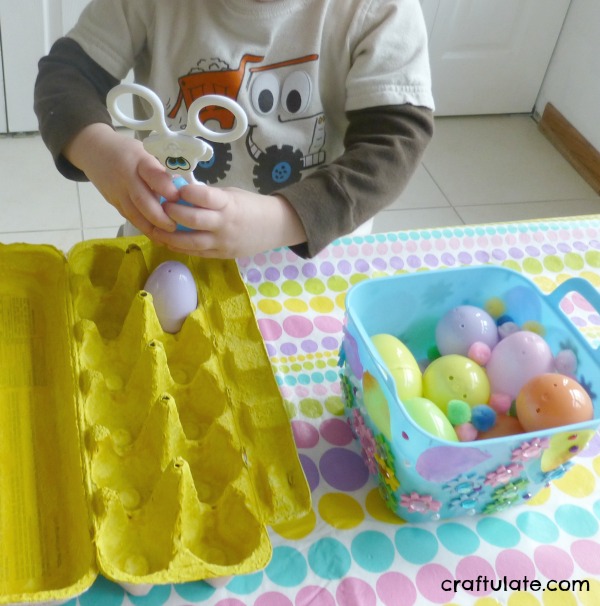 Unfortunately he gave up with the tongs and transferred the rest by hand. We tried the activity again another day, this time starting with the eggs in the box already. He found the eggs hard to pick up from the egg box compartments, so with each egg he took it out by hand and put it on the table, then used the tongs (with two hands) to pick up the egg and drop it in the container.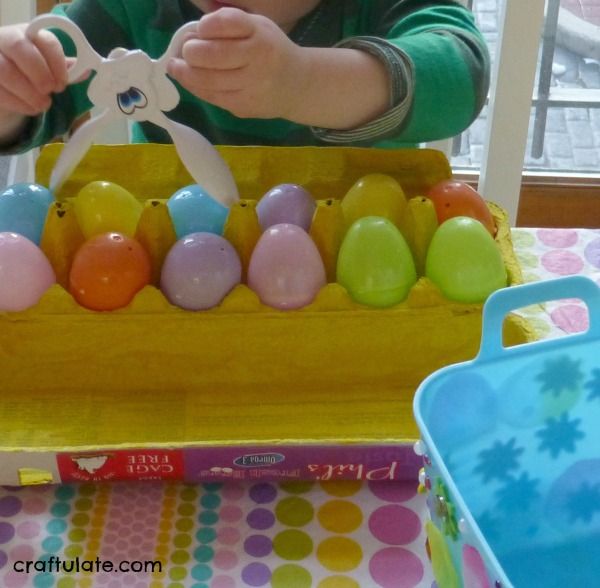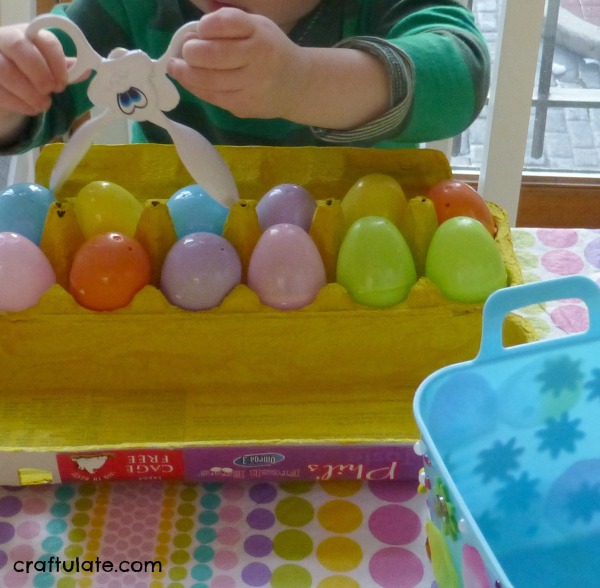 He diligently sat and transferred each egg with great concentration – I was so impressed! And he was so pleased with himself when he'd completed the task!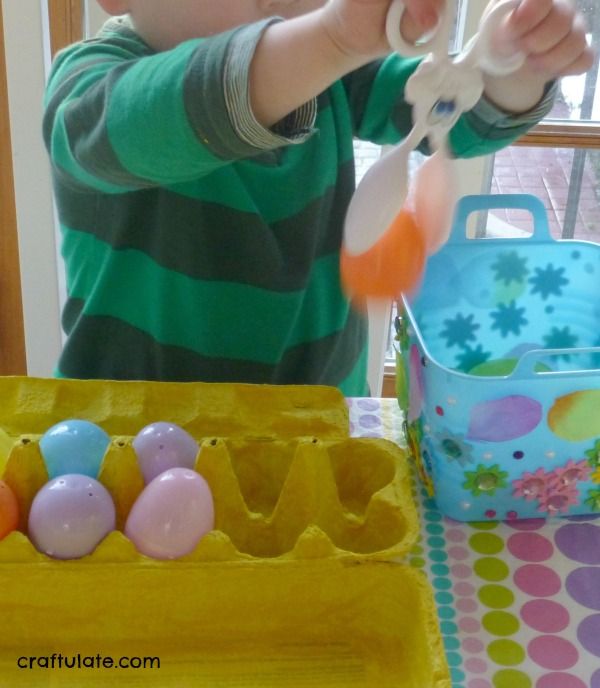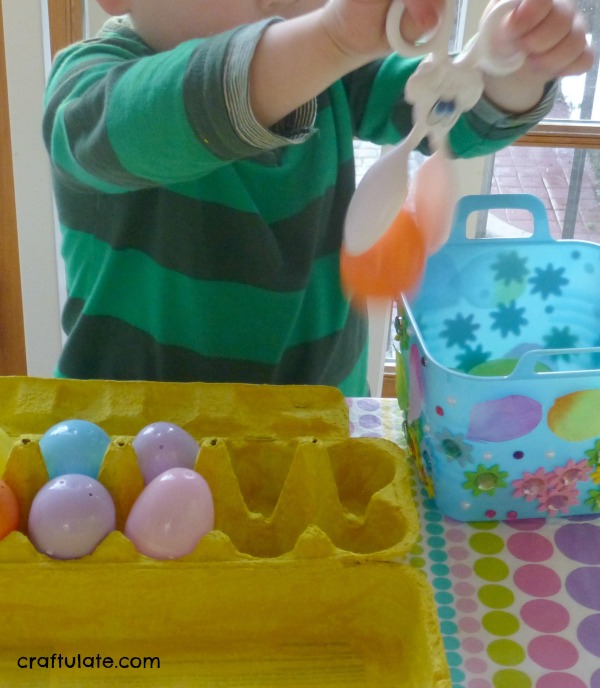 Baker Ross products can be bought from their website (if you are based in Europe) or from Amazon.com (if you are US based).
But enough about us, check out what the rest of the team has been up to this week!
Yarn Wrapped Rainbow from School Time Snippets
Hammering Water Beads from Lalymom
Wind Sock Craft from Stir the Wonder
Spring Fine Motor Mini Activity Tray from Little Bins for Little Hands
20 Ways Siblings Can Help with a New Baby from Still Playing School
Easy Box & Pipe Cleaner Fine Motor Skills from Powerful Mothering