Kids will love completing this Animal ABC Art Book – with a different animal for every letter of the alphabet!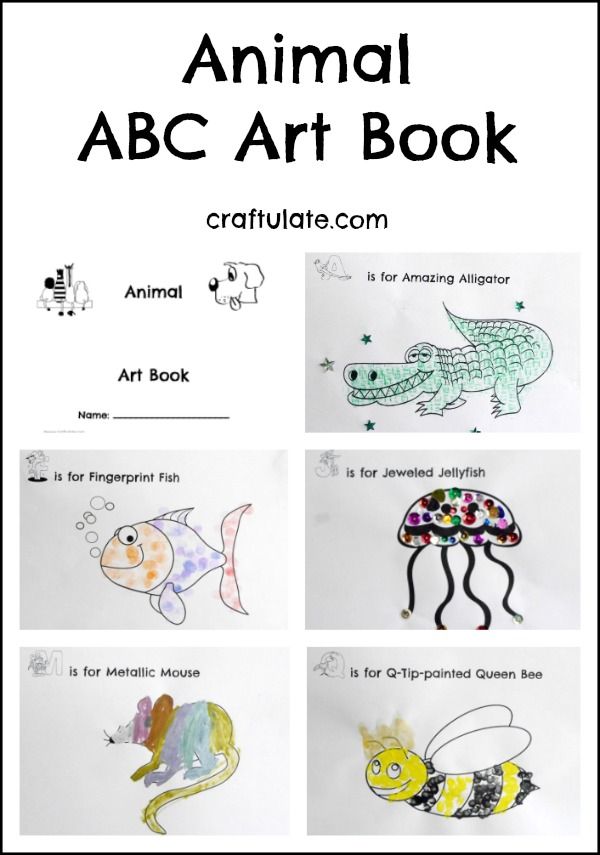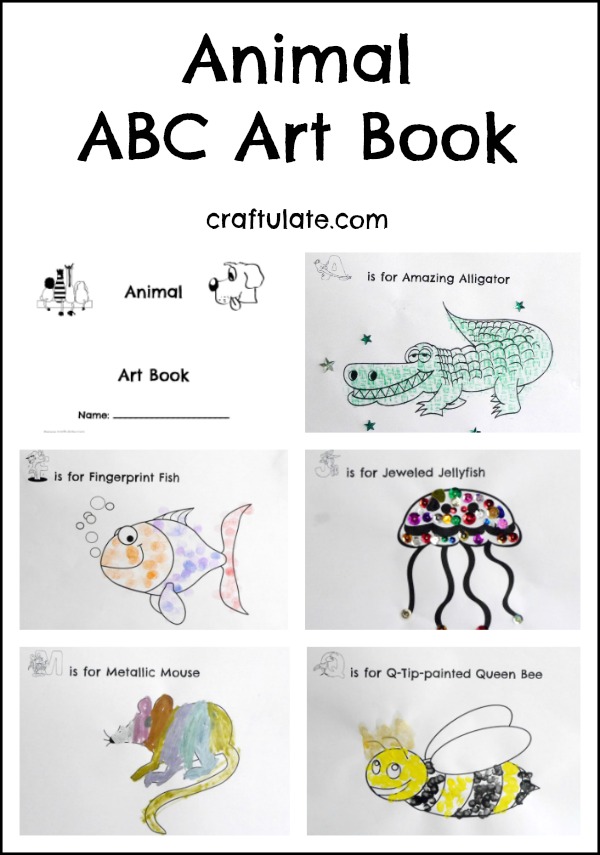 The following post contains affiliate links, which means that at no extra cost to you I can make a tiny bit of money to help support this blog. Thank you!
This is our fourth ABC Art Book! We've also done ABC Trains, ABC Halloween, and ABC Christmas! I love the challenge of coming up with the alliterative descriptions, although as usual some letters are harder than others. So forgive me if not all 26 are strictly animals, because some birds and insects have sneaked in along the way!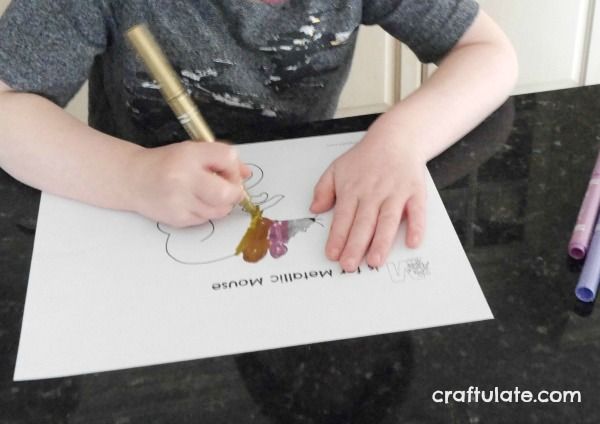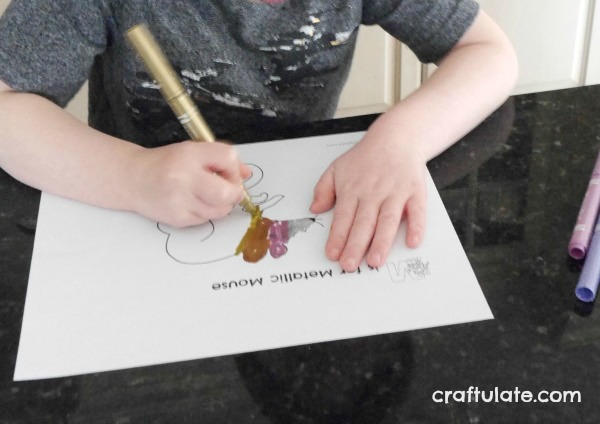 When we start each art book, I let my son choose which pages he wants to complete first. With this book, he chose "M is for Metallic Mouse" because he loves our metallic markers!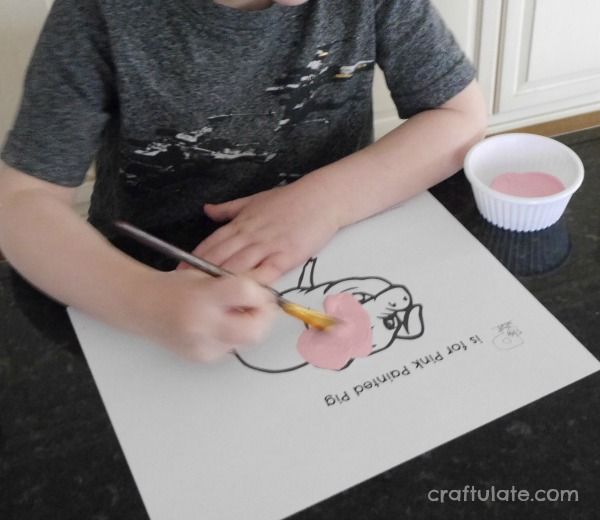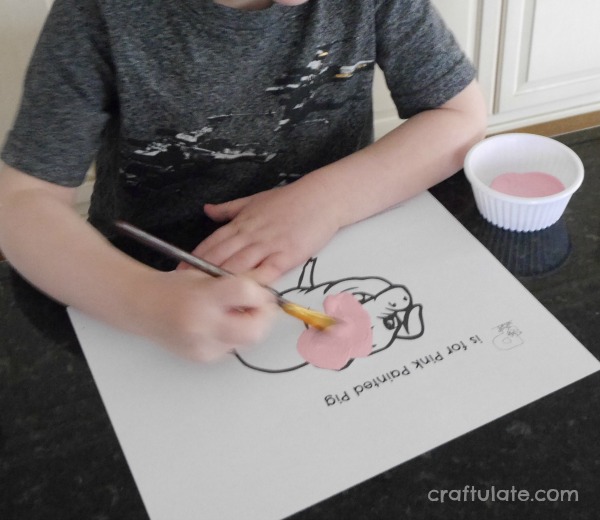 Even when the words don't lend themselves to any specific art technique (eg enormous elephant or loud lion) I try and mix things up as much as possible so it's not "just" another coloring page. Try chalks, stickers, crayons, sequins, buttons – whatever engages your child.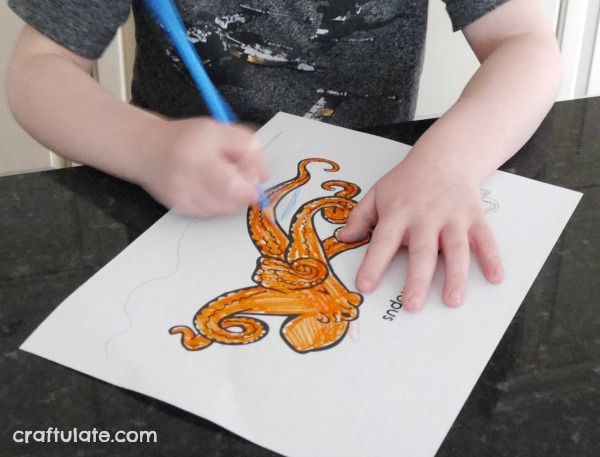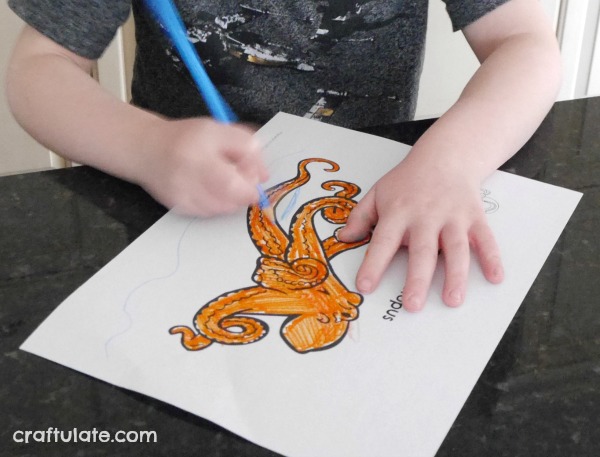 We absolutely didn't complete the whole book in one go! Some days we'd get through six pages, another day only one.  Here are some hints for each page:
 A – Amazing Alligator – place the page on a bumpy surface and rub a green crayon over it to give a fun texture
B – Big Blue Bear – use blue pencils, crayons, pens or paint to complete this bear
C – Cute Crayon Cat – use crayons to color in this cat
D – Dot Marker Dog – color in the dog using
dot markers
E – Enormous Elephant – color in this picture
F – Fingerprint Fish – make fingerprints with
ink
or paint all over the fish to look like scales – see our in-depth post about this page
here
!
G – Green Glitter Glue Goat – use
glitter glue
to color in this picture
H – Handprint Horse – paint your child's hand with washable paint and press it onto the paper – the thumb becomes the head and the fingers are the legs. Add extra detail with a marker pen.
I – Inky Inchworm – use a black gel ink pen or similar to complete this picture
J – Jeweled Jellyfish – glue on plastic gems or sequins
K – Kindly Koala – color in the picture
L – Loud Lion – color in this picture
O – Orange Octopus – use orange crayons, paint, pencils or markers
P – Pink Painted Pig – use pink paint
Q – Q-Tip Queen Bee – use Q-Tips dipped in paint to complete this picture
R – Red Rabbit – use red crayons, paint, pencils or markers
S – Straw Stamped Sheep – stamp the sheep's woolly coat by using straws dipped in paint
T – Teeny Tiny Tigers – color in the picture
U – Upside Down Unicorn – colour in this picture
V – Very Vibrant Vampire Bat – use the brightest colors you can find
X – siX foXes – color in this picture
Y – Yellow Yak – use yellow crayons, paint, pencils or markers
Z – Zig Zag Zebra – draw zig-zags on the zebra instead of stripes!

Get your own Animal ABC Art Book from the Craftulate Store!