This art book printable features the Halloween ABC! A different art activity page for each letter of the alphabet – with a spooky theme!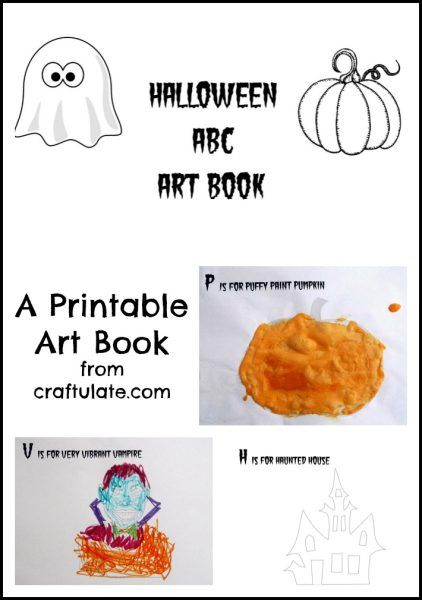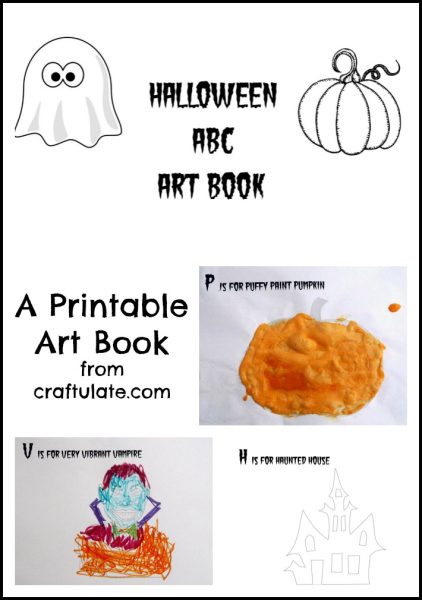 The following post contains affiliate links, which means that at no extra cost to you I can make a tiny bit of money to help support this blog. Thank you!
Have you tried our Christmas ABC Art Book or our Train ABC Art Book? We love this format for exploring the alphabet with an arty theme! So now it's time to download a copy of the Halloween version from the Craftulate, print onto white paper and let the kids get creative!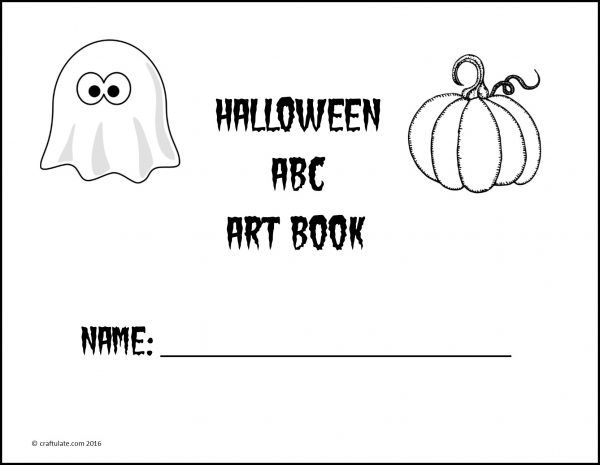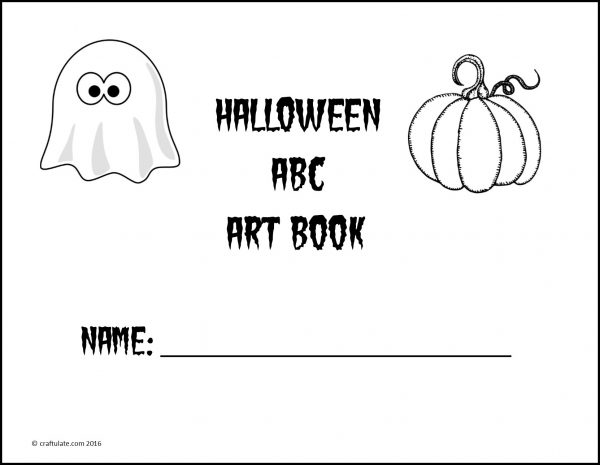 You can bind the art book together however you'd like: use split rings, store them in a binder or (like we did) use book rings – they are available in color or silver versions!
There is a different art activity for each page. Some are completely blank, others have starting prompts.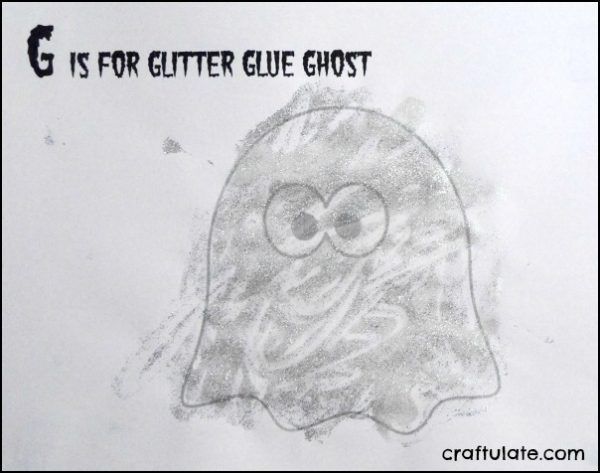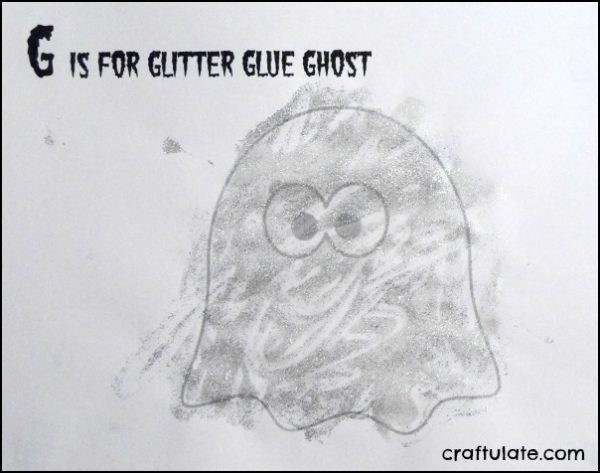 My son worked on a few of these a day. We didn't do them in alphabetical order, just which ones he felt like. I made things easier by putting together a bag of materials that I would need for the book in advance (tape, glitter glue, yarn, neon highlighters, QTips etc) so that whichever letter page he chose we could complete.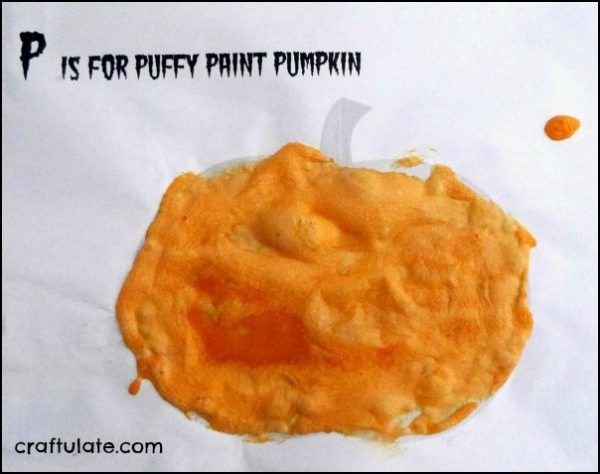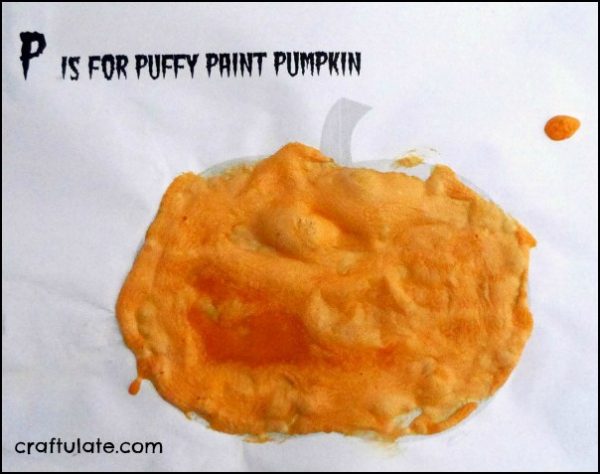 Here's a guide to how to complete each page – but of course feel free to use your imagination and finish them however you would like!
A – Awesome Boo Art – color in the page however you want! Glitter, paint, pens, chalk or a bit of everything!
B – Big Black Broomstick – use a black crayon, pencil or marker pen to complete this picture.
C – Crayon Candy Corn – color this in with the classic colors – white on top, orange on the middle, yellow at the base.
D – Draw a Dress-Up Costume – what costume does your child want to wear for trick or treating?
E – Eerie Eyes – draw lots of spooky eyes and/or glue on googly eyes! Eyes in pairs are particularly effective.
F – Freaky Frankenstein – complete this tricky Frankenstein picture with pencils or marker pens.
G – Glitter Glue Ghost
– use fun
glitter glue
to decorate this friendly ghost!
H – Haunted House – add windows, doors, bats and more to this classic Halloween building.
I – Incredible Invisible Ghost
– this is the only page that will need some advance preparation! Use a white crayon to draw a ghost outline, then paint over it with
liquid watercolor paints
!
J – Jolly Jack O'Lantern – color in the pumpkin orange, then add cut out details in black to make a happy jack o'lantern!
K – Keepsake Spider Handprint – paint your child's palm and fingers (no thumb) with washable paint and make two prints to form a spider. Overlap the palms with fingers facing out. Add eye detail when the paint has dried.
L – Little Leaves Collage
– use
leaf-shaped paper punches
, or collect real small leaves from outside. Glue them on to form a pretty collage.
M – Metallic Monsters
– glue on kitchen foil shapes to make weird monsters – or use
metallic marker pens
!
N – Neon Nighttime Scene – bright neon highlighter pens are perfect for coloring in this scene – or you could even use neon paint!
O – Outrageous Orange Owl – color in the owl using orange paint, crayons, pencils, pens or a collage of orange paper!
Q – Quirky Q-Tip Skeleton – grab a handful of Q-Tips (cotton buds) and use strong scissors to break some in half. Glue them onto the skeleton shape.
R – Ruined Ribbon Web – cut short lengths of ribbon and glue them onto the template.
S – Spooky Silver Spiders – use silver marker pens, silver glitter glue or perhaps silver paper to create these spiders!
T – Tape-covered Mummy
– color in the mummy first if you like, then cut small pieces of tape to cover the body. We used some
super thin painters' tape
.
U – Upside-down Bats – complete this scene by coloring the bats. Are they hanging from a tree? Are they flying?
V – Very Vibrant Vampire – use the brightest colors you can find to finish this vampire picture.
W – Weird Watercolor Witch – watercolor paints will give this witch art a washed-out weird look.
X – Xtra Yummy Candy – if your kids are planning to go trick or treating, then they'll enjoy coloring in this candy-filled page!
Y – Yarn-covered Black Cat – provide small lengths of black yarn and glue them carefully onto this black cat picture.
Z – Zany Zombie – how zany can you make this zombie?!? Use crazy colors and mixed techniques for maximum effect.
Here are some of my favorite pages that my son completed!