My son was *totally* into this train-themed unwrapping activity. And at nearly three years old, that's not always a given! He used a wide range of fine motor skills to unwrap the train toys, and was so pleased with himself each time he extracted the toy!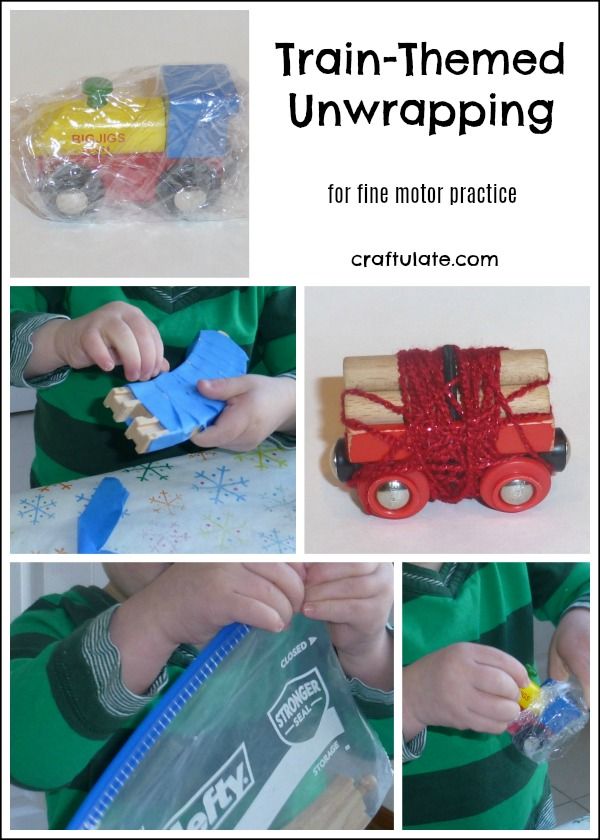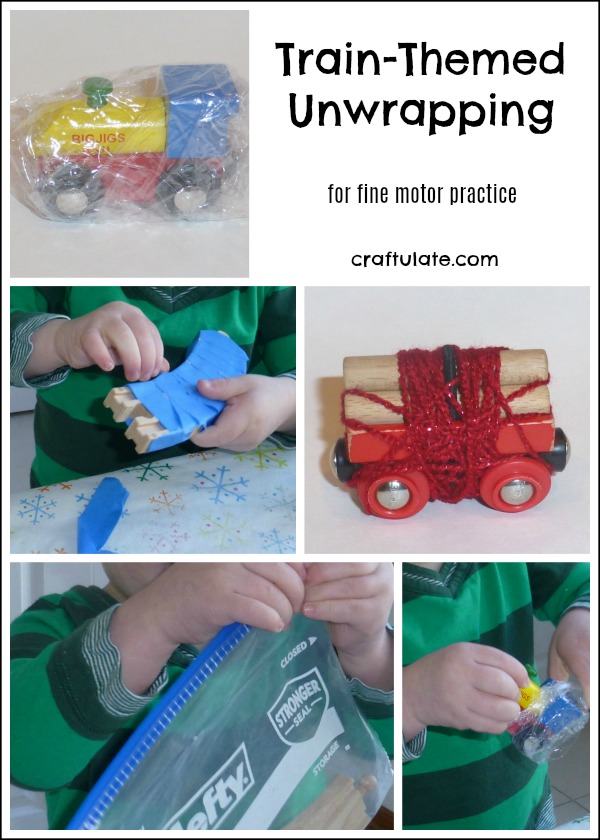 The following post contains affiliate links, which means that at no extra cost to you I can make a tiny bit of money to help support this blog. Thank you!
This activity was totally inspired by a combination of two things: Munchkins and Moms' recent post on Foil and Toys, and one of F's favourite YouTube videos at the moment: ToyTrains4U's Guess the Engines. In the video some toy trains are covered in play dough and slowly revealed. I wanted to try out both these techniques of wrapping toys – and the idea just grew and grew!
I decided to stick with the train theme, and I wrapped up various train-related items in the following:
food wrap (cling film/ plastic wrap)
wrapping paper and clear tape
brown paper bag and plastic food clip
pipe cleaners (fuzzy sticks – kindly sent to us by craftprojectideas.com)
fabric and ribbon
resealable food bag
yarn
kitchen foil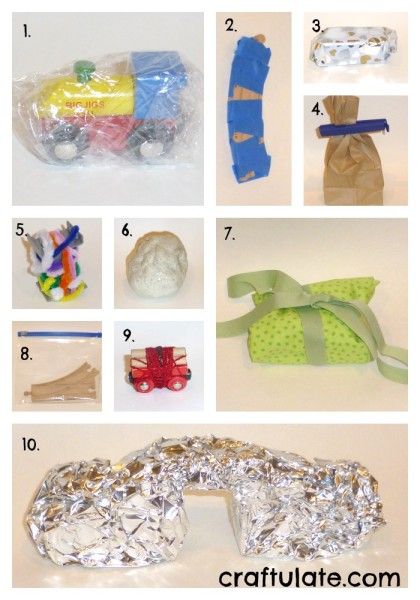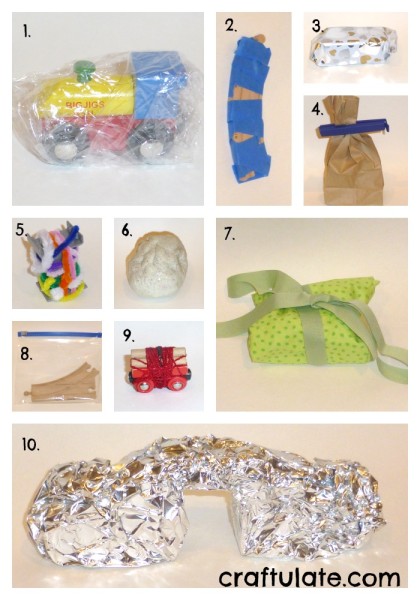 I set this up the night before as I knew that he would be missing some of the items in the morning and want to get them back! When he first saw them, he could see a few of the toys through their wrapping, which was a great help. And it definitely intrigued him to see what was in the others. He did SO well with this activity, and I only had to help him a couple of times.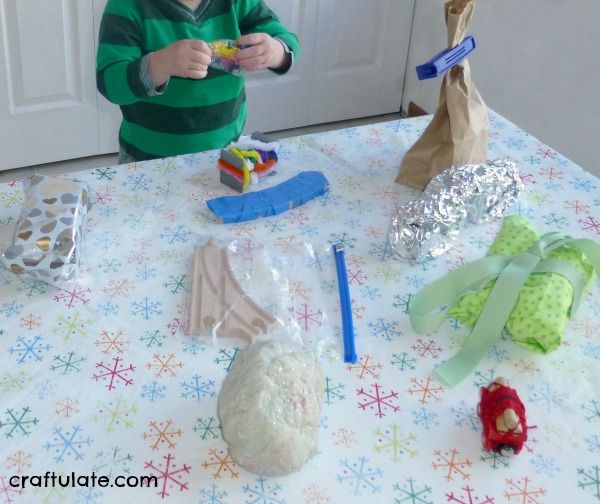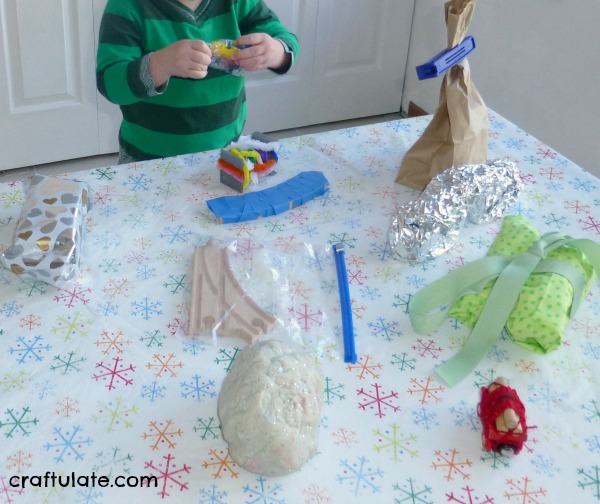 Here's how he got on, and I've listed them here not by the order that he unwrapped them, but by difficulty rating, with easiest first.
The easiest toy to unwrap was the one in the resealable bag. He could see the piece of track inside, so he opened up the zip, and wriggled the track out of the bag.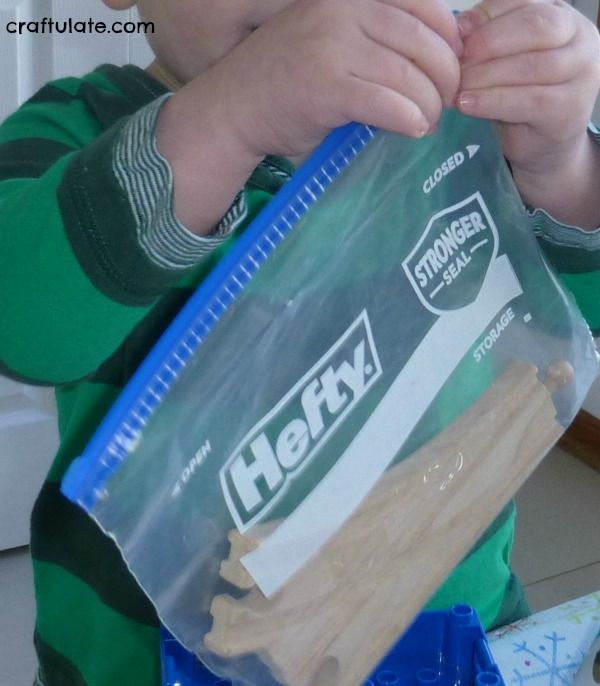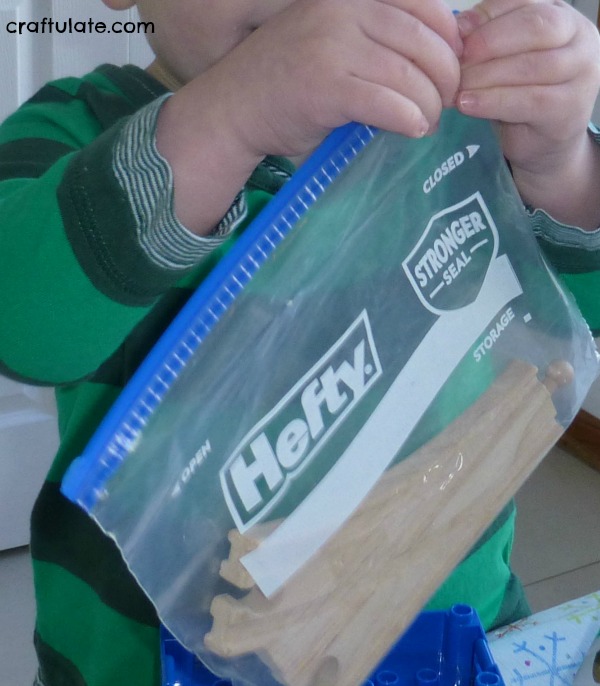 Next easiest was the wrapping paper and tape. I'd left lots of space for him to find edges of paper and tug.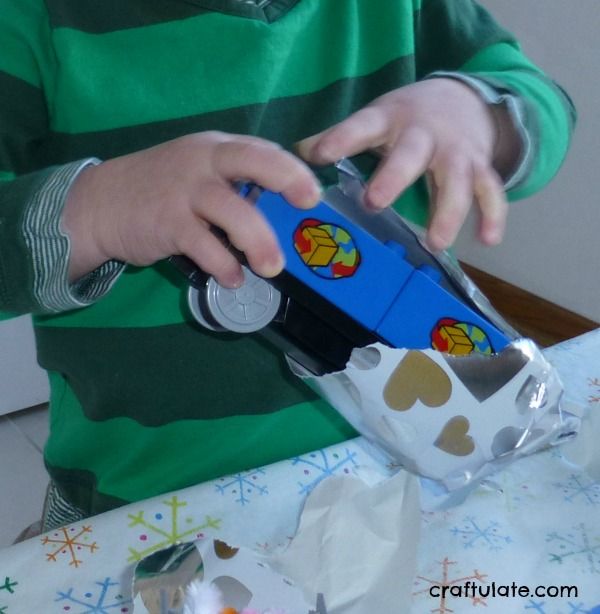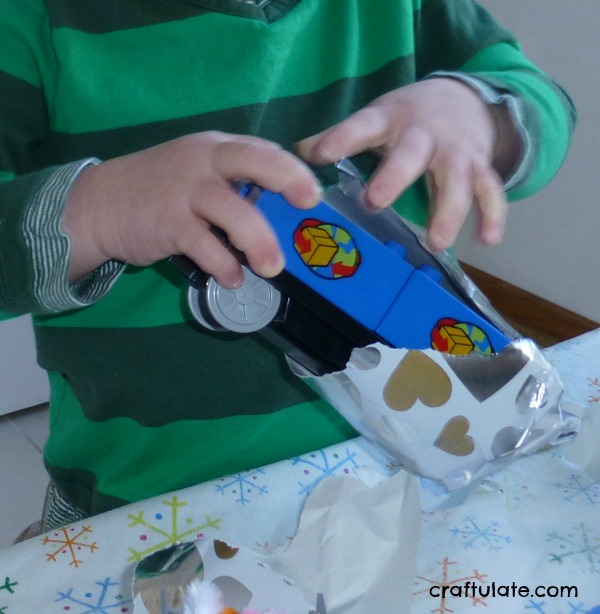 F could see from the shape that it was his bridge wrapped in kitchen foil, which I think amused him. The foil came off in several small pieces but didn't provide much of a challenge.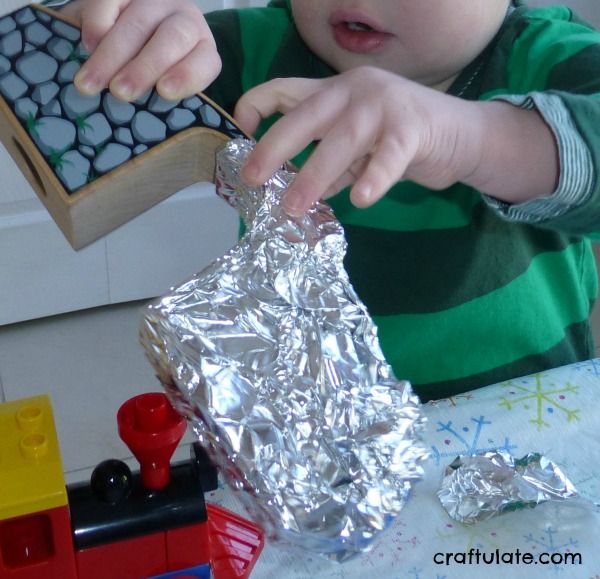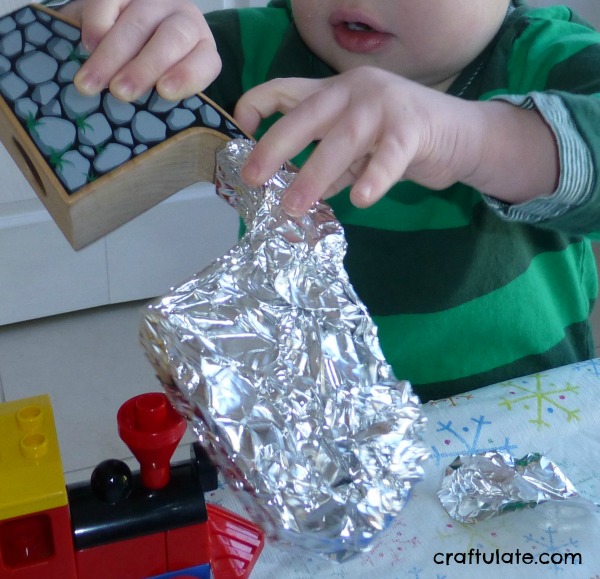 The fabric and ribbon parcel was mid-range in the difficulty levels. F pulled at the ribbon and then spent a while trying to work his way into the large piece of fabric that was wrapping up his train.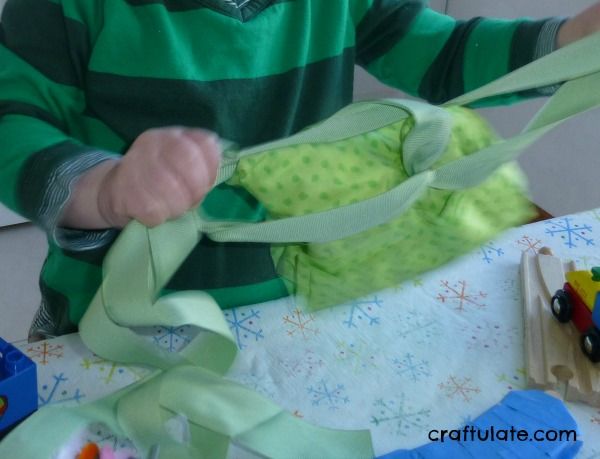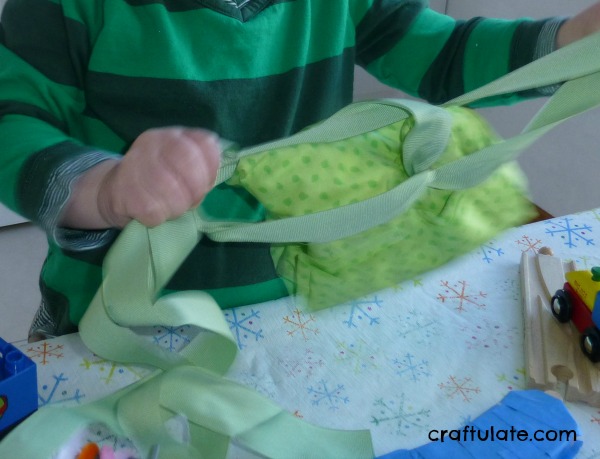 The play dough was by FAR his favourite! He pinched off little bits of dough at a time to try and break into it. When he could start to see the train inside he was overjoyed!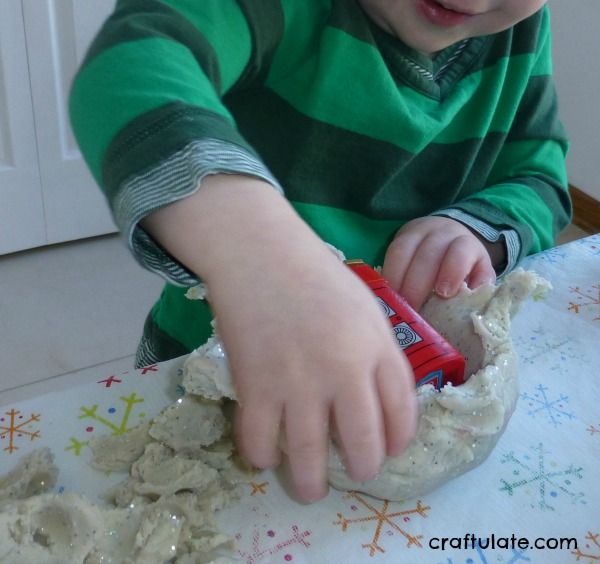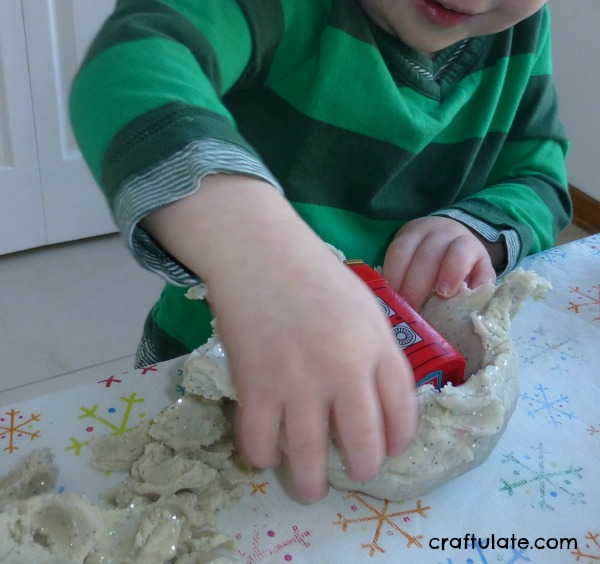 I had used lots of strips of painter's tape on this piece of track, so it took quite a while for F to remove them all. But I was impressed that he patiently removed them all one by one. What DID frustrate him was trying to put the pieces of tape down after he had removed them from the track; he couldn't get the hang of how to remove them from his fingers. So I did help a little with that.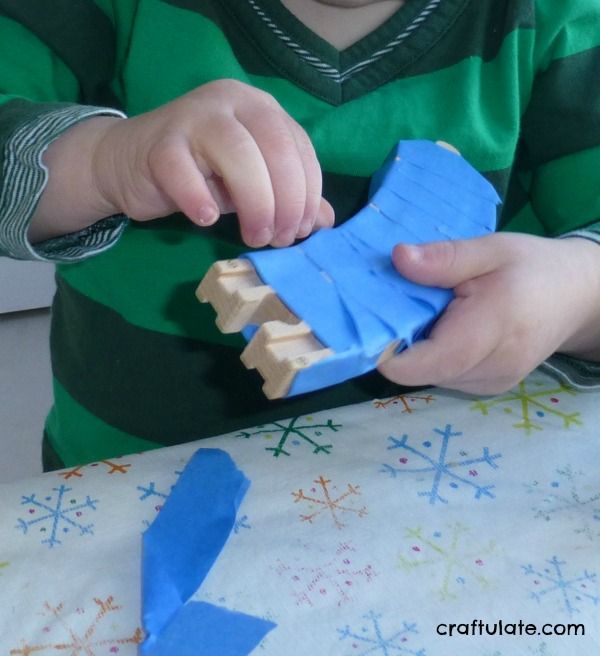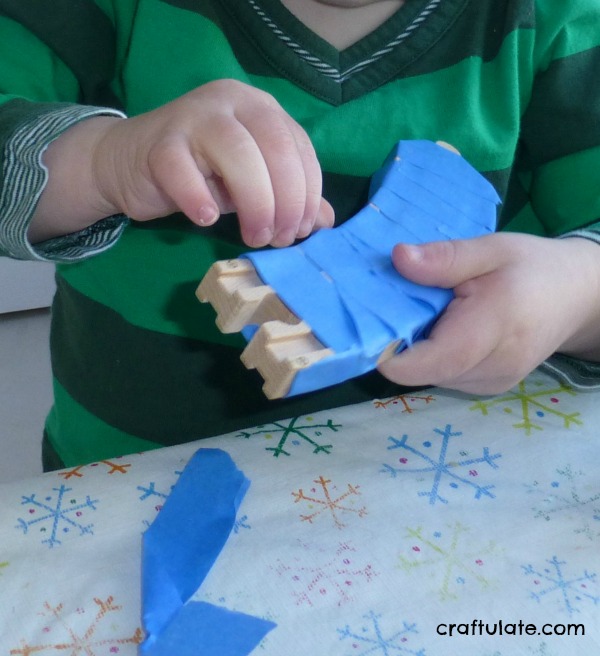 The plastic wrap really worked his fine motor skills: tugging and pulling as hard as he could to remove it.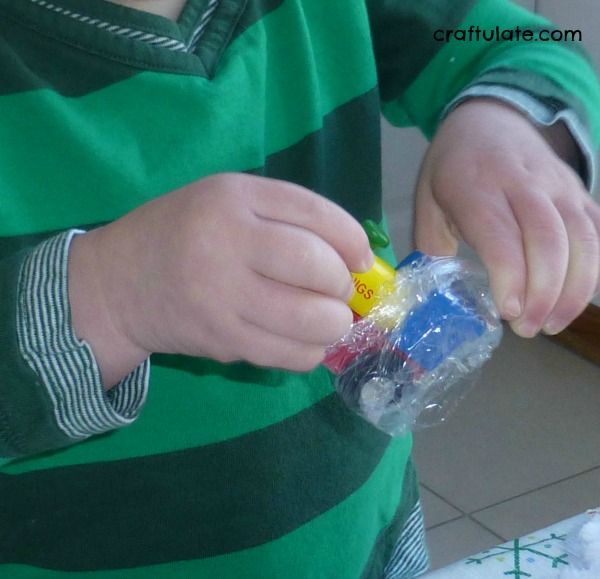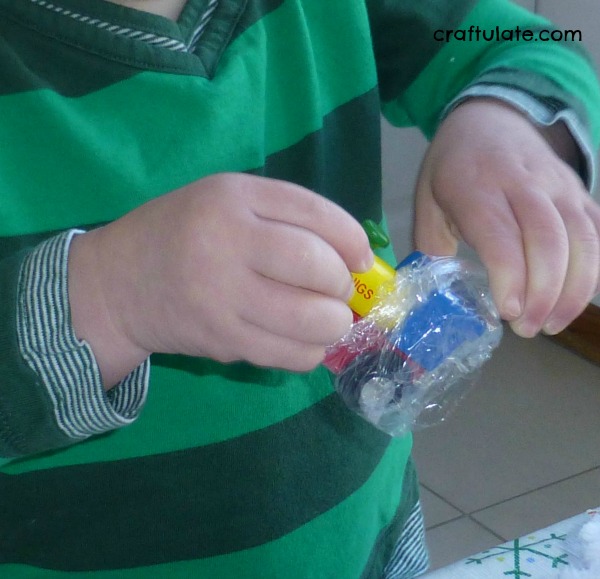 F found it pretty tricky to remove the pipe cleaners. I'd interwoven them to keep them on the bridge support, so there was no clear order in which they should be removed. But he kept at it and didn't ask for help.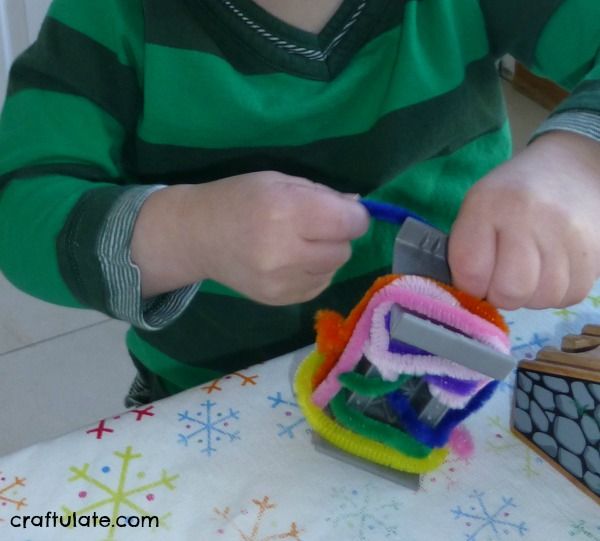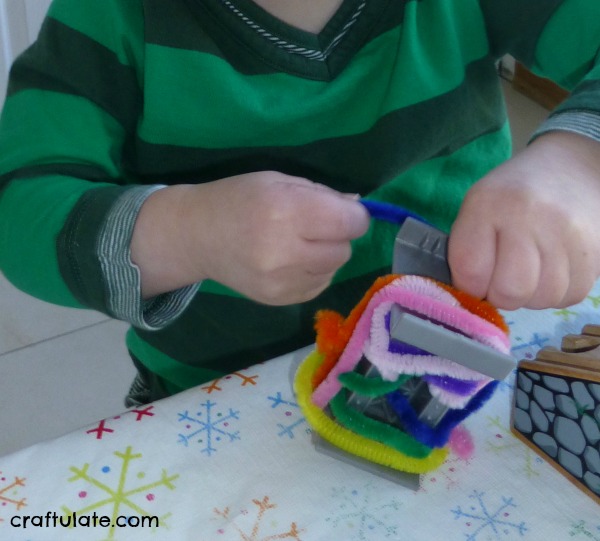 I didn't think that the brown paper bag and food clip would be so hard, as I'd seen F open these bag clips before. But I must have chosen a particularly stiff one because although he knew what to do, he just couldn't open it. So I gave in and helped him, and he happily ripped the bag open to find his train.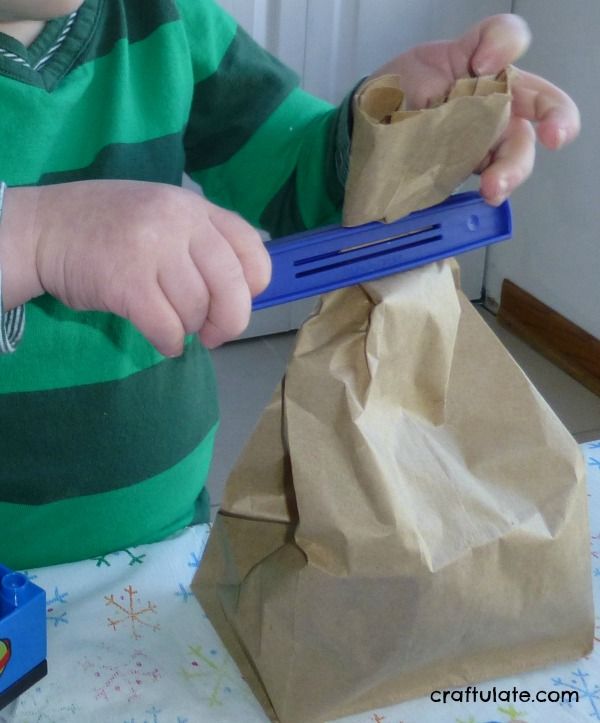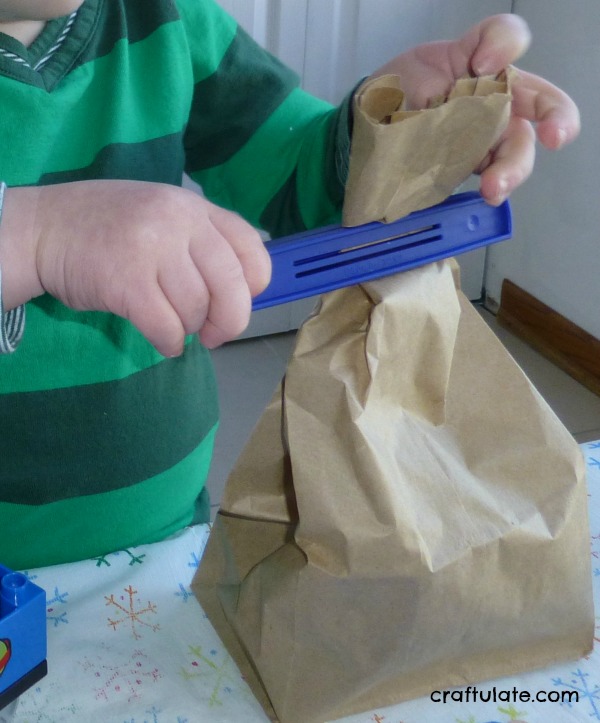 And the absolute hardest was the yarn, but this was probably my fault. I think I used far too much AND I shouldn't have wrapped something with wheels because it was way too easy for the yarn to get tangled up in it. So we unwrapped this one together.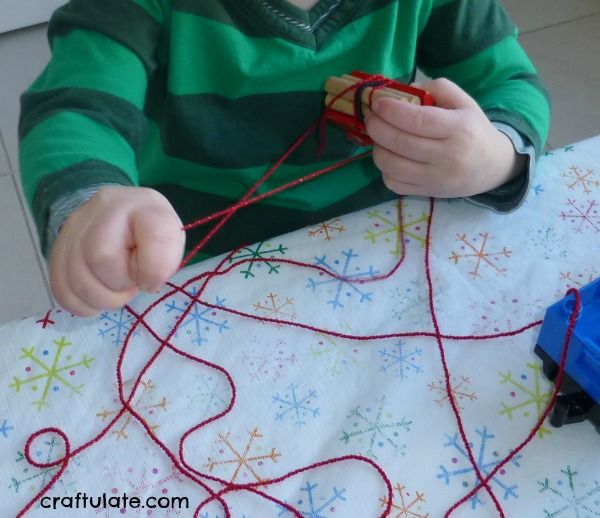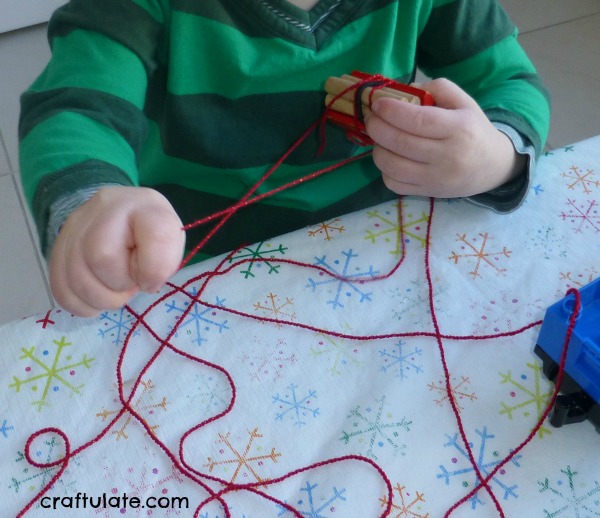 But enough about us, let's see what the rest of the team has been up to this week!
Itsy Bitsy Spider Finger Puppet from Lalymom

Fine Motor Play with Marshmallows & Toothpicks from Little Bins for Little Hands
Practicing Fine Motor Skills with Classic Games from Stir the Wonder
Mardi Gras Play Dough from Still Playing School
Post It Notes Sudoku from School Time Snippets
Hedgehog Fine Motor Skills and Counting from Powerful Mothering



I'd also like to take this opportunity to give a quick shout out to my friend Jessica over at the blog Play Trains who has published her first book! "Old Track New Tricks" is a super cute story about wooden tracks that do tricks to show kids what they can do! A wonderful story and lots of great activity ideas, too.