Jump to recipe
This sweet Halloween pizza is a fun snack for the kids to make AND to eat!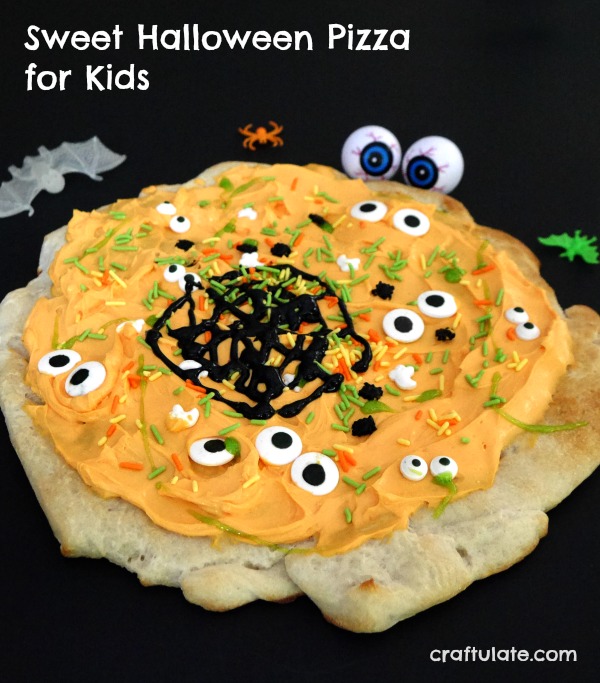 The following post contains affiliate links, which means that at no extra cost to you I can make a tiny bit of money to help support this blog. Thank you!
The idea for this fun pizza actually came from an ingredient that we didn't use in the end. My son has been obsessed with cotton candy recently, so when I saw some "spider web" white cotton candy, I had to get it, and somehow wanted to spread it over something flat – well – like a pizza! However, when we came to try it, it was sour apple flavor and neither of us liked it. Plus it didn't separate into anything even resembling spider web, so we ditched it, and totally enjoyed the pizza without it!
For the pizza base we used a regular pizza dough from a tube. Just pop, unroll, and try and make it into a circle. F tried to help me with this, so it isn't the neatest circle ever but hey, it's pizza. I cooked it for around 10 minutes at 400F, then let it cool.
To make the "sauce" I mixed 8 oz of cream cheese with 2 tablespoons of sugar in a stand mixer until smooth. Then we mixed in some red and yellow food dye to make the cream cheese orange.
While F was mixing, I set out the toppings: Halloween Spider Mix,  Halloween Ghost Mix, and of course edible googly eyes (large and small).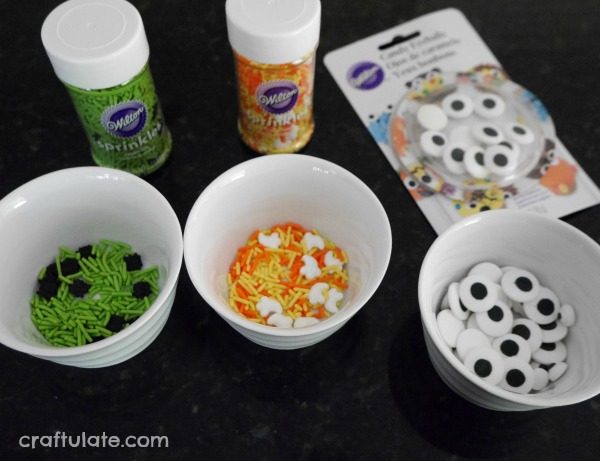 I spread the cream cheese onto the pizza (because my son had got too distracted by the sprinkles at this point) just like you would spread out tomato sauce.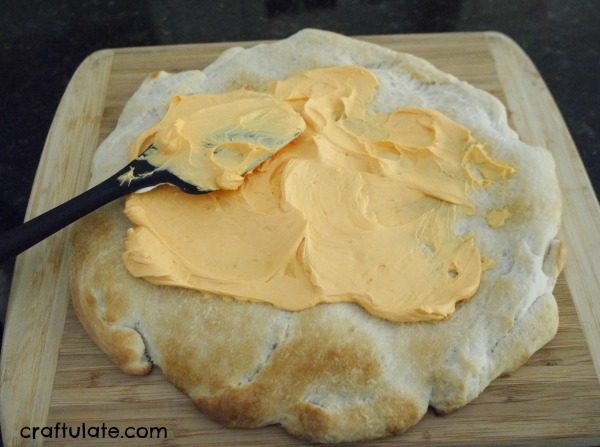 Then it was sprinkle time! He prioritized the ghosts, spiders, and eyes.
Then he added the sprinkles. 

Because I had intended to use the cotton candy it seemed a little bare, so I decided to delve around and see what I could find in the pantry – and discovered some green sparkle icing gel and black sparkle icing gel! F squeezed a few random lines of the green, but was more excited about the black. Because it was called "spider web black" he didn't do random squiggles as I expected him to – he tried to draw a spider web!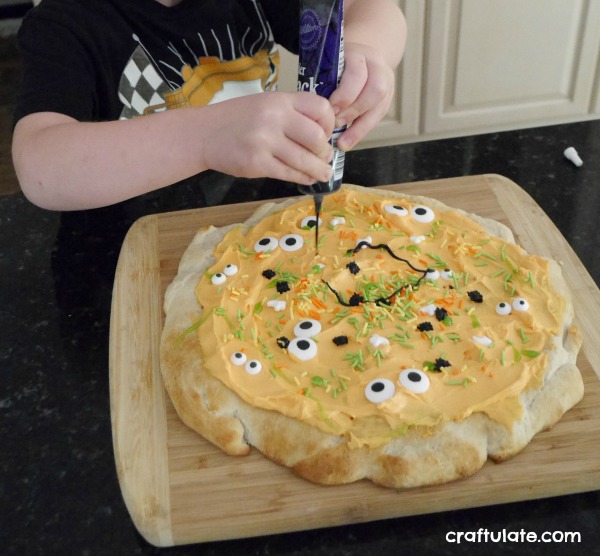 So this was our final design!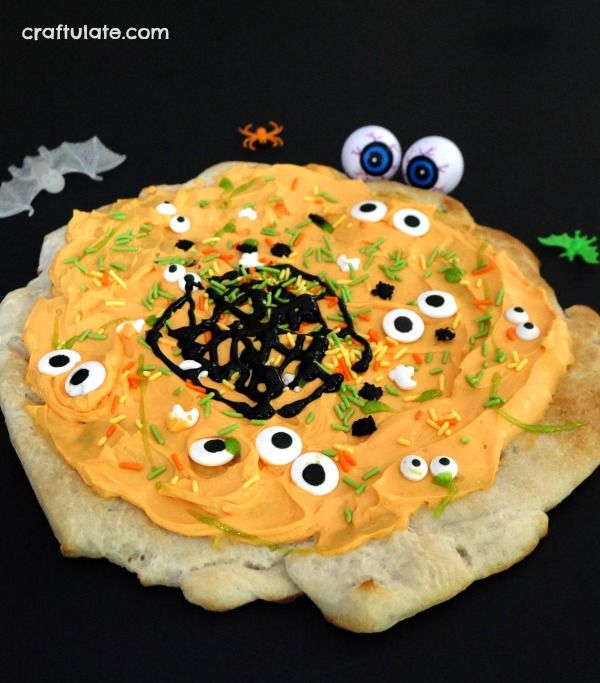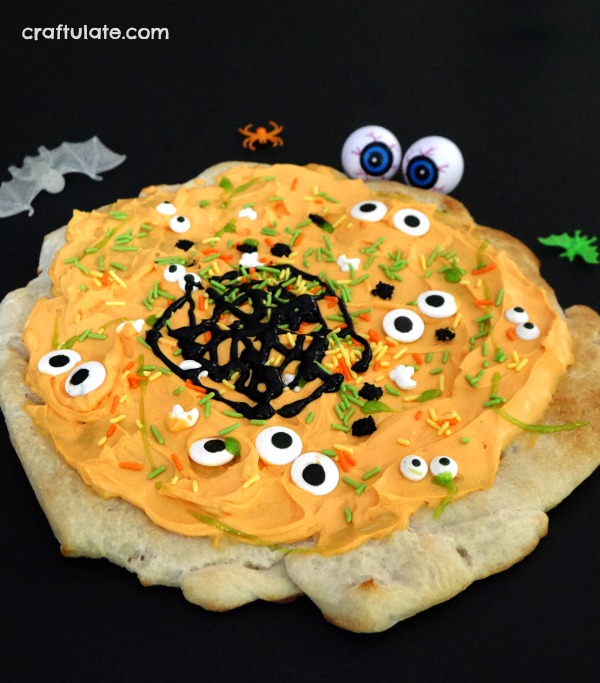 There are so many fun ways to decorate this sweet Halloween pizza! I should note that F wasn't *that* keen on the cream cheese, even though it was sweetened. If you don't mind the pizza being crazy sweet then you could use frosting instead of the cream cheese.
To serve, you can just use a regular pizza wheel. It really doesn't matter if the pizza base is completely cold – it just serves as a vehicle for all those fun toppings!
[bctt tweet="Sweet Halloween Pizza for Kids #halloween #pizza #cookingwithkids" username="craftulate"]
Sweet Halloween Pizza for Kids


Cuisine
American
Category
Food
This sweet Halloween pizza is a fun snack for the kids to make AND to eat!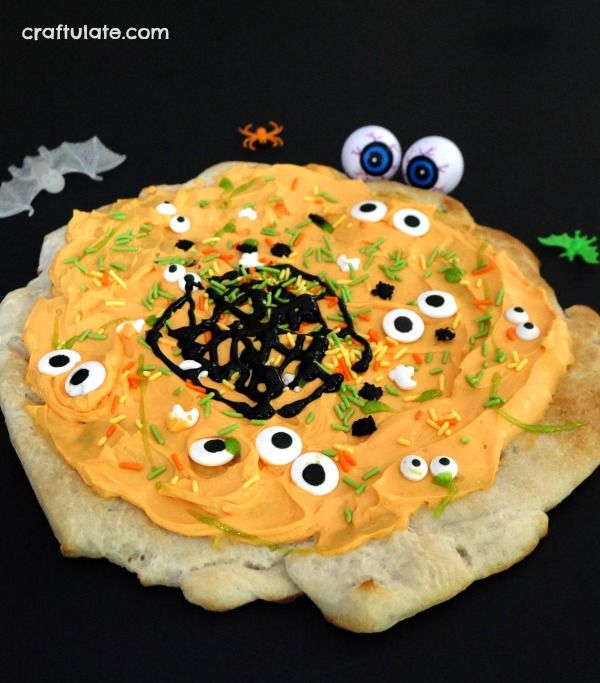 Ingredients
1 tube of refrigerated pizza dough
8 oz cream cheese
2 tbs sugar
red and yellow food dye
assorted sprinkles
assorted icing gel
Instructions
Preheat the oven to 400F.
Spread the pizza dough onto a pizza tray and form it into a circle.
Bake for 10 minutes until cooked through. Let cool.
In a stand mixer, combine the cream cheese and sugar until smooth. Add food dye until the correct color has been reached.
Spread the cream cheese over the pizza base, and invite the kids to decorate the pizza with sprinkles and icing gel.
© 2023 This recipe is copyright of craftulate.com, do not reprint or republish without permission.