This activity was a great way to get kids constructing in a creative way – just by providing them with pieces of Styrofoam and pipe cleaners!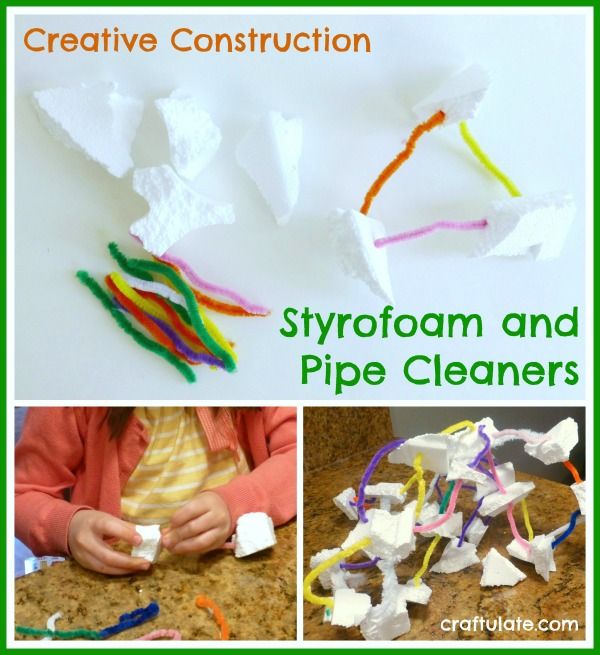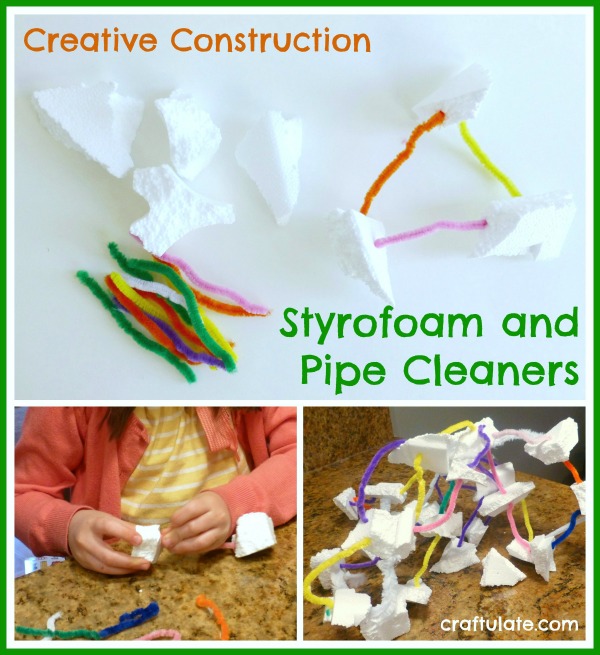 The following post contains affiliate links, which means that at no extra cost to you I can make a tiny bit of money to help support this blog. Thank you!
This activity really works on fine motor skills when the kids are manipulating the pipe cleaners.
To prepare for this activity I cut some pipe cleaners into thirds (Note: use a wire cutter for this – NOT scissors!) and broke up a large Styrofoam packing block into small pieces. The lovely thick white pipe cleaners (also called fuzzy sticks) were kindly sent to us by craftprojectideas.com.
I set everything out and invited our friends Miss E (6yrs), Mr F (4.5 yrs) and Miss L (4.5yrs) to create whatever they wanted from it. They were immediately drawn to it – especially Mr F who doesn't always participate  in the crafts and activities that I suggest!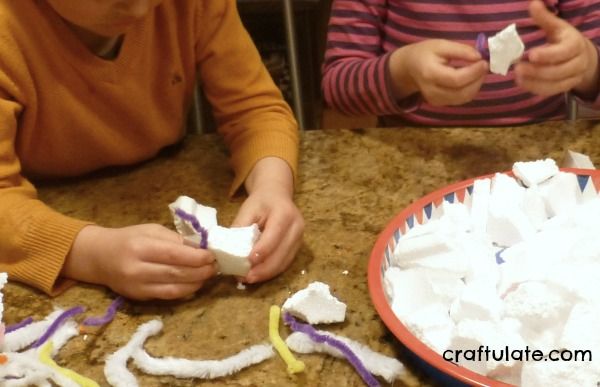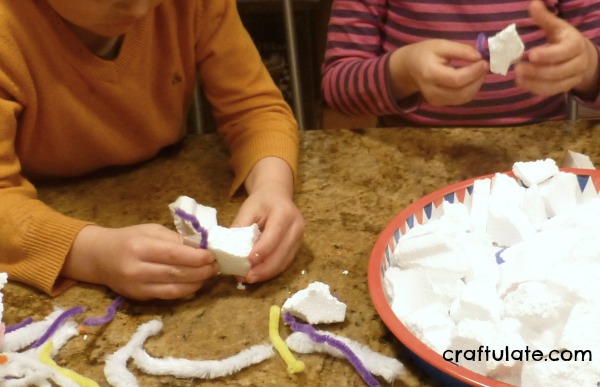 All three of the kids quickly got the hang of pushing the pipe cleaners into the Styrofoam pieces. I showed them how to make some easy shapes like triangles and squares. Then I left them to it!
Miss E decided to make a big long chain.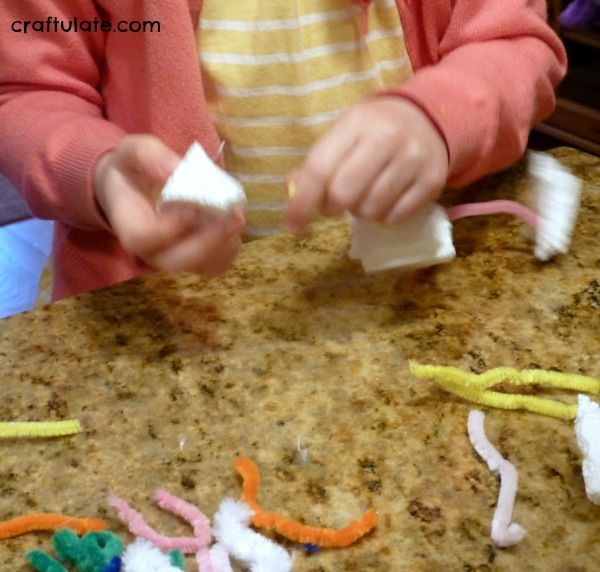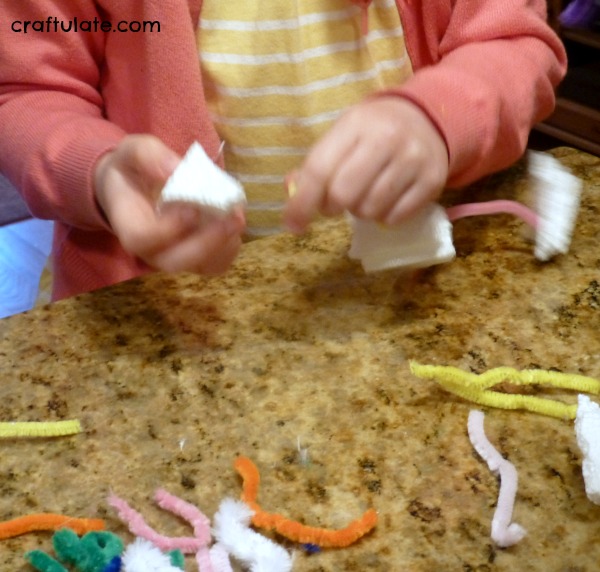 Miss L played with just the pipe cleaners for quite some time before incorporating the Styrofoam.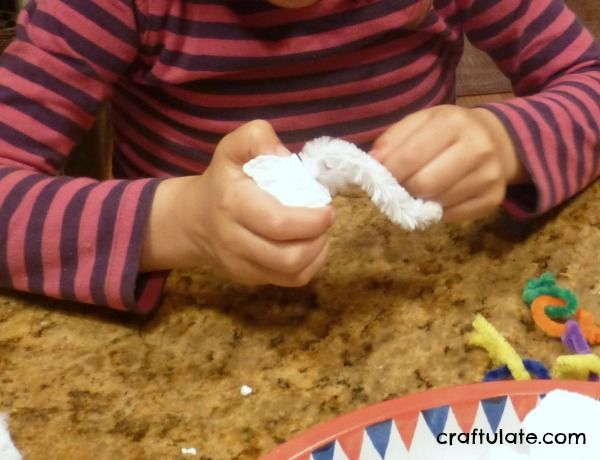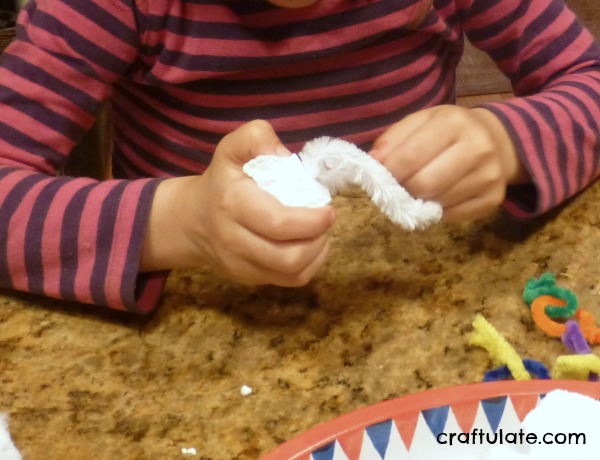 Mr F experimented with all different kinds of shapes and ideas, but didn't settle on a final product. However – this sculpture was a group effort!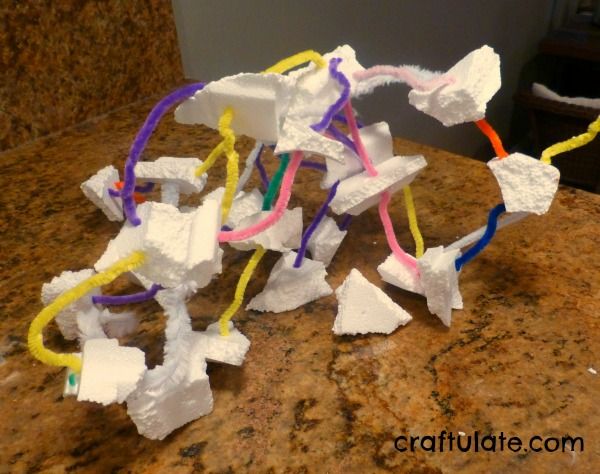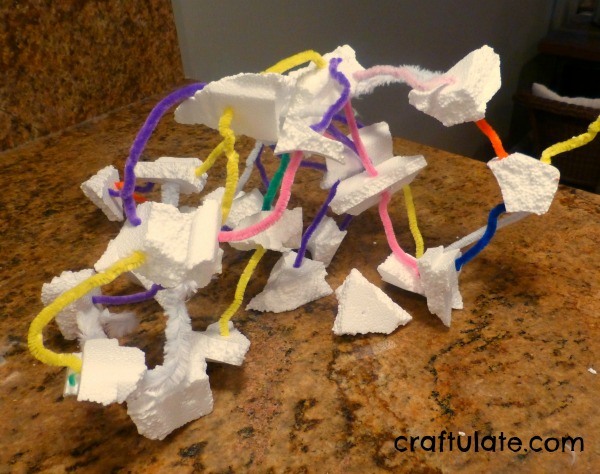 Fine Motor Fridays is brought to you every week by an amazing group of bloggers – check out the other posts!
Puffy Paint Cake Decorating from Still Playing School
Easy Outdoor Writing Center from Lalymom
Simple Weaving Felt Page from Powerful Mothering
Lego Sensory Bin For Math And Fine Motor Skills from Little Bins For Little Hands
Fine Motor Name Game from House of Burke
Fine Motor Light Table Play from And Next Comes L
5 Fine Motor Inspired Counting Activities from School Time Snippets