Jump to recipe
This rocky road fridge cake is 95% kid-made! Such an amazing treat that kids will love making – and eating!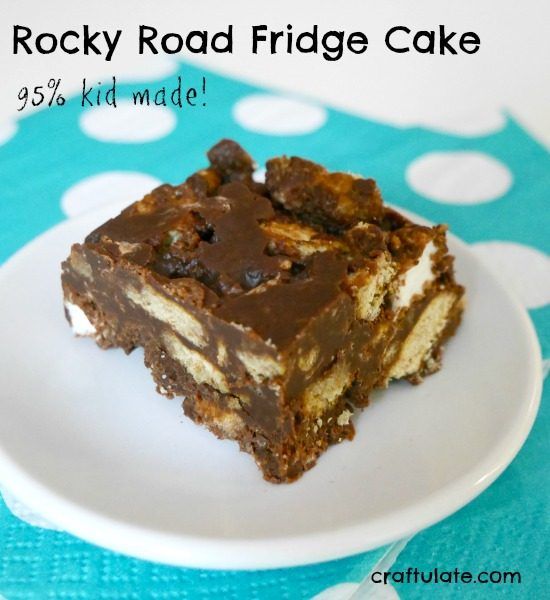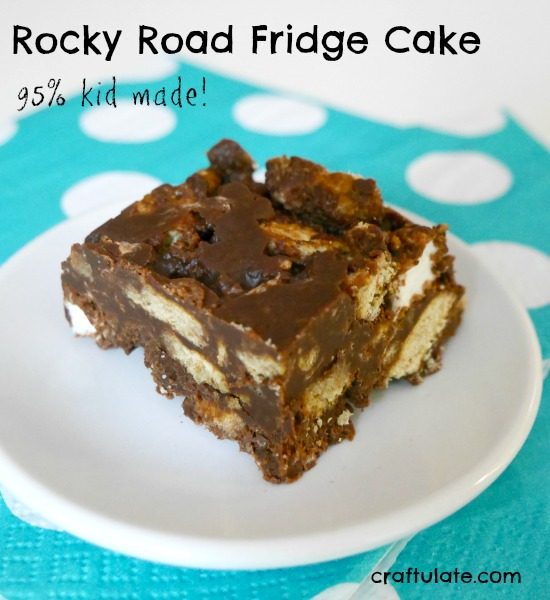 The following post contains affiliate links, which means that at no extra cost to you I can make a tiny bit of money to help support this blog. Thank you!
My son LOVES making cupcakes and cakes – and when he asks to make them I like to say yes if I can. A few weeks ago he asked to make a cake when it was nearly 90F outside – the thought of putting the oven on was quite overwhelming! But we did it anyway. Because of course, we then had cake to eat! However, when complaining to my mother about this unbearable situation (OK, so I might have been a little over-dramatic) she suggested making a fridge cake next time he asked.
So I looked up some recipes, adapted it to our tastes, and got the ingredients ready. I didn't have to wait long! Now I will be honest and say that this "cake" is neither a cake, nor anything remotely close to being healthy. But it is super easy to make, very forgiving, can be adapted in many ways AND tastes great. So for a special treat, give it a go and let me know what you think!
Start by placing some graham crackers in a bag and bashing them up. We did use reduced fat ones – a vague nod to trying to be healthy! F really enjoyed pounding the crackers!
To a saucepan, add butter, dark chocolate, milk chocolate and corn syrup.
Place over a low-medium heat and stir until everything has melted together. Note: My son was under constant supervision during this time.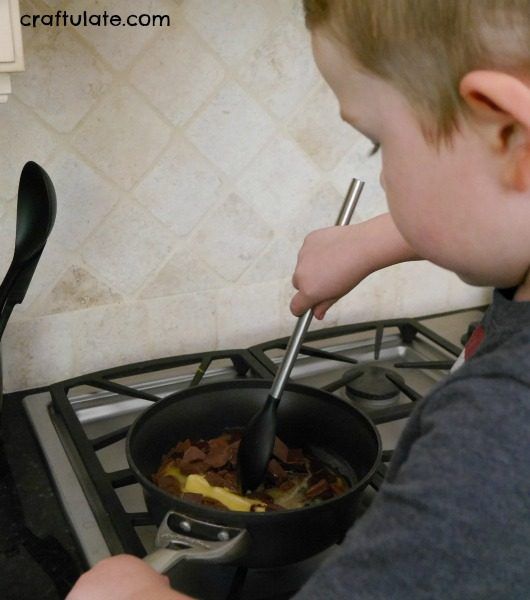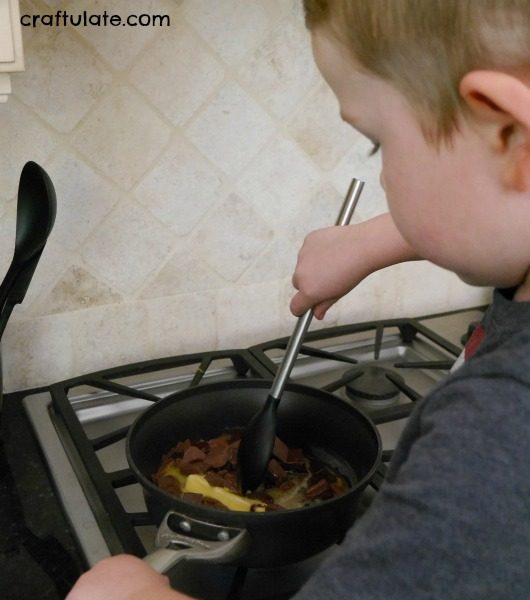 Transfer the ooey gooey chocolaty mixture to a large bowl. Add the graham cracker crumbles and some mini marshmallows.
Stir well, then pour into a baking dish lined with parchment paper. My dish was 6×9″, but a 7×7″ or 8×8″ dish would also work fine.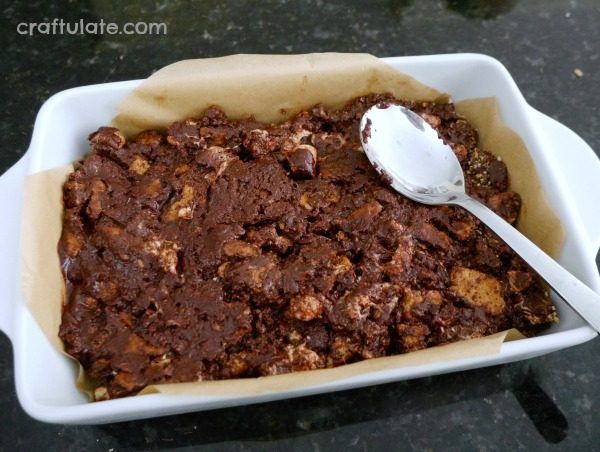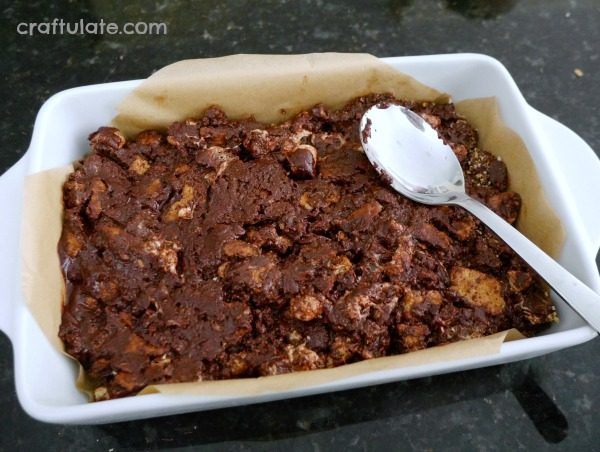 Smooth out the mixture until it is level, then place in the fridge. Chill for 1-2 hours or until firm. Turn out onto a chopping board and cut into 15-16 sections (other than supervising the melting stage, this was the only part I did by myself!).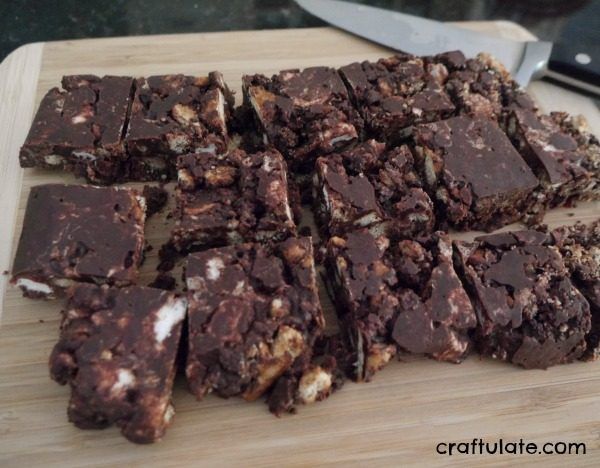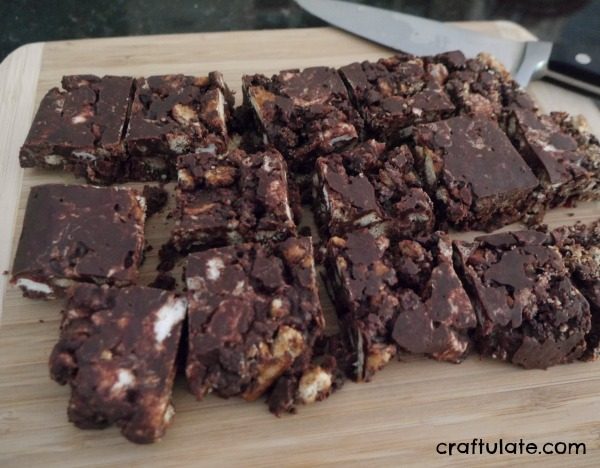 Enjoy the amazing indulgent treat! And maybe let your kids try it too…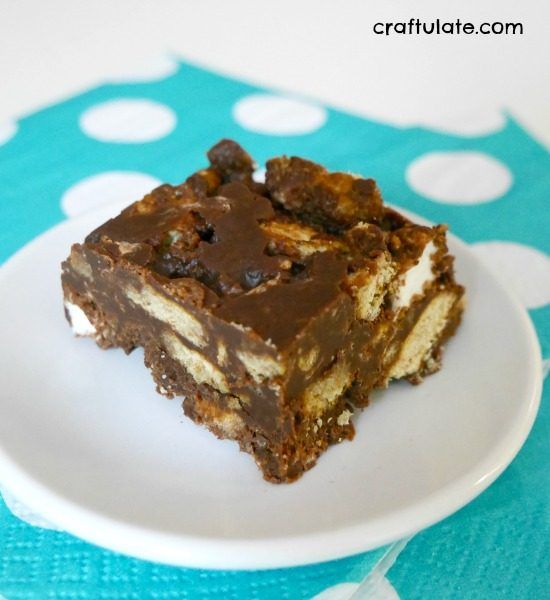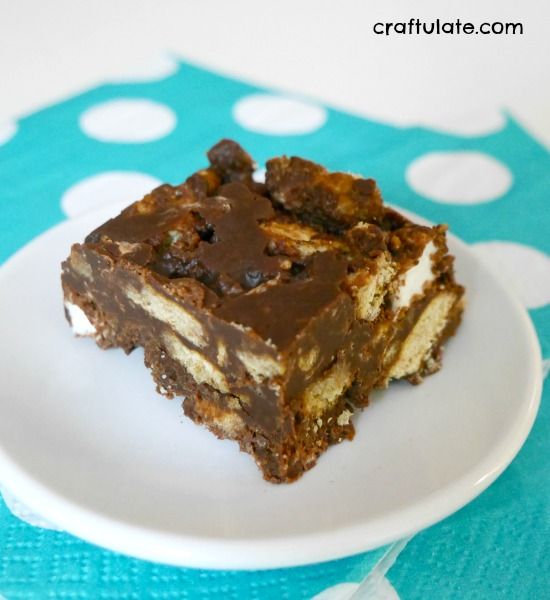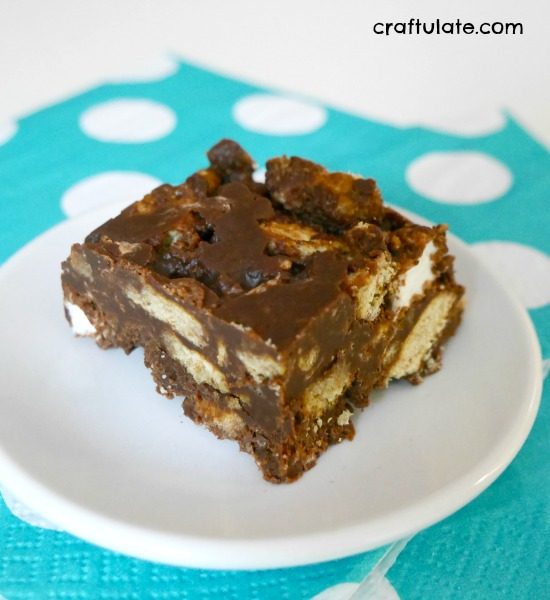 [bctt tweet="Rocky Road Fridge Cake #kidsinthekitchen #cookingwithkids" username="craftulate"]
Rocky Road Fridge Cake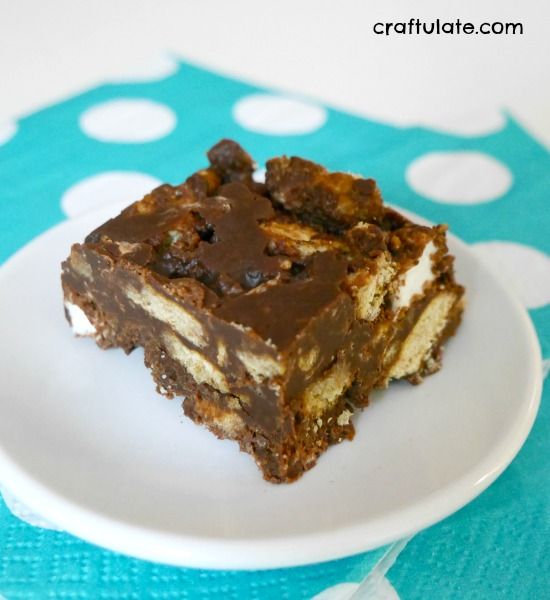 Ingredients
5 oz graham crackers
4 oz unsalted butter
7 oz milk chocolate
3.5 oz dark chocolate
2 tablespoons corn syrup
2 oz mini marshmallows
Instructions
Line a small square or rectangle dish (approx 7x7") with parchment paper.
Place the graham crackers in a bag and break them into small pieces.
To a saucepan, add the butter, chocolate (both types) and the corn syrup.
Heat over a low-medium heat until fully melted.
Pour into a large bowl. Stir in the graham crackers and marshmallows.
Transfer to the prepared dish, and smooth over until flat.
Leave in the fridge to chill until set - about 1-2 hours.
Turn out onto a chopping board and cut into 15-16 pieces.
© 2023 This recipe is copyright of craftulate.com, do not reprint or republish without permission.
Want to switch it up a bit? Dried fruit and chopped nuts make a great addition or substitution to the marshmallows!