Jump to recipe
This Princess Slime is a fun play recipe that provides a very tactile sensory experience – and it's sparkly!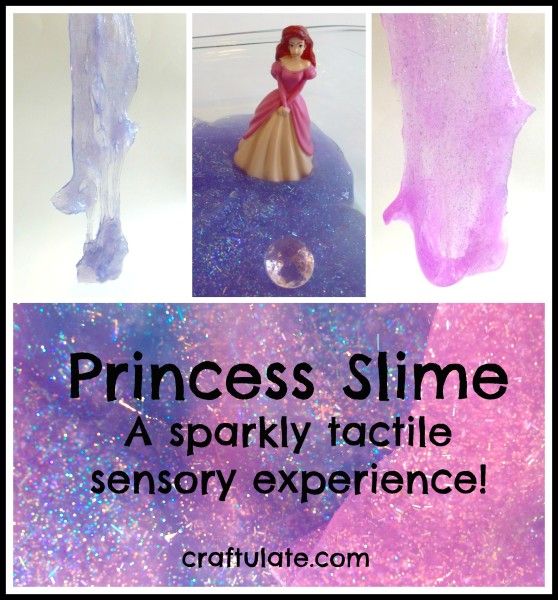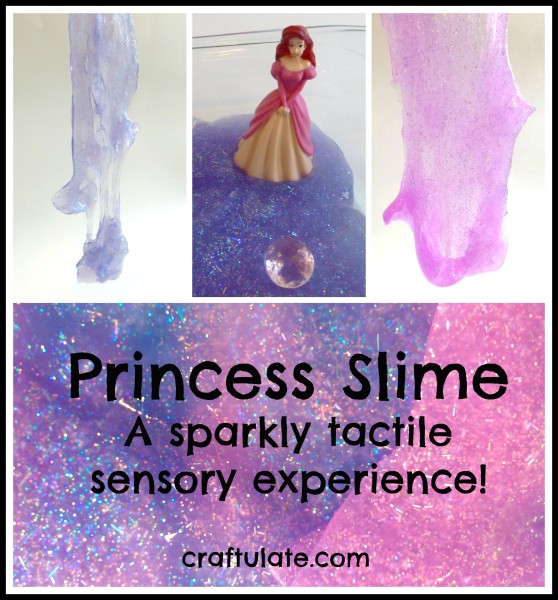 The following post contains affiliate links, which means that at no extra cost to you I can make a tiny bit of money to help support this blog. Thank you!
Oh yes, slime is for girls too, so why not make it with a princess theme?!? Some friends of ours came over for a playdate and the two girls (Miss E (6yrs) and Miss L (4.5yrs)) are princess obsessed, so I enjoyed the challenge of making something that they would enjoy. It makes a change from trains, at least!
I considered that the most essential element to the slime would be glitter. I'd made non-glittery slime before by combining clear glue, liquid starch and food dye. Could I add loose glitter to that? However, then I came across clear glitter glue in pink and purple, and my way forward was clear!
Note: Two important things I want to mention if you're considering making some slime. First, it is NOT safe to be consumed in any quantity. Second, do NOT dispose of the slime down the sink – it may cause plumbing issues! 
How to make slime
6 oz bottle of glitter glue (Elmer's have a pack of three 6 oz bottles, pink, purple and green)
4 oz liquid starch (found in the laundry aisle of big supermarkets or via Amazon)
Combine the two ingredients – it will feel very strange! Keep mixing until a slime has formed. Yep, it still feels strange! You could coyly use a spoon to mix like I tried to get away with, but really you just need to get in there with your hands. The glue will slowly absorb all the liquid starch so it isn't so sticky.
Note: If you have any trouble making your slime, check out this fab post from Fun at Home with Kids: How to Fix Slime Fails!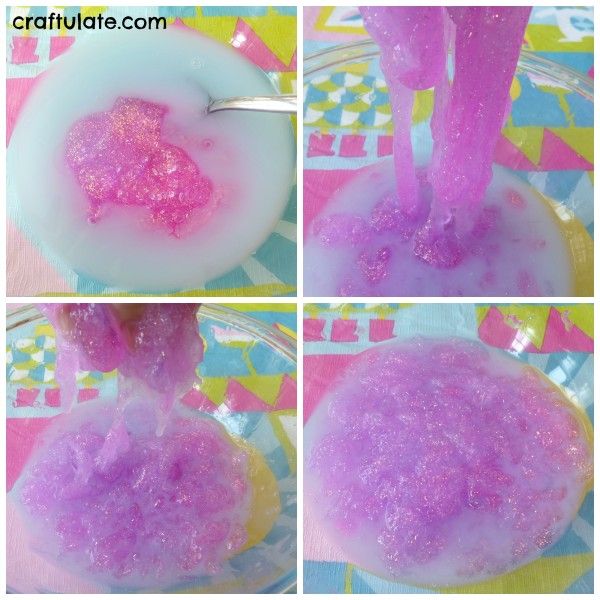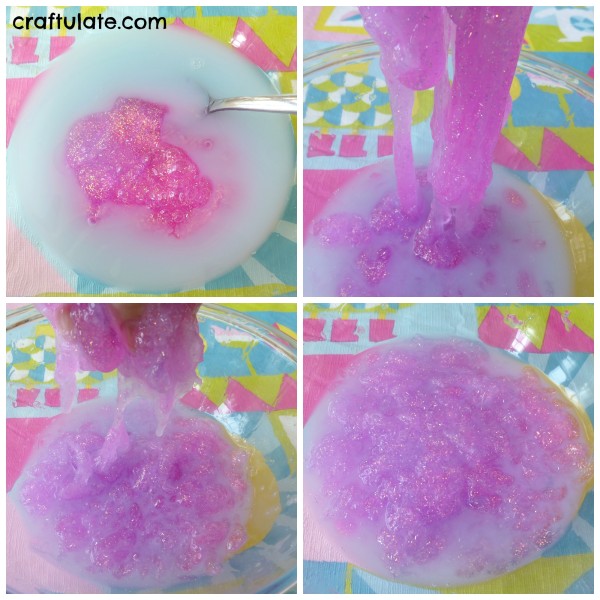 I made the slime the day before the playdate, and stored it in resealable plastic bags overnight. The next day I found that a little of the liquid starch had separated out but I just blotted it with some kitchen paper. I extracted the slime from the bags and placed both colours in a large glass baking dish. To make the slime extra-princessy I added some figurines, plastic gems, and some shaped plastic links.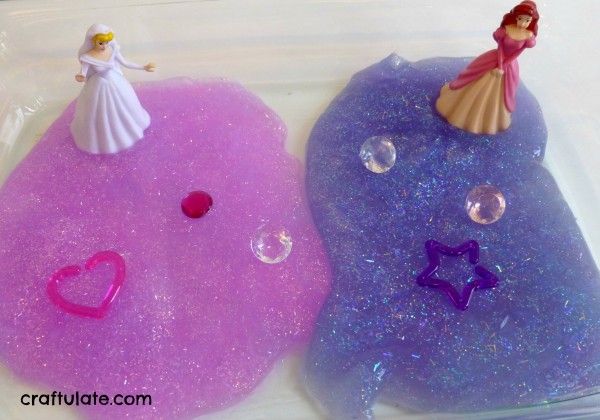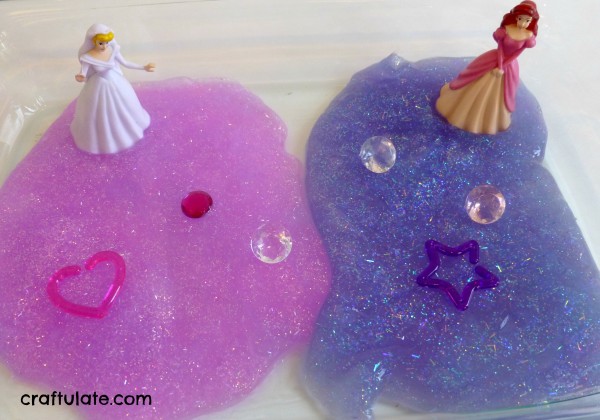 The two girls played *very* differently. Miss E wanted to make pretty pictures and patterns, but *really* didn't want to touch it.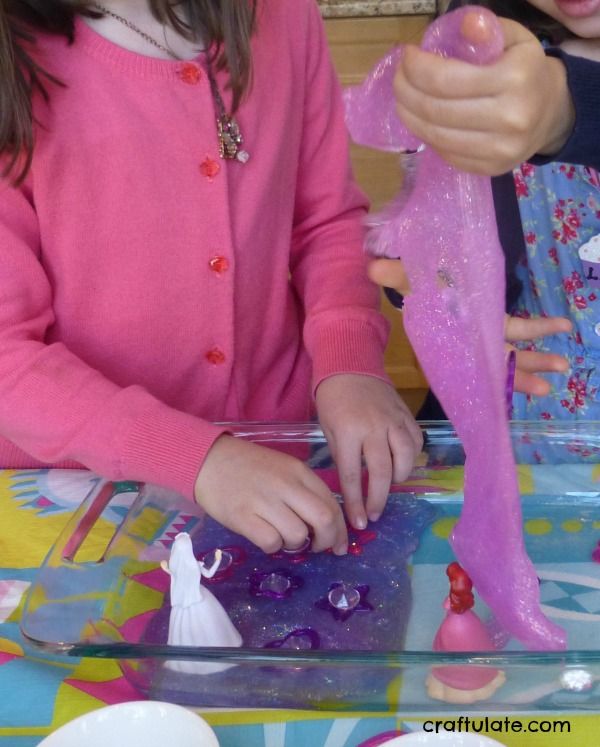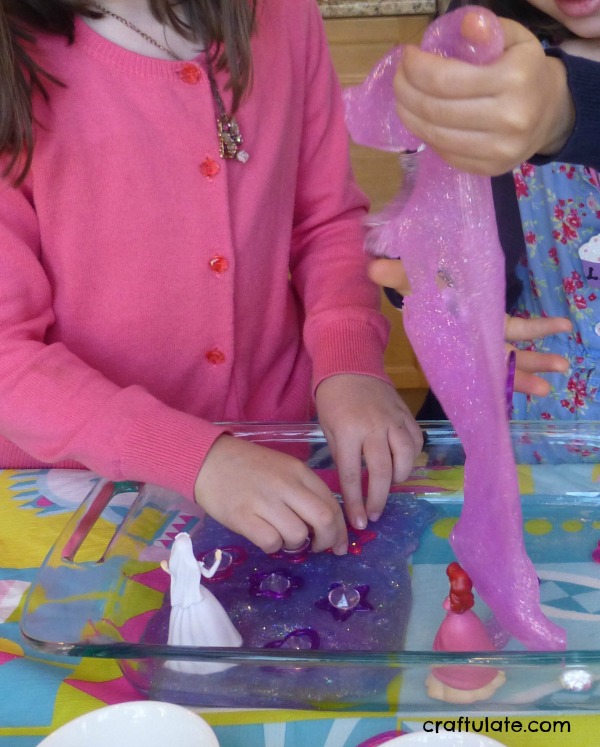 Meanwhile, her younger sister Miss L was quite the opposite, and couldn't put the slime down!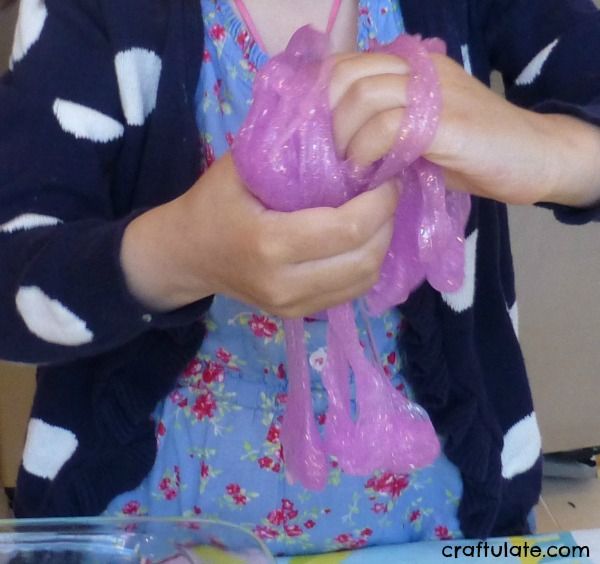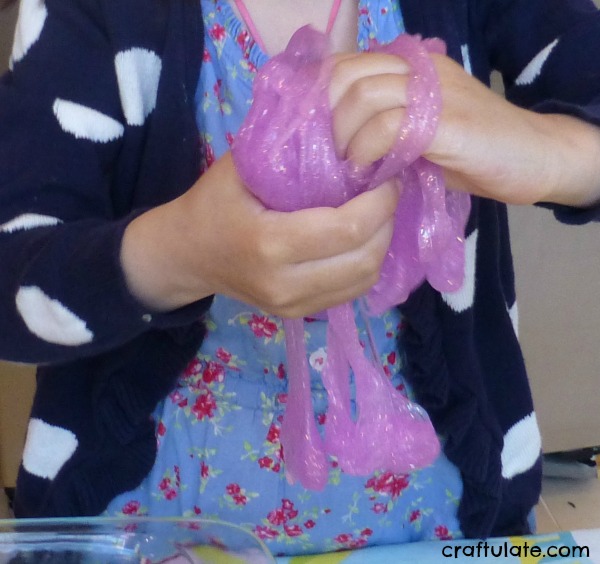 I just love how differently they played – even separating out the slime in the baking dish!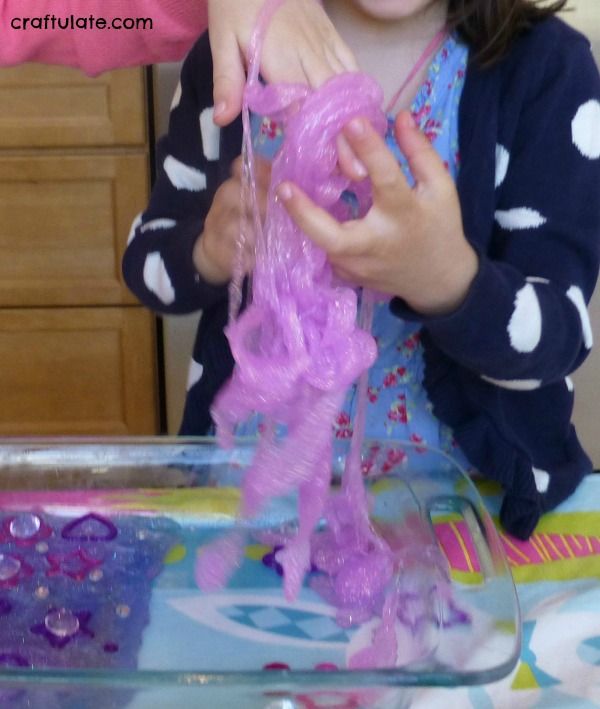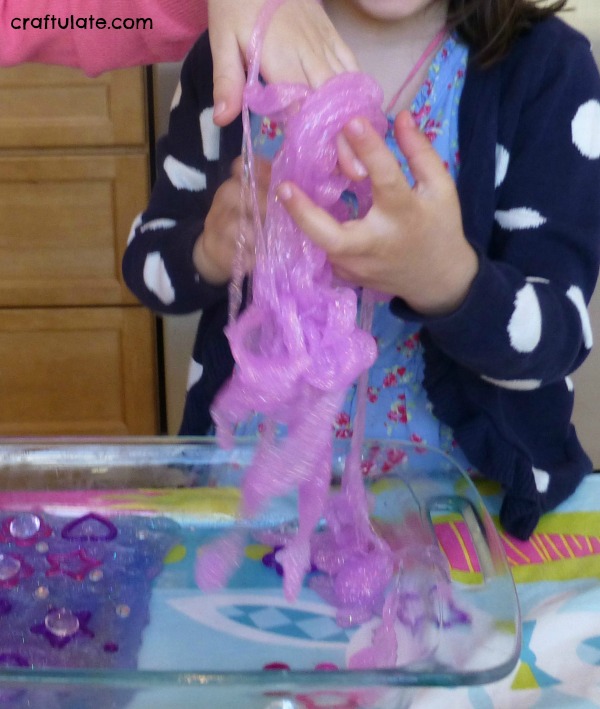 Need help making some slime? Check out my video!
Princess Slime


A homemade slime recipe with a Princess theme! (DO NOT EAT)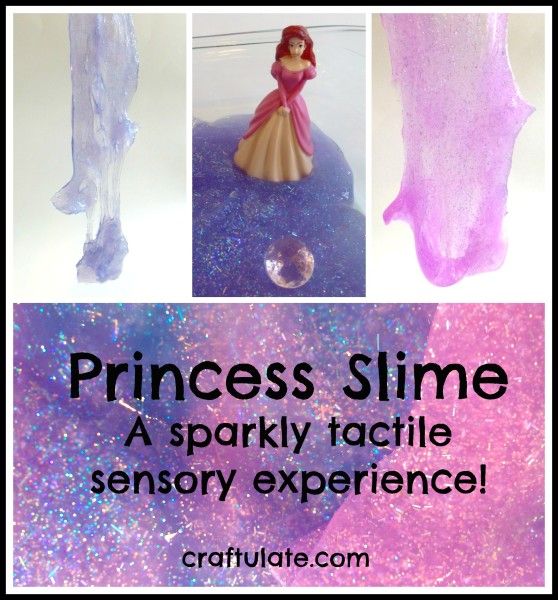 Ingredients
6 oz bottle of glitter glue (pink or purple)
4 oz liquid starch
Instructions
Combine the two ingredients in a bowl and keep mixing until the slime has formed.
If the mixture is too sticky, add extra liquid starch.
Knead with your hands until the slime is smooth.
© 2023 This recipe is copyright of craftulate.com, do not reprint or republish without permission.
[bctt tweet="Princess Slime – a sparkly tactile sensory experience #slime #princess #sensoryplay" username="craftulate"]