We are taking part in the Summer Survival for Moms of Boys series, and I'd love to share the train track scenery that we made from modelling clay!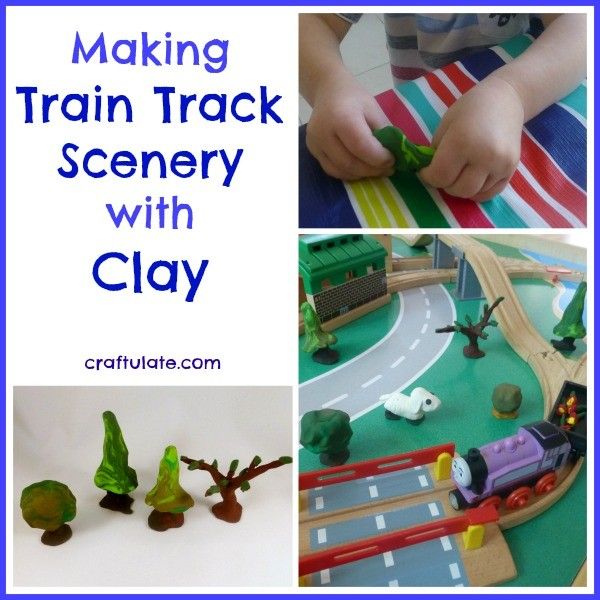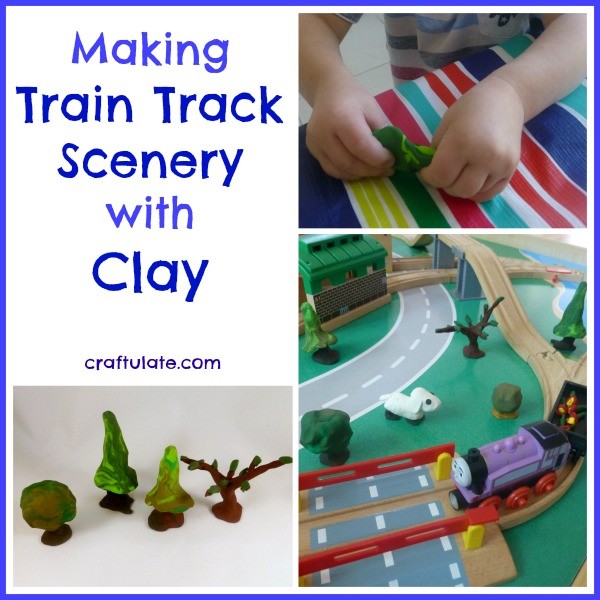 The following post contains affiliate links, which means that at no extra cost to you I can make a tiny bit of money to help support this blog. Thank you!
We have only "dabbled" with modelling clay once before, and that was the non-hardening type. For this project I wanted to make some permanent scenery items for my son's ever-in-use wooden train tracks. I bought a pack of 30 different colours of oven-bake clay and did a little trial run.
I made a bare tree, a little bush and some flowers. They weren't very complicated or delicate, AND I managed to "burn" the flowers by overcooking the clay. However, after consulting this great informative post from The Blue Bottle Tree on baking clay, I was ready to try it out with F!
We started by adding leaves to the tree I had already made and baked.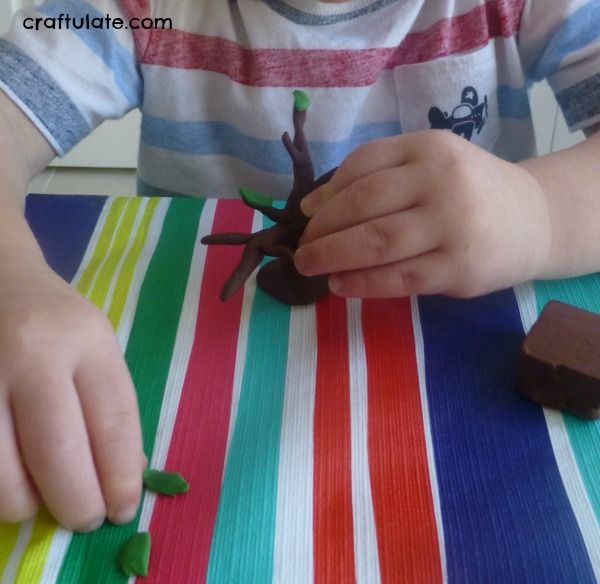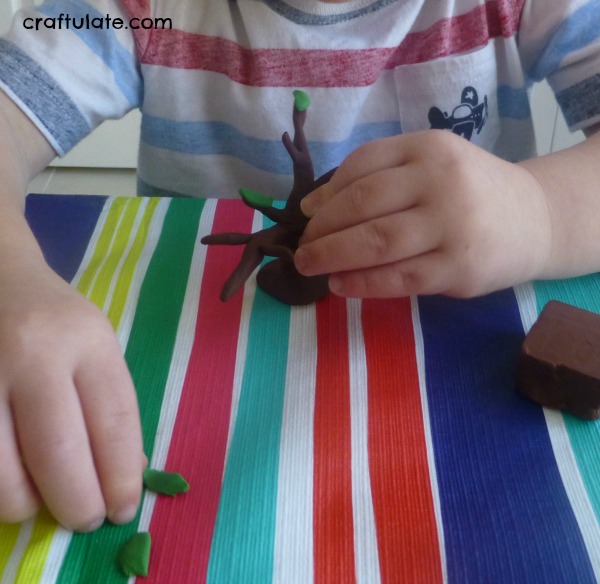 Then we made some more trees. I didn't think F would be able to make trees that needed a lot of detail, but I didn't want them to look monotone either. So I asked F to mix several colours of green clay together to make it look more interesting.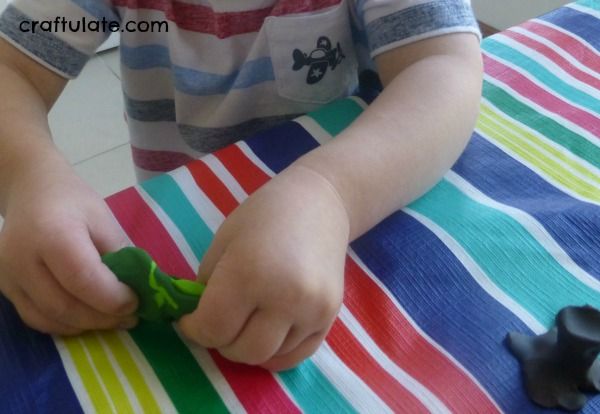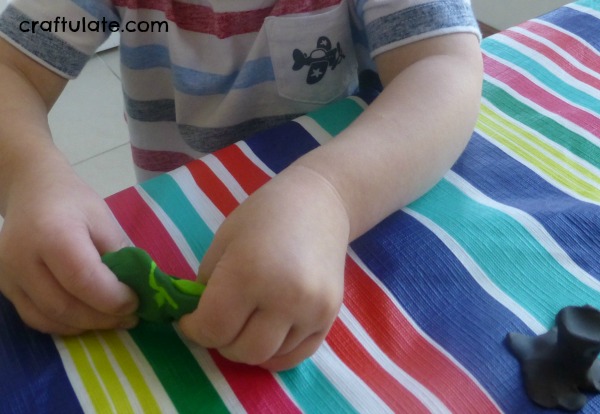 I asked him what else he wanted to make and he requested red flowers, so I got some pieces of red clay and he added yellow clay to the centre. I added stems to them.
Again I let him lead what we made next – this was for HIS train track, after all. He requested a sheep. Oh. Well that was a challenge! It took me quite a while and it looks rather dog-like AND completely out of scale with the trees, but he was happy!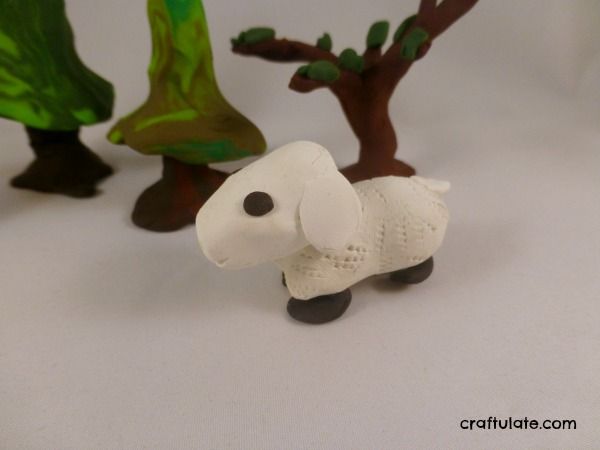 While I was busy with the giant dog/sheep F decided that the blocks of clay made excellent cargo, and spent quite some time putting them into his train's cargo car. Not quite what I had in mind, but never mind!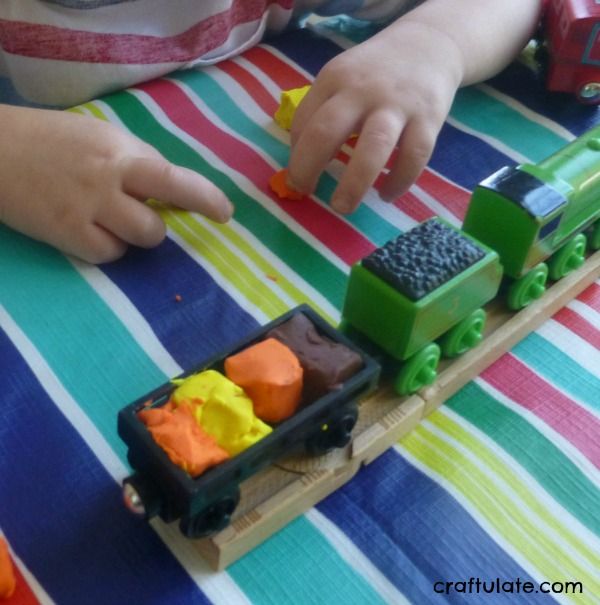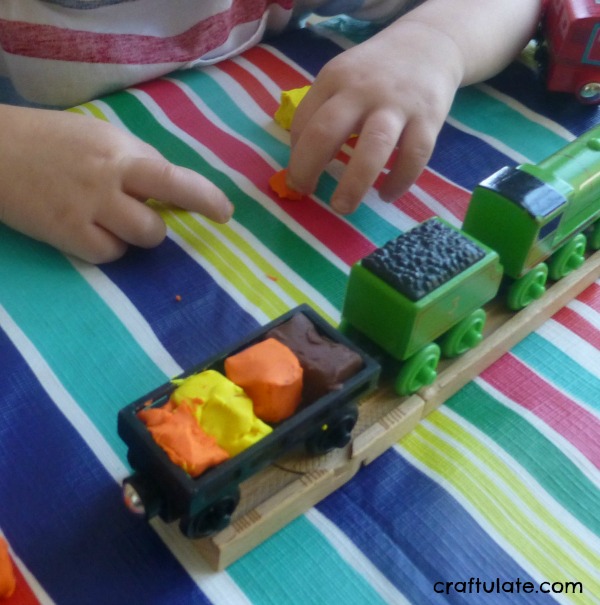 After baking and cooling, we placed the new scenery on his train track. The trees looked great and he immediately decided that the flowers should go in the cargo car.
Then he noticed the sheep and *that* had to go in the cargo car.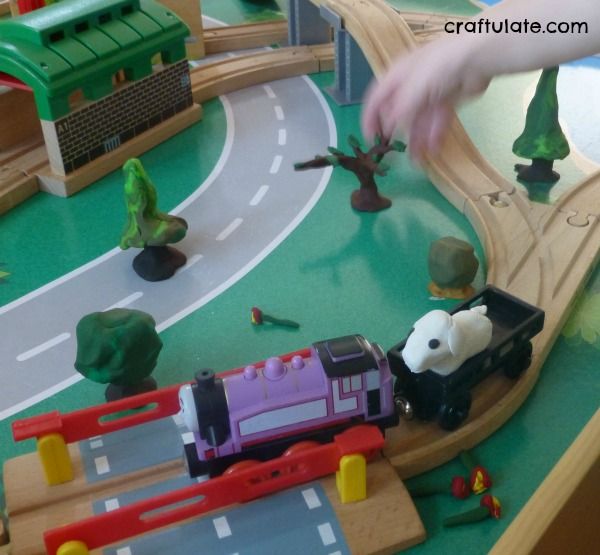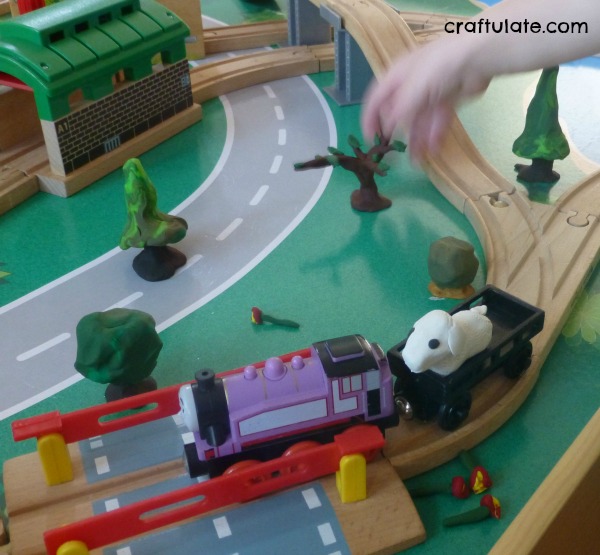 All in all a good morning's crafting and if F's careful with his new scenery he'll be playing with it for some time! In addition to the scenery that we made, you could make so much more for the train track such as people, more animals, cargo, or rocks. Or how about taking a walk outside and asking your kids to find items they would like to make for their train track?  It would be like a nature hunt with a creative twist!
Young children (and in my experience, especially boys!) often don't have the patience to sit quietly and work at a craft. But there are summer days where you can't go outside for one reason or another, and this is a great activity for those days. Knowing that it was for his beloved train track made him much more enthusiastic.
This post is part of the Summer Survival for Moms of Boys series hosted by The Joys of Boys, featuring amazing ideas and activities for the boys in your life!