Jump to recipe
These ladybug Oreo snacks are a super cute treat for kids!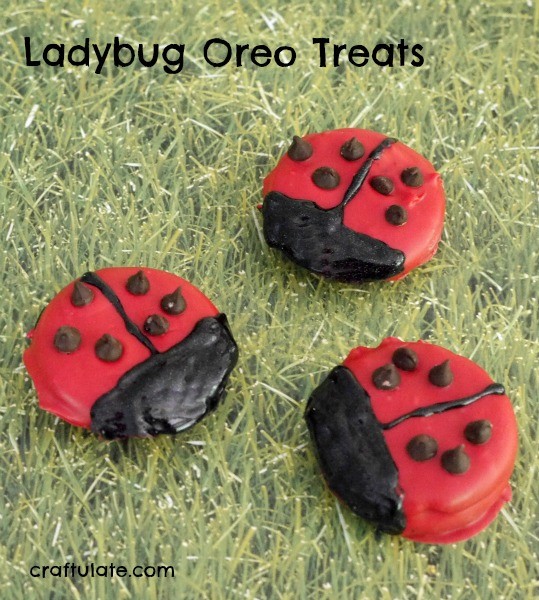 Disclosure: I was provided with these books from Penguin Young Readers free of charge in exchange for my fair and honest review. Please see my disclosure policy. This post also contains affiliate links, which means that at no extra cost to you I can make a tiny bit of money to help support this blog. Thank you!
Now you may be wondering why I am making ladybug snacks in October – aren't they more suited to a spring theme? Well I'd agree with you other than for a new release of a special gift edition of Ladybug Girl! Are you familiar with the Ladybug Girl books? Thanks to Penguin Young Readers we've been reading many of them, like Ladybug Girl and Bingo, Ladybug Girl and Bumblebee Boy, Ladybug Girl and the Best Ever Playdate, Ladybug Girl and the Big Snow (would make a great Christmas present), Ladybug Girl and the Bug Squad, Ladybug Girl and the Dress-Up Dilemma (perfect for Halloween!!), Ladybug Girl at the Beach and finally the new Ladybug Girl: The Super Fun Edition.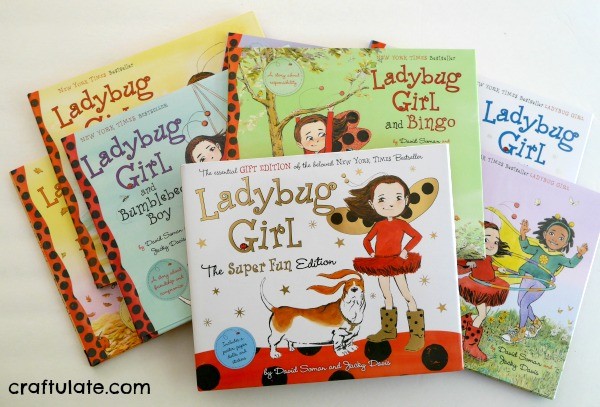 These well written books are beautifully illustrated and tell a gentle story with a simple message. My son absolutely loves the fact that LadyBug Girl's dog is called Bingo: we bought two puppies a few months ago and F named one of them Bingo!! So Ladybug Girl and Bingo is one of his favorites, as is Ladybug Girl and Bumblebee Boy because he often pretends to be a bee!
The Super Fun Edition comes with punch-out paper dolls of Lulu (Ladybug Girl) and Bingo, and 30 reusable stickers for dressing them up! The jacket of the book also opens up into a giant poster which I think is an inspired idea!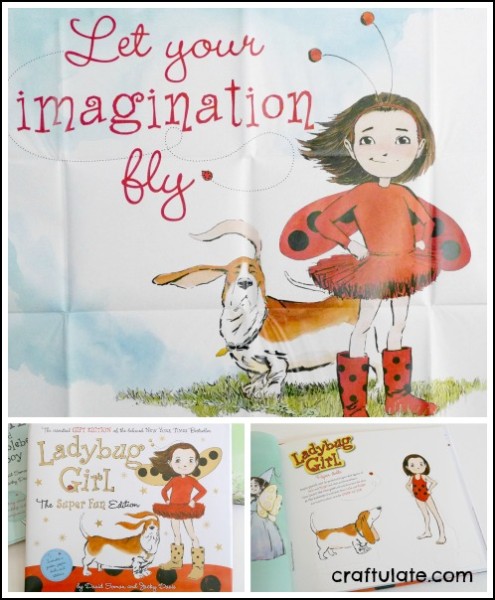 To celebrate all things Ladybug Girl – I decided to make some ladybug cookies! I'll confess that these aren't the healthiest treats in the world, but they *are* super cute! To make these cookies I used:
Reduced Fat Oreo cookies (it's got to help, right?!?)
Wilton Red Candy Melts (one bag covers about 20 Oreos)
Edible googly eyes
Mini chocolate chips

Melt the red candy according to the package instructions. Using the spoon, dip each Oreo into the melted candy, shake off the excess, then place it carefully on a baking sheet lined with a silicone mat or parchment paper.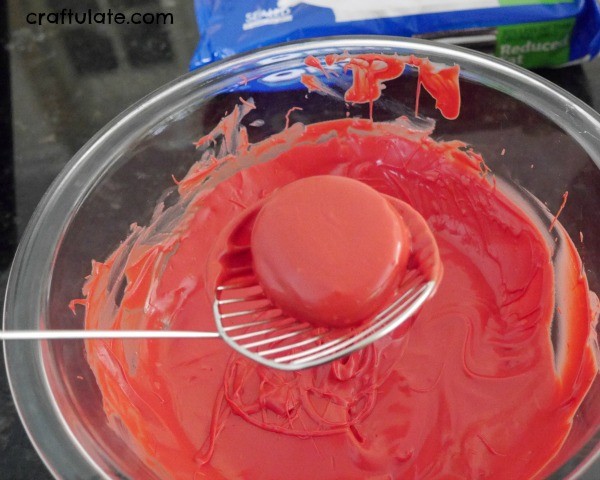 While the candy is still wet, place chocolate chips for the spots.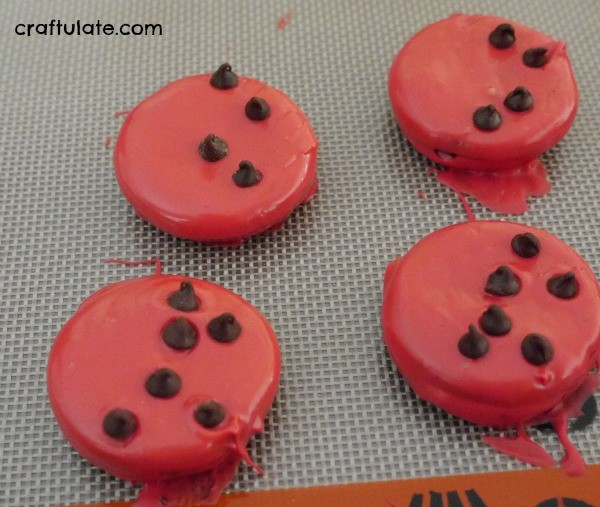 When the red candy coating has dried, add the head and wing division line with a black icing gel pen. I accidentally bought a sparkly pen!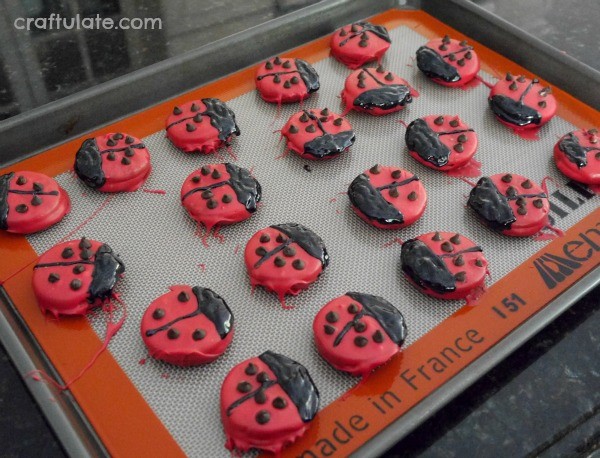 [bctt tweet="Super cute #ladybug #Oreo snacks inspired by the #LadybugGirl books!"]
I had originally intended to add edible googly eyes (these lovely ones that have eyelashes!!!) but in fact they were too big and the cookies looked cuter without them. Plus these snacks probably didn't need any extra sugar!
Ladybug Oreo Treats


Cuisine
American
Category
Food
These ladybug Oreo snacks are a super cute treat for kids! 


Ingredients
20 Oreo cookies (reduced fat, if you prefer)
1 bag Wilton Red Candy Melts
Mini chocolate chips
Black gel icing pen
Edible googly eyes (optional)
Instructions
Melt the candy melts according to the pack instructions. Dip each Oreo into the melted candy, turn to coat, shake off the excess and place on a silicone mat.
Add chocolate chips for the ladybug spots and leave to dry.
Use black icing to make decorate the head and wing division line.
Add edible eyes if desired.
© 2023 This recipe is copyright of craftulate.com, do not reprint or republish without permission.
To get the latest information about books from Penguin Kids – follow them on Facebook and Twitter!