I am SO excited about a new product line about to take the crafting world by storm called Creatify! I got to try out their Glitz and Glam pack.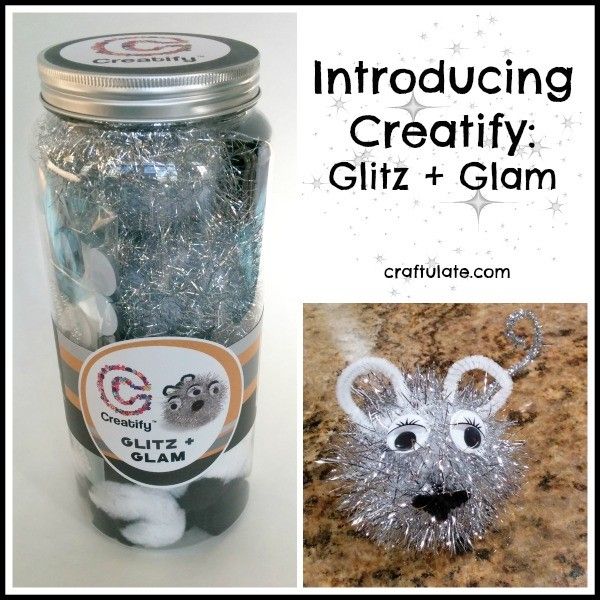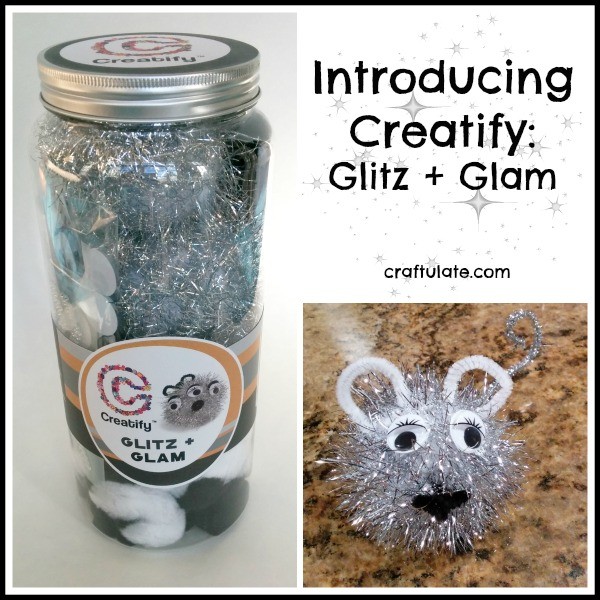 Disclosure: I was provided with this Glitz and Glam pack from Horizon Group USA free of charge in exchange for my fair and honest review. Please see my disclosure policy.
Don't you love to be the one who passes on good gossip? Well today that's what I have for you!! These packs from Creatify will be appearing in Target from March 2015. And as a regular Target shopper I couldn't be more pleased – not least as the prices will range from only $4.99 to $12.99! There are SO many new products that I would like to share with you, but first I'm going to show you the Glitz + Glam canister.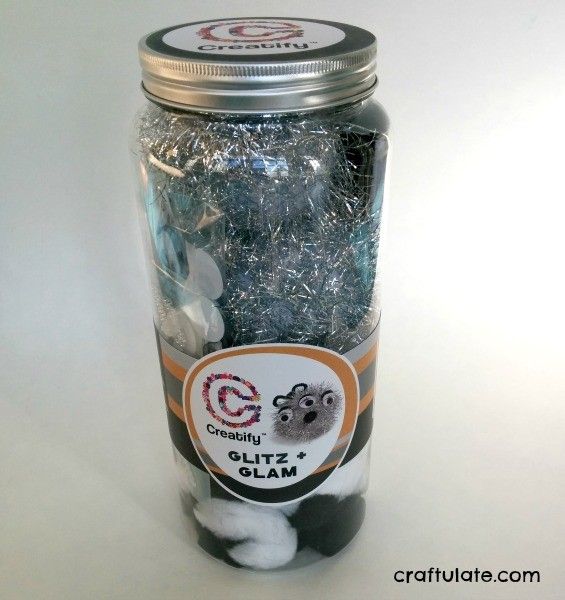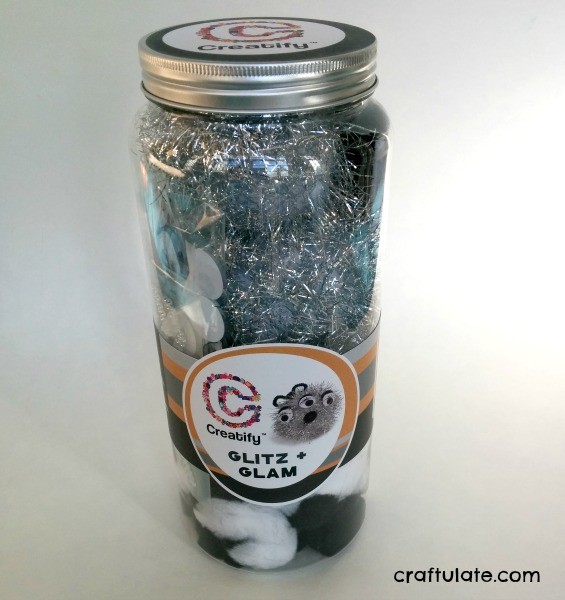 Two things to note – firstly the packaging is so pretty for these new products. This pack of craft materials comes in a tall plastic canister with a screw top lid. They're very pleasing to the eye, despite being plastic. And they will have lots of uses after the craft materials have all been used up. And secondly, note that I don't call them "kits".
Creatify's angle on this is that every child has a natural superpower – imagination! So for the most part these packs are a bunch of materials, and it is up to the child to decide how to use them. No instructions, no finished product ideas. Just some creative thinking required.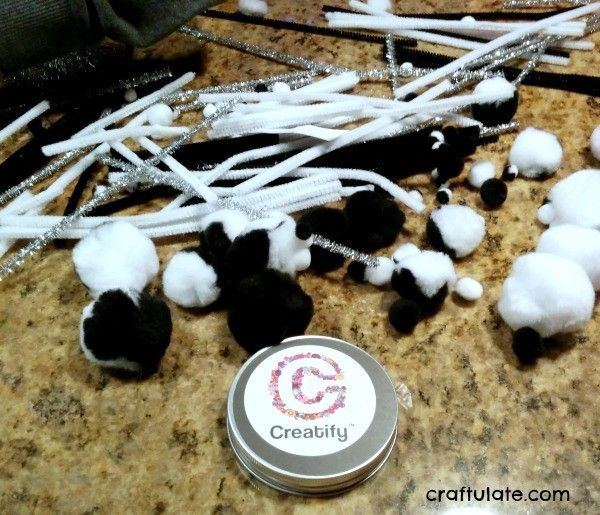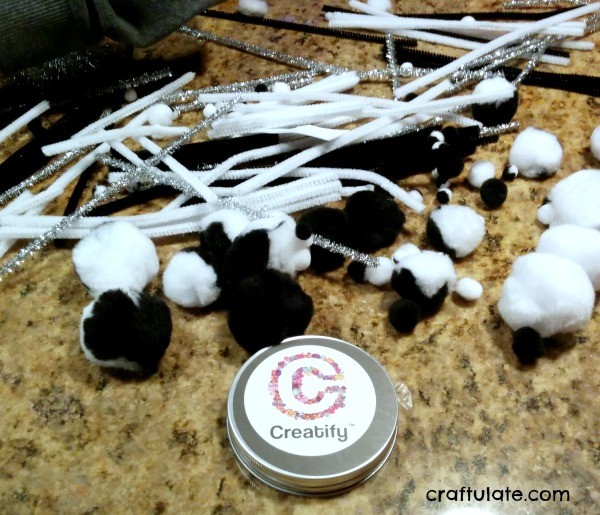 So, in this canister you will find the following:
87 assorted pom poms (yes, 87 – including teeny tiny ones and huge sparkly ones!)
glue dots
25 wiggly eyes (yay!)
3 chevron strips of adhesive sparkle stones
20 glitter sticks in two sizes (sparkly pipe cleaners)
72 fuzzy sticks in two sizes (regular pipe cleaners)
2 glitter shakers
I took the pack along to some sparkle-loving friends to see what they thought. We often have crafty playdates and I usually give some kind of direction. So after they ooh'd and ahh'd all over the contents of the container, they were rather stumped when I said they could create whatever they liked.
Miss E (nearly 7 years) decided to use the fuzzy sticks to make a chain. Miss L (5.5 years) was determined to use one of the huge sparkly pom poms and tried to use the glue dots to stick wiggly eyes to it.
The glue dots weren't very successful with the sparkly pom pom so we did use some white craft glue for that. When we realised that the pipe cleaners could actually be inserted into the sparkly pom poms, then things got a bit more creative. I thought it was a great idea from Creatify to include two lengths of fuzzy sticks because who has a pair of wire cutters handy for craft projects? Note: I have to confess that I hid the glitter shakers from them. Firstly we weren't at my house and you know how loose glitter can be… and secondly because there weren't any suitable surfaces for it. No matter, I shall find other uses for them!!
The highlights of this craft session were three mouse-type looking creatures and a sparkly necklace. If you look closely you can see the chevron sparkle stone strips at the top of the necklace and as a tiara on the top right mouse!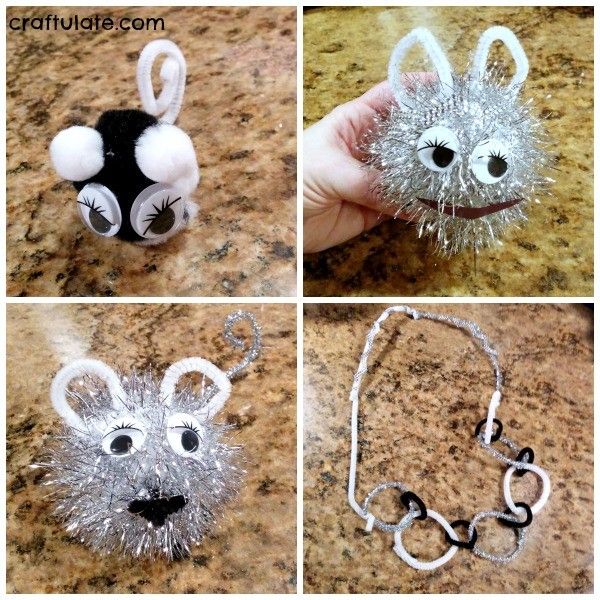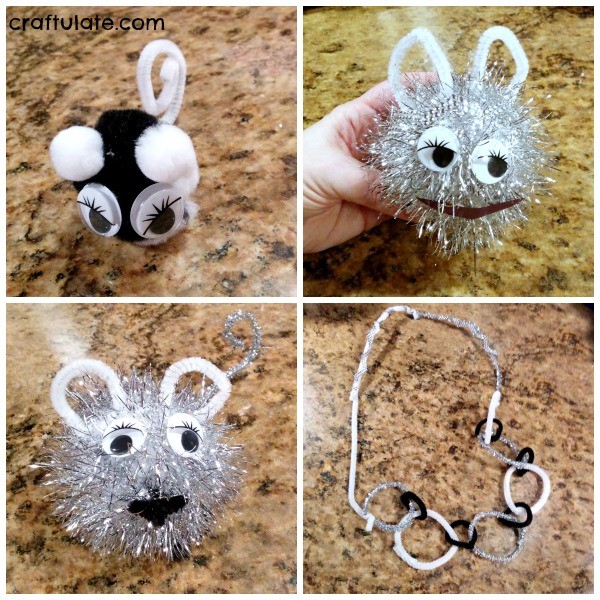 Here's a sneak peak at some of the other new products from Creatify – coming to select Target stores in March 2015!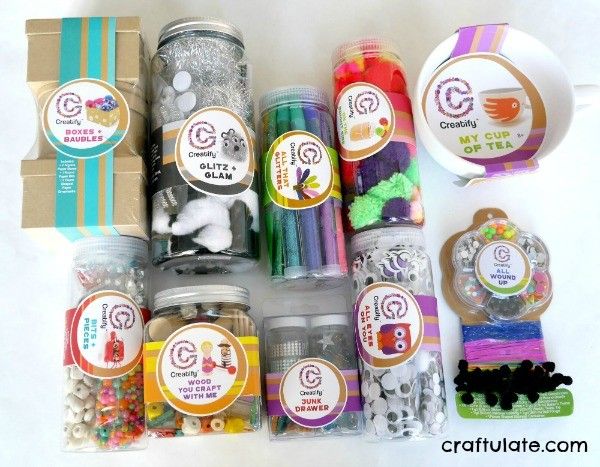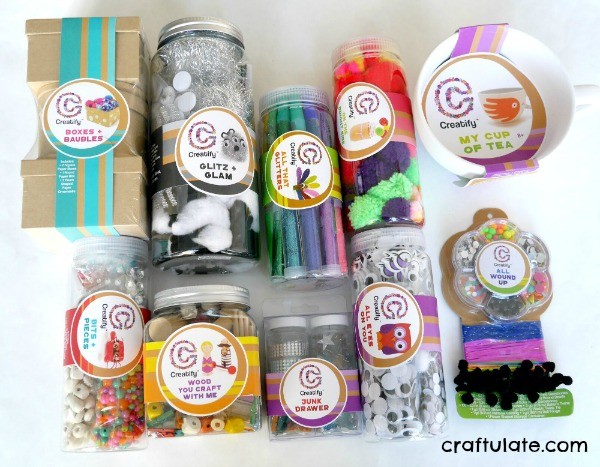 For more product information, check out the Creatify website and Facebook page!