Jump to recipe
These fruit and nut crispy cakes are great to make with young kids!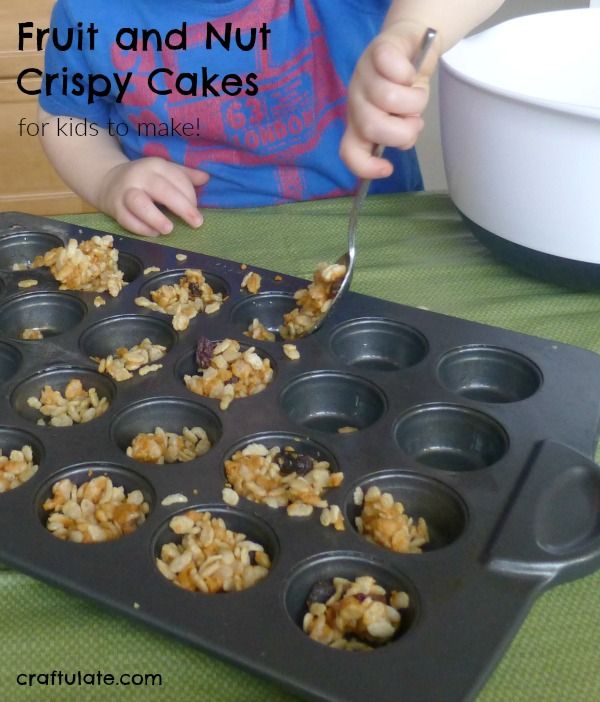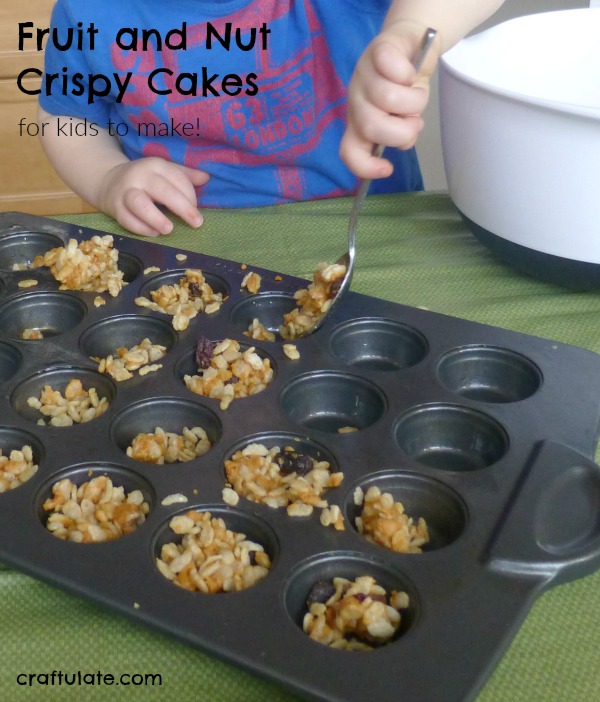 I consider myself to be quite a hands-on mother – but somehow I get nervous about the idea of involving my 2.5 year old in the cooking. But making these crispy cakes with him might just have changed my mind!
This recipe was inspired by mama.papa.bubba – until I read this I had no idea that brown rice cereal even existed! I couldn't find brown rice syrup easily so this is my amended version.
2 cups crispy brown rice cereal
½ cup smooth almond butter
4-6 tbs honey
¼ cup raisins

For me, this recipe was all about balance  – I didn't want the cakes too sweet but they needed to stick together. We started with 4 tbs honey and I later added another 2 tbs.
To start with I got F to lightly brush a mini muffin pan with some oil. I wiped off the excess oil when he wasn't looking. 🙂 While he was doing that I gently melted the almond butter and honey together.
Then I tipped the almond butter/honey mixture into a large bowl containing the cereal.  At this point F mistook my instruction to "tip the raisins into the big bowl and give it a good stir" for "please eat as many raisins as you'd like". Hmmm.
But then he did give it a good stir and he even left some of the raisins in the mixture.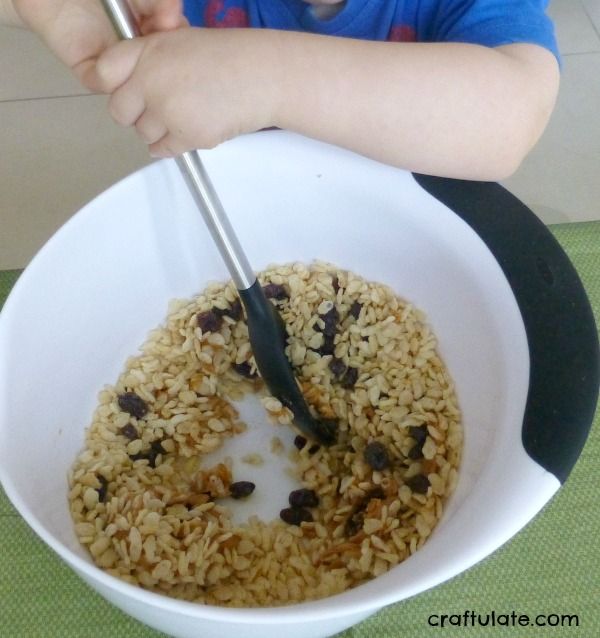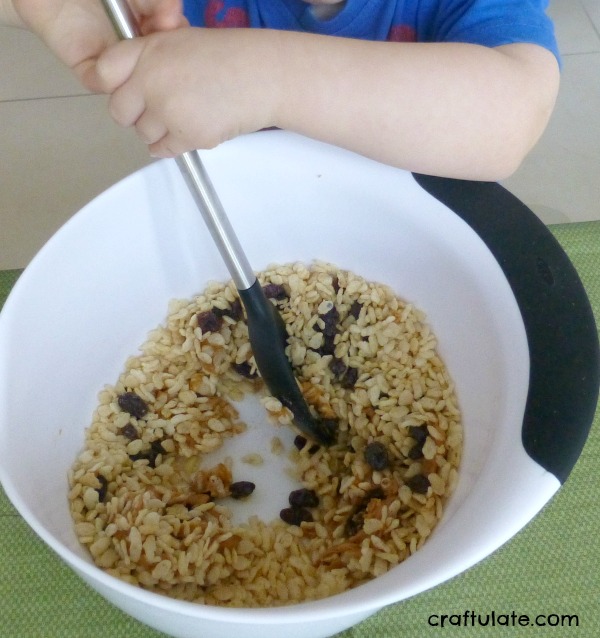 Then he carefully spooned out the mixture into the muffin pan. This took him nearly ten minutes but he sat quietly doing it!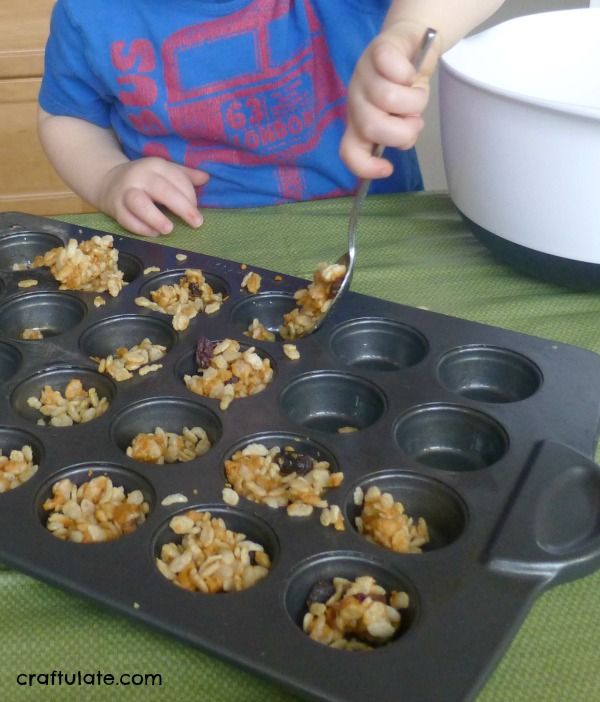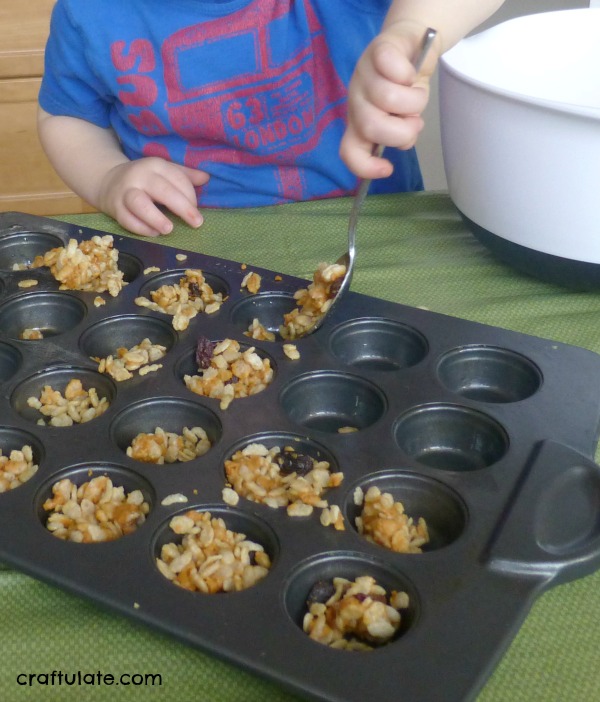 Then he helped me flatten the cakes by pressing down with the back of a spoon.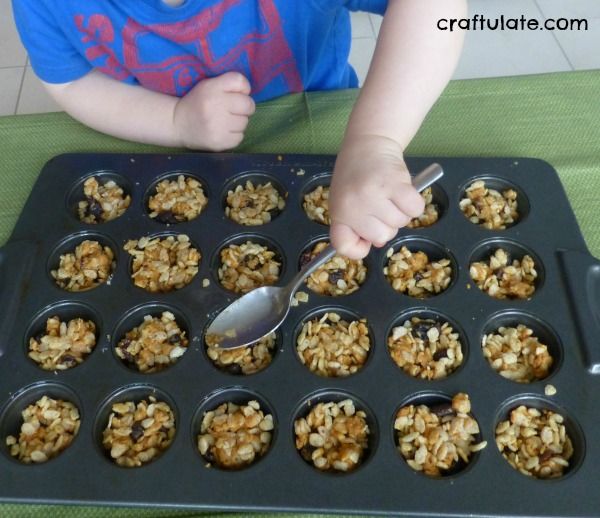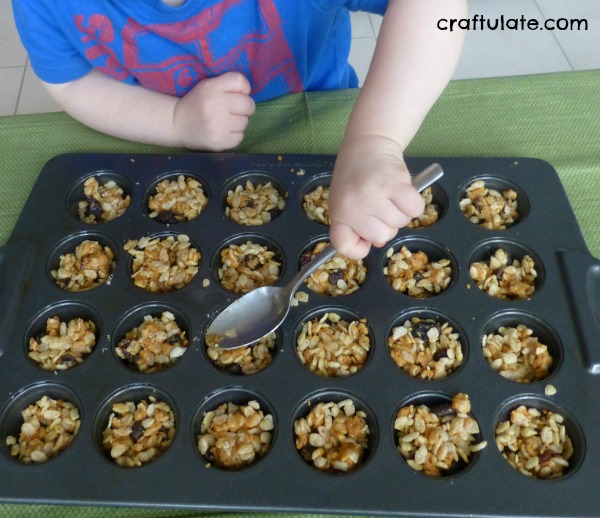 Because I'd said that we were cooking, I put the cakes in a (cold!) oven to pretend that we were baking them. Then after we cleaned up and he had wandered off, I whipped them out of the oven and put them in the fridge to cool. The cakes only *just* held together, but the sweetness was right. Perhaps more almond butter would have helped.
F hadn't eaten anything like this before – but he seemed to approve!
Fruit and Nut Crispy Cakes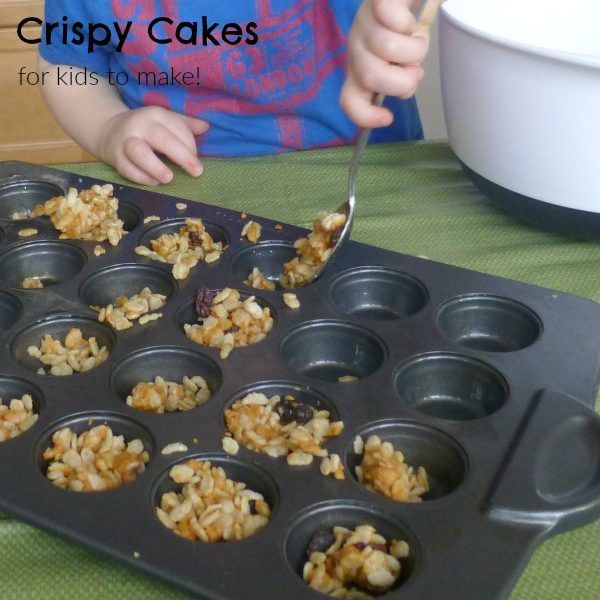 Ingredients
2 cups crispy brown rice cereal
½ cup smooth almond butter
4-6 tbs honey
¼ cup raisins
Instructions
Lightly grease a 24-hole mini muffin pan.
Gently melt the honey and almond butter together in a saucepan.
Pour the honey butter mixture into a large bowl and add the remaining ingredients. Stir well.
Spoon into the mini muffin pan and use the back of a spoon to flatten them.
Place in the fridge to set.
© 2023 This recipe is copyright of craftulate.com, do not reprint or republish without permission.