This year I kept things simple for our Elf – and each day he brought a new puzzle piece!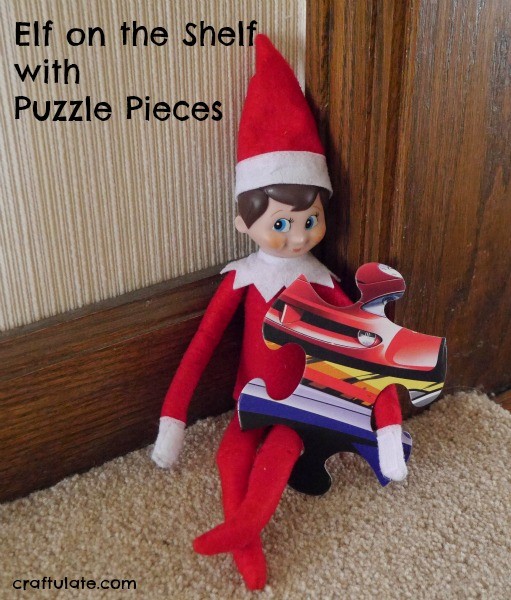 The following post contains affiliate links, which means that at no extra cost to you I can make a tiny bit of money to help support this blog. Thank you!
We started the fun (but potentially stressful) tradition of Elf on the Shelf two years ago. My son was only 2.5 so I kept it simple – no pranks, just fun stuff he'd appreciate (check that link if you want to see how I made him more movable and with Velcro hands!). Last year I brainstormed a load of simple places or positions that the Elf could be found  a week before he arrived. This meant I could just refer to the list in the panic each night and get the Elf moved. I also set a timer on my phone in the evening to remind myself!
Oh and a quick note about the whole Elf on the Shelf thing: our Elf just moves, sometimes brings gifts, and sometimes does silly things. We have the "don't touch" rule but I don't ever mention the naughty or nice angle to it, even thought it is mentioned in the book and the related movie.
This year I wanted some sort of theme. Looking over the previous years I noticed that our Elf (called Cecil, by the way) brought a festive puzzle with him one morning. I decided to use the puzzle theme and let the Elf bring one piece each day – with a few other bonus gifts thrown in! This would build anticipation not only for finding the Elf, but for completing the puzzle. My son is obsessed with Hot Wheels right now, so I picked out a "Make 'Em Move" 24-piece puzzle for him (it has moving parts – how cool?!?!). They also have dinosaur moving puzzles and construction site versions.
Our Elf arrived the day after Thanksgiving as usual. He brought the first puzzle piece which made my son think that the Elf had hidden the rest of the puzzle somewhere in the house! I let a short search go on before suggesting that maybe we should wait until the next day and see if he brought the rest. Of course, the next day, he brought only the second piece!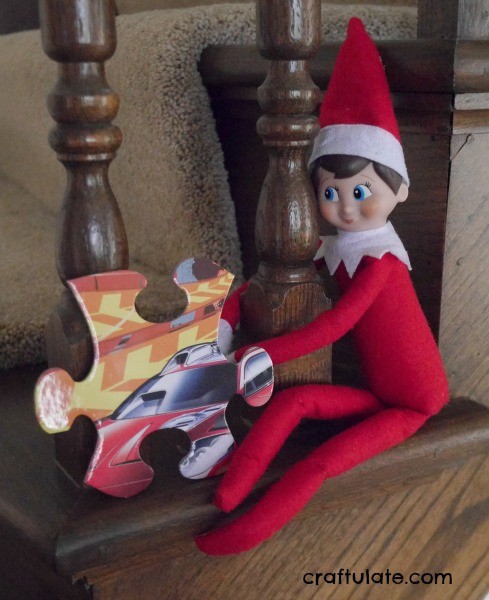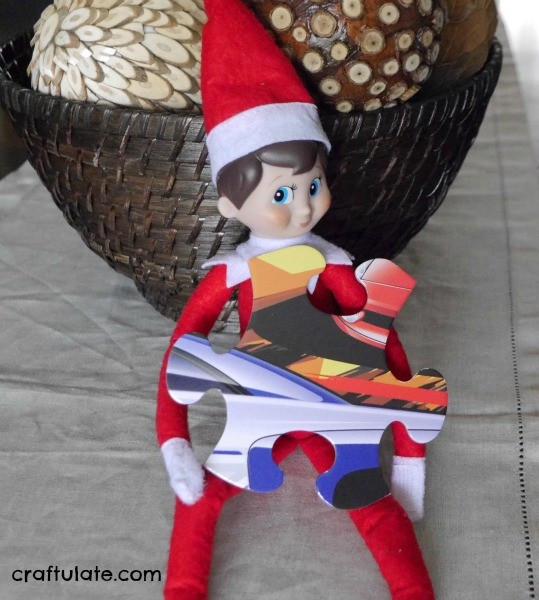 I thought I would let the Elf bring random pieces, but changed to provide pieces that would connect to the pieces F had already. Less chance of them getting lost! I made up the puzzle then put them in a fun order, pencilling a tiny number on the back.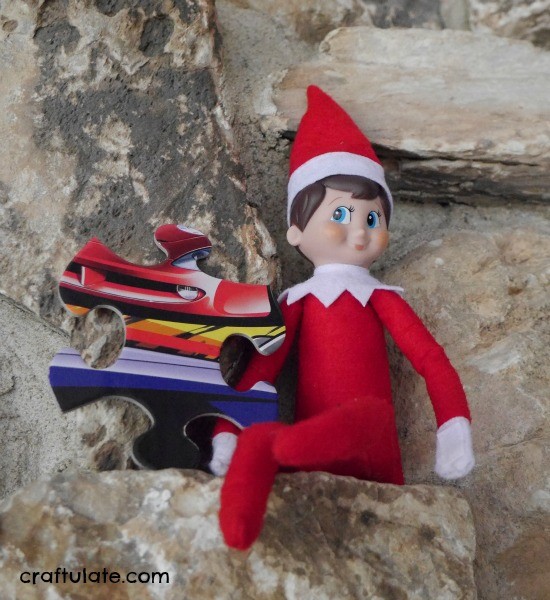 The Elf will bring a new piece each day – interspersed with a few extra items (like bringing our Advent Calendar!).
He will move to trickier locations, and as soon as the "just bringing a puzzle piece" idea gets a bit old, the Elf will bring one of the moving puzzle pieces!
#elfontheshelf - keep things simple and let the Elf bring a puzzle piece each day!
Click To Tweet
First update (Dec 8): Some more silly Elf positions and the puzzle so far – with the first moving part in place! F woke me up at 6.30am to show me as he was so excited!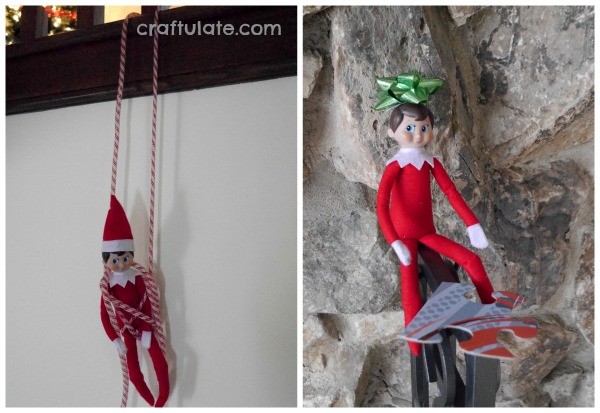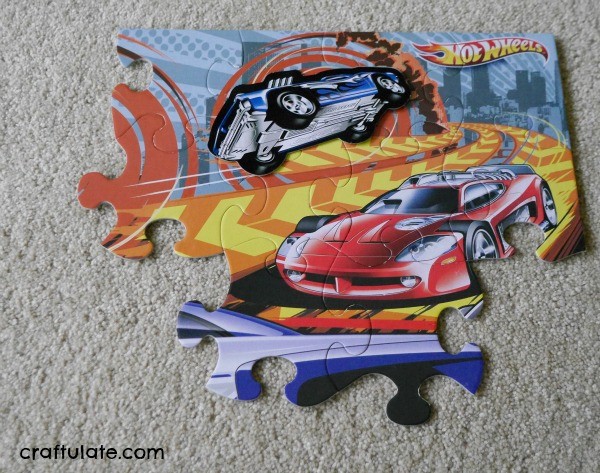 Second update (Dec 16):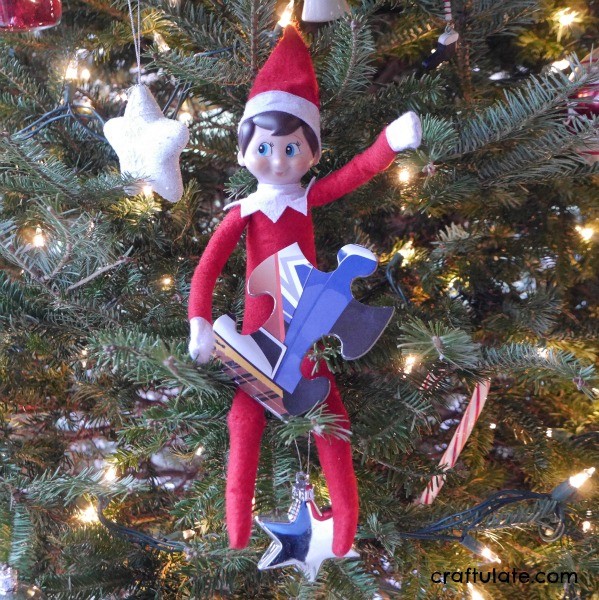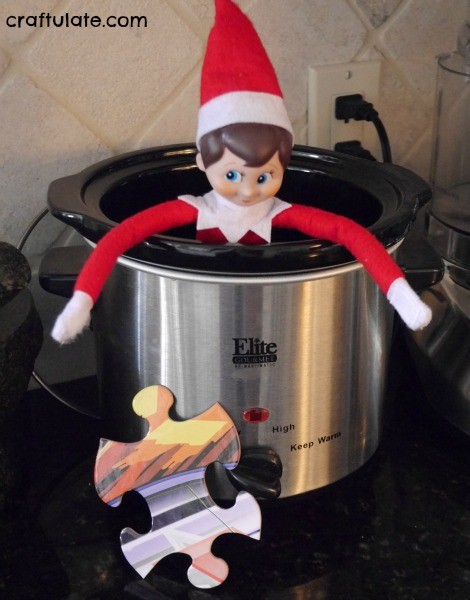 So that's what's happened so far!