This week's fine motor skill activity is SUPER frugal, and just uses an empty cardboard tube and elastic hair bands (hair ties).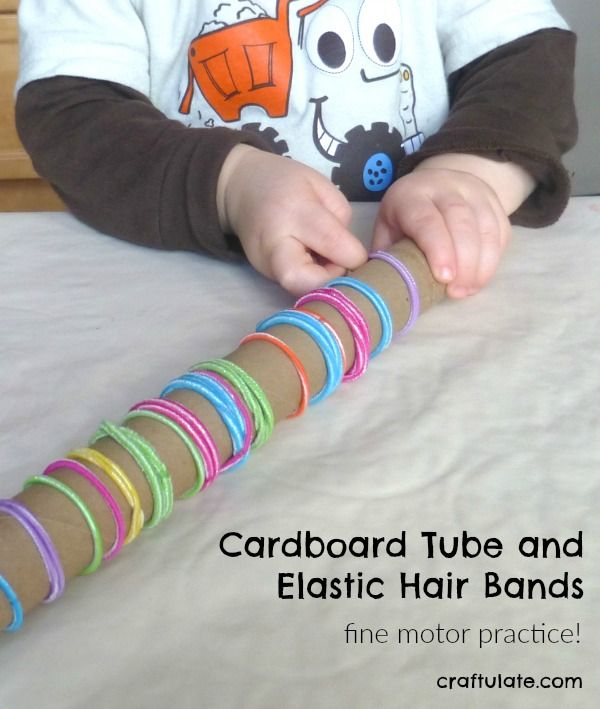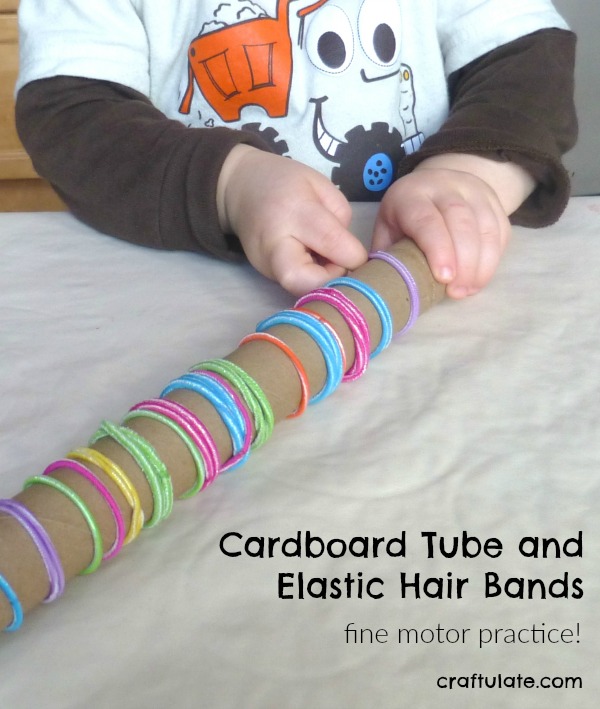 The following post contains affiliate links, which means that at no extra cost to you I can make a tiny bit of money to help support this blog. Thank you!
This activity was based around No Time for Flashcard's Fine Motor Skills Challenge, which involved unwrapping elastic bands from corks. Instead of the cork I used a strong cardboard tube (from kitchen foil rather than kitchen paper) and some coloured elastic hair bands instead of regular elastic bands. I threaded the bands onto the tube, doubling over where necessary. That's it – barely a minute's worth of set up time!



F can be rather territorial about empty cardboard tubes, so I knew that this activity would intrigue him! He'd not seen the hair elastics before but knew that they shouldn't be on "his" tube. The bands at each end of the tube were the easiest to remove.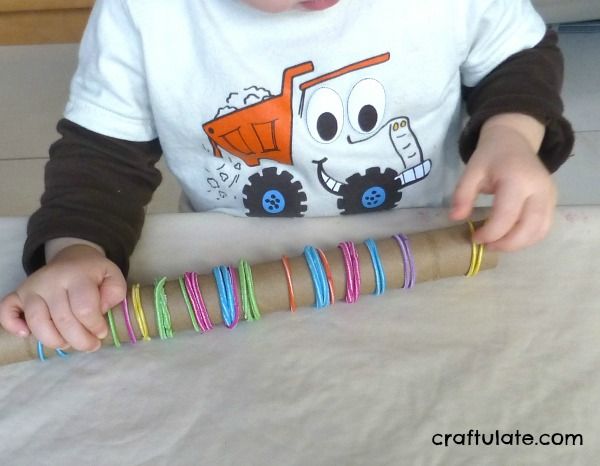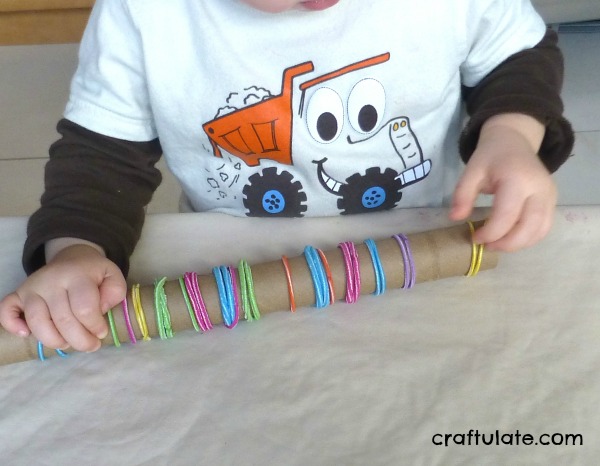 [bctt tweet="Make a #finemotor toy from a cardboard tube and hair bands. So easy!"]
But as he worked down the tube it became trickier to remove the hair bands. Grasping the band and then holding onto it worked on his pincer grasp and manual dexterity (adjusting his grasp). It also helped to strengthen his fingers, hand, wrist and arm.  PLUS it worked on his bilateral coordination (using 2 hands together)!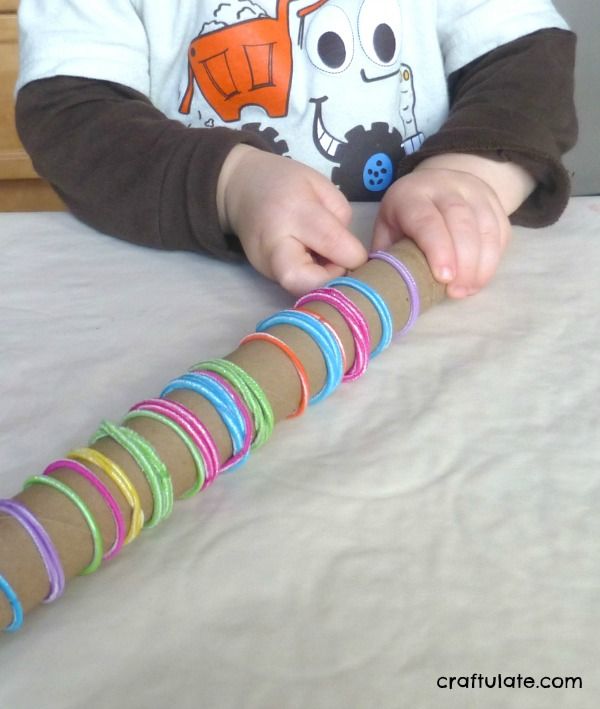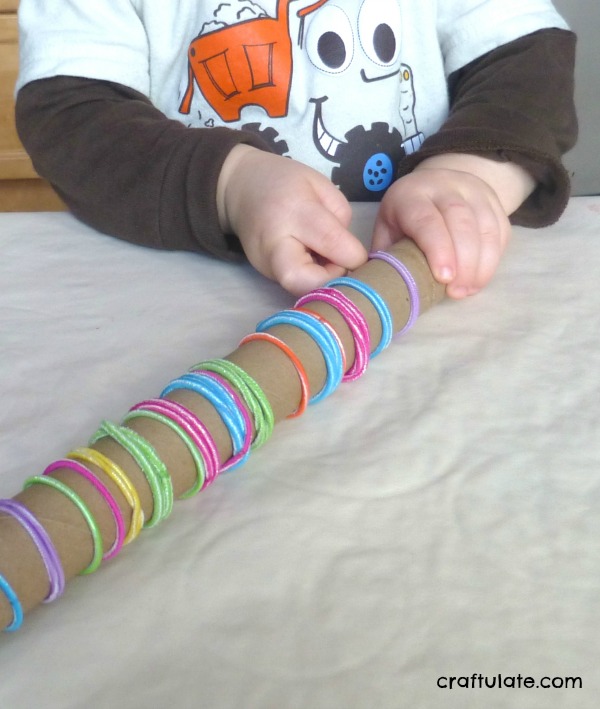 What I didn't think about is what would happen to the bands after F had removed them. It turns out that F thought they should go inside the tube! F played with this for almost 15 minutes before getting frustrated and asking for help. After that he lost interest so we left it alone and came back to it the next day.
He then discovered that he could stretch the bands – which made me a tiny bit nervous but he thought it was very funny!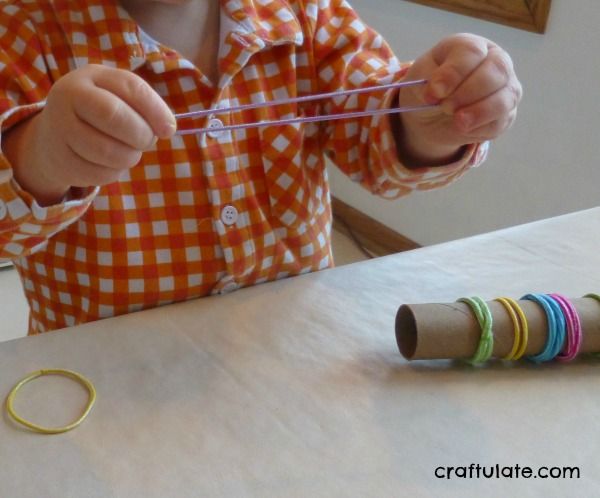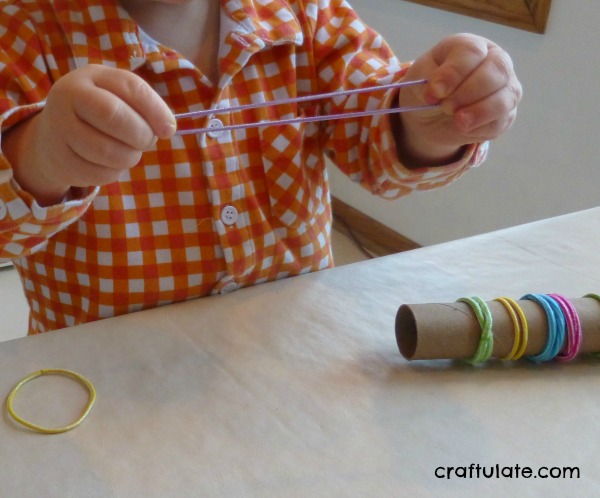 The stretch on them actually wasn't very good, so they didn't make much of a "snap" when he let go at one end – thankfully!
We played with this simple activity several times over the next few days. Admittedly he never managed to get ALL the bands off the tube without getting distracted, either by stretching the bands or putting them inside the tube. It's something to aim for!



Check out these other great fine motor skills activities!