Jump to recipe
Do  you have leftover candy corn from Halloween? Make this sensory slime for kids to enjoy!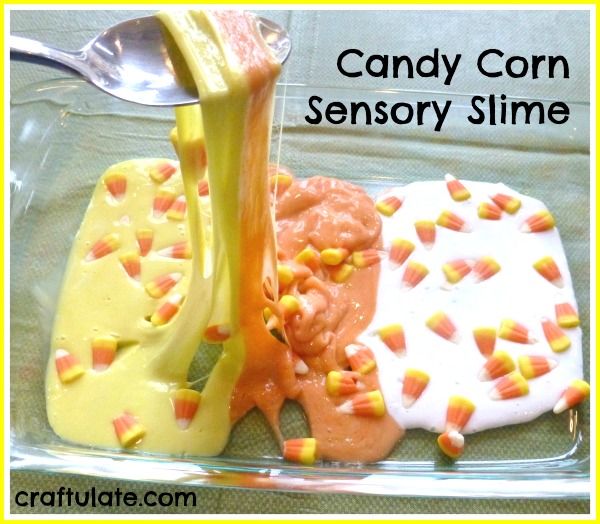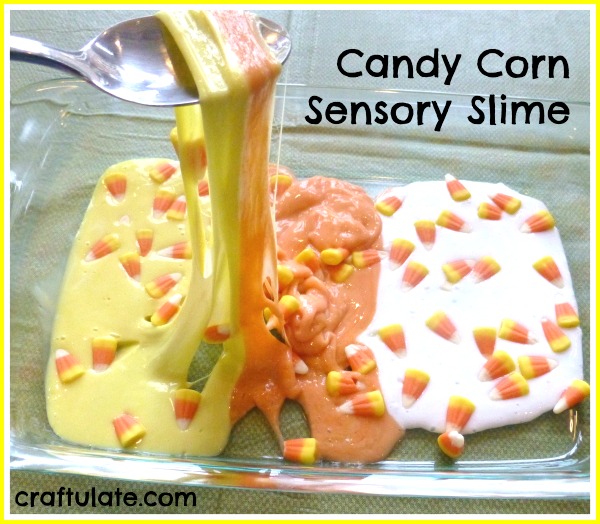 The following post contains affiliate links, which means that at no extra cost to you I can make a tiny bit of money to help support this blog. Thank you!
After a rather wet Halloween here this year I had a big bag of candy corn leftover. Given that no-one in the house would (or should!) eat them, I decided to use them for a sensory experience.
We started with a simple sensory bin as recommended by Deborah from Teach Preschool for some pouring and scooping fun!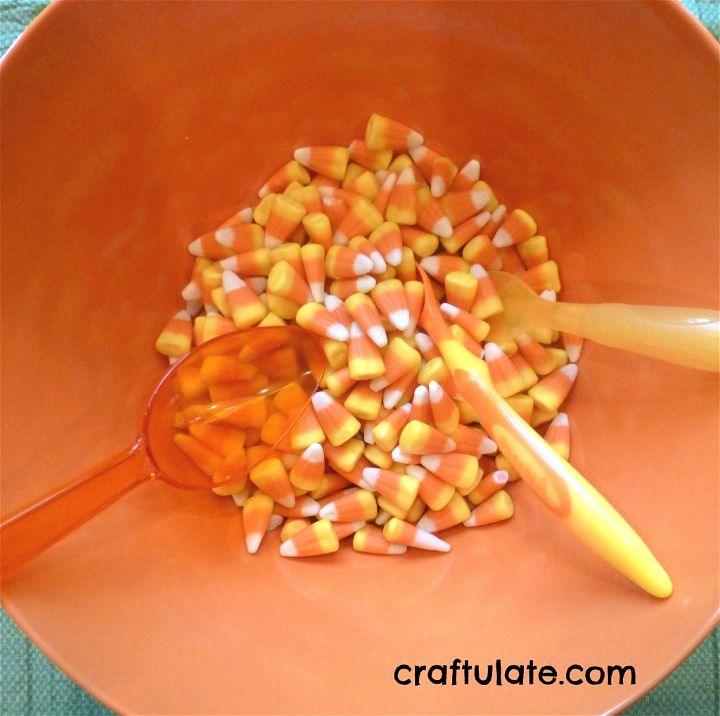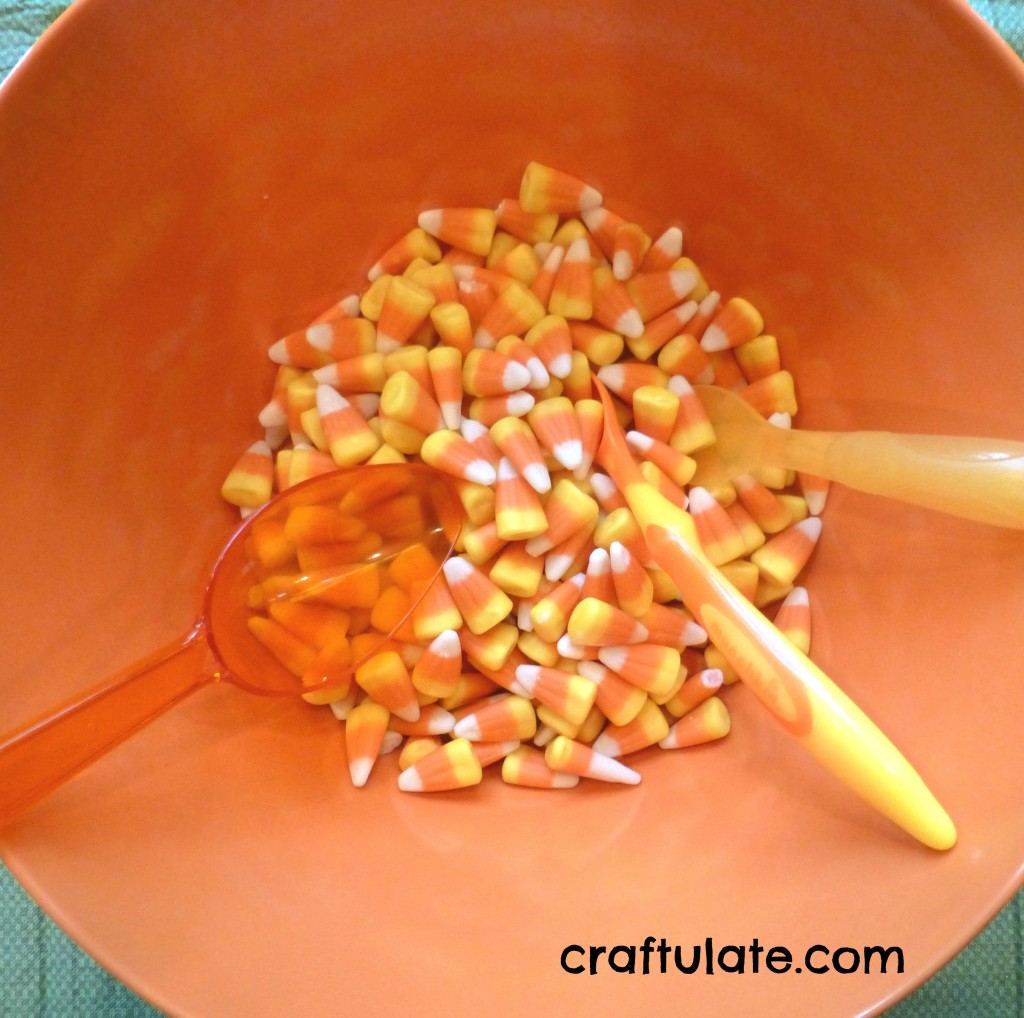 Then we tried something more adventurous – slime! I have only tried making slime once before and found it way less messy that expected. I used the same recipe but changed the clear glue for white glue. This makes a small batch of slime (I made three different batches):
All you need to do is mix the ingredients together! Here's how it evolves: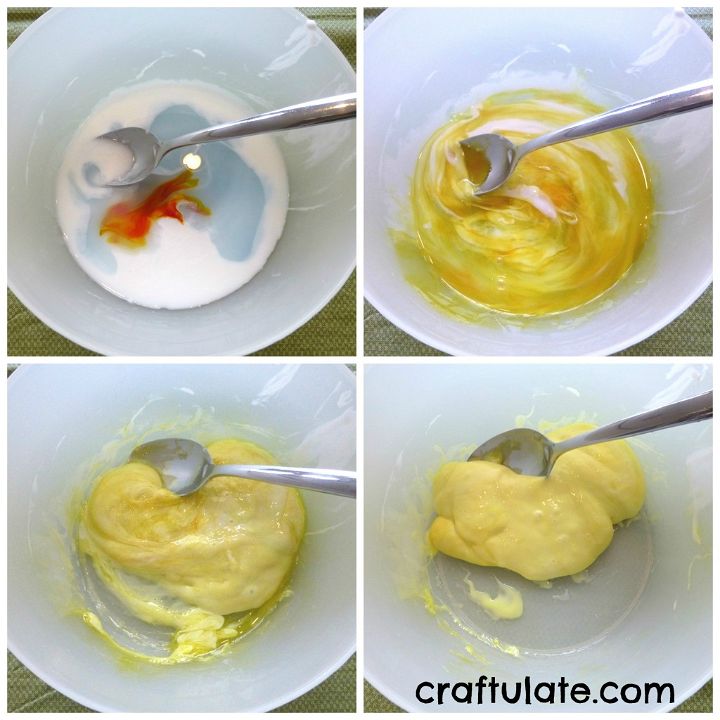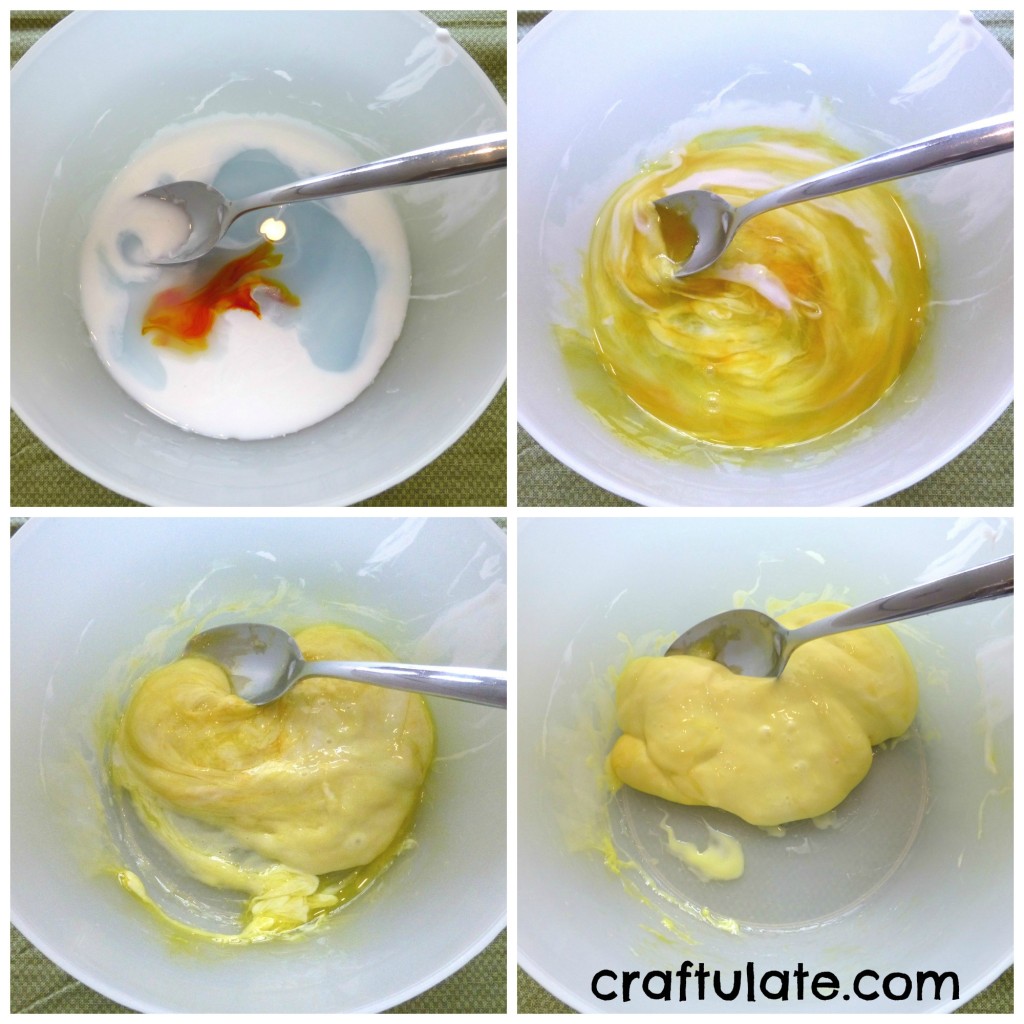 I made three batches – one yellow, one orange and I left one white. The white had a slightly blue tinge due to the liquid starch, but it didn't matter too much.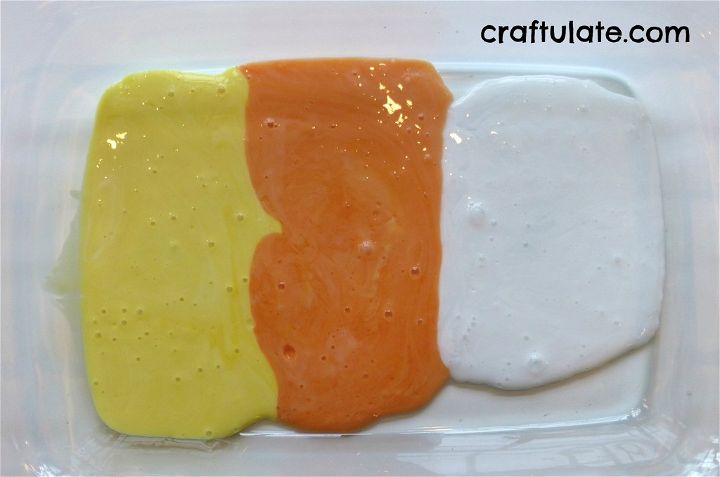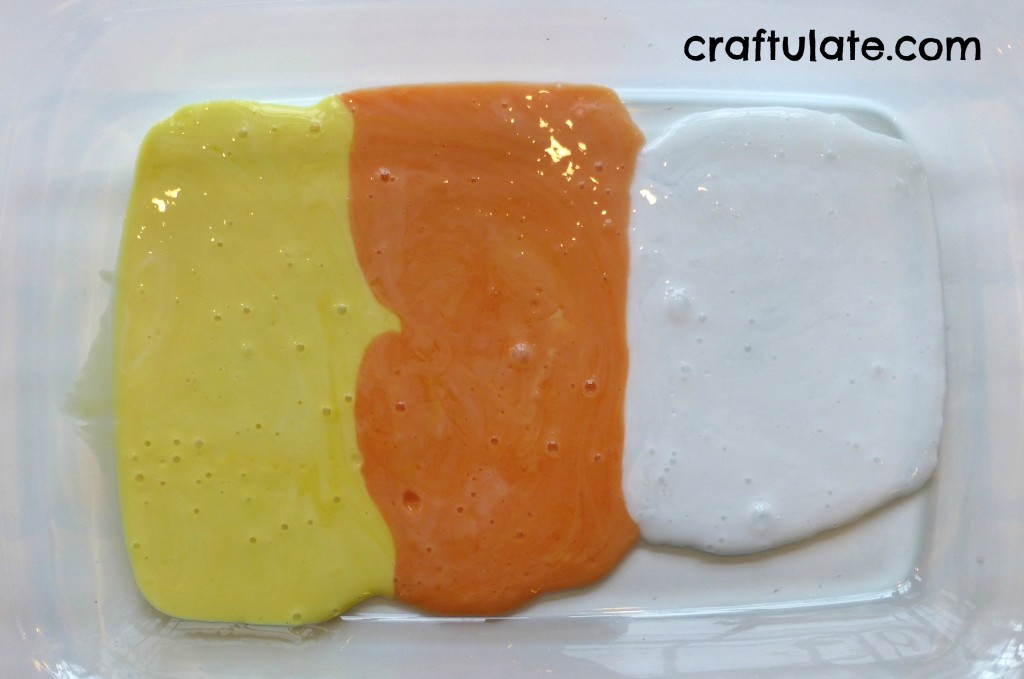 Then I added the candy corn to the slime as well – just to add to the textural fun!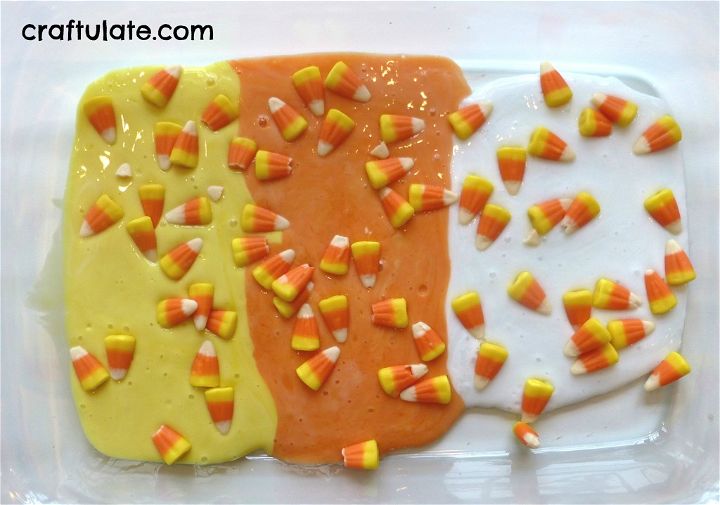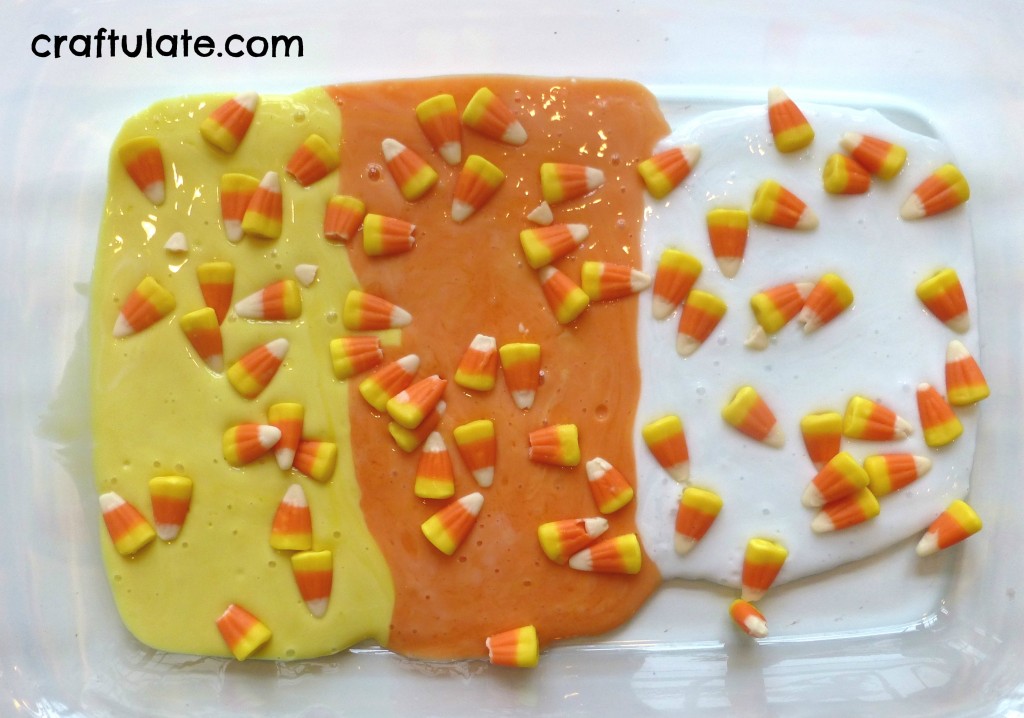 Both F and I found the slime really intriguing. I bravely demonstrated sticking my fingers into the slime to swirl it around but F couldn't be persuaded. So I gave him a spoon and he had loads of fun lifting up the slime and watching it pour off, forming an almost solid consistency back in the dish. Lots of oopy gloopy fun!
I should probably mention that F was not tempted to eat the candy corn at any point – he really doesn't like candy. Obviously once the candy has been in the slime it shouldn't be eaten. I wonder if he'll have developed a sweet tooth by next Halloween?!? 🙂
Want to know more about candy corn? Check out Why Do They Call It Candy Corn? from my friends over at Happy Hooligans!
Need help making slime? Check out my video!
Candy Corn Sensory Slime


Do  you have leftover candy corn from Halloween? Make this sensory slime for kids to enjoy!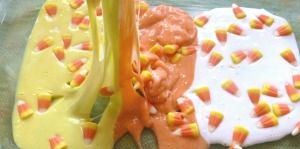 Notes
Candy corn that has been in contact with the slime should NOT be eaten.

Ingredients
2½ fl oz white glue (or about half a regular bottle)
2½ fl oz liquid starch
2-3 drops food dye
candy corn (optional)
Instructions
Mix the glue, starch and food dye in a bowl. Keep stirring until the mixture holds together. If it is too sticky, add more liquid starch.
Knead the slime until smooth.
Make three batches of slime, one yellow, one orange and one white (no food dye). Place in a container and add the candy corn.
© 2023 This recipe is copyright of craftulate.com, do not reprint or republish without permission.