This homemade winter nature journal is a really fun way to explore the outdoors year-round! Check out the giveaway!!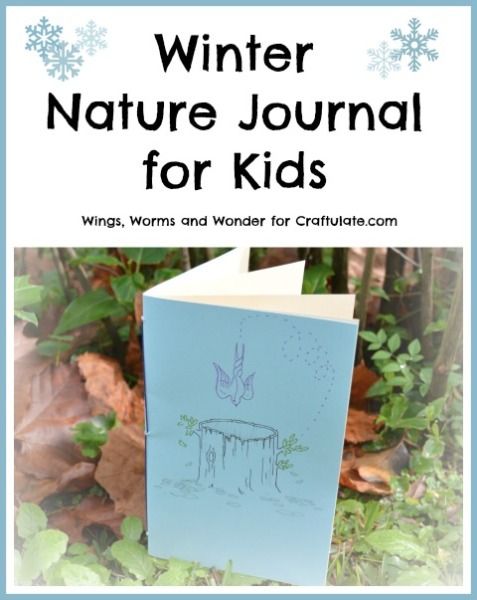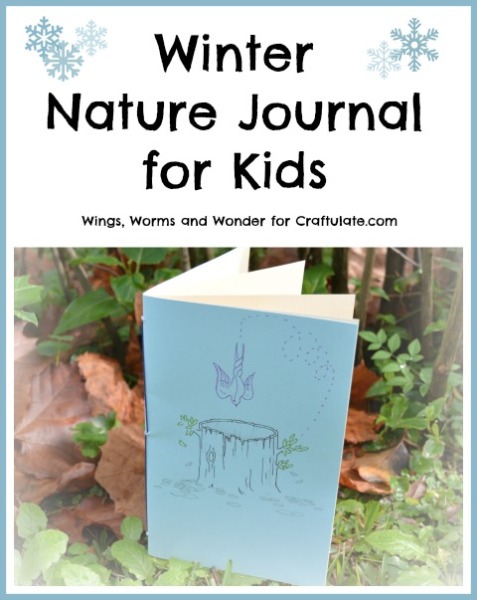 The following post contains affiliate links, which means that at no extra cost to you I can make a tiny bit of money to help support this blog. Thank you!
I am delighted to introduce Kelly Johnson from Wings, Worms and Wonder, who is showing us how to make a winter nature journal!
Winter is a wonderful time to celebrate nature! As the Winter Solstice approaches, the nights grow to their longest, the temperature drops, we tend to retreat indoors, but with a little artistic inspiration, getting outside is more fun than ever!
Nature journaling is a great excuse to bundle up and get outside in winter. It is also a fun and artistic way to build relationships with friends and family in the wonder sparking world of nature! The practice of nature journaling has been valued for centuries by naturalists, artists, and scientists, and gives modern children a place to attune and assimilate nature based experiences as they seek to understand their places in their world. It is the perfect thread to weave nature into everyday home and school life.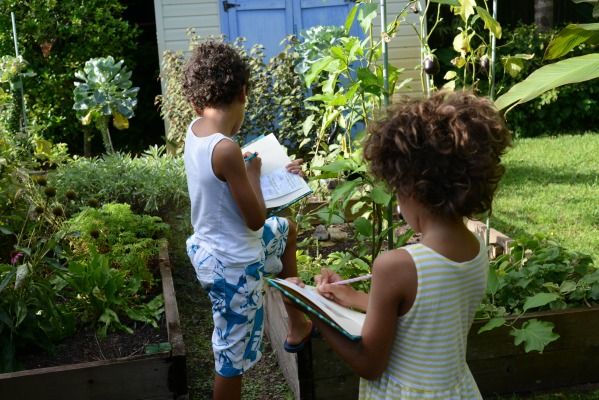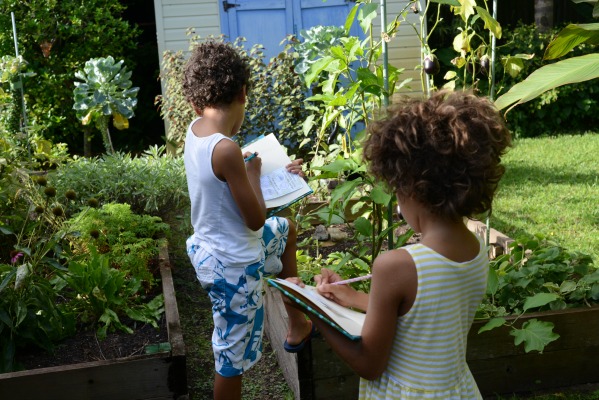 Drawing, collaging, and writing as a nature journaling practice teaches children the value of connecting with nature in both the backyard and beyond. It also increases observation skills and focus, improves pattern recognition, and strengthens the Naturalist Intelligence (of Gardner's Multiple Intelligences). All of which help children become more ecologically literate and empathetic to the environment, with the anticipated result of future adults who care about protecting the Earth's biodiveristy.
Simply playing outdoors is great, but significant long term benefits come when even the youngest children have the opportunity to fully internalize and assimilate their nature experiences. This is often accomplished through individual journaling and then sharing their discoveries with their peers and family. So the next time you go on a hike, or even a neighborhood walk, try bringing along a natural journal. You will be amazed at what discoveries are made along an ordinary path when you start a regular journaling practice!
Now of course I'm not saying every outdoor adventure must be journaled, but I do recommend journaling together once a week. It will be a special time to spend together full of natural discovery and wonder. Even if you simply observe what the birds or clouds are doing out the window on a rainy day, or if it is too cold to take off the gloves, journal when you return indoors from memory and share your journal entries over a cup of hot chocolate. Sometimes, on the days that make us want to go outside the least, nature rewards us with the most exceptional discoveries!
In a world of schedules and screens, making time for nature, creativity, and real connections with each other and our world, is invaluable for children and adults alike. We often feel we must always be doing something, so let a nature journal practice be something you do with your children or students, together. It's the perfect way to get outside, mentally slow down, and receive the benefits of health and happiness that nature offers you this winter (spring, summer, and fall too)!
How to Make a Journal Book
Materials:
A few sheets of regular drawing or printer paper. White or lightly colored. These are your inside pages. However many pages you choose will determine the thickness of your nature journal.
A sheet of construction paper or card stock for the outside cover.
Yarn or string, like embroidery floss.
Children's plastic craft needle, or larger gauge needle.
An awl or other poking tool that will make a hole wide enough for your needle to go through.
Instructions:
1. To start, fold the papers in half and crease. I recommend folding the inner pages together and the cover separately.
2. Insert the folded inner pages into the cover, making a booklet.
3. Open the booklet to the center page. Poke a hole with the awl about half an inch down the fold from the top and bottom along the center fold line. The holes can all be approximate, no measuring required, unless you want to add that to the activity for older children!
4. Poke a hole in the middle of the center fold.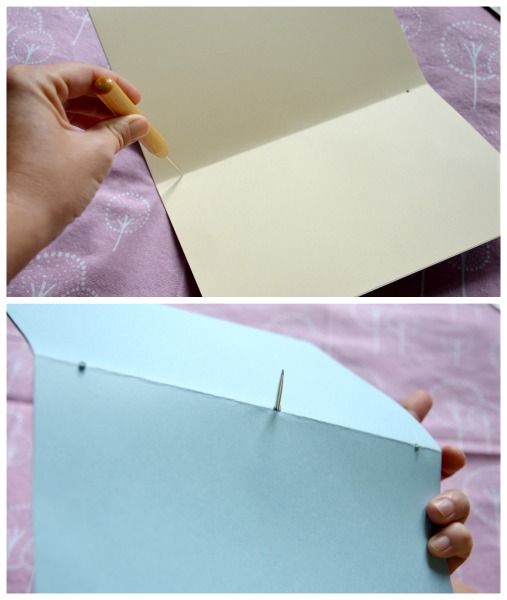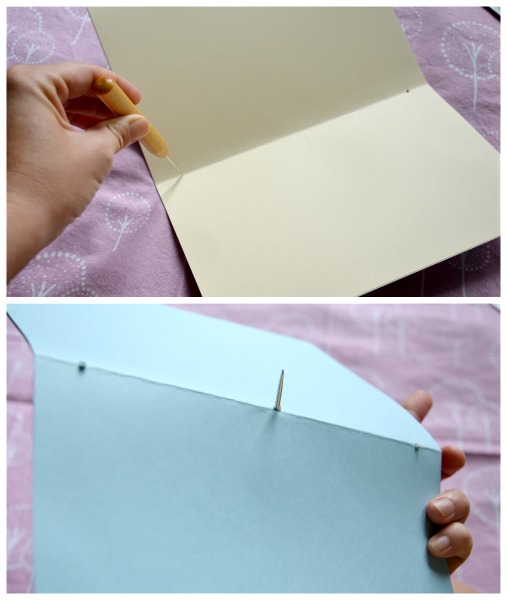 5. Cut a length of floss or yarn about an arm's length. Better to have a little extra than not enough for this.
6. Thread your needle. Starting from the inside of the booklet and heading out, thread the needle and string out the center hole. Leave a tail a few inches long on the inside of the book. It can be helpful to tape the tail to the page so the children don't pull it through.
7. Bring the string down the back cover spine and insert the needle back in through the bottom hole. (At this point top and bottom of the book is arbitrary. You can just choose.)
8. Bring the string up the center crease to the top hole and go out to the back cover spine.
9. Bring the yarn down the back spine and insert back through the center hole to the inside of the book.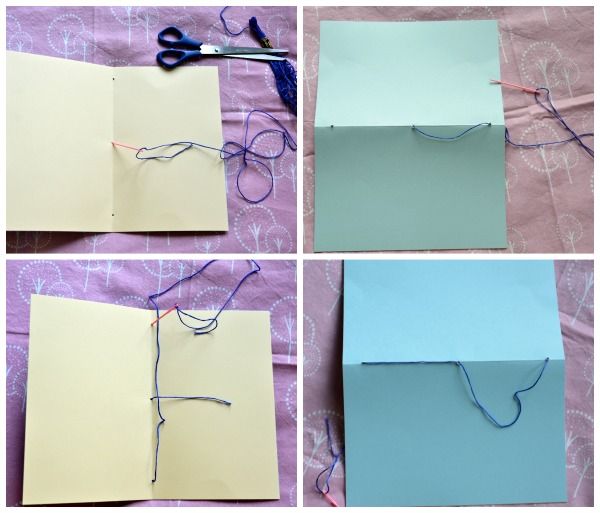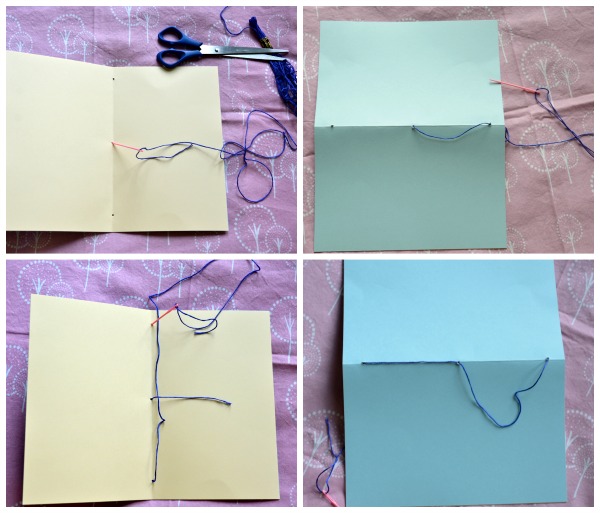 10. You now have both ends through the center hole.
11.Tie the 2 tails together around the center string in a double knot. Cut the tails fairly short.
12. Now you have a nature journal! Decorate the cover and have fun connecting with nature through art in every season!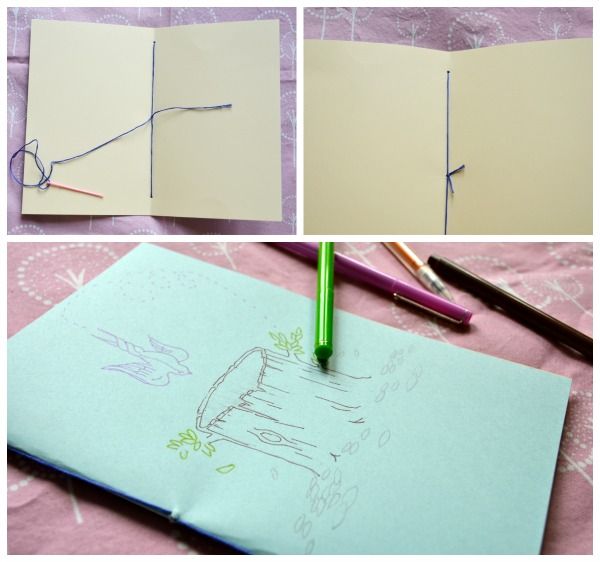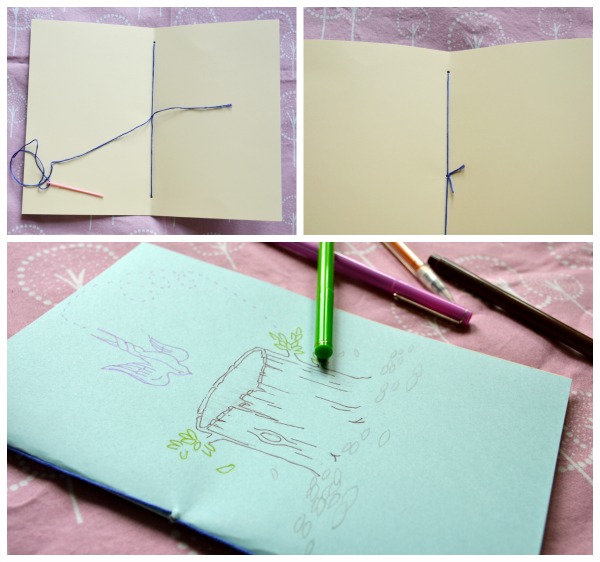 About Kelly: Kelly Johnson is an artist, author, Montessori teacher, and children's garden coordinator in Neptune Beach, Florida. Through her books, workshops, consultations, blog, and handmade garden accessories Kelly inspires children and adults to connect with their natural world through gardening and the arts. Contact Kelly at info@wingswormsandwonder.com and follow her blog at wingswormsandwonder.com for children's gardening fun.