These are our top ten train books for kids that we have enjoyed over the years!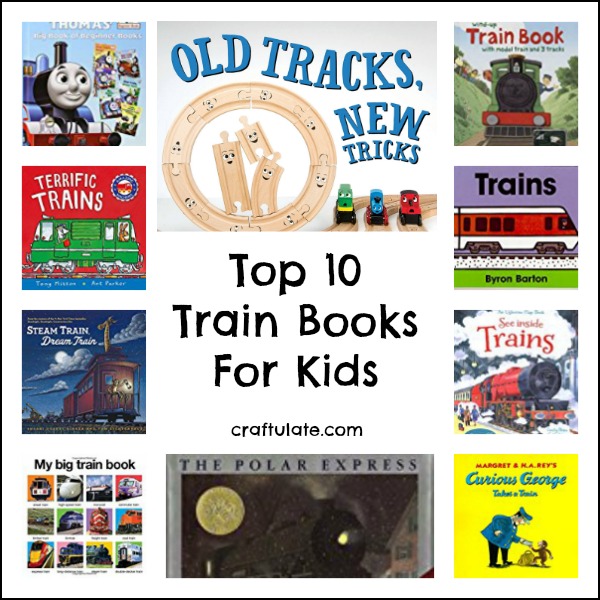 Disclosure: I was provided with this book from The Innovation Press free of charge in exchange for my fair and honest review. Please see my disclosure policy. This post also contains affiliate links, which means that at no extra cost to you I can make a tiny bit of money to help support this blog. Thank you!
Do you follow the blog Play Trains? It's been one of my favorites for many years now and I love seeing the author, Jessica, and her son create so many wonderful things to do with trains! But now things have got even more exciting because Jessica has published her first book: Old Tracks, New Tricks!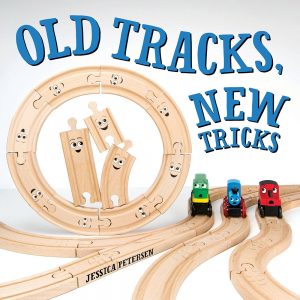 It's available in paperback or hardback and is a wonderful story about three pieces of wooden track that start doing tricks in order to get a child's attention at a toy shop. Published by The Innovation Press, the bright photography and fun storyline will really engage your child!
While I was thinking about this book, it made me recall all our favorite train books from the last few years, so I decided to share them with you! I've include a mixture of non-fiction and fiction, because my son loves both styles!
Terrific Trains by Tony Mitton
This is *my* favourite train book! It was the first of Tony Mitton's books I read and it is impossible to read it out loud without sounding like a clickety-clacking train! It is superbly written, has lovely illustrations and it is informative!
Trains by Byron Barton
This book has stood the test of time for my son, as it is one he keeps going back to. Its bright, bold illustrations and simple text really engage him.
Steam Train, Dream Train
by Sherri Duskey Rinker and Tom Lichtenheld
Perfect for bedtime reading, this book features cute animals loading up the train before it puffs away into the night.
Thomas' Big Book of Beginner Books by Rev W. Awdry
This book is amazing value! It contains six books: Stop Train Stop!, A Crack in the Track, Go Train Go, Cranes and Troublesome Trucks, Fast Train Slow Train and F's favourite: Blue Train Green Train.
The Polar Express by Chris Van Allsburg
Although this book is set on Christmas eve and has a distinctly wintery feel to it, we still love to read this classic book all year round.
See Inside Trains
by Emily Bone and Colin King
There are over 60 flaps to lift on this educational book that features all sorts of different trains!
Curious George Takes a Train by Margaret & HA Rey
The cheeky monkey gets up to his usual antics when he tries to take a train ride.

Wind Up Train Book by Stephen Cartwright
There are little grooves in each page for your child to wind up the toy train and send it puffing around the track!

My Big Train Book by Roger Priddy
Perfect for younger kids who will enjoy the bright bold colors and pictures.

Do you have any favorite train books that aren't listed here? Let me know!
Top 10 Train Books For Kids #trainbooks #booksforkids
Click To Tweet
Check out an activity inspired by Old Tracks, New Tricks – we made train track dominoes!