These chocolate filled strawberries are the perfect treat for Valentine's Day – for kids AND adults!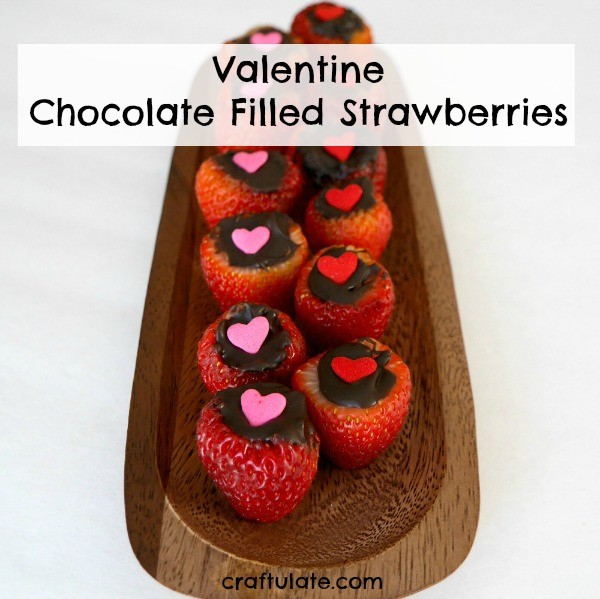 The following post contains affiliate links, which means that at no extra cost to you I can make a tiny bit of money to help support this blog. Thank you!
There was a "source unknown" picture doing the rounds on Pinterest a while ago for chocolate filled strawberries that used an egg carton to hold up some hulled strawberries that had been filled with melted chocolate. After a little more investigation I found that just cutting the base off the strawberry is actually quite sufficient! I made these strawberry treats as a surprise for my son, but I'm sure he could have helped me!
Clean and hull the strawberries. If you don't have one of these nifty hullers then order one today – it will change your strawberry-preparing world!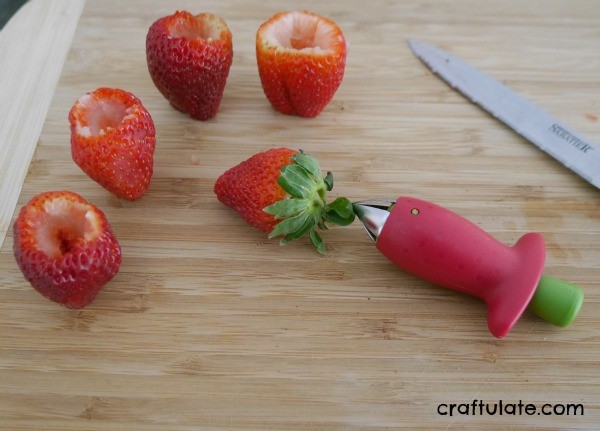 If you want LOTS of chocolate then you may like to carve out a little extra in  the cavity – but I didn't feel the need. To make the strawberry stand up, just slice off the base and test it for stability.
Melt the chocolate – I used Wilton Candy Melts (in dark chocolate) because they are convenient and predictable. I used about ⅓ cup of Melts for 12 strawberries, and melted them in the microwave according to packet instructions.
Spoon the melted chocolate into the strawberries – a piping bag would make these neater but to be honest a spoon did just fine!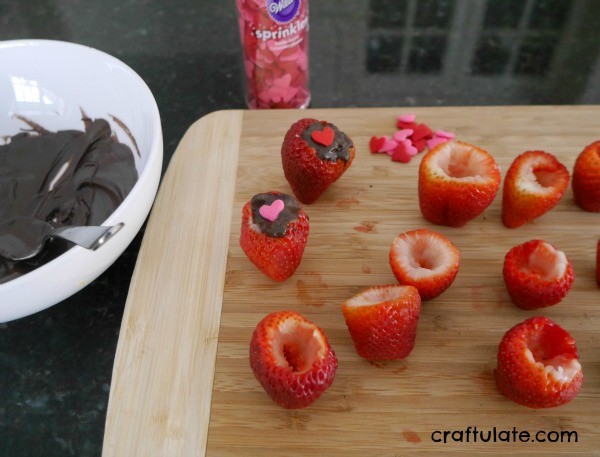 While the chocolate is still wet, place a heart-shaped candy sprinkle in the middle.
Leave to dry. And I dare you not to eat them all before you get a chance to give them to anybody.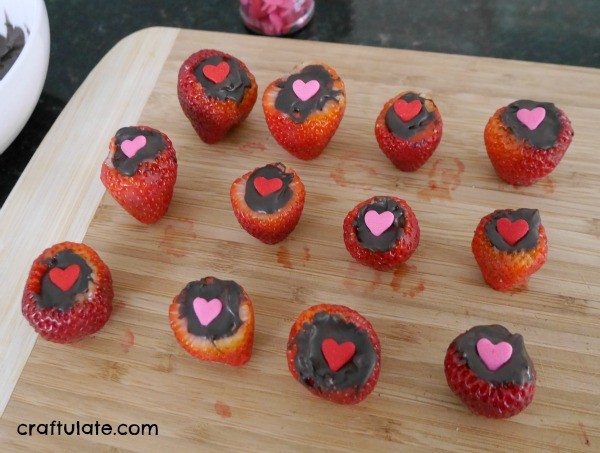 [bctt tweet="These chocolate filled strawberries are the perfect treat for Valentine's Day!"]