Forget the paintbrush and use a sponge to make this ocean art for kids!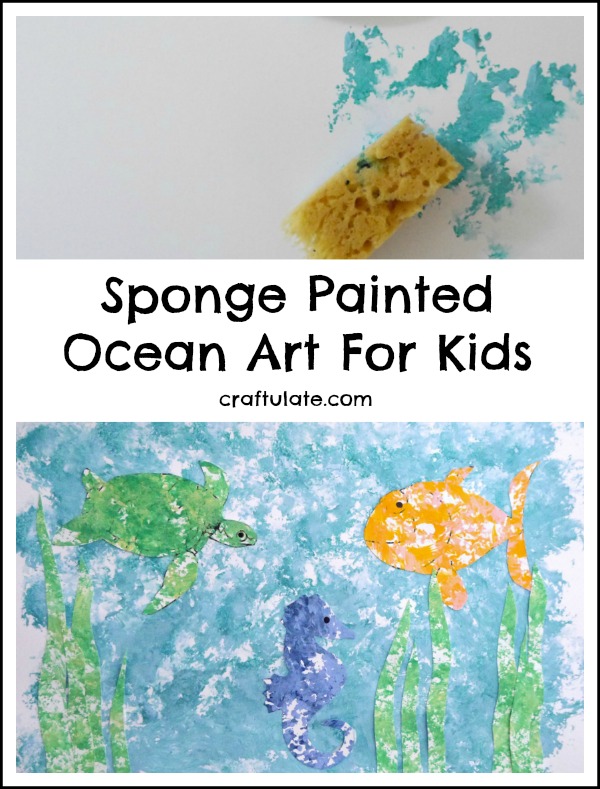 Disclosure: I was provided with these sponges and paint from PLAID free of charge in exchange for my fair and honest review. Please see my disclosure policy. This post also contains affiliate links, which means that at no extra cost to you I can make a tiny bit of money to help support this blog. Thank you!
One of the marvelous things (and there are many) about being an Ambassador for PLAID Crafts is getting to try products that you might not normally choose for yourself. When I saw this value pack of sponges I just knew that I wanted to create some amazing art with my son. We loved painting without brushes and enjoying the different effects. The rough shape and texture of these sponges seemed perfect for making some ocean art! We also used Apple Barrel Laguna and Apple Barrel Parrot Blue paints for our ocean background.

I set out a piece of plain white card and mixed the two paints on a paper plate (paper plates are great for quick clean-up!). I dampened the ocean sponge with water, and squeezed out the excess.
F dipped the sponge into the paint and pressed it all over the card.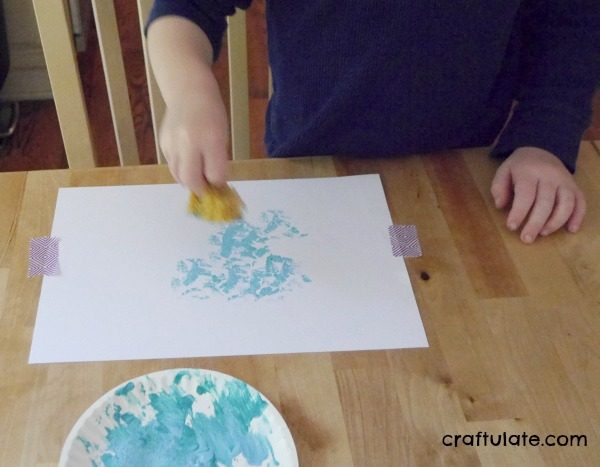 When that was finished, he started work on the turtle, seahorse and fish. For these I had found some outlines from Clker.com and printed them out onto white card.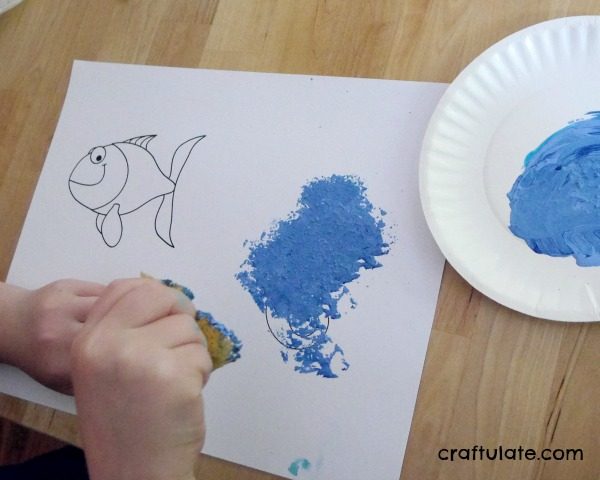 Here are some top tips:
Encourage a gentle pressing motion with the sponge. Too heavy and you'll end up with an even coating of paint rather than a sponge effect. A sweeping motion will also not give the required effect – so you may prefer to ask your child to do a practice page first.
A combination of two paints makes a more interesting effect.
When painting the sea creatures, light colors work best so that you can still see the outlines after painting.
If you have paint left over (especially if it is green) use some spare card to make reeds.
Once everything was dry, I cut out the sea creatures. As mentioned above we also filled up some spare card with green sponge prints after painting the turtle. I cut some reed shapes out of it.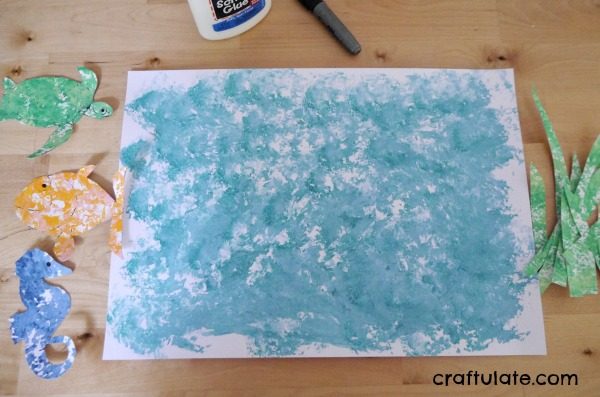 I used a black marker pen to re-draw the eyes, then we glued everything on. OK, so my son glued on the creatures, and left the reeds to me. 🙂 Here's the finished picture!

[bctt tweet="Sponge Painted Ocean Art #artforkids #kidsart #oceanart" username="craftulate"]