We got to try out the SmartMax Mega Ball Run – a bright and colorful construction toy!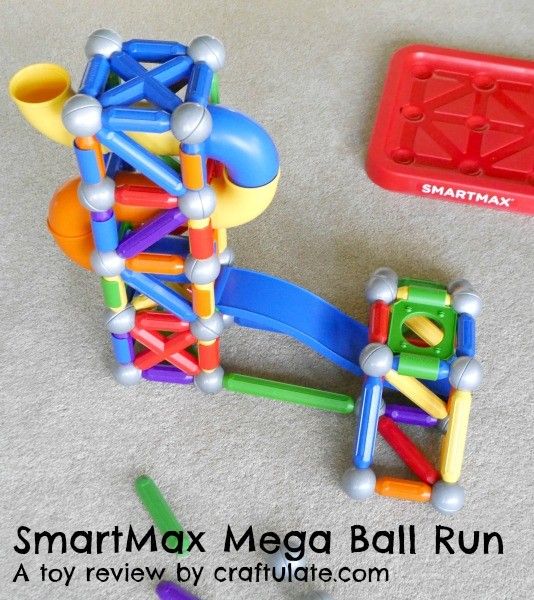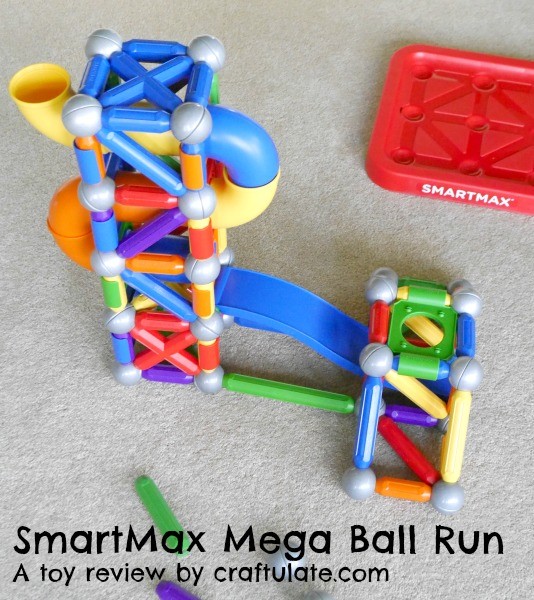 Disclosure: I was provided with this toy from SmartMax free of charge in exchange for my fair and honest review. Please see my disclosure policy. This post also contains affiliate links, which means that at no extra cost to you I can make a tiny bit of money to help support this blog. Thank you!
Back in November we discovered SmartMax and were lucky enough to try out the SmartMax Build XXL box  – and loved it! We had originally tested SmartMax at a toy fair my family attended where we saw the mega ball run version. When I was offered the opportunity to try it this month – I couldn't wait! Luckily my son was pretty excited too. 🙂
The SmartMax Mega Ball Run includes 74 pieces and is completely compatible with other sets, meaning that kids can get SO creative the more sets they have! The pieces are sturdy and well built – I think kids would have a hard time breaking this in any way! We already have a plastic marble run but those little marbles always end up getting lost – no chance with these balls!
My son (nearly 5 years) was absolutely delighted to see another set of SmartMax! And he immediately recognized it as the marble run we played with "at the Toy Fairy". 🙂
He unpacked all the pieces – he loved all the tubes and the slide!We started trying to copy one of the pictures on the box – this isn't a building kit that comes with step-by-step instructions!!
We had a few stability issues and F remembered that we used the box lid from the XXL kit to build on, so he went and grabbed it.
Then our building really improved! We copied box pictures for a while…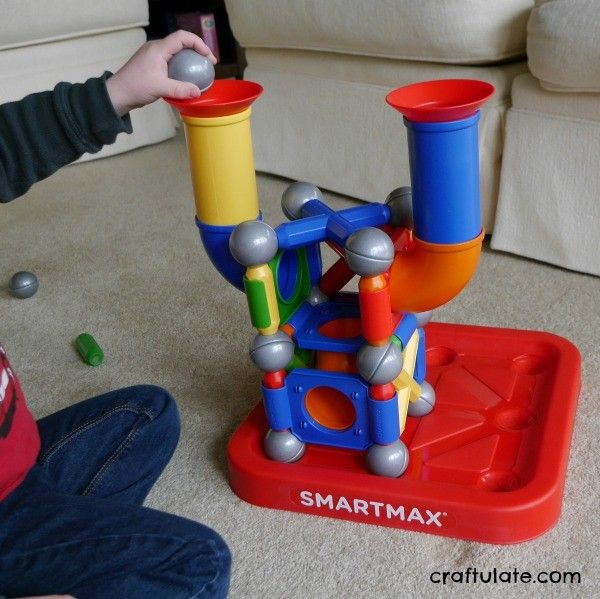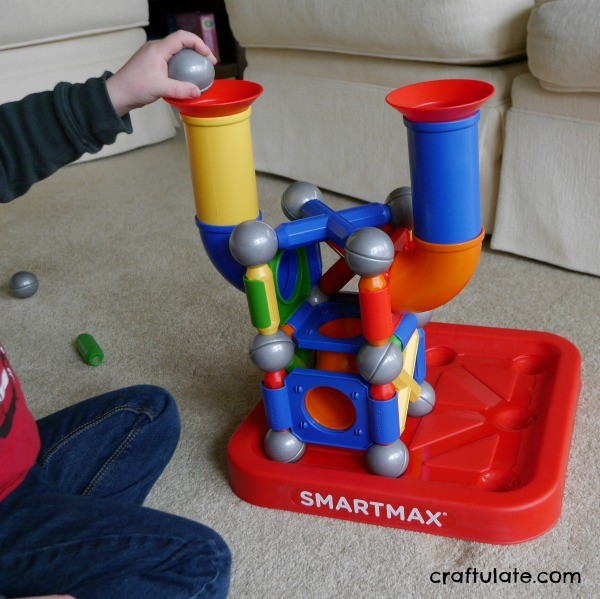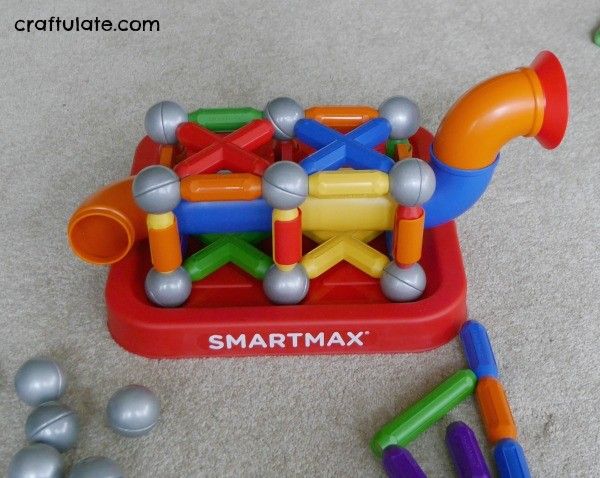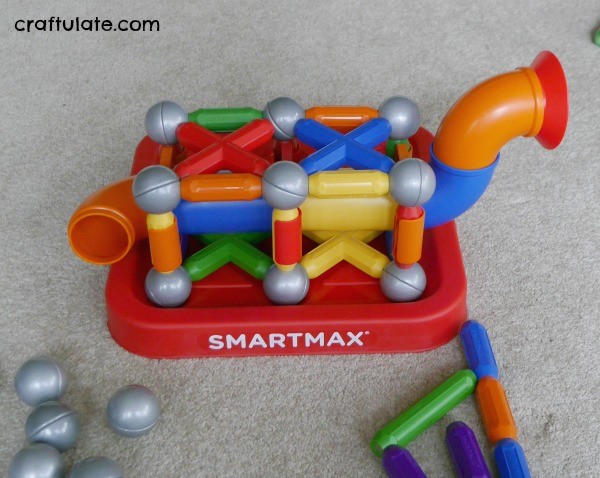 And then adapted them. However when I was away for an evening, I came back to this – my engineer husband hadn't been able to refuse a building challenge like this!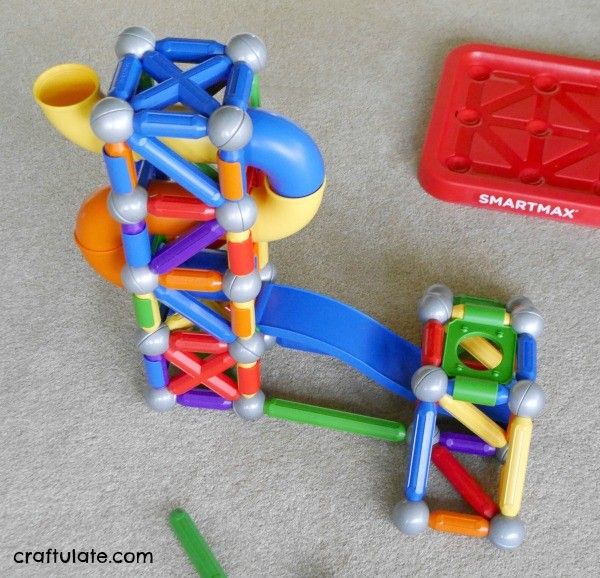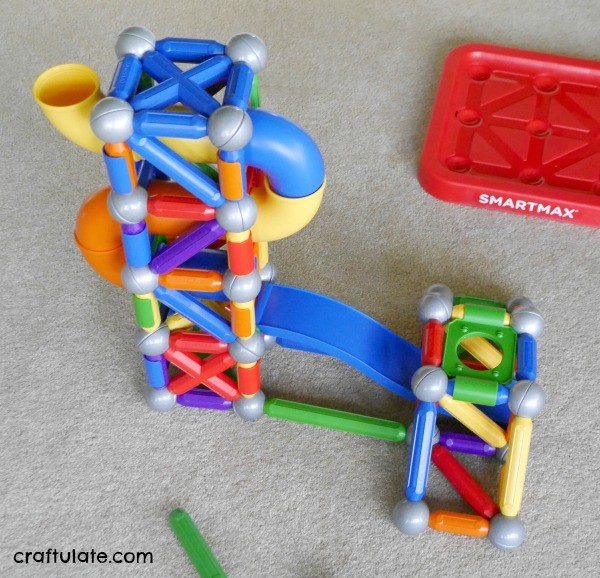 My conclusion is that this toy is a really high quality sturdy building toy, but I think you do need both sets to get the best out of it! My son DID have some adult assistance to make the more complicated structures – if step-by-step instructions can be provided he might have been able to construct more by himself.
[bctt tweet="SmartMax Mega Ball Run – toy review #smartmax"]