Kids can make this hands free collage by pretending to be a vacuum cleaner – and using straws to make the collage!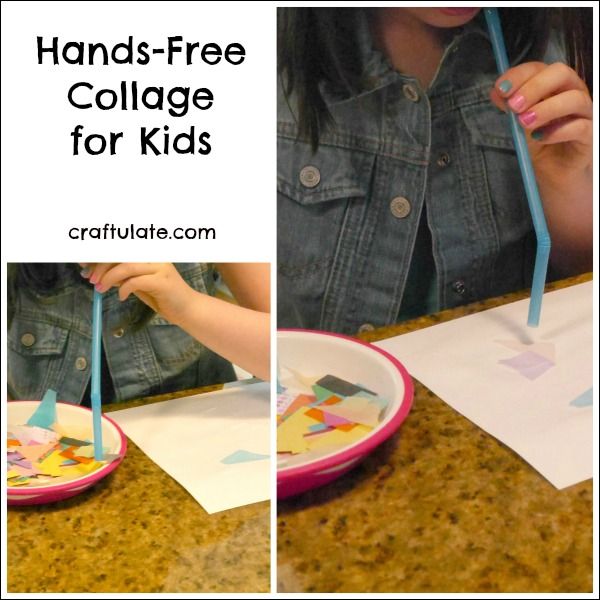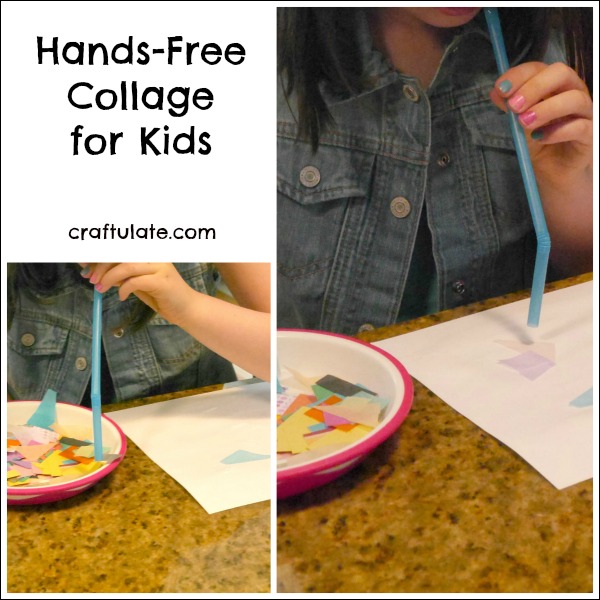 Disclosure: I was provided with this book from the publisher free of charge in exchange for my fair and honest review. Please see my disclosure policy. The following post also contains affiliate links, which means that at no extra cost to you I can make a tiny bit of money to help support this blog. Thank you!
I am delighted to be taking part in a book tour to celebrate the launch of Action Art, by MaryAnn F Kohl and Barbara Zaborowski.


This beautiful glossy book is filled with amazing hands-on art projects, with full instructions and fun photos. The book is sorted by technique – "Rolling, Spinning, Swinging" is one chapter heading, for example – "Blowing, Exploding, Smooshing" is another. Each activity lists the level of child experience and adult prep required, plus a messy alert for particular items!
We recently visited some friends and their kids love it when I bring art projects for them to try, but the parents aren't particularly keen on mess. Not that every activity in this book is messy, but many are. I'd happily do most of them at my own house, where I could plan to contain the mess, because the art ideas look like so much fun!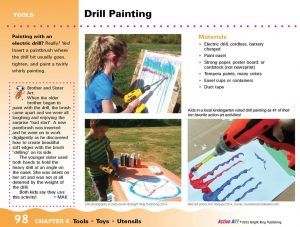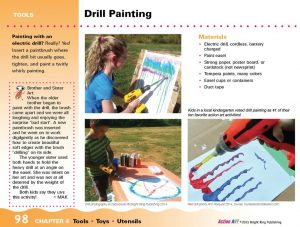 On this occasion, however, I played a little safe and went with a less messy option. But completely intriguing. In the book it is called "I Am A Vacuum". The premise is simple – several art activities use blowing through straws to make art, what about sucking? Before you panic, no, I'm not suggesting that your children suck paint up through a straw! But paper sticks to the end of a straw if you suck on it, and it can be transferred onto paper to make a collage. This just had to be tried!
I prepared an assortment of paper, card, tissue paper and construction paper by cutting them up into small pieces. I mixed up some water and glue and spread it onto the piece of white card. I explained that they had to make a collage, but not use their hands. They were understandably confused until I produced the straws and demonstrated.
Miss E (7 years) really got on well with this task! She totally rose to the challenge.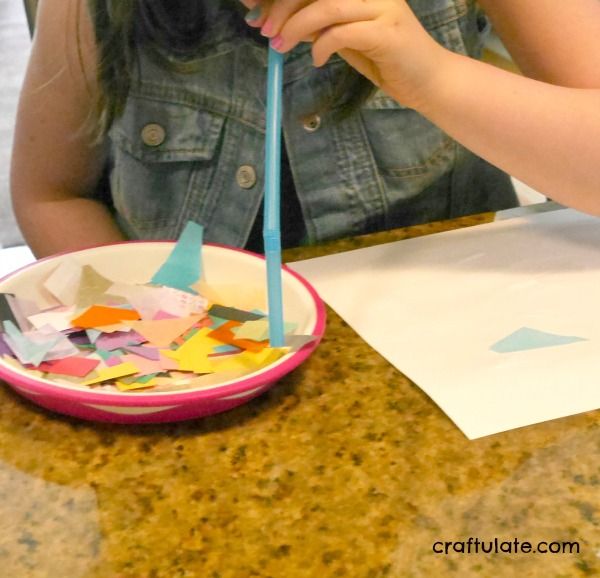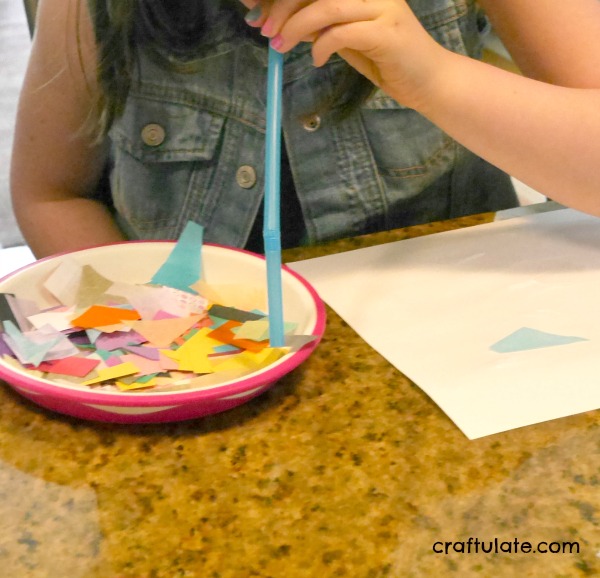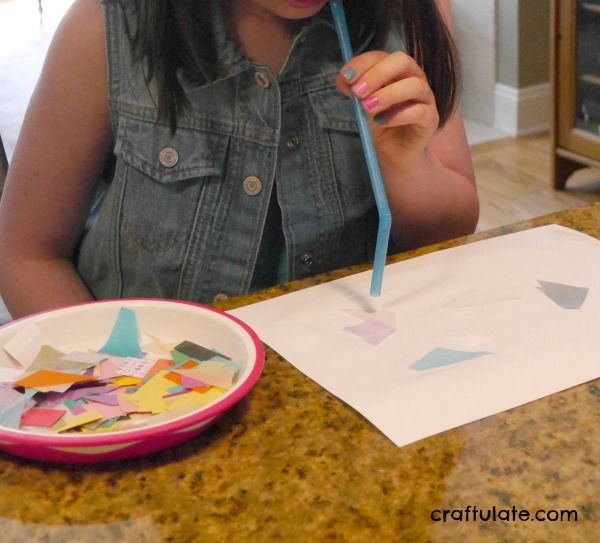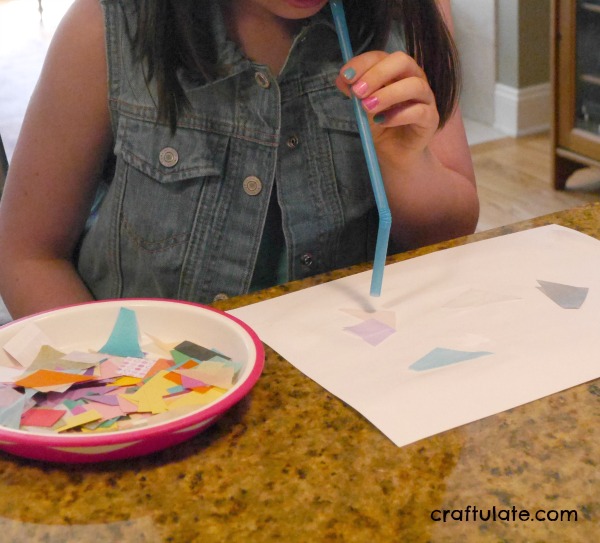 Miss L (5.5 years) had a really good go at it, but struggled to keep sucking on the straw long enough to transfer the paper.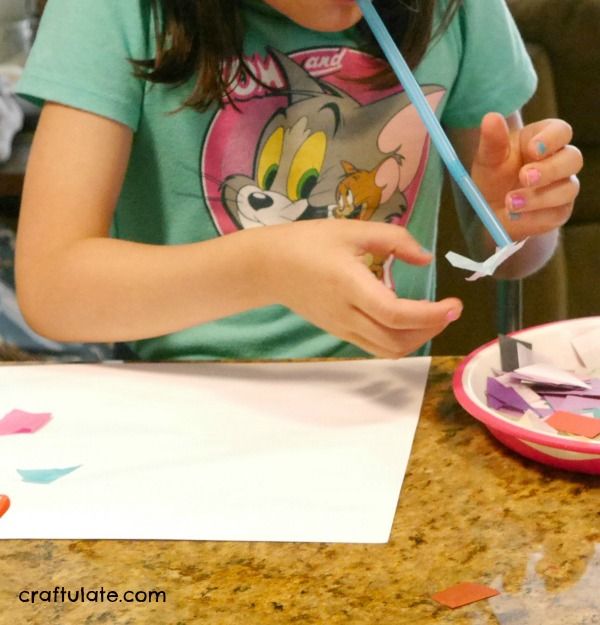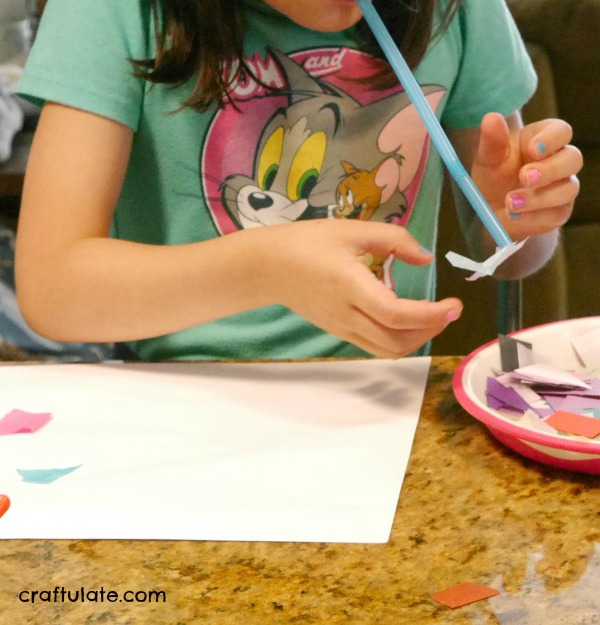 We found that I hadn't quite got the water/glue mix right and therefore some of the paper pieces that they did transfer didn't stick. Miss E came up with a genius way of getting round it by picking up a piece of paper with her straw, brushing the card with glue where she wanted to place it, then dropping the paper from the straw onto the glue.
To be honest I don't think either of the girls produced artwork that they'll keep – but that is often the way with process art. However they'll definitely remember the technique. I can't wait to try more from the book!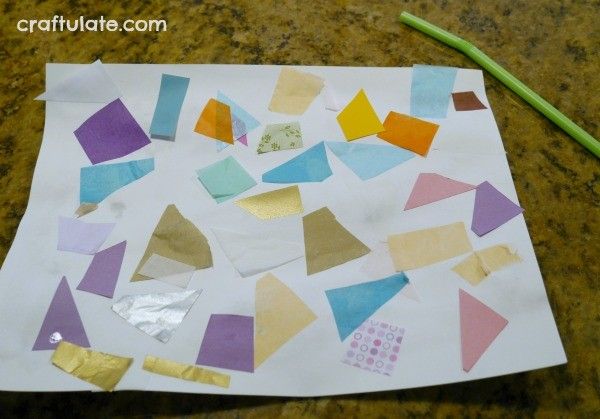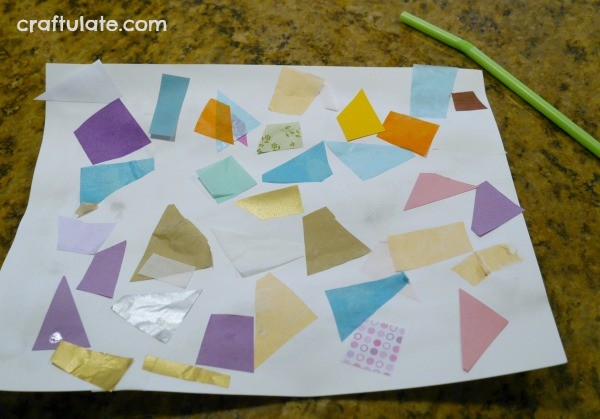 Remember to get your copy of this fabulous book! Available on Amazon in either paperback or Kindle formats.